Actions
Work Header
Rating:

Category:

Fandoms:

Relationship:

Additional Tags:

Language:

English

Stats:

Published:

2016-11-07

Words:

36

Chapters:

1/1

Comments:

105

Kudos:

147

Bookmarks:

Hits:

2423
[Podfic] All The Angels and The Saints
Summary:
Podfic of Speranza's All The Angels and The Saints.

Author's Summary:
In which Steve Rogers loses God and finds God and loses God, and also: Bucky.
Notes:
(See the end of the work for notes.)
Work Text: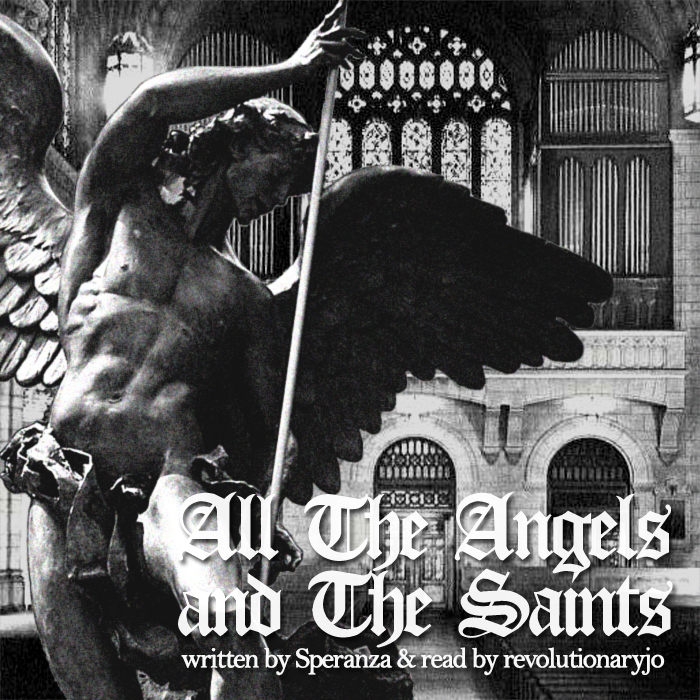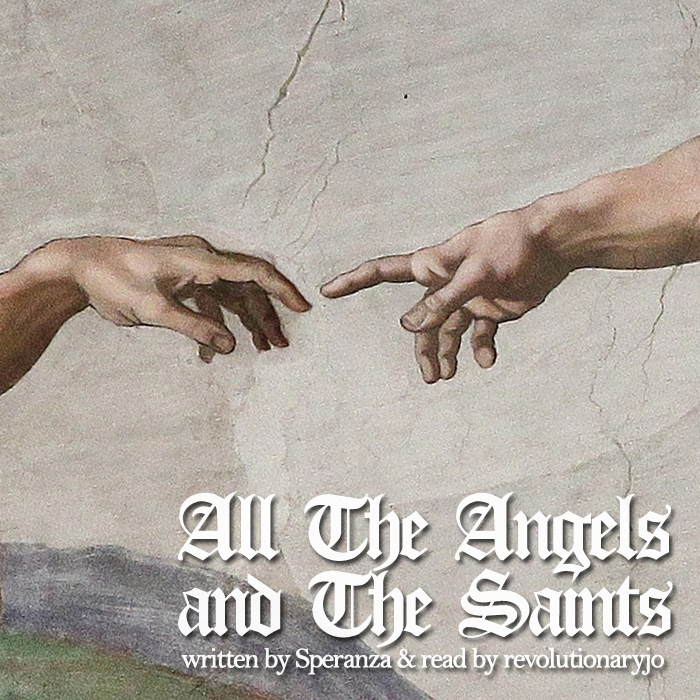 Length: 4:59:36
---
Streaming
Click Here
---
Downloads
Mediafire Links:
MP3 (137 MB)
M4B (115 MB)
Permanent Links:
MP3 - Right Click Save As (137 MB)
M4B - Right Click Save As (115 MB)
---
Reblog on tumblr here.
Notes:
I've had this one in the back of my mind and half on the table since 2014 when I first read it, but sometimes you just gotta wait until the time is right.

I chipped away at it just about every weekend between the 4th of July and Labor Day, and then I got distracted by Podfication, so it went onto the backburner for a while. But now it's US Election week, so it's still thematically appropriate, right?

I also had a hell of a time settling on the right music and cover art. So feel free to download and use the Creation of Adam alternate version if sexy St. Michael's arms/abs are too distracting.

A thousand thanks to ACTUAL SAINT Lunate8 for tireless betaing of this 5 hour epic and without whom my podfic wouldn't be half as good! Cheers to Speranza for spiraling me into Steve/Bucky hell in the first place with this one, and for all the enthusiasm and patience!

I hope you all enjoy it! I'm very pleased to be able to share it.

ETA: If you downloaded before 11/11/2016, there was a technical issue with the file that's since been fixed. A chunk of audio from 3:18:00-3:24:00 or so was missing. Redownloading will solve any problems!
Actions
NymCaroDeii, TruthfulWolfhunter, Amy_afire, kanpohongchengdeC, LaynieDane, Who_misread_Archive_as_Achieve, makomoris_kaijublood_locks, LyraChloe, RedStalkingDeath, Y_Khalil, Sky641, iamuseless, moomooma55, MistyDirtyInfiniteRoots, Boldcaptain, ZannaS, catgiggles, Moimoi47, SubieZan, Loolph, No1youkn0, Even_Misha_Ships_Destiel, KaeJay, lolllie, CoffeeWithRaeRae, Quirkyfan, 2old4this4real, NymeriaAbraxas, fairytalestuck, Kirinleaf, OwlishFun, AnneAce, hnys23, Rioreader, ryoku, sim_sim, Gavilan, donnashana, miss_marina95, pacers98, cloudycelebrations, Beryllinthranox, DumpsterDiving101, msilverstar, king_exe, PessoasLily, lightupstars, Cuteredhead, demonflowers, luulapants, and 75 more users as well as 22 guests left kudos on this work!