Actions
Work Header
Rating:

Categories:

Fandom:

Relationships:

Characters:

Additional Tags:

Language:

English

Collections:

Stats:

Published:

2013-04-30

Words:

7

Chapters:

1/1

Comments:

4

Kudos:

13

Hits:

1412
Quartet (Podfic)
Summary:
It's not Cadman who was swept up in the Wraith beam with Rodney McKay.
Notes:
Recorded for the "Bodyswap" square of my Trope Bingo card. Thanks to GloriaMundi for recording permission. This one was fun with all the voices, and I'm a big sucker for the bodyswap trope.
(See the end of the work for more notes.)
Work Text:
Length ~16 min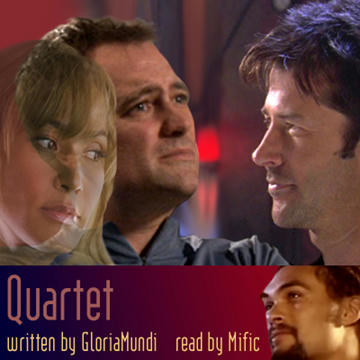 Notes:
Music used in this recording:
I had fun choosing these - largely based on the sound but with a few other resonances, and they needed to be instrumentals, so as not to distract.
Teyla - 'Pavane for a Dead Princess' (cover by Eumir Deodato so a jazzier, more disjointed version to reflect that she's fractured). Pavane for a Dead Princess
Rodney - 'Symphony No. 9 (Scherzo)' by Beethoven. It worked for Rodney as it's clever and a bit frantic. Symphony No. 9 (Scherzo)
John - Johnny Cash's cover of 'Hurt' by Trent Reznor of Nine Inch Nails. Too dark for John really, but I couldn't resist the combination of Johnny Cash and Reznor's darkness. Hurt (Instrumental by Cash)
Ronon - "Nothing Else Matters" by Metallica - an acoustic version. It's too optimistic for Ronon as he is then, but the story's partly about him first beginning to trust the Altanteans a little - enough to decide to stay. And we know it's where he'll be in the end, in the team, his quartet. Nothing Else Matters (Instrumental edit)
Actions
Diora1, Charlotte_Lancer, phina, Lukoni, sillyowl, SarkaS, McKayRulez, ami_ven, Jisa, jolyful, and GloriaMundi as well as 2 guests left kudos on this work!