Actions
Work Header
Rating:

Category:

Fandom:

Relationship:

Characters:

Additional Tags:

Language:

English

Stats:

Published:

2013-04-10

Words:

10

Chapters:

1/1

Comments:

11

Kudos:

33

Bookmarks:

Hits:

1659
The Things You Hide *Fluff Edition* (Podfic)
Summary:
Sherlock and John have been working and living together for nearly a year, each finding the other's friendship to be the one thing they would not risk or want to live without. Until something happens to disturb the status quo...
Notes:
This is a Theatripod 2013 collaboration directed, edited and compiled by vulgar_shudder. John is read by Calliope and Sherlock by Mific. It was first posted at Theatripod. Calliope and Mific helped with beta listening. The music is "One Last Chance" by James Morrison.
Work Text:

Length - about 18 minutes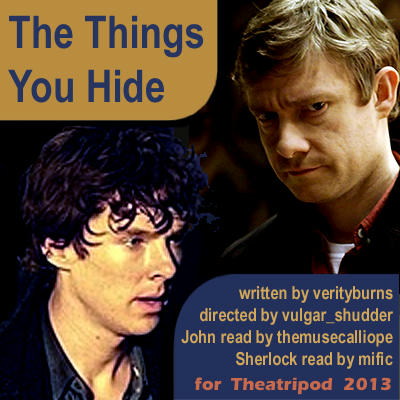 streaming option
Actions
Jesse_the_K, Mizuki_Neko, silenceinmolasses, HeavenSiete, TheArcher, TheGayDivorcee, Gilaen, SincerelyChaos, Rowrik, SarahTheCoat, readingdreamingwriting, Whispering_Rain, Nightvaler, BlazeorFade, epsentinel, fleetwood_mouse, DanaHistory, Serenity812, llaras, majoline, erica_schall, and hthesecond as well as 11 guests left kudos on this work!