Actions
Work Header
Rating:

Category:

Fandoms:

Relationship:

Characters:

Additional Tags:

Language:

English

Stats:

Published:

2013-02-14

Words:

8

Chapters:

1/1

Comments:

5

Kudos:

34

Hits:

5967
Wilt Thou Exchange - Cover Art
Summary:
"The first time Steve meets Toni is about a week after he wakes up."
Notes:
Cover art for a Steve Rogers/Toni Stark podfic by Exmanhater, of Twentysomething's very enjoyable story. I'm really looking forward to listening. Blended digital art made for Podbang 2013 and my first Avengers work. Just can't resist that genderbending.
Work Text: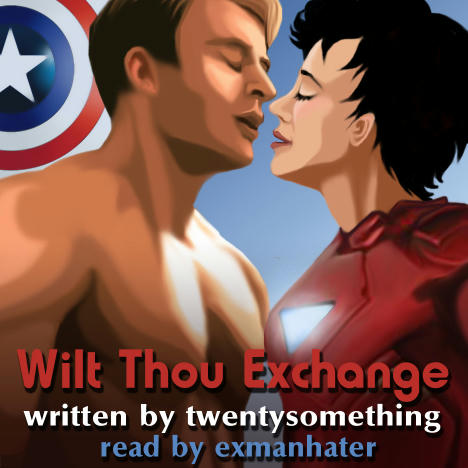 The podbang post with download links is here
Actions
bobostxrk, ishipallthings, SweetFanfics, bluesparkle19girl, tunglo, Salmastryon, Pipamonium, ShiroKujaku, PepperKim, wonkyhalo82, YokuMiya, Pappersvingar, moon01234, ureshiiichigo, In_Joke_Taken, Ailis_Fictive, llaras, exmanhater, chibimono, plumedy, Squirrel_the_girl_17, Thette, and Teyke as well as 10 guests left kudos on this work!