Actions
Work Header
Rating:

Category:

Fandom:

Relationship:

Characters:

Additional Tags:

Language:

English

Collections:

Stats:

Published:

2013-01-26

Words:

0

Chapters:

1/1

Comments:

10

Kudos:

55

Bookmarks:

Hits:

2626
Cool Cats
Summary:
Art: Cougar and Jensen hanging out.
Notes:
This was going to be a straight illustration for The first eight don't count by storm_petrel in which with Jensen is sometimes Cat, but for obvious reasons I couldn't resist making Cougar a werecat as well. A little something for kisahawklin, one of the Ante Up Losers mods. Blended digital art.
Work Text: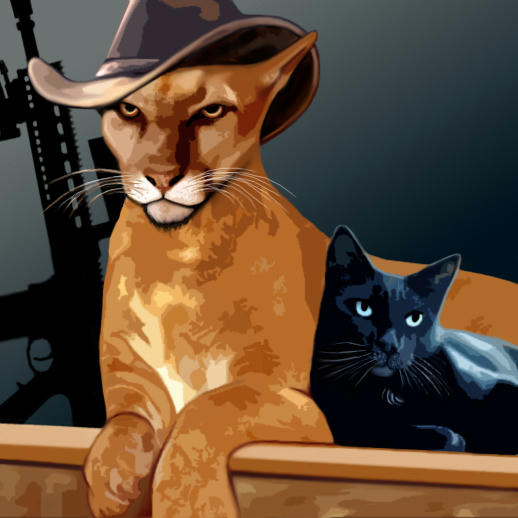 Actions
rebeccalsavage, pen_is_mightier, kITSUNETAKAHARI, sammijsavestheday, Haven, Beelieve, imafriendlydalek, tigrislilium, WhoGeek, FeralCreed, XxXAdishoXxX, jujukittychick, SignificantlyEmoName, Morena_Evensong, CBookWyrm, NaruHina143, GemlhKnight, DJ_Rena, freakingfreckles, Halkyone, sperrywink, ImpulsivelyBlue, Anneli, JunsuChinCritic, sweetNsimple, Musume_no_Suoh, chalcopyrite, xantissa, llaras, bookstorequeer, angelskuuipo, WolfLion, snarkyducky, starr_falling, Grammarwoman, MontanaHarper, scheherezhad, sansets, Etnoe, maharetr, niqaeli, and Cleo as well as 13 guests left kudos on this work!