Actions
Work Header
Rating:

Category:

Fandoms:

Characters:

Additional Tags:

Language:

English

Series:

Part 1 of the Bunnies of Death [Podfic] series

Stats:

Published:

2016-02-23

Words:

14

Chapters:

1/1

Comments:

4

Kudos:

12

Bookmarks:

Hits:

641
[Podfic] Bunnies of Death by DancingLassie
Summary:
Fill for this prompt:

Do you know the real reason hobbits live quietly in the Shire?

It's because all the other races banded together and banished them from the world's conflicts.

It just wasn't FAIR! Hobbits were tiny, adorable, and downright vicious with any weapon they picked up! No one else got to have any fun!

So the hobbits were disqualified and sent to live peaceful lives in the Shire; thus the battles of Middle Earth became a lot more bloody and a whole lot longer.

 

Bonus: It wasn't just the Men, Elves, and Dwarves that kicked them out; the Goblins, Orcs, and other evil beings fully agreed with the disqualification.
Notes:
(See the end of the work for notes.)
Work Text: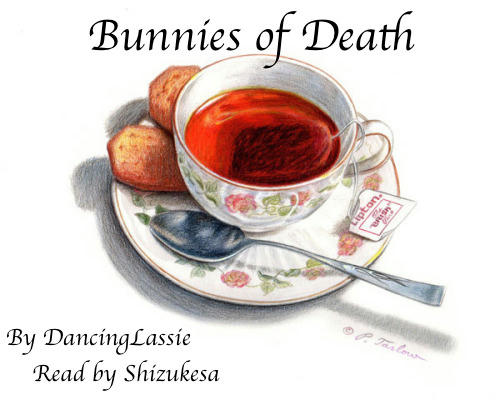 Length:
6 Minutes, 8 Seconds
Download and Streaming, via MediaFire (MP3, 28 MB):
Notes:
Well, my muse bit me again. I'm supposed to be studding for a Japanese midterm that I have this week but.... Well, yeah know... This happened....

Let me know what you think. Eventually I'll do the second part to this....
Series this work belongs to: