Actions
Work Header
Rating:

Category:

Fandoms:

Relationship:

Characters:

Additional Tags:

Language:

English

Collections:

Stats:

Published:

2016-01-06

Words:

23

Chapters:

1/1

Comments:

2

Kudos:

30

Bookmarks:

Hits:

763
[podfic of] The Lawyer All the Wickedness
Summary:
Matt Murdock is the Kingpin's right-hand man and a stain on New York City's legal system. Whatever he wants from Foggy, it can't be anything good.

So why can't Foggy stay away?
Notes:
Autor's notes

For those of you coming over from showverse fandom, you can totally read this! All you have to know about the Spider-Gwen universe is that Gwen Stacy is Spider-Woman and Matt Murdock is evil. And a redhead. ;) But you should read Spider-Gwen anyway, it is a delight.

Title comes from a quote by Schopenhauer: "The doctor sees all the weakness of mankind; the lawyer all the wickedness; the theologian all the stupidity."
Work Text: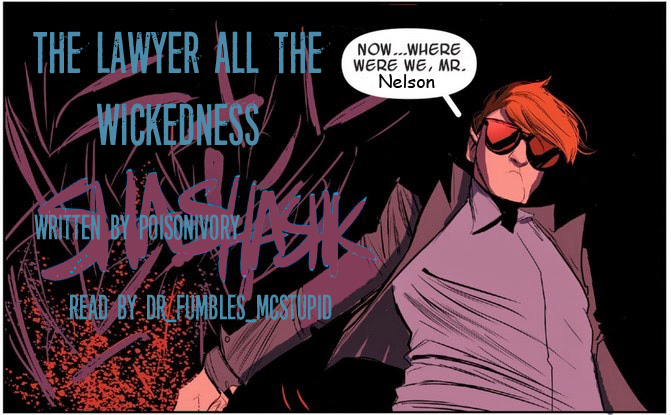 Title: The Lawyer All the Wickedness
Authors: poisonivory
Fandom: Daredevil
Pairing: Matt Murdock/Franklin "Foggy" Nelson
Length: 1:09:38
Actions
MidnightBlueMoon, xbettalove, silenceinmolasses, ssleif, Howietheduck, lavendersiren, bubblyNightmare, Hananobira, Ravenclaw_Nerd, DangerousWonder417, krissy2037, RoxySmith, ChelseaIBelieve, BitterlyByronic (A_Little_Bit_Broken), orithyia, Unread, and litra as well as 13 guests left kudos on this work! (collapse)