Actions
Work Header
Rating:

Category:

Fandom:

Relationships:

Characters:

Additional Tags:

Language:

English

Stats:

Published:

2015-10-26

Words:

13

Chapters:

1/1

Comments:

11

Kudos:

27

Bookmarks:

Hits:

1783
[Podfic] Possible, Still
Summary:
He knows what Scott wants. Scott wants peace and happiness and for Liam to get the girl and Kira to come back and Scott wants normal. Always has. So Stiles will give him that.

-

Wherein Stiles decides that if Scott no longer wants him because of what happened with Donovan, he's at least going to make sure Scott is safe. No matter what it costs him. No matter how much it hurts.
Notes:
(See the end of the work for notes.)
Work Text: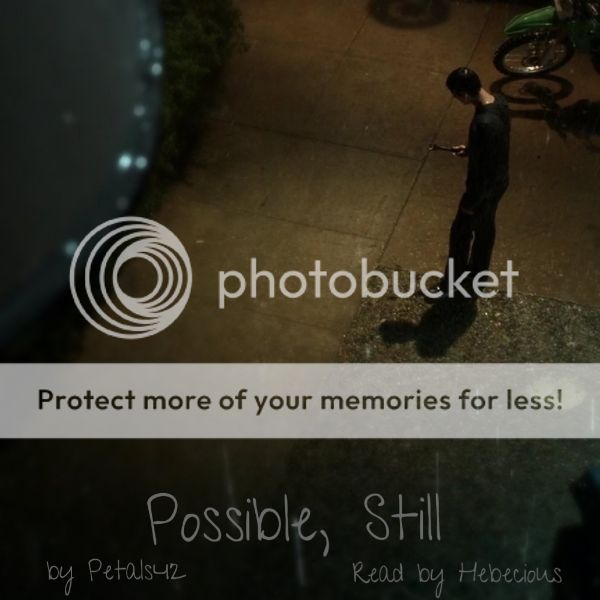 Cover Artist: hebecious
Length: 01:11:51
Download Link: MP3 (mediafire)
                        Audiofic.jinjury
Notes:
I am so sorry about the problems with the link. Please let me know if there are still issues.
Actions
Will_Kurosaki, SarahBeth, cynomys, namida221b, silenceinmolasses, CBookWyrm, Sop12345d, Chexthisnumber, BBCFangirl3000, vanessadarlyn, Reading_nerd, obsessed_with_beautiful_words, rosepetals42, decaf_odin, decaf_odin, decaf_odin, decaf_odin, decaf_odin, and decaf_odin as well as 8 guests left kudos on this work! (collapse)