Work Text: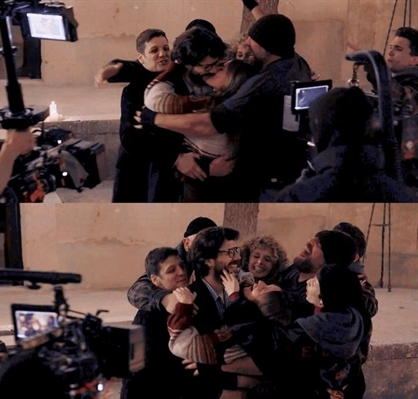 The end of August. Italy. The lonely building of the monastery amazed everyone who managed to see it with its appearance. The place plunged headlong into the era of that time, but everyone who was inside was not up to the stunning landscapes and the ancient building. 
Every day from 9 to 13 p.m. and from 14 to 17 p.m., all gang members were in the office and listened to the plan developed to the smallest detail. The closer X-day got, the more difficult it became to keep calm and concentrate. 
Sergio increasingly doubted his strength and plan, he could not be sure until the last that everything would go as planned in theory. Raquel tried to instill confidence in him, but, alas, it was impossible to convince the professor. Every evening he frantically read the plan, checked all the information, hoping to catch every mistake they are capable of making. 
It was a cool August evening. At this time, the gang could forget about the robbery for a few happy moments and just relax: drink a glass of wine, eat a delicious dinner and relax. Everyone followed this rule except Sergio. 
He nervously adjusted the button on his jacket, hoping to somehow distract himself. There was water in his glass, because alcohol prevented him from controlling every second of his life. 
– Professor, can I pour you some wine?– Tokyo, sitting across from him, asked. 
– No, I will refuse,– he replied dryly. 
Raquel looked at him questioningly, but didn't say anything. She saw all his tension, and she couldn't do anything about it, no matter how much she wanted to pull him out of this state. 
– Tomorrow there will be a lesson on anatomy. Each of us should be able to provide medical care, get bullets and perform operations. So try to go to bed early,– he said, finishing his water. Sergio got up from his seat and moved towards the building. 
– Professor, why don't we just rest tonight? Denver asked. 
–We don't have much time,– he whispered, and quickened his pace. 
There was silence at the table. 
– He is okay?– Tokyo asked Raquel as he disappeared through the door. 
– I do not know, – the girl sighed heavily.–He doesn't think the plan is perfect,– she replied, confused. 
– We are doing everything in our power to master every detail of the plan. We need at least some rest. 
Meanwhile Sergio was already in the room. He took a shower and changed into his pajamas to go to bed. Nervously running his hands through his hair, the man exhaled. 
It took about half an hour, and Raquel wasn't around yet. They hadn't talked much in the last few days, and he hadn't paid much attention to her. Worries about his beloved girl forced him to get out of bed and go outside, throwing a warm jacket over his shoulders. 
Denver was sitting on the porch playing with Cincinnati. The setting sun illuminated their faces. The picture of father and son could not leave the professor indifferent. 
– Professor, are you still awake? Denver asked, turning his head at the sound of footsteps. 
In response, he only shook with his head and sat down next to them. 
– Are you okay?– he asked. 
Sergio adjusted his glasses on the bridge of his nose. 
A few seconds of silence knocked him off balance. 
– How do you keep calm, Denver?
– I don't want to be nervous now, while everything is fine. Monica and Cincinnati are next to me. We can't waste this time while we're still happy together. 
– But aren't you scared?
– Professor, you just need to stop criticizing yourself. This plan depends not only on us, but also on circumstances. This robbery is really more complicated than the past, but we can't think through every second. Just relax, at least for the evening. Think for yourself, what will change if you blame yourself every minute? 
– Nothing,– Sergio replied rhetorically. 
– Exactly. 
Stockholm came up to them and took Cincinnati in her arms to put her to bed. 
A few more minutes passed in silence. 
– Can we have a drink?– Sergio asked, inhaling the cool air. 
– Did I just mishear or not? Denver grinned. 
– No,– he said, smiling broadly. 
– What do you like, Professor? 
– Cognac. If you drink, then only noble drinks. 
He brought a bottle of strong alcohol and a beer for himself. Cognac was too serious artillery for him. 
After the first glass, Sergio felt better. Everything around no longer seemed so depressing and terrible. 
– If you fall asleep right here, I'll have to call Bogota for help,– Denver joked. 
– Are you so sure I can't drink?– Sergio laughed, and the interlocutor picked him up. 
After a few drinks, he put the bottle on the table and stood up to stretch his muscles. 
– Are the others still at the table? the man asked. 
– When I left, Nairobi was opening the second bottle of wine, so the female part of the gang is definitely still there. 
– Shall we go? 
Denver got up from his chair and they went to the gang. 
– Professor! – Tokyo was the first to call out to him, surprised by his appearance. 
Seeing him, Raquel broke into a smile. She could discern his states in a couple of seconds. And now he was pretty drunk for the first time in the last couple of months. 
Palermo came up to him, clapping him on the shoulder. 
– Do I see a cheerful Sergio or am I hallucinating? 
–This is a one-time promotion for the whole evening,– he replied, hugging him back. 
Palermo turned up the music and made a few rhythmic movements, inviting him to join in. 
– No, no, I'm not in the right condition for dancing yet. 
– Come on, just dance. 
Tokyo picked up the rhythm and was already moving to the beat of the music along with Nairobi. 
Lisbon stood to the side, watching the fun. She lost sight of Sergio and started looking around. 
–I'm here,– he whispered in her ear from behind, slightly startling her. The girl turned to face him and smiled sweetly. 
– I'm glad you could relax,– she said, adjusting the collar of his nightgown. Sergio laughed, remembering that he was still in his pajamas. 
– I'm sorry, Raquel. I've been acting selfish lately. 
–I understand everything,– she whispered, gently running her hand over his palm. 
–You're so beautiful,– he said, looking her over. 
– Sergio, how much have you had to drink?– the girl laughed. 
– Not as much as you think. 
She looked at him pointedly. The man held out his hand to her and twisted it around his axis to the rhythm of the music. 
Raquel was rocking her hips and laughing happily. 
Tokyo approached them with an offer to smoke. After breaking down a bit, Sergio took a cigarette and inhaled the smoke, which penetrated into his lungs, causing relaxation in every muscle of his body. 
After making a few more pulls, he stubbed out his cigarette and approached Raquel, gently holding her by the waist. He didn't care that the others had access to their personal lives at that moment. He just wanted to enjoy her beauty and closeness. 
The whole gang was assembled. There was a smile on the face of each of them. The lights of the candlesticks illuminated the area with a subdued light. The energetic melody changed to a calmer one. 
Sergio hugged his girlfriend and pulled her to him, leaving his palms on her lower back. Palermo came up from behind and hugged them, Tokyo, Nairobi and Stockholm joined the warm embrace, Helsinki and Bogota joined in a couple of seconds later. 
Standing there, among the lights and music, laughing loudly and smiling, they felt happy and intoxicated. 
The professor pulled Raquel to him for a kiss. His lips touched hers, a soft kiss reflecting all the love of their couple. At that moment, he was thinking of nothing but her. The girl ran her fingers through the strands of his hair and gently stroked his head. 
Everyone around started shouting encouragingly. 
– Professor, I don't recognize you,– Palermo said. 
In response to his words, Sergio and Raquel laughed, he only pressed her closer to him. 
Everything inside the girl turned upside down. He kissed her in front of everyone. The most shy and decent man in her life. She left another kiss on his cheek and gently pressed herself against the man's chest. 
They exchanged a few glances and understood everything without words. 
– I'm very grateful to all of you, but it's really time to rest,– Sergio said when everyone had gone in different directions. 
Disappointed exclamations echoed from every member of the team. 
– Our professor has started coming back,– Tokyo said, disappointed. 
– Good night,– Denver and Stockholm said, and went to their rooms. 
Sergio took Raquel's hand and they went up to their room. 
Closing the door, he turned to her and pulled her to his waist. 
– You really surprised me today,– Raquel said, putting her hands on his neck. She quickly closed the distance between them and kissed desperately. 
– Sometimes you need to let go of control,– he whispered in her ear and put his hands on the warm skin of the girl under the sweater. 
– Shouldn't we get some sleep tonight?– She said sarcastically. 
– I think we're going to have to break a few rules today,– he said, leaving sweet kisses on her neck and collarbones. 
Raquel took off the warm sweater from her body and began to undo the buttons on his pajamas. After getting rid of the unnecessary fabric, he put her in bed. 
Keeping eye contact, Sergio descended lower and lower, leaving hot kisses on her skin. He gently spread her legs and began caressing the inside of her thigh, enjoying the feeling of her soft skin. His feelings were aggravated by the alcohol he had drunk. 
Taking off his underwear, he approached her center. The movements of his tongue were very gentle, but gradually he picked up the pace. Raquel sighed softly, snuggling closer to the pillows. She was enjoying the sensation that was beginning to form in the lower part of her stomach. 
Sergio deepened his movements, making circles around her clitoris with special pressure. 
- Sergio...– she whispered, running her fingers through his hair. 
He hummed encouragingly, causing a pleasant vibration throughout her body. The man continued his movements, slightly accelerating the pace. After a few seconds, a prolonged groan was heard throughout the room. 
Raquel has been dreaming about this feeling for the last week. Her head was spinning from the orgasm she had received, and her breathing was difficult to even out. 
Sergio climbed up to her and pressed his whole body, feeling her breasts on his. They exchanged long happy kisses and broke away from each other. 
The girl turned him on his back and touched his excited penis. Descending lower, she settled comfortably between his legs and began to gently run her nails along his entire length. 
– God, Raquel,– he whispered, exploding at the sensation. 
She just grinned and ran her tongue along the length, covering his penis with the warmth of her mouth. Several times she sank to the very bottom, causing him the most pleasant sensations. Then she wrapped her right hand around its base and deftly combined the combination of the softness of her mouth and the strength of her palm. 
– Raquel, please come to me. 
After a few rhythmic and deep movements, Raquel pulled away from him. And she moved forward in an attempt to straddle the man. But this time he wanted to be on top. 
Sergio turned her in bed, which made the girl laugh out of surprise. He guided himself at her wet entrance and gently entered inside. Raquel closed her eyes with pleasure and exhaled all the air that was in her lungs. The feeling of fullness made her lose all control. 
He took her palms in his and began to move actively, creating a rhythmic knock of the headboard against the wall. He entered her as deeply as possible. Languid moans of pleasure came out of his throat. 
– You're a goddess, Raquel,– he whispered, burying his face in her hair and continuing active movements. She moved towards him, creating loud skin-on-skin pops. 
Sergio moved his thumb to the center of her pleasure and made several circles. The walls of the girl began to shrink rapidly, having an indescribable effect on the entire length of the man. After a few thrusts, he found his own release, accompanying it with a staccato moan. 
The heavy breathing of both was accompanied by sincere smiles of satisfaction. 
He pulled away from Raquel, lying down next to her and pulling her to his waist. Her head snuggled on the man's shoulder, and her palm gently caressed his chest. Their breathing synchronized over time.