Chapter Text
ACT TWO:
Sins Of The Fathers
CHAPTER TWO
---
CG: INQUISITOR?
CG: **INQUISITOR**?
CG: HOW INQUISITIVE ARE WE GODDAMN TALKING HERE. RANK IT FROM ONE, WHICH WOULD BE A NOTED LACK OF FUCKS GIVEN, TO TEN, WHICH WOULD BE INQUISITIVELY SHOVING YOUR FROND INTO EVEN THE VAGUEST OF CURIOSITIES, BECAUSE YOU'RE JUST THAT INQUISITIVE.
CG: JUST WHAT THE FUCK ARE YOU TWO MEANT TO INQUISIT? BECAUSE NOBODY I KNOW LEGITIMATELY BELIEVES IN A PARTY PLANET OR THAT FAYGO IS A DELICIOUS BEVERAGE, SUITABLE FOR ALL OCCASIONS. NOBODY BELIEVES THIS BECAUSE IT'S STUPID.
TC: honk. :o(
CG: NOT TO TAKE A STEAMING SHIT ON YOUR COLOSSAL MINDSCREW OF A CLOWN RELIGION OR ANYTHING.
CG: SORRY, BRO.
TC: i know you ain't a faithful.
TC: i know you don't kick it messiah style.
TC: THAT'S OKAY.
TC: SHIT'S ALRIGHT, YOU KNOW?
TC: i do the motherfucking believing for us.
CG: I DON'T WANT TO GO TO CLOWN HEAVEN.
TC: maybe you're already.
TC: IN CLOWN HEAVEN.
TC: ;o)
CG: BLEAAARGH. NEXT.
CG: I MEAN IT, WHAT CONSTITUTES 'HERESY' HERE?
TC: ain't nothing for you to get your worry upped and over.
TC: AIN'T NOTHING FOR YOU TO HAVING GOING GETTING FRET.
TC: some group who got a beef with the church.
TC: GOT THEIR VENDETTA, YOU KNOW?
TC: they want a war.
TC: THEY WANT THE WALLS TO MOTHERFUCKIN RUN WITH MOTHERFUCKIN BLUE.
TC: or some shit?
TC: terezi keeps up and butting in, leaves my deets unspecific.
CG: TEREZI HASN'T BREATHED A FUCKING WORD OF THIS TO ME.
CG: AS FAR AS I WAS CONCERNED, HER GREATEST UPSET ABOARD THIS CLOWN CAR WAS THAT SHE HAS HAD A SURFEIT OF SHITTY SODA POP.
TC: don't need to worry none about her either.
TC: OLD MAN MOTHERFUCKING LOVES HER LIKE HER GLUTES WERE JEWELS.
TC: no matter what doubt she spews.
TC: AND SPEW DOUBT SHE DOES.
CG: TO BE HONEST WITH YOU, THIS CULTIST INQUISITION STUFF SOUNDS LIKE GRADE-A BULLSHIT. TOP QUALITY TURD.
CG: HAVE YOU CONSIDERED THAT THIS IS JUST ANOTHER EXCUSE TO PUT PEOPLE TO THE CULLPIT FOR SHITTY REASONS?
TC: :o(
TC: this ain't arbitrary.
TC: THIS AIN'T RANDOM PURGE.
TC: no matter of nonbelievers, right?
TC: matter of not believing all hardcore.
CG: IT'S A MATTER OF WELL WHOOPTY DOO, MAYBE PEOPLE DO HAVE A LEGITIMATE REASON TO HATE AND FEAR OUR HIGHBLOOD OVERLORDS???
CG: FOR FUCK'S SAKE, GAMZEE, DON'T BUY INTO THIS. LISTEN TO WHAT YOU'RE BEING TAUGHT. AND FOR THE FIRST AND ONLY TIME IN MY SHORT, REPULSIVE LIFE, AS YOUR MOIRAIL I ORDER YOU THUS: LISTEN TO TEREZI.
TC: do i got to.
CG: YES.
TC: do i got to act like it.
CG: HELL NO.
CG: WHY GIVE HER THE SATISFACTION.
TC: heh heh.
TC: THAT'S WHAT I'M MOTHER FUCKING HONKING ABOUT. :o)
CG: AND MAKE SURE SHE DRINKS SOME GODDAMN WATER, SHE IS EVEN MORE INSUFFERABLE ON A SUGAR HIGH.
CG: LOOK. I DON'T MEAN TO GIVE YOU SHIT ABOUT THIS, I'M JUST GOING THROUGH SOME TOUGH FUCKING TIMES HERE AND I'M NOT CERTAIN ABOUT ANYTHING ANY MORE.
CG: AND BOTH MY SUPPORTERS HERE ARE CRAZY AS FUCKING GLOBES.
TC: both?
TC: ain't heard of a both, dogg.
CG: FUCK.
CG: ME.
CG: YES, THERE'S A BOTH. I JUST. FUCK
CG: YEAH. NO. THIS IS A CONVERSATION THAT NEEDS TO BE JAMMED OUT LATER.
TC: HEY, BELOVED.
TC: no secrets between us.
CG: DO NOT GIVE ME PIOUS SASS ON THIS, BOZO.
CG: YOU STILL CAN'T TALK ABOUT TAVROS.
CG: JUST DO ME A SOLID, KEEP YOUR CANALS OPEN ABOUT THIS HEAP OF HERESY MUCUS AND KEEP TALKING TO ME.
TC: if my digits fell off i'd talk to you.
TC: if my twitcher cold wilted i'd talk to you.
TC: if my pan drained i'd talk to you.
CG: I JUST FUCKING WORRY.
TC: don't wanna give you cause, best friend. :o(
CG: YOU'RE IN THE HEART OF THE CREEPY CLOWN COMMUNITY.
CG: YOU'RE THE HEIR TO SOMETHING WE CANNOT REALLY FATHOM.
CG: IT IS RIDICULOUSLY EASY TO GO ALONG WITH WHATEVER THE FUCK PEOPLE SAY YOU ARE IF THEY THROW AROUND ENOUGH SHIT AND GLITTER.
CG: YOU SHOULD LISTEN TO ME BECAUSE I AM SWOLLEN WITH WISDOM FAR BEYOND MY SWEEPS, A GODDAMN NEXUS OF MATURITY AND ENLIGHTENMENT SO POWERFUL I SHIT PARABLES EACH TRIP TO THE GAPER.
TC: sounds like a stress.
TC: A STRESS TO THE ASS.
CG: OK. I KNOW IF YOU'RE STILL MAKING CHUTE JOKES, YOU'RE THE GAMZEE I KNOW AND CHERISH FOR SOME REASON.
CG: KEEP IT THAT WAY, ALRIGHT? EVEN IF YOU'RE NOW SOME BIG-SHOT HOITY-TOITY SUSPICIOUSLY EVIL INQUISITORIAL TEAM, IF YOU TURN AWAY FROM ME I WILL REACH THROUGH TROLLIAN AND SCREAM AT YOU UNTIL YOU BOTH HAVE TO BE TAKEN AWAY TO BE KILLED. GOT IT?
CG: JUST DON'T LET IT GO TO YOUR HEAD.
TC: it ain't even a thing.
TC: not one spit of a thing.
TC: SHE AND I?
TC: I AND SHE?
TC: WE ROCK IT MOTHER FUCKING HUMBLE.
CG: ONE LAST THING BEFORE I GO. SHIT, I'M ALREADY OVER TIME.
CG: THOLLUCKS SAID YOU HAD SOMETHING TO JAM WITH ME, THE IMPLICATIONS OF WHICH WERE SO DISGUSTING THAT HE CLAIMS HIS "BULGE DIED."
CG: THE MEMORIAL WILL BE HELD NEXT PERIGEE, ATTENDED IN AN EMPTY ROOM BY ALL WHO CARE. ANYWAY, WHAT WAS IT?
TC: don't worry.
TC: wasn't a deal.
CG: WHAT HAPPENED TO "NO SECRETS BETWEEN US", NOOKMUNCH.
TC: ain't in secrecy.
TC: PUT IT OUT YOUR NUG, ALRIGHT?
TC: i swear i got this one under control.
---
Each evening you got your routine. You roll out your sopor and you stand under the trap spray, turning it to hot as it will scald. You slough off slime and turn it cold as it will chill, and then you bore yourself with the fang paste and the bristle stem and the towel. Ablution block's yours second. You stand there in a fug of partner reek, her soap and her foam and her hair lather, and when you're dry you bind your mane and put your face on.
Routine is aimless bullshit 'til your paint. You could put your face on blind. You could put your face on with stump arms. When you make full subjugglator they'll put your design on the cut nug of your first cull, and they'll pickle it and put it aside until the day you motherfucking die.
White grubgrease first all over, up into your hair. Then the grey paste worked into your palpebral flaps and outlining the oculars. Eyes first, muzzle after. Swoops down your cheek orbits. Last is the two spots right up above your eyes and a spray of fixative, and then you're you, not someone undressed. Paint is the first sacrament. To paint is to testify.
When at last you leave the block there she is, always, sitting in the atrium with a cup of caffeine and her tie untied. Both of you get work on the evening necessary: to bolt your fucking food.
"Pass the jam," says your partner.
Nutrition cart comes right to your doorway now, delivered hot by a couple underpriests. You're at it evening to motherfucking dawn, and if you don't fill belly now and stuff pocket for later, you're stuck with nothing but elixir until the morning horn honks. You and Terezi stuff your maws with frazzled pork hide and preserves, all liberal amounts of beetle in the grubmeal and fat on the oink hide, and you never ate so well back in your lawnring. Your dad never thought about that, eating.
When the priests happen on you in the corridor now, they are all a-bow. They are all a-honk. They fucking fall over themselves. All their scraping rattles the canal. Your fortunes have changed now, don't you know? They may grind molar that you're top of the horn pile, but they cannot do a single thing. There is not one single thing they can do.
You're Inquisitor motherfucking Makara. She's Inquisitor motherfucking Pyrope. You'd welcome a punch thrown in your direction. You would embrace it. You follow the old church adage of talk shit, get hit, but maybe they can see and taste your readiness for violence. Nobody comes at you, brother.
All generous, you upend jelly on her hide. "Put some ass in your pants. You look like a starveling nail."
"You look like a knuckle in a subjugglation uniform," she says, slathering jam. "I request that you do not talk to me about butts."
At least you're both talking. Silence is war. By treaty you don't go into the territory of the Grand Highblood's revelation. You don't look at her facefront to find trace of yours. Sometimes you feel like you collect the ghosts of other people's secrets, and you walk around a haunt.
"If we are off the subject of ass scholarship," says Terezi, slicing bacon, "it is now your duty to get the meals from the underpriests. I have sneer fatigue."
"They're just underpriests," you say. "Mere underpriests only. Are you Inquisitor Pyrope or goddamn WHAT? Could use one underpriest as a chair, two as your motherfucking table."
She pops a tineful of food in her mouth and says thickly, "Down, boy."
"What'll they do, motherfucking spit in my motherfucking food?"
"Maybe! They will definitely spit in mine!" On the other side of the caegar is your partner, who to them is all civilities: but it's her politeness they think pestilence. She ain't popular. "I would like to eat one meal that is not a significant percentage of clown spit."
"Wicked sister, that is casteist," you say. "Can't tell a clown by their spit."
"It tastes like Faygo," she says. You sop up husk juice and jam slurry with a slice of loaf. "When I leave Echo Side I am never touching soda again, not even the un-shitty kind. Not even the type you mix with cold grubcream to make grubcream floats."
Your partner sets down her tines and rests chin on her paw. She sounds wan and wistful. She sounds full up with regret. You say, "Who says we're ever leaving?"
"Gamzee." Terezi always rolls your name around her flap like a sweet, gets it ugly with her tongue. The shadows beneath her eyes are bitter shadows. These days for her are weary days. "Refresh me. What is the Old Alternian root meaning for inquisition?"
"I ain't your performing barkbeast, baby girl -- "
"Indulge me."
You scrape the last beetle from your bowl. You squeak your spoon round the edge so it whines, high and rusty, which always makes her bare her fangs in pain. Terezi don't like the rough sounds: not for her is decay and shrill. She sits opposite in her neat new jacket with her specs polished, her horns shone, like she ain't older than the girl you first met. Like she ain't angrier.
"Inquisition," you rattle. "Root: to search. To examine. Understood examination: of those who offend canon law or pledge heresy against the Church of Mirthful Messiahs. Also understood: expurgation of -- "
She waves her hand. They're her syllables. First time she told you them, terse, you gave her info the wicked consideration it deserved, which had been to call her word nerd and spend a couple flipping each other off. "The key word," she says, "is search. We will not be staying here. The Church would have bigger problems in its Faygo-stained hallways if we had to Inquisit on Echo Side."
Terezi's right. It grinds you. Cardinals might up and call you brother, now, sometimes little brother which is their way of getting motherfucking cute, but her they call sister legislacerator. Not wholly a sis. Other. One of them even calls her little Neophyte, and you should've taken a snap of her face when she first got that: should've snagged her startle. She feigns gracious now, but you know it for her flinch.
"Get to the point," you say. "We run around. We play motherfucking cop shop?"
"We run around," she says. "We play motherfucking cop shop." Terezi pushes around the last of her oink hide, mouth troubled. "And who will we play cop shop to, Mr. Plumberry? After all he's told us, who are our targets going to be, and why? And why us -- you his descendant, me his -- ugh -- matesprit's descendant, especially if we are his descendants -- and not the laughsassins? It is a very public job!"
This is not a question you can answer with listening ears. It's not even a question you can answer easy. Of course, she's a down and dirty sophist; she is making rhetoric. She doesn't desire an answer. She just wanted to make you think about the question.
"Aw, girl, you shy and retiring petal sprout," you say. "Your name was always going to be put in bright lights. You were always going to work the wicked publicity, little Neophyte."
"If you begin calling me that too," she says sharply, "I will fill your recuperacoon with hot wax. We have reached maximum silly-nickname limit."
You are beginning to comprehend her flinches. Her body quakes aren't in irritation. They are in reluctance. "So you ain't shamed by fame, you're shamed by Church fame -- "
"Gamzee," she says. "I think I am beginning to get afraid."
The way she says it is simple and neat. The way she says it curls on the tongue. You think about the man who made you and the idea she knows fear makes you wanna laugh. It makes you want to belly chuckle. It also makes you angry, her putting her vulnerability right there on display where anyone can seize it with dirty hands.
So you say, "We don't even fucking KNOW FEAR YET."
You reach for the frazzle on her abandoned fork. She snags before you can. With quick fingers, she slides the morsel off the prongs. She reaches out until the cooling oinkhide's at your lips, fingertips brushing, the oily scent of frazzle filling your nose. Maybe a while back she would have legit fed you like a nourishing pacification; now she snatches it back the moment you grudgingly yaw your flap to eat, and your partner pops the whole thing in her mouth instead.
"Oh wow, I love bacon," says Terezi, licking each cheating digit. "Bacon is delicious."
Sometimes you nearly fucking
LOATHE
her.
Once you're out, you're out. You move quick through Echo Side's cool halls, splattering the dimness with yourselves, hurrying your asses lest the old man call you tardy. Your old man likes you punctual. Now that you don't have to bother with the salute and the bow to every priest ranked above you, you get along just fucking fine. It's them who scrape in your wake, Terecita clattering her cane on the floor like there ain't a care in her pan.
You still have to dutifully give whoop if you pass a purple-robed Cardinal, but you don't have to stop. You don't genuflect or salute, don't work wicked obsequiousness. This fact makes you downright immodest, but you ain't the only one. You see the set of your legislacerator's shoulders; her spine is held like a sword. Her nug is a club. This is her being the little Neophyte, and this is her angering each priest who don't keep their counsel about blood.
One of these is the hallway guard. It's the same motherfucker who gave you distaste when you first boarded Echo Side, the one you awarded a busted sniffer. They keep giving him detail at the gate to the old man's outer halls. He's reined in his grief some. The way he beholds you is south of friendly, but the way he looks at your partner -- when her head's just so, and her teeth are bared in a rictus grin -- the way he looks is unrestrained. His eyes chide. His hands say murder.
"Give us passage, please," says Terezi, all ease. He doesn't even look at her. He looks over her head at you. You don't make bother. She takes her cane and she smacks it into the metal at his feet, making a bright sound, noisy clanging: "Brother, I humbly request passage."
"Don't," says the guard, up and difficult, "call me mother fuckin' brother."
His nose didn't heal too well. There is harsh tremble in him. For a moment you're sorry, almost, something near sorry, because this is the kind of subjugglator who closes his eyes and is first up to take Faygo shower when you're all in massacre. He's into the whimsy. He is capricious as fuck. But he missed something along the way, which is that your partner is the hand of the mother FUCKING CHURCH, and he is a POOR NUG-SPILLED PRE-CORPSE.
But she says quiet: "If I have offended -- "
"Your BLOOD offends," he says. "Your FACE offends. Your fucking breath offends. Your -- your presumption offends."
You're bored. If this piteous brother wants to commit suicide by Inquisitor, let him. But when you move your hand to your belt and he's staring at you disgust-filled she raises one hand, one bony hand, like she can stop you in your tracks. Sometimes her presumption does offend. "Then please move aside," she says, "so that I may be in a radius that is less offensive to you."
He does. He shunts to the side. Terezi struts ahead like they just had a nice little whoop-whoop about the weather, and as you walk down the corridors of the outer sanctum you catch her shoulder. She shakes you off hard. "You show your throat like that," you tell her, "you fucking keep rolling over, they will bite. They will rip out your twitcher. Mirthfuls can't abide weakness."
"Can't you?" she says. You both wait at the inner gate for one of the Cardinals to unlatch it, and you pass through to the inner corridors where overhead the skulls hang like baubles and the paint is bright. The blood is fresh. You are always beautystruck, but less tonight. Your partner continues, "I am so sorry for your loss."
"I'm trying to give you mother fucking counsel -- "
"I don't care," says Terezi. Her voice is odd. It throws strange echo. She stalks a couple steps before you, and then waits at the threshold. The silk of the Grand Highblood's carnivalblock lies before you. The dim shows you that her mouth is set, her oculars are hard. Her mouth is fucking iron. "That's all there is to it! I just don't really care. I am smelly with apathy."
"Oh girl," you say, "girl girl GIRL, why are you staying your claw?"
"Might never made right," she says. She looks at you like you are a puddle of vomit that took a dump on some pus. "Not even in FLARP."
"Look at her digging in her heels. Look at her like a braybeast on a thorn. Does she really want the HIGHER MORAL GROUND -- "
Terezi says, "Gamzee, I want to be me."
This is said with the same simplicity she told you she was scared in. It makes you feel the same way it did at breakfast. It makes blood roil in your pan case. It makes you want to rearrange her face from sheer disgust. It is a joke of the universe -- it is a universal motherfucking joke -- that you put your hand around her brittle wrist. Feel her bones.
"It makes me get my sadness on to see it," you say. "Okay? He is cracking some motherfuckin' heresy. It's bullshit, is all. Here are we with our baller titles, here are we bumping nug and getting justly schoolfed after squirting blood like it was a FUCKING CONDIMENT, and you let him get all unfunny with you BECAUSE?"
She sags. Her shoulders make a droop.
"I hope you know that when you get all genuinely friendly," she says, "it makes me want to rearrange your face, then punch you in the teats."
That's precious. "Answer my fucking question."
"That's a little better," says Terecita. Her smile runs all pallid. "Because -- I am not an honourary indigoblood! Don't start oozing protective over me, either. That is gross. Sometimes the path of peaceful protest is just as much fun to take, Mr. Makara."
"But -- "
"I don't want to talk about it," she says, and she puts her hand over yours. Her claws bite into your knuckles. "I am never going to adapt. I am the most tealblooded of tealbloods. Cut my pusher open, and there will be TEALBLOODED written on the inside. I can never hide that, so stop wanting me to. For one thing, it smacks of pale."
Terezi laughs when you shake your hand away from hers, all disgust. "You change your mind like a seadweller changes clothes," she says.
"If I ripped your pump box open," you say, "if I PEELED OPEN YOUR HEART, it would read VILE SINNER. It would read FLAGRANT FUCKIN' ARROGANT. It would read NO-ASS BITCH STICK."
She says, "I like all that," and she waggles her eyebrows at you.
Terezi hurries down to push tentflap away and in. She disappears from view with a twitch. As you follow you have no fucking idea, no idea what so fucking ever, what the two of you are about.
---
"Listen to the lesson," says the Grand Highblood.
Tonight he takes school in his circus chambers, full of smoke. Sometimes you're in the gallery, door locked and floor bare. Shit's uncomfortable. You end up knee-bent and sat before your old man like you're hearing wiggler tales. Like a pic in a pupa story. The smoke gets you sleepy or the light makes you tired, so it takes effort sometimes to give him your full concentration. Ain't like you don't want to. You prefer getting told than reading a book or getting a mother fucking lecture, but you don't like lessons on the whole.
He says, "THEY PAID OBEISANCE TO A NOBODY."
Tonight you're in the tent sanctum. You ain't neither touched your tea.
"They paid obeisance to a troll," he says again. "WHAT MANNER OF TROLL? An ordinary troll, to look at. A wanderer. Anonymous. Not old, not young. NOT PREDATOR NOR PREY. NEITHER FISHBEAST NOR FOWLBEAST, just a young troll with a loud voice who advertised nothing.
"And there was his motherfucking appeal, children, there was his GOD DAMN SCHTICK: people draw conclusions about signs. Each blood colour got its own agenda. Each symbol a cliché. BUT THIS TROLL, HE WORE NO SIGN AT ALL."
Guess who likes lessons? Terecita. Her pointy face aglows. Behind her specs she has hunger eyes. This is her usual brand of bullshit: she will chirp "Bored!" to nine out of ten shows on the slug, but sit through fucking movie creds to see who did the hoofbeast wrangle. She listens so hard she should leak.
"Let me guess," she says. "He talked dread heresy!"
"You'd be wrong," says your old man. You see her sharpen. "Dull heresy. The most pedestrian of heresies. YOU THINK THE CHURCH MOWS DOWN EVERY GRUMBLER WHO TALKS DISTASTE OF THE HEMOCASTE? You think we care for muttering? It's a whipping crime before it is a killing crime, little sister, the laws -- ain't -- changed."
"But he did speak of the hemocaste, then."
"And peace," the Grand Highblood says. "And a dream. SAID HE GOT A VISION, NOW. Said the true Alternia was one unjudged by the sick hue of your spill. ONE RANKED BY ACTION. One where killing was unnatural crime, don't you know? TOLD US THE KILL AND THE CULL WASN'T OUR NATURE."
Your old man likes his cigarettes: you know that by the time he comes to the butt, lesson's over. Lesson only goes if he lights another lung exfoliator by the nub of the old lung exfoliator, in which case you got a stay of execution. He rolls the stick between two fingers, nail stained, print worn. "Heh," he says, "wonder what he'd think now."
You don't understand his rue.
"This peace-talking troll spoke no agenda," he continues. "They liked that. The bleatbeasts who listen to this shit, they don't like being told to go to war. THEY LOVE SOFT THOUGHTS WITHOUT BLOODSHED. HE TOLD THEM GENTLENESS WAS A TRUE THING. He spoke no war, but trolls are trolls are trolls; wouldn't you know, but for him they wanted to PICK UP THE SWORD.
"And they called him the Signless."
The tent sanctum's full of smoke and tea steam. For a moment, getting that name in your aurals -- Signless -- makes a shiver dance up your cord. Makes the follicles on the back of your neck stand. It's just some bullshit word, but the contents of your digestion pouch go to snow. You feel the old man's prickle of fear and you recognise it for what it motherfucking is. He's doing the chucklevoodoo.
When you look sidelong at Terezi she is still. It's had the same effect on her, except for your partner the chucklevoodoo is always worse. The scaremonger gets felt more keenly in lowbloods. She is biting the inside of her cheek so hard you can see where it pinches, all white.
"They asked this troll how to get to his paradise planet," says the Grand Highblood. "What did he say? HE SAID, I DON'T KNOW, I'VE NEVER FUCKING BEEN THERE. They say, so where is it? HE SAID, NOT HERE. So where? This troll, he just says: YOU MAKE IT."
Your box sounds scratchy when you say, "Paradise planets ain't a new idea."
"Paradise planets aren't fucking fathomable," he says, and takes a drag off his cylinder. "THE PARADISE PLANET WE PREACH AIN'T NAVIGABLE. We don't rowd enough. WE ARE NOT WORTHY NOR HARDCORE. We do not accept the secret given to those with the eyes of their eyes open and the canals of their ears hearing. When we attain Paradise it won't be in my time, little Makara. Perhaps it'll be in yours.
"But it wasn't in theirs. These poor Signless rabble thought THEY COULD MAKE HEAVEN TANGIBLE."
There is a strange look on your legislacerator's face. It is hard as rock. It is chill as stone. It is the atheist face she made during Executor massacre, like she just sucked something sour. "So they began to riot against the old order," she says, "and you had to make an example out of him, but made a martyr out of him in the process."
"YOU'D ASSUME WRONG."
The shadows crack strangely as your ancestor sets down his exfoliator, picks up his tea. Shit always looks ridiculous in his hand. His fingers are careful round the tiny cup. He sips it unfrustrated, like he has all the control in the universe and some to spare, and you are in the wicked envies for that: for that you fucking yearn. "I was young, then," he says. "The throne wasn't seating my sorry glutes. I WAS A YOUNG TROLL NEW TO THE CHURCH. But I knew, even then, that the old Highblood's head would be mine. THE HIGH-UPS LIKED ME, YOU MOTHERFUCKING KEN? There is a lesson for later: HAVE THE HIGH MIRTHMAKERS BE DOWN WITH YOU. My lady Redglare always said it was a matter of politic."
You give your partner the squint. Her sniffer wrinkles. You are both chill to the fucking bone that this is going to end up another one of those stories, but he puts you out your misery.
"The old Highblood -- MAY HE CHUCKLE IN THE WICKED PEACE I SENT HIM TO -- made me Inquisitor," he says. "Sent me off to see who this rabble-rouser was. AND WHAT ROUSING HE WAS DOING OF THE RABBLE. It was still salvageable, then, he didn't have to up and fucking die. Didn't have to be put down. Could've just got his whipping and a send-off to the labour mines."
"Deprived of freedom until the day he died," says Terezi.
"But still with a day to die in," is the reply. "STILL WITH A TWITCHER IN HIS MAW. More than he deserved, and he would have motherfucking known such. But then he made his mistake, children, then he took it THE STEP TOO FUCKING FAR."
You're listening now.
"He revealed himself a mutant," says the Highblood, softly. "Smuggled out the caves. HE SHOULD NEVER HAVE EVEN BREATHED ALTERNIAN AIR, but there he was. A mutant. Cullmeat."
You're gladdened that it's Terezi who says, "How?" like a hungry barkbeast. Those hairs on your nugnape are tickling again. You're sick with a feel you can't identify.
But all your ancestor says is, "He was off-spectrum," and curls his cig between long fingers. Annoyed disappointment replaces that ill feeling. "It made them raise him as a hero. A SAVIOUR. A flag to fly. THEY TOOK HIS MORTAL MIEN AND THEY SAW A PROPHET THERE, when all he was was a troll. Just an ordinary troll. Just an ordinary, NAЇVE-ASS MORTAL."
The cigarette is nearly out. You wonder if he will light another. The Grand Highblood seems more interested in rolling it around, blowing on the ember.
"It was his death sentence," he says softly. "Suffer a troll, but no false idol. CAN'T HAVE A GOD RUNNING WILD. He knew that, knew it the day he showed off his blood hue. When I came for him, children, the Signless evinced no surprise. No surprise at motherfucking ALL."
You say, "What was he like?"
This makes Terezi look at you, all astonished. Didn't expect that one. You still burn every time her mouth makes round awe at your prying, every time you do some shit an animal wouldn't do. But the Grand Highblood just says, "Noisy."
Now it's Terecita who squeezes her knees. Now she drums finger, tilts pan. "The usual secular execution would have been a hanging," she says, slowly. "They didn't give him to the legislacerators, did they? The sentence would have been carried out by the Church. I see! You would have made it public, and horrible."
"It was public," says your ancestor. "AND, OH, IT WAS HORRIBLE. Strapped him to the flogging jut, little sister. WE CROWNED HIS WRISTS IN BURNING IRON. We sank an arrow in his gut to watch him bleed out. We kept those shackles hot as hot. HE DIED IN MOTHERFUCKING AGONY TO THE MOTHERFUCKING AUDIENCE OF HIS OWN PEOPLE.
"After what we did to him, they called him the Sufferer."
Wouldn't have been the first time. You know how the life of Troll Tila Tequila ended. You've been fed on how the false indigoblood Troll Eminem died, eschewing the Church, giving rude rise to subjugglator lies. They made him shower in boiling Faygo. The cool dim and sweet chill of the Echo Side runs rainbow with paint from both the beatified and the banished, and if the latter died easy it wasn't by design. If this Signless suffered, he would have mother fucking suffered to the umpteenth power.
"You tortured him," says your partner. "You made a lot of noise in the process."
By lantern light your ancestor looks at Terezi. He turns a rheumy ocular toward her. He leans in, looks her right in the blind of her eye. "Little legislacerator," he says, "Don't you know I know what you're mother fucking thinking?"
She doesn't shiver; she never shivers. But she doesn't speak a word.
"We put fuel on their fire that day," he says. "I know. We poured oil. WE KILLED A SELF-ADMITTED FOOL. A harmless fucking fool. He was all fed up with war already. HE WALKED LIKE A SOLDIER SICK OF WAR, don't you know? The Signless was tired before he even began, and he died tired, and he -- DIED -- QUIET."
Seems like there's quiet all around you, in that tent chamber.
"A troll who would stand up in the marketplace to speak of peace," she says after a sec, "wouldn't die quiet, I don't think."
He says, "You having second thoughts?"
Terezi says, "I never had first."
The Grand Highblood smiles. His stick's burnt down nearly to its butt, a silky ribbon of smoke the only sign of life. You've seen a couple of his flap furls now, and this one ain't a threat. He smiles at her like he's sorry, as though he's getting his admittance on to something deplorable, each wrinkle at his mouth deep and hard and old. "Do you feel ill for him?" he says. "GOOD. No shame in that, little sister. NO MOTHER FUCKING SHAME. I ain't preaching dogma here, there is no hard rule. Feel ill for him all you desire."
That unsettles her, you can tell. Hell, it settles ill with you.
"You're saying you have sympathy for the cult?"
"The fuck I do," he says. "LIKE FUCK. I WILL BURN EVERY TROLL WHO CARRIES SYMPATHY WITH THE CULT OF THE SUFFERER TO ASH. I will bleed them out and paint my flagship with their HERETICAL GUTS. I will BUTTER THEIR BRAINS OVER THE COLDEST MOON OF THE DARKEST PLANET IN THE LONELIEST PART OF SPACE. I will remove their writ from HISTORY, CHILDREN, WHETHER YOU MOTHERFUCKING ACCOMPLISH THIS OR NOT, I will remove their last word FROM THE LIVING AND THE DEAD."
Shadows crowd the tent. Breath strangles in your pipes. The last ember on his cigarette dies.
"But him," he murmurs, "he was just a troll."
Your old man sets down the cylinder. No more steam flows from the jug. Every part of the room feels chill and breathless. He reaches out with one gnarled paw and pats it over your head, grinding hair down into your pan, and you bristle. You flinch. You're shamed: you still don't like it when he touches you, but something in you wants it all the time. You like what it signifies. "Lesson's over," he says. "Makara, you're motherfucking dismissed. Pyrope, you come and stay behind."
That chafes. "What the fuck -- "
"Sir -- "
"I got a PRIVATE WORD to put in her can," says the Grand Highblood. "Little Makara, away with you."
"But -- "
"Gamzee," says your ancestor, "FUCK OFF."
Terezi's flap curls like she wants to press the issue. You want to press this issue in a wedge and drive the sides together. There is nothing he has to say to her that couldn't be said to you. There is nothing to put in her can that couldn't be mother fucking put in yours. But once the cylinder's finished, the feed's over, and you're more than up with the play about how the old man could beat you black and blue colour; so you get to your feet and you make a bow.
The last thing you hear is him all, "Come closer," as you twitch flap aside. You, never told to come closer, nearly head back in. It takes great fortitude on your part to head back hivewards.
---
Your colleague cancer doesn't come back until the little of the morning. She doesn't come back until long after her supper's cold and the audiovisual slug is tired out. You stick it. Too uptight with the boredom wails to sleep. Too angry. Truthfully, even if the truth sticks in your craw, too lonesome, too motherfucking scattered and too motherfucking amped to do aught but sit on your ass. You are a spill of fucking fidgets. You even consider hitting up that dork who's always barring you from Karkat, you're so bored.
When she comes back, Terecita's feet make no sound on the flooring. She stills your lips. Her skin's sour; she stands in the doorway of the vocation atrium and stares right through you. She blanches ash. She wobbles, swaying slow from one foot to the next, and there is a smudge at her temple that wasn't there before. You ain't jealous of this, her looking like over-boiled fecal matter.
"I'm going to bed," she says. "Good morning, Gamzee."
"Like fuck you are. What game are you making being playing, sis?"
You're up. She flinches away from you. Her cane hammers at your foot when you give her a look-over, think that for a moment she's about to chunder her guts all over the floor, find that the mark under your fingers is strange and greasy. It rubs beneath your fingers like powder. Brimful of doubt, you say: "He didn't up and kick your bony ass for you, did he -- "
"No!" she snaps, coming on shrewish. "No, don't be an idiot, of course he didn't. We just talked, that's all. We talked."
"What did you jaw about?"
Terecita gets that look on her face again that she sometimes gets, the one like she can't focus her sniffer. Last time you saw it it was because her cartilage had been smashed in by the old man's hand. "You know," she says, all quiet, all strain, "I don't think I really know."
"Don't work the wicked vagueries on me, sister," you say. "I own no bullshit. I deserve no mother fucking ambiguousness."
"I mean that I don't really know, Mr. Makara," she says, and you wipe your fingers together again. You realise what the substance is. Cylinder ash.
You say, low-like, "Did he get all descriptive about -- about your ancestor's butt again?"
"Gamzee," she says painedly, "when does he not."
Terezi slides out her jacket and crumples off her tie, and she lurches off to her respiteblock. Instead of putting her jacket on the hook, she lets it drop. Instead of folding up her tie, she stuffs it in a pocket. So you leave it at that, because you ain't in your motherfucking life ever seen her untidy shit. You let sleeping barkbeasts rest.
---
Your quarters that morning are dim and oppressive, they smother at the touch, and you decide that evening brings better counsel than morning does. You flick the calendar to check what subjugglator sainthood day you're celebrating, and you go down on your knees next to your recuperacoon to give thanks: praise be to Pretzelette, who got crazy fucked up on vodka and entactogenics in an automobile, and only after your rowdy whoop whoop do you take off your face. That's routine, too.
When you slide into the slime, you get no shut-eye. This means you hear her when she starts to walk.
Her tread falls heavy at first. It sounds like she's pacing up and down her respiteblock, up and down, like a cholerbear in a cage. The pauses fret. The steps fall heavier, pick up, sounding like she's taking a few steps and then changing direction: zigging and zagging all over the block. Only after a long time do you hear the low scratch: the aural-bleeding grind, the pan-pained screech, of someone scraping against the wall with a thousand little strokes.
You don't put on your face. You don't wipe slime. You hike up your pants, you march right over to her unlocked door, you go inside.
She is up against the wall. Her body's shiny with coagulated sopor. Her pants are slimed through, and so's her binding. She writes:
BR34K SH4CKL3 BR34K SH4CKL3 BR34K SH4CKL3 BR34K SH4CKL3 BR34K SH4CKL3 BR34K SH4CKL3 BR34K SH4CKL3 BR34K SH4CKL3 BR34K SH4CKL3 BR34K SH4CKL3 BR34K SH4CKL3 BR34K SH4CKL3 BR34K SH4CKL3 BR34K SH4CKL3 BR34K SH4CKL3 BR34K SH4CKL3 BR34K SH4CKL3 BR34K SH4CKL3 BR34K SH4CKL3 BR34K SH4CKL3

over and over.
You say, "What the fuck?"
This doesn't stop her. Shoulders hunched, she keeps at it. You give a low honk of shit, but that doesn't rouse her either. Each sweep of her chalk is slow and even, unhurried and exact. Her breath comes at the same degree as each other breath, low-sponged and deep, like she's still asleep. Her nose is twitching. Her lids droop. She is fucking asleep.
What do you do with a sleeping stiff? When you make your approach, it doesn't stir her the slightest. She's unbothered as fuck. You clear your pipes all noisomely and it doesn't bother her, just keeps scritch-scratching on the wall. There is something untoward in the way it's all laid out: in the way each letter's the same size as the letter before it, no change. Her hair is slick and stuck to her with sweat. Her flap moves and sounds out each letter, but nothing comes out her feedhole but breath. She's tiny and dirty and naked, she doesn't have to be bare as the day she was hatched to be naked. Without her uniform and cane she is downright undressed. She would puke nails out all sockets before she let you see her this way. She'd shit Faygo bottles.
"Baby girl," you demand. "Come on. WAKEY WAKEY."
Nothing. You get out one of the horns from your sylladex, and you squeeze a couple righteous honks.
Terezi wakes up all in fit. Her shoulders shudder. She swings her head around, heaving for breath, then she gets her lurch to the wall. The chalk falls from her digits. Gobs of slime splatter on the floor. She presses her hands, up and hard and trembling, to the words, and she licks over a grubchalk outline of BREAK SHACKLE.
Then she screams like a fucking siren.
She screams twice. Thrice. Her fist pressed mouthwards don't stop her screaming. Her eyes bulge out her pan. She digs claw into the slimy meat of your forelimb but that doesn't stop her, she just screams like her throat has fear in it and she wants to die loud. You grab and perambulate her out the room, getting a swipe for your trouble, shut the words out behind. Out of sight, out of mind. She keeps screaming like a lowblood cull queue and her pipes sound wetter and wetter, like she's drawn blood from the back of her throat.
Day terrors don't quell. Day visions don't diffuse. She's already going to fucking town on your arms, legs kicking, and when she comes back more to herself she'll just be meaner and quicker. There's already indigo bubbling up from your scoremarks. She has already done a god damn NUMBER on you, so what you do is you take her under each arm and you manhandle her into your recuperacoon.
Your partner drops into the slime with a tacky gloop. She hangs over the rim with her arms a-dangle, claws a-drip, horns akimbo, and her screams die to muffle. She makes whine instead. The low harmonics of her bitching curl into the back of your pan and set your fangs on edge, and you wait for them to die down to wet snuffles.
Echo Side is kept cold as a corpse chiller. It doesn't matter none to you -- doesn't matter much -- when you go the other side of your cupe and you slide yourself back into the warm slime, knees all bumping up against the backs of her thighs. Her spine makes a slovenly shape across the edge. Terezi lies there like a pile of rags, like old garbage. Like old motherfucking garbage does she lie.
She looks used up. It makes you furious, being reminded that she's just some troll who can be broken. The sag of her shoulders destroys. You want to wrench the horns off her head until she agrees to not be junk.
"Gamzee," she says, jaw grinding against itself.
You don't say a word. "Gamzee," she says again, far-off. "The day you did the exam cull. That was the worst thing I ever made you do. I'm sorry."
She must be high as a fucking satellite.
"I think I shall go and sleep in the ablution trap," she says, still thick, still slow.
"I don't give a fuck what you do," you say. "You think I give a fuck? You think a solitary fuck is given by any cell in my body, wicked sis? Sleep here if you want, I do not give a shit. Just quit yapping. Quit the patter."
"Please don't let me sleep in the same recuperacoon as you," she says, amazed. Terecita's mumbling into the outer mass of the cocoon, each word coming drunk. You can see the shape of every shoulder blade. You can count the bump of each silver rib, dipping down into slime. "Please."
"I don't give a -- "
"I'm still in pale with you," she says. Her shoulders make faint wobble. She never shivers. The tremble of her gets into your pan. "I can't sleep next to you for love nor ketchup, Mr. Huckleberry."
I'm still in pale with you, she says, all dead. Like she ever understood pale. Like she wanted to shoulder all your misdeeds like a good girl, which you used to believe, only you've sure as shit stopped believing that claptrap now. She never wanted to keep you quiet. She just wanted to be the hand over your fucking flap. It's different altogether.
With great pain, she unfolds. Your girl slings one arm over the other rim of the recuperacoon. Both of you eyeball the other, her chestcage heaving in the sopor, her fingers curling and uncurling like worms.
"Pale for you," Terezi says again.
It makes shadows flutter in your belly. Slime smell fills your nasals, hot and sour. There she is with arms outstretched in your cupe, reeking of desperation, licking dry lips. She's on the last fray of her civility. The very edge of her need. The worst thing I ever made you do, she said. The worst thing I ever made you do.
"Oh, God, just be my friend," she says. "I can't bear it any more."
"Be chill," you say. "You're cane-deep in nonsensical pie. You are up to your gunnels in whipped blather. You'll drub me in the morning, for the sin of NOT RIPPIN' OUT YOUR TWITCH."
"No," she says. "No! I am -- completely -- coherent right now. I am at the peak of consciousness. I know everything I am saying, Mr. Makara, and what I am saying is -- "
"Stop," you say. "Quiet."
Terezi sinks chin-deep into the slime. Her eyes are two marbles. They roll around in her sockets all scarlet and glossy. Your pusher is getting its noise on in your chest, crowding out the other slippery tangles of organ. She stares from one end like a green slime ghost. You recline from the other, and your shins brush up against the other one's shins.
"Sometimes I think you were pale for me too," she says, "brother."
"Yeah," you say, "which is why you kiss like you want a god DAMNED BUCKET, sis."
To that Terecita doesn't say no, doesn't ply defense nor cry foul. This thing between you is sick. This thing has pus, and you can see it seep, both of you crowded into your cupe and legs tangled like children. It gives the distant revelation: sitting across from you, this pimple on your existence, this dread friend, is a skin sack filled with your genes. Once upon a time you were the same thing. Then you split and she split, got mixed in the grub to come out as strangers, but there's some chance that inside your hide there dwell cancer cells of her.
"What would you know?" she says. "The only other kiss you had was smooching a boy definitively not thinking about buckets."
"Fuck you, Tav ain't got a dirty mind -- "
"Tavros Nitram had pictures of scantily-clad fairies all over his respite block."
You can think of no better comeback than, "Fairies don't wear MOTHER FUCKING CLOTHES, they're MYSTICAL and shit," which ain't a burn that requires ointment.
Terezi kneels up in the slime like a sopor creature. She rises from the green, it all sliding off her arms, off the chest bumps that are in no way anything to write hive about. "Let me," she says, and she starts fucking wading toward you on all fours, her voice coaxes and cajoles like you're a witness to question. "Let me try. Let me try for real, Mr. Makara, who has to know?"
The air leaves your sponges all in a hurry. She is right up between your knees and leaning over, pressing sticky paws to your face. "Close your eyes," she breathes. "Pretend I'm Karkat."
You jam lid to lid. When her little palms glide over your cheeks, all sweet tender, when they draw down your stem to your chest careful as careful can be, you pretend she's Karkat. You pretend she's Karkat for about one fourth of a second. For one motherfucking fraction of a moment, you cheat on your best beloved by imagining his hands. Only one fourth: you would've imagined more, you make no bones of it, but her mitts are her own and they don't touch you as his would.
Her fingers don't pacify. If you didn't have control, her fingers make you want to drag her out of the cupe by the hair. If you didn't have control you would have her gurgling slime. If you didn't have control you would slide those unpacifying hands down your abdomen and to the stir in your pants, see how pale she fucking finds that --
Well, shit.
"Baby girl," you say.
You open your eyes. Her hands are splayed over your ribs, palms flat. Her desperation is acute. She pulps anguish.
"Terezi," you say, and you give her the cruellest lenity. You are so gentle. You could not gentle with anyone harder. "Terezi, you dumb, nasty trash, you don't even know where pale abides."
Her flap twists. There is an ugly heat to it as she fists the waist of your pants, in the rattle of her breath. You put the gun to her temple and you pulled the trigger like you fucking loved it. Her belly's right by your thigh and sliding against, and there's this low curl down in yours like cylinder smoke. It burns acrid. Her skin's slippy; she is breathing out her anger in her teeth, sifting her pain through each hole, and you
MOTHERFUCKIN'
burn.
For a moment her faithless mouth looks like you should stick your hand over it. You want her to weep like a wiggler. You want her to nudge into your body, slime stuck betwixt, and that want is getting more explicable second by second. There's an itch behind your knees and in your palms, and your gaze gets fixed on how her breath's making tiny huffs, thorax heaving up and down. Your pants have been tight since she told you to close your eyes. You hate your life.
Terezi remembers all at once that her claws are pants-tangled in you. She removes them with a swiftness. Spell's broke.
"This is such a stupid conversation," she says, haggard. She's talking slurry. "Why do I keep on coming back to it?"
You flop over to your side and draw your knees up some, feeling tight as the skin stretched over a drum, and after a moment she curls down across from you. The sopor creeps up the sides of your recuperacoon. Her skinny back's near touching yours, a hand's-breadth away, and for some reason this is apocalyptically worse than her touching you.
"You're not wearing your paint," she mumbles, into the slime.
"No shit."
"You smell," says Terezi, "not totally as ugly as a hoofbeast's ass."
That's her shill. One moment she runs hot as fire, then makes like a motherfucking iceberg. You run hot when you run hot, and cold when you run cold: you don't swing between the two, and like as not you're running angry more than you're running cool. Being with her is like sticking claw into a live socket over and over and over. You're wide awake. You have mad fidgets. You just want to -- feel her again, skin on skin. You just want to know what it's like. She'd let you. She wants the contact just as you do, she just won't fucking say.
So you say, "If you don't go the fuck to sleep, I'm leaving you out in the corridor."
"I don't want to stay in your recuperacoon, Mr. Makara."
"Get your chill on, I got a moirail," you say, sweet as bacon and jelly, "this doesn't mean fucking SHIT to me, don't you know?"
"You're being horrid," she says thickly, "but whatever, I'm too tired to care."
Terezi snuffles some to herself, flops around in the slime to get comfortable. She either sleeps or keeps still as a dead body. The heat of her reaches your spine. She pillows her cheek in her hands, eyes closed on her arrowhead face.
When you close your eyes you try to think of what calms, which is your best friend. He's your last thought before you sleep, which is the usual, and your first thought when you wake; but tonight your thoughts divide and conquer between her lying next to you, and how motherfucking long it takes for your bulge to settle. You weren't this alarmed when you got like this thinking of Tav, but each time you get stiff and ready over your baby girl's hard chest and unwelcoming hipbones it's terminal.
You sleep thinking anxiety thoughts, and you keep stirring yourself awake. It takes you waking up with her snuggled and drooling into the small of your back to fall into sleep deep and true. Your life is a motherfucking pit trap.
---
"READ FROM THE TEXT," says the Grand Highblood.
Next evening you take feed in the gallery. The old man lets you walk around or stand as he talks, not just sit on the cold floor. Sometimes he'll even deign to throw you a bat and tell you both to go at it, show him a move, which breaks up monotony some.
You came astir that night with no body in your recuperacoon. You scraped slime and stood in the trap as usual, put on your paint as usual, got clad and went to breakfast as usual. Terecita greeted you with cordiality, tie untied and coffee hot, the only hint that last night happened her oculars all pinched and drawn. You checked her room; there's a big scrub stain where the chalk words were, and she won't squeak a word about it.
Tonight, your old man creaks down in his sitpillar and hands you a palmhusk. There's no operating system mounted on it, just a plain datafile. The datafile's a jumbled sack of mess and dates, blocks of text that don't go anywhere and then continue at another jumble.
You clear your pipes:
8724,

they came again and this time i did not hide, for m was with me and i was less sore afraid than i was sore, and dawn was coming and all they had was an overhang and i felt obliged to give them shelter for all i did not want to speak to them, but once they were inside they begged for a listening shell so what could i do?
they said there is a war coming, i said there is always a war, they said this may be the last one, i said war never begot a peace, they said everyone was tired and i said so was i and what did they want
they want me to come and be part of it i am going to sleep i have work to do.
8725,

they say mindfang has had a crisis of freedom and is following some prophecy about a matesprit who is not even hatched yet, this tells me everything i need to know about the war, they say they come as envoys, i say what a bad ship, they do not understand
8726,

they are still here and soon i will ask m to make them go, none of them have learned anything what can you even learn from hearsay and storytelling if they were not there they do not know, this is why i am writing it down as i remember every word spoken as though he opened it up and burned it upon my pan case
they need the last books, i must be left alone to write them, if they are going to war they do not know there was even a lesson to learn
8727,

they have insignia burned on their wrists
they are going, they wanted to clasp hands with me, i let them what does it matter, i said what is that, they showed me, they said this is proof of their devotion, they have burned the mark of his poor burned hands on theirs and they say look look.
oh my love it is wretched, they have the sign of your shackle and they burnt it in, i can barely write for disgust
m made them go as he is good at that, they took your death and burnt it on themselves who are these trolls who pretend to love you? how can i count myself as your disciple if all i wrote prompted this?
"Stop there," says your old man.
You're glad to. You take some wicked elixir from your sylladex and pour it down your page-parched drink chute. Terecita has chewed down one of her claws to bed and bleeding, walking around, looking distant as a mother fucking planet.
"He had his followers," says the Grand Highblood, after a moment. "I don't just mean the LISTENING RABBLE, children. There was the nun who stole him from the birthing pools -- heh, she was a PIECE OF MOTHERFUCKING WORK, had that disease where you like to coddle wigglers. Then there was the mind slave -- DEVOTED TO HIM, HAD NO THOUGHTS OF HIS OWN -- and this kid. A greenblood girl."
"A woman," says Terezi. It falls from her flap like gunfire. It pops like she's furious at the facts. "Or at least, older by the time this was written, but not that much older; she's still mixing up the past and the present tenses. Sentimentality? But she was literate. A scribe? And they were quadrants, most likely matesprits, because she mentions M for moirail as someone with her."
Your old man smiles. He makes sweet teeth at her, all stained. Whenever your partner shows the force of her brainpan he gets as fucking delighted as if he'd shown the same himself. "Correct on three counts," he says, "wrong on two. That's sixty percent, my little sister, NOT A MOTHERFUCKING PASS MARK."
You can tell when she gets her tense on. Her face slacks, but her thumbs quiver. "Which?"
The Grand Highblood shifts back in his chair. When he presses down a button, his intravenals bubble, sending more of whatever straight down the pipes and into his hoary veins. You've never asked him what's in that shit. You figure it's pickling him, keeping his decay alive a couple more sweeps. That, or it's the good stuff, and he's just high as the sky all the time he's talking to you.
"They weren't in the flush," he says. "He never kept to TRADITIONAL QUADRANTS, you understand? Wouldn't think it to eyeball him, but he was one PERVERSE MOTHERFUCKER. HE PAID NO ATTENTION TO PROPRIETY. In her he found his ash and pitch and flush; in her he found his pale."
You try to think about one other person being ash and pitch, flush and pale; it makes not the slightest motherfucking whit of sense.
"Then 'm' -- "
"When we took him to the jut," says your old man, "when we filled him full of arrow and we BURNT HIM TO A FRAZZLE, we had a faithful executor. We had a STRONG, SOBER TROLL to fasten cuff and nock bow. Faithful and merciless. Pitiless and qualmless. A WORTHY SERVITOR FOR THE CHURCH."
He taps his cylinder on the faithful ashtray he carries around. This ashtray is the bottom cut out of a Faygo bottle, then bronzed. It is a piece of truly whimsical fuckery.
"But when she came forward and took evil relic from her master's ashes, he could not loose the bow on her for pale motherfucking pity. THE MOST UNFORTUNATE GODDAMN SERENDIPITY THAT EVER WAS. We exiled him after; he was of no harm to anyone, I thought, and no good for anything. He spent pariahdom with her."
You say, "So 'm' was for moirail."
"With his hand on the limb? WITH HIS MITT ON THE IRONS? Like hell it was," the Grand Highblood says, comfortably. "She could not motherfucking bear to name him anything but murderer."
Terezi balances her tablet on her knees and takes the next read. She clears her throat: it sounds like a chainsaw going through its paces.
8739,

more trolls visit now i am tired from talking and tired of trolls, and tired of the war that they say is carried out under his banner although when i say how did you even learn of him they say your books, when i gave these to your followers i did not think they would be copied so but that was a foolish thing to think. i wanted them to be read so why am i unhappy
they want to blow up the cathedral in the capitol, it is just a building
8742,

they say they have a prophecy of a soldier, i say well he can come if he wishes but i will be old and nothing would come of it, if you bargain with death for death you will get nothing for your trade but corpses
8743,

they say their leader is going to be a good man and has powers that even the empress would not understand. poor love, you did not have any powers ununderstandable, excepting your dreams and your goodness and that you looked very nice in pants.
8745,

i once asked him when it was all right to kill a troll, back when i was young and it was accepted that you would kill another troll the same way you would get caught in the rain or get stung by a ripperwasp or kiss, and he said all right to kill another troll are you fucking simple, it is never all right to kill another troll, and i said what of the empress and what of highbloods, he said if i killed her tomorrow i would still be a fucking jackass and i would be sorry.
then he said bu
"There's nothing more on that line," says Terezi.
Your old man merely says, "It's a transcription. IT AIN'T MOTHERFUCKING PERFECT. Continue."
8750,

m came to me and said, will you see their leader if he comes, and i said no send him away and he said very well, and i do not know what possessed me but i said what do you think what should i be doing should i leave this misbegotten hiding place and go where they cannot find me
he said excuse me for my presumption but what would he have wanted
at first i was angry but then i said he never would have wanted another clown church with zealots in his name and he never would have wanted guerilla fighting and he never would have wanted another drop of blood shed let alone a war
and he said, but would he have g
i said y
"Another fragment," Terezi says. "Curious!"
i said what difference would i make i am just the recorder, he said any difference you desired, i said i would not and he said you would and i said i would not and he said you would and we continued would not you would in that vein until i said this is a purrsumption i will not abide and he said i am very sorry was that a cat pun
i have told him i will not find joy in this summoner and that is where i shall leave it
i want everything to go back to being quiet, i want to go back to my book. what is a hermit but a miserable wiggler anyhow
Your old man says, "Quit there."
Terecita leans back on both arms, tilting her pointy face up to the vaulted ceiling. She sticks out her twitcher like an overheated barkbeast. You toss her a cold one, where it whomps satisfyingly on her shinbone and makes her squall fuck-words at you. The Grand Highblood just lets out a dusty heh and says, "Children." She flips the tab on the Faygo can, drinks it down as you consider.
"So the cult ain't legitimate," you say.
Your partner wipes Faygo off her flap. "What makes you say that?"
"They perverted it, did they fucking not? Is this not what she's saying all motherfucking along?"
"You won't find a Signless cultist who'll say so," says your old man, and he blows embers out the end of his stick. "You will not find a cultist WHO WILL GET THEIR ADMITTANCE ON TO THAT. They call her the Disciple; what they don't tell you is that after the execution of her LONG-LOST LOVER, she motherfucking abdicated. She admitted the fight's stupidities. She advocated no bloodshed, approved no new follower."
Terezi says, "Why did you show us this?"
"Because their cause IS NOT RIGHTEOUS."
"Shouldn't any cause a lowblood raises against a highblood be unrighteous?"
He looks at her long and clear. He gives her the kind of consideration no underpriest would want aimed their way. Terezi speaks heresy sometimes so bland and blunt that it sounds innocuous, she makes herself sound mother fucking safe, but at the same time that just outlines the venom in it worse. Trapeze act. She's going to fall.
"Little sister," says the Grand Highblood, "I have ALWAYS BEHELD the doubt on you. Little Makara, a question."
You ready yourself. You could spit readiness.
"Is there any instance," he says, "any instance AT ALL, when a lowblood has cause to lift finger to a highblood? Is there ANY REASON FATHOMABLE that the hemocaste is not all, that we are not living in the BEST OF ALL POSSIBLE MOTHERFUCKIN' WORLDS?"
All of you did this one back on the Executor, in schoolfeeding. You stood before the Comedic Chaplain and chanted the acknowledgements, testified that the rule was blood and blood was the rule. That culling was a sanctity. It's wiggler shit, it's the first building block, even you could've fumbled this one with your sac full of pie and your brain full of fuck. Everyone knows the answer to this one is a resounding no.
But you say, "Yes."
Terecita gets focused. The old man doesn't work the wicked surprise, makes no shock sound, but he turns his consider toward you. Both you and she could get culled for saying so. Could get taken pitwards for the utterance. Everyone forgets that you love a boy with dirt in his veins and were you to be faithless to him, were he to spill you for it, the rowdy prophets would just play him a power chord.
So you say, "I believe in the motherfucking ringside sanctity of vengeance."
Your ancestor is wry when he says, "That's OLD SCHOOL, son."
The stick in his pincer is only half-smoked, but he stubs it out in the Faygo-bottomed ashtray. Both you and your partner sag some, both relieved and irritated -- you never leave a schoolfeed all satisfied, sometimes you go away hungrier than ever -- but he says, "You're right.
"Trolls ain't infallible. Anyone who tells you that DESERVES A QUICK SPLIT TO THE PIPE, and that is writ. Someone tells you that, you cull them, they're a fucking danger. I see nuance, children. I AM NOT SOME BLIND EXARCH ALL SAYING THERE'S NEVER ANY GREY IN ALL THIS WHITE AND BLACK WE GOT GOING ON. That a lowblood never spouted truth, and that a highblood never spouted lie. If I told you that, I'd be breeding TWO FOOLS."
Those big crabbed fingers drop the white end of the butt. "You may be callow," he says, "but I got my hope that you ain't both ENTIRELY FUCKING STUPID."
The Grand Highblood gets up out of his chair. For someone who's thrown you both like rag dolls across this whole gallery, then proceeded to follow at a sprint, he gets up like ain't nobody else in the universe so creaky and craggy. Spots of indigo ooze up as he yanks out his needles, indifferent to their bite.
"Dismissed," he says. "Get the FUCK OUT OF HERE. Inquisitor Pyrope, bar you, you walk me back to my block."
At her tense mitts, you expect her to say no. You're of a mind to say, what the fuck, all this secrecy and you're not involved, but she simply sets her jawbone and says, "Yes, sir," with readiness.
You wax resent. You wane doubt. Your partner gets up and she brushes herself off, and she turns and gives you this sarcastic salute.
The last thing you hear is him all, "Two steps behind, LET'S WALK THIS FORMAL. Inquisitors get two steps to the left," all cute and working the schoolfeed, and even from the way she looked last morning you feel resent beat doubt. This is stupid. You're beginning to think you wouldn't trade places, with whatever goes on in those dark blocks.
---
You don't bother laying out her dinner. You stick it in the heat crate and eat yours on the couch, watching some piece of movie horseshit that your best beloved might like. You've tried to get through to him like a thousand motherfucking times, but you've had your eyes filled with an unending shit-stream of:
TA: kk'2 not here.
and:
TA: 2tiill not here.
and finally:
TA: ju2t accept you're 2hiit out of luck toniight and FUCK OFF.
TC: i promise, brother.
TC: ONE DAY I WILL DO SOMETHING FUCKING HORRIBLE TO YOU.
TA: what, liike tell me more about your love liife??
It's earlier than you expected when the atrium door opens and in lurches your legislacerator, tired-eyed and wan-mouthed. This time she forces herself forward and skins off her coat, jams it haphazard on a hook and half-strangles herself on her tie. Terezi wobbles away into her respiteblock, and you figure that might be the last you see of her till evening.
But she comes out ten minutes later in her civvies and a scrubbed face, glasses gone. Even with a washed mask her lips are greyish and her face is pinched. She don't bother with the meal in the crate. She sits down on the couch like she's old as your old man, and she clutches up a mug of steaming coffee. You crank the audiovisual slug to fleet news, and both of you sit there with empty flaps.
Once she's got some coffee in her she comes back, some.
"We read books," she says, without being asked. "We just talk."
"Talk, she says. Talk like you're at a tea party, am I motherfucking correct? What the fuck about?"
Terecita doesn't answer.
"Keep your secrets," you say. "I AIN'T BEGRUDGING YOU A ZIPPED FUCKING FLAP."
"Yes, you are!"
"I motherfuckin' ain't, if it's Church business you're getting all up on then it's Church business -- "
"Oh, to hell with Church business," she says. "Stop getting sniffy with me, Church business is all stupid. I just want to watch some television. The only thing I want to Inquisit is the Killing Channel. Is that too much to ask?"
Both of you sit there getting your dudgeon on. This is a new usual. Even without mystery visits, she's gone from being all smiles to being one dour motherfucker. Echo Side doesn't tickle her funnybone. Being amongst comedic imperative means she's serious as shit, all of a sudden, like it's a fucking defiance. Smiles seldom, or not out of pleasure. Laughs less. You feel weird about it, only then you recall that this was your mien aboard Executor.
Little by little she slurps at her caffeine, and you watch some programs nobody ever gave a shit about, and somehow she ends up with the mug on the sideboard and jammed into your side. She's cold, though the room ain't over-frigid. Her toes are teal. Her caps quiver. Eventually she makes like a glacier and does a slow slide to collapse forwards over your lap, hip jammed into your thigh as she watches the slug sideways.
You just fucking give up. Your arms get rested on her skinny back, skinnier in her black shirt polycloth. Most of what the slug gets set to is religious programming, so you both kind of stare at Diners, Cullpits And Dives as she flops over your knees. It's testament to how skinny her rear end is that you don't even consider how one arm's square on her ass. Your hand's already at her glutes, and who gives one single speck of shit, really, so you rest your palm heavy on it and wait to see if she has a reaction.
She doesn't. She just huddles up, siphoning the warm, and you let your paw press down some. Turns out baby girl has an ass like an iceberg. Most of it don't show. It's softer than you thought it would be even if you swear you never got deep thought on about her ass, but it's not bad. The skin's warm. The meat's firm.
You expect her to point out how you're getting personal with her posterior, but Terecita just lies there all limp with one cheek pressed into the cushion. Somehow your fingers are all awkwardly stroking, and she doesn't say shit, and you trace up to her tailbone and then down and around through her pants. Her eyes are half-closed. She ain't asleep. When you squeeze down she doesn't say a mother fucking WORD, just shifts her hips a little.
What the fuck are you doing? You don't know. You're irritated. You are working wicked recklessness. There's a little divot at the bottom of her spine bar, where each vertebrae makes a lump all the way up to her stem, and her shirt rides up so you can see a slash of grey skin. You don't see why she's cold. Her epidermals are warm as warm. You touch that space of naked, find the waistband of her undergear, put your thumb all along where the band meets her body.
Terezi is staring at the slug screen like Minute To Cull It is a fucking fascination. You get your hand slowly down in between her slumber pants and her gear, so her skin and your hand's separated by a thin skin of fiber only, and she lets out this long, long breath, and you realise that you're all up and holding yours and you're baring teeth and you're het up with touching her.
She shifts, pushes up on her arms. Now she'll probably backhand you and you're fucking ready, you fucking want her to, but she's just awkwardly moving skinny knee and shoving and then resting on your thighs again, face pressed into her arms. She pushed her pants down. She pushed her pants down. The waist is all hitched to her thighs. You have a front seat to her boring god damn underwear, regulation black, and the rounded bumps of her butt, and you're pretty sure that at some point knockout gas got filtered into the atrium and this is you hallucinating like a motherfucker.
"I don't know what he said," she says, into the crook of her arm.
"What?"
"I don't know," she repeats again, dogged, "what he said. I know we read books together, but it is like I can't remember what's in them once I'm out that room. The more I try to remember, Mr. Huckleberry, the less I do."
You get your hand on her ass again. You touch the skin high on her thigh before it goes into the gradual curve of her glutes, and the cutaneous skin there's all soft. You keep on having to get more spit into your trap, wet your dry twitcher. This is the weirdest conversation you have ever fucking had in your entire fucking life.
"You don't need to make blandishment," you say. "If you're talking, then you're god damn TALKING -- "
"If I was talking I would tell you about it, and I would gloat all I wanted! I'm worried that I'm cracking up!"
From this angle her shirt has ridden up on her chestcage. You can see the faint pale marks of the whoop-ass she got on the Executor; it never really healed. You keep looking at that, and then you look down at her thin thighs getting their press on together, then her butt.
"You're on a ship leaking chucklevoodoo," you say, "you're basted in the ROUGHEST SNIGGER SHADOWS that anyone could ever ask for, and you're all surprised you see shit that isn't real?"
"Do you really think that?"
You don't answer. You don't care to. You instead get your thumb down to where fabric meets thigh, pressing it up a little higher, and Terezi gives off a surprised grunt. You're filled with the sudden idea that, if you wanted to, she'd probably let you hike her underwear down, and you don't even know what to think about that. You don't process. Your pan blanks. In the background the slug blares, all white light square in the dim block, and you fold her waistband down over itself.
"I am going to stay up today," she says.
"That's a motherfucking stupidity."
"It's better than the alternative. Do you have any better ideas, douchebag?"
"Tie your hands to the GOD DAMNED CUPE," you say, "put tacks on your floor, what the hell do I care?"
You touch her butt again. This time she grumbles and wiggles and fidgets, and you snap the waistband of her underpants down on her skin. Baby girl lets out a long, sharp hiss through the front of her fangs, and you squeeze a little harder and prod a little meaner. Her face is hidden up in the cradle of her elbows, but you see the way her shoulders get stiff.
Terezi says lowly, "When was the last time you hit me?"
This is a tough one to answer. The last time you belted her, really belted her to your satisfaction, was back on the Executor. For some reason this question's also more naked than her perched ass-up on your lap getting her butt examined, it hangs heavy between you like a secret. You are both completely fucked up beyond all comprehension.
"Before trial," you say.
"It's late, Mr. Grape Faygo. You should go to sleep."
This is a non-sequitur. This is befuddling. Terezi doesn't move an inch, just lies there with her pants around her knees and her hair in disarray. Sometimes you think she's close to pretty. Now is one of those times, and it doesn't make you want to be sweet on her, it slides hot needle into your socket jelly and bursts through to your brain.
You say, "I need you to tell me what you motherfucking up and want from me."
For a moment her shoulders shake. You are motherfucking alarmed. Then you realise she is laughing, high and wheezy, sounding like a whistle. "Oh," she says, once she's able, "what kind of question is that?"
The girl is a dissembler. Your partner says, "The truth is far stupider than you'd think," and you slide your hand off her posterior, up to the small of her back. The curve above where her filtration sacs are kept deep below, coiled up in the rest of her offal. She says, "The truth is, you dreadful douche -- my thinkpan -- " but stops when your fingertips brush the lower shiny line of her scars, the switch marks, and she gives this high sound like a singbeast. All fluting. All tremulous.
It's hard for you to make talk now. You're embarrassed when all your pipes do is rasp: "Ain't like you to be passive."
Terezi says, almost wry, "This is the worst thing I have ever said in my life, but I want you to hit me as hard as you can."
It hits you right in the gut. Your belly ignites. She could have taken out the soft ropes of your intestinal tunnel and hanged you with them, with those words as gallows. You push your fingers up further her spine, some -- she ain't wearing a heft satchel -- and she says, "There," voice like a club thud.
You spread your digits out over her skinny back. The scars wrinkle under your palm. Your girl makes a thin trill of a noise, agonized, and when you cock back and crack your hand down on her she screams. It's the only one you draw out of her. A second time, a third, she just makes breath puff from her oxygen sponges. You whip her nine full times with the flat of your mitt, and each time her body twists, she flinches, she curls each and every toe up into the balls of her motherfucking feet.
There's an ugly teal flush on her back. You draw her shirt down over it, and you don't feel shit. Your pan's white noise. Your thoughts are fuzz. This lets you slide your fingers down into the back of her underwear again, daring to go further and touch skin right on skin. She is a soft girl, for all her bones. Her epidermals are soft as overwashed laundry. You remove your hand and give her one last crack on her ass, and you make that one vindictive.
For a moment Terezi leans her frontpan down and makes no sound. Then she reaches behind her and wiggles up her pants, rolls off your lap sharpish, stands taller than you'd expected with the force you put into that last whack. She squares herself all dignified, but there's a tremble to her, and you loathe the fact that there's a matching fidget in your fingers and a gawk to your face. This shit's embarrassing, don't you know?
She says, "Thank you," and, "I'm going to go study. I'll come back for my grubmeal later if I want it, you probably picked out all the worms -- "
You jerk down her hand. The bones in her wrist are thin. Her wrist is fucking feeble. Impulsively, you reach up to kiss her, and impulsively she leans down to kiss you. It's all matter of motherfucking impulse. It sure as fuck isn't a matter of thinking straight. Terecita kisses you hardscrabble, desperate, and you frill her flap with your teeth, press on in her mouth.
When you both part you think that maybe this is it, you're standing on the edge of a canyon. The canyon's filled with fire and burning. The canyon is all fail reek. The canyon is filled with fuck-up and smoke. But she steps back and she says, "Good morning, Gamzee," and then Terezi limps off to her block.
You watch the slug for the next ten minutes for unknown reasons. You're a fool. You are an undone wiggler. You clatter it off and then you do what you should've done fifteen minutes before, which is to go into the ablution block and make a mess in the trap, hoping she hears running water the whole goddamned time and knows the goddamned reason. You hope she's in there later. You hope she does herself a motherfucking injury.
You have no fucking idea, no idea what so FUCKING EVER, what the two of you are about.
---
The next evening seems like it ought to be every other evening that passes. You roll out your sopor. You take the spray. You shed slime, scrub paste, towel off. You make paint. The first thing you notice is how you don't smell her, or the herbal pus she uses in the trap: you confirm suspicions when you go out into the rec atrium and she ain't even there. No untied tie. No cup of steam.
Your breakfast is just inside the doorway, having been left there by the priest. Shit's just as untouched. When you go to her block you're not remotely motherfucking sure what you'll find there, aren't even certain, but what you do find doesn't surprise.
Over each inch of each wall is chalked:
BR34K SH4CKL3 BR34K SH4CKL3 BR34K SH4CKL3 BR34K SH4CKL3 BR34K SH4CKL3 BR34K SH4CKL3 BR34K SH4CKL3 BR34K SH4CKL3 BR34K SH4CKL3 BR34K SH4CKL3 BR34K SH4CKL3 BR34K SH4CKL3 BR34K SH4CKL3 BR34K SH4CKL3 BR34K SH4CKL3 BR34K SH4CKL3 BR34K SH4CKL3 BR34K SH4CKL3 BR34K SH4CKL3 BR34K SH4CKL3

She's asleep. One of her hands is cuffed to her cupe. You surmise it did precisely jack shit. You call her name a couple, strident, and you give her recuperacoon a sloshy kick, but damned if she even rouses. For a moment you're convinced she's upped and fucking made a corpse of herself, but when you look close her skinny-ass shoulders heave gently up and down, up and down, so even if she's comatose she's alive with it.
You eat your breakfast and part of hers, hoping at any moment you'll hear the bangs and cusses meaning she's woken up late and is in a motherfucking panic. Nothing. So you do what any troll would do. You leave her, and you finish her grubmeal.
"She's indisposed," you tell the old man.
Even if you're safe aboard the Echo Side, you don't say sick. A sick troll's like for the chop shop if it looks bad enough and incurable otherwise, and even if it doesn't look so bad nor incurable you don't say sick. You passed the tent flap alone, sat yourself down at table without her by your side. She's been nailed through your palm so long, that being unyoked to your noose ain't immediately tolerable.
But the Grand Highblood takes it with calm. He takes it with ease. "Indisposed?" he says.
"She ain't been sleeping."
He just says, "That's a GOD DAMNED SHAME," and sets to lighting his cigarette. Sometimes the smoke smells sweet to you; othertimes thick and noxious. You've never been tempted. As you've said before, you are straight-edge as fuck, you go down no path that leads to chemical ecstasy. You'll bring your own ecstasy to the fray.
"A shame," he says again. "CAN'T GIVE LESSONS LIKE THAT."
"Bullshit," you say, stung. "Teach me. I'll pass it on to her, won't I just? I GOT A PRODIGIOUS MEMORY, sir."
"Little Makara, I don't SCHOOL ONE without their other."
Goddamnit. This is the first you've been left alone with him since the shuttle, and you're so fucking hungry -- you're so fucking empty -- to have him speak to you. It's not even that you're not inured to lessons with Pyrope. You are. You accede. Lessons with Terezi are better than a sharp stick to the eye. But he's your ancestor, and sometimes you want to get schoolfed on that.
You know you sound ungracious as fuck when you say, "You want me to go?"
"Little Makara, did you hear me make that motherfucking utterance?"
Hope flickers. He says, "Let's chew the fat and break the bone, you and me. Pour some tea, Inquisitor."
When you're settled with a mug of Faygo steam and he's got one too, and Terezi's cup stands empty, he settles his hulk back. The old man always takes pains to make himself comfortable, like his skeleton grinds against itself. He reads your fucking mind, because he says: "Feeling my MOTHERFUCKING AGE TODAY. I have been alive for many a long sweep. Not that this means they do the disservice of waiting for me to die; I got trolls all over our flock who try to kill me. THAT'S RESPECT. That's family for you. I pull all their spines out their mother fucking throats for 'em."
You say with feeling, "They're fucking fools."
"Good descendant," says the Grand Highblood. "BEST CHILD. I like you better than some do theirs; I told the Empress that she should've GIVEN HERS SIX GOD DAMN HOLES IN HER MISERABLE HIDE, but she has not inclined to listen. But mine, I see promise in both."
You're too busy steaming again at both. You ain't some wiggler, snatching and grabbing at stuff that isn't yours; but it seems like everything in your life comes back to Terezi, Terezi, Terezi, seems like even you come back to Terezi, Terezi, Terezi, and you want what's yours by right. You say, "She has no Church promise."
He says comfortably, "I know that."
"She hates and fears indigo," you say. "She hates and motherfucking fears. Her and I, we ain't bosom buddies, or -- she ain't the legislacerator I would've picked for me, she worships law and no other. Echo Side gives her the wilts. She got airs above her station, she's a patronising stick. And she's a persnicket -- "
You sound like a fucking child. There's a hole in your pan. Rot comes out the crack. You mewling wiggler, what's your defect?
"She is so unhappy she is like to die of it," your flap squeaks, without much input from you. "Why make her do the Inquisition gig? Give me a team of priests and I'll head it up, and she can go be unhappy all she MOTHER FUCKIN' WANTS, she won't be able to blame me."
You wonder how bored you'd get, without her. It don't sit easy. You'd have to troll her daylights out.
"You'll make a good Inquisitor, Makara," says the Grand Highblood, like he hasn't listened. "You got the FIRE IN YOU. You got the poison. You are sick to your very soul with it. I see a Messiah. But if you want to be the troll who cut a whole tumour out the Alternian race, then you won't just need the fire and the sickness. No, NOR THE CUNNING, though you're clever enough."
With his long fingers he pulls out his weed and the smoking paper. Your old man rests them on the table. You never rolled one in your life, but you've watched it done enough to be able to not make a whole barkbeast's breakfast out of the thing. You pack the cig and wrap it up carefully, and you give it to him to light. He never offers it to you or your partner ever, which is good, because you'd both have to make the shame of abstaining.
The tent sanctum is dark except for the light-globes. On the floor the spiral paint still looks wet, though you know it must've been laid down a while back. The light that flickers on the end of the cylinder is old orange, same as the First Laughsassin's eye jelly, and he takes another moment to speak.
"You'll need to run 'em down," he says, "should they go to the EDGE OF THE UNIVERSE."
"I will."
"You'll need to chase them when it looks as though they're dead six times over."
"I fucking will."
"Never to waver," he says, "never to falter," and when you round your flap out in irritation he says, "Quiet. YOU GOT THE CONVICTION, MAKARA. But you're young. You'll get complacent when you think the wetwork's over. I ain't making the SAME MISTAKE THRICE. It's a troll like Pyrope who'll go on when you're exhausted and Pyrope who'll sniff out the crime for your hands to destroy, and it's Pyrope who'll put you on the MOTHER FUCKING THRONE even if she desires not the honour."
In your silence he says, a little irascible, "Heir and successor, wiggler, if you tell me you AIN'T THOUGHT OF IT then I will call lie."
Getting honest, you hadn't. Even if the old man looks like a perambulating skeleton, it seemed to you like he'd never die. That to think of him perishing would be a sin, that to be an Inquisitor was the sum of all desire. Another thousand sweeps, for him and you. Even if it was a bullshit thing to think and a horseshit thing to consider.
"Of course," he says lightly, "this presupposes you could cut me down, DOES IT MOTHERFUCKING NOT?"
It motherfucking does, and you're not motherfucking sure. Of all the dull-nugged people in the universe, of all the tiresome assholes and the noisome squalling of idiots, you don't want to rid it of the one great troll who's interesting. The one troll who can help you understand you in a way even your best beloved cannot. You're not sure, for all your surety about the way you're growing and the way your club hand's itching, that you could cut him down yet. You wouldn't want to.
But you remember how he looked when you said you hadn't wanted to spill his hue, so you say, "Give me a sweep," and the old man laughs. His chuckle spent its life at the bottom of a rusted motherfucking pipe.
Both of you take a couple swigs of tea. Today's brew is mixed up out of redpop. While you're both getting your sip on, he says, "You got acquaintances outside this ship?"
"Yeah -- "
"You ever MOTHERFUCKING CONVERSE with them?"
If you sipped your tea, that'd be a sign of a fucking stall. If you looked at him like you were an idiot, he'll think you're a fucking stall or an idiot or both. You don't know why your pan's in such a panic about this. There's some sense left in your skullcase when it comes to Karkat, that hiding is all, and that's why you say "Terezi does," without missing a beat.
And all the Grand Highblood says is, "Hm."
It ain't strict truth, but it ain't strict lie.
If he was going to ask more you'll never have the knowing of it, because at that moment Terezi pushes apart the tent flap and comes inside. She looks like haggard dribble shit. Her eyes have sag and shadow. Her hands are still shaking some. Her uniform's neat and nice as ever, but everything else about her looks limp and fucking piteous. She salutes the old man crisply and says, "Sir, I apologise for my most egregious tardiness!"
"Makara said you were indisposed," he says, flicking ash.
Because it's redpop tea, she settles herself down at the table and knocks a cup back immediately, after you deign to pour. Then she holds it out for another. There's a quiver in her shoulders. "If Mr. Makara found me indisposed, then Mr. Makara should've woken me."
"Fuck off. You didn't wake."
"Redglare used to work, work, work until WELL AFTER THE BENIGHTED HOUR OF NOON," says the Grand Highblood, obviously enjoying himself. "It seemed a GOD DAMNED CRUELTY to go into her cloister and stir her up early, but she'd have no other -- "
"Sir," your partner dares to interrupt, and thank fuck she does, "did I miss any work?"
"No, but both of you MOTHERFUCKING ATTEND TO ME NOW."
Your old man takes a long puff of his cylinder, and then he lets it rest down in his Faygo-bottle ashtray. His intravenal machines clang together like chimes. "I'll teach you one thing today," he says, "and one thing only. After that the lessons you have will be a DIFFERENT BRAND OF LESSON ALTOGETHER. You'll have an altogether different brand of motherfucking schoolfeed, children.
"In these lessons I'll expect nothing from you but COMPLETE MOTHERFUCKING SUCCESS. Do you understand, Inquisitors? You aren't fucking wigglers any more, and I DON'T -- FUCKING -- CODDLE."
The room goes darker and colder. The expression on his face goes from genial to skull. Nobody gets as deadly serious as the Grand Highblood; you feel your spine standing straighter, see Terezi grip her hands together to keep them still. You can't take your face off him, and you feel the first drip of fear gather at the nape of your stem.
"Tonight I teach you the sign of the cult," he says.
With one ropy arm, he snags the teapot and sweeps the rest of the table clear. Cups shatter with a crash off the side. The pot he sets off to the side. "The more foolish -- OR DEVOTED, MIND -- burn it into their flesh, but that type's long since died," he says. "It used to make it easy. No matter. The faithful foolish wear it more usually around their necks, beneath their garments. IT'S A MOTHERFUCKING MYSTERY THAT THEY WEAR IT AT ALL."
The Grand Highblood seizes Terezi's hand, this time. With his old mitt and a long claw, he slices a clean line up her palm and down it. She flinches, but don't make a sound otherwise. Her blood spurts out the rude salt-sea hue it always spurts, and with her blood he begins to draw on the table right in front of you, oculars fixed to his clawtip in a daze.
It takes two movements only, mirroring each other: a long swoop and a curlicue, and a curlicue and a long swoop. Both halves nestle into each other, shiny and teal.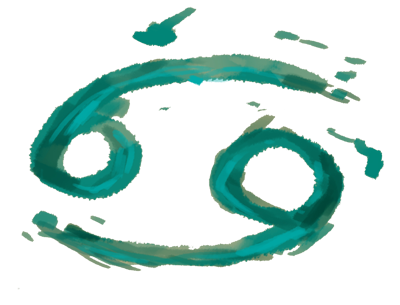 It feels familiar to you. You ain't sure why. It hurts something in the back of your pan, like a discordant word.
Terezi is licking her wounds all meditative, and drops of blood dribble down her wrist. You remember the journal texts. You recognise the sign for what it is. It's the manacles they burnt him alive in, which is a morbid motherfucking joke. That doesn't really satisfy your niggle none.
"The penalty of wearing this sign is death," says your old man. "The penalty of making this sign is death. THE PENALTY OF WRITING THIS SIGN IS DEATH."
Your partner leans over the table and gives the sign another good, long sniff. "There must be some leniency there, sir," she says, "as it would be awful if you got arrested."
The Grand Highblood gives her a long look of consideration. For a moment you think he's going to reach out and backhand her, give her a fucking wallop once and for all -- but then he busts out in that saw-edged, rust-raw cackle again, and she smiles winsomely. You notice she never makes ease with her shoulders.
"Not for these purposes," he tells her. "ONCE A LEGISLACERATOR, ALWAYS A LEGISLACERATOR, am I correct? But mark me, YOU FUCKING MARK ME: if they know this sign, you have them. If they make this sign, you have them. By this sign you'll know them, and even if they won't BEAR THEIR LOWLY WITNESS to being one of his cult they may still show you their heinous symbol. And that's all you'll need."
"All you'll need," you say, "for motherfucking WHAT?"
"To snuff 'em out. Both of you copy it, now. Don't stop until I GIVE THE GODDAMNED EDICT."
There's no flimsy, no tablet, no ink. Terezi hesitates only a moment before leaning over and breathing in the symbol again, and you're biting open the heel of your paw until you spurt indigo all over your wrist. At the edge of the table you trace the symbol in the same spot, layering it over in your flaking blood with a fingertip for to paint with. Both of you copy until the symbol loses all meaning. Looks like two corpses huddled close. Looks like two lopsided eyes. If you knew the sign, that knowing is going and motherfucking gone.
When you sneak glance at your pocket parasite, her hand's stained with blood and so's her mouth. Occasionally she'll tilt her head down and re-wet the blood so she's got more of it, and if your old man wasn't there with his expression hard and cold you would've made a joke about fingerpaints, or -- something -- anything to smash your fist down into the claustrophobic silence and the skritch, skritch, skritch of your claws.
"Stop."
The old man stubs out his cig even if there's a full third left, and you watch it smoulder at the bottom of the tray. He rises to stand and makes his intravenals jangle all at once, and he takes the pot and pours it over the table. Cooling tea puddles over the three sets of symbols and muddies the blood, drips over the side in thin red, smears all beyond repair.
Both of you rise to stand, as is the edict of the burnt-out cig. Both of you bow. When you turn around and walk away you're still seeing the two curlicues over and over at the front of your mind, like two holes and a broken piece of circle, and that's why you almost don't hear:
"Inquisitor Pyrope, you stay behind a moment."
You realise: you are so motherfucking sick of this, but it's not the same as your initial nausea. It's not for jealousy you're bored of this song-and-dance. And your flap says: "Sir."
"You're dismissed, little Makara."
"Sir," you say, amazed that your mouth's making such a sound, "sir, I don't motherfucking think -- "
"Gamzee," she says beside you, under her breath, "don't you dare start sounding like Tavros over me."
She knows how to rile. "Fuck you. Die on your own motherfucking mountain, then."
For a moment you think about planting your feet down and getting adamant, get salty with your old man for the first time it really fucking mattered, but you don't. What would you say? Why rescue Terecita if she doesn't want to be rescued? She just pivots around in the direction of the table and the cooling puddle of Faygo tea, and she walks away from you.
You could stay. But that's a plan that's got no guile in it.
When you push aside the flap, you don't close it. You walk away into the darkness of the corridor. You make each step a squeak. You march down the corridor hung with baubles and bone. You make each footfall count. Then you stop and you count to fifty, then you count backwards from fifty, and then you spell Karkat's name forwards and backwards and you decide that's time enough; you sneak back on noiseless paws, and you dare close enough to stand at the square of light the entrance throws out. The light has dimmed considerably.
Terezi's facing you. Her flap hangs slack. The old man's risen from the table and abandoned his needles. What he's whistling through his chucklebox at her is so soft you can't hear it; she stands tall and tense as a steel bar. He is speaking to her so quiet. He is speaking to her so gentle. The Grand Highblood's massive paws come down on her shoulders, come down on her arms, and she doesn't even flinch: this is because -- as motherfucking evidenced by the chill in your gut and the pain in your bones, the fear smearing your palms with sweat -- there are some serious chucklevoodoos going on in that room.
His yellowed claws come around to her throatstem. They slide down to her collar. They pry aside the top button, and all the while he whispers to her, weary, of things you strain to hear.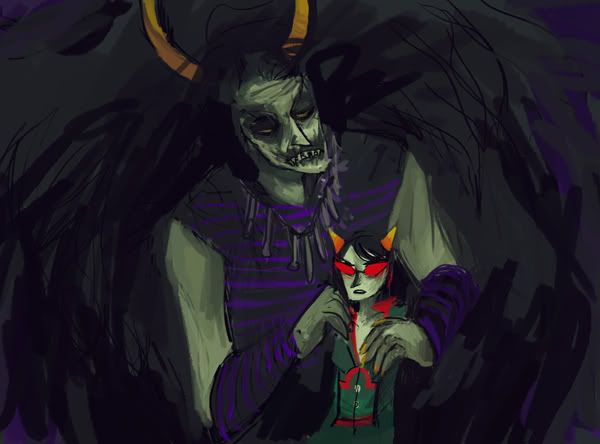 His fingers get their search on for things they can't find. They press over her collarbones, at the top of her chestbone. None of it is in any way untoward, you understand, there is no motherfucking caress in it to be had. Your old man's patting her down. There's no comprehension to it. After a while, he turns her around in his arms, and he lays the gentlest little swak of a kiss on her skull.
At that point you would've gone in there. You would have demanded explanation. You would've hollered. But then the old man looks right up through the flap at you, and every drop of water in your body turns to piss and ice.
You can't move. The fear in that room is beyond all fear you've ever produced or partaken, even previous jaunts with him being up in your grill. Your pusher stops in your chest and a great pain settles there instead, and you'd wet your britches if you had control enough to. His ocular sockets are great black pits. His face is a skull in a skin mask. You were wrong to name his fear the fear to stay alive; you don't want to fall to your caps and pledge fealty to him, you want to crawl on your belly and weep in apology that you ever got hatched, beg him to put the whole world down rather than suffer.
The Grand Highblood pats Terezi's hair smooth. He takes her shoulders, and he pushes her toward you. She makes no stumble. She commits no falter. She buttons up her coat as she walks, and she walks like a wind-up wiggler toy. When she reaches the entrance to the tent, every light within it goes out behind her, and it's then that you break.
The dark's too much. You grab her and run, push-and-pull her to the gate as her legs refuse to run, hammer it until the keeper comes to unlatch the exit to the inner sanctum. You push past and you take your legislacerator, and you don't stop motherfucking running until you're on the other side of the ship.
Even this far away from the circus sanctum, you're still somehow convinced he's going to come after you: for no other reason than fear, for no other logic than the primal part of your thinkpan. Have you even committed sin? You push into a corridor past a thin sheeting of bottlecaps and fingernails, and from there you bolt into the first doorway you find. You smack your hand down onto the recognition hornet, Terezi limp under your arm, and you don't even feel the prick as its stinger takes your hue.
When the doors open, you lock 'em behind you. You're aware of vast empty. You take a couple runs into that gnawing dark, and you keep going mindless until you stumble hard over a step. In the fear your oculars don't adjust. What your fleshsack does is keep going until you budge up against something structural, and you drop your baggage down on it like a grubmeat dummy. You squat in the shadows before her. Of how long you crouch there, arms over your head, you got no notion. You just sit there until your squish biscuit's finally
fucking
STILL.
You rock back and forth on the balls of your feet. You weep, some. Bit by bit the chucklevoodoo leaves you, so your pusher beats regular and your shakes aren't so bad, but if someone had broke in with a tub of sopor you would have shotgunned it all. You would've taken any drug they have name for. You're weak as all hell. You're weak and furious -- what did you do that for, what the fuck did you even go and have to do that for -- and you're furious because you fucking did it for her, and no good did it even do.
After a while, the lights come on. They shine soft on the floor, showing slick glass. They reflect off black wall and old blood. They flick on all the way to the center of that chamber where you hunch, and you realise that you just laid your legislacerator on the holy throne of the Mirthful Church. She is crumpled up in the piece of most bitchtits furniture where generation upon generation of First Laughsassins have sat their asses, and you're hunched before it with no thought in your head but fear thought.
You put her on the old man's throne in the sacred chamber, with its fingerbone ceiling and its holy paint. It's a motherfucking joke.
After a while Terezi startles you by saying, quite normally: "What happened?"
Hearing her voice you're angry at her for the sin of being chucklevoodooed, no matter how stupid that is. "I just remember the symbol," she says, into the silence. The room swallows up all your echoes. "Him calling me back, and the symbol. Highly weird."
"Wicked sis, you ever seen that sign before?"
"No. Have you?"
You say, "No," but she says evenly, "Mr. Grape Faygo, I can sniff a lie."
"It isn't a fucking lie -- no lies leave my twitcher. If I saw it," you amend, "I don't know where."
Both of you lapse back into silence. You sense her shift behind you, flex her fingers, rotate her jaw. The dais beneath you is polished so high you can see your reflection in it, paint a little smeared with sweat, eyes burnt orange from the duct malfunction. Grimy purple streaks down your cheeks. Salt on your tongue. Behind you she lounges in the holiest of motherfucking sitpillars, seat so wide her toes don't even go off the arm.
"What is the penalty for sitting in the throne of the Grand Highblood?" she asks presently.
"Motherfucking chopped into pieces with a hatchet starting with your motherfucking toes, ticket revoked from the Dark Carnival," you say, "murals of unsightly shit painted with your effluence."
"Then it is extremely lucky that I am lying, not sitting."
"Bullshit. That's technicality."
"Cases have been won on less."
You're grinding your backfangs together in the anxiety. You hunch up and you find yourself gritting out: "He chucklevoodooed us both. I came back to get eye of what was going on, on account of it being also my mother fucking MOUNTAIN, wicked sister, and he was -- touching you, checking your collar."
Terezi sits up straight on the throne, balanced on her elbows.
"Holy shit," she says, a little dazed. "In an untoward way?"
"Of course not untoward, you heretical stick, fuck would he want with you? He wasn't feeling you up for shits and giggles."
"There are very few shits or giggles to have," she agrees. You envy her poise. You fucking loathe it. "So -- it was definitely him in this entire adventure? I've been getting chucklevoodooed each evening?"
You're loath to say it. You hadn't wanted to know it was by design.
"Yeah," you say. "You reek of the rough chuckle. You've been fried with the snicker."
"Oh, thank awful dead troll God."
What.
"I just thought I was going nuts," says Terecita, and slumps back down. She lets out a sigh. Both of you are still shaking, some. "It was a very boring mystery. Investigation of why I am going insane is very different case than investigation of why the Grand Highblood is bothering to chucklevoodoo me. This is, as the seadweller said to their matesprit, a very different bucket of fish."
You stare. There is a tiny smile on her mouth, one that grows into a mirthless grin at your horror. It adds teeth. It looks like a fucking cholerbear trap. "I don't know what," you say, "of WHAT CRAZY IS FUCKING WHAT IN YOU."
"Mr. Makara." There is foul delight in her maw. "What's this I smell? Were you really truly conflicted about picking a side? Were you actually weighing up the crime of your ancestor manipulating your partnered legislacerator?"
She's too late to dodge as you shoot to stand, when you lean over and you tweak her honk. You twist it. Nobody could ever say you were above your petty vengeancies. Terecita gargles pain; then she reaches up with clumsy mitts and pokes two claws in your eyes, making you drop your pan back. Neither of you got fine dexterity. You're still wan and shuddery and weak, and a little while back you wanted to throw yourself out into the airlock rather than face another couple hours of living; her chilly hands feel strange and slow, in the wake of that.
It's too much effort to tussle. You drop down to sit in front of her without thinking of the miraculous hatchet or your ticket to the Dark Carnival. You don't even pang. They say that sinners who sit on the throne of the Highblood turn immediately into low-quality snort, the flesh right down to the bone, but this chair's your hatchright. If Terezi can lie in it, you can surely sit. Ain't even feel mystical. Just chill. Just cold.
"Maybe if you weren't so fucking faithless in your conduct."
"You're not so petty as to think it's that, douchebag," she says, right behind you. This throne's broad as good goddamn. Your bodies feel strange. Your skin feels indistinct. "It's not about my rank atheism. This is a game, and I just want to know the stakes -- Gamzee, you really came back?"
"Nobody fucks with your skull but me."
It blurts out your mouth. It splutters and strangles. You turn away until Terezi cups your face in her hands very gently, turns you to face her, thumbs balanced and splayed out on your throat. She is sitting up behind you. She looks blown open. She looks like concussion.
"That could be construed as tenderness," she says hoarsely. Her palms are clammy. "Even ameliorated by curiosity, or disgust, or whatever -- how long have you been having these dreadfully loyal thoughts about my skull and spine knobbles?"
Her hands are a country you've travelled too often. You always thought her hands had easy beauty the way the rest of her didn't. Nimble fingers, long and deft. Perfect orange shells of clawtips. The cleft between each digit is your claimed motherfucking territory. Some trolls think of ass and glands: what do you think of? You think of her fingers.
"You know full well," you say, "you got the full fucking knowing that if this is quadrants, wicked sis, I don't want conciliatory."
It's the first time you've let yourself say it.
"I wanted you in a collar," she says baldly. "I wanted you to heel and roll over. I wanted you to be what -- Vriska wasn't, you see."
This is an apology three times in remove. You're filled with soft contempt. "Stop all these pale pretenses," you say. "You can leave them to rot where they motherfucking fall."
Terezi touches your cheek. You mouth her palm. You lick the line that borders thumbpad and thumb, taste each callous. She stares blindly at your face and never stops holding it, cradling your jaw in her claws. "But they were nice pale pretenses," she says plaintively. "I would have tried so hard to be a good moirail. I would have been amazing at it."
"Not with me."
"No," she says lowly, "no, I'm beginning to suppose not."
One of her thumbs traces the wet on your mask. It smudges paint. It worries the flesh, leaves a little scratch.
"Is this the part where you change your tune, Mr. Makara?" she says, and gives you a ghoulish grin. "Am I to be pinned to the floor as you laugh it all off? Do I get a dance done on my frail emotional state as you tell me that I'm a dipshit for having the arrogance to assume -- that the quadrant you'd want -- "
You sift hand through her hair. You fist her horn. "You know what I told him?" you say. "I told him to send your bones packing. I told him to send you back. Set the sword even between us, sister. Sword set even between us."
"He won't -- "
"But if he mother fucking DID," you say, and you shake her horn till she jangles, "if you got sent to the far reaches of space, you got your distance on, left my side, forgot my name, vagued my face, never motherfucking recollected -- you would still be -- "
"Gamzee -- "
"The WORST mother fucking THING that ever HAPPENED TO ME," you say.
Each foreclaw digs in your skin. Terezi don't draw blood. She simply hooks her claws and lets you feel 'em, raises her flap back in a snarl, dead eyes fixed on a spot past your snout.
"If I got the orders back to the Executor I wouldn't accept them, you goon," she says, intent. "I am your legislacerator. I will remain your legislacerator should the Highjudge Advocate General stand me in front of a council and tell me that our partnership is dissolved. I will be your legislacerator when they stamp that red, distressingly delicious CANCELLED stamp over our names."
You give her horn another little shake. She squelches her palms down your jaw like she can crush you between them. "You really think you've seen my worst?" she mocks you. "Oh, brother, brother, little baby BROTHER, I am going to take your life and crunch it up and gobble you down. I will drink your blood and boil your stupid subjugglator bones. If you want me for a kismesis then you -- "
You're too busy kissing her at kismesis for her statement to make itself anything other than mmph mmph mmph. Terezi detaches claw and flings her arms round your neckstem, and both of you mack in first earnestness. You can't stand to be with her. You can't stand to be without. Both of you fill that cold seat with yourselves, her getting all up in your lap and then all up in your grill as you kiss her woeful mouth. Nothing with her is ever easy but this, so you're going to get it while the going is motherfucking good.
Both of you have played at spar so many times that kissing's like a fight, just with awkward. She keeps trying to plant her caps down, work you forward till you hit the carved stone of the throneback. You aggress. There's a lot of saliva and a whole lot of fucking tongue, and for the first few that's more slimy than it is miraculous, but then she quits trying to lick your teeth and smooches along your flap instead.
"I'm not sure," she's panting, wide-eyed. "I'm still not sure -- "
"Nobody's ever sure about shit," you say, "nothing's motherfucking sure," and you coax her mouth to kiss you again.
The adrenaline from your old man's scare is still in you. It transmutes. You are so fucking glad to be alive and well and living, have liquid black coursing through your system. When you rub along her ribs she lets out startle, she squawks, then gets her mouth up in your stem and licks your throat like candy. Heh heh. You've been right all along. She is so into you.
"Oh my God," she says breathlessly. "Oh my God. Your paint tastes so gross."
"Fucking what -- "
"Bluh, blech, like hot concrete," says Terezi, and closes her lips right up next to your pulsepoint. Her tongue flutters against your skin as she sucks down hard, once, twice, sieves your paint through her teeth. That's hot for no reason. Everything's hot for no reason. She's hot for no reason at all. You like how her hair smells like her shower sludge and how her horn brushes up against your aural shell, you like how she slides hands down and over your thorax and fists in your shirt.
This ain't how this was meant to go. You were going to sing love first time at Tavros Nitram and offer up to your piteous brother, pledge yourself to him for anything he could think of and a whole bunch of shit you'd thought up beforehand. You two would kick back and have some hardcore make-out. You would beg to expire in his motherfucking arms. You would fucking rap about it.
Instead you're sitting in the throne of the Grand Highblood as a dreadful bureaucretin straddles your lap, saying thickly, "I'm acclimating," as she scrapes paint off your stem. You pop each button off her coat. You're getting your acclimate on too.
Somewhere along the line her tie comes untied. Your cuffs come off. Her specs get tossed. You're all pulling her into you and urging her body into yours like you wanted to in the cupe, getting your mitts on her sitbones and the thin curve of her ass. Sometimes you're both laughing into your kisses like they're the best jokes you've ever heard and then she feigns serious again, solemn. You kiss that solemn flap. You lip her frown. You got the need to tear her to shreds, to keep kissing her stupid face, to not let go until you're sure.
Terecita palms your horns and forces your skull back, squeezes down until your breath comes heavy. "Gamzee," she says, all intent of a sudden. You're rolling your palms against her until she closes her lids and rolls back against you, lets a low grunt slip. "Gamzee, you -- you have to work with me now, really work with me, if we're -- there's more to the Church than Echo Side and the Grand Highblood, we could get eaten alive -- "
"You have to motherfucking TRUST ME," you say.
"We didn't pick a trust quadrant, dummy!"
Both of you are grinding up against each other, clothes on. For a few moments you're all about that and not graceful about it, shoving and fumbling, and when she squeezes up around your hipbones and you push hard between her legs she lets her head loll back on the armlean. Terezi makes a sound that's less bucket film and more engine fail, but it gets you going anyway. "Whose dictate is that," you pant, "whose dictate is that but motherfucking ours?"
With a low snarl, she slides you back. She eases you ungently to lie on the carven arm of the throne, and she makes a noise like knives in a grater. Impotent. Like she's too blind to look at you enough. Terecita pushes her claws up and under your shirt and presses her head to your thorax, rooting around, going looking. Her claws examine. She mouths over your shirt until you get your hand in her hair, and as you pull she scores five lines down your motherfucking thorax. Five lines. Fine lines.
You get your hands on her caps and spread patella 'til you know it smarts, and you get your clothed bulge right between her thighs. Terecita closes her lids. A hard tremble runs right through her. When she slaps you, it ain't too hard; just enough to raise the skin and wake you up from shoving between her legs like some six-sweep kid. Both of you go teeter-totter over again until she's back up against the armlean and arching back against it, and you reflect that fucking's just a fight you both lost already, apparently.
Terezi in disarray on the throne of your ancestor is a Terezi undone. There's teal heat in her pointy face, blood at her black lips. Her coat's rucked up. She peels herself out of it until she's left just shirtsleeves, and you can't fucking stand the buttons on her shirt, you can't fucking stand the buttons at her pants. You hate how she's shaking. You hate how you're shaking. The loathing could boil a sun down into a black hole and take you with it, and not even mother fucking light would escape.
"Do you even have a pail, Mr. Makara?" she says.
Both of you come a little embarrassed at the word. It comes out her mouth with a little pop, bursts at the p, slurs the rest of the way. You can't believe this shit's making you shy. You try to think of some goddamn subjugglator sensualities, something to say, and you go: "Show me your tits and I'll show you," like that's even a thing anybody would vocalise during sex.
"Rude!" says Terezi. "You first!"
You try to kiss her again, but she steadies both red-booted feet on your shoulders. She pushes heel into your shoulder til the skin grinds. What you do instead is drop your head to her chest, press your mouth against the cloth of her shirt, knowing by now she eschews the gland hoister. There's nothing between her skin and your mouth but thinnest weave. When you find her nipple it feels all pebbly and puckery, spit staining her shirt and moulding it to her, and you bite down. She lets out a sound like a stepped-on nutbeast. Her thighs are around your throatstem. That'd be one way to die. You get your twitcher all sloppy and warm on her, because to be motherfucking honest you are not an expert at this.
Terecita yanks you away wholesale. She kicks you away hard with her boots, then plants them either side of your knees. Suddenly she takes the hem of her shirt and pulls it up and over her head, wriggling out of it like a chrysalis, yanking it over her skull and popping it over her horns. Her smile is some first-grade fake bravado. You can't say your girl don't have her game face on.
"I guess I will be the gentletroll here," she says.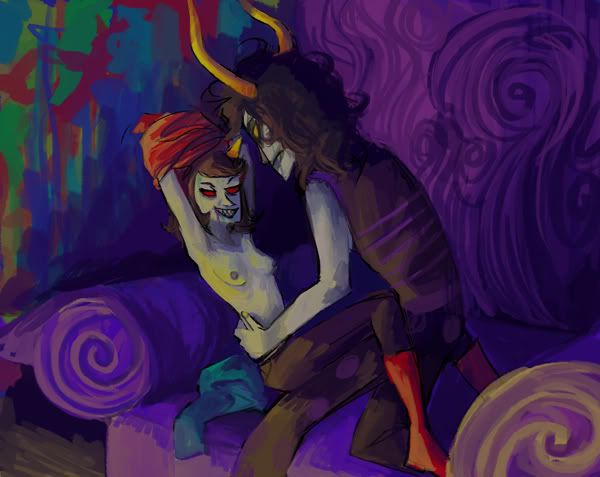 Seeing her naked makes her littler, somehow. Her breath heaves her chestcage up, her small hard nutrient sacs. Her skinny-ass ribs. You could snap her in two and leave her broken here. You try to leer, but your face tastes like a goddamn grimace.
You say, "Want to know how wigglers get motherfucking made?"
"Okay, look," says Terezi, taking one of your hands and placing it on her belly. She gives you what's obviously her intention of an erotic smirk. "I already know how wigglers are motherfucking made. Saying that just makes me think about how you and I got made, which I will remind you, was at the same time and is a sore subject! Also, I would like to remind you that I already know how wigglers are motherfucking made, because my lusus was around to tell me -- "
"How could she have left, your mommy was a FUCKING EGG -- "
Your legislacerator gets each knee around your ribs. She squirms up into the hard lump of your bulge. It occurs: this is really happening. You are committing the act with her. Once you'd thought this sloppy makeout would've occurred with the brown-eyed boy you love so much you want to offer your offal to him, whose flap you wanted to kiss so sweetly and motherfucking gently. She slides your hand up until you cup a breast, close your fingers all around it until the squeeze makes her sob, until her pulse panics like a dying beakbeast. Your pusher gets its hammer on until you see motes.
Both of you find a hard rub against each other that makes your pan white out. You reach down. You get her hands. You wrap each digit around your neck so she can clasp around your jugular, can feel each hard swallow in your stem. The way she regards you is like she's seen a wanted poster for God, and you know the fucking noise you make is more suited to caress.
"You gonna be my final testament," you say, "baby girl?"
"I will be your final testament, iniquitous brother," says Terezi. "I'll also -- I'll also pail you, if you shut up for five minutes!"
Her hair is filaments in your fingers. Her horns are warm in your hands. Her neck is so small. Her heart is so loud. Each bone in your body is the bone in your body, and each cell of her meat is the cell of your meat. What you two got was written before you were drops in a bucket. What you got was written on the ticket of your freakshow before the universe was rowdied into being.
You find yourself hoarsing out, "I hate you," and she just says, "I know."
---
A long time later you'll look back on that throne room and her heaving for breath against you, past words, past grace, and you'll try to recall everything she did and said. Each touch. Each wound. All the times she was snide and all the times she wasn't, and how exactly you got from beginning to pail -- but it was such a mad motherfucking scramble of claw and mouth and bucket and burn. The choke and the strangle. The kiss and the backhand. What you remember best is your mouth at the first knobble of her spine, and her saying: "I hope you die and I hope I'm there," all in a daze.
Shit was near romantic.
---
Later on when you stuff bucket into your sylladex and shove your sticky bodies back in your clothes, the enormity of what the fuck just happened starts to seep. It gets through your cortex. Your new kismesis says, "Oh my God, check the place for stains," and that just sets you the fuck off. You're done. If there's untoward splatter on that chair, you didn't find it on account of you were laughing too motherfucking hard.
Part of you expects to find a host of priests outside the throneroom, carrying torches and boiling Faygo. You expect a cardinal cluster. You expect a gallows. You kind of expect to go down in the books as Gamzee Makara, turned inside out for the sin of committing carnal acts upon the high throne of the Church of Mirthful Messiahs. There's nobody in the hallway but you, and the rest of Echo Side's so quiet it could be empty of anyone.
"If I had to mount a defense for our case," Terecita tells you later, "my defense would be that it was really, really funny."
Girl's getting pretty down with the clown.
TC: i got something to tell you.
CG: GOOD, I'LL GO FIRST.
CG: GAMZEE, SHIT IS GETTING PARTICULARLY REAL HERE.
CG: THE REALNESS QUOTIENT IS BEYOND MATHEMATICAL.
CG: TRY TO PUSH ASIDE EACH HORN-FILLED SYNAPSE FIZZLE MASQUERADING AS "THOUGHT" AND LISTEN TO ME.
CG: DON'T CONTACT US ANY MORE UNTIL WE CONTACT YOU FIRST.
CG: IT'S TOO DANGEROUS. BUT DON'T WORRY, I'LL KEEP IN TOUCH.
CG: I WILL BE WITH YOU UNTIL YOUR EYE SYRUP MELTS OUT EACH CORNEA. I AM NOT GOING TO LEAVE.
TC: fuck's happening.
TC: MOTHER OF FUCK IS HAPPENING, BELOVED.
CG: IT IS IMPORTANT YOU NOT SHIT YOUR PANTS RIGHT NOW. I NEED YOU TO TELL ME MORE DETAILS ABOUT THIS INQUISITION GIG.
TC: we talk about cult.
TC: HE SHOWS US SHIT FROM OLD MOTHERFUCKING TEXTS, I AIN'T GOT THE KNOWING.
TC: discuss old deads.
TC: WE DON'T COMMIT NOT MUCH OF NOTHING.
TC: what's happening, best friend. Do:
CG: YOU'RE NOT DEPLOYED ANYWHERE?
TC: nope.
CG: THE MOST YOU GET UP TO ABOUT THESE WILD AND WACKY "CULTS" IS READING BOOKS?
TC: yope.
CG: OK. OK. GOOD. STANDS TO REASON. IT'S JUST A TITLE. BUREAUCRACY IS FILLED WITH CORRUPT, PUS-FILLED CRYPTS GIVEN IMPORTANCE AND TITLE BUT NO MEANING. YOU'RE FINE. THAT'S GOOD.
CG: YOU NEED TO TELL ME IF YOU GET SENT OFF THE SHIP, ALRIGHT? IF YOU GET PUT INTO THE LINE OF FIRE.
TC: i ain't dumb.
TC: dear i ain't dumb.
TC: MY ONE AND MY ONLY, I AIN'T SOME DUMBSHIT YOU CAN DO THIS TO.
TC: YOU NEED MY HELP AND I WILL MOTHERFUCKING COME AT A RUN.
TC: KEEP YOUR MOTHERFUCKING DOOR OPEN.
TC: I'LL COME.
CG: I'M OK.
CG: I'M FINE.
CG: I AM FUCKING FINE. MORE TO THE POINT, YOU'RE FUCKING FINE. YOU NEED TO TELL ME THE MOMENT YOU GET SENT ANYWHERE. YOU'LL LEAVE A CODE IN SOLLUX'S PESTER.
CG: THE CODE IS
CG: UHHHH, FUCK.
CG: THE CODE IS YOU SAYING THAT YOU AND TEREZI JUST WATCHED THE LATEST TROLL MATT MCCONAUGHEY FILM AND YOU REALLY LIKED IT.
TC: but we ain't ever got a liking for troll matt mcconagwho.
CG: THAT'S WHY IT'S A FUCKING CODE, NUMBNUTS!!
CG: (PS: YOU'RE MISSING OUT ON SOME PRETTY GOOD MOVIES DUE TO THE TASTE CORTEX OF YOUR PAN BEING A WORM-RIDDLED SHIT HAVEN.)
CG: ANYWAY.
CG: I'M SORRY. I'M BARELY THINKING STRAIGHT.
CG: WHAT HAPPENED?
TC: don't worry.
TC: wasn't a deal.
TC: I GOT EVERYTHING UNDER CONTROL.
---
Each evening you got your routine.
Tonight you roll out the sopor and take her with you as you stand beneath the trap spray, turning it to the point that's too cold for you and too hot for her. You're not awake enough yet to do more than bitch and fuss. You slough off slime and turn it down to cold as it will chill, and then you stand in front of the reflector pane and bore yourself with the fang paste.
She towels her hair. She combs it through. Both of you pick at the long black follicles in the hand trap. While you're still scrubbing she combs your hair, even as you tell her to fucking quit it. Both of you wiggle into your undergarments, sticking to the bits of you that ain't more than mostly dry; Terecita squirms into a jut huddler and lets you hook it up at her skinny-ass back, wondering how the fuck it fastens.
When you're dry, you put your face on. You bind back your mane in an elastic. Terezi squirts paste on her bristle stem and stops dead to watch as you apply paint, geting your white grubgrease all over up into your hair. She sniffs as you work the grey paste into your palpebral flaps and outline ocular. She looks so hard she could die of it. You have never before done this in front of anyone who breathed, not your dad, not nobody.
So you say, "Tell me something you ain't never told anyone else."
By the time you snuck back to your block the night previous, it hadn't been long past midnight. You were rumpled. You were guilty of countenance. Shit continued on with offensive normalcy despite the whole motherfucking universe shifting sideways, and neither of you knew what to do with yourselves. The only thing seemed to be to fritter time sitting on the rest platform in your underbritches, sucking face in front of the slug.
Later on she would lie in your slime with her cheek on your gut, sleeping in the place only your moirail should sleep. Didn't mean shit. Just meant she'd sleep without making chalk cipher on the wall. The silence in your respite block was a silence that ate all quiets and hushes.
"Objection," she says thickly, scrubbing fang paste. "Remark is leadingly pale."
"You cannot still motherfucking retain -- "
"I can't just turn it off," she says, and applies her bristle stick. After energetic fang scrubs, she spits a wad of froth out her flap. "Please just acknowledge we have a very complicated kismesis and this is going to be an odd settling period."
You reach down to flick her aural shell. Terezi turns her head and bites you, leaving a ring of prickmarks and fang foam on your wrist. "It's a very impractical way of asking for information," she says, licking paste off her mouth. "I could just tell you anything. You simply want it to be possessive, or you would have just said: tell me a secret! What do you want? That I didn't wear clothes until I was two sweeps?"
"That's nothing," you say. You turn to the reflector pane and you outline your muzzle. "That is nothing at MOTHER FUCKING ALL, I wore the same duds for a whole sweep when I was three because my lusus never showed me the goddamn wardrobifier button. That shirt worked wicked mould."
"Gross," she says, and she gets her shirt off the hook and slides her skinny-ass self into it. After a moment she says, "Gamzee, who told you I was researching coolant grubs back on the Executor?"
It's been a while since you thought about it. That night was a long night. You paint the swoops down your mask, up and making the lines clean. "Dunno," you say. "Like I up and told you, sis, shit came anonymous. Said to go check out Tavbro's back, and said to check your shit for research tags. Drove me pretty motherfucking wild at the time -- "
" -- that is an understatement -- "
" -- fuck was I meant to think -- "
"A message comes through for you? How? Who? You don't even question it? Who would have known about Tavros's back, other than Vriska -- and Mr. Appleberry, for some reason?"
You shift, discomfited some. You spot above your ocular sockets and you flicker them shut briefly, meditation done, holiness complete. "Because I was praying, you low-hued faithless. I was getting some motherfucking religion in me. I got praying for Tav and I had visitation, shit was Messiah shit. I prayed, I got a visit. Miracles."
Terezi leans up to the pane, looking startled. "A visitation," she repeats.
"Right into my husk. Typed out the words. Clear as fucking glass, don't you know?"
She opens her mouth like she wants to argue, and you will argue this shit with her until your throat bleeds and her tongue gets worn to a bloody teal stub, but then she closes it. Her maw comes shut. Terecita instead raises her hand like she wants to touch your paint, but you hold her digits away; shit'll smear. "Do you still have the message?"
"Like hell I do. Deleted itself. It was a miracle, not a motherfucking server bulletin."
Her breath makes a damp huff. It curls hot on your hand. You shake her off and zip up into your shirt: she can go on about the past all she wants, because what's your concern is the future. The future is right there. The future is spilling itself all crude and immediate out into your hands, and it matters so much more than the dusty past. "Are you going to be an Inquisitor, or are you motherfucking not?"
"I already am -- "
"It ain't a game. You don't do a thing just because a fucker told you to, even the old man. You got your agenda. You got your angle."
Terezi eases up her wrist buttons. "Those who pledge heresy against the Church of Mirthful Messiahs," she says softly. "I serve justice, Gamzee. I do not crush the wicked. You can go and crush the wicked all you want. If you see a wicked thing you can crush, spindle, maim, mutilate and thoroughly mulch it, go ahead! I will judge the guilty."
"The Cult?"
"If they are guilty then I'll judge them. If they stand for something unethical, then I'll judge them."
"There's a GOD DAMN DIFFERENCE between evil and unethic."
She gives one of her bullshit grins of, and so it is. Indifferent. Insulting. Her looking down on you from her towering justice pedestal makes you mad inside your pan even moreso than it would have done before tonight, and you're tugging her hair again, clipping a horn. "You can't pick and choose what law you say is law," you say. "Wrong committed to the Church is a mother fucking wrong. If you're getting chucklevoodooed now by him -- if you keep on getting your push on and your push on..."
Terezi's grin is acid now. "I'm sorry, Subjugglator. A lowly tealblood should never do damage above her station. She should just grovel in a cullpit somewhere where nobody bluer can see her gross decrepitude -- "
"I can't do this shit without you."
Her grin drops. You take her shoulders and you shake them a little, both of you squashed together in the tiny ablution block. "I can't do this," you enunciate, like you would to a fool, "without you. You made me cull a troll for the good of our continued goddamn existence? You up and crush the wicked now for me, for the good of our continued goddamn existence."
Those redpop oculars close. Her short lashes brush cheek. You lean forward and close your hands around your legislacerator's neck, squeeze her throatstem some before cupping up and under her jaw. "Both things were and are unfair," she says, quiet.
"We didn't pick a fairness quadrant," you say, "you motherfuckin' dummy."
You kiss her, light as ash. She moves her mouth back so soft and insubstantial against your mouth that her kisses feel transparent. She kisses your new-dry paint, lips the grey at your cheek orbits. She kisses all the shit that is devout on your face, reverent as a subjugglator born. She wants to be herself, but tonight she kisses you more motherfucking purple than teal.
"Let me do you," you say.
Her eyebrows go haywire. "What -- right now?"
"I mean do you, you motherfucking sinner."
She don't understand 'til you take the bind off your hair. You put it in hers. Her eyes go wide as pyres when you wipe your paws and get the tub of white grubgrease, taking a fingerful and working it over her frontpan. She goes still as dead body. This is goddamn anathema. This is ringside as hell. You paint her white from chinbone to nugbone, over her pointed snout and the curve of her lip. When you smear finger over her mouth, she kisses your print so light and so quick you nearly miss it.
Her eyelashes come down as you give her the first sweep of fixative. Her sniffer twitches. After that you start with the grey grubpaste over her oculars, and she slides her hands into your waistband. She presses her palms up against your hipbones as you outline each eye. Her dead jelly is a pit of red in a circle of ash. You do it on the fly: dot and shape, line and curve. Terezi's hands shake against your skin.
"There," you say, and you spray the last cloud of fix on her nug.
Terecita leans forward and gives the reflector pane a long lick. She leaves a line of gob up the mirrored surface, and then she settles back to blink slow a couple times.
"Ah," she murmurs, just eloquent as motherfuck. Then she says:
"I look like a douchebag."
"Shut your putrid -- "
"Thank you, brother," she says. "Whoop to the motherfucking whoop, yo."
This is the dumbest exhortation that ever had the misfortune of coming out her wheeze tunnel. When the nutrition cart comes around with your evening meal, it gets left cold outside the door on account of you're both making out like frantic. You'd be having each other up against the basin if it wasn't for time making its tick, tick, tick.
Before the door you tie her tie. Before the door she straightens your lapel. Once you're out, you're out: two astride through Echo Side's cool halls, its children rather than its strangers. Underpriests stop. Underpriests stare. You expected their contempt, you even motherfucking expected their disturb; but there is a flicker in their jelly that is something like fear. Fear and doubt. You could crack them open and drink it fresh, that's how much you fucking love it. They make their salute and their whoop as Terecita clatters cane on the floor like there ain't a care in her pan.
When you come to the hallway guard, it is the distaste motherfucker on roster again. He takes one gander at your legislacerator and you know he's been pushed too far. This is too much. He never could have given it abide. He takes one good look at her and then he's pulling a long knife from his specibus, fingers shaking round the hilt.
"I know damnation when I motherfuckin' see it," he says. "I'm gonna carve you up once and for all, you sub-hued bitch."
He is quick with the blade. He angles it to slice her nug from her shoulders. Terezi knocks his knife away with her cane, quick as a flash, and whips her sword out its sheath. Tonight is not humblest passage, brother. Tonight she sticks him like an oinkbeast, runs him right through the shoulder and holds him there to squeal. You take his arm, his flailing arm with the knife in it, and you rip him apart from shoulder to stern.
It feels so motherfucking good. So sweet. So easy. You haven't had at the violence since you got moved to Echo Side, haven't corpsed anyone. You leave the dumb fucker in his own bones and blood as your girl wipes her sword off on his front, slides it back to the hilt, and then you step over his body and enter the hallway.
"Thought you liked the view," you tell her, "from the moral high ground."
"There is something to be said for the basement," says Terezi, and she flicks a gob of blood from her arm.
Tonight there is more than one Cardinal at the lattice gate. Tonight there are two, and as they lift the latch one says, "This way." They accompany you down the hallway with the hanging bones to another hallway where the walls weep some substance, oily in the low light, and you want to stop to see but they hustle. They unlatch another gate and take you into a chamber with a long table and many chairs, with screens set into the carved walls, and in the center chair is the Grand Highblood.
The Cardinals are talking amongst themselves, and the old man's tapping at his husktop. A couple of them have their hoods back. This is the first time you've seen beneath, and it's weird as hell. You expected monstrous. They're just trolls, wearing the paint, oculars ringed cold with indigo, some of them in various stages of old. Their paint looks strange and smooth, and it takes you a moment to realise that their shit's been inked and needled on, that it ain't paint at all. They all fall into silence as they see you and your partner, beholding her facial, and you wonder if this isn't the last sin. You'll pay for last night's crime, and roast for this one afresh.
But the old man looks at you with his rheum eyes from his nest of intravenal tubes, and he busts out laughing. He works a rust chuckle. Both you and Terezi bow low to him. "Oh, fuck, little Inquisitors," he says, and he reaches out to elbow the nearest hooded subjugglator. "God DAMN. Someone's bones are GETTING THEIR ROLL ON TONIGHT. What would my lady have even said?"
That makes all of the Cardinals laugh. Those laughs echo around the room. Hoods snigger. You suddenly feel like you're six sweeps and stupid, and they all know it.
"Sir," you say, "we're ready to carry out your motherfuckin' task."
The Grand Highblood makes gesture. One of the Cardinals punches button, and the screens start to light up. On each screen there's a still frame. In the still frame there are bodies. Each frame got a different angle on it: they're all wearing the Subjugglator uniform, and they ain't old. The cohort after yours, in youth. There's a hole at each temple, worn indigo around. There's big weals at each wrist, and some of the hands are off entirely. Their mitts have been burned away. Empty eyes stare and dead mouths gape, and behind this dump is paint on the wall. Behind the dump there is the sign of the Signless, and written beneath:
WE SWEAR

Next to you, Terezi sharpens. Terezi stills. There's a relief in her you can't explicate.
"Do we have an audiovisual of the perpetrator, or perpetrators?" she says.
One of the Cardinals says, "The feed was cut. The cell dispersed. We only have one live suspect in custody. A courtblock greenblood. You'll find the evidence linked on your palmhusk, Inquisitor."
Her cane drubs some on the ground. She shifts foot to foot. This shit excites her, always god damn did. "Has the suspect made a confession?" says your partner. "And if so, a confession of what?"
"That's where YOU COME ON IN," says the Grand Highblood.
You check out the bodies again. They're stacked. They weren't left as they fell. There's full six of them -- six grown subjugglators down is a motherfucking marvel and a half -- and they lie in a row. The block looks like some storage space. No mess in it, other than them. If they went down fighting, they didn't rowd in that room.
Terezi says, "What will the purpose of the interrogation be, sir?"
"Allegiance to the Cult of the Signless Sufferer," says the old man, and each Cardinal in that room raises their hand and makes a perfunctory slit across their throatstem. All hands to each stem in the same sharp slit. "I've schoolfed you on this. YOU KNOW WHAT TO LOOK FOR, little sister."
"But the murders -- "
"We only need the one," he says, "to get warrant from HER IMPERIAL CONDESCENSION to carry out our great and righteous work."
You say, "That's one motherfucking honour to GET YOUR BESTOW UPON US, sir."
What Cardinals you see have thin smiles on their flaps. They flash fang your way. The teeth of the Cardinals are stained pale blue by design. They have ghost grins. The First Laughsassin doesn't grimace none, but he sits in his chair with ease and no worry in him. Everything got a carnival atmosphere to it. This is the festivity of blood in the water.
"All this I entrust to you," says the Grand Highblood. "All due faith DO I EMPTY INTO YOUR GOD DAMN HANDS, little brother. Failure ain't to be tolerated. NO FAILURE WILL BE RENDERED TOLERABLE TO MYSELF AND MY HIGHBLOODS. Come out that room with confirmation or don't -- come -- OUT."
Both of you bow again. One of the Cardinals opens the door behind you both, but Terecita don't turn. She says, "Sir, what do we do once we've got the confirmation?"
"You're Inquisitors, you SMALL-THOUGHTED PLEB," he says. "You do WHAT IS RIGHT AND CORRECT."
The Cardinal leads you down the oily hallway. You get stopped before a block. They don't leave as your partner brings up her palmhusk and sniffs at it, gives the screen a long lick as you try to squint through her god damn ooze trail. All you can do is look at each other, no words to say, before they let you into that chamber. When the door gets shut behind you it clangs like a motherfucking gong.
In the chamber is a chair. Cuffed to the chair is a troll. The troll is a roughed-up greenblood who lifts nug to get wild surmise of you both.
"What is this," she says hoarsely, "a fucking inquisition?"
Terecita checks her palmhusk again.
"Why, Stenogressor Petrel," she says, "funny you should say that!"
Your first confession takes forty-one motherfucking minutes.