Chapter Text
ACT ONE:
Justice Lies Awake
CHAPTER THREE
---

-- gallowsCalibrator [GC] has begun trolling arachnidsGrip [AG]! --
GC: VR1SK4
GC: WH4T H4V3 YOU DON3?
-- arachnidsGrip [AG] has blocked gallowsCalibrator [GC]! --
---

It is the first time you see Gamzee Makara break down.
Really break down, you mean: this makes every other breakdown he's had look like a wiggler's tantrum, crying for meat pap and their lusus. The moment you hustle him back to his quarters he takes the tablet and sails it across the room in a splatter of glass. He raises his fist and slams it down on the desk like a meteor strike, leaving a web of cracks radiating out from a huge dent. He kicks his recuperacoon so viciously that it lets out a sad glorp, bubbles of sopor rising to the surface and bursting, and then he proceeds to trash the rest of his room.
"Gamzee!" you say. He doesn't answer. "Gamzee, we do not have the time for this. It would also be exceptionally foolish to give away our relationship to the accused -- "
There is not a lot to trash. What scattered possessions your partner has are few. He shreds a sad little horn pile, he bends a silly one-wheeled-device into acute angles, he rakes his claws down aimlessly painted walls. You hear a tinkle as he smashes the sink in his ablution block. You're quick enough to slip his husktop into your modus -- he'll be wanting that -- but otherwise you stand and smell the pandemonium like an idiot, your mouth full of teeth. You only realise how deep his loss of control is when he advances on you.
The fight is short. You duck out of the way as his punch smashes the wall behind your head; you roll away again as he makes a grab for you, snatching only a few strands of hair. Close-quarter fighting; his long, abominable reach is no good here. Before you know what you're doing you slam the butt of your cane hard behind each of his knees; as he crumples you whip out the legislacerator's second-best-friend and you cuff his hands. You chain him to his own desk chair before he rips the bolted base right out the floor, and then you tangle the cuffs around the recuperacoon railing in a fit of desperation.
When he is secure you take out your legislacerator's first-best-friend and noose his kicking legs, tying him up like a squealing oinkbeast. His foot catches you under the chin and drives your teeth up into your palate, but you get the knots done. There he struggles: claws driving into his palms and teeth driving into his tongue, an animal out of its mind with pain.
If you'd thought that would do the trick you are contender for the crown of being Superlatively Wrong. The cuffs bite at his wrists as he thrashes anew. You drag his chair upright and sit at his desk and you try to unruffle, to focus on scavenging what data you can from the tablet -- the image behind has already leaked but the text is still sniffable, so you grab the connector worm from your partner's husktop and plug it in.
" -- find a motherfucking jank-ass pail and fuck yourself, you miserable motherfucking affront -- "
All the while he lets out a stream of gross invective and calls you names. Some of them are uncreative; others, moreso. Many of the things he promises to do to you would make the Exarch blush with pride. You cannot care. You are too eaten up with worry as you watch him bash himself halfway to death, straining and struggling -- at one point he calls out for Tavros, and at another point Karkat, just Karkat, and at that point you are really afraid. Gamzee is beside himself. To be honest, so are you.
You do not know what impulse drives you to watch him, the floor adrip with his blood, his grape-ringed eyes rolling back in his head as he subsides to mere frothing. If you took him to the medic, he would probably kill the doctorturer. If you took him anywhere you aren't sure that he wouldn't kill everyone he encountered, starting with his hands squeezed around your neck.
Poor fool you! You have never wanted to touch him so much as you do now. You have to sit on your clammy hands with wanting to soothe him, wanting inanely to pap your hands against his cheeks and see if he will calm. This urge is usually tucked away in the shame cortex of your thinkpan where it belongs, but now it surfaces like a drowned corpse bobbing to the surface. You are worried about what would happen if you do, and you are frankly worried about what will happen when you don't.
Indigo trickles down from his temples, matting the back of his hair where he smashed his backpan into the rail. Every so often he will spit out a big glob of bloody saliva to the floor, strewn with smashed horns and bits of one-wheeled-device, and let out a wet throaty honk. His eyebrows and lashes are crusted-up. His paint is smeared over his long, square-chinned face, blistering especially at the sides of his seedflap. Nothing languid about him now: every movement is a spike of energy, frantic, subsiding into stillness before his muscles explode into action again.
" -- gonna wrench off your hands at your self-satisfied sinner's wrists -- "
"I know, Mr. Makara."
" -- flay your fucking throatchute inside out -- "
"I know."
This carries on without reprieve. You study the case file back to front until you can't bear to see Tavros Nitram's puzzled, resigned face staring up at you any more. The details are pitiful: they were written out by some anonymous legislacerator whose face you'd dearly love to smack, because their sloppiness is apparent and offensive. Someone out there thinks that a brownblood heresy case is ample cause to skimp on detail! Can you really blame them, tasked with minutiae for a training-ship's practice hanging?
Of course you can. That is not how justice works. Behind you the whimsical details of what Gamzee will do with your dead body blur into noise, not sound, and you log into his Trollian.
-- terminallyCapricious [TC] began trolling twinArmageddons [TA]! --
TC: T4VROS H4S B33N 4RR3ST3D
TC: 1 W1LL NOT 1NSULT YOUR 1NT3LL1G3NC3 BY PR3T3ND1NG YOU DONT KNOW 4BOUT 1T
TC: M3SS4G3 M3 4S4P R3G4RD1NG WHO YOU T4LK3D 4BOUT >:[
TC: PS TH1S 1S OBV1OUSLY G4MZ33
TC: HONK HONK HONK B4BYG1RL M4M4C1T4 DUMB N1CKN4M3S FOR T3R3Z1 1 4M FULL OF SM1RKS OR NOT C4R1NG 4BOUT 4NYTH1NG OR GO1NG COMPL3T3LY 4P3SH1T 4T 3V3RY UPS3T B3C4US3 MY 3MOT1ON4L 1Q 1S L1K3 Z3RO 4ND 1 DONT G1V3 4 SH1T!!!!
TC: WHOOP WHOOP!!
TC: OH 4S 4N 4S1D3 W3 H4V3 C4NC3LL3D GO1NG TO TH3 PL4N3T OF D3VOUR1NG R4T P3OPL3
TC: 1T W4S 4 S1LLY PL4C3
You rest your head in the crook of one elbow, just so that if and when he answers you will know immediately. You are just resting, is all. It is not as though you could fall asleep with the racket going on in the background. Because you are not looking at what you are typing, it allows you to speak foolishly:
TC: MR C4PTOR 1 W1SH 1 H4D TOLD YOU TH1NGS TH4T 1 H4D PUT OFF T3LL1NG YOU
How you really fall asleep, sitting up at a desk with a noisy subjugglator decrying your continued offense to him by living, you have no idea. Yet when you startle yourself awake it is dark -- the motion sensors have dimmed the lights, thinking all occupants of the room have left or are not doing work requiring light. The husktop clock indicates hours have passed. The only signifier that this is not some sort of bad dream -- that this is the night before, and you've crawled into Gamzee's room to miserably wait out examination results -- is the schedule of the Executor, announcing incoming docking of a security skiff. Tavros.
The room is dark and smothery and silent, and you have left your prisoner pinioned to a rail with his feet tied up. Gamzee should be kept tied up approximately three hours of each day to teach him a lesson, but you feel like shit anyhow.
"Gamzee!"
He doesn't answer. His head droops to his chest, bloodied, head sticky and hair stiff. Blood has driggled down in thick clots and smears over his forehead. He is very still. Before your brain knows what your legs are doing you go to him, dreamlike, leaving your chair and shuffling forward on your knees. You tilt back his awful familiar face and stroke over his hair, filled with a longing so contemptuous you cannot even bear yourself, your fingers at his homely jaw too shooshy for anyone's good. You sniff the sweet bruisy shadows of his closed eyelids, and for a moment you think he is dead.
"Mr. Acceptably Grape Faygo," you say. "Tavros is going to be here soon."
Those eyes crack open, oily yellow. "Sopor."
"What?"
His voice sounds as though he has been gargling gravel. "Get me sopor."
You very nearly pap him. In the end, you look at his curd-white paint stains, his wounded welty mouth, and you don't; you recall the aching stripes on your own back, which tend to help your priorities. "You cannot want me to dope you again."
"This is the last motherfucking time." Each word is heavy. What you'd thought of as calmness is the end of his control. "Sopor. Just a smidgen. If you don't I am going to snap every miserable brittle little neck that locked him up, scourging sister, and you will smell as I make the blood rain from the hallways like wicked precipitation."
Once you would have laughed, but you took him right into the killing room and introduced him to the art of taking lives. "Please. After all this time, do you really think I would let you run riot?"
"Oh, legislacerator, you gonna up and STOP ME?"
There is a funny gleam to him. You do not quite like to look, burning with a humiliation that makes your reactions slow. "This is stupid. This is demented! The sopor was always a fool's game. There's got to be some other way."
"You ever been the type of angry where it's hot?"
Something in his voice makes you both stop. Gamzee's lids shutter closed again. His eyelashes are short and stubby and very dark, and his expression is clear, clean somehow. "Like you swallowed down a sun and choked halfway and you feel it there, this hot ball, all waiting for my little motherfucker peristalsis -- and it's burning all the way down, crisp angry, dry angry. When people talk all you hear out their stupid god damned banal squawkblisters are horns and screams, and you're the type of angry where you know there is a God, this is God, and God has had enough of EVERYONE'S SHIT?"
Both of you stare each other down. You unfurl your hands from his head and you clutch your own elbows instead, as though you are afraid you will touch him again. Disappointment pats you over-familiarly on the butt: your touch does not calm Gamzee Makara.
"Cowardice," you say, voice surprisingly even. "I bet you never let any feeling run its course in you. Every time you can't handle hurting, will you run to sopor? I know a runner when I see one, Subjugglator! Sopor is not a good moirail."
"You try to feed me any of that poison again after this I will bury you," he says. Gamzee's words are too careful, uneven. You can see the tic at his jaw. "You know runners from looking in your motherfucking MIRROR EACH EVENING, don't you motherfucking just?"
"You unaccountable douche! Don't you dare tell me you know me -- "
"Aw, girl, you think I fucking want it? You think I'm an addle-nugged addict? You're fucking right and you're mother fucking WRONG. Get me a mouthful. Just a scoop. Ain't in a begging frame here, not one iota of beg is passing through my system."
In desperation you say, "It's raw and full of denatonium; it's going to taste appalling."
"Terezi. Does a troll up and look like he gives a SINGLE REEKING TURD?"
You get off your knees and scoop out two fingersful of his recuperacoon, which is unhygienic in the extreme, and you reluctantly kneel down beside him again. "Yeah, shit, that's more than enough," is all he says, but he does not change the dose. The sopor is a wet bright lime streak on your fingers and you force open his jaw, clutching his chin, and you scrape them over the back of his lingual twitcher. You do not do this entirely out of frustrated unkindness. Even after a few days through his recuperacoon's filtration system, the sopor will be bitterer than sin and probably enough to make him gag. You are not interested in him gagging with your unprotected fingers between his lips.
Gamzee's lips close over your digits and he sucks once: tentative at first, and then the old addict in him speaks and he sucks again, harder. His lingual twitcher shamelessly laves every last scrap of sopor slime off you, seeking between and beneath and scraping itself under the clawbed: his mouth is cool and his twitcher is wet, tracing ticklish lines up each joint as his gaze flicks up to you.
You both realise that he is tied up oinkbeast-style and suckling at your fingers, throat a hard greedy swallow, and it gives you mutual pause. His teeth ring around the base of your fingers and he bites. When you snatch them away they are wet and beringed with his toothmarks, swiftly beading up teal, so you wipe them on his shirtfront just to show him who is boss. He just raises his eyebrows very indolently in a way that gives you whole-body embarrassment.
"We have around ten paltry-ass minutes of my pan working the way it goddamn ought to," he says, sounding more coherent than he has for quite a while. Perhaps more than he ever has; Gamzee is tight with unusual urgency. "So deliver unto me my fucking details. What lie did they take my boy down for?"
Now you are almost one unit again, like the last twenty-four hours never happened. You decaptchalogue a key and start working at his cuffs, leaning over to unlock him with practised deftness. "Mr. Cinnamon was caught with files way out of his clearance. Schema of the Empress's flagship. Info on some of her highlords. Cultist propaganda, doomsday device blueprints, weapon queries, historical apostasy, pre-Alternian territory intel -- if he did it, this is sewn up, it is indefensible."
Gamzee hisses a slow breath out of his fangs. As you reach over for his other wrist you note, distantly, that some of your blood is on his front teeth. "He didn't motherfucking do it."
To tell the truth, you also don't think Tavros Nitram did it, motherfuckingly or otherwise. Parts of your pan shift like tectonic plates to a much more desirable topic, throwing up strata of info, trying to mount argument. Cut and dry, the Advocate had said, and the Brigadier-General is not one to lightly call a case. But your gut instincts call for Tavros's innocence; all your gut instincts also call for conspiracy.
"If that is the case," you say, "then we go with my plan. We find him not guilty."
"Guilty until proven guiltier," he rattles off, quite impressively for someone with a mouthful of sopor in his belly. "Whosoever of the Mother's bloods, within Alternia or without, compasses, imagines, invents, schemes, plots, devises or intends to deprive or depose Her Imperious Condescension the Empress, or her quadrantbearers or highlords, from all due Her and her Terrible Dominion -- "
"Gamzee."
" -- within any part of Alternia or territory both owned by Her or yet to be inevitably owned by Her, to move or stir any alien to befoul Alternia and its forces or any such other of Her Imperious dominions, levies war, blasphemy and offense -- "
"Gamzee!"
" -- or declares such compassings, imaginings, inventions, schemings, plottings, devices and intentions through any means, will be tried in court and destroyed utterly forthwith."
"Yes! You can recite the Law Of High Treason! I can quote it as well!" Probably not with such thoughtless accuracy. You are beginning to suspect that Gamzee is not an audacious genius of study and reasoning, but an audacious genius given an unfair gift. "This will not be carried out like your usual high treason trial, clever clogs. The Imperial Condesce will not sign the order. The consequences are altogether different!"
This makes him hungry with awful hope. "Like fucking what?"
"He will not be shackled and burned slowly alive, he will get an ordinary rope hanging -- Subjugglator." At that he is scrubbing his newly-freed hands together and cursing, the room darker than ever. Your bloodpusher trembles. "Do not chucklevoodoo me, I am only trying to help. I will not direct an innocent troll to the noose."
"Tavbro didn't do shit and you know it," he says, "to nobody, never fucking ever. Boy would nurse a fly with its wings all in a ripped place and nurse that mother fucking flyless fly back to buzzing -- innocent as the god damn baa-lamb, you fathom my slam?"
"Please don't rap at me," you say doggedly. "This is a trying time, but it is not trying enough for rap. If he is innocent I will find him innocent."
Gamzee's gaze goes to you. The popped, exhausted orange is gone from his oculars but this somehow makes his look more terrible, colder, contained. "That the case?" he says softly. You move away and perch yourself on top of his chair again, maintaining distance. "Case is that you sniff guilt from my longhorned brother's pores you up and gladly WATCH HIM DANGLE?"
"Yes," you say.
"Guilty by whose brainless, stinking rubric?"
"Justice's," you say.
You wonder what would have happened if you had answered Imperial law instead of your most honest and bad-ass answer. Gamzee stretches himself up liquidly against the wall, popping stiff joints and cracking his knuckles, and he looks at you with his hooded huckleberry eyes.
"I love him with the fury you have never loved single specks of bullshit," says Gamzee distantly. "I love him like black holes love the light. I love him like the laughsassin loves the last wet chuckle of a slit chokepipe. I pity that brown-blooded fucker of mine until the final leaking death shit of the universe's motherfuckin' cooling corpse."
Young redness! Such romance. You bite back the urge to say I know! I know! I do know, which would have been humiliation itself and painful as the sound of crunching teeth. So you draw yourself up and you say, "I don't actually care."
He surprises you by nodding, as though this is an acceptable statement. With a gravelly honk he stretches out first one leg, then the other. "You think my boy has even the thinnest see-through slice of hope, wicked sister?" he says. "You think these trumped-ass motive-free charges on my wonderbro can get their flip on in a holy court of law?"
His voice is mocking, but the questions themselves are not rhetorical. "The beauty of the court is its duality," you say. "Guilty or innocent. Low odds of an innocence ruling does not mean innocence cannot exist. We do not try the already-sentenced, Mr. Makara, we cull them."
"You motherfucking believe that."
"It is the truth."
"Sometimes I think the iron claw of naïveté slit your throat the day you got hatched," he says, and you scowl. Gamzee notices and laughs at you, looser, sweeter, the sopor already starting to burn its way into his digestion sac: "Oh, Terecita, don't you motherfucking worry, I get you are dirty with knowing. You are impure with all the knowing you got going on. You just hurry and pour your plan into my willing aurals, you hit me with your shitty little rhythm stick."
You tap your shitty little rhythm stick on the ground. You feel oddly queasy despite your smile. "My plan is: we shall indict the correct offender."
---

There is already a festival air aboard the Executor. It will be two weeks before trainee outliers are given assignments worthy of them: whether sent to join legislacerative vessels and study early for the Cruellest Bar, taught hideous cacklechisms and canon law by bishops of the Church, or packed off to Ugly Planet to live demeaned lives as military police. The rest will stay and enter another phase of training, sent out pair by pair to keep law, moral and order in the Alternian empire.
No classes, then; they've been replaced by protocol briefings. Everything is suddenly committees, committees, committees. Oversee-The-Drones-Build-The-Gallows Committee. Sate-His-Honourable-Tyranny Committee. Committee Of Bailiff Organisation. There is even a Prosecutorial Aide Committee, and you know this because they've sent you and Gamzee six memos in as many hours.
The attitude change is immense. Now that you and your subjugglator partner have recognised cachet, you have your hangers-on, and not all of them simply the Prosecutorial Aide Committee. Everyone is suddenly nice, smarmy, or making an effort at both. Your name is still Teach Pyrope, but if they sneer it they do not sneer it to your face. Your other half is certainly no longer that dumb-ass shit Makara. He has been upgraded to that fucker Makara by certain members of faculty, and the Advocate was right, because the next time the Comedic Chaplain sees him he gets harried down the hallway with a blowpipe.
You wish you could care more for the social implications. Your life is now partitioned into very short segments, with your illustrious future not a participating time slot! Six nights 'til trial. Five nights til your prosecutorial brief is required by the Advocate; no need for a defense brief, as simply breathing 'defense' is cause for punishment through Single Female Legislacerator episodes.
It is a very long jaunt across the ship, to the brig. Next to you your partner walks with a glazed expression and sometimes sniggers at nothing at all, stopping himself short when he makes a sound as though he wants to tuck it back inside him. He is still bloodied and beaten: you had wanted to tidy him up, wipe some of it away, but considering subjugglator dress code nobody gives his appearance a second glance. Members of your cohort give you nods in various spectrums of respectful, and you and Gamzee ignore them for very different reasons.
"I can do this alone, you know," you say, under your breath.
You know his answer already. His gaze is fixed. "Nah."
"Then tell me you are up for this."
"Body's ready, wicked sister," he says, "spirit's just up and weak."
The prosecutorial team enjoys one unquestionable right, which is the right of interrogation.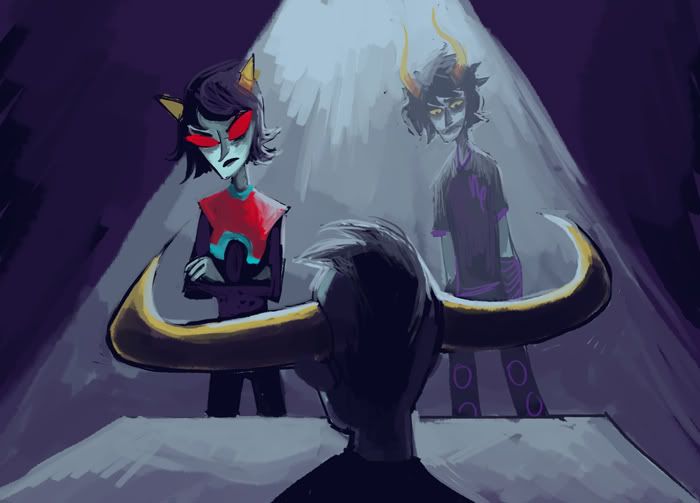 It's been a long time since you've seen Tavros Nitram. Your earliest memories are of a soft-eyed, slightly doughy kid who liked short-sleeved button-ups and imagination games, awkward in a wet-palmed, well-meaning way. As a FLARP clouder he was prodigious! You were fond of Team Charge, and you were especially fond of Aradia, and you were even fond of Tavros and the sexy fairies plastered to his walls. You had to respect that much commitment to a sexy fairy.
"Symbolhight: Nitram," says your accused. "Hatching name: Tavros. Identification -- "
"Mr. Cinnamon! Reciting your I.D. is for prisoner of war interrogation!"
"Oh," he says, slightly crestfallen but not all that sorry. "Well, if you don't mind I think I'll keep going, because I don't really want to say anything else right now, and also because -- well -- you're not the boss of me, cop."
Tavros now sits opposite, older, all the juvenile barkbeast fat gone. His arms and shoulders are pure cords of muscle from holding the lance of his office, chest similar, and he is gaunt-eyed instead of sweet-faced. His wrists are held out in front of him awkwardly. They are clamped together with chip-shackles that will detonate should he get out of specified range. Every so often he will rub his back furtively against the chair, a nervous habit and one that makes his horns dip; it is perhaps gauche to note but he has also grown a hell of a rack.
Damn. Your wigglerhood FLARP buddy is very nearly good-looking, what with his silly floppy hair and his sleeveless cavalreaper vest, and behind you Gamzee is shy with awe. He lurks just behind your shoulder, squinting into the bright light of the interrogation lamp, hovering and unsure. He is profoundly stoned.
"I would like to plead not guilty," says Tavros, "on account of the fact that, in my opinion, I'm not guilty of much of anything, but I'd guess you'd want me to plead guilty. To make things more amenable. In your opinion."
"You are being passive-aggressive, Mr. Nitram."
"I don't think," the cavalreaper says, "you can blame me? I'd also like to know if I get a call, or a courtesy chat, and I'd like to know what happens to my lusus now, since I don't think my lusus is accountable, for crimes."
You say, "Are you to blame for anything?"
He tugs at the collar of his silly vest awkwardly. In the pause he looks up at you with very dark-ringed oculars, smelling of rich loamy dirt, and before you can get your hopes up that he will really talk to you he rattles off with another "Symbolhight: Nitram. Hatching name: Tavros -- "
"I give up," you say. "I am going to adjourn, and let my bad cop take over."
Tavros's face clears anyhow, the only person in the entire universe glad to see that their legal team is Gamzee Makara, and they give each other matching dopey smiles. This is probably valve-warming to someone. Your accused raises his chained fist for a knuckle-bump and they dape each other, only you think that your partner's knuckles linger just a little too long, and the expression on his face is excruciating.
"Bro, we're gonna get you up and motherfuckin' out of here," says Gamzee. The bad in bad cop is a synonym here for suck. "They're talking trash, they ain't putting you away for this shit. They are empty skins of no value, they got lies in them, you think I'd leave my Tavbro to rot?"
"Gamzee," Tavros says awkwardly, "you are my prosecution."
It is a struggle, seeing him on sopor. Your subjugglator looks grave and affronted, as though this statement has tipped a pie down his pants. At least there's that: on enough sopor, you know he doesn't feel jack shit. "Fuck," he breathes. "I am. Damn. Doesn't motherfucking matter none, you didn't up and do it, bars not gonna hold you, we're gonna walk out..."
"Uh, I don't think that's the best scenario -- at this juncture -- um, at any juncture -- "
"We are not walking out with anyone," you say, and you tap the desk with your cane. "But my colleague has raised an interesting point. How did you receive heretical, conspiratorial contraband on your husktop, Private Nitram? And how did it come to have 'TAVROS' splattered over it in big black letters?"
"I didn't know what they were," he says, a little furtively. You smell the lie.
"There. Fuck." Gamzee gives an artless shrug. "Brother didn't know what it was, nug didn't got the knowing of it, got to count for something."
Either he is sillier on fresh sopor than you'd anticipated or he is being ridiculous on purpose. "Ignorance is not an excuse," you say, and you draw up a chair and sit on it. You turn it around so that you are straddling it backwards, which is a recognisable stance of solidarity. "An excuse would be that, perhaps, that it can be proved the files got on his husktop by mistake -- not something I would investigate, considering that your name is on them, trainee -- or that the files were given to you by a superior. Someone whose rank was demonstrably above yours. An order you couldn't turn down."
Tavros is better than he used to be. There is no flicker of pupil, no indrawn breath, only the weaving of his fingers into each other above the cuffs. You can taste his light panic on the tip of your tongue, though: confused, peppery, bright. "Wait," he said. "Tere -- legislacerator -- um, sorry, protocol -- you really want to get me off?"
You would love to make a dirty joke. As Gamzee says, "Hell, yes," you somehow refrain and say, "I do not see the innocent hang, Mr. Cinnamon. Who sent you those files?"
His great horned head bows. He stares at the pockmarked surface of the desk and you simply watch, watch, watch, nose and ears open as you catalogue all minute shifts in muscle that indicate his unhappiness. Your partner surprises you by hauling his big lanky self up to sit on the desk, reaching out as though he wants to touch him -- Tavros starts, and Gamzee withdraws -- his voice low. "It's chill," he says. "Kick that wicked shit off your tongue like you don't even motherfucking like it. This business is basically fake, my brother, we're just here to intervene with the system being up in your grill, the system got STINKING RAZORS IN ITS CHEWTRAP."
Not entirely drugged to the gunnels, then. Tavros does touch him now; just a little bit of his shirt, tugging, looking up at him in disquieted surprise. "Uh, so," he said, "that was vehement, for you, as vehemency goes, not that I want to stop you expressing your creativity, but."
"Private." He is well-trained by now. He jumps to attention, big brown eyes back on you, mouth a tight line. "We merely want to know who gave you the files."
"I don't know."
Aha! Finally, an answer. Maybe you and Gamzee aren't as vile working in tandem as you'd thought. For a moment you were beginning to think he was seriously cramping your style. "Tavros, please, devious untruth reeks as badly to me as ever. And that was not even devious."
"It doesn't matter, I don't think, who gave me the files," says Tavros, "I mean -- this is all really nice, and I believe you, but I'm not really sure if this is worth it, so I'd rather not."
"I know you don't truck with this propaganda bullshit, you got no schemes," says your bad cop, hands curling into fists. "They are hanging you over my cold cooling dead-rigored body."
"Yes," you say, drumming your fingers on the back of your chair. "They would step over your corpse to knot the rope, so in this you are entirely correct. Would you like to offer any other helpful truisms, Mr. Makara?"
"Uh, Terezi -- "
Irritation on your partner's face is as familiar to you as breathing. It comes in a far-off flicker now, a numb annoyance. He says, "I'm in my zone, wicked sister."
"What carrot on a stick do I have to offer you now to get you to commit to this prosecution? I will go through my list of carrots, and I will go through my list of sticks!"
"Speaking of sticks," he says. "Damn, did you know that there's somewhere on your tiny body where, if a motherfucker were to jam one, if one got GOD DAMN JAMMED, he could make you a hilarious fucking puppet -- "
"Uh, holy shit, please don't fight," says your accused. He is flushed and wiggling one shoulderblade nervously against the back of his chair, then the other. "Over me. Or this. Or anything. Because I'm sort of in a jam here, and none of that's assisting, if you don't mind me pointing that out. Also, the things you are saying are horrifying, and also unhelpful, honestly -- Gamzee, are you okay?"
Your subjugglator partner responds better to him asking this question than he ever has to you. He passes one hand over his face and sighs into his palm, and when he talks he sounds more like his old self again. "Yeah, Tavbro, yeah," he says, "got stress all up in my thinkpan over your goddamn sitch but damn, ain't it just miraculous, you being here?"
"I would kind of like better circumstances," says Tavros. "Ones where I am not waiting to die. Those would be great, I mean that sincerely."
"We'll get you out of this, beat brother. Sincerity is streaming from my panholes right now, you get?"
"I get."
"When I say you'll get out of here that is a promise, a motherfucking surety, I love an illicit-ass joke but a joke this is not," says Gamzee. "We're going to un-jam this jam. Tell us who snuck you the files, brother, she can make this up and go away."
For a moment you think he's about to confess. His shoulderblades, which he was jiggling itchily against the back of the chair, still. You rise; you do not actually want him to spill the beans just yet, not even with your subjugglator safely high as a helium balloon. But with unusual fortitude all your subject says is, "I don't know, uh, I really just don't know. I don't know who put them there and I don't know what's in them, and I guess that's that."
The strong light on his face highlights his hard stubborn chin, his tired eyes with those deep peat irises. The scent of him -- sweat and the clean clothes of two days ago, thin jailhouse protein slurry -- tells you the shape of his lie, but it also tells you the shape of his fear. A troll going to their gallows is afraid and desperate. His desperation rating is there but low, and he is more awkward and sad than he is afraid. Nervousness, not the misery of a man about to die.
"Do you understand that you might be dead soon, Tavros?" you say.
Gamzee gives you an expression as sour as denatonium, but you hold your hand up to silence him. The room is you and your accused cavalreaper. "Yes," he says.
You sniff an important absence.
The guard knocks to shoo you out; you only get a half-hour of uninterrupted witness time. This is ostensibly in place so that an overeager prosecution doesn't accidentally kill their accused, but for you it is just unwanted distraction. Gamzee reaches out to squeeze Tavros's hand and there is a soft, awkward moment between them, though you have your suspicions Tavros's softness is outweighed by his awkwardness.
"We will be back!" you say, when their hands are extricated.
"Thanks," he says. "I do like seeing you, you know, I just sort of like seeing you less when I am tied up in an interrogation room. Like I said, about the different circumstances of seeing you, these are the circumstances I like least, and -- I'm sorry. And please investigate the Tinkerbull situation, if you could, I'd be grateful."
Gamzee rests his hand palm-down on the desk in front of him. The expression on his face is strangely drawn, and it is the only time you have seen him visibly struggle against the sopor. It is a little bit tragic. He has to think about his words, and when they come out, there is only a very worrying truth behind them.
"Bro," he says. "I will always COME THE MOTHERFUCK BACK FOR YOU."
"He doesn't think he's going to die!" you say, after you have been unwillingly escorted out of the brig and are ensconced in your quarters. You nearly tapdanced down the corridors with impatience, bursting with the multiple pathways of possibility, Gamzee traipsing mindlessly alongside. The moment you lock the door he sinks down into your desk chair. "He didn't think he was going to die before we walked in, and he didn't when we walked out. No urgency! What we said made very little bearing on him at all, Gamzee. Do you know what this means?"
"Don't give a fuck," he says dreamily, and taps the press that lowers your chair. "You ain't got to stir a rowdy scare up in his skull, sis. Shit will work out."
"You are not springing him." Gamzee doesn't respond. He affably ignores your scowl, methodically making your chair shunt lower, lower, lower as he bonelessly drapes himself back. You stand over him. "I mean it. I do not condone unlawful activities, and I will hunt you down if you partake in them. This isn't even necessary! Fight your silly slime, Mr. Makara, I know you have more opinions on this than apathy."
"I probably did," he agrees, "but then I stopped giving a shit about them."
"Gamzee. You asked me for a plan; I gave you one. Is there something about the concept of wait and see that you find wanting?"
He pulls out a brightly-coloured ball from his modus and tosses it up in the air, leisurely, catching it one-handed and rolling it in his palm. Gamzee's eyes track its progress, wholly committed to it and not you. "Dunno. Part where my motherfucker Tavros might not see nightlight again?"
"I am not working to see him hang."
"Aw, sister," he says, softly, "so you up and let me make the back-up plan. It's like, damn! The plan that comes after the first plan gets all sad at us. What's the mad haps if we prosecute the real thing and they still put him to the rope, Terecita? Fuck do we do then? Fuck do we even do."
"What do we do?" you parrot, squeezing your cane between your fingers. "Break him out of the brig? What then? What kind of idiot breaks out a prisoner on a ship full of subjugglators? Where would we go, Mr. Makara, what would we do?"
The smile he gives you is wide and bright and mindless, tossing the ball up and away. You see the multicoloured crackle of his impractical modus absorb it back into subspace, glowing with all the detritus he keeps in it. "Baby girl, I feel a miracle coming," he says.
"I know for certain you cannot be this high."
"Gotta follow the faith wherever it hauls me, right?"
"Put your faith in me!" You drub your cane lightly across one of his shins, hard enough to smart and hard enough to make you feel a little stress relief. "Can you not, for once in your ridiculous clown life, put your faith in me? Am I not competent enough for your purposes? Do you not think that this is my actual arena, one that I legitimately study and not just memorise an info-dump on? This is a matter of law, not religion! And I am the law!"
He gives you a long, strangely meditative look. It is not the usual roll-eyes at your egotism, nor is it the amiable sure, sis that he used to give you, which you are now suspecting was eye-roll in another form. Gamzee's pupils are gigantic and his palpebral flaps keep drifting down, half-closed, never fully taking his gaze off you. "Let me take care of it," you say. "He's my friend too."
"Yeah?"
"Yeah."
"You my friend as well, scourging sis?"
You press the butt of your cane on the floor and you lean forward, braiding your fingers into each other, and you tell what you think is the unvarnished truth. It comes out awkward and ornate, difficult to say with any elegance. "I want to be your friend," you say. "Many of the things I have done over the entire training period have been for you. Your benefit. Friendly motivations. You could even call them... friendivations."
This is cause for no small amount of embarrassed fidgeting on the part of you both.
"So, uh, damn -- you like me?"
Like a child of six sweeps would ask, wondering, ingenuous. It makes you stupid: "I would like to keep you from harm," you say, which is overt as all hell.
"Know what I think shit warrants," says Gamzee, "a fucking hug," and then he hooks one foot behind your calf until you stumble. His long, grape-sticky arms come out to catch you and then he is pulling you into his lap, cuddling you into him, perched on his skinny thighs. The ways in which this is horrible are multitudinous. Your face is pressed right into his rib collection, smushed into his symbol. "Aw, sister, check out us getting our hug on, this is just precious as a lone bitchtit."
His sweat smells faintly like sopor slime. He is pressing his fingers into your hair and sliding them around the back of your skull so that you are lulled into dumb optimism, wriggling up so that he can see your face. It is hard to breathe. This unbalances him from the computer chair and you go on a glacier slide out of it, him whumping on his back to the floor and you whumping after, his arms holding you like a safety belt. This serves to expel all air from your lungs and to make you cackle hysterically. His low, surprised laugh joins yours and there you lie: you on his long bony body, him flat on his back, and you are really very happy.
"That was not exceptionally smooth," you tell him.
"Terecita, you ain't begun to see the smoothness I can get, no bumps up in my fucking business."
This is the time. You decide to show your cards. The two of you were never actually made to snuggle, you're all elbows and he has hips like lumps of steel, but the course of romance never did run smooth. You can't believe this is literally happening. This is such a bad idea. Gamzee reaches out and he carefully removes your glasses, making sure to not let any hair get caught in the hinges. He does not flinch at the featureless burnt-red globes in your sockets. He slides your glasses on his face instead, which looks ridiculous and somehow malevolent, before pushing them up high on his forehead. You smell crimson and cherry, your own sea-salt teal, sugar-sour indigo. Good colours, you think, a good combination of scent.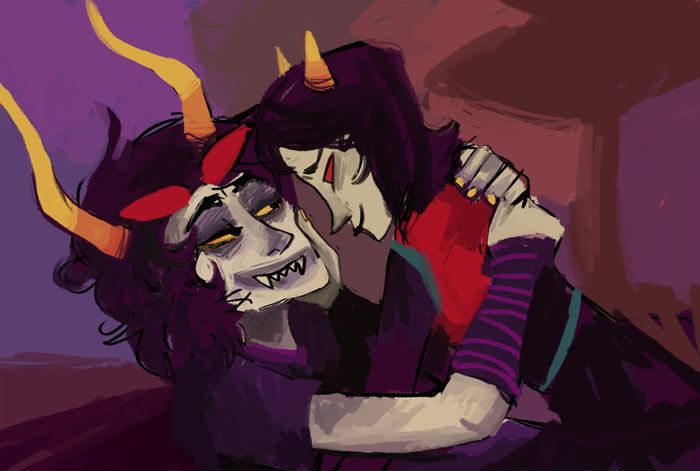 "Do you know," he says, soft and wondering, "how hard that got, even on poison slop? Getting a load of him in cuffs, looking like a line of bad news. You got the inkling, right, girl?"
At that, oh, you just reach out to pap him. He lets you. The pad of your thumb traces down from his cheekbone, once, twice, three times as his eyelids flutter down. It's so good. When the little furrows smooth out in his face you just want to kiss his mouth and kiss it furiously, which is not something you ever actually wanted before and is a thought you are still investigating for its horror quotient. But your thumb goes in for a fourth until --
-- until he flips you over and pins one arm painfully behind your head. It happens very quickly. You never smell it coming, much less see it. Your much-abused backweals chafe open again, a familiar pain.
"Ha ha ha," he says, voice like iron filings. No smiles now. "HA. HA. HA. That was a fucking good one, legislacerator, going to goddamn laugh about it later."
"Gamzee -- "
"You never did MOTHERFUCKING JACK FOR ME that wasn't done for your MOTHERFUCKING OWN SAKE," he says. He may be all bones but he is heavy atop you, those hard hips pressing down into yours. You are not afraid. You are something else entirely. Ice runs through your veins. "What shit do you think you are pulling, baby girl? WHOSE SHIT ARE YOU YANKING THE FUCK OUT OF RIGHT NOW?"
You lie rigid beneath him. One thing that always gets you, each time, is his appetite for cruelty. You have heard the old trite saw of revenge being a dish best served cold; Gamzee's vengeance is chunks of burning permafrost. His breath is cool and close, your mouth right next to his mouth, scents meshing and smearing alongside each other until you cannot see anything but his face. "One free hit," he says, and he sifts his fingers through your hair before pulling out a small hank. "Freely given, freely taken. Don't get sore at me, Terecita, you offered."
You remain still as stone. Your subjugglator partner taps at the yellow striations of your horns, thumbs at your temples, pokes and prods at you idly. You somehow say, "Has your free hit ended?"
"Nah. Shit isn't quite at completion." Gamzee's eyes are narrow and utterly unkind. So are his fingers. He chucks one underneath your chin, presses one to your lips in a mockery of shh. "You follow your plan," he says, "I'll deal. We swore an oath. Oaths got god damn sworn. But the moment it looks like gallows o'clock I WILL UNLEASH FUCK, you hear me?"
"Loud and clear, Subjugglator." You are an iron bar.
"Good." He reaches down and he lays an awful, gentle parody of a pale kiss on your forehead. Gamzee's mouth is softer than you had imagined. Your legs are all tangled up together and his body smothers yours, though yours feels made of iron weights. "Good. Now you quit this hilarious motherfuckin' pretense and hit's over, over and done, we all filled up with revelation. Damn, I got some wicked starveling craves -- "
The moment his body lifts you backhand him. The sound rings like a bell. You backhand him again. You both go rolling over and over until you knock into your recuperacoon, you on top of him, and you rise to your feet and you kick him right in the teeth. Gamzee launches himself up as well and spits a fang in your face, and both of you launch into an awful spat that is more about causing pain than death. You are both really starting to look like ruffiannihilator trainees, not recent graduates of legislacerator-subjugglator examinations. It ends with your noose laced around his neck and his club pressing you into the wall.
"When I offer you blood," you tell him, tightening the knot, "I do not offer you humiliation. The contract was not for mockery. May we continue on as normal?"
Both of you are panting and wounded. Everyone is going to think -- your bloodpusher pangs hard! -- that you are one of those horrible kinky moirallegiances, the ones who sort of let themselves get hurt on "accident" so that the other has something to coo over. It could not be further from the truth. "May we resume our partnership as we were, in respectful disesteem?"
Another back fang comes out his mouth: a gross long molar. "All the disrespectful esteem you could ever god damn ask for, all of it you can eat," he says, humourless and rope-burnt. "Sorry about your delicate motherfucking sensibilities. Can we quit the shit and go get some food now?"
"If anyone asks, we were sparring," you say, still breathing hard. "No stories about walking into doors, say something believable. I am not having anyone start to gossip."
"You poor dumb motherfucker," says Gamzee contemptuously. "They already talk, talk, talk their GOD DAMN GUTS OUT."
Both of you stare at each other, although in your case it is more that you focus your nose on him and your blank gaze cannot really be aimed anywhere else. There is stultifying silence. You snatch your glasses back from their perch on his forehead, and you slide them safely on your nasal bridge where they belong. He removes the club from your gut, and you slip the rope from his neck. You tidy up your clothing. When the worst of the blood is wiped off you look at least halfway presentable. As he flicks an extra clot of blood from your hair your digestion sac still churns, but you are discovering this is how you both live -- you both amp yourselves up to a hundred and then slingshot back to zero, dancing in sine waves, not knowing the number of the perambulating unit that just hit you.
How can you live this way? Because there is no other way to live with each other.
"We have only a few more nights before our real examination, Mr. Makara," you say. "Can I rely on you to come down off the sopor without incident?"
"Only if I can rely on you," he says, "to motherfuckin' UP AND APPLY ALL YOUR SHIT to the sin that's taking place, wicked sister, we are fucking functioning on a wing and a miserable prayer."
"I will apply myself to the lawful utmost."
"Then you got me."
How can you live with each other? Because at the end of the night, you have nowhere else to go.
---

You and Mr. Makara go and sit in the mess hall for the first time in quite a long while, and you eat your slurries and are treated with sloppy deference by the rest of your cohort. People even call you over to their bench! You get particularly welcoming eyebrows over at Trainee Velher's corner where she is holding court, but considering the filthy look her legislacerator's still giving you this is not an avenue you should pursue.
With no class on communal nourishment can linger a bit longer, let everybody talk leisurely about the types of things you talk about over food. On the downside, this means you end up chowing down grubmeal with the entirety of the Prosecutorial Aide Committee, whose existence seems to revolve around your personal case notes and what beverages you would like present at the trial.
There is much general talk of Tavros. Every so often you have to see how your partner is taking this, even still soporific, but he seems far more interested in seeing the bottom of a gruel-bowl before going back for more. You encourage him to do this and everyone smiles indulgently like this is cute, but in reality you are also hungry and want an equal amount of helpings. It has been such a long time since you've been hungry.
You needn't have worried about people prying, with the wounds -- someone quips, trouble in paradise, Teach? and everyone laughs like a dipshit. Ha ha ha! Even you. The parts of your pan not filled with the coming trial are filled with facepaint. You are sick of being unable to relax inside your own head.
Talk washes over you: " -- Advocate Parlet says some of the higher-ups are coming to watch so it's all dress uniforms, but here's my question, why do the higher-ups want to come watch a game hanging -- "
" -- officers get bored too, here's my question instead, why does my dress uniform not fit when I haven't been eating half the stuff I'd be eating back home -- "
" -- well, I'm just saying, could be a chance of promotion or connections, or..."
"Not for you, nugfucker. If you bent your beauteous oculars over the docking schedule like someone with more than two brain cells you'd see it's all church ships."
" -- yes, but -- "
"You coming to the briefing tonight, Teach?" says one of the P.A.C., as Gamzee is off getting food. As far as Gamzee is concerned, talking is wasting valuable time when he could be chewing, slurping or inhaling.
It takes you a moment to parse. "Curious! I didn't see a briefing on the agenda."
"This is cohort-run," says another. "Legislacerator networking -- oh, shut up, it's not casteist, you guys hold church socials all the time and we can't even be casteist, you're indigo -- "
Curiouser and curiouser. "No subjugglators?"
"You can get one night off, right?" There is general laughter, but it is not aimed at you. It is sourced mainly from the other legislacerators and it is quite companionable sound. You are surprised somehow, being reminded that there are others in the same boat. Sometimes it has seemed you are the only one shackled to the Mirthful Church. This is patently not true. "Come on, Teach, you never go to these things."
This is because up until a day or so ago you were not popular, but you don't remind them of uncomfortable truths. There is time enough later for uncomfortable truths. You look at Gamzee's back over at the serving trays and you think night off and it is appealling! Someone else says confidingly, "Don't tell the officers, but we think someone's bringing alcohol," and you waver even more.
A party with alcohol! Rank hedonism! You should be staying inside your quarters completing a fake prosecution briefing, then eschewing sleep in favour of finishing your real one. Or, more likely, you should be having a complete breakdown at what is happening in the brig and the circles beyond your control. You have activities all along the spectrums of practical and understandable.
It would be irresponsible to party, no matter the likelihood of the club not being able to handle you. It would be an immature decision; it would be the kind of thing Vriska would do, blow off the end of the world in order to furtively drink liquor out of plastic cups. A lot of awkward juvenile legislacerators blowing hot air out their seedflaps, all to the soundtrack of someone's collected Lady Aghast mixes.
Three more nights until your court debut. Going would be really reprehensible.
"I would never miss the chance to network!" you say.
GC: 1 N33D YOU TO B3 TH3 ON3 WHO KNOWS TH1S:
GC: 1 4M
GC: TOT4LLY
GC: TR444444SH3D
TA: tz what the fuck.
GC: HOLy SH1T
GC: YOU 4R3 4CTU4LLY TH3R3,, 1 THOUGHT TH1AS WOULD B3 4nOTH3R N1GHT WH3R3 1 JUsuT S4Y 3Mb34RR3SS1NG SH1T 4ND YOU $RR3NT TH3FR
GC: TH3R3 4R3 TYPOS 1N TH3R3 WHOOPS >XD >XD
GC: 1 W1LL TYP3 SO C4R3FULLY
GC: LOOK 4T TH4T, P3RF3CT1ON, NOBODY WOULD 3V3R KNOW 1 4M 3MB4RR4SS1NGLY TO4ST3D ON L1K3 TWO DR1NKS
TA: 2o you 2omehow found the tiime and iincliination iin thii2 entiire me22 two get drunk?
TA: 2eriiou2ly?
TA: ii can't actually blame you.
GC: L1K3 H3LL YOU C4NT!
GC: WH3R3 TH3 MOTH3RFUCK H4V3 YOU B33n >:? >:????
GC: S3R1OUSLY 1 4M B31NG S3R1OUS H3R3 1 4M 4 S3R1OUS DRUNK
TA: fiighting fiire2.
TA: keeping kk aliive.
TA: he ha2 made 2o many dumb plan2 to 2priing tv, fuck, ii do not have hour2 iin the niight two de2criibe how dumb they are.
GC: T3XTBOOK K4RK4T
GC: BUT 1TS OK 1 H4V3 1T 444444LL UND3R cONTROL
TA: yeah ii bet, whiich ii2 why you 2ent me a bunch of weiird fuckiing me22age2 from gz'2 hu2ktop. btw, tell hiim two 2top leaviing me creepy chat2.
GC: WHO DO YOU TH1NK 1 4M
GC: H1S MO1R41L
GC: H4 H4 H4 H4 H4 H4 H4 H4 H4 H4 H4H4H4H4H4
TA: ok, yeah, thii2 ii2 ab2olutely the be2t tiime two talk two you, what a reliief two fiinally get hold of you, ii'm not worried AT ALL.
TA: fir2t whatever plan you are puttiing into actiion, 2top.
TA: ii2 iit legal?
GC: OF COURS3, WHO DO YOU TH1NK 1 4M
TA: that barely make2 me feel better.
GC: 1 4M GO1NG TO G1V3 TH3 COURT TH3 B3TT3R T4RG3T
GC: TH3 CORR3CT T4RG3T
GC: TH3 T4RG3T 1 GU3SS 1 SHOULD H4V3 BROUGHT 1N 4 LONG T1M3 4GO BUT 1 L4CK3D TH3 SH4M3 GLOB3S TO
GC: 1 DONT KNOW WHY 1 4M NOT SUR3 WHY T1M3 4ND T1M3 4G41N 1 K33P TH1NK1NG SH3 CH4NG3S
GC: 1 SHOULD H4V3 TOLD H3R YOU W3R3 ONTO H3R BUT 1 DONT TH1NK 1T WOULD H4V3 CH4NG3D 4 D4MN TH1NG NOTh1NG Ch4GN3S 4 GTDMN TH1NG WH4N 1T COM3S TO H3R
GC: LOTS OF TYPOS TH3R3 TOO
TA: you're not goiing after vk. iit wiill change nothiing and, frankly, iif 2he were two be brought in ii would get her out.
TA: 2he'2 miine now. ii am takiing her down for thii2.
GC: FOR 4R4D14
TA: for aa.
TA: for how many time2 2he'2 nearly got the whii2tle blown on kk.
TA: fuck, you, ii am gettiing her away from you.
GC: LOL HOT
TA: yeah well, tv ii2 a2 good a2 dead and ii don't liike two 2ay iit, but there ii2 no gettiing hiim out of thii2.
GC: OK YOU L1ST3N TO M3 TH4T 1S UTT3R HORS3SH1T 3V3N 1F H3 TOOK THO23 F1L3S W1LL1NGLY 1 DO NOT B3L13V3 H3 1S 4 CONSP1R4TOR 4ND 3V3N 1F H3 W4S 1T 1S 4LL VR1SK4S F4ULT
GC: 1F 1 G1V3 TH3 COURT 3V1D3NC3 W3 C4N D3L4Y TR14L 3NOUGH TO H4V3 TH3M GO 4FT3R H3R 1NST34D 4ND 4 BLU3BLOOD TR14L C4S3 W1LL G3T F4R MOR3 4TT3NT1ON
GC: H3LL B3 N33D3D 4S 4 W1TN3SS 1 C4N K33P H1M 4L1V3 1ND3F1N1T3LY 4ND TH3N SH3 W1LL B3 H4NG3D 4ND 1 C4N JUST M4YB3 SL33P 4T D4Y 4ND SH3 W1LL B3 GON3 4ND 1 C4N STOP
TA: 2top what.
GC: 1 DONT KNOW 1 C4N JUST STOP
GC: GOD T3LL K4RK4T TO STOP ST1CK1NG H1S FROND 1N 1F H3 1S 1N D4NG3R (1 GU3SS 1D KNOW WHY BUT YOU ST1LL WONT T3LL M3 MY GOODN3SS 1F ONLY YOU H4D 4 L3G1SL4C3R4TOR ON S1D3!!!!!!!!!!!!) L3T M3 H4NDL3 TH1S
TA: you don't even know the place2 ii've told that douchebag to 2tiick hii2 frond, no fuckiing 2en2e of per2onal pre2ervatiion, hii2 2en2e of per2onal pre2ervatiion ii2 ME. II AM KARKAT'2 2EN2E OF PER2ONAL PRE2ERVATIION.
TA: but tz, you're naiive.
GC: >:?
TA: you are never goiing two get tavro2 out of there aliive.
TA: and he'2 in thii2 deeper than you thiink, he'2 not ju2t any random 2on of a grub.
TA: 2ometiime2 ii thiink he ha2 two diie ju2t two teach vk a fuckiing le22on about lo2iing, but then ii'd be a bulge and what would 2he learn, 2he never fuckiing learn2.
GC: HOW D33P C4N T4VROS B3 WH3N VR1SK4 L34DS H1M 4ROUND BY TH3 SNOUT
TA: thii2 ii2 your problem, you thiink everyone ii2 more gulliible than they are.
TA: how'2 gz, on that note.
GC: YOU KNOW 1 DONT W4NT TO T4LK 4BOUT 31TH3R H1M OR YOU 4ND YOUR SP3C14L W4Y OF KNOW1NG M3Y PROBL3mS OR WH4T3V3R
TA: 2hee2h, fuck, ii ju2t want two know iif he'2 2tiill tryiing two get hold of kk.
TA: ii've kiind of been blockiing 2ome of hii2 me22age2, kk can't deal right now even iif he thiink2 he can.
GC: OH MY GOD WH4T
GC: YOU DOUCH3B4G YOUV3 B33N DO1NG WH4T 44444444UGH
GC: 444444444UGH OH MY GOD YOU DONT 3V3N KNOW TH3 R3P3RCUSS1ONS H3R3 WOW 1 4M 1N 4 GL4SS C4S3 OF 3MOT1ON
GC: FUCK FUCK FUCK!! DO3S K4RK4T ST1LL 4SK 4FT3R H1M
TA: ye2.
TA: all the tiime and ii can't fuckiing 2TAND IIT.
GC: W3LL H3 C4NNOT SHUT UP 4BOUT K4RK4T, YOU 4R3 NOT TH3 ONLY ON3 UND3RGO1NG TH1S D1SGUST1NGLY P4L3 B4RR4G3
GC: DO3S TH4T M34N OUR K4RK4T R3C1PROC4T3S
TA: won't 2ay iit iin tho2e word2.
TA: but iit ii2 obviiou2.
GC: H4H4H4H4H4h4h4hh4H4H4h4h4h$H$h4h
GC: W4NT TO KNOW SOM3TH1NG FUNNY
GC: 1 W1SH H3 D1DNT 1 W1SH H3 D1DNT G1V3 4 SH1T 4BOUT G4MZ33 BUT 4T TH3 S4M3 T1M3 1 4M SO GL4D 1 4M GL4D H3 DO3S
TA: only two driink2?
GC: TH3Y W3R3 NOT SM4LL DR1NKS!!
GC: WHY 4R3 YOU SO C3RT41N TH4T TH3Y W1LL N3V3R L3T T4VROS OFF
GC: 1 KNOW H3 TH1NKS VR1SK4 1S COM1NG FOR H1M
GC: VR1SK4 1S N3V3R GO1NG TO COM3 FOR 4NYON3
GC: 1 ST1LL TH1NK 1 C4N S4V3 H1S L1F3 SOLLUX NOBODY 3LS3 1S GO1NG TO
GC: 1F G4MZ33 BR34KS H1M OUT 1 DONT TH1NK H3 UND3RST4NDS TH4T TH3Y W1LL NOT L1V3 THROUGH TH3 PROC3SS
TA: yeah well, gamzee'2 approach to realiity ha2 been proportiionate to hii2 panfriied IIQ.
GC: 4CTU4LLY YOU WOULD B3 WRONG TH3R3 B3C4US3 1 W4S D3V4ST4T1NGLY WRONG TH3R3! 1 H4T3 MYS3LF FOR S4Y1NG TH1S BUT G4MZ33 1S NOT STUP1D
GC: QU1T3 TH3 OPPOS1T3
GC: 4ND H3 1S 4 LOW-DOWN D1RTY Z34LOUS L1TTL3 BULG3FUCK3R WHO T4ST3S OF D3C31T, GOD 4ND SH1TTY F4YGO!! H3 1S 4S 4RROG4NT 4S H3 1S P3TTY 4ND V1OL3NT 4ND S3LF-S4T1SF13D 4ND SUCKY 4ND 4PP4LL1NG TO WORK W1TH
TA: 2o.
TA: iif you've 2topped the gu2hiing.
TA: 2hould ii break out a 2pade2 parade?
GC: NO
GC: WOW NO NO TH4T 1S NOT HOW 1T 1S 3V3N R3MOT3LY
GC: NOT 4T 4LL! >:o
GC: L1K3 ON3 B1T!! >:O
TA: uh huh.
GC: NO 1 M34N 1T >>>:[
TA: why diid you 2uddenly grow three 2et2 of horn2.
GC: 1T 1S TWO P41RS OF 4NGRY 3Y3BROWS 4ND MY SUP3R D1SPL34S3D R4CK
GC: SOLLUX YOU DUMB SH1T 1 4M P4L3 FOR G4MZ33 4ND 1T 1S SO H4RD 4ND SO GROSS!
GC: 4ND H3 1S 1N LOV3 W1TH K4RK4T 4ND K4RK4T WONT SP34K TO M3 OR H1M
GC: 4ND 1 JUST W5NY TO P4P H1S DUMB CLOWn F4C3 4ND LOoK 4Ft3E H1m H3 1S SO b4D 4 T LOOk1NG 4FR HMSLERF BUT
GC: OH NO TH3 S4DN3SS H4S SPR34D TO MY F1NG3RS 1 4M GO1NG TO H4V3 4NOTH3R DR1NK
TA: whoa.
TA: WHOA.
TA: ii. what. why are you telliing me thii2, how diid you.
TA: al2o how can you have another driink, diid you take the fuckiing booze WIITH you, thii2 iindiicate2 a problem.
GC: NO
GC: 1 4M ST1LL 4T TH3 P4RTY DUH 1 JUST D3C1D3D TO T4LK TO YOU B3C4US3 BOR3D
GC: MY L1F3 1S R34LLY H4RD 4ND 1 4M S4D 4ND DRUNK 4ND WORR13D
GC: 4DN COV3R3D 1N B1TCH3S 4T 4 P4RTY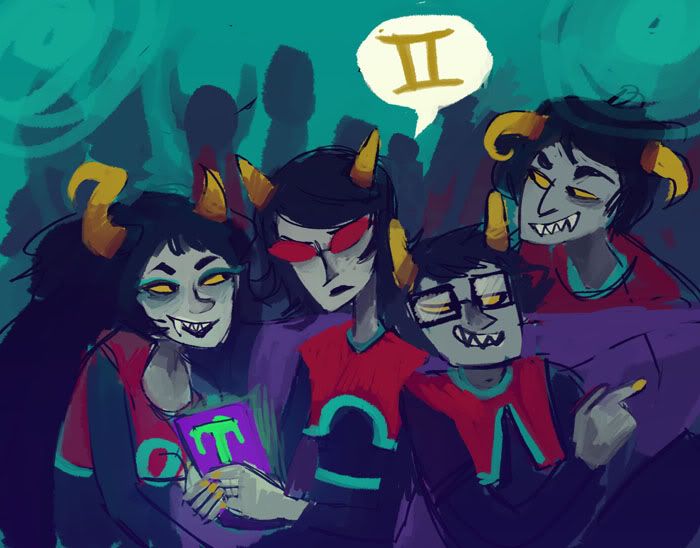 TA: 2o.
TA: gz, huh.
GC: DONT W4NT TO T4LK 4BOUT 1T 3SP3C14LLY NOT TO YOU!!
TA: what'2 that meant two mean.
GC: SOLLUX 4FT3R TH1S COURT C4S3 TH3R3 1S 4 GOOD CH4NC3 OF 3V3RYTH1NG GO1NG STR41GHT TO H3LL L1K3 H1S HONOR4BL3 TYR4NNY W1LL B3 PR3S3NT 1 H4V3 NOT D1SCOUNT3D TH4 CH4NC3 H3 W1LL 34T G4MZ33 4ND 1 4S 1S H1S TYR4NN1C4L R1GHT
GC: 4ND 1T 1S FUNNY BUT 1 4M K1ND OF R3S1GN3D TO TH3 F4CT TH4T 1 M1GHT D13 OR F41L W1THOUT H4V1NG S41D GOODBY3 TO K4RK4T
TA: tz, 2top talkiing liike thii2. you 2aiid you were goiing to wiin, 2o iif you're goiing ahead wiith thii2 dumb plan concentrate on that.
GC: 1 4M B31NG R34L1ST1C!
GC: 4LL 1 W4NT TO KNOW 1S TH4T H3 1S GO1NG TO B3 OK 1 KNOW ONLY SOM3TH1NG G1NORMOUS 4ND T3RR1BL3 WOULD K33P H1M 4W4Y TH1S LONG FROM G4MZ33
TA: from you two.
GC: >:?
TA: from you.
TA: only 2omethiing biigger than we ever could have gue22ed would have kept hiim from you. and gz, yeah. but you.
GC: H4 H4 H4 WOW 1 4M SUCH 4 M4UDL1N DRUNK
GC: 1S H3 GO1NG TO B3 OK
TA: there are more people than ju2t my2elf on thii2 one but nobody ii2 gettiing two karkat except through me.
TA: ii'm ju2t a very 2peciifiic lynchpiin here, ii got 2elected for thii2 a long tiime ago.
GC: TH4T DO3SNT M4K3 4NY S3NS3
GC: WHY WOULD YOU G3T S3L3CT3D BY YOURS3LF WH3N 1 H4V3 B33N H4NG1NG 4ROUND TOO FOR SW33PS 4ND SW33PS, 1 M34N S3R1OUSLY DO 1 NOT 3V3N G3T TH3 WOOD3N CONC4V3 S3RV1NG D3V1C3 4W4RD
TA: yeah well, a2 iit turn2 out ii fiit a really 2peciifiic fucked up de2criiptiion and you don't and ii'm fuckiing glad about that, frankly.
TA: ii wa2 the piilot
TA: and that'2 all there ii2 two 2ay on the matter.
GC: WOW 3V3RYTH1NG NOW M4K3S P3RF3CT S3NS3 1 COULD F1LL 4 WHOL3 BUCK3T W1TH TH1S W3LL1NG 3NL1GHT3NM3NT M1ST3R C4PTOR
TA: tz all iit mean2 ii2 that they get two kk over my dead body.
TA: ii mean preferably theiir2 but iif iit come2 two that, my dead body.
GC: BUT 1 DONT W4NT YOU TO D13
TA: try two help tv.
GC: TH1S 1SNT R1GHT >:[
TA: one thiing ii learned from thii2 ii2 that there ii2n't much riight wiith anythiing, tz, but there ii2 a whole lot wor2e than dyiing.
TA: the noo2e ii2 ea2y, ii would take the noo2e every fuckiing tiime, do you KNOW where they'd put a p2iioniic like me if ii got caught. that happen2 two me, ii want you two promii2e you'd 2liit my neckpiipe.
GC: C4UGHT DO1NG WH4T
TA: ha ha, niice try.
TA: do you really thiink there'2 a chance you won't ever 2ee me and kk agaiin.
GC: YOU DO NOT QU1T3 KNOW WH4T G4MZ33 1S C4P4BL3 OF B3C4US3 1 4M NOT 3V3N SUR3 WH4T G4MZ33 1S C4P4BL3 OF TH3R3 1S NO CH4NC3 OF H1M 3V3R GO1NG B4CK ON SOPOR
GC: 4ND 1F H3 THOUGHT 1T WOULD B3N3F1T T4VROS 1 TH1NK H3 WOULD ST4RT MOW1NG THROUGH 3V3RYBODY ON TH1S SH1P UNT1L H3 W4S T4K3N DOWN
GC: TH3Y W4NT3D M3 TO K1LL H1M 4ND 1 TH1NK 1 UND3RST4ND WHY
GC: H3 1S NOT CONTROLL4BL3!
GC: W3LL
GC: NOT BY M3 >:I
TA: ii'm 2orry.
GC: 1 4M SORRY TOO
TA: 2orry you have bad ta2te.
GC: J4M 1T THOROUGHLY DOWN YOUR CHUT3, J4CK4SS!!!!
GC: 1 4M GO1NG TO S3ND YOU TH3 3V1D3NC3 F1L3S TON1GHT 4ND YOU W1LL PR1S3 VR1SK4S S1GN4TUR3 OFF TH3M
GC: 1T W1LL B3 TH3R3, 4ND W1TH 4 CONF3SS1ON 4ND MY C4S3 PR3S3NT4T1ON 1 C4N THROW 3NOUGH DOUBT TO G3T H3R 4RR3ST3D
TA: are you 2ure you can do iit.
GC: Y3S TH1S 1S F4R MOR3 TH4N C1RCUMST4NT14L 3V1D3NC3 1 H4V3 H3R3
TA: no ii mean, can you take down vk iif you get that far and ii'm not 2ure you wiill.
TA: the thiing between you and her ii2 the one thiing ii don't even begiin to under2tand about you.
GC: YOU S41D SH3 W4S YOURS
GC: SH3 1S NOT
GC: SH3 1S M1N3!
TA: yeah that'2 what ii mean.
GC: SOLLUX 1 4M M1S3R4BL3 4ND B4L4NC3D 4TOP 4 PR3C4R1OUS P1L3 OF B1TCH3S JUST T4K3 MY WORD FOR GR4NT3D
TA: any good-lookiing biitche2, there.
GC: OH Y34H MY B1TCH3S 4R3 SO 4D3QU4T3 YOU DONT 3V3N KNOW
GC: WH3N TH3Y M4K3 M3 4 G3N3R4L 4DVOC4T3 1 4M JUST GO1NG TO SL33P 1N 4 P1L3 OF V3RY SOFT B1TCH3S 1 H4V3 G4TH3R3D SP3C1F1C4LLY FOR TH3 PURPOS3
TA: go back two your quarter2 tz.
TA: you are goiing two be 2o fuckiing hungover iin the eveniing.
GC: H4 H4 H4 Y34H
GC: PL34S3 T4K3 C4R3 OF K4RK4T FOR M3
GC: 1F YOU W4NT TO G1V3 H1M 4 B1G SLOPPY K1SS FOR M3 S3ND TH3 P1CTUR3S
TA: ii'll talk two you before the triial. the fiile 2ource2 wiill be in your iinbox, vk leave2 a traiil liike a cholerbear on diiaretiic2.
TA: and 2hould ii kii22 kk ii'll 2end you a piicture of me clean2iing my food trap wiith fiire afterward2 becau2e that'2 what ii'll requiire.
TA: take care of gz.
GC: 1 TRY TO >:\
TA: no ii mean, take CARE of gz, he goe2 on a rampage iin your diirectiion then don't he2iitate, don't 2tay your hand for kk or anyone.
GC: SOLLUX
GC: 1 4M ST1LL DRUNK TH3R3FOR3 1 C4N T3LL YOU TH4T 1 M1SS YOU
TA: you'll mii22 your fiiltratiion 2ponge2 more.
TA: fuck. one la2t reque2t. wiith tv, there'2 one thiing you need to do and then maybe you'll fiinally under2tand what you're up agaiin2t.
GC: >:?
TA: frii2k hiim.
GC: WH4T >>>:?
TA: he won't want two let you, but frii2k hiim.
GC: W3LL OK BUT TH4T SOUNDS L1K3 TH3 1NTRO TO 3V3RY PORNO 3V3R
-- gallowsCalibrator [GC] ceased trolling twinArmageddons [TA] --
---

The next evening Sollux is right about two important things: you are incredibly hungover, and Mr. Nitram does not want frisking. He is decidedly unfrisky. You have stumbled out of your recuperacoon early enough to avoid your subjugglator partner -- you made the decision that Gamzee would want to either frisk too much or frisk too little -- but even without him you stand there with your gloves on, a hungover gleam, and a cavalreaper in an obvious state of Do Not Want.
Tavros has kicked back his chair. His cuffed wrists are held out beseechingly. His ankles are cuffed too; you are less certain of their captivity. A long time ago Vriska wheeled him over to the hive of Equius Zahhak and demanded he augment unresponsive flesh with metal and pins, wire the nerves so that Tavros had some ability to walk, and the result is deadly. The way he lumbers on his robobraces is not graceful or quick, but he could kick a door down if he wanted to.
"I'll scream," he says, further making this like the intro to every porno ever.
"I am very sorry, but this ship is full of subjugglators and none of them care if you scream."
"I'm not carrying any contraband, or hidden objects, or things you'd be interested in, and so -- they haven't let me use the ablution block for showering in quite some time, it's -- "
"I am going to frisk you," you say, "not get down with your body, Private, although I would like to say you have grown very nearly good-looking!" ("Uh," he says.) "I thought you and I could have a private talk. We will take it very slow, because I have discovered if I move too fast I upchuck."
"I'd like Gamzee to be present, please, for this attempt at touching my person with your hands, on my body," he says firmly.
"I will inform him of the fact later. Mr. Makara will swoon dead away. Perhaps we could negotiate the frisking?"
Tavros does not look as though he wants to negotiate frisking, considering he's backed himself into a corner and is holding out his hands in the universal sign for stop, but he nods slowly. His face is somewhat haunted, though for a man on Death Row this is not a surprise. You've made inquiries; he is getting fed, and he is not getting unduly molested, so you are happy on that count. You sit down in the chair he vacated and try not to taste the fuzz on your tongue.
"I am making inquiries as to the files you have been sent," you say. You work your hand out of one glove as though you are relenting re: friskiness; there is never any sense in showing all your cards. "I'll have results back in a few hours. Tavros, I will know who sent them to you."
"They're protected, digitally," he says, and hastily adds; "Which stands to reason, on account of how I don't know who sent them either, which is to say, they're anonymous."
"I am excessively hungover," you say. "Please stop lying to me."
"I'm not -- "
"And do not raise your voice so loudly. Vomit can reach amazing trajectories."
He looks at you. There is a certain set to his mouth. You rest back against the blessedly cool edge of the interrogation table and he folds his arms as best he can. The stubble next to the long mohawk of dark hair on his head is getting a little long, you notice muzzily. "I'm sorry," he says, "that you chose to, put alcohol in your body irresponsibly, to the point where you have a hangover, which isn't anyone's fault but yours. Were you with Gamzee?"
"Gamzee does not drink," you say, "and I was having a night off from Gamzee."
More cannily than you'd anticipated, he says: "I didn't mean to cause any discord between the two of you, because it seems you've been getting along fine, except that you've been letting him overdose on the sopor."
"What you saw was not a sopor overdose." You cross one knee over the other, and you let your shoulders slump back. "What you saw was the result of a sopor under-dose after quite a long period of sobriety. He was very adamant that when he saw you, he wanted to be under the influence."
The bafflement you're smelling, sharp and a little curdly, is real. "I guess I don't understand why he would do a thing like that?"
"Taking sopor again, or going cold gobblebeast in the first place?"
"Either," he says, "both."
"It is a long and complicated story and one I would happily tell you were I not about to throw up out of my noseholes," you say, "although -- you never saw him off sopor the entire time in your friendship, Mr. Cinnamon? Was he ever prone to erratic tempers or weird behaviours, and did he ever brutally murder people, things like that?"
The bafflement smell increases. "When I was five sweeps I nursed a hurt beakbeast, and it died," he says, "and he helped me leave it in a meadow and he sang a song of sadness for it, which was really affecting, and what I'm getting at is that I never saw him hurt anything on purpose, which is pretty unusual, considering."
"Considering?"
"Highbloods."
Interesting.
"If he's not happy off the sopor then I think he should go back on the sopor," says Tavros. "I care about Gamzee -- a lot -- and I think he's special, and unusual, and I've been worrying a lot about him lately, which is to say, you should go easy on him. Personally speaking. A lot of what he says might be creepy, inadvertantly or, more advertantly, but -- he means really well. He's different. He believes in a lot of things most trolls don't believe in."
In you is a very strange, visceral grief.
"I wish you loved him," you say.
"I do, I just -- I don't love him in the way he wants me to love him," says the cavalreaper, and there is a high chocolatey flush to his cheeks. "Because he kind of wants me to love him in a way that involves tongues, which might sound like an egotistical assumption on my part, but as assumptions go is one I'm really sure about. I think I've made it clear, though, and I think he's mostly stopped, thinking about me that way."
You do not disabuse him of this incredibly incorrect notion. "Were you aware," you say, "that off sopor, he has a perfect memory to repeat anything he has read?" From the expression on Tavros's face, he was not. "Were you aware that off sopor, he has the capability to rip a troll's head from its shoulders? Did you know he has the ability to form complicated opinions on the nature of Imperial-condoned religious liberties and their place in court law? Do you know the intentions of the Gods he serves?"
Private Nitram is an open book; he always has been. He keeps to his corner and does not bother to school his face, half-lit and thrown into sharp planes of shadow by the interrogation lamp. Watching makes you remember him in wigglerhood, when he was too apt to show himself as needy, whiny, resentful, steeped in his own hard self-pity: the mix of syrupy passive-aggression that somehow was your sister's perfect storm. It makes you remember chippy, fearless Aradia spiralling a long curl around a finger and Tavros staring with terminal drymouth as Vriska carried on about character sheets, both of them spellbound by nothing more than her energy and tangly hair --
"I know he loved his lusus even though his lusus was irresponsible," he says.
"What has that got to do with anything?"
"It seems to me like you're trying to describe him as this different person, transformed, you're telling me I don't know him," says Tavros, and rolls his shoulderblades just once against the grooves in the wall. "I don't think it's possible to lose yourself forever, and I don't think the Gamzee who was with me, and the hurt beakbeast, isn't the same Gamzee who's all the things you just described."
You look at him with your smile wide and white until he squirms a little. Even front-line shock trainees do not like your smile. "You do pity him a little, I think."
His agony is immediate perfume. "The topic I'm trying to, stick on, and not be derailed from, is that I just think that being capable of great evil isn't always a signifier, of not being capable of great good, which is -- something that I've told myself a lot during basic training, to keep up my confidence. I think my emotional serenity is mostly high -- "
"Is this why you think Vriska Serket is coming to save you?"
Your accused's emotional serenity is immediately at a low. This is the panic you were waiting to sniff. "I have always thought you were equal parts saint, victim, or utterly dumb when it came to her," you say, "and this is the only thing I'm not sure about, your reasoning. She is not coming, Mr. Cinnamon. She never intended for you to be caught with those files; she tried to thoroughly to hide them, there is a lot of effort -- "
"Symbolhight: Nitram," he rasps, with a dry tongue. "Hatching name: Ta -- "
"She is not going to come for you!"
Your voice is loud and ugly, and it once again leads to a lack of surety about your stomach contents. Surprise at yourself brings on nausea. You had planned to trick him into this, not browbeat. Likelihood of throw-up is at a murky percentage, and your understanding of the scents and shapes around you swims briefly until you find your tongue again: "You know as well as I do that she does not care who falls by the wayside. She will count this as your fault. She will blame you for your own execution until her dying breath and not spare you another thought! Did she tell you that her plan was foolproof? Did she say you'd never take the heat for her? Vriska lies."
He opens his mouth like an upset fish, then closes it again. "She took a lot of risks, getting those files," he says, and there's your confession, that's all you needed.
"She runs away," you say. "She will be in her quarters, sitting on her hands, hating everything, not knowing how to do anything but resent you for getting caught. She will not act. When she has a bad roll, she ignores the roll! She is too lonely and uptight and stupid to deal with a failure directly, which is why never said she was sorry to you with anything better than leg surgery. Vriska lies, and she gambles with people, and she never admits defeat or fault. Loving her never helps, Mr. Nitram, nobody can ever love her enough."
For a moment you assume he is remembering what you're remembering: the night that Sollux laid Aradia's solemn little body in her hive, and walked away from its ruins to never return. Team Charge's ignominous end.
Instead he says, "You did pity her, a little."
You lose all composure for about two seconds, your face and hands feeling odd and hot. "It would be hypocritical of me if I asked you to never say that again, I expect."
"Hypocritical would be, the most correct term to use, at least in this instance."
"I do not expect Vriska to come for you," you say, "because I am not so demented as to think Vriska would ever come for me."
It is an embarrassing admission. Anyone dum8 enough to end up in a court8lock is too dum8 to save! He finally knows. The fear is a thin, smoke-smelling curl around deep tarry wells of stubbornness. The smell deepens as you heave yourself out of the chair, sniffer working overtime. "I'm not expecting anyone to rescue me, or ride in to help," says Tavros. "And I'm not -- I haven't been, and I won't be -- afraid to die."
That is a lie if ever you tasted one.
"If you take to the stand as my witness, Gamzee and I can give you protection. You will live."
You are not gleefully feeding off his pain and terror. It makes you miserable, in fact. Instead of his rising crestfallen rating you would have preferred him to remain sanguine, stoic, knowing something you didn't about the possibility of a miracle. You proffer the chair, and like a dumb beast of burden he comes and sits down in it, because even in his stubbornest throes Tavros Nitram would hate to look rude. He lumbers forward automatically to with a mumble of thanks, and you take the opportunity to slide the other glove on and frisk him like a night at the club.
He seizes immediately, but despair makes his limbs slow. You nudge the chair forward to pin his bare arms to the table and feel down them, looking for whatever weapon you imagine he's slipped himself thinking it will aid in some rescue. There is nothing beneath the skin there, nor in his pockets or on his thighs, and you pat upwards on his abdominals and to his spinecage and feel something lumpy underneath his silly vest. You know you've hit paydirt when you sniff his spike of fear.
"Dear, dear," you say, "they did not bother to inspect you at all, although I am very sorry for any coming overtones of sexual harrassment -- "
"Terezi, don't, please, just."
Under his vest there are bandages, wound about his chest and under his arms. You are puzzled. There are matching uneven lumps at the back on either side of the spinal cord, cupping over each shoulderblade, padded down with pressure tape -- you peel back the tape, and the bandages loosen and allow you enough give to tug them down.
Your hands fly back as though you expect them to go up in smoke. Clear carbonated citrus fills your noseholes. The wingbuds on his back bleed clear fluid, erupting from an emergent cluster of muscles, but this does not seem to be due to your tampering. The skin all around is blistered and flushed sepia from the irritation, but again you would suspect this being due to a tight cocoon of bandages rather than your prodding. When Tavros squirms the sunset-coloured filaments flutter.
"The wing gene is extinct," you breathe. Your hands, heroically, do not shake. "You are a throwback."
"That is not a word I like to use, in a personal frame of reference way," he says primly.
"But this makes you a direct descendant of -- "
"The Summoner," he says, surprising you again. There is a note of strange, proud shyness to him as he corrects you: "And 'the'. For me. Because I'm the only one, you see, I am the Summoner's only descendant, grammatically. And genetically."
If you had ever had to line up all the trolls you knew and pick out which one was least likely to be the Summoner's descendant, you would have only picked Tavros Nitram second if, say, a bucket of rocks was present. You would have confidently awarded the prizes and signed the credit cheques. You are absolutely stunned, and then you remember what this means. "Vriska knows."
He confirms this with a miserable nod. Now you understand. She is never coming for him, and there is little chance he will live. Even unknowing allegiance with a descendant of history's most controversial revolutionary would ruin her career, at best outset, lead her to the chopping block at the worst. It is very bitterly you think that his capture wouldn't have been part of her plan, but that she might feel a little relief to have such a precarious pawn taken out of play. You wish your lacrimals would stop smarting at the thought; it has been a very long time since you were this angry at Vriska.
"If you are back there," says Tavros, "I would really appreciate it if you could just rub them a little, and this is something I wouldn't be asking if I wasn't in, um, disconcerting amounts of discomfort."
You massage your knuckles around the oozy erupting winglets, which is disgusting on a number of levels but seems to give him relief. There is no statute defining wing-carriers as mutants, but this is only because the DNA sequence for wing-carriers was destroyed methodically. There was no legal need. "How long can we keep them hidden?"
"This is three seasons of growth," he tells you, "and, gauging it, I think that in another season the growth will have doubled, so that binding them down isn't going to be a practical option."
"I am going to do everything I can to keep you alive," you say, and you massage his gross winglets further, getting all the fluid out. Truthfully, you would think the wings as nothing but exciting had they not also represented instant death for everyone whose oculars had beheld them. You have always been fond of wings.
Tavros lets out a shaky sigh. His despair is not replaced by hope, but by icy, snow-smelling numbness. You continue steadily, "If you cooperate with my investigation, I will pull every string I have access to. Do not underestimate my slyness quotient, Private, I have never considered the culling laws a foundation of our legal system -- "
He says, "Do you know what was, for me, the saddest thing about the hurt beakbeast I nursed?"
You do not, and say as much. "I bandaged it up correctly," says Tavros. "There was no pain, or sign that it would die, or anything like that. By my estimation it was going to be fine. There was nothing wrong with it, physically, that is to say..."
He cranes his head around to look at you. There is something wild in his dark, dirty eyes, and wilder still in his fearful, watery smile. "Things with wings don't live, in captivity."
Both of you are silent as you replace the dirty bandages, sticky and stiff with his lymph. You wind them back around, not wanting to be too tight but at the same time not wanting anyone to inadvertantly see -- you will recommend that the accused not receive pre-trial ablution privileges -- and he fusses the whole time, which makes you feel better. Somehow Tavros saying, "Um," and "Ow," and "Is it meant to feel, as though, my ribs have been compromised," is hopeful.
"I have a statement for you to read on the stand," you say, and you slide it from your sylladex to place on the table. "Please note the part which says you have been interrogated brutally; the League of Legislacerators is not so archaic to believe that truth can only be twisted from lowbloods through torture, but many of the Church will be in attendance. They very much do. I advise you to please indicate the trauma."
Tavros skims over the flimsy, looking a little sickly at circled areas. "But I don't have any -- "
You pop him in the socket. He yelps. "I am very sorry," you say, as he clutches his face and peers at you balefully. "These things never happen easily if you get warned about them. There are all kinds of false starts. I promise you that you will have an air of seductive puffiness on the stand."
"I don't think I would have consented to that," he says.
"We shall never know!"
The cavalreaper rubs fretfully at the beginnings of what you hope will be a lovely bruised ocular, rereading his statement as you begin to tidy up. The expression on his face is very grave, and his unsurety reeks of burnt plastic. You had anticipated protestations. You think these protestations will disappear when he is presented before his Honourable Tyranny in two nights' time. But you did not expect --
"When did you stop believing in her?"
It takes you a moment to answer. "She doesn't need the power of my belief to live," you say, more stiffly than you like. "Fairies are not real, Tavros."
The look on his face is horribly patronizing. Before he can open his mouth and elaborate the door alarm blares, and the passcode pounded audibly from outside. You expect the prison guard. You do not expect Gamzee Makara, orange-eyed from fury and sopor come-down, mouth full of sleep and hair in disarray as he beholds the scene.
"Private Nitram has confessed to everything," you say, which was a poor choice combined with the accused's eye injury and your lymph-stained gloves.
"You went behind my back," he says hoarsely. "BEHIND MY BACK YOU UP AND YOU WENT LIKE IT WAS MOTHERFUCKING PILGRIMAGE SEASON, SIS."
"I am not dealing with your shit tonight!"
"I've of a mind to not deal with your shit EVER the MOTHERFUCK again," he says, "of a mind to squeeze you 'till your WICKED LITTLE WAYS come SQUIRTING OUT YOUR ARTERIES."
Gamzee is very loud. You are reminded of your truly exquisite hangover. Your blade is unsheathed with a liquid snick that also reminds you of your truly exquisite hangover, but your only desire is suddenly to have him on his back. You would whip purple stripes in him with your sword until he was calm again. Perhaps your desire for moirallegiance really is that kinky. "Shall we flip on it?" you say.
From behind you, Tavros says "Oh, my God."
"I'm gonna MOTHER FUCKING FLIP SOMETHING," he says.
And so he does: the interrogation table gets tumbled over with a bang and a clatter, your accused pushing himself away as it is tossed to the side. When in this mood, you discover that Gamzee is very bad at multitasking; you anticipate a death blow, but his attention is now for the long-horned boy in the chair. He lopes towards him and not you, which gives you a very strange pang of annoyance as he reaches out and grasps Tavros's jaw with trembling hands. Your accused manages, "Hi," before the subjugglator smooches him right on the mouth.
All your irritation melts away into weariness. Tavros smells like a blood-flushed chocolate bar, and he dares to neither close his eyes nor move a muscle while Gamzee macks away. You grieve how your partner kisses him over and over and over as though beginning the kiss again will provoke a different reaction, as a sharp tooth scores a thin line of brown down Tavros's chin. You hear Gamzee breathe, "Brother mine," and it is embarrassing for everyone.
The cavalreaper turns his face away and touches Gamzee's shoulders instead, cuffs jangling. His hands are spread wide and open and gentle, but his turned-away face speaks louder than the hands. The love that dares not speak its name will apparently not be spoken with tongues. "Yeah," says your subjugglator, quiet, surprisingly unbitter. "Yeah. Just you wait, brother mine, you ain't seen shit yet, I can better myself for you like all motherfuck."
"Gamzee, I -- "
"We'll up and fucking rap it out soon, you and me," he says, and you have never seen him try to hit and miss gentle so wide of the mark. Gamzee tries to cup his face again but squeezes a trifle too hard, because Tavros has to jerk away with a wince. "Just me and motherfuckin' you."
"I am sorry to cut this short," you say, "but you and I have two prosecution briefings to complete, Mr. Makara. I am about one hundred and two percent certain that our client should get some rest before his upcoming court case." The look that your client gives you is sort of murkily grateful, but is also a bit miffed. Rude! The look that Gamzee gives you is just filthy, but this isn't new. "I would also like a large jug of water and some painkiller termites, if anyone was interested in my desires."
"THEN I GUESS WE HAD BETTER FUCK OFF," says Gamzee, very loud and very close to your aural canals. "BETTER GET OUR MOTHER FUCKING GLUTES UP IN ALL THIS ACTION YOU GOT GOING ON, TERECITA."
"You have made your point," you say.
There is no need for you to turn your head to see the look that your partner gives Tavros as you leave, nor the resigned one that he gives in return. It stinks of guilt: a very sad, harried kind of guilt, a sweet decaying guilt like old fruit. There is only one pain more acute than the pain of not being desired, you think, and that is the pain of not desiring someone enough.
When you are out in the corridor, your palmhusk beeps. When you see the message your innards turn to ice, and you shelter it from your sulking subjugglator.
---

-- arachnidsGrip [AG] has unblocked gallowsCalibrator [GC]! --
AG: What had to 8e done.
-- arachnidsGrip [AG] has blocked gallowsCalibrator [GC]! --
---

On the last night you go to tour the fifth-level briefing hall. The student courtroom on the Executor is far too small for the required purposes -- its gallery is paltry, for instance, and there is nowhere near enough room for his Honourable Tyranny -- and so they have been converting the briefing hall into a temporary courtblock. The Committee For Doing Shit With Blueprints And Carpenting Drones has been having a fine old time recreating the trappings of the high court, and the P.A.C. are excited to lead you to the prosecutorial dais.
You get a bench and desk, of course -- this isn't the bad old days, when prosecution would have to gamely and athletically declaim to his Tyranny the whole time -- and you also get front-row seats to the gallows. Gallows construction has been completed with no small amount of care. Each lever gleams in fresh readiness for the hanging. You stand at the waxed bench and smell furniture smells, imagine the rustle of a filled gallery behind you and a convict in front, and you ache to feel the excitement you always imagined you'd feel.
"It looks very different," says a voice behind you, "from this angle."
You and the P.A.C. fire off hasty salutes as you turn around. The Brigadier-General is gazing up at the big empty well where his Tyranny will be installed, a thoughtful expression upon her face. The bright lights make her skin granite colour. "In courtblock dramas they always manage to make the prosecutors look dwarfed by his Honourable Tyranny," she says. "Once up there, though, you will find his size isn't a factor -- one tends to think of his monstrousness only later. Trainee Pyrope, if you'd care to walk with me."
You fall into step next to the Advocate, cane tapping on the ground as you circumnavigate the room. It seems as though every chair on the level has been moved into the makeshift courtblock; Parlet stops to check the dividing wall separating the gallery from the legislacerative stenographer's seat, and her face is impassive as ever. You wonder if you only imagine the fine, patient lines of stress at her mouth.
"I have read the prosecution plan you and Subjugglator Makara handed in," she says, and continues briskly to the back of the room. You have to scamper to keep up. "Very well-researched. Clearly outlined. You have read the statutes to the fullness of accepted lawful understanding. A classic example of a heresy trial argument, Legislacerator."
"Thank yo -- "
"Do not interrupt," says Parlet, and strides on ahead. Her uniform is crisp and neat and cavalier, and she has never told you to not interrupt before. "As I was saying, a classic example. Traditional in the extreme, up to and including the cliche of a Neophytic starting point to build the case. I can also see the stamp of Subjugglator Makara."
Considering that Subjugglator Makara lay on the floor alternately sulking and reciting case studies for you the whole day through -- his favourite research trick is to make up a fake citation and see whether or not you sniff the lie, which is a trick that makes you want to jump up and down on his face -- you become suspicious. The Advocate continues tersely, "It's pat. I would accept it as a fine piece of work from any stolid, by-the-book legislacerative trainee, but not you. It's a severe deviation from your style."
You attempt to make your face a picture of disappointed innocence, but your face has never taken to disappointed innocence at all. "You said the case was cut and dry, sir."
"Give me your second draft."
Now liquid nitrogen runs through your glands. You do not like to lie directly; it is the hallmark of someone with their back to the wall, an inelegant way to play the game. One must dance around the truth, not head to the territory of a falsehood. But in the end you say: "There is no second draft."
"This case has gained some attention from unexpected sources," says the Advocate, and takes off her glasses to wipe them on her jacket. You realise: she is anxious. "Your audience may not simply be teachers and peers, Soliciteen. You and your partner will have to deal with political ramifications you haven't been partially taught to navigate. I wouldn't put a seasoned legislacerator of ten sweeps in the situation you're about to walk into."
"Sir?"
"I have seen more than one legislacerator die at their first court case," she says. "And I have seen more than one legislacerator fall afoul of the Church. I can make no intercession here, Pyrope."
You are filled with a strange fondness, marbled as it is with upset. The Brigadier-General is someone you admire. The Brigadier-General is someone your cohort universally admires; quite unlike the Ecstatic Exarch, who is a lot more polarising, it is agreed amongst the students that the Advocate is just and benign. You are sorry too; whatever happens tomorrow night is probably going to reflect badly on her as your personal mentor, and even if you are dead, being dead is easy. There is a whole lot worse than dying.
"I understand, sir," you say.
"You may think you do, but you really don't," says General Parlet sharply, and places the glasses squarely back on her nosebridge. "I would like to see you and Makara use that case briefing, without deviation, in the courtblock tomorrow. It will not give you a case that abhorristorians will remember forever, but there is something to be said for a lack of notoriety and a surfeit of pulse... Go and continue your preparations, Pyrope."
Thoroughly disconcerted, you make your way to your quarters. For an organization based entirely around the pursuit of truth, justice and the Imperial way, you have discovered that the League of Legislacerators is full to bursting with secrets. It is plumped up with vagueries and mystery. Once upon a time you would have been excited to swell with the host of things unknown, but you are discovering now that deceit and confusion are not that exciting to deal with. The Church and the Bar don't truck in clarification. Transparency would be nice.
You return to your quarters replete with a can of Faygo you scabbed off a subjugglator -- you've gained a taste for the flavour you can only describe as "green slop" -- and you sit at your desk, feeling empty and unhappy and taut. Your second draft sits in a folder tucked away in your modus, a brutal indictment on heresy laws and the Covertraumatics both, while your first is laid out like a benevolent smile next to your husktop. Both you and Gamzee spent a long time on that second one. Remarkably, you have kept the identity of your real offender obscure; you wonder if he doesn't want to know, is saving himself another rampage through being ignorant of Vriska's crimes.
Trollian beeps:
-- twinArmageddons [TA] has begun trolling gallowsCalibrator [GC]! --
TA: good, you're there. how hiigh are the 2take2.
GC: H1GH3R TH4N 3V3R
GC: 1 C4NNOT JUMP OV3R TH3S3 TOW3R1NG ST4K3S 1 T4K3 4 RUN-UP 4ND K1ND OF FLOP OV3R TH3 M1DDL3 DU3 TO TH31R OV3RWH3LM1NG H1GHN3SS
TA: diid you frii2k tv.
GC: Y3S!!!!
GC: YOU KNOW 1F YOU H4D JUST S41D "BTW T4VROS 1S 4CTU4LLY 4 L3G1T R34L L1F3 F41RY" 1T WOULD H4V3 M4D3 TH1NGS 4 LOT QU1CK3R
TA: there'2 2tiill 2tuff ii'm unwiilliing to talk about even in a clo2ed channel, call me 2uper2tiitiiou2. we 2houldn't even talk about iit now.
TA: thii2 wiill be the la2t tiime we do for a whiile.
GC: W41T, WH4T >:?
TA: makiing up for pa2t 2iin2, here, ii got you ten miinute2, no le22, no more.
TA: and ii meant two say before, but wa2 prevented by low point2 put iintwo beiing good at thii2 2hiit, ii miinmaxed here.
TA: tz.
TA: ii mii22 you all the tiime.
-- twinArmageddons [TA] has ceased trolling gallowsCalibrator [GC]! --
-- CONNECTING TO SECURE SERVER --

-- CONNECTING -- CONNECTING --

-- FOUND CONNECTION --

-- carcinoGeneticist [CG] began trolling gallowsCalibrator [GC]! --
CG: WE HAVE EXACTLY TEN MINUTES FOR ME TO EXPOUND UPON ALL THE WAYS YOU ARE A RECKLESS, PUFFED-UP, SELF-AGGRANDIZING GRAIN OF EGO SHOVED INTO THE MOUTH OF AN ASS-CLAM, COVERED IN FINE LAYERS OF FECKLESSNESS BEFORE EMERGING AS A GLITTERING DIPSHIT PEARL.
CG: PRETEND I GAVE YOU THE RIGOROUS VERBAL EXFOLIATION YOU DESERVED, THEN GOT TO THE CORE OF THE MATTER:
CG: IF YOU AND THAT FUCKING CLOWN DON'T LIVE THROUGH THE TRIAL, TEREZI PYROPE, I WILL FIND A WAY TO BRING YOU BACK AND I WILL SCREAM UNTIL YOU ARE ONLY ABLE TO UNDERSTAND THE LANGUAGE OF MY ANGER.
GC: 1 N3V3R THOUGHT 1 WOULD TYP3 TH1S BUT 1 H4V3 M1SS3D YOUR 4NGRY W1TT3R1NG SO D33PLY
GC: SOM3T1M3S 1 Y3LL3D 4T CR34K1NG NO1S3S 4ND 1NCORR3CT T3MP3R4TUR3S 1N ORD3R TO R3CR34T3 H4V1NG YOU 4ROUND, BUT 1T N3V3R WORK3D!
GC: 4R3 YOU C3RT41N YOU 4R3 UP TO T4LK, SOLLUX H4S TOLD M3 YOU H4V3 B33N UND3R 4 LOT OF STR3SS 4ND YOU PROB4BLY SHOULDNT F41NT 4T YOUR T1M3 OF L1F3 >:T
CG: ONE, FUCK YOU. TWO, FUCK YOU. THREE, COLLATE EARLIER TIMES WHEN YOU HAVE FUCKED YOURSELF AND MAKE IT INTO A MARATHON EVENT OF VARIOUS WAYS TO SELF-FUCK.
CG: I HAVE BEEN UNDER MORE STRESS IN THE PAST COUPLE SEASONS THAN A WHOLE ROOMFUL OF SURGITERRORS FACED WITH A FIELD OF SEVERED ARTERIES. THE TYPE OF TRIAGE THAT WOULD HAVE TO BE PERFORMED ON MY STRESS WELLS WOULD MAKE A WAR VETERAN WEEP.
CG: I AM ACTUALLY HERE TO CHECK ON YOU, YOU FUCKING WOECHUMP.
CG: MORALE PURPOSES. COMFORT. CAMARADERIE. I HAVE DISCOVERED THE BEST HEROIC ESCAPADES ARE THE ONES THAT MAKE YOU FEEL MARGINALLY LESS LIKE SHIT.
GC: 1 W4NT TO KNOW WH4T 1S GO1NG ON
CG: I CAN'T TELL YOU. I'M SORRY. I REALLY AM. I AM WORKING WITH THAT RARE CONCEPT, "PLAUSIBLE DENIABILITY."
GC: 1 4M R34LLY S1CK 4BOUT TH4T CONC3PT B31NG B4ND13D 4ROUND 4T 4 T1M3 WH3N 1 4M 4LR34DY D33P 1N 1MPL4US1BL3 D3N14B1L1TY!
GC: 1 H4V3 S33N M1ST3R C1NN4MONS SHOULD3RC4PS, K4RK4T, TH3Y COULD 4LR34DY T4K3 M3 OUT B4CK 4ND PUT 4 CLUB TO MY TH1NKP4N
GC: BUT 1F 1T H3LPS YOU SL33P 4T D4Y YOU C4N H4V3 YOUR PL4US1BL3 D3N14B1L1T13S, W3 DO NOT H4V3 TH3 T1M3 TO FR1SK TH3M OUT OF YOU CURR3NTLY
GC: TOMORROW 3V3RYTH1NG CH4NG3S SO 1T 1S N1C3 TO S33 YOU
GC: 1 M34N 1F YOU 4R3 H3R3 FOR L4ST R3QU3STS 1 WOULD L1K3 TO L34V3 MY BODY TO COM3DY 4ND MY L4ST W1LL 4ND T3ST4M3NT 1S NOT4R1Z3D UPON MY HUSKTOP
CG: FOR FUCK'S SAKE, TEREZI, I AM NOT
CG: ACTUALLY
CG: INTERESTED
CG: IN LOSING YOU RIGHT NOW.
CG: SEE ALL THAT? SEE ALL THAT GODDAMN EMOTIONAL AVAILABILITY??
CG: TEREZI?
CG: FUCK. SHIT FUCK. DOUBLE SHIT BULGE PUS.
CG: I DIDN'T MEAN TO MAKE THIS AS HEINOUSLY AWKWARD AS IT NOW IS, I JUST HAVE A NIGH-MAGICAL GIFT FOR IT, OK? I MEAN, DID YOU REALIZE THAT EVERY "TOMORROW WE MIGHT DIE" SPEECH IN MOVIES IS ACTUALLY A CROCK OF SHIT THAT DOESN'T WORK IN REAL LIFE?
CG: I JUST WANTED TO TELL YOU
CG: THAT YOU ARE
CG: A THING.
CG: YOU ARE DEFINITELY
CG: A THING.
CG: TO ME.
GC: K4RK4T
CG: YEAH.
GC: 1 4M NOT TH3 ON3 WHOM YOU SHOULD B3 T3LL1NG 1S 4 TH1NG
GC: TOMORROW W3 M1GHT D13 4ND 1 W4NT YOU TO KNOW TH4T SOM3WH3R3 OUT TH3R3 1S 4 TROLL WHO 1 TH1NK W1LL N3V3R B3 4 M3SS14H
CG: TEREZI.
GC: Y3S
CG: ARE YOU QUOTING FAMED TROLL MUSICAL THE SOUND OF MUCUS.
GC: Y3S
CG: YOU DISGUST ME.
GC: TH3R3 1S 4 LOT TH4T H4S H4PP3N3D 4ND 4LL 1 R34LLY W4NT TO DO 1S S1T DOWN 4ND T4LK TO YOU 4BOUT 1T BUT W3 H4V3 US3D UP THR33 M1NUT3S 4LR34DY!!
GC: 1 4M 4 PR3TTY 3XC3LL3NT FR13ND
GC: BUT 1T H4S B33N 4 LONG WH1L3 S1NC3 1T W4S 34SY FOR M3 TO B3 G3NTL3
GC: OR K1ND
GC: TO TH3 ON3 P3RSON 1D W4NT3D TO B3
GC: G3N3R4LLY B3C4US3 TH3Y 4R3, 1N F4CT, 4 G1G4NT1C CLOWN DOUCH3B4G WHOS3 3V3RY 4CT1ON 1S C4LCUL4T3D TO M4K3 M3 M4D FOR SOM3 F4THOML3SS FUCK1NG R34SON
GC: SO 1 4M 4BOUT TO P4SS YOU OV3R
GC: YOU H4V3 4BOUT S3V3N M1NUT3S
GC: (1N H34V3N!!!)
CG: EAT A TUMOUR AND CHOKE, THIS WAS NOT PART OF THE PLAN.
CG: I AM NOT EVEN SLIGHTLY FUCKING READY, WHAT THE FUCK ARE YOU DOING. TEREZI, I HAVE NO IDEA WHAT I'D SAY TO HIM.
GC: DO NOT 3V3N GO 1NTO ON3 OF YOUR R1D1CULOUS M34ND3R1NG L34D-UPS
GC: JUST TYP3 TH3 SYMBOL YOU H4V3 B33N W4NT1NG TO TYP3 TO H1M FOR 4 V3RY LONG T1M3
GC: YOU KNOW
GC: TH3 D14MOND SH4P3D ON3!
GC: 1TS S1MPL3
CG: OH, MY FUCKING GOD.
CG: TEREZI, NO. I CAME TO TALK TO YOU. THERE WAS A PURPOSE HERE. CAPTOR OFFERED TO WRING MY BULGE OFF IF I DIDN'T MEET HIS MISSION PARAMETERS. YOU AND I HAVE TO TALK. I CAN'T DO THIS. I'VE LEFT IT TOO LONG, HE DOESN'T EVEN.
GC: K4RK4T
GC: YOU 4LR34DY S41D 3V3RYTH1NG 4ND TH3R3 4R3 ST1LL CH4NG3S 1N M3 YOU H4V3 NOT H4D T1M3 TO P4RS3
CG: IF THIS IS ABOUT SOME DISTASTEFULLY HORSESHIT IDEA THAT YOU HAVE SOMEHOW TRANSFORMED INTO SOMEONE I WOULD HAVE NO INTEREST IN, TAKE YOUR BRAIN OUT AND DROPKICK IT.
CG: I'VE CHANGED. YOU'VE CHANGED. THERE IS NO POINT OF DREADFUL YOU COULD REACH THAT I WOULDN'T WANT TO ASPIRE TO, OK? IS THAT ROMANCE ENOUGH?? I WILL NEVER NOT BE BEGGING ON MY KNEES IN FRONT OF YOU NO MATTER HOW GLAND-ROTTINGLY AWFUL YOU BECOME.
CG: BEHOLD THE ROTTEN DEPTHS OF ME:
GC: NO NO NO DO NOT M4K3 WH4T3V3R SYMBOL YOU 4R3 4BOUT TO M4K3
GC: TH3R3 ONC3 W4S 4 T1M3 WH3N 1 W4NT3D NOTH1NG MOR3 TH4N TO S33 1T
CG: FUCK. MY. LIFE.
CG: NOT ANY MORE?
GC: YOU 4WFUL N1NNY!!!
GC: 1 4M NOT GO1NG TO S4Y 1T TH1S T1M3 UNT1L 1 C4N M4K3 MY TRULY SMOOV3 MOV3S FROND TO NOS3 4T YOU, 1 C4NNOT DO WH4T 1 H4V3 TO DO 1F YOU 4R3 P4RT OF MY ST4K3S
GC: BUT WH4T3V3R H4PP3NS 4ND WH4T3V3R 1 DO NOTH1NG W1LL 3V3R CH4NG3 TH3 F4CT
GC: TH4T YOU
GC: 4R3 D3F1N1T3LY MY TH1NG >:]
GC: SO HUP HUP!!!
You manage to yank away your husktop, disconnect the connector worm, barge out of your quarters and are hammering on Gamzee's in record time. This is thankfully one of those times where he is too bored to do anything but open the lock for you, and you are elbowing your way inside and ladling his arms full of husktop before you can smell his protest.
"There!" you say, beside yourself, absurdly near grief. "About six minutes, you opprobrious douchebag. Here is me doing motherfucking jack for you! If you do not take full advantage of the situation, I will slice a hole in your front and floss your ribs with your own intestines."
Then you turn on your heel and walk the long few feet back to your quarters, ricocheting inside and slumping down at your chair. There is a large pan-ache collecting behind one dead eye, burning through the nerve with the ghost of old pain. You would just like to crawl into the sopor and sleep now, sleep as though you could sleep forever, but you cannot drag yourself out of your chair. You wonder why you feel ridiculously empty: talking to Karkat has reset you somehow, but you don't know to what or to who.
Ten minutes later your door whooshes open. You don't bother to look up. Gamzee clatters your husktop down on your desk untidily without so much as a how d'you do, and then you feel him crouching in front of you, taking your hands and directing your palmfurrows upwards.
You look at him, properly, at his familiar face. Overfamiliar by now, in fact, in this terrible pressure-boiler the only face more sniffable would be your sister's. You behold his big homely jaw, his hard broad bones, his sharp nasal ridge. His eyes smell a soft shiny yellow: not glazed with sopor nor angry beyond reason.
"We have a very long night tomorrow," you hear yourself say. "You do not need to actually say anything, if you were going to attempt. You should prepare your uniform and sleep and fix up your facepaint, it is looking sloppy and ridiculous. Make sure your dress uniform is prepared too, we have to change into them after to attend the dinner -- "
"Terezi," he says.
You cannot actually recall the last time he said your name.
"All manner of thing," he says, "is gonna be mother fucking well, baby girl."
Gamzee kisses the pad of your thenar muscles, the soft mounds that cover your tendons. He kisses the very center over the nerve that runs up from your wrist. He kisses one thumb first, then the other. His lips are brushed still and unmoving over the crease of each joint, and then he mouths the soft flap of skin that stretches between your finger and thumb. You stare at the top of his messy head as he cups your hands together and dots his mouth over each knuckle, only stopping when a hard shudder runs through you that you can't quell.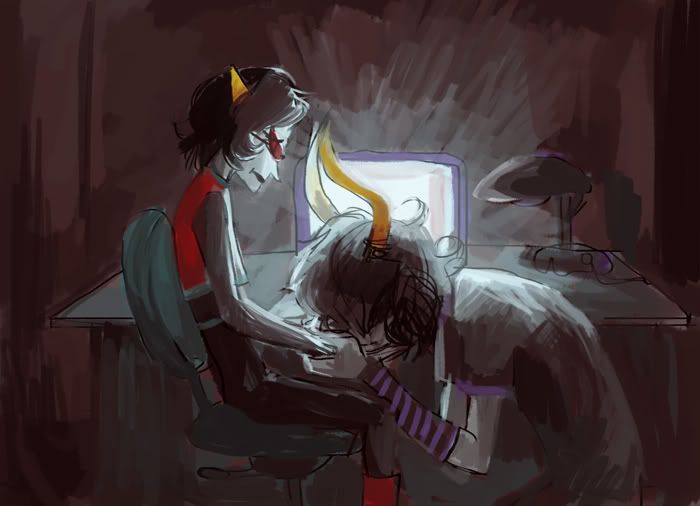 "Subjugglator," you say, "is there a reason you are macking on my digits?"
His tongue wrinkles at your nailbed, orange horns bobbing nearly in your lap. For some reason it's that sight which makes you nearly blush. "Damn," he says, "shit, you're correct, I don't even know where these have up and been."
"Did he ask you?"
His head angles up so that he peeks at you -- nearly shy, what has the universe come to -- through a fine veil of dark tangles. On his face is a look of fierce exultation. "Nah, legislacerator," he says. "My best motherfucker just told."
Young love is terrible. You find yourself wearily petting his chin, something genetically related to a smile on your face only tireder. There is his pale quadrant all nice and full, there are all his romantic woes laid to rest. Perhaps from now on he will cut you some slack, and you can continue on a little more affably than before. There is nothing left for either of you to want. "Disgusting," you say. "You will be up to your gizzard in diamond emoticons. I will have to bear the brunt of your being a newlyrail. Go to sleep, Mr. Makara."
After a long while his cool breath leaves your fingers and he stands by the door, perfectly blank, a sudden hesitation between you both. Awkwardness. You really shouldn't be; you two have caused each other more personal grief and deep-tissue contusion over the past few seasons than deserves distance. "Morning, legal evil," he says.
"Good morning, clown crank."
It is intimacy without friendship.
When the door shuts behind him you strip off your clothes and you haul yourself into the recuperacoon, not bothering to tuck things back into your sylladex nor to even fold jackets over your chair. You take the hands that he kissed and are not certain where to put them, feeling unreal. Exhausted and simultaneously, absurdly sleepless, you end up leaning out of your recuperacoon for the palmhusk and wiping your hands clean to use it:
-- gallowsCalibrator [GC] began trolling arachnidsGrip [AG]! --
GC: 1N TH3 OLD D4YS TH3 L3G1SL4C3R4TOR WOULD S3ND FORM4L S1GN4L OF 1NT3NT
GC: TH3 N3W D4YS 4R3 W4Y MOR3 G4UCH3
GC: 1N 4NY C4S3!
GC: TOMORROW 1 4M COM1NG FOR YOU
-- this user has blocked your account! --
For the last time here, you let the sopor lull you to a deep and dreamless sleep.
---

On the night of Tavros Nitram's trial, you put on your uniform like a suit of armour. You tidy your hair. You wipe your glasses until they smell as shiny as fresh waxy fruit. In the hallways everyone is busy and bustling, but they all stop their preparations to do a curious thing: they salute you. Some of them smile at you, and some of them do not. Each time one of your cohort raises their hand to their head -- legislacerators and cultists alike, albeit the subjugglators sometimes add a grave whoop, whoop -- you feel tight and clutchy in your guts. It is a strange mix of adrenaline and sorrow. Many of these trolls were very unkind to you! A percentage of them may love the tale if you die. For plenty more you have won their respect in ways that don't sit easily. You always salute back.
You meet Trainee Velher on the stairs, not a curl out of place as you both pause. After a moment her hand glides up to touch her temple in salutation, the same shared-secret smile tugging at her seedflap. "Good luck for tonight, Legislacerator," she says.
"This is a court case, Subjugglator, and I am not a gamblignant," you say, knowing you sound a bit starchy. "Luck is not on the agenda!"
"Still," she says, and horror of horrors, she reaches out to fix your collar. When it is smoothed out to her particular specifications, she knocks off that airy, careless salute again. You wonder where she and her ill-fated partner will be sent. You do not respect Velher, but she is too clever to be wasted policing bureaucretins. "I hope things turn out as intended."
"Oh, so do I! But to whose intention?"
Velher just laughs. Then she utters that particularly bizarre Messiah shibboleth at you -- "Family," -- and continues on her way.
You do not attend the evening meal, and you do not attend the briefing afterwards. As far as you are concerned, there is nothing anyone can tell you any more about this court case. Instead you hang around outside the makeshift courtblock, in the little alcove that the P.A.C. cordoned off for all off-block prosecutorial purposes, and you wait for your call inside. You go over your case notes, and you do something comforting that you have not done for a long time: you slide a stick of red chalk out of your modus and you suck it like a sweet. The end hangs out your mouth like a tar-transfer nicotine cylinder. You are classy as hell.
At this point in your relationship, you can tell when something is wrong with Gamzee. You can actually tell before he rounds the corner, by the little frizzes of fearmongering he gives off when he is trying to tamp his powers down. His appearance confirms it. He shambles towards you like the way he shambled towards your culling exam, inexorable, his gaze devoid of anything you can sniff.
You spit out the chalk in a flurry of scarlet grub dyes and lean on your cane, trying to guess at the scents on him instead, his hands -- his fingers are covered in a dry, powdery stain, pale brown.
"You went to see Tavros," you say.
Gamzee stops before you. The look he gives you is long and considering. You stand apart like strangers, and in that blankness is more than Tavros. "Funniest fucking thing," he says, "this thing is SO MOTHER FUCKING FUNNY. Was just trying to give my bro a bitchtits hug. Just a little bro squeeze. Get a comfort on."
"His back is immaterial, we can keep his back hidden -- "
"His back is a god damn church anathema! His back is a mother fucking blasphemy, does your paltry-ass Culling Law exam mark count for FUCK ALL?"
Your bloodpusher stills. You say softly, "If you have hurt him -- "
"Hurt my fucking Tavbro?" Gamzee is leaning in now, sour and hoarse. "Hurt my brownblooded wing-fucked brother? Rip those heretical slimebuds off his backplate, slit his pipes so nobody knows he was a GOD DAMN ILL-FAVOURED OMEN? Aw, girl, girl."
He stretches out one long arm as you try to force past him, already convinced that in the brig lies the beaten corpse of Tavros Nitram. You bounce off his forearm. "That is not," he says, "what this shit's about. SHIT'S OF A DIFFERENT MOTHERFUCKIN' CONCERN, Terecita."
You back away from his arm, watching as he cracks his knuckles, then slowly pops the ones in his jaw. It sounds like dry twigs being stomped upon. "Had a tip-off last night," says Gamzee, rolling and stretching his throatstem. "Had the big mothergrub of all tip-offs. Two in partic. Damn, and there was I feeling GUT-GUILT for the faithless sin of downloading your husktop's datashell."
"You did what?"
"Got a tip-off after," he says, "tipped as shit, tip so sharp it drew the blood and pierced the ear. Little bit of coolant grub and a little bit of sopor mix up to be one motherfucking poison cocktail, did you know that? Did you know your search history's so full of coolant grubbage you should OPEN UP A MOTHERFUCKING INFO DESK?"
"Gamzee!" You are flushed and clammy. "Gamzee, you fucking fool, I got a tip-off to try and kill you, do you really think I would? Do you really think I would in that method? I was following it up, you ginormous idiot, I was trying to -- "
"Was I going to find out," says your partner, "was my pan to behold BEFORE or mother fucking AFTER, this relevatory secret keeping you've been doing up in this bitch -- was I going to find out AFTER, or was I going to find out FUCKING BEFORE, that a spider LEFT MY BOY TO DIE?"
You duck the club as it whistles overhead. Your canesword you slide out of its sheath, and it meets the second blow in a shower of sparks. You are beside yourself with anger and the stupid, impotent uselessness of it all, of everything you have done, of the senselessness -- "Who do you think I came to arrest?" you snap. "Who do you think is going to go under suspicion tonight? You could have known! You simply didn't want to!"
"Deal's off," he says. "You're never going to see my longhorned brother survive. It is just another SQUEAKBEAST and MEWBEAST game you're playing with Serket, just another fucking game you are scoring up in that pompous-ass pan of yours. When do your god damn games stop, Terecita?"
"When are you going to finally believe what I say?"
It is your blows that now rain down upon him, forcing him back. Gamzee is forced to parry, not defend, one club held out as a makeshift shield as you slash over and over. "Why do you take everything I do in the worst of faith?" you say. "Why do you undermine me at every turn? Why do you have to ruin everything with your selfish, one-eyed, megalomaniac zealotry?"
"Shut your distasteful fucking mouth, I ain't interested," he says, and he raises his club before you slide your blade to his ribs.
"What did I do," you say, and it tumbles out your mouth unbidden, "to make you hate me?"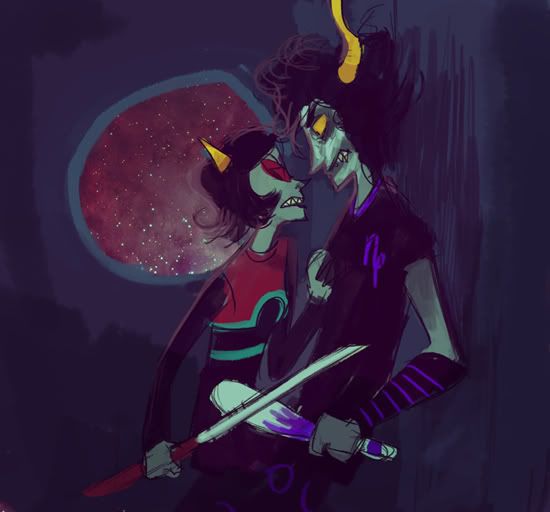 Your sword presses at the side of his shirt, just underneath a rib so you can ease it up and into his oxygen sponges. It pins down his club; a jerk upwards from him would force your sword into his body, and without realising you have fisted your other hand in his shirt. Your faces are very close. You are angry. God, you are angry! You are angry and you are scared, and all that chants in your brain is a long litany of: I am through with you. I am through with you.
A funny cast comes over his face. An odd, infuriating smile touches his lips.
"You think this is motherfuckin' hate?" he says softly. "The girl thinks it's some motherfucking pitch-black waxing here. The GIRL THINKS THERE IS SOME WICKED SPADES GOING ON. Girl thinks that when she first got tickets to the Dark Carnival my name got printed on hers, SO DESPERATE IS THE MOTHER FUCKING GIRL."
"You disgust me," you say, and you score a a soft line of indigo on him. "You are simply proving my point."
"How long you been thinking this is what heats my slime, Terecita?" he says. "How long you been having these little feverish thoughts, that I been driven all along by nudging bulge at the thought of your spine knobbles?"
"You are inept at being crass," you say, but there is that mean, humiliated heat inside you anyway. "You know full well that if this was a matter of quadrants, Mr. Makara, I did not want one that filled buckets."
"Oh, I know what you wanted," says Gamzee, and his voice is low and oily and ugly again. "I know what you mother fucking wanted. You wanted me in a collar and to heel and to roll over like a dumb barkbeast, didn't you know? You told me to kill a troll and I mother fuckin' killed a troll, gotta thank you for that, helped me realise my calling. My wicked lifelong calling. Helped me know the ins and outs of what subjugglate means, I'll thank you for that one. You are to be thanked."
"I never wanted to hurt you, either. You delude yourself harder over me than you do over your silly clown religion -- "
"Aw, girl," he says, "the sharpest motherfucking cut," and he leans himself into your sword. Gamzee presses his club down so that your blade huddles itself a little closer, melting into his epidermals through the growing slit in his shirt, nudging inside a little more with each movement. His smile is wide and wild and mocking. "Get schoolfed, my legislacerative parasite. I bet it KEPT YOU THE FUCK AWAKE, thinking about hurting me. I bet that kept your hand busy."
"Shut up!" This is not your best comeback.
"You've been racking your pan, haven't you," says the subjugglator. "You've been wanting to fucking think that I want to touch your skinny titless stick of a body, getting all hatehappy with your lumpy little ass? You been kicking the wicked imagination about how we could settle down, loathe it out, till death do we mother fucking part?"
"If you think I ever thought you would be my rival," you say, knowing you are squirming with discomfort and distress, "you are tragically incorrect. You are stupid! I never stopped thinking you were stupid, it is brutally obvious you are stupid! You can play at being clever all you like, it will never change the fact that you are a stupid, sulky little wiggler with abandonment issues and the mystifying idea that he is hot shit -- "
"So stupid you wanted to shoosh me," he says, sing-song. "So stupid you wanted to get your motherfucking pacify on, only you couldn't pacify a corpse-dusted stiff, could you now? Watching you go through the motions broke my chucklebox, baby girl, you just tried -- so -- hard -- "
You press in your sword until he lets out a grunt of pain, and with your free hand you slap him hard across the face. It echoes in your alcove, and you want to record the sound so that you can hear it over and over like music. His free hand is suddenly sliding up your waist as though your sword isn't slowly penetrating his body, like his blood isn't dripping and slippery over his thorax.
"This what you wanted?" he says. Those long fingers trail up your uniform and beneath your vest, resting over a vestigial nutrient gland. He cups what he can of it, and you know you are teal to the tips of your aural shells. It is not out of shame: you have gone out of your body, you think, and you are now your sword. "Think I wanted to get my hands on your motherfucking anatomy?"
Then Gamzee's hand is at your other breast, fingers tracing the outline, pressing into its curve until the sensation is painful. You feel sick and hot. "I wouldn't touch you," he murmurs, "if every messiah gave me the rude info that it was miraculous prophetical necessity, me touching you. I would apostate before I motherfucking defiled myself with your person."
You say levelly, "So why are you grabbing my boobs?"
This question gives him pause. He looks down at your chest, then at you, and you take the opportunity to yank your rapier out of his ribs. Only the tip had sunk in, but that is more than enough to have him hiss in pain and have you flee to the sanctuary of the opposite wall. The sword you wipe clean and sheath back into your cane, leaning it against the alcove seats as you behold each other.
Your anger transmutes into something cleaner; now that you two have some distance, you can think. Your brain ceases hiccoughing and settles back into motion, a machine that can take you where you finally have to go.
"Pale for you," you say steadily, and you raise your hands thumb to thumb and finger to finger: the diamond. "Possibly always pale for you, Mr. Makara. But as far as I am concerned you may break your oath and go and get yourself killed. I really hope you do, you know, it would be doing me a favour. You are not my business, as you have told me time and time again! I will be in the courtroom, trying to save Tavros's life."
Gamzee bleeds. You feel strange about it, queasy up in your chest where he touched you.
"You taught me how to play this miserable fucking game," he says.
"I taught you lots of things," you say. "Most of which you had no intention of learning. The opposite also holds true."
That prompts a faint, wry smirk. He touches his fingers to the growing wet patch on his shirt, and he absently combs the blood back into his hair. You say: "Have your freedom from me, Mr. Grape Faygo. You can leave and carry out your suicidal rescue plan. We are done, our points have been made, and I do not want to sniff you ever again."
"You and me are too motherfucking wise to do this peaceably, Terecita," he says, after a pause. "Think it's easy as that?"
You say steadily, "All I ever had to do was let go."
When he takes a tottering step towards you, you pick up your cane again. But Gamzee does not retrieve his club. He keeps one hand pressed over the seeping wound at his side, and he closes the distance between you both. All of a sudden you are dreadfully afraid that he will touch you again, and a tiny particle of you is afraid he will not. That tiny particle is a traitor, and the rest of you vows that should he touch your chest you will knee his junk.
But he doesn't ready a blow. You smell no clusters of muscle tense. He says, "Quit the abhorrent lies you tell yourself, baby girl," and he swiftly kisses you on the mouth. Then your partner makes his escape before you can even react.
"Mr. Makara!" you yell at his retreating back. "Stop making everything complicated!"
Gamzee's footsteps have barely disappeared before the door to the courtblock opens, and you see a few worried faces of the P.A.C. peeking out. They are a little embarrassed-looking; you wonder how much of that last exchange they caught. "Legislacerator," says one of them, "it's time, his Honourable Tyranny wants you at the prosecution stand -- "
"You have," you say, "very bad timing."
"Teach, where's the Subjugglator?" one hisses, the picture of panic. You feel bad for them. They have all put blood, sweat and tears into making this run correctly. They could not be as disappointed at what is going to come than organisers at an upset quadrant ceremony. "Should we ask for five minutes delay?"
"Subjugglator Gamzee is going to be delayed a little longer than five minutes," you say, and a dreadful kind of calm settles over you. It has been taken out of your hands. All you can do is what you set out to do, which is take your position as prosecutor. "I will simply have to begin without him!"
"But that's completely out of protocol, we need to -- hey, Teach, wait -- "
You push past the anxious faces of the P.A.C., and you go to meet your doom.
It is your first time walking into a live courtblock, and it is the first time you will be presiding over one. The sheer activity astounds you. They have really managed to take this briefing room and change it into something worthy of the name! The floors have been coated in rough rock webbing, and the walls have been hung with three clashing insignia: the flag of the League of Legislacerators, depicting the scales, the eye and the noose; then the riotously-coloured hangings of the Mirthful Church, which are always painted at random and a little unpleasant. These clash beautifully with the bright cranberry flags for her dread Condescension, whose symbol is simply the trident. A huge vidscreen for evidence is attached to one wall. More webbing separates the official court benches from the gallery, and in the gallery every seat is filled.
For a few beautiful seconds you are six sweeps and astounded to be here. The first thing you hear is the bellowing of the disapproving Tyranny lodged inside his pit, clacking and screeching his displeasure. You want to smell everything at once. You sniff the empty gallows, and the lonely dais for the accused when they are brought in to receive judgement. The accused makes appearance fairly late in the game; they do not actually have any right of reply unless the prosecution asks for it. Before you stretches a sea of trolls all crisp with fresh uniforms, their mutters doubling in texture once you are seen striding forth without Gamzee.
But what is this new addition, right at the back of the viewing stands? There is a peculiar, tinted-glass frame, and it is ringed all around with strange indigobloods. They're not the Executor's. The Ecstatic Exarch sits among the bevy of dark-hooded Church officials, all wearing insignia so high that you do not have a name for their rank. The Comedic Chaplain sits in front, looking uncharacteristically dismayed -- and at the very front the Advocate half-rises to her feet as you stride forward, partnerless and alone, taking your place at the prosecutorial bench.
Before Parlet can say a word, one of the cohort-nominated court officials has already warbled, "All rise as his Honourable Tyranny begins session!"
There is a clatter as everyone rises, and you stand behind the bench feeling sparks slowly drift to your fingers and toes. You are beyond fear; you are beyond much of anything. His Honourable Tyranny is bigger, redder and spikier than you'd imagined, though you also suppose it differs from each Tyranny to Tyranny. For the purposes of the Cruellest Bar, his Tyranny is regarded as one legal entity no matter which member of the species is presiding, and really there is no discernable difference between them.
His Honourable Tyranny lets out a selection of ear-splitting screeches, tossing his huge horned head around in either annoyance or legal jubilation. You have never smelled anything quite so urgently red. Crimson and coal, like a bonfire: black brackish blood underneath big plates of scarlet chitin. Once he has finished everyone bows, a mark of respect for the Imperial Condescension, and there is a great shuffling sound as everyone sits back down.
The court official warbles even more as they announce, "The prosecution will begin their -- her opening statement!"
Excepting the end statement, the opener is the most dangerous time for prosecution. If his Tyranny takes an immediate dislike to you, he will remove you immediately with a swipe of his unmerciful claw. At that point the back-up prosecution team -- two girls in the front row, who you can sniff leaning forward a little intently -- will take over. Will his Honourable Tyranny dislike the deviation, if he was expecting a prosecutorial pair? Will his terrible claw shear you in half, and will both of those halves go into his hungry maw? It is the second-best way you'd hoped to go.
A hush falls over the room. Numerous breaths are held. Your footsteps seem to be very loud as you mount the steps before the pit where your judicious monster is kept, and you let him get his fill of you as you stand there. The first few moments are very important. You had been planning on prodding Gamzee in the ribs to make sure he tried to be as inoffensive as possible, but -- he is not here. He will not be present. You have a feeling your partner wouldn't have kissed you unless it was a kiss goodbye.
This is your territory now. As his Tyranny nudges a claw towards you, you revert to your tradition: you reach out and you give him a long judicious lick. What do you really have to lose? Nobody in the audience even dares hiccup in shock. His Tyrannical plating is a little nubbly to the linguals, not smooth as you had once imagined, but it tastes like chilli and paprika and is very satisfying to tongue. His Honourable Tyranny appears to give this some thought, and then gives a sort of chirpy noise which you assume means acceptance.
Some trolls breathe out. The two prosecutorial hopefuls sit back, less hopeful. You gesture to one of the P.A.C., huddled at their bench smelling of more woe than your nostrils can bear, and one scuttles up to hand you a remote-locust. You may begin.
"My Honourable Tyranny!" Is that really your voice? You have no idea how it is coming out of you. "Assembled gentletrolls and officials of the courtblock! I stand before you with an indictment of high heresy."
This is innocuous enough. "The indictment sets forth that one Private Tavros Nitram, cavalreaper of the First Mobile Trainee Unit, received prohibited materials with the intent to use them against our dread Empress of the Alternian Empire. These materials included information that has been clearly ranked as sensitive, high-clearance and heretical by the rubric of the Covertraumatic Specialists. The indictment sets forth that Private Tavros Nitram is a traitor to his species, to his Empress, and to his Empire!"
As opening statements go, this is not a doozy. You really do have a choice; you could continue with your first draft, set carefully next to the second draft in your sylladex. You could pull it out. You could send Tavros to whatever end it will get him, depending on what your indigoblooded companion is doing right now. You could, at least, cover your own sorry glutes.
This would be unjudicious. You are the law. This is what you stand for, and this is what makes you Terezi Pyrope. You may be a terrible friend, mediocre at romance and apparently skinny-butted, but you are the mother fucking LAW.
"I would like to make a more correct indictment," you say. "I would like to inform you all that Private Tavros Nitram received prohibited materials at the behest of a superior in the Intelligence department, who used him as an information cache to avoid detection themselves. I would like to moot that Private Nitram, as a lower bloodcaste, lower-ranked and part of a lower military department, was subject to entrapment by his superior through trickery and intimidation. Private Nitram was sent these files by the true enemy of our species, our Empress and our Empire: a Covertraumatic operative and conspirator by the name of Vriska Serket!"
You thumb the remote-locust, and there appears a still of Vriska on the screen in all her glory: eyepatched, wild-haired, smirking for her identification image, and you would break a little had you not broken a very long time ago. You are the law. The court is in a hubbub swiftly transforming into an uproar, and when you meet the Brigadier-General's gaze she is rubbing one temple. You could not be flying higher than if you had ground up justice to a fine powder and snorted it up one nostril.
"Order!" says the court official, as his Honourable Tyranny hoots and shrieks his displeasure. "His Honourable Tyranny will have order!"
You raise your voice above the din: "I would like to call upon -- "
They never give you the opportunity to call upon anyone. A klaxon blares in the courtblock, echoing around the Executor. One of the higher-ups is tapping furiously on a tablet, calling out a row behind from Parlet: "General! We have reports that the ship's security has been breached!"
"What?"
"The brig's under attack, sir, we're trying to secure the area -- "
Faster than you thought she could move, the Advocate vaults over the dividing wall and storms up the dais. She is really rather marvellous in a rage: two high, cold spots of copper blue in her cheeks, coattails flapping, snatching the spare remote-locust from the P.A.C.'s bench without even a second thought. "I want a full report!" she snaps. "Cohort trainees, you are not to leave this area! All security personnel report to the prison level with haste, and I want a visual three minutes ago."
Vriska's face swims as the Brigadier-General fiddles with the controls. The uproar has graduated to its final form, which is mayhem. Some of the Executor's officers are vacating the premises entirely as others form a perimeter around the room, subjugglators and legislacerators alike pulling their strifekind out with numerous puffs of burnt ozone. For you it is dreamlike; you smell the feed from the brig corridors as the screen comes into definition, and you wait for Gamzee's entrance. You had not had time to think about it before: you are about to watch him die.
Smoke obscures the screen. At the end of the hallway you can make out the holding-cell that bars your accused, waiting for the bailiffs to bring him through to trial. There is a staticky scream as one of the prison guards is tossed the entire length of the hallway, landing with a sickening crack on the floor. There are Tavros's horns, his hands wrapped around the bars as he obviously tries to make out what is going on; the peppering of laser ammunition as another few guards take potshots, one stumbling out of the smoke before his head is cleaved from his body --
It is not Gamzee who emerges from the clearing smoke, scimitar in hand and dripping blood. It's your Scourge Sister.
Eight motes of light obscure the screen as she tosses something to the ground: she's thrown the Octet, and the audio cuts out momentarily with a terrific clatter. Blood squirts out from some location almost comedically, a long violet-blue spray that gets on her face. You can see her squint of disgust as she wipes it off on her sleeve, the steel of her implanted arm flashing as she deals with another officer. She is strangely small in comparison: skinny, busy, indefatigable. Another guard skids down the other side of the hallway and is caught by Tavros's outstretched fingers, and he is held up against the bars by the neck. More fighting obscures what happens, except that then the troll is slumped on the floor.
"Shoot to disarm," Parlet's saying into a headset. "This is an order, I don't give a damn what the priests are saying, I want her interrogation-ready."
Vriska has reached Tavros's cell, and she is swiping a keycard in the lock -- once, to no avail. Twice to no avail and some swearing you can hear even over the poor-quality audio, an audible Fuck!!!!!!!! that has exactly eight exclamation marks to it. At the third the bars slide open, and when the brownblooded cavalreaper emerges he backhands her clean across the face.
No trouble to her; she backhands him hard in return. You can see them standing in front of each other, Vriska's shoulders heaving with either exertion or annoyance, and then her sword drops and her arms are suddenly flung around his neck. They share a kiss that is as awkward as it is desperate, the kiss of two people who have never mutually smooched. You can't tell its colour. She is murmuring something, but you only catch incoherent snatches: " -- alw -- co -- yo -- " before he presses her face to his shoulder. They hold each other tight. They hold each other as though this is the time, place or situation to hold each other, right until the noise of gunfire in the distance. Whatever his response is you cannot discern; instead the eight pinpoints of the Octet flare again, and smoke clouds out the camera's lens.
The Advocate's saying, "I want lockdown on the ship, secure both levels above and below -- "
A final figure appears in the smoke like a wraith. When it clears, there is no sign of either Vriska or Tavros; just Gamzee Makara, a club in each hand and looking wildly around him. In the end he stares up directly at the security feed, and his expression smells like pure desolace.
There is no force available that could calm your cohort after that: certainly not the plaintive call from the court official, nor the snorts and snarls from his Honourable Tyranny. Everyone is talking at the tops of their squawkblisters, and there appears to be an argument going on between the Exarch and the hooded Church representatives guarding their precious glass prison. Someone is laughing hysterically: a high, delighted cackle, going on and on as though they have heard the funniest joke in the world. Someone else is calling your name and jogging your shoulder. You realise that the second sound comes from your commander, and the first sound is coming from you.
The viewing screen flares again. Vriska Serket's face is now displayed in high definition, the worst of the blood wiped off. She is fiddling with whatever communication device she is using, like someone recording a casual film to put on CruelTube, and she steps away. Her eye is alight, blue on gold, space rippling behind her in backdrop from wherever the hell she's transmitting this from. One of the officers says, "Sir, she's jacked our system -- " before Parlet cuts in, "Yes, I realise -- "
From the entire room, the mayhem is still in various flavours of hubbub until the Exarch howls: "SHUT the FUCK UP." This garners universal silence.
On the screen, Vriska steps back. You can now hear everything, right down to the pleased click of her tongue. You cannot remember the last time you saw her this way: glowing with adrenaline and victory, lit from within as brightly as if she'd swallowed a firework. You can see Tavros behind her in a state of happy bemusement, holding -- of all things! -- his tiny fairybull lusus in his arms. Tinkerbull flutters away and settles on his horn.
His kidnapper -- rescuer -- crosses her arms behind her back, and she gives the camera a sharp white smile. "This is addressed to the Executor," she says, "though you'd better pass it on to the rest of the Empire, because my name is Vriska Serket and I want every troll to hear what I've got to say. Sorry about your brig and officers, Executor, but you picked the short straw this time around."
There is laughter in her voice, and a cold, hard strain of confidence. Nobody can be sure of themselves like Vriska is sure of herself. When she is like this, it is almost as though everything not her is less real, like she sucks reality away from the surroundings and stores it up in her smirk. "So!" she says brightly. "You're all living a lie. I can't believe it took me all this time to work it out, but I did my homework and we are. How does it feel? What's it like for you, dumb slaves to a system that was made to only serve one person? You know, I've got this saying: shame on you if you fool me once, I'm an unbelievable fucking idiot if you fool me my entire existence!"
She spreads her hands out in front of her. "Sure. I get it. Fraudulent is easy. I bet you're all saying right now, 'But Vriska, I'm a stupid idiot who likes being comfortable, this is my deal!' Wrong. The Condescension is lying to you. All your superiors are lying to you. You're lying to yourself right now. You don't have to live this way! You don't have to be told what to do by the Condesce, by the Empire, by the stupid -- fucking -- hemosystem!"
Your bloodpusher is in your throat. "I mean, holy shit!" she continues. "Have you never sat down and thought to yourself, 'ranking people by their blood colour is the most idiotic thing I've ever heard of'? Sure you have. Took me a while to get it, I guess. Know how I rank people now? By how much they win."
"Uh," says Tavros, "or, what you mean to say is, you'd prefer a hierarchy, or a tiered system or such, where people's self-worth and worth in general, isn't quite so arbitrary -- "
"Pupa. Who's talking, me or you?"
"Well," he says, "I would cut in, and maybe say some heartening words of encouragement, or comfort, to people out there who need it, but, uh, I'm -- I don't really enjoy public speaking. I'm sorry. Please don't judge me too much, on that. And please don't judge Vriska too much, if her thesis here is sounding more like, or I mean resembling, that of a jerk."
"Thanks for approximately nothing, Pupa."
"It's true, Vriska."
"This is my second-in-command, Tavros Nitram!" she tells the camera, gesturing to him and not looking very much interested in people's self-worth. But her eye burns like blue fire as she smiles. "Pupa, I think that you need to help everyone back home understand who we are a little more in-depth. Get my drift?"
He gets her drift. Tavros takes the edge of his shirt and pulls it over his head, revealing an impressive collection of abdominal and pectoral muscles. Vriska takes the end of his chest bandage and unwinds him like a present as he slowly turns around, shy but grotesquely proud, somehow. He is left standing with his back presented to the camera, face half-turned as though squinting to see an audience reaction he can never catch.
There are the wingbuds, dribbling fluid. When he flexes the muscles surrounding them they shiver, and in the courtblock someone actually screams. Now there is movement from the crowd in the gallery. You are aware of the hooded subjugglators at the back beginning to pick their way through the seats.
"Pupa is heir to the troll all history books called the Summoner!" she says, as he hastily wrestles his singlet back on. "I'm the heir to the Marquise Spinneret Mindfang, greatest pirate who ever lived. I'm making the same choice she did: freedom. I'm choosing the right thing. I'm choosing to declare war on this whole sorry Alternian Empire!"
And she flicks both middle fingers at the screen.
"Fuck your Empress! Fuck your Church! Fuck your laws, fuck your wars, fuck your system!" she says. "Look out, bitches, here we come!"
The feed crackles, then goes dark.
A lot of things happen at once. The strange Messiahs are already clustering by the doorways, as though it is now their turn to try to contain a truly egregious piece of blasphemy. There is a commotion over by one of the doors, and who should you sniff but Gamzee Makara, flanked by a bunch of security officers and not happy about it.
"I want every trainee out of here and to the level four briefing room!" The Brigadier-General's voice lifts above the crowd like a silver sword. She taps her communicator. "To every troll aboard the Executor: This is a code alpha clearance breakdown! We are closing down inter-ship communications! If I see anyone secreting a recording of what just went down, I will be your personal judge, jury and executioner -- "
You try to beat your way through the streams of people leaving the room. Not even shin-drubbing works in this instance. His Honourable Tyranny howls and slams his giant fists down on the dais, and you are pushing your way towards your wayward partner even as you are suddenly lifted off the floor. One of your arms is pinned painfully behind your back by someone who smells like rich, velvety huckleberries, and you are held in midair by one of the mysterious Church officials.
"Excuse me!" You are not happy either. "My personal freedoms are being infringed upon! I received an order from my superior! Let me go!"
None of this is listened to, unfortunately. As the crowd begins to thin, you see that Gamzee is in much the same position, albeit his security team appears to be arguing the toss with three large, indigo-robed Subjugglators. Yours is wrenching your arm back so hard you worry it will pop out of its socket: thankfully, you have been scrapping so often in the past few seasons that you are used to the situation of being manhandled. Unfortunately, the moment that your own subjugglator partner sees you, his expression goes all blank and flat and you know he is about to make this weird.
"Makara!"
It's not you. It is, surprisingly, the Ecstatic Exarch, diving in right before your partner can throw a punch. She grabs him by the aural shell and gives him a little shake, which would be utterly hilarious in any other situation. "What the MOTHER of FUCK were you doing? Do you have your contemplate on regarding the shit you've done? I am going to take a court martial and I will shove it up your -- "
"Exarch," says the indigoblood holding you. You realise that you have all been penned by a ring of the strange, hooded clown priests. "These two are now placed under Church arrest."
"Cardinal, this is not a fuckin' ecumenical matter," she says.
"Everyone here will be handled by the Mirthful Messiahs," repeats your captor, "but these two are under church arrest. They are an obvious part of the conspiracy."
To add to this growing clusterfuck, the Advocate's voice joins the fray. It sounds like it has spent a week in the thermal hull: "Release my trainees, please."
"You heard me once."
How highly-ranked are these people? You are not actually certain of the specific ranks within the Church, considering there are approximately a billion, and you are irritated with yourself that you didn't look this up. Parlet says, "I will need statements from my commanding officers before I coordinate a cover-up, your Grace. I would also like an assurance my ship is not about to be liquidated."
"This is a Church matter, tealblood, I make no assurances and tell no lies."
"You can't wipe out the entirety of the Church and the Bar's trainees for a cover-up. This will not be a secret that much longer."
"They are only one generation," says the Cardinal. "In ten sweeps we'll have more. Why are you making me repeat myself, lawmaker?"
The Advocate goes rigid. "If you touch any of my students," she breathes, "if you touch any of them detrimentally, so help me, I'll -- "
The Ecstatic Exarch's claw closes around the arm of Parlet's jacket. "What Lizeth's saying," she grinds out, "is that she knows the Church is gonna feel merciful, especially if we up and comply with whatever they motherfucking see fit to do. Let me make the Church arrest for these two, your Grace, I will take 'em into my care. I am not the soft fucking option."
You smell dismay on both of their skins, like sweat. The Brigadier-General looks as though she is about to do an acrobatic flip off whatever handle she can find.
"We believe in miracles, Exarch," the indigoblood, ignoring your squirms, "but not chance. This prosecutor's invocation of the blueblood was no coincidence. The protocol breach is outweighed by the chance of conspiracy, and we will stamp the conspiracy out. They will receive a Church interrogation."
"They're barely more than wigglers!" Parlet bursts out. "This is ridiculous!"
"Two of their age bracket have just spat in the face of both Church and justice," says the Cardinal. "That excuse does not hold water."
"Mr. Makara and I are not part of a conspiracy," you say, feeling that it is time to mount your own defense. "Gamzee went down to the prison block to check on our accused -- " (it's not precisely a lie) " -- which, as you can see, was amply needed! I had already discovered Serket's treachery and I was going to send her to the gallows. You can read my file! I have been tracking her crimes!"
"Makara," says the Exarch, smelling like bones, facepaint and underlying relief, "tell me you corroborate this shitglutes story."
For a moment you really wonder if he will corroborate this shitglutes story, but he simply says: "I was there for Pyrope's motherfucking purposes, wasn't I? Shit ain't a MOTHER FUCKING conspiracy, unless it's conspiracy to get the truth -- "
"See? Arrest them, put 'em both in my claws," the Ecstatic Exarch tells the Cardinal. "They sound like there's grounds for exoneration here. If I smell sin on their breath their bones will be ground to make my motherfucking bread! Your Grace, d'you think Lizeth and I would shelter a miserable shitting conspirator on our ship?"
Your arm is becoming very sore from all this treatment. You wiggle like a pinned worm. "Vriska Serket is more devious than any of you know!" you say. "Unless you start tracking her now, you are going to lose her -- "
"Mindfang is not your concern."
You say, "Mindfang is completely my concern!"
The other Church officials glance at each other. One of the Cardinals next to Gamzee says patiently, "There is too much at stake. I do not think either of you understand the gravity of the situation. The indigo can live; he will undergo a less rigorous interrogation. The lowblood will receive a true interrogation, and her remains will be transferred back to -- "
Gamzee reaches out a long hand to the hooded Cardinal, and he seizes his arm. Before you can shout for him to stop, he braces his other hand on the Cardinal's shoulder and rips the arm off entirely. It is just like it was back in the culling exam, with the same incredible tearing noise. He adds a tooth-grinding crunch as he snaps the hooded troll's neck, and then he approaches you with the ripped-off arm and the sound of a dozen high Church officials readying their weapons.
There is easy murder in his face. The Exarch howls, "Makara!"
The sound of splintering saves your lives. From the tinted glass structure you had forgotten all about, a massive arm has punched directly through it. The Cardinals are suddenly very still. This arm reaches around for some kind of unseen handle, and it opens a hatch; there is a rush of chilled air as the glass compartment opens. There are a couple of grunts as the biggest, oldest troll you have ever seen in your life emerges, pulling away tubes and needles feeding into his arms and neck, reeking of indigo and age.
He is gigantic. He is mostly hair, horn and muscle, and you hear a sequence of knees dropping to the ground as the Cardinals prostrate themselves -- and Parlet too, dragged down by the Exarch. You are left standing with Gamzee and a dripping arm, which slips slowly from his nerveless fingers. Fear grabs you so completely you can no longer speak.
"You dull-nugged motherfuckers," says the troll. "YOU BLIND, TONGUE-CUT, MUTE-VOICED MALEFACTORS. You call yourselves my brethren, when you cannot understand ONE -- SINGLE -- ORDER?"
You cannot move. Even his Tyranny has stilled on the dais.
"These grubs have sniffed out conspiracy, treason and sin before any of you were aware it was live and present among us," says the Grand Highblood. "They have shown a talent for weeding out plot. THEY ARE TO BE LAUDED, DO I MAKE MYSELF MOTHERFUCKING CLEAR?"
"My Lord," says one of the Cardinals, not daring to look up, "one just killed -- "
"GOOD," says the troll. "I never liked that fucker."
The fear is not precisely beginning to dissipate, but it is slowly letting you be aware of your body: your salivary glands have all dried up, and your fingers shake minutely. This indigoblood carries his chucklevoodoo fear around like a miasma without even trying, seeping out every pore of his bent body. One of the other Cardinals dares: "My Lord, the ship -- "
"Debrief them," says the Grand Highblood indifferently. "We wait for the Empress' word. No point in culling them, because THE ROT SET IN SWEEPS AGO, brother. THE ROT, my piss-blooded, woe-brained flock -- THE ROT IS AMONG US."
You could hear a pin drop, in the fearful silence. The only real noise is the Highblood's breath, which comes out in low, grinding rasps. It is an act of more courage than you could have managed yourself when the Brigadier-General lifts her head, and she says: "My Lord, these trainees -- "
"MINE NOW," he says. "They are worthy. They have done correctly. WITHOUT EVEN BEING AWARE OF IT THEY HAVE SERVED ME IN EVERY MOTHER FUCKING WAY, IN EVERY MOTHER FUCKING WAY HAVE I BEEN SERVED AND OBEYED. They have impressed me better than I thought possible."
You don't breathe. Neither, you note, does Gamzee, standing next to you and struck dumb for the first time since you can even remember. You do not dare look at the rest of the room, at the Cardinals, at your teachers, or at each other.
"From now on," says the Grand Highblood, "THEIR PERSONAL TRAINING WILL BE LEFT TO ME. Take motherfucking note, sweet children. My Makara. Little Pyrope. TAKE MOTHER FUCKING NOTE, BECAUSE WE HAVE MOTHER FUCKING WORK TO DO TOGETHER."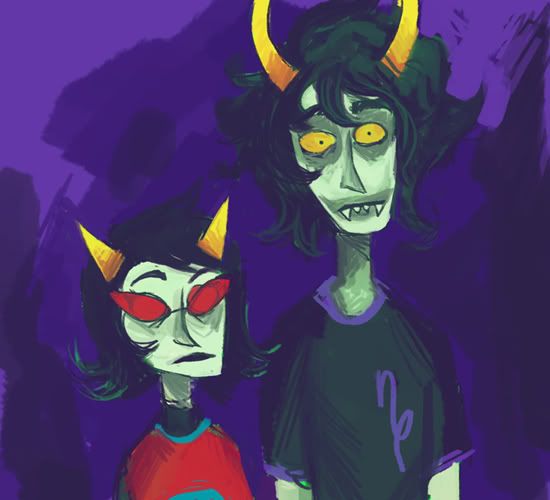 Life officially makes no sense.
END OF ACT ONE