Actions
Work Header
Rating:

Category:

Fandoms:

Relationship:

Additional Tags:

Language:

English

Series:

← Previous Work

Part 3 of the 4 Minute Window series

Next Work →

Stats:

Published:

2015-01-15

Words:

0

Chapters:

1/1

Comments:

141

Kudos:

3244

Bookmarks:

Hits:

40424
Yelp page for Coney Island Design & Construction
Summary:
The Yelp page for Coney Island Design and Construction has many positive reviews.
Work Text: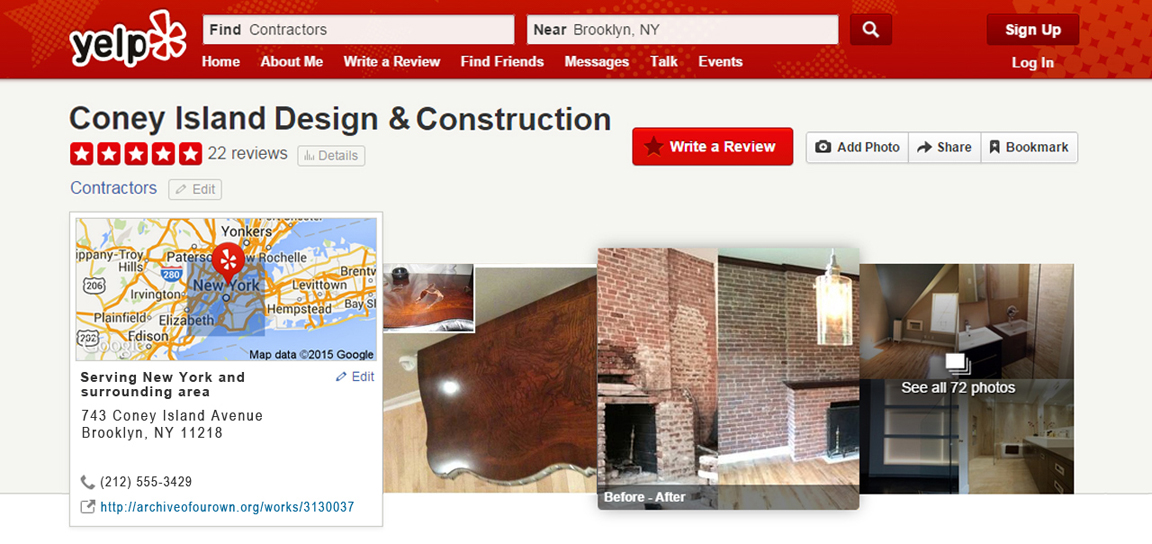 Notes:
You can also find this art on tumblr - please reblog if you like!!
Series this work belongs to:
Works inspired by this one:
A [Restricted Work] by audrey1nd, bessyboo, croissantkatie, Dr_Fumbles_McStupid, fleurrochard, ItsADrizzit, kalakirya, lavenderfrost, Lunate8, lunchee, RevolutionaryJo, XanaTenshi Log in to view.
Actions
strangeandcharm, apackofsmokes, HaroldTheyreLesbians, starkiddaltonite, 2old4this4real, marshmallowdeviant, RingsofSaturn, Paint_Stained_Heart, Honoria, Sanashiya, DeeLand, veevacious, shotgunshutshiscakehole, orithe, ekwakthyla, Sealisabeth, inaworld_ofmyown, sweetmrhamill (McCartney), incrediblectopus, forshameforshame, SMDarling, Jkittycat, BrightWingsAndBroomsticks, mclare, fulldaysdrive, tharvey, Vivianstreet, Darthie_M, tomioneer, predilection, epeeblade, Amberdreams, iamanumbrella, Haras3232, PostoVuoto, watermelon_wolf, Aleksa_Kai, LaBelleIzzy, DuchessPoint (Watergirl14), readerbee333, staccato, ilostmyshoeinthetardis, silensvigilo, Gryffyn, exor_agonia, Upbeatbox, edgewitch, EvaristeGalois, cutebabysloth, AnnabelleRowan, and 2145 more users BrickGrass, Althelas, Akimoto_Aiko, Annaelle, ldarkfire, Adling, WyrdWeaver, Goodwin, Reave, a_mind_at_work (Madame_Marauder), Loyal_Minion, SaffreeLove, Vamaelba, PetronellaRose, Star_dancer54, SashaTheSoldier, aviebubbles101, ravenstreak, Whichie, Nijole, snottygrrl, 1bzwriter, Rhea, estoile, Kitsunelady, Gabby150, bearbait1723, delpinetree, FajitaShowboat, facingthenorthwind (spacegandalf), Dirtyhands, cosoko, TheEmptyWord, elements4life5, zarinthel, HU_shipper, hehatesbullies, WeirderThanWeird, WyckedStarr, Abellati, Farisya, Urbanistaao3, raspberrymuffin, SilverRaindemon, Impasto_sleeps, Bluebird_Rose, Frecklefreak, Exbrained, ijustwanttodestroy, tulioandesmi, jadejedi, thinkofsomethingclever, Ravensword, Applepie4me, chapter_61, KristinaG, Waylander413, PotterLockLover, Kittybrown, Fangirlshrewt97, TheMuffinTop, LeagueOfWonder, blackblade, emileedle, PR Zed (przed), Timion, anyatluny, dimonyoanghel, MissJCA, mnabokov, Nobdynpeticular, Mightytrivia, jennyaxe, Ignisentis, SatinWinters, princessmad, Laguzrising, catlyon, Confuzld, LogyaG, fata, ThePlushi, Belzzibub, KnightofAwesome, CasIsMyPie, Valmnt, platformpanda, headrushxreetarocks, Wayfarer17, Hamalama, CJAndre, huntbastian, sethrogan, Agirlwithaplan, machka, PilgrimKitty, quinn_goblin, clockworkdreamer, vanitashaze, umbrellatastic, Yokogreyword, Caramelts, rosysea, Anonymous_118, lecroixss, Zrodriguez, faeleverte, Ylspyth, blazingfeathers, crazymadravenclaw, swingandswirl, Volts, pravdagirl, amyoosh, NeuroticBunny, biscuitlevitation, samichuu, lezzerlee, LubinDancing, FantasticDream, ComfortableLiar, Reading_Writer, SaxyMisty, ajkal2, cutycat, Runamuk, briarglades, GriffNoir, babybarby91, vernie_klein, fern_Biscuit, Darth_Nonie, starsstripesbloodandtea (kewelhumanbean), Chaerring, Caiternate, TheSlightlyEvilPooka, Fulwoodbabylon8, Charlie01, oxbonkus, littlebitsofnothingness, reluctantabandon, Grab_My_Assbutt, bonyenne, ShriyaIsAGoodSpeler, Marguerito, Ravenfire12, twinbed, Iamtheanti337, Celiaver, radishdude773, tomopterna, SarahBrumbles, Kely, ShionStar, katie77, ahmen_padaleski, Magnus24, Alandra, dramallama, 3763, Shika, fellowshipofthefandoms, peskylittlethning, iris2127666, iris2127666, iris2127666, sarah_spazz, Ailis_Fictive, AniaK, bluestarstation, HydroHippo, HydroHippo, midnight_travel, MissFroggy, farkenshnoffingottom, SephykoiRazy, anne_rose_91, Tintti, MahMahToaster, tinky, thelarryalmighty, WintersFangirl, wanderlust (Nessa_bem), Beaufoy14, Indygodusk, Meadow Lion (Meadow_Lion), Prongsyouignoramus (ItUnscrewsTheOtherWay), KaidanKarasu, davis_square, callacrazy, ak_ptashka, BuckyJSGRogers, FallDownDead, Ergot, BlaineMuffin, Tiinakay, EnchantedOpheliac, Apple_Pierate, Unknown66, ExquisiteRose, Ivetta, medusasmirror, starofcalantha, beviesteele, geministarz6, aradicalinterpretationofthetext, intrinsicness, Blackacre, giordang2017, withbothhands, Edweirdina, Johnlock-Deductress (KeitanKetsueki), MoonPuppy, AshToSilver, sphinxfoot, shaydra, dreamerindenial, blueinkpearls, dedougal, sasha_davidovna, surreality_fan, Opalalchemy, Ilene_May, Caerulea, ownedbykat, thatjustwontbreak, CodenameFinlandia, KangaRu, merkkat, Northofantastic, AgeOfAlejandro, OnyxNailo, Schnucker, Nothing_but_the_Rain, Ketami, fromyourashes, SarahBeth, Silence_Lies, fangirlinthedesert, Akaihyou, Hitwomanlee, aigeallgood, tnebert, Anrym, Viridian5, wordsfailme, springwoof, perforatedsanity (flawed_karma), SpesAbrin, peachnewt, meredithea, Cerise_givree, ChibiSquirt, Emyrys_TheElderOne, soulmusic, Kamil, dizmo, glassarrow, featheredschist, SockDrawerDemon, me_again, kaos_sparrow, e313, BarqueBatch, dish, bronzeecho, Nochan, peachymango, rhysiana, fanficdreams, Milkovich_Murder, jjblondie, xdestroya, NeeuqDrazilSm, remiges, Megalizard, graffitirealitywithfandoms, IndigoBaroness, salDt, Nick_Nikki, SnakeofMedusa, murasakimaru, fleckle, pitytheviolins, juggywugs, flowerfan, parseltonquinq, mystormygirl1, Maratree, lilguppee, lbmisscharlie, threefill, BesideMoonlight, reflectingblue, Mawiee, initiatoryevent, LatinGeek, gabep, Ayremis, QT314, slashaddict13, bcloud, nonsimplex, heartsforbuck, istytehcrawk, flusen, readyfreddie, Emmuyasha, Rueluxxx, ceciliavoon, lolcari, eloisea, WinterFragilePeace, kap319, Dreamingfae, pinkrubberboots, thiccstan, EclairDenise, Quarra, 1851419loud, Astrum_Ululatum, enblackink, mon_cherie, TallyDubh, Tasha, Masqueraver, Casbutt_everdean, amphiprioninae, A_Nonimouse, Leilabeth, celerystick, notdexterousatall, bluegeekEM, girlinstory, ejmam, Mad_D_Batteries, biogrrl, forgottenheroes, Chrononautical, hawknights, Cjlandry24, mistelm, Lucifuge5, fangirl_59, seekeronthepath, AlphaTemptress8, kleos_aphthit0n, Elianna_eldari, PirateShipRevenge, grrlplay, selkieskin, Cieloooooo, penguin10598, tiltingheartand, PrinceMixx, catlechat, noiselesspatientspider, Fire Sidoni (KnightOfSwords), Kadorienne, BeckyBoopXOXO, k_tinxx, ever19, FabulousnessInABottle, maichan, TheSilentDarkAngel, mithborien, fandomnumbergenerator, funnymagic_aing, Mousetrapmouse, stellata, leenybeanie, nexus_recrudesce, thecrazyhippieone, EskapeTheFate, GuiltyBystanders, RequiemForTheWolves, splitheart1120, besamislabios, Kenwick, the_green_and_gold_journal, buhfly, Goddessofpredators, aadikah, brittleling, josea95, edgarallanrose, letshideaway, Druddigon, swimmingpotatoe, shadesfalcon, murrcful, deki405, Cyrelia_J, kalena, anasoleil, cket, BachFan, Kikirika, Sweet_Scorpio, ahhmylarryfeels, Janinne, penaltybox, Robin_Plume, k8 (paintedmaypole), Temper_Tantrum, dreamers_dh, Violettan1227, Kyrrh, Simpleredqueen, fecoso, screaminginsilence, activevirtues, omomoification, Jennifer_Carroll, DreadPirateChriam, Uesue, Names, dandelionlily, lathena, Caeena, startledstoat111, PlainJaneEyre, striderbaby, stuckee, Socalbetty, theworthofhollin, oktarina, Rapsodia, Iayola117, lovcats, bombercat, Tangerine808, Sorreltail24, bweaveit, tarryknight, FeelsVomit, petricor, melliferal, Sabriel_d, Soccerstar66, skyrockety, MisaoKitsune, Stella959, standingonasoapbox, oeuvres (scriobh), Alicenee, hellinglasses, twocakesonecup, womanofletters, browneyednerd, workthatpencil, SophieBundles, LaynieDane, beminevalentines, beautifuldaydreams, CurryJolokia, Starlan, gokaiburuu, Wolfey, toasterhaz, mdg1pity, Hummingbird_52, noirmidnight, Senjihae, kukfitta, rude02, Deathtopi4, Roga, miciami, hellonicole97, Fallenanjelique, Reni_Star, herberta2006, MoodyShade, Kelsey_Fantasy, Azhrie139, ShadowStormme, Winter_Boo_Bear, rockpaperslurpies, tistrue, Pop_princess56, donkeys_are_bolos, luv4rain, AFaerysChild, keridar14, threeturn, OtakuNekoChan, Ofloveanddeath, Beardysteve, ineedjesus, slipperyliz, sophialefroy, velleityy, NoirePersephona, micah, katlkoon, featherofeeling, RikasGrayWolf, Irelane, sarfisushi, Alanih, thewanderingcat, lmfaofa, cg69512, fakeaheartattack, AllTheBourgeoisSocialAngels, WoopsFeelings, rainydayblues, Selen4ever, ladylyre, newsbypostcard, windflower, HarricIsLife, LittleMissGriff, mohiniangel, loverboys, Liyah_Ayerst, taraentula, Beckleston, Aimily, ariadneowl, Chayenne777, aireagoir, impalasexgod, jinlinli, 1derspark, tsk, hedgehogsnoxen, amitynotorious, Xanoka, dragon_wish, koffkoffstyles (blametheone), LadySybyl, lonelystar, schietto096, Serventa, Lilytoby, dahler, baker_jul, poisonred, eruditemonk (agent_declan), Morningstar4, TrixieBastard, unknownsister, Dwimmerlaik, ForebodingPink, thatmcbastard (blueb1rd), Alejandro23, spacepanaf, syzygy, shaxophile, strawberrysj, faelaet, omgsrslyfolks, HanilarLion, crunchynoodles, Space_Romantic, xacilia, JR Granger (JR_Granger), Marvelouscity, dazyndara, sylva, redredred, searchelectric, whispersofgrey, gamerfic, sapphirae_escapist, MarinLiliz, miitomo (frocean), Soren4300, asperityblue, Alexis_Tenshi, Shakari, TashaNik, im_bea, mataglap, preshypie, foina_cale, Aashes, Pohadka, kitt3nz, alealejandro, princessoro, female_overlord_3, Sherryprincess, ASecretEngagement, stellaoliveira, i_am_not_lost, roguishly, A_Different_Type_of_Flower, inezthearcher, stareyednight, legokocka, dreamtyou, seriouslywhaat, smicc, Bookbee, Arwyn, swiftreader, charmedtalisman, AnnikaHoover, sleepysticks, tvivacious (hi_im_t), jenevolves, ArchiVasofski, astarinlife, NeenaNeena, Eavalyn, Vonnix, Leda4444, Keeper_of_Legends, TofuMcGill, AltyEx, O_S_Benjamin, blandiose, dormida, kmoss, LokasennaHiddleston, pqq, follederire, Joomju, Sidelines, cissathebookworm, JoyfulyetHesitantPen, desert_windmill, backwardjay, Grissey, BookGeekGrrl, TooRational, FanaticDomain, CanIHaveAHug, Yueli, Ciircee, raverapture, Aine5, magnets21, capgal, Garotte8Goodnight, ddtiel, bowie28, allrealities, hrhprincessdi, lonelylucifer, MusicGirl123, mybrainproblems, scriggle, wanderlust (tintentod), Phyr, yasi, junat_ja_naiset, amida, foxandfriends, electric, agoodmusekickin, Margaretkate84, xzxKrystalxzx, sykra15, zeuspopsicles, kanayeah, vesperify, knightinbrightfeathers, lilmuse, Burntice, rywaen, themonitor, colordrifter, wordsaremyfaith, MsAJNinja, insomnicat, reading64, Isa_Iadel, Fireboltcrazed, Thelittlebocchan, kinch, kateconnors, mrsbobbysinger, Tipsy_Kitty, DustAddsCharacter, tiedupwithstring, merlin, paper_airplanes, bookworm428, Jennzo, vending_machine, Caelum, UpAllNightToGetBucky22, Zethsaire, JW351, anilad, Messerfly, Jumblebelle, Tristitia, Boyonabranch, Analarrr, PennamePersona, october, hipstapliz, hipstapliz, Maeglin_Yedi, Erisabesu, 8FunkyBlueS, SteveIsaSadPanda, Spatz, WandaLehnsherr, Jamie (Zeth), Cassra (LarryLovin), StitchedOpen, Abcde301, cantcoffee, bibliophilesyn77, buckybarnesneedsahug, Shay081793, thorctopus, Yariene_09, ReluctantTimeTraveler, wordsbetweenthelines, hsactually, BillieBog, magicranberries, swift, ifitmoveskissit, mjnz (Demetria), ChaosandMischief, Destinysraven, buckyfuckybarnes, nonrenormalizable, thewaysofthefandoms, Mili_Michiko, PeaceLily, Vladadog, Claude_Os, timeSpiralledd, thisbluegirl, whatnowpunk, ebbster, irdamajere, germainetourangelle, Sasa08, geneticdriftwood, anruiukimi, Muffinman1993, A_M_D, Halfling0_oHobbit, soratino, champagneoftea, InexplicableSorrow, brombap, dudewhereismypie, GoodSir, missweatherwax, yeswayappianway, alisonlynn, junko (principessa), armour_of_hope, dark_owl_records, SordidCrayons, littlwmissdaina, yes_i_ship_it, Sleepless23, MERains, trelali, Keyanna, Fidelios_cabinet, bijoudraconem, Zwaluw, LikeAMovieIOnceSaw, CherryZero, BeStillMySlashyHeart, Lestradesexwife, paidy2411, Pahnda, infinite_mirrors, Peregrine_eye, Gryphonrhi, EchoOfMe, Vikann, bloatedblond, pangodillO, zalzin, wynnesome, arosefire, Icarus_II, arachnidstardis, Finduilas88, TatterDemallionSails, desertmint, owl_librarian, Bugeyedmonster2, louissincerely, pngin_lvr, darkrhiannon, thepinupchemist, Szka, snowfire24, milollita, screamingsyral, Cerulean_Sins, Ambitious, Ambitious, popkewitz, sockbucket, emmyjay1, Isaro, mindofstars, Quidnuncian, ninja_orange, MamaPyjama, ImLostForever, Zetra, Meemei, Rospergs, Aurelius181, jokersmile, TinTin_95, teamdiverseprotagonists, MoiraColleen, Gwadael, Woolfey, Aryamuh, agridoce, tb92, emeraldstreet, Dangerouxxx, papercliptiara, obsessivewritingdisorder, queenofcups, flamingtubaschasemeinmysleep, Skye_Logan, LunaKyria, Denonychus, Kalibear, some_idiot, cahcnn, EvilDime, iiyo, flawed_karma, LocustStar, thehighwaywoman, Neelavigo, Jayh1, omletlove, azureavian, pentalion, silverkiwis, Miira, lunylovegoodlover, Less, ravenhowlett, notallbees, Fruitree451, GreenFairyArmadillo (rebeccasmask), bananapancakes, SisterStrawberry, Miss_Mariah_Magnum13, inmyriadbits, MMXIII, thigmotaxis, cold_tea, reductosshrinkgun, AgentKatchoo, AttackWarbler, strangeasangels, SoftObsidian74, electricdaze, crystal_rose, crwoe, elphinda, notaprincess, DroolingFanGirl, reinazdogz, Chase820, enkaychi, Mirari, Summergoes, thecurlyone, SerpaSas, Mente_Captus, Lysiae, SirGnometheGiant, illicitrez, Killorian, dorothy1901, LadySerendipitia, sa77ra, hoosierbitch, gaylabinsky, sortingthesockbasket, Zodiac Cresent (moonlightress), Stoneegg21, compass96, Bookwyrme, mediumdrip, sherlock511, jarieka, gnrbu, owls_and_horses, xiaoshe, whyjwhy, chickenlivesinpumpkin, mamakoepp, shorty1973, PollyQ, writer314, tigrislilium, Samilu, TheColorBlue, R_P9706, Harpijka, sunnyluz, Delirieuse, myntti, Shoequeeny, alby_mangroves, RenegadeLibrarian, Squishykat, Ladylady, Ilyone, turtle7761, alpacapanache, Chanel, captainsmallass, oldschoolpining, jnonnie, goldimagination, freyathedark, Shironuri, libellulebleu, euseevius, star_spangled_smut, morena_donn, myhappyplace, charlestonIguess, witxhcraft, mishi543, knivez, VanderlyleGeek, BlaueHimbeere, Zhenya, eeshbelle (1sabella), couragemylove, anseladamsfan, elemmire, Owlie, ladyasher13, myotpruinedmylife, Sadie173, ImoShrooom, 11oyd, SethraK, Kristen-Dearest (LynDeaKri), kaydq, SquiddyTheMouse, Jessie0378, haligh, freya_is_merlins_beard, skadii, prufrolicking, BloodMooninSpace, Naina, melara, brandnewworldstosee, Kira_Nakamura1, Serenity812, proserpine314, Cariboo, a_xmasmurder, InsaneJuliann, GaiaOctavia, BassyDeen, spacefiend, nameless_bliss, AquilaLorelei, owldreams (milkandhoneycomb), maestressofthesword, Blizzen, larrystylinsob, aseryme, Ellizia, merellia, ProfessionalLurker, fenwic, queenofthefuckinggoblins7, Mallior, bi_spying, Ephesia, Erellya, onceuponadream, goldtitaniumman, LadyCirce, reketrebn, mimijones, Thette, alllula, anjaspeaks, thisisthem, Maria, eviejojo, chipsaestrella, sethjonesy (mymnemosyne), anthonyedwardstark, tripudiare, blithelybonny, feanna, Arvensis, mostlikelydefinentlymad, babikt, girlnineteen, Alexia, Narial, prettyclever, sentimental_carp, amcams, Odonata, Arnie_Rocks, SonglordsBug, havengelen, Marmalade_Skies, pistachioinfernal, khoshgeleh16, pabulumm, Nerflette, cptlumberjack, Sociofemme, ourraeofsunshine, purrfus, PJreader, Runninround, Zauschneria, aknightfornawt, vera_dicere, Latibule_Oceans, yovrbucky, Ineedthisname, Red_devil23 (Kanerlove88), Kierstenismyname, lynngryphon, Starrshadow, ex0skeletal, Magrith, FishPanda, darby, missmontana, applecat, collie136, obsessivereader, AE5Runner, auntiesuze, Patchcat, wildflower182, Tressa, flowergirls, SquaresAreNotCircles, dragonz_ahoy, bookworm231, runsinthefamily, Scappodaqui, Jennichi, alba17, JoRisu, daydreamerdisease, daydreamerdisease, stebuckie (prancerpez), phoenike, AngelicGrace, kazel, Bibliofile, Liara_Shadowsong, obsalys, poubelle162, InDenial88, beansprean, KavKav6040, arysani, LadiesFromHades, ghostf1ngers, EvRelis, superkitty21, Demifish, CarolisAinmDom, Khory, musicjunkie4 (madnessandmystery), vanitas, jonna594, LifesPoorPlayer, Vampykitty_kun, sarahborg66, SparklingIceFlea, tonia_barone, coldbluehalo, astudyinpanda, JaredLeto, ikoss, attendtothebones, Shaish, captainamermermer (dragonthalyne), MidnightVigil, eatyourwords, aliciak, Lizabuzz, morningsover, farcical_owl, farcical_owl, Seanghanks, golden_gardenias, azrael_abyss, Digital_Graphite, ucancallmeal, twohourstraffic, NoOnesHomeAfterMidnight, multifanish, schwertlilie, dapatty, GreyPrince, accol, tobrokenstone, LaughingStones, Yodes, DirectorShellhead, TanteiKID13, Evildrem, liandrin, jillo721, LilithVaya, greywind (lokistarked), dawnstrider, DingoesAteMyBaby, Shade_OKiller, Iamala, wolfiefics, themayflynans, moontyrant, SilverGreeneye, EClaire, Bluethunder5494, rosierosietea, Dedelle, CreateImagineWrite, Lainey, Mellacita, TwitchiMe, theskystealer, sceptical, Zixi1000, leftygal, cinnamin911, AshenOak, andreitalaflor, Potrix, Gage, stuntriderjenny, CosmicLove261, Emma_Bishop, poorashten, marie16fh, rowanseas, ace (alia_castiella), ImAnEdWaRdGiRl, MovingThroughSpace, DarkandShiny, ultravioletcatthings, Raynyuki, enlisant, bikesdontneedtrafficlights, byebye, Onlymystory, PoseidonsUnderpants, Jenevieve, arcaneaficionado, arcaneaficionado, xsunnydays, Vaysh, FilleBleue, AryaWaters, transoliver, CaraMia, FurieNocturne, EvilPenguinTrainer, furyofthetimelords, somerandomperson, mayonnaise_solo, condnoms, SwingsetChain, iliaccrestv, Domesticated_Assassin, da_eppster, MojoFlower, wobblyheadeddollcaper, PaperPrince, tomlinstagram_0, musicalbeds, diamonds, phantomcat2, Thine_Everlasting, athenethegoddess02, Midge22, Redmage2, rogritt, botan_to_furijia, Kairin16, prettymintyfresh, Jarsy, wildimaginingsofhalfbakedideas, gaudior, Yomiko, takeachance, sowild (nothercucumber), cjk1701, daintyditz, kaesaku, Komaru, haituvainen, SC182, witchy_grrl, porque_fresas, Misswhy, adnanalara, anger_ieJ9, bchnnbrns, iluvtrees, le_icy_tsuntsun, beili, Aquitaine, LaSordide, normythechemistrydragon, yourethestorm, handwrittenhello, Zan, Amalia21_6, ewlyn, Eveiya, Morlendur, diamondlite, MImyMI (jpottermalfoy), azurian_defiant, ciaccona, Winblam, mimssio, Tarae, WaltzQueen, gabagail, shetan89, theravenwrites, Lottie, endofnight, Rad_Loser_Weenie, dinoiscute, azurelunatic, saburi, Xealou, Celtic-Angel (LittleDuck15), FlakeOfEmerald, ilfirin_estel, Distopian, tenshinochouwa, LifetheGr8, MaddiKate, was_adamant, Aria657, vickirae, ballvvasher, Avaaricious, isthisgospel (ActonFTW), RunawayArtist, the_oscar_cat, The_Sheriff, RaylenX, PupGeek, Tzi, otter, MrCourtesy, DarkRose_9, betroublegirl, Addicted4Life, Twinklestar, FangirltofanGod, blacknails, Aeryn13, Welcome_to_the_Fandom, NathalieWeasley, Meatball42, giselleslash, queenofthepassiveaggressive, snakeling, CerinityKS, GeorgiaShaw, wordfear, 1223rhys, roane, QuickLikeLight, letsgogetlost, Vincentia, Azaneti, supersherloki, ladywinter, lucilu, Jinojibound, jujukittychick, Delanach, dragons_and_angels, justanotherfacet, sophie_448, Felis_Lupus, AgentTonya, eyebrowofdoom, AmberJae, sawsomesas, mlraven, InvincibleMadhouses, bomberqueen17, amosanguis, atlantisairlock, killerlashes, trueroyalty, writerwithoutcause, thefalconnn (sex_drugs_moriarty), Reddiamond29, KittyKasi, Minici, hsu, g4llifrey, Meloncauliflower, tiacatalina, tatch, vamphime, kayceeagitate, BuckTheStar, tierry_leoine, buunifiedplums, Wallanna, tracionn, lookwhatiwrote, caninegrin, subversivecynic, aliassmith, KISSilly, Adele365, Katharoses, macaronielbow, OwlishFun, eerilyclean, kathryn_tail, frankiezee, Belacqua, coreopsis, seaofotps, KaedeRu, MountainRose, Almighty_Hat, stepps, tyrannicaltyrannosaurus, anti_ela, mischaste, Merlynne, mica, Elyze26, Kaito1412, Swimdraconian, booksandbrownies, sockeater, PiraticalPrincess, Fleur Rochard (fleurrochard), Brenda, KingSirahk, Bunnywest, umbralillium, Trickstersdaughter, ellens_gesang, ngocminh, merry_magpie, TwoHeartsAreBetterThan1, D_melanogaster, InvisibleAngel13, amare, aqualectrix, hyssop, owlshoes, leilalee, pringlesaremydivision, precioussansa, BagFullofCats, bluebell, ohsweetcrepes, judy3cubed, GalileosCallisto, Jaythefish, TealBlueSky, Astoria, hypertwink, avengedbarnes, WhyDoIEvenBother, iriseslineherpath, GloriaMundi, neenya, amberfox, Girlbyday, BakaPocky, howdoyou_write, bobbiwickham, Jayne L (JayneL), MsBarrows, Lanna Michaels (lannamichaels), Brynja, samjohnsson, Rij, oncemoredearfriends, eivac, aceaviatrix, fannishliss, randomisjen, nofluxgiven, Arukou, WakahisaDManami, biasheck (destielsextape), Maigen1266, theladyingrey42, allirose, bestliars, AliceWhite, jarofhearts, Sae_Arara, NonoLeMog, Solarcat, FromFarAway, cucumber_of_doom, just_ann_now, Ladygoshawk, ReBeL93, UndeniableEnigma, Ylva, Seramarias, Au_nte, MurphyAT, Alimar, harpers_child, Jamoche, andloawhatsit, Incidental_Fire, Kataleena, wolfhall, Darkest_Sun, HelenAshby, MASHFanficChick, myownghost, Malolinski, anthail, telchara, gianramera, ZaneShadow, dorlgirl, JenniPritchard, thedarknessofdeath, Nebularific, spiderfire, acegreatprank, jabez_dawes (polly_oliver), Skymuncher, Keeline, Painless_papercuts, LilyT, Airawyn, hereweshallmeetagain, HamartianInvader, isilelentari, Felicis, Pennifold, Caleidoscope, scriptrixlatinae, Mgosche, Yfanatic, rusalka, Shin_ai, AnagramRMX, pr_scatterbrain, KimW, Elizabeth Culmer (edenfalling), IdesofMarch, DizzyRedhead, Kimmon, insunshine, BorisTheSpider, An0ymous, venilia, mahogany8, virtualviolet, redtexta, InaccessibleRail, Gastroc, Cerriwin, sallyspewsrainbows, Monicaglo, busarewski, Zumapi, okhotnik, carbonylcookie, speedco, series, missliverpoolfc, blueyeti, SD_Ryan, icomewithknives, iamladyliberty, octoberipus, moonlightress, eksterteran, MNgirl, tailor31415, demilo19, awindandbooks, CathSith, needlesslyfrivolous, minisculeforests, Caitlannosaurus, llaras, ifreet, katewallace, Peng, steelphoenix, diannelamerc, oulfis, syrehn, Frosties, allwedidwaskiss, TheMeaningofHaste, somekittylovesme, ellophants, InsidiousIntent, themis_ceres, Hawkwings, FairestCat, house_of_lantis, szzzt, jsunday, sophenya, theletterelle, thornhands, caseylane, vivaviv, skymarauder29123, purple_embroidery, ebilchickens, carolinemc2, Lynchy8, oshiiyume, kirkykirk, I Have Made a Terrible Mistake (LizbethAnne), ofermod, the_ace, sandiablo, MontglaneChess, gingerwarlock, EC1918, effanineffable, lexie_the_pixie, young_blood, shank, NotSoSecretlyAUnicorn, cheonza, Nonymos, sybarite1, WDW, Evie999, hmasfatty, KestralWatcher, sephezade81, Just_Write, genesis_frog, Katrina01, ben_jaded, Bead, helluvaflyboy, TwilightXari, vague_flirting, Merit, Adunni, BoekOtaku, lauranaut, anna_bird, Eris13, luninosity, Not_sally, bubblewrapstargirl, Euruaina, MoonlitSunlight, starpaint, sarahlaurengaydos, without_the_rope, Rana Eros (ranalore), JBarts (the_physicist), unitedrepublicoffandom, lillithschild, feelsliquebadluck, hlnlslw, jenna_marianne, conser, circulation, fifthface, latigirl, Stevebuckyaf, rachelisce, eurrekas, windfallswest, londonsabre, Pandabetalock, que_sera, InterestingName, Jamjamjam, Similie9, HawkeyeState, jellsbells, Schuyler, adeleblaircassiedanser, EleanorJane, sassycas, itricochets, FyrDrakken, clarkoholic, cecilpsalmer, Decembriana, db1149, WeepingCas, lurkingteapot, sensitive_satan, poppycat, witheredsong, Kattua, eszasiano, anonnemouse, ArietteEpsilon, Angelicus, taikatalvi, Beccy2495, crazypumpkin15, eyelydz, canis_lupus, decinq, TigressJade, shisca77, The_Danish_Biscuit, inv3rtebrate, tristhe, IDcard148, bluepoint5, IamShadow21, AliceAce14, Arande_Nim, caorthann, Incendia Mun (Incendia_Mun), birdbrains, Windmire, valmora, kpossibles, regret_this, theydonotmove, Haipanda, JoriWinter, starshinehello, bourbone, MsVox, supergreak, cablesscutie, starshinesoldier, thisounette, rmc28, haroldspretty, Tash_Strait, CircleCautious, Rhiannu (FandomOfMyLife), forochel, Msaffron, shinanigirlizer, melonbutterfly, katieleper, HeartOfTheMirror, The_Button_Harlequin, brandynchips, Cicerothewriter, tattygal95, akaybee, quietStudy, Julnyes, blackberry33, yasha1995, Hitchin, jexellan, mollyscribbles, fangirl_squee, charibob, geeklite, macaroonie, charlesanthonybruno, paleojen, cias, L_JADE, tacksam, seal, juniperphoenix, lesdienne, eleanor_lavish, Shadytail, geniustakethewheel, mysweetbrick, miniplane, Shoshanna Gold (shoshannagold), MoreThanSlightly (cadignan), Lilacblossoms (Eiliem), bookfanatic, ZoniDuck, Mishaminx, barbitone, cjmarlowe, MaggieOwl, Adunata, jumblethinkery, blissthisway, winterandhonor, DidGyre, jescher, a_good_soldier, carlmcgr, n_r, catarina83, Shinju_Tori, defcontwo, teaonthestairs, beanside, 1nmeteredlines, celialarsen, dessert_first, DoctorV, diechemikerin, shaded_sun, arctos, dayblaze, augustbird, Ouran1996, JumpingJackFlash, shara50, faineancy, meanderingsoul, airkiko, Weirdlet, voyelle, chechidulce, RembrandtsWife, notalwayshiding, marcolette, inshadowsandlight, Suseela88, hollowman, shanric, jenzkins, bonjourtristesse, megalamegan, TSylvestris, silvercrystal1, CeilingRiver, Halkyone, ima, coeurdesoleil, technicolor_dreamboat, eulalie, hill121212, dadvans, Anne_Bonny, bonehed1, nowfailingoutofschool, xin, cinqmars, etben, Cooperjw, Saeto15, hellafandoms, Evalangui, farplanes, sandymg, stygimoloch, VictoryCandescence, Katelynneelderledge, hainalainen, smallestbear, I_Dont_KnowWhatImDoing, PatchworkBell, Bonthropshelmerdine, Afluffyredpanda, azelas, DrOlShakes, techieturnover, miss_marina95, nnmpsn, ThePeak, iwillnotbecaged (rachelheather), Hananobira, glorfindeled, lysssa, catmeleon, treefriend, jerobitaille, KTrevo, Kepiblue, jerushajen, Green, IAmTheMelonLord, anne_marisa, azephirin, Sol_Fuentes_Córdova (Solitude), Strangerbyfar, elleadit, BWentz, sebfish, StarOfDarkness, bonhomme, ourdivineashes, jemaime124, backtostars, Popcornapocalypse, oscillateswildly, magicspirals, chasethecat, Deastar, WhereIsTheScreaming (TheDragonflyLover), Dardrian_Breynt, Caedesdeo, TheSecretary, angelskuuipo, theleanansidhe, arallara, Chani, novembermond, ronniemarie, Twinklefrost, honey_and_milk, applewoman, mwestbelle, milenaa, kayleigh_jane, countess7, marouli, IanQuest, Kissymonkey, thetimesinbetween, jjjames, Jayme, rednihilist, freres_toujours, newB, myfleshisweddingdress, the_lord_of_time, AgentStardust, rubyapple, clearstrike, Crimson_Rain, pellmellbells, piggy09, mudpuddledemon, Glinda, ainsley, sabrala, DreamDabbler, glitterandlube, quillscribe, queeshmael, Lesserstorm, jon_dough, tabaqui, funkyreunion, MissMaverick, greenskin, inna, bossybottombitchbarnes, anelmemi, lary, JanSykes, rain206, Violsva, DawnieWrites, ofcomingforthbyday, Anefi, trifles, Cwkent, huggenkiss, feraldanvers, flailswildly, O_P_s_Girl, Lys ap Adin (lysapadin), siegeofangels, Salvia_G, katekat, EponymousAnon, timkon, ratqueen, everystarfall, sdwolfpup, Teogli, CosmicHobbit, ZeroaScatter, sweetmel, crystalmir, Gadez, bakasu, kutputli, gingifere, sfvamp, Kalliste, chalcopyrite, Arlennil, batdina, eileenlufkin, Jp_Jones, rhonda_hurley, MyLadyDay, Lomedet, Calmati, lozy, imperfectcircle, esther_a, pulangaraw, fearlessdiva, hophophop, DeathByRoxas, snarkyducky, xaxas, Loligo, RowanFalar, RowanFalar, Grammarwoman, victoria_p (musesfool), Raine_Wynd, rivkat, giandujakiss, gekko, Iphys, nevermindedanyway, golden_d, bienfilatre, DulceMeow, animeartistjo, Amadi, oaktree (oaktree89), jujuberry136, majoline, CaliFornia, fanhoch3, CaptainSnorlax, TheJokersHarley, Dice_in_a_Can, nazalea, zzanthalinn, Becauseofreasons, Luzula, ghostdrive, schwule, miriad, joyouslee, QueenCupcake, Alita_b_angel, dearwhimsy, LinnetMelody, meriwethersays, IzziMalfoy, veronamay, Alake, lestraea, sofonisba_found, trinityofone, JealousHissingPossum, Laura Kaye (laurakaye), northern, Amalthia, InAllMyDreamsIDrown, frantaire, WhatAreFears, foxfireflamequeen, talitha78, hybris, cellia, twistedchick, anascho, In Joke Taken (In_Joke_Taken), lovessong, camwolfe, Supertrekkie, yasaman, killerteacell, owlknight68, Phlebas, Wordwitch, enviropony, concinnity, NienteZero, lyonie17, law_of_tarts, chaneen, firesprite1105, pizzagirl, cielablue, echo_grace, genarti, doitninetimes, niangao, Ere, dancinguniverse, justletmegohome, zarhooie, lifeinwords, realchemistry, rhythmia, whimsofyouth, nevermindirah, November Snowflake (novembersnow), Eillac, WGSarah, Apetslife, wecanmakesomesense, Aenaria, sansets, castnoshadows, danahid, reena_jenkins, the_dragongirl, greyson, WrishWrosh, peris, Rainne, Kyaraelf, isweedan, softcase, Kimya, buckstiel, flaming_muse, virtualoutcast, katsai25, ailiet, bardiegrub, beewhisby, fictionalcandie, howshouldibegin, AES13, kariye, LuvaGoodMrE, marbenais, Createsensation, Avigail, marcella_mcphee, Loss, MishaDay, Zerorin, Monsteranon, undefinedkosmos, Starfish, saffronHeliotrope, Bibliobibulus, dhrachth, narwhal, Qatesh, Amboriel, daraq, Kurukami, Mnemmy, starsnshields, CaliHart, anotheramy, Kisatsel, Kethrua, Re_White, VioletaAsh, toozdae, Trev, betweenthebliss, astolat, buttertoast, aaltto, TimeLord, breadandroses, gritsinmisery, Cleo, mr_mercutio, IndigoStarblaster, chibimono, isavednemo, fiveyearmission, GreenLady (pseudosilence), ivorygates, Zolac_no_Miko, secretfeanorian, mambo, tomatosoup, searchingthesun, aprys, Snarkysteve, lillcarrionbird, Madeline_Katsuragi, tigermoth, This Girl Is (non_sequential), vai1666, Daysier, mangosorbet007, clare328, calisto, Punk, roguewrld, kaydeefalls, DigitalMeowMix, themuppetyone, sirigorn, saltypasta, EulersBidentity, Louhi, Excelsior65, Basingstoke, lazulisong, mific, elainasaunt, moriann, history_doc, hereandnowhere, themadmosquito, litra, prairie_lys, sophieisgod, Slythhearted, fmo, BuffyFan81886, epaulettes, rhuad, Mischievous_at_heart, miss_pryss, soxykitty, thelesis_w, belovedmuerto, Calligrafiti, Capricious, stoatsandwich, thesleepingsatellite, Ev42, bravofiftyone, noharlembeat, manywaters, Dira Sudis (dsudis), armadillo1976, iokheaira, debwalsh, doctormccoy, Alvina, sunsetpanic and Pheylan as well as 1049 guests left kudos on this work! (collapse)