Actions
Work Header
Rating:

Category:

Fandom:

Relationship:

Characters:

Additional Tags:

Language:

English

Stats:

Published:

2010-12-22

Words:

21

Chapters:

1/1

Comments:

23

Kudos:

56

Bookmarks:

Hits:

5695
The Whore of Babylon Was a Perfectly Nice Girl [podfic]
Summary:
links to download aethel's reading of The Whore of Babylon Was a Perfectly Nice Girl by out_there
Work Text: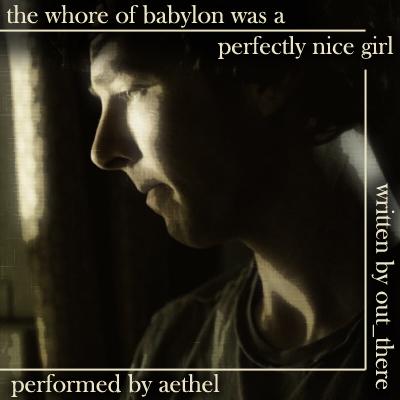 Downloads: mp3 from Sendspace; mp3 or m4b on the Audiofic Archive; mp3 from MediaFire
Length: 3:36:30
Music: Yann Tiersen
Actions
Kurloz38, zevbaldwin, iriswallpaper, cyrene, nutmeag83, TellMeSomethingGood, adoreadore96, Luthe, hthesecond, SincerelyChaos, A_Diamond, Animefiend176, slyvir, wntr, Eri_Ito, litra, Pappersvingar, kypip, majoline, readingdreamingwriting, saltyunicorn, Gw_n, ArtemisDeluxe, Sheva, MinMu, Hananobira, Superwholockwoods, Jezunya, sephonered, sunshinetonks, Ailis_Fictive, treebranches, Arabiana, ConsultingStag, paean, thelittlestdoc, Woldy, Melatovnik, error_42, order_of_chaos, and out_there as well as 15 guests left kudos on this work! (collapse)
Sorry, this work doesn't allow non-Archive users to comment. You can however still leave Kudos!