Chapter Text
-- carcinoGenerosity [CG] began trolling cromwellsAquarium [CA]! --
CG: ALRIGHT. STOP TOUCHING YOURSELF INAPPROPRIATELY AND HEARKEN TO MY CALL.
CG: YOUR MISSION, SHOULD YOU CHOOSE TO ACCEPT IT - SPOILER: YOU WILL! - IS TO GET YOUR OVERDRESSED GLUTES DOWN TO THE DOCKS SO THAT WE CAN GO FISHING.
CA: wwhat
CA: kar its like sundown i aint evven brushed teeth or got dressed
CG: AND SOLLUX IS LYING ON YOUR ARM.
CA: and sols lyin on m
CA: stop that
CA: crazy wwitchery fishshit
CA: anywway i mean not that this date dont sound cute and im glad youre finally askin me out but cant i sleep
CA: i wwas hittin some dude in the face wwith a plank last night kar all strenuously
CA: my lifes hard i nevver get to lie in
CG: STOP WHINING. GET UP. DON'T PUT ON YOUR CUTEST DRESS OR WHATEVER, EITHER, THIS IS GOING TO BE MESSY.
CG: I NEED YOUR EXPERTISE, FINS, OKAY?
CA: reely
CG: YES. "REELY."
CA: im not sayin im shiftin ass just for you but wwhat kind a fishin are we doin and such
CG: THE KIND YOU DON'T TELL SOLLUX ABOUT, BRUSH YOUR FANGS AND COME DOWN TO THE DOCKS FOR.
CG: DON'T TELL SOLLUX AND BRING TWO PAIRS OF UNDERPANTS.
CG: THAT WAS NOT A COME-ON, BY THE WAY.
CG: WE'RE HUNTING A GIGANTIC ZOMBIE FISH.
CG: YOU WILL SHIT YOURSELF PROFOUNDLY.
CA: wwoww
CA: nice
CA: charmin
CA: kar this sounds just wwhat i wwanted to do wwith my day so you wwont mind if i lie in for half an hour before the pants shittin festivval
CA: if this beautiful thing you and i got is gonna lay roe you havve to just accept me for the special snowwflake i happen to be
CA: evven sol knowws i dont do shitall until i get a coffee and my hair done
CA: so you can just shore up and wwait crabcakes
-- cromwellsAquarium [CA] ceased trolling carcinoGenerosity [CG]! --
CG: DID YOU, BRINESUCKER, ASK ME TO WAIT???
CG: DID YOU SERIOUSLY JUST ASK ME, KARKAT VANTAS, THRESHECUTIONER AND ARCHITECT OF "THE HOLY CHURCH OF PUTTING UP WITH ALL YOUR RIDICULOUS SHIT" TO WAIT?
CG: THE FUCKING AUDACITY.
CG: I'M ALMOST PROUD OF YOU.
-- cromwellsAquarium [CA] has blocked carcinoGenerosity [CG]! --
CG: THAT'S IT, I'M COMING TO DRAG YOU OUT.
-- cromwellsAquarium [CA] has unblocked carcinoGenerosity [CG]! --
CA: wwait wwhat
---
There is really no entrance like kicking down a door.
"Get up!" you shout. "Get up, get up, I swear to fuck I will set you on fire, Ampora, shift it!"
There is really no entrance like kicking down a door when that works, that is. The two jackasses in the recuperacoon do not give a vomit-riddled old shit, choosing instead to feign early-evening death. Most people would take pity -- it really is early, light oozes in-between the seams of the blackout curtains -- but you are an aberrance to mercy. Some may even dare to call you... "hardcore."
"Count of three," you warn.
Inside this recuperacoon lies one of Alternia's most powerful trolls and his most powerful agent, two political powerhouses who pull, yank or set fire to the strings of your monarchy. One the spymaster to the Luminesce herself, one that self-same spymaster's top agent. Nothing of importance happens in the Capitol without these two either pouring oil on troubled waters or pouring oil on top of a roaring hivefire; it's just too bad for everyone that they're raging shitsucks. Dark days for bureaucracy, these.
"One!"
"Fuck off, Kar," says the seadweller, and mashes his face back under your moirail's chin. Your moirail makes a lispy, pathetic gurgle and clutches at Eridan like the fisherfolk's an overmuscled snuggle toy. "It's too early, is what."
"Skipping to three," you say, and you march over to grab Eridan by one crooked horn. The effect's immediate. He tries to curl his hands and feet into the lip of the recuperacoon like a reluctant mewbeast, but you have more than dealt with worse before and it only takes a little torque to pop him out. Eridan slides ungracefully down the side of the cocoon, cursing in a way that should by all rights frizz your eyebrows off, and he kicks you square in the stockings.
"Mngffth," Sollux says coherently, and pokes his head all damp and dazed over the rim.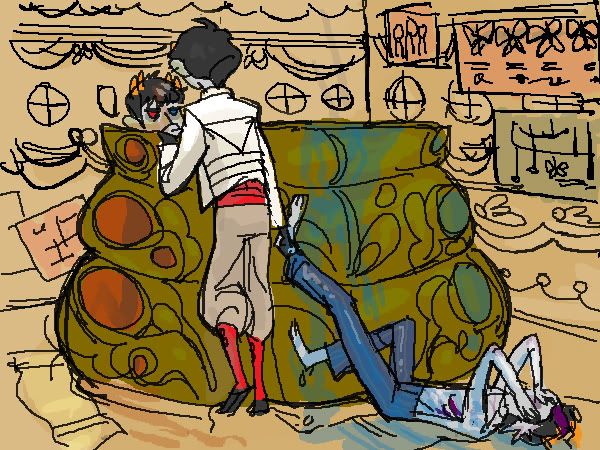 Eridan is at the very least wearing pants, which upon closer inspection your moirail is not, and you heartily regret that closer inspection. "KK? Give'm back. Spymaster's orders."
Thpymathter's orderth. He is sleep-tongued and slurring, for all that long sweeps of knowing him has familiarized you with every possible fang-mangled bastardization of a sibilant, and you are struck with the same painful tenderness as always. It's the particular kind of prickly rawness that you only get around this stupid asshole, and it makes you all quiet and dumb with how much you want nothing to ever make him unhappy, nothing in the whole entire universe. You hover your hand over his head instead of quite daring to pat him.
"I'm doing a Threshecutioner's seizure of your assets," you say gently. "Go back to sleep, Sol, it's early."
"Nn. I'm up." He heaves over the rim, all long sopor-shiny arms and hair plastered to the fragile dome of his braincase, twin horns glistening dimly, legs that go on for fucking ever. There's a fumble for his glasses, which are on the wrong side of the recuperacoon, and he gives up in order to loll his long neck against the lip. Sollux and evenings don't mix, you should have brought a coffee. You also should've brought him a robe.
"I -- oh, for fuck's shit-flipping sake," you say, and fix your gaze very firmly to the far wall. "Since when do you sleep naked?"
He and Eridan both give identical dirty snickers, and you can feel heat all the way to the tips of your ears. Eridan stumbles to his feet, yawning and elbowing at his kismesis, and you can hear the insanely gross soggy smacking noises of two slimy assholes slapboxing. There are a couple of smooches in there. Young hate is truly awful to behold.
"If you wouldn't mind suspending your sloppy fucking makeouts temporarily, I need to borrow your fish," you inform Sollux. The wall continues to be a lot more interesting than what your moirail looks like naked, though it also looks like gaudy wallpaper. At some point in her career your Empress listened far too hard to Kanaya, and turned the whole palace fucking frou-frou for the love of her. "Just give me his keys, I'll hand him back when I'm done."
"What for?" he yawns, and you can hear Eridan grumpily slope off to the ablution block. Too bad: now he'll probably be there for half an hour, using up all the shampoo.
"What do you mean what for? I'm a Threshecutioner, I do errands. I keep the world oiled."
"Since when did you need the extra grease?"
"I'm taking your kismesis out for walksies and you're ungrateful?"
"I demand you get someone else," says your best friend, and Sollux sinks back down wearily into the slime. Red side of the recuperacoon. There's light, drippy crimson at his neck and his forearms, and that's as unsettling as it ever was. "He's got business to settle for me today. The credit accounting, from upstairs -- "
"Sollux," you say, careful as anything. "Ha ha ha. Listen to my joyous laughter, like the pealing of a new grub's. I have warned you about messing with 'upstairs.'"
He gives a bony, indifferent shrug, hell's own shitstirrer. "They haven't caught me yet."
"When they do catch you they are going to upholster your ass over a torturecliner, and Terezi and I won't be able to save you," you say. This is a pretty old argument, and you're a little bit baffled at how you two have to have it right now: bickering over all his suicide wishes first thing is unusual. You should be excellent at this point by grabbing Sollux by the smooth handle, but it seems that nowadays you reach out and only get the rough. "This is adult business, and when it all comes out there'll be hell to pay."
"If I wanted a doomsday oracle I'd talk to Aradia. If it comes out, and I don't have the first intention of getting caught."
"When."
"I repeat, if. Thanks for the vote of no confidence, though, I've filed it away for later crying and gnashing."
There is nothing worse than Sollux in this mood. When he's busy having a delusion of grandeur, he puts on a thick coat of ice and privacy that nothing can shatter. Nothing barring you. Nobody should look this snooty buck-naked and still wet with evening slime, and he has that sharp jaw balanced on his fist as though you're being both plebian and boring. They should demote Nitram: here's the Alternian prince.
You kneel down. From close by, you hear the noise of the shower going full bore in the ablution block, Eridan muttering tunelessly to himself, which suits your purposes; this isn't for his aurals.
"Sollux," you say, and you make it intent. You imagine that the hard line of his mouth softens as you look at him, which would be a first for about a month, damn your eyes. "Hear me out. You're a mad genius, you're the best coder planetside and I would not bet money on you not being the best in our entire civilization, you are made of rainbows and arrayed with fucking stars and brain matter -- "
He definitely softens. "Got that right," he says, but in better humour.
" -- which is why they're not going to catch you," you say. "Terezi does your banking for you, you irresponsible bulgenut, she's just a tealblood, they'd take her to the fucking cleaners."
This is a knee to the shame globes. You know that Sollux would shoot himself for Terezi, or more preferably shoot someone else for Terezi. The sneer wavers. "They'd never get that close," he says, stubborn, and you just want him to fucking crack for you, like he used to, you want him to stop trying to act as though everything he says is from his God's lips to his pan -- "because I am brilliant as a fucking sodium flare. Just because you're scared pantsless of them doesn't mean you -- "
" -- don't have the right fucking idea of it! Old isn't stupid, you are underestimating so badly that you're digging a mining shaft right under estimate and you're trying to get to the planet's core -- look. Fuck it. Discussion over. I'm pulling the plug here for your own good, you have got to stop sticking your nook in Fleet secrets before someone cuts it off. You'll get Terezi killed. And you'll get Eridan killed first and foremost, have you even thought about that? Seadwellers stay off the cullsheets on a fucking wing and a prayer, you know this."
Wrong thing to say. He glasses over like permafrost. "Oh, Eridan," he drawls out, cruel and hissing. "What if I got my kismesis killed -- mine, mark you -- oh me, oh my. Since when was it your place to tell me what to do about my own black partner?"
"Since when the hell was it your place to endanger my matesprit?"
Flinch. "Matesprit," he drawls. "Hark at him. Matesprit. 'Matesprit'! Don't make me laugh. Red half the time, black the other, and you saying matesprit only when you want to prove a point. Who are you flushed for, Karkat, that's what I'd like to know."
You see red. The wrong sort of red, however. You do what you usually do, which is count to five backwards and forwards, tap your palm with each individual finger, and maintain control of the urge to push him down into the sopor and hold him there until it fills up all the holes in his fucking pan. "Would you now!" you say. "Would you the fuck now. Hey, I know you personally weren't hatched this much of a douchebag, so did it come on over time and I didn't notice? When did people's lives become playthings to you, you self-absorbed lump of fuck?"
"Lives in general, or simply Eridan's?"
"Why not Eridan's, you scabrous nook, Eridan never fucking asked for this kind of shit from you -- "
"Have him," your best friend says abruptly. He closes both eyes, one liquid sapphire, one distressingly ruby, and looks like a haughty death mask. "I give you full permission to remove my archagent for however long you require his services. Nobody can ever say I didn't cooperate with the Threshecutioners. Karkat?"
Your bloodpusher feels the radiant surface temperature of the sun. "Yes?"
"Don't you ever fucking presume to think you know the first fucking thing about what anyone's asking for," he says, and he drops his slim sharp shoulders back into the recuperacoon, slime up to his chin. Sollux gives you the airy wave of his hand he'd give some courtier, all disdain. "Or about other people's lives. TZ and I break Imperial law every apogee for your condition just to keep you breathing... be sure to debrief me when you're back."
Your condition.
He didn't kiss you hello, and he's not kissing you goodbye. You stand quietly at the edge of his recuperacoon as though you're six all over again, desperate for a fight, desperate for anything -- it's the second season he's refused to so much as touch you, and you should be used to it. You're not. You never will be.
So you snap, "Well -- I will."
"Fine," he says.
"Fucking fine."
"Go, then."
"Oh, you better believe I'm going."
"Uh," Eridan says, nervously leaning in through the doorway, dressed like a froofy douche and smelling like sweet steam. "Am I... interrupting anyfin?"
"We're going," you snarl, and grab a clawful of his shirt collar as you storm past. The room becomes a blur of yellow, and you have not literally stomped since you were sweeps younger. The feeling is not nostalgic.
"By, Sol," Eridan calls back, a little haplessly. You are probably dragging him somewhat too hard. "Choke on a bulge!"
"The both of you can go drown!"
Strangely enough, you get the feeling it was far more for Eridan's benefit than yours, and even more strangely that makes you feel desolate. "Shit, you got him mad fast," Eridan says to you, stumbling along in your wake. He's got plum-colored hickeys all down his throat. That's his business. "Should I be jealous?"
"Fins?"
"Yes, Kar?"
"Shut the fuck up."
You lift coffees off the nerdlings on the way out, then go for a breakfast before you haul the sorry sharkfucker all the way to the docks. Sollux doesn't eat unless it can be slurped out of a mug in front of a monitor, and you know cash is always tight for fisherfolk. You know the owner of a breakfast cart, sets up in Flowerfall Square, and she gives you free nosh whenever you swing by on account of her kismesis was one of a lot of falsely accused greenies that wound up in the wrong place at a the wrong time for an armaments sting you'd been conducting and you'd made time to personally bail them all out because you are not, in fact, an enormous sack of horsefronds. She greets you with a lot of fawning and plateful of muffins, egg and tripe and boiled blood, and she jerks her hands back like you burn when your fingers brush.
"Got an admirer," Eridan says, amused, when said admirer is still in earshot and going jade around the nose.
"Crap goes in to your mouth, not out of it, please," you sigh, and shove an egg muffin at his face.
People get stunning crushes on Threshecutioners -- it's the coat and the fact that you wind up square at the center of any given clusterfuck, shouting loud enough to mostly cover up how you're usually the one who started it in the first place-- and it's not really conducive to anyone's peace of mind to go spewing wordvomit over any particular unfortunate circumstances. She'll get over it. Everyone always does.
Eridan scarfs down a healthy fraction of the the plate with the furtive pleasure of a guy who needs way more muffins in his life and way less assholes elbowing him over for chump change, and you order a box of glazed ringworms to split as you walk the rest of the way. The icing gets everywhere and you both spend the last few blocks licking it off each other's fingers and stepping on each other's toes, just the stupid friendly shit you used to do with your friends -- back when you were young enough to have friends to be stupid with and not cohorts you had to best -- and it makes you feel halfway normal again. He laughs when you finally pull your handkerchief out, like he really likes you, and you talk about nothing much (your last missions, the best way to get stains out of silk) while you both play at being midbloods, jade, maybe, teal, out for a stroll. But the crowd parts around the both of you, respect and fear, and you're getting kind of old for pretending.
But he shines, does Eridan, when he's happy. Kid's worth a little pretending.
"Thanks," Eridan abruptly says at the docks. He is tucking his clean hands into his pockets like a wiggler who's been told by their lusus not to touch anything.
"You can owe me," you dismiss, reluctant to let him clam up again, and hook your arm through his. "Where's your boat?"
"It's a tug."
"Where's your tugboat?"
"Over there."
That's not a tugboat. It's barely a tu-. "Shit, I think it's smaller than I remember it being. You got a bigger one?"
"Yeah, sure, Kar, but I fuckin left it in my other trousers -- "
"Okay, okay, that was inane of me, get your fangs out of my nook. It'll do."
"Oh, 'it'll do'," he mocks, hands thrown out in a way he probably thinks is dramatic. "You reely know how to make a boy feel special."
You waggle your eyebrows at him. He waggles his back. Then you try to hop on to his boat and almost end up in the harbor when it rocks the wrong way, unexpectedly. The interaction of water and things floating on the water is not your fucking cup of tea, nor was it part of your training.
"Fucking boats!"
"Oh my God!" he says, scrambling off the dock after you and shoving your teetering ass farther on deck. The way he looks at you is exactly the way he would look at a floating turd. "Shell and shale, Kar, can you even swim?"
"No," you snort, and press up hard against the little cabin thing -- whatever the fuck it's called, do you look like a fucking sailor, no you certainly do not -- in the middle of the boat. "That's why I got you to come along."
"Oh my God," Eridan repeats, unhappily. "Oh my God. Why are we doing this?"
"The thrill of the chase!" you say, gesturing grandly out at the water. It sloshes unhappily back. "The lure of the unknown, the call of the fucking wild. We're gonna find something really big and really horrible and we're going to kill it so hard that entire sonnets will be dedicated just to describing the new forms of death we have invented. They'll name constellations after us and every generation thereafter will look up and say 'oh, it's Hardass McGee and his totally fucking bloodthirsty angerbuddy, Ragefins Fucksmasher'. Then they will shed a single tear of sorrow that they will never be as cool as we, and Eridan if you don't start your boat up in one hot second I am going to dump you overboard and figure out how to drive this slagheap myself."
"No," he sighs, starting the engine up, "I mean, why are we doing this? The fuckin bay-beast ain't my look out, and it sure as flippin fuck ain't yours either, limeblood."
You drown the urge to massage your temples. "Because you know and I know it's fucking up the only trading port worth selling at, and none of you seafarers are fucking safe with it splashing around like an asshole and taking big chunks out of your ships every perigee or so. I know you guys think you're all salty hardasses who can look out for your own fucking selves, but total exoprofit's gone down like 20% and if things don't change soon the importers are just gonna raise taxes to take the loss out of everyone's hides, and Sollux somehow thinks that's a totally fine solution because if he ever set his nasals outside the palace he'd probably expire from sheer horror, so fuck him, and Terezi practically pails herself with a set of scales every night, she had a fucking palm down her nook when she was forwarding me the proposed tax enactments, I don't even fucking know what's wrong with her. And the thing is, none of you are high-caste enough to put in a legitimate fucking call to us whitecoats, okay, whose fucking idea was that, we're supposed to be looking out for all of you and not just anyone with enough gold up their ass to throw a bribe after their solicitation, how the fuck is that fair, so fuck everyone, we're going to do this shit if I have to strangle that fish with my bare fucking claws!"
This is a very long speech. Eridan looks at you kind of strangely -- not glazed, just strange -- and your ears are burning again. You lean back against the cab and cross your arms, because fuck the world and fuck the gulls screaming overhead, curse the sea and everything in it. All these years and you still find the weariness sudden, each time. "I just want things to be fair, Eridan. I realize this is a request that seriously puts the universe's nose out of joint."
"Yeah, well, I just don't want to get shit out by a zombie fish," he says, looking utterly put-upon. "I don't think that's too much to ask for, either."
"Cry harder. I hear these things are attracted to tears."
"Fuck you."
The boat lurches back and forth like it wants the two of you off, as it grumbles its way off to the middle of the harbor. You clutch uneasily at the cabin doorway, and try and fight down a rising and completely new kind of nausea. It's not like your usual spells, the building dizziness that spills sickly out from your racing heart and makes everything shaky and far away, makes you want Sollux and a dark corner to catch your breath; this is different, violent, crammed into you from the outside, and you deeply regret the last glazed ringworm.
"Kar?"
You squint blearily across the small, heaving deck. "Yeah?"
"You ever been out on the sea before?"
"No."
"Fuck, you're lubberly. Want to sit down?"
"Hell no."
"God, have it your way. Just don't toss your gizzard on my deck, is all I flippin ask."
"I'll get right on that," you manage, and go back to clinging for dear life. There is a dull, deafening roar building in your ears and the sea seems to creak underneath you. You are Karkat Vantas, Threshecutioner, fearing only fear itself and whatever terrible trite one-liners you can toss in there, but your current enemy is the sea. And you cannot calm the sea by shooshing it. "Tell me when it's zombie time. I will be standing here, of my own free will, very quietly."
"Just sit down before you fall -- oh fuck -- "
The pitching and rolling is even worse when you're right down on the deck itself, but at least you don't have any farther to fall. You're going to be pockmarked with those bizarre lemony bruises come morning.
Eridan is leaning over you, patting your face very, very gently. His hands are clammy as hell, but they give you something to concentrate on besides your bile sac's extremely athletic bids for freedom. "Talk to me, buddy," he says.
"Whose idea was this?" you ask. "We're on a fucking boat. We are on a boat, motherfucker, I have not forgotten. Why did you let me do this to myself? I have frequently not been on boats before, and now I've ruined my record. I hate boats. I want to get off. Fucking shitweasels are your hands ever cold. Don't stop."
Eridan laughs, a little hysterically. This close you can see the over-careful knot of his tie, his worn shirtcollar, his jacket shiny with age. There is always something so careful about the way he dresses: even if he wasn't fashionable, and you know living fuck-all about fashion, he'd be the one who looked the most painful care taken of him. "You have got to stop swoonin all over me, Kar," he tells you, and runs his thumb down your sweat-slick throat. "A guy's liable to get the wrong idea, if you go pitchin over like a poleaxed bleatbeast each time he comes callin."
"Don't worry, I still think you're pretty," you croak. "Stop the ride, I want to get off. No -- no no no, don't you go anywhere."
"You are the most pathetic hardass I have ever met," he informs you.
"I'll just go have that tattooed over my nook, thank you. So. How do you go about praying for your own swift death?"
There is a sudden, gigantic crashing noise from off the side of the boat, one that ends in a heavy spray like rain. Eridan hollers, and sheer furious terror sends you upright. Blessed instinct takes over, even if the sea's falling on you in lumps and you're alone in the dark on a merciless body of poisonous water, and calm settles over you like a suit of armour. You spin him behind you, draw your sickle, and then Eridan has to grab the back of your coat as the boat heaves enormously under your feet. Water batters at the hull like a lost child desperate to come indoors, and you almost go over the side.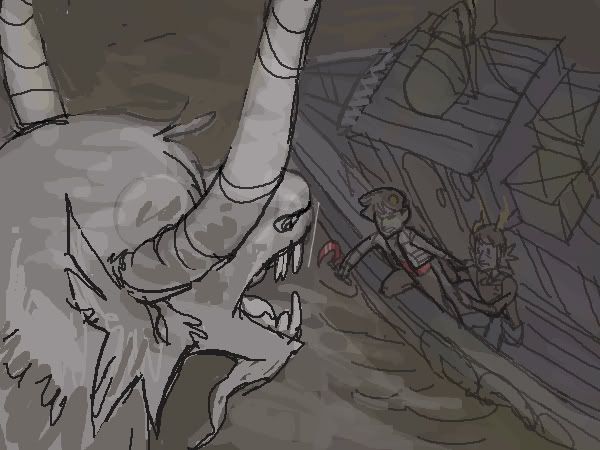 It slowly dawns on you that you have brought a small red close-range blade to a fight with a creature at least five times the size anything should ever, ever get, and that Terezi might really have wanted you dead when she forwarded you that proposed dock-tax legislation. If she did, it is a truly lovely piece of planning and you admire her for it.
"Oh, fuck me," you breathe.
The monster looks down at the two of you -- and down, and down -- and it is gigantic, an enormous wall of patchy scum-colored fur and barnacles and worse things, the squamous shapes of oceanic parasites that heave and thrash against the dirty paleness. Its eyes are jelly-like indigo pits, and its teeth are broken into harsh and deadly-looking splinters. It's filthy. It is horrifying. It is old.
"Kiss my glutes, it's a capricorn," Eridan breathes. "They're no realer than whales are, Kar --"
It bleats, which is a very real sound! The noise is deafening, a long pulsating HONK that shudders all through you down to your bones, crowds out every thought. It's a sound that means business. It isn't until Eridan grabs one of your fucking horns that you realize you're trying to go over the side of the boat to get at it, kill it, shut it up, save your friend.
"You maniac," he hisses, "stop it, stop it, keep still."
He wrestles you down to the deck, presses you down under his body between the sidewall of the boat. He's very cold and smells strongly of the sea, and you get that he must be trying to protect you, which is just embarrassing as shit. "Please," he whispers, his mouth sounding like it's got a lingual twitcher of your hair, "please, please don't you fuckin move one gill, I'm beggin you."
"Alright, fuck, have it your way," you agree, and you round out each word very calmly and cleanly. "You keep your pants on, though, or I'll take my chances with that seaterror."
He giggles, a quiet little peal of pure fear. He's very heavy. Both of you wait in a huge, wave-slapping silence.
That awful bleating rings out again, and you can feel the seablood boy shudder against you. "Oh, fuck me, Feferi," he breathes. You put your arms around his wide shoulders and give him a squeeze, and he presses his face hard into your hair, and your heart goes a little funny with pity, which is a horrifying disgrace on your heart's part and not remotely the time, Karkat.
There is a splash from out in the water, and then everything is quiet again. There's only the sound of the guttergulls crying out to each other, and the low thick smack of waves against the hull. After a long moment you push Eridan off you, and peek over the side just to make sure that nothing's there.
"It's gone," you report.
"Like hell," Eridan says.
"Gone for now, or deep as near gone is," you amend, and you abruptly lie back down. When you are tight with adrenaline there is no point in sitting; Threshecutioner's trick, after a duel your whole cohort would flop down like a bunch of fainting cholerbears. Eridan takes this opportunity to flop his head on your chest. He's still shaking all over, proving that a troll can face ten murderous fellow trolls at once and yet piss his pants over a seamonster, which shows conclusively he has his priorities in the wrong order. You don't have the heart to elbow him off you again. Instead, you curl your hand around the back of his neck and hang on: you're a little shaky yourself. You wonder if he'll be crass enough to point it out.
He 's not. Instead he says, "You were gonna kill it with your bare hands, huh?"
"That was a dumb plan, constructed by an idiot with questionable taste in friends and an extremely loose grasp on reality. I disavow all knowledge of whatever moron was so blisteringly stupid as to emit those sounds from his squawk chasm, and furthermore, fuck you. Let's have a new plan."
"Right, then."
You're quiet for a while. The back of his neck is astoundingly clammy, cold but still damp. You wonder if you can wipe your hand off on your pants without hurting his feelings. You wonder if you're in shock: it has been a long time since you've seen something you couldn't shut up with a good shouting-at, best case, or your sickle, worst case, and your thinkpan feels like it's been flipped right over.
"What's the new plan?" Eridan finally asks.
"The new plan is you come up with a plan. I'm the landmonster expert, my child, not the seamonster expert."
"Fuckin frost of hell, Kar."
"No, seriously, I'm all out. We may or may not die actually die out here, I am sorry to inform you. Is your will all in order? Mine is in triplicate."
He's quiet for another while. Eventually, he says with unusual cautiousness: "I got a friend."
"Congratulations. I'll bake you a cake."
"Fuck off. I mean, I got... I know a guy, okay? Hunts just this kinda thing. Seamonsters especial. He gets called around to clean up revenants and ghasts, even, good guy to have around when something's shamblin around and bits are droppin off, we could call him."
You sit up. "Well, what the fuck are we lying around palming eachother's bulges for? Call him the fuck in already!"
"He's not..." It's telling to see the collection of grimaces Eridan Ampora is giving you. He rarely beats around the bush on anything, and the amount of shame he's got in his body could fill a small concave device, but you know if you wait he will blurt it out anyway. "Kar, thing is, he ain't particularly orthodox, if you get my drift. He is not in any goddamn way a friend to... your people."
"Handsome bastards?"
"Social enforcement."
You add up seamonsters to revenants, and called around to ghasts. It's local enforcement and Threshecutioners who clean up the undead, and it's local enforcement and Threshecutioners who clean up any creature big enough to set its sight on a troll population, except out in the small fishing villages that have no social enforcement to speak of and sometimes end up relying upon -- "He's a fucking clown cultist, isn't he."
Eridan tips his chin up at you, and his eyes go all narrow and proud because he is obviously senseless as fuck. You are surrounded by people who are missing logic circuits in their thinkpans. "I can make you swim back to shore if you're gonna clutch your pearls on account a he's my brother, you bigoted shit."
You lean against the ship's railing and sigh long and hard, making it whistle through your teeth. "You know that shit's proscribed."
"Fuck the police. I never saw him hurt anybody who wasn't asking for it loud and fuckin clear."
"Yeah, and the main tenet of their circus clusterfuck is that everyone is asking for it. They're fucking zero-sum nihilists, Eridan, how'd you get mixed up in that shit? Clown cultists don't like anybody, and they sure as shit do not have brothers."
He looks away, that idiot's pride leaching out of his bearing, and he says, "Um. So."
Icy regret clutches your innards. "Oh, fuck, oh, man, your moirail's taken up the paint."
"No! No, don't you-- she ain't-- you can't think that, you can't, she ain't. No!" He fucking jitters in place, his hands going everywhere -- down to his flicknife -- and you've almost got your sickle out before he realizes what he's doing and holds his hands out to you, desperate and bare and finger-splayed, and you relax minutely.
"She's not," he says, barely a plead. "You got nothin on her, she's a good girl. I keep her clean."
And this, then, is the problem of Eridan Ampora: arch-agent, dumbass, smart as a steel trap and thick as a fucking brick. His moirail's the only thing that keeps him going and she's a complete mystery that no one's ever fucking seen. Sollux chews his fucking gizzard out seasonally over her, and she's mixed up with the fucking clown cultists. Your hands itch for your sickle, just thinking about it.
You rub your forehead in the vain hope it'll clear up any of this headache. "Your girl's got herself another quadrantmate," you deduce. "I'm impressed you managed to stop sitting on her long enough for anyone else to get a shot in. Red, I'm guessing, I fucking doubt she needs ash and you wouldn't be on terms with him if it were black, would you?"
"I'd kill anyone who tried," he snaps. "She doesn't need anyone's caliginous shit. Gamzee's sweet as starlight."
"Gamzee, the clown cultist! Gamzee, the perfect peach."
"Doesn't hurt anyone," he mutters. "And he kills zombies by the goddamn dozen. Zombie anything. Ferals too, just in case you want to go accuse us all of going fuckin' sea-mad, I am long past carin'. If anyone can take this monster down it's him."
You glare out at the waves. Nothing is ever simple, down here, and more and more lately you are lost.
"Hold on a second," you say, and reach for your palmhusk.
---
-- carcinoGenerosity [CG] began trolling gallowsConflagration [GC]! --
CG: I NEED LEGAL ADVICE.
GC: H34TS BL3SS1NG, P1LGR1M, I CH4RG3 BY TH3 HOUR >:]
GC: > :]
GC: >:]
GC: HOW3V3R 1 W1LL L3T YOU P4Y W1TH YOUR BODY
CG: OK SURE LET ME JUST SAUNTER UP TO THE DAMN COUNTER TO MAKE A VERY IMPORTANT DOWN PAYMENT WITH THE BANK OF PREDATORY WHACKJOB PSYCHOGIRLS.
CG: OH WHAT'S THIS, YOU ASK?
CG: WHY, IT'S MY MIDDLE FINGERS.
GC: >:O
GC: OH D4RL1NG 1F ONLY YOU KN3W
GC: TH3 V4LU3 OF M1DDL3 F1NG3RS H4S DROPP3D DR4M4T1C4LLY 3V3R S1NC3 YOU OV3RS4TUR4T3D TH3 M4RK3T!
GC: 1 W1LL JUST T4K3 TH1S C4S3 PRO BONO
GC: OUT OF TH3 GOODN3SS OF MY 43R4T1NG S4C
GC: SO WH4TS GOT MY CR4B4PPL3 GR33N 4ROUND TH3 FL4PS TON1GHT >:?
CG: I'M ABOUT TO ENLIST A CLOWN CULTIST IN MY ONGOING EFFORT TO PUT DOWN A RAVENING SEA MONSTER.
CG: IN EVERY RESPECT - LAWFULLY, MORALLY, LOGICALLY - THIS IS WRONG.
CG: I CANNOT JUSTIFY THIS SLIP OF THE BRAIN, SO AT LEAST GIVE ME THE CHANCE TO JUSTIFY NOT HARVESTING THIS ASSHOLE ON SIGHT, HE'S SOLLUX'S KISMESIS' MOIRAIL'S MATESPRIT.
GC: OH WOW PR4CT1C4LLY 1NCL4D3!!!
CG: SHUT THE FUCK UP.
GC: H3H3H3H3H3
GC: 1 4M SO GL4D YOU R3M41N 4DOR4BL3 WH3N 1T COM3S TO C4RRY1NG OUT TH3 L3TT3R OF TH3 L4W!
CG: OH MY FUCK, I AM NOT ADORABLE. I HAVE NEVER BEEN ADORABLE. I AM... ADORATERMINED.
GC: YOU C4NNOT S33 M3 BUT 1 4M SUBM1TT1NG WH4T YOU JUST S41D TO ONL1N3 S1T3S FOR PR3C1OUS QUOT3S
GC: SOM3ON3 W1LL D3F1N1T3LY P4SS TH4T ON3 4ROUND 1N 4N UPL1FT1NG 3M41L 4ND W3 SH4LL 4LL G3T TH3 D14AB3T3S FROM HOW COMPL3T3LY SW33T YOUR JU1CY W1SDOM NUGGETS 4R3
CG: IF I HAD TIME OR INCLINATION, I'D GET OUT MY OLD KIT AND CODE YOU UP A VIRUS THAT REMINDED YOU AT PERIODIC TIMES TO GO FUCK YOURSELF, BUT I GUESS THIS ONE MANUAL NOTIFICATION IS GOING TO HAVE TO SERVE:
CG: GO
CG: FUCK
CG: YOURSELF.
GC: YOU 4R3 TH3 RUD3 D3L1GHT OF MY L1F3, YOU DUMB P13C3 OF SH1T
GC: BUT B4CK TO L3G4L M4TT3RS >:]
GC: THR3SH3CUT1ON3R V4NT4S!
GC: WH1L3 F4C1AL P41NTS 4R3 NOT P3R S3 1LL3G4L, WORSH1P OF TH3 H3R3T1C4L M3SS14HS 4ND WOND3R1NG OUT LOUD 4BOUT M4GN3TS SO HOW DO TH3Y WORK 1S PUN1SH4BL3 BY D34TH
GC: R1GHTLY SO!
GC: CLOWNS 4R3 4 HORR1D BL4SPH3MY 1N TH3 S1GHT OF H3 WHO 1S B3LOV3D OF F1R3!
GC: BUT 4LTHOUGH 1 WOULD 3RR ON TH3 S1D3 OF PUN1SH1NG TH3 W1CK3D SHOULD 4 THR3SH3CUT1ON3R 3NL1ST 4 CR1M1N4L 1N 4N ONGO1NG 1NV3ST1G4T1ON M1SD3M34NOURS M4Y B3 W41V3D UP TO TH3 ORD3R OF 4 H1GH F3LONY
GC: BUT ONLY SO LONG 4S H3 F1RST S1GNS 4 CONTR4CT
GC: RUN 4 S34RCH FOR 3D1CT 113, SUBS3CT1ON 3
CG: E OR 3?
GC: 3!
You run the search, squint over all the fine print and clauses. Terezi knows her fucking legalese.
CG: HUH.
CG: CAN IT BE VERBAL?
GC: BL444444R CH34T3R! Y3S, 1F YOU W4NT TO DO TH1NGS TH3 34SY W4Y 4ND NOT TH3 R1GHT W4Y
CG: THE EASY WAY IS THE RIGHT WAY FOR THRESHECUTIONERS, WE DON'T ALL GET TO DIDDLE OUR DESKS OVER JUST HOW MUCH PAPERWORK HAS BEEN DELIVERED FROM ON HIGH TO TITILLATE OUR ANGUISH GLANDS.
CG: BUT THANKS. YOU HAVE SAVED MY RIND HERE, LEGISLACERATOR, AND WITH ONLY HALF THE SASS AS USUAL. I'LL SEND YOU A GIFT BASKET FULL OF GO DIE IN A PESTILENT HIVE FIRE, TZ.
GC: TH4T N1CKN4M3 1S ONLY CUT3 WH3N SOLLUX DO3S 1T!
GC: BUT 1LL D31GN TO FORG1V3 YOU 1F TH3 G1FT B4SK3T 1S SU1T4BLY FULL OF THE S1CK3ST OF BURNS, H4V3 ON3 S3NT TO MY OFF1C3 1MM3D14T3LY
CG: I'LL SEE WHAT I CAN DO, ON THE OFFCHANCE THAT I'LL HAVE THIS DONE AND DUSTED IN A FEW DAYS. ON THE POSSIBILITY I END UP ROTTING AT THE BOTTOM OF A PUSTULENT OCEAN OF MAD-FISH SCUM-BUCKETSPEW, YOU KNOW THE DRILL.
GC: TH3 DR1LL 1S TH4T SOLLUX 4ND 1 G3T 4LL YOUR STUFF 1F YOU 3XP1R3 >:\
CG: YEP, THAT'S THE DRILL.
GC: PL34S3, 4PPL3 P13, 1M NOT 3V3N SUR3 YOU C4N D13!
CG: I HAVE AN ONGOING INVESTIGATION TO FIND THE FUCK OUT.
GC: FL1PP4NCY DO3S NOT H3LP CONS1D3R1NG
CG: DO NOT GO INTO WORRY MODE ABOUT ME. IT DOES NOT LOOK GOOD ON YOU. I GET ENOUGH OF THAT FROM SX, FROM YOU IT IS UTTERLY UNTENABLE, OK?
CG: AND BEFORE THE THOUGHT ROLLS INTO YOUR PAN DO NOT MAKE ANY OF YOUR HOKUM GOD MOANS OVER YOUR AWFUL SHRINE.
GC: OH L1K3 HOW 1LL N3GOT14T3 W1TH H3 WHO STOPS TH3 CLOCKS TO K33P YOUR H1D3 1NT4CT >:]
CG: YEAH, LIKE THAT, BULGEWEAL.
GC: GO P1SS ON 4N 3L3CTR1F3D F3NC3, 4TH31ST
CG: YOUR GOD WILL NOT SAVE YOU WHEN I MAGNANIMOUSLY BESTOW A HEAPING BLESSING OF MY FINEST ANAL EXCRETIONS UPON YOUR OUTBOX.
GC: 1 HOP3 YOU G3T S34S1CK 4ND F3D B1T BY 4BOM1N4BL3 B1T TO 4 F3R4L
CG: I HOPE YOU GET SPLINTERS IN YOUR BULGE.
CG: <3
GC: <3
CG: ...WE HAVE GOT TO WORK OURSELVES OUT.
GC: L3TS DO QU4DR4NTS TH3R4PY W1TH N3P3T4
CG: I TAKE IT BACK, ALL APPOINTMENTS I MADE TO TOUCH YOUR BODY ARE CANCELLED.
GC: H4 H4 H4 1 4M JUST FUCK1NG W1TH YOU D34TH F1RST
GC: TOODL3S B4BY >:]
-- gallowsConflagration [GC] ceased trolling carcinoGenerosity [CG]! --
---
You pocket your husk, scrub your hands over your face. You don't quite know why you're unhappy: as conversations with Terezi go that one is heartening, except that every time you talk flushed to each other you want to somehow reach through the network and pull her apart, pull her close, open up her ribcage and take gulping swallows of her cold and bitter bloodpusher. Fuck only knows what you're meant to do about that feeling.
"Love sucks, am I right?" Eridan says, getting it all wrong.
You miss her like hell. You contemplate throwing your palmhusk into the sea. You contemplate a lot of things. "Yeah," you say, "doesn't it just."
His fingers brush your shoulder, hesitantly. Sometimes Eridan can be ridiculously, counterintuitively, unexpectedly sweet, salt and honey underneath. You put a hand over his and just stand there for a bit, as though you have any right to. No one ever touches you anymore. If you could only figure out what the hell happened to your life maybe you could fix it, but you can't, so that's that, you're fucked.
"We doin this?" he asks. Eridan's a little purple around the cheeks, like he's embarrassed for you, and you scrub at your face again like you can scour your expression clean.
"We're fucking doing this," you say. "Legal loophole: the just persecution of aberrant religious affiliations takes secondary precedence to assistantative resolution of an emergency situation, that being a manifest example of clear and pressing danger to the fabric of society as a whole. Hope your cultist doesn't mind a little conscription."
He squints a little, his lips moving as he parses that. "This why you don't hassle me none about the... you know, Sister... thing?" He makes an awkward, swooshy gesture with one hand that is presumably a representation of his lamentable tendency to raise nigh-unstoppable dayterrors whenever he gets cranky.
"Officially, I don't care. You're still dedicated to one of the official quinity, for all that you're a no-class barnacle bulge about the terminology and for all that you are going to die so young for ever having anything to do with the Fair Lady of Light, you're covered. Personally, I could not give the first unofficial shit, though I'd thank you kindly to never lock a revenant in Sollux's ablution trap ever again. You know how late he kept me up whining about that little stunt?"
"It was his wiggling day," he protests, a shit-eating grin slathering all across his sharp teeth. He looks like a self-satisfied eel. "Wouldn't have been any glubbin special if he couldn't possibly die of it, Kar."
"It is entirely disgusting that you even know his wiggling day. What kind of kismesis even are you?"
The boat rocks sharply, and you find yourself stumbling up against him. His arm goes around your shoulder, steadying you, and he drops a quick, surprising kiss on your forehead -- his mouth is cool and burns all the same, like ice on your skin.
"A bloody thorough one. Now come sit yourself down in the cabin, I'll get you a tarp so you don't catch chill and expire on me. It's a long ways back home, and I'll have to fuckin bury you at sea, won't I?"
---
The Corbenic is one hell of a hot mess, and you have to keep craning your neck up farther the closer you get. You've never seen a sea-ship so big, nor a wreck so well preserved. It lies across a rocky crescent chunk of sandbar in a great towering streak of ancient metal scarred over with red rust and the bone-white intricacies of corral, shot through with silver threads of patch jobs.
"How did you ever get a drone to repair it all?" you ask. "This is a massive fucking project, Fins."
"Didn't," he says, sounding embarrassed and besotted in equal parts. His shoulders are defiant peaks. "They wouldn't. We did it all by glubbin hand, every patch. Stole a lot of weldin' gear our first few sweeps -- though you take me to court and I will lie, Thresher."
"Damn," you say, sincerely impressed. "You got hidden depths, kid."
His fins go a little purple, but he tosses his head, all easy arrogance and pure pleasure. "Coddamn abyssal," he agrees.
Where the top deck sags nearly to the water line has been turned into a makeshift dock-- there's a winch, a pile of crates and tanks, and a bright little hiveboat already moored. It's all rainbow-striped awnings and sagging corners and disturbing half-glimpses of circus votives: you get itchy just looking at the unashamedly sacrosanct mess of the thing, but Eridan bellies the tug right up next to it and lashes sound to the Corbenic's railing.
"Gamzee's already around," he says, pleased.
"Good," you say tightly. "Great. He looks charming. Are those actual skulls hanging off the front part?"
Eridan glances over with the air of a man who doesn't care about the décor. "Sure as hell ain't coconuts, Kar. You goin to faint on me again, or what?"
"At your bad taste and poor life expectancy? That's enough to put anyone into an unmerciful swoon." You take a deep breath. "Tell me your own hive isn't quite this heretically hard on the decency glands?" It comes out a bit plaintive, and he laughs at you.
"I'm fuckin' prim and proper as any kid who lives in a creaky old hollowed-out battleship," he says, and vaults the Corbenic's railings in a single practiced leap.
"She was Dualscar's, once," he says, "did you know?" He runs his palm over the railing like he's touching a flush-friend's face, slow and sort of distractingly tender. "Served him well. Serves me well for all that, she's a grand girl. Saw this wreck when I was just a minnow, and some part a me just knew it was home, and so she's been."
That arrests your attention from the sloppy heresy of a cultist's hiveboat.
"Dualscar, like, hold on, like Orphaner Dualscar? Dualscar the Genocide?"
"I don't think there are any other Dualscars, Kar," he says. He smiles at you, so stupidly proud, and some tardy part of your brain finally, finally goes click and you are breathless with shock and horror. His fucking crooked horns, his jagged sigil, his baffling, relentless, indomitable arrogance! You are the stupidest ass in the world.
"You're his descendant," you accuse. "You, Ampora, are the fucking hellspawn of history's greatest monster."
He only laughs.
"Why did you think Sollux can't keep his fuckin' paws off?" he says, and drags fingers across the bruisy chain of hatemarks on his throat. "Not everyone gets to say they ride herd on Dualscar's get and are pretty enough to survive, huh?"
"Not everyone gets to say they know who the fuck Dualscar's get is and didn't burn his dangerous fucking carcass down to ashes, on account of only Sollux Captor would be dumb enough! Augh, he knew all this time and he did not fucking tell me, that is typical! I am going to wear his gluteals as a fucking hat, I swear."
"You think I'm dangerous?" Eridan says, looking kind of worried. He leans far over, and pats your fucking head. "I wouldn't hurt you, Kar, never -- "
You catch his wrist. "Yes, thank you for pinpointing the crux of my horror with your unparalleled deductive sniffatron, it's definitely that I am scared of you and not deeply troubling fact that my lunatic of a moirail neglected to inform me that he has been pulling out the fucking pail for Sea King Junior."
"He never did have no common sense," Eridan smiles, and he hops over the railing. "Here, lemme help you up."
You have to swallow your hysterics and grab his hand or risk getting dropped into the ocean, and then you get your second shock in as many minutes on account of there's his mystery of a moirail, coming quickly down the sloping deck.
Feferi Peixes is, in a word, astonishing. She's a lot like what you expected -- undersize, like most seadwellers -- and a lot more like nothing you could have imagined. She's healthy, for one thing. Eridan's the sanest, cleanest seadweller you've ever met by huge lengths (Dualscar's kid, no fucking wonder he's made good, now that you know this) and he's got ears that look like they've been through a meat grinder, a continuous suite of scabs and scars that cycle across his face and throat and his big outsized paws are permanently chewed-up. Up against most seadwellers he looks like a sharp and beautiful piece of business, a sword among steak knives, but against his moirail he looks like a dead crow next to a fairy wren.
Feferi is pristine, and the high proud arch of her spine reminds you of nothing more than the way Aradia carries herself at court. The perfect tines of her earfins blaze against the heavy drape of her hair, and her teeth, when she smiles, are finely set and perfectly even. Her lips are full and her jaw is a delicate unbroken point and her dainty wrists bear not the slightest trace of pain. Her complexion is the kind of smooth grey silk that half the Capitol's goldbloods would bathe in burning shit to attain. She sails across the deck like a kite, all airy speed and grace, and you have to physically force your gaping mouth to close. You realise: if she's never been off this wreck, she's never been gotten taught her actual place, her actual status, never met anyone.
Eridan folds down into her strong, thin arms, letting her kiss him all over, and the look on his face is intense, enraptured, a naked burning adoration that feels somehow obscene to watch, even coming from a moirail. The way she looks at him back, the way she turns him from side to side as they talk, inspecting him, is in such a way that it is the other part of the equation. He looks at her like she owns every last part of his soul and she looks at him like she knows, and is glad of it.
Then she looks at you and her eyes are sharp as quills, and you realize that either the world is going to tear her apart, or she's going to tear it apart. You're not sure which thought disquiets you more.
"Oh, it's Karkat," she says, like you were someone she expected, "you brought home Karkat!"
Her accent's thick as hell, thicker even than Eridan's with a high, trilling e and glottal stops so strong their plosives are explosive. This fishgirl sounds as thrilled as if you were a present, and there's her taller moirail giving a hapless shrug as though to say of course, yes, he brought you home, and she twines her fingers together and does a little spin on the spot. It seems the only way she can divest herself of energy. She nearly jangles from head to foot, twanging with longing, and then she looks at you like she can't get enough of looking at you. Her eyes are wide as full moons.
"Good evening," you say, and sketch your best bow on a calculated guess. "Thank you for passage into your hive, Lady."
This delights her. She claps her hands excitedly together, and looks ready to bust out in a jig.
"You're more'n whale-come, silly!" she says. "I knew you'd wash up e-ventually! Eridan never keeps his blowhole shut about you, did you know?"
"Shutting up not his strong point," you agree, and he shoots you both middle fingers in a two-gun salute. For his part, he couldn't look more anxious than a mother fucking cluckbeast with a whole clutch of cheeping babies. Kid's hovering, and when Feferi takes a hurtling step towards you he catches her up inside his arms and paps her face sharply. She squirms at the indignity, and clasps her triangle teeth into his forefinger with a warning growl.
"Behave, Fef," he says pleadingly. You'd never have pegged Eridan as anyone's conciliator, not with the way he tears into Sollux, not with the way he walks like he's one taut handspan from wholesale slaughter, but here he is, all splayed-out submission, and she calms. She licks the violet bloodprickles off his bit finger, and he wavers, caught up in embarrassment and fear and tenderness -- with you around, this is an uncomfortably public display of affection, and he looks like he has no idea what to do and is expecting you to grade him on it.
You say, "It's cool, Eridan," and you hold your hand out.
Feferi understands the offer right away. She squirms out of Eridan's grasp, takes both your hands when you offer them and squeezes them tight in her own-- too tight, she's got the deeps' deadly power bound up in her slim, pretty fingers -- and then she examines your palms. With perfect politeness, she pulls your hands up and kisses your wrists, formal as any warmblood in a movie. There's nothing to say she didn't pull it out a movie. Where are two kids going to learn court manners in the middle of an ocean? When she blows a raspberry into one of your palms Eridan says, strangled, "Fef," but she just laughs. "Come on," she says. "I just licked a Threshecutioner! That is one for the history books. Can I get culled for that?"
"Don't tempt me," says Eridan. He looks nearly beside himself with love.
"Glub off," she tells him. Then she tucks your arm underneath her arm and pats it, like your arm is a good animal. "Karkat, my name is Feferi Peixes, I can ab-sole-lutely introduce mykelp. This is my moirail! You know him. You know the ship, too; it's not hard to get to know a ship, they don't say glubbing goldfishshit back. So now you just have to meet Gamzee. I would have introduced you to Gamzee before the ship, but we follow a strict hierarchy here. You are at the ve-ry bot-tom. Gamzee!"
You'd been so taken by Feferi that you'd paid no attention to the troll gangling by the fo'castle, except that he wasn't a clear and present danger. Now you attend. The white paint on his face feels even more heretical up close: it doesn't help that this is one of the tallest first-cohort trolls you've ever met in your life including Equius Zahhak, looking up at his face requires a serious amount of looking up. Someone constructed this guy out of splintered masts and bailing wire and then added on a couple extra elbows. Terezi's pointy; this kid is just one big slouch. There is something in his calm, dark gaze that's unnerving as fuck, only then he does something even more unnerving than fuck, which is that he walks forward and hugs you. Your hand drops instantly to your sickle but you are too pinned even to draw it.
"There we go," he says, as you wheeze for air. His arms are iron bars. You don't even struggle; what would be the use? "Gotta be where your heart's all at, you know? Gotta do what just motherfucking comes, and there is a whole register of knowing when you hug a fucker for the first time."
"Gamzee's shithive maggots," Feferi says tenderly.
"We're all mad motherfuckers 'round here," he says. "Damn, your fucking horns are a trip, bro."
You decide that you hate him.
"Oh, why, yes," you growl, "when horns were getting passed out I was busy taking my bulge for an exploratory joyride -- twice! -- and hence got saddled with the sorriest cranial extrusions in a dozen universes, no, I can't do shit with them, yes, they shrank in the wash, I'm borrowing them from a pupa, they're actually carrots and I snack on them at night, I grind them down one stroke every time I cuss and they used to be longer than yours, brinebucket-- you want to add another noodle-fronded excuse of a dig to the grand endeavor of Make Karkat Aware He's Got Dinky Nubs, so long's the subject's up for jawing?"
He blinks at you and you glower harder. The seadweller girl is laughing madly in the background, which you might appreciate more if her horns weren't at least a handspan and a half, and Gamzee's weren't maybe a halfspan even longer. Then his longjawed face cracks open in a grin, all teeth -- he's got strikingly nice teeth -- and he lets out this long honk of laughter, just like a seabird.
"They're all up and miniature miracles," he says, and rubs his chilly palms over your rounded tips. You are breathless with shock. Everything is terrible, and is tinted faintly of clown. "You are a champion cuddler, motherfucker, am I right?"
"I don't really cuddle," you say numbly.
He tucks you flush up against his side. "Bitchtits time to start," he just says. "I cuddle like a motherfucker. Now let's get our tucker on, me and my ffefryn were just all sittin down to dinner and I warrant the pot'll up and fucking stretch to four."
"'Course it will," Feferi says staunchly, "I never knew it to not," and crooks her arm through yours.
You find yourself forcibly taken off towards the lower decks, and manage to shoot something of a pleading gaze over your shoulder at Eridan. Eridan is following along behind you, looking absurdly pleased in the worst way: wind-whipped, sort of smug, as though watching you get sandwiched between his moirail and his moirail's matesprit is his idea of high times. When you scowl he just gives you this glorious, shit-eating who, me? grin.
"I'm being molested by a fucking clown cultist, Eridan," you observe. "And your moirail is under the impression that I am outranked by a ship. A wrecked ship."
"I don't know why I didn't think they were gonna humiliate us both," he says, which is patently lies. "If it makes you feel any bit better, the goddamn ship outranks me too."
"For fuck's sake, Fins, you know that doesn't."
"Welcome to the dark carnival, motherfucker," Gamzee says, and laughs that low, honking laugh again.