Actions
Work Header
[Podfic] Wedding
Summary:
Podfic reading of rageprufrock's Wedding. Part 7 of the Drastically Redefining Protocol series.

Author's Summary:
Merlin had been in absolute, exquisitely embarrassing ecstasies for the entire first month he was engaged.
Notes:
(See the end of the work for notes.)
Work Text: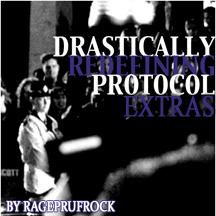 Cover art by mklutz, compiled by revolutionaryjo
Length: 16:42
Streaming
Click Here
---
Downloads
Mediafire Links:
MP3 (7.7 MB)
M4B (7.9 MB)
Permanent Links:
MP3 (7.7 MB)
M4B (7.9 MB)
Notes:
Like I wouldn't record this as soon as I saw it posted. :)

Betaed by the wonderful and invaluable Lunchee, who as it turns out was in the midst of recording it as well! So we co-betaed and co-posted the finished products over at amplificathon. You can find her version here along with her reading of the original Drastically Redefining Protocol here. They are both excellent!
Series this work belongs to:
Actions
Kudos
NymeriaAbraxas, saffronbunbaker, Kittymay, FidesInCore, carwebear1, Goobercat, strangeronthebench, Serinitycelene, overtherisingstar, Dema, erinos, xancredible, Tera2, Charace, bler, basilique, WytchyVictorian, kalakirya, alphabomb, and paraka as well as 7 guests left kudos on this work!