Actions
Work Header
[Podfic of] Linger in the Sun
Summary:
[5:11:38]
etymologyplayground's summary:
"Tell Lan Zhan that I'm weeping uncontrollably," Wei Wuxian says to the juniors. "Tell him I'm truly pitiful and he needs to do everything I say until I'm well again."

Lan Congyi is in the middle of carefully holding his eyelids open to check his pupils, but he still obeys, bless him. "Hanguang-Jun, Senior Wei would like us to tell you that he can't stop crying and he'd like for you to do everything he says until he's better." There's a moment of silence, and then Lan Congyi says to Wei Wuxian, "Hanguang-Jun says he already does everything you tell him."

--

Wei Wuxian and Lan Wangji find themselves cursed, unable to see or hear each other. They figure things out anyway.
Notes:
content warning for a minor character briefly, nongraphically threatening to kill herself (she does not attempt to follow through), and for an instance of non-fatal drowning of the POV character, which is unpleasant but resolved fairly quickly
(See the end of the work for more notes.)
Work Text: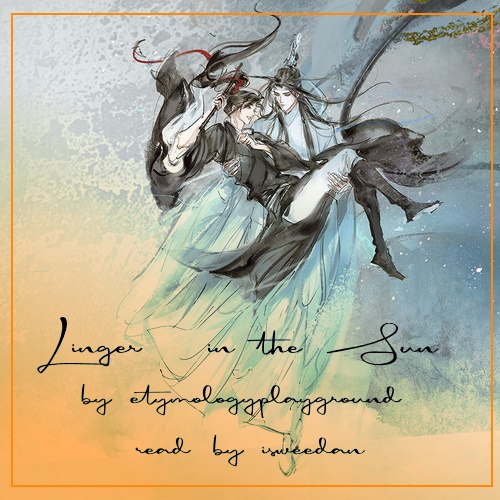 Length 5:11:38
Download MP3 Here!
Notes:
My thanks to @parakaproductions for running this through auphonic for me and for as always being the gracious host of my podfic files <3

Shoutout and salutes to @knight_tracer who started posting her version of this on the SAME DAY I finished mine. :'D

I edited and modified a promotional image released by the MDZS audiodrama team to make the coverart.

Super thanks to Lunatique's pronunciation guide. Efforts were made! Tones are...god. Tones are so hard.
Actions
Kudos
Bewilderbeest, KeriArentikai, DangerousWonder417, Emisu666, fantasy1610, AoAo12345, Lamaria_12, nasta_il96, obilupin, geeta43, moth, lawlietismine, Mia001, algeba, the_anon_bird, justsleepwalkin, Voidflower, yue_ix, Petre_bridgett, bluegeekEM, SpiceOfLife, Princekyo, teapot_stuck_in_a_burrow, stellarer, Giraffelover_12, MemeKon, Vtas, kalakirya, Ammo_Writes, JTHM_Michi, Alesay, zachin, FlickeringLights, blaue_Kosmee, clearstrike, lattice_frames, water_bby, Gondolin, flying_mirror, Gray_queen, demoniqt, theleanansidhe, nandanevesc, CherryWorldwide, Mizuki_Neko, milliejupiter, Libitina, Lilima, moscatete, eldhraun, and 7 more users as well as 16 guests left kudos on this work!