Actions
Work Header
[Podfic of] midnight, daylight, it's all your light
Summary:
[12:10]

lazulisong's summary: Marriage is full of compromises. Shen Qingqiu just wasn't expecting these specific ones.
Work Text: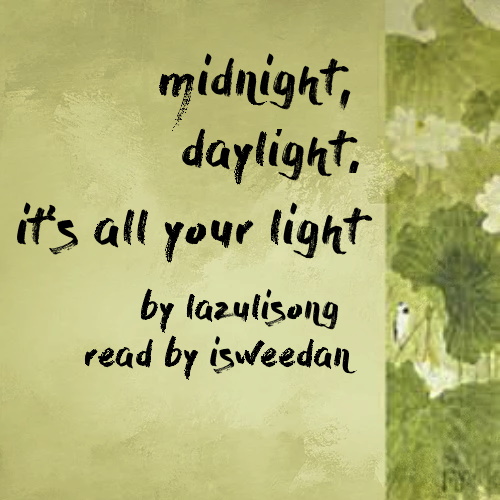 Length 12:10
Download MP3 Here!
Download Full series .zip here!
Series this work belongs to:
Actions
battybat, princessesparklepants, the_dragongirl, JeanSmith, Haely_Potter, ScarletStorm, sinpathetic, saffronbunbaker, moscatete, blaue_Kosmee, JTHM_Michi, caraminez, totallynotapumpkindonut, braidedribbon, cassiopia, AlyssaLaylaVictoria, LeahElizabeth89, Mizuki_Neko, yue_ix, verdantquest, Distopian, tabulaxrasa, esther_a, and knight_tracer as well as 8 guests left kudos on this work!