Chapter Text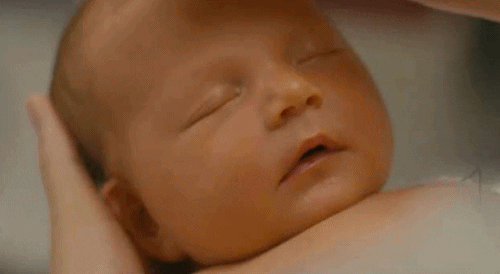 Photo credit: Unknown source
GIF credit: https://child-actor-gifs.tumblr.com/post/49626322866/my-hattie-gifs-part-1
---
At seventeen minutes to midnight on November second 2001, exactly nine months and three weeks since their fifth wedding anniversary, Virginia 'Pepper' Stark's water broke. Tony had reacted exactly as Pepper had instructed; he grabbed the prepared overnight bag that the couple had prepared some weeks before, and gently ushered his wife into the idle car that Happy had brought around to the front door. It took some manoeuvring, but finally, with Pepper sat as comfortable as possible, Happy's driving switched between careful and fast as Pepper's screaming was making everyone anxious. It took them half an hour to get there, and as soon as Tony yelled for help the nurses helped Pepper into a chair and settled her into a private room on the top floor of the hospital. 
It was about an hour later when Rhodey arrived at the hospital, dressed in slacks and looking slightly tired. He found a concerned and progressively sweating Happy anxiously pacing in the main lobby, briefing the hospital security on how to handle the small crowd of journalists and press that had began to gather at the main entrance. The pair sat outside of the private room, a small bear in Rhodey's hands, for the next four hours. There was one appearance by Tony, his hair tousled and a thin sheen on his brows. Happy and Rhodey suddenly sat up in their seats and rose with anticipation of news. Tony had been sent to get ice chips for Pepper and a coffee for himself. It was almost six in the morning, and there was still no sign of the baby, but the nurses were confident that that would change soon.   
It was another two hours before the door opened again and Tony reappeared, his eyes still full with fresh tears and an ecstatic grin on his face; he informed Happy and Rhodey that the baby was here, and she was healthy and perfect in every way imaginable. The trio entered the room quietly, and Tony made his way to his wife and daughter, lightly kissing them both on the head.
Charlotte Maria Vivianne Stark was born on November third at seven forty-three in the morning. Tony could not thank Pepper enough for including his late mother's name in their daughters. Holding his daughter, Tony surveyed the room absorbing the image of an understandably sleepy Pepper lightly talking to Happy and Rhodey, the laters gift lay in Pepper's lap. There was a small twinge in his heart as he thought of his parents, and the milestones in his life they never got to see; there was another and harsher twinge when he realised that their daughter would never get to meet her grandparents, who undoubtedly would have doted on her. As he watched Charlotte's tiny face react to the new sounds and sensations, he lightly traced a finger down the bridge of her nose, gently tracing the freckles that dusked her skin. Ignoring the insignificant voices in the back of his head that for the past nine months had been convincing him that he would be a terrible father, Tony made a silent promise to himself and his wife, but more importantly his daughter, that she would want for nothing, and he would stop at nothing to protect his family. Whatever it takes.