Actions
Work Header
Rating:

Category:

Fandoms:

Relationship:

Characters:

Additional Tags:

Language:

English

Stats:

Published:

2019-09-07

Words:

7

Chapters:

1/1

Comments:

20

Kudos:

118

Bookmarks:

Hits:

3239
[Podfic of] The (Several) Convenient Kidnappings of the Chief Cultivator by the Yiling Patriarch
Summary:
[36:29]

 

misscam's summary:

"Yes, Clan Leader Jiang. It is most regrettable, but the Yiling Patriarch has once again kidnapped His Excellency. However, we have every confidence in His Excellency's safe eventual return."

 

"Of course you do," Jiang Cheng says bitterly. "You get a more agreeable Chief Cultivator, and everyone is happy, right? You are all so happy the Yiling Patriarch kidnaps the Chief Cultivator on a regular basis. How can you not delight in the fact that Wei Wuxian has no shame and is revered for it? Aren't you all thrilled, thrilled, that Lan Wangji is such good friends with Wei Wuxian that they spend so many friendly nights together and His Excellency returns like a lovesick fool afterwards and is so conveniently more agreeable?"

 

"…"

 

"I hate you all," Jiang Cheng declares and stomps off.

Notes:
Work Text: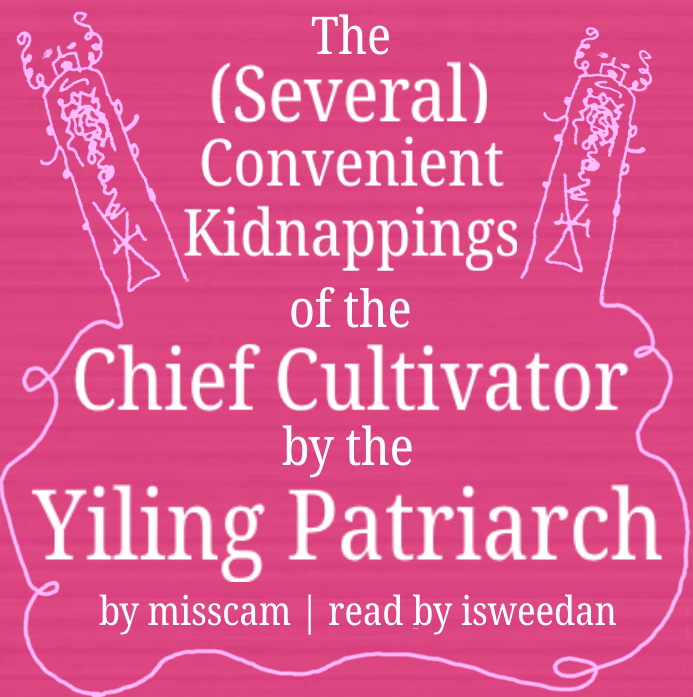 Length 00:36:29
Download MP3 Here!
Actions
Kittymay, bourbonpowered, NoGoodDeedUnpunished, Jotem27, Yvetale, IMyCaptainI, allib32, Dmhub, Miome, MalihiniMoon, Leumkleun, Rionaa, aroace_inyourface, Mehveian, WheresTheFood, VioletaAsh, sinpathetic, EastWindAuntie, Sunquistadora, siler30, olikard, TrippinOnSkies, sophie_448, MadamePearl, Mrsmarsmaus, kanzaki19, RosTheClaw, esbielle, 61Below, Hiccuping_flour, eminnn, SeaBear13, 2getherwithme, clmoryel, ScarletStorm, Autumn_Brown, Fantasaria, alisonlynn, ameliorationofamelia, BrickGrass, spandwiches, orange_cactus, JTHM_Michi, aloneintherain, OnceUponAWintersDream, puddlejmping, flying_mirror, DangerousWonder417, Inessencedivided, violetbronte, and 47 more users as well as 21 guests left kudos on this work!