Actions
Work Header
Rating:

Category:

Fandom:

Relationship:

Characters:

Additional Tags:

Language:

English

Collections:

Stats:

Published:

2019-06-24

Completed:

2019-07-08

Words:

27994

Chapters:

14/14

Comments:

313

Kudos:

261

Bookmarks:

Hits:

2366
The Desert Bloom of Love
Summary:
A mission takes Eggsy to Egypt and chasing a man through the desert. A strange storm rises up and when he comes to, a gorgeous man is tending to him in a tent. The half Scottish, half Bedouin man doesn't understand half of what Eggsy references, how could he? Weren't exactly cellphones in 1902. As Eggsy heals from his injuries and travels with the tribe, and gets to know Merlin, he starts to wonder, maybe he has finally found where he belongs.
Notes:
my thanks and praise to elrhiarhodan for the gorgeous book cover she made that inspired this story.

I did some research, but this story is heavily influenced by 90s era mills and boon romance stories, and a great deal of liberties have been taken.
Chapter Text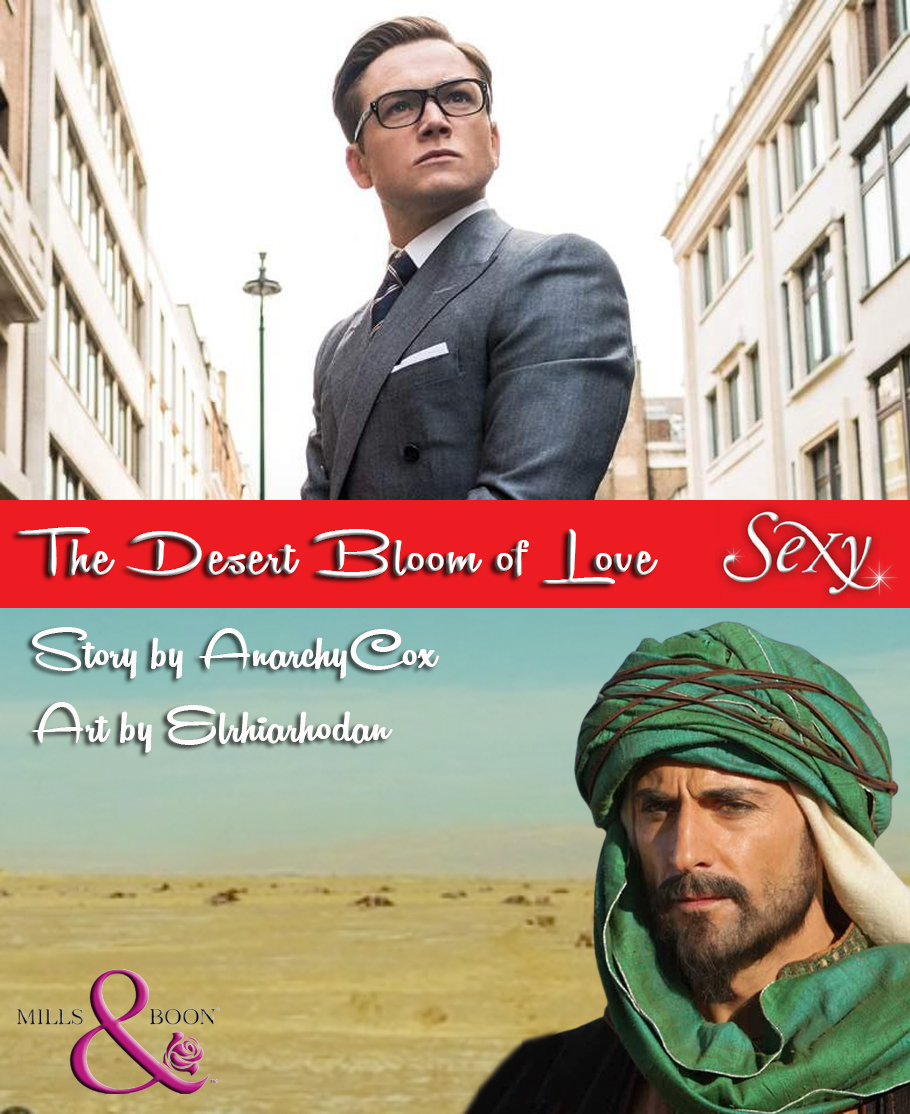 Actions
Stickypickle, Buddyley, fanficlover45670098765, dr_spirk, AnnabelleKingsley, MissFreckles, Sarcasmandconstantrage, Mirannda, TailorNorata, heepsprow, ClumsyVonGrump, HinekoAkahi, SnowdropPrince, iwasnttrainedforthis, bulldog0701, Diotla, RobynOfSherwood722, escapemyreality, agirlcalledbob, Shimmeroon, kurotenchi, Fragully, Bluedolphine568, junal, Majishia, webeg1027, Tnaived, dickstockton, anticlockwize, Kagomeh74, OccasionallyUndulyFormal, Acheron, taytayjain, Winged_Dire_Wolf, Schlotte, paper_wrangler, Tiresias, kitterkat100, valkyrie42, chewy_shark, d3m0n606, gawwd, Mistiquesbest, JoleneMeghan, Casey Lore (Raven_Poe42), AngelsandDragons, 20secondssince, NightOwlReader, Elpie (Horribibble), sweet_marjoram, and 142 more users Janahth, BloodyDaria, Mariketa12, Keelythebiteykitty, KingofSwirlandColor, megara_s, seychellesftw, grandenostalgia, merwinist, Python07, declue, shakespeareaddict, Saphirblau, mysoulislost375, Snafu07, Archetype_ElectraHeart, BronzeDragon42, MePurple, WinterPilgrim, ajohnston99, MalRhy, artemisfae, wlwbiblio, Mrsa, Oliana, Soneaa, repercusia, booker10, boingheadhome, shameless_fangirl22, spoonring, Rei22, XaChou, Newydd, calligrafist, yellowgardiner, Arlessiar, MissJCA, natalie22, Intergalactic19, Kneazle, ireallythinkmylifeissuck, louandhaz, LadyCarter, Rei_chan, itsasmallworld, derrelicked, umbrellatastic, DuchessDana, Babyabcynth, Umoya, CrystalizedDawn, Kitsune243, jayfray18, crazy_fandom_obsession, Alexandra0502, gossipmonger, topper123, reina5863, communistpasta, SplendorInTheGrass, voxangelus, r3d_haz3, Dravni, Wonderdyke, EggMuffin, Kati122333, Wanda_May22, justcallmeJack, SubCapatin, Willbakefordean, youlljusthavetowait, Amused_Mistress, Labyrinthine, lagiscae, Alyss_Mainwaring, PurpleBiohazard, soybean1132, manekineko77, Mudiooch, Lalenja, NIROMA, VitreousHumour, medicated_drama_queen, Asirane, kendermaus, thegreathm, Xanateria, zebraljb, kyraboo, LapinPetite, ScoutsHonor, H3avydirtysoul, Surprisingly_Okay17, Fidelia, AlannaLane, randomlapis, SpicySweet, hoppi, Zanzibaralien, redspecs, TheQueeninMourningHasASecret, MrsBee21, safa56bmc, butterflygrl, naru894, tamtiger, Binary_Sunset, SaveTheLight, kuroshitsgay, Katsy, thothkristen, SarahDreams, jelia32, IantoLives, GGGloriana, Scottishneko, quietlyintoemptyspaces, 2curiousbyhalf, thenerdyindividual, Jade_Night, JimIsKing, shinny_vk, cethmistmyk, KeidaHattori, anschula, sighing_selkie, sandykill, Qryx, BlueSphinx62442, deeniebee28, newB, LunaMaryl, SardonicAngelofFallen, mobilicordis, DemonicSymphony, roolime, Eggsyobsessed, EJL16, elrhiarhodan, killingmeisso2yrsago and Stonekata as well as 69 guests left kudos on this work! (collapse)