Actions
Work Header
Rating:

Categories:

Fandoms:

Relationship:

Additional Tags:

Language:

English

Series:

← Previous Work

Part 14 of the [Podfic] 4 Minute Window series

Stats:

Published:

2019-01-20

Words:

44

Chapters:

1/1

Comments:

21

Kudos:

70

Bookmarks:

Hits:

749
[Podfic] Scenes From A Marriage: Mailbag
Summary:
Podfic reading of Speranza's Scenes From A Marriage: Mailbag, part 14 of the 4 Minute Window series.

This is the annual advent calendar for the series and features letters written, in world, to Captain America by readers of the series, incorporated into the story as the written work was being posted. Podfic produced and narrated by revolutionaryjo, featuring additional voices from across the podfic community.
Notes:
(See the end of the work for notes.)
Work Text: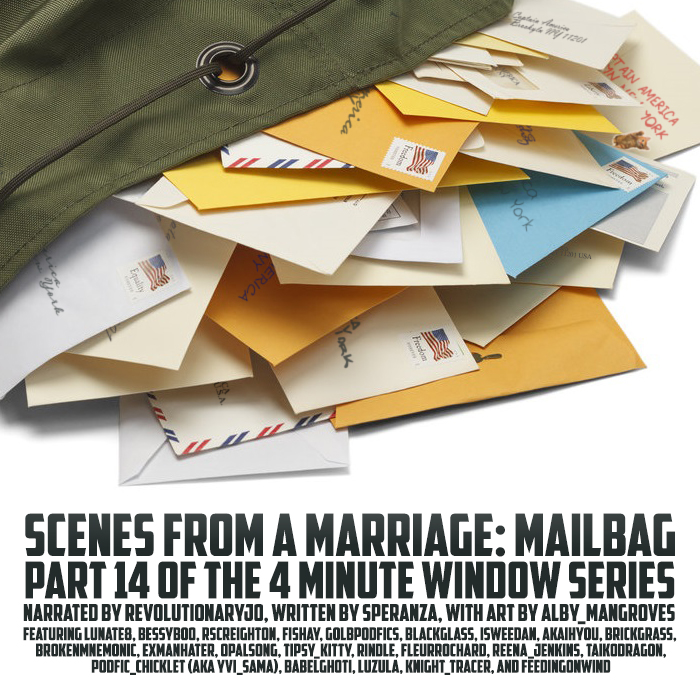 Cover Art by revolutionaryjo
Length: 1:49:00
---
Streaming
Click Here
---
Downloads
Mediafire Links:
MP3 (50.2 MB)
M4B (42.3 MB)
Permanent Links:
MP3 50.2 MB) - Right Click Save As
M4B (42.3 MB) - Right Click Save As
---
Reblog on tumblr here.
Notes:
Also featuring the voices of Fishay and BrokenMnemonic, who don't have AO3 accounts.

Additional text for this installment written by:
Letter in Chapter 4 courtesy of @BallsOnTop aka @BoT
Letters in Chapter 6 courtesy of RosiePaw and zacharypay1_Alisa
Letters in Chapter 9 courtesy of LadyDom, RosiePaw, Just_tea_thanks, and Gillette
Letters in Chapter 10 courtesy of Chelokay
Letters in Chapter 11 courtesy of sinead, Larrkin, Flamingsword, Just_tea_thanks, ReginaGiraffe, Galwithglasses, Twistedchick, Deafen_the_Satellites with beta Femme_Daltia, Andolinn, Ciircee and Sheytsa
Letter in Chapter 17 courtesy of Mellacita

You can find alby_mangroves's art for this installation within the text here, or it (and some pictures of letters I assume were created by the folks above) should also be visible in the relevant chapters in the m4b file if you're listening on an iOS device if I've built the file right, which not being an iOS user myself is always a bit of an unknown. You can also check out additional art by thigmotaxis here too!

Podfic community continues to be best community, in case you were wondering. When I thought I would have to twist at least a couple arms and thrust a microphone at some local friends to cover all 22 additional voices needed for this project, I got 37 volunteers in the space of about half a day between Twitter, Dreamwidth, and the podfichat Discord. My unending thanks, everyone! The last few weeks receiving your audio letters have been such a delight.

So all together, this is a project featuring the talents of no less than forty seven people between readers, writers, and artists combined. FANDOM, Y'ALL! ❤

~ Jo
Series this work belongs to:
Actions
EvilDime, demonflowers, HthePineapple, blackrectangle, ETraytin, Observant_Seraph, Irinuca, Soyoungink, AJenno, Kirinleaf, SarahBeth, SubieZan, huggenkiss, SABandBAB (BABandSAB), AraniaArt, Sky641, nevermindirah, Akaihyou, Kajmere, Unemployed_hippie, Chelokay, Just_Meirly, Giraffelover_12, SpaceDementia49, Ardentsia, MsPooslie, xtrachocolatechips, toujours_nigel, Star_dancer54, Kurloz38, Vaysh, scriggle, antipositional, Raine_Wynd, Chris_Quinton, stepsister, supersockie, DarkandShiny, saffronbunbaker, TooRational, d_h, and Speranza as well as 25 guests left kudos on this work! (collapse)