Chapter Text
Anonymous asked:
Today's your first day back to school isn't it? I hope you have a really great day, Jeongguk :')
goldencloset answered:
it is, thank u anon! lmao i'll try but no guarantees bc… school
if you're starting back up today good luck to you!!
Anonymous asked:
I am after my morning shift at work! And thanks!!! :D
goldencloset answered:
lol aw well good luck at work too then! fighting~
(wait omg is this u seoularts anon)
Anonymous asked:
It… could be… (Hi, my phone didn't get signal where my family was on vacation and I'm too much of a Broke College Student™ to pay for hotel WiFi lol sorry!)
goldencloset answered:
omg no don't apologize i was just wondering where you'd gone the other day! i hope you had fun on your trip even without wifi lmfao
(if u see me around school say hi ok i'd totally be your irl friend if i knew who u WERE cough cough)
---
"Hi, what can I make for you today?"
Jeongguk just about drops his phone into the tip jar when the barista in his campus apartment lobby's coffee shop turns around and is decidedly not Lee Jihoon, his best friend's boyfriend who gives him free drinks most of the time if he pouts enough, but someone half a head taller and not all that much broader, with a sunny smile where Jihoon's usual blank face and raised brow greet him.
A sunny smile that Jeongguk's only been pining over for, what? The last decade of his life? More than half of his torturously long nineteen years?
Park Jimin, Jeon Jeongguk's crush to end all crushes, blinks his stupid, pretty eyes and smiles his stupid, pretty crooked-toothed smile, with his stupid, pretty, tiny hands holding a permanent marker and poised to grab a to-go cup, and Jeongguk suddenly forgets all words having anything at all to do with coffee.
What he does remember how to say—because clearly he's the stupid one and not Jimin, and because of course he does—is, "You're not Jihoon-hyung."
Jimin giggles, a sparkling champagne kind of noise that's more a soft exhale than it is an actual laugh. "Jihoon-ssi and I swapped dorms over the break," he says, idly clicking the end of the marker in his hand. "We worked the same position, so the student employment office just let us transfer coffee shops too."
He stills, and his smile falters a little bit. "S-sorry, that's more than you were asking. What can I get you?"
Jeongguk swallows, coffee terminology still lost somewhere inside of his muddled brain. Jihoon usually gives him whatever's quick and easy depending on how long the line is. "S'fine. I'll get the, uh… the thing?"
Jimin pauses with his hand in midair, hovering over the cups. He's visibly trying his hardest not to laugh. Jeongguk wants to become one with the floor tiles. "The thing?"
Bravo, dumbass, the back of Jeongguk's mind helpfully supplies. "The, um. It has caramel?"
Another crooked grin, teeth clamped over a full lower lip to hold back a dam of giggles. "A macchiato?"
"Yeah, that."
"Hot or iced?"
This shouldn't feel as much like a pop quiz as it does. Context clues. It's cold and windy outside, he's wearing a hoodie and a beanie. There are tiny goosebumps on Jimin's exposed forearms where his sleeves are cuffed to his elbows. "Um… hot?"
"And what size?"
"Just fuck me up."
Jimin finally grabs a cup from the middle stack and scribbles something on the side. "One 'just fuck me up' caramel macchiato, hot," he chuckles. "Is that all?"
If Jeongguk's growling stomach had its way, it wouldn't be, but he's afraid he'll forget the words blueberry and muffin if he tries to say them aloud, so he just nods and hands Jimin the money, grateful that he at least had the mind to keep some on him today, and slides to the other end of the counter without another stumbled word. Jimin takes a few more customers while he waits, and Jeongguk busies himself watching the girl at the bar make the drink through the glass divider, desperately wishing to become one with the floorboards.
When she calls out, "Medium caramel macchiato for Jeongguk," he realizes that he never even gave Jimin his name, and his heart falls promptly into his ass.
---
A running theme in Jeon Jeongguk's life is that he sucks at first impressions. Zero out of ten, absolutely horrible, would not recommend.
He can probably attribute it to being the shy best friend of the two most obnoxious people this side of the Pacific—people expect a lot out you when you grow up alongside Kim Mingyu and Lee Seokmin, regular breakers of the campus housing noise level policy and permanent real estate holders on their RA's shit list. Most people Jeongguk comes into contact expect him to be just as vibrant as the two of them, obnoxiousness by proximity, and most people lose interest when instead, he fumbles through greetings and only maintains eye contact with his feet until he gets to know them better. Which doesn't happen that often because he fumbles his words and stares at his feet.
Jeongguk maintains that he's gotten better at first impressions; at the very least, he's gotten better than the first time he met Park Jimin, a time he's been hoping for years that Jimin had forgotten.
The story goes that when Jeongguk was 8 years old, he fell off of the swings at recess and a sweet, chubby-faced fifth grader named Jimin carried him to the nurse's office and held a sobbing Jeongguk's hand for half an hour until his parents could pick him up and take him to the emergency room. When he showed up to school the next week with a fresh cast on his leg, Jimin had been the first to ask to sign it, and Jeongguk has harbored a crush ever since, even though the two of them barely spoke after that.
So the fact that now, eleven years later, Jimin still remembers Jeongguk's name enough to write it on his coffee cup without even having to ask means that Jeongguk should probably research real estate in Hell because that's where he'd rather be than here on Earth where he'll have to pass Jimin by every morning on his way to class.
---
Gyu
im murdering you in your sleep tonight
WELL GOOD FUCKIN MORNING AND HAPPY FIRST DAY OF SCHOOL TO YOU TOO
but lmfao why tho
how do you neglect to tell me that your BOYFRIEND SWITCHED DORMS OVER BREAK
oh yea btw hyung switched dorms over break
get bent bitch
THE SALT
damn i'll give u the money for your coffee myself if u gonna be this crabby
mingyu you ignorant slut
this isn't about coffee this is about WHO he switched with
idk the dude, i just know he was seungcheol hyung's roomie and hoonie hyung offered his apt up in exchange since his roomie graduated last yr and housing never replaced him
guy wasn't dumb enough to say no to an empty 2 bedroom so ¯\_(ツ)_/¯
the dude
was
park
jimin
WAIT ARE YOU SERIOUS LMAO
shut up
mingyu???
don't take this to the fucking group chat oh my god
---
97 gays on the wall
Gyu
good morning it has come to my attention that one jeon jeongguk is now cohabitating with the love of his life
Not Seokmin
WAIT ARE THEY FUCKING
JK
WE AREN'T FUCKING WE'RE NOT EVEN TALKING PLEASE DIE
one kim mingyu neglected to tell me that one lee jihoon switched dorms and jobs with one park jimin and now i am Suffering
Not Seokmin
say 'one' one more time
JK
one
Gyu
one
Not Seokmin
excellent
---
"Just talk to him," is the first thing Jeongguk hears later that afternoon, scrolling through his Twitter feed while waiting for his Digital Photography class to start. Startled, he blinks slowly up across the table to find Jung Eunbi staring at him with a raised brow, chin propped up on a small hand and petal pink lips pouted meaningfully.
Jeongguk frowns at her, glancing around them. Eunbi is an applied music major, and he's pretty sure she's never stepped foot on this half of the campus before. "What are you doing here?"
"Waitlist. I need a visual arts prereq and I can't draw," she says dismissively, removing her hand from beneath her chin to wave it idly in the air. "And you should be taking this move as the act of fate that it is and talk to him."
Jeongguk hums, clicking the end of his pen. The motion brings back Jimin clicking his marker three hours ago and he feels his heart sink into his shoes. The now empty cup with Jeongguk's name in his handwriting on it is still sitting incriminatingly in the water bottle pouch of his backpack. He'd meant to throw it away, he really had. "I don't know what you're talking about."
"Don't bullshit me. I may have muted the group chat months ago because you guys like to scream at each other about Overwatch at three in the morning, but I still check it."
The professor makes his way in then, and Jeongguk takes the opportunity to completely tune out of the conversation. He had Professor Bang for a different course last semester too, and he nods at him in recognition before passing a stack of syllabi out to each table.
The difference between now and then—other than new course, new school year—is that last semester's TA, Naeun, has graduated, and in her place at the professor's desk is a boy who stands up slowly to accept the papers from Professor Bang without looking up. Professor Bang introduces him as Min Yoongi, a former student of his who took a gap year after undergrad, something that makes Yoongi flush and avoid eye contact even more, and is back now for grad school. He's alarmingly catlike, both in the way his facial features are somehow angular and rounded at the same time and the quiet, slinking way he moves between tables when Professor Bang hands him the roll sheet.
The stack of syllabi comes around to their table, and Jeongguk takes the opportunity to avoid Eunbi's pestering gaze by burying his face in his.
"You know," she says after a moment, pulling the paper down so just his eyes are visible behind it, "you're not as awkward as you think you are."
Jeongguk raises a single brow. "Is that a compliment or an insult?"
Eunbi chuckles, shoving it right back into his face. "Shut up, I had a point. So what if people get disappointed that you're not a shrieking hell beast like Seokmin and Mingyu? Heaven knows the world doesn't need three of you."
"Thank you?"
She shakes her head. "What I mean is that Jimin's always been nice to you, even knowing that you clam up around people you don't know well. He's, like, notoriously pleasant as a human being. Yuna accidentally tripped him during a dance class last year when he was her TA and he apologized to her."
A snort. "If it was as easy as 'just talking to him,' I'd have done that already. Do you know I forgot the word 'macchiato' this morning because he looked too good?"
"Okay, so that's a little—"
"I couldn't think of the word 'medium' either so I said 'just fuck me up,' because he dyed his hair back to black over the break and that was just where my brain went. He gave me a medium anyway, so there's that, but my point stands."
Eunbi tries to smile, but her cringe is too prominent and it comes out strained. "So you're awkward. Baby steps, Gukkie. You don't have to be Mr. Congeniality right off the bat."
Jeongguk doesn't have an answer for that. He rolls his shoulders, studying Eunbi out of the corner of his eye while she pretends to be busy so she doesn't get called out for being off task. He appreciates her for what she is: more reserved like him, albeit sharper, more direct. They dated for a whole two weeks last semester that ended in Eunbi realizing she was a giant lesbian, and they've been an odd sort of friends ever since. Half of the time, she's more older sister than same-aged friend.
He doesn't need to answer, anyway, because Min Yoongi steps to their corner of the room, eyes glued to a clipboard in his hands. He only looks up from it to ask, "Names?"
"Uh, Jeon Jeongguk," Jeongguk murmurs, staring at Yoongi's hands instead of his face. He looks young—older than them, but still young—but there's a silver band on his left ring finger. If he were a bolder person, Jeongguk would ask, but he isn't, so.
"Gotcha," Yoongi says from pursed lips, glancing up at Eunbi. "And?"
"Jung Eunbi," she supplies. "I'm not on the roll sheet."
"Waitlist?"
"Trying." She bats her big eyes; Yoongi rolls his, smirking.
"I mean, it's not my decision so you'll have to talk to the professor after class, but you're probably in. Just, y'know, at least make a concentrated effort to pretend you're paying attention."
"I'm paying attention!" Eunbi says defiantly, unconvincingly. Apparently Professor Bang has been talking this whole time, not that either of them would have known.
"Oh?" Yoongi intones. He leans his hip against Jeongguk's side of the table. "Thinking of ideas for your final projects already?"
Eunbi's smile falters as she leans an elbow on her untouched syllabus. "Alright, so I'm lying."
"Could tell," Yoongi says in that same flat, amused tone. "Pay attention, kid." He turns his gaze to Jeongguk, who's gone silent. "What about you?"
"No," Jeongguk says honestly. "Sorry, this is my third class of the day and I'm already kinda burnt out on syllabi for the week."
Yoongi snorts. "I feel that. Don't sweat it, you've got all semester. Just don't put it off until too late, yeah?"
A nod. "Thank you, Yoongi-sunbaenim," Jeongguk says quietly.
Yoongi nods in silence, turning to take roll for the next table.
"Damn," Eunbi murmurs. She's finally opened her syllabus and is leafing through it with a grimace. "Maybe I should learn how to draw."
Jeongguk follows suit, flipping open his crinkled copy. He can bypass the class rules and regulations at this point, and he hones in on the assignments page. Most of it is standard fare for the course: natural landscapes, portraits, a few conceptual projects that allow for more creativity. The final entry on the page is bolded, standing out from the rest.
FINAL PROJECT, DUE 6 JUNE 2018:
Each student will be responsible for turning in a minimum of 10 printed photographs, defining their interpretation of the word "muse." Submissions will be due by the end of class on the second to last Wednesday of the semester and presented on Monday and Wednesday of the final week. This project will be worth one-third of the final grade.
He reads and rereads the description while the professor's voice goes in one ear and out the other, barely background noise.
Muse is a weird word for him. Some of his classmates have gone on and on about finding their muses, devoting all of their art to whatever it is. Jeongguk's never really had a muse. Photography was an outlet for him as a lonely, quiet kid who didn't have a whole lot of friends growing up, a concrete excuse to be the silent observer in the background so he didn't feel too bad about it, and it grew into something he started to genuinely enjoy outside of that. No muse, no secret, hidden meanings. Just Jeongguk and his camera.
The word sits on the tip of his tongue for the rest of the day, ever present. Muse.
---
jeongguk ᕕ( ͡° ͜ʖ ͡° )ᕗ @paletteoutsold · Mar 5
first the boy i like shows up as the new barista in my apartment's cafe and now i get a fuckin impossible final project assignment @god i just have some questions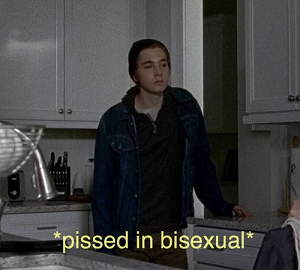 mingyutie @rookiemp3 · Mar 5
@paletteoutsold just become an iu fansite that solves ur muse problem
jeongguk ᕕ( ͡° ͜ʖ ͡° )ᕗ @paletteoutsold · Mar 5
@rookiemp3 go back to writing reader x joy fanfiction u fuck
---
Anonymous asked:
BOI deets on the guy u mentioned on twt
goldencloset answered:
nbd i've just had a crush on him since we were literal children fjkdafdsljfs
he's gorgeous and a sweetheart and i wish i wasn't so shy lmao :(
Anonymous asked:
Different anon (SeoulArts anon lol hi) but as someone who may or may not be in a similar situation: you're gonna hear a lot of 'just talk to him!' which sounds like shitty advice when you're not so bold, but you can take it bit by bit! You don't have to have a 2 hour conversation with him, just say whatever you're comfortable with!! Tell him about yourself!! I've seen your selcas, he'd be dumb not to like you back lol you're stupid gorgeous
goldencloset answered:
oh my god stop this is so nice :(
idk how effective i'll be but i can try!!! thank u sweet anon, you always know how to make me smile :')