Actions
Work Header
[Podfic of] Tano and Kenobi Season One
Summary:
[06:11:51]

FireflyFish's Summary:

 

Master Skywalker always said "The Force works in mysterious ways" and Ahsoka Tano has to admit, getting thrown backwards in time by about forty years was very mysterious. Now she just needs to figure how to get back home and how to get Master Qui-Gon Jinn to take Senior Initiate Obi-Wan Kenobi as a Padawan before the young boy is shipped off to Bandomeer to take up the quiet life of a farmer.

 

Of course, that's assuming she doesn't take him as her Padawan first...
Notes:
Inspired by [Restricted Work] by FireflyFish. Log in to view.
Season One corresponds to chapters 1-12 of Tano and Kenobi.
(See the end of the work for more notes.)
Work Text: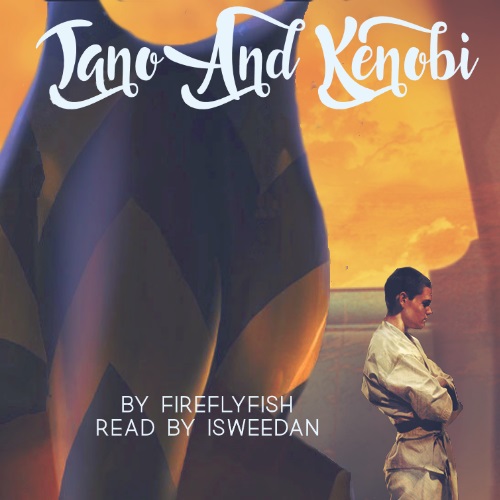 Length 06:11:51
Download MP3 Here!
Notes:
It is wildly hard to find ~canonical images of bb!Obi-Wan.

Obi-Wan here is from a Jedi Apprentice novel cover by Cliff Nielsen - here's a really neat article about his creative process.
Series this work belongs to:
Actions
biserle, grechri, Lady_Azzy, GodOfLaundryBaskets, NB1, Dr_Fumbles_McStupid, DarkShadowedRose, florgi, little_hawk395, Quantumleap, LAON, Lianda, ArwenLune, gostaks, Yin_Ren, GRINtelligencer, ingupin, Januxa, Sokas_angel, GenreSavvyGirl, Lilima, IWantYourMusicPlease, Elisabeth_Berry, Ani_MA, minnabird, KeeLoth, Rabble, The_Entmaiden, killer__K, BlueCh33se, YinNocturne, m2wild, Kittyhawk, somnolentblue, thepatchmatrix, Hero_Thief, childatheart28, Clockwork_Night, Nrandom, ApatheticDreamer, Jwoosley, Orange_Clown, Taikida, blaue_Kosmee, Jedi_Master_Misty_SmanEsay, tracyhill366, comradeorpheus, KeeperofSeeds, ireallydunno, litra, and 9 more users as well as 44 guests left kudos on this work!