Actions
Work Header
Rating:

Category:

Fandoms:

Relationship:

Characters:

Additional Tags:

Language:

English

Series:

← Previous Work

Part 23 of the Drawbles series

Stats:

Published:

2017-10-17

Words:

0

Chapters:

1/1

Comments:

9

Kudos:

86

Bookmarks:

Hits:

1156
Doodle for wickedthoughts' Berceuse
Summary:
A pencils doodle for Berceuse by wickedthoughts. showing a new Bucky (Winter Soldier) Bear and a battered old teddy bear in a new Captain America costume.
Notes:
Okay, so, while my picture is really harmless and cute, the story "Berceuse" by wickedthoughts is Hydra Trash Party, so if you go on to read, you need to check the tags, whether the kinks match yours, as my picture only reflects parts of it, and I tagged only for its direct content.
(See the end of the work for more notes.)
Work Text: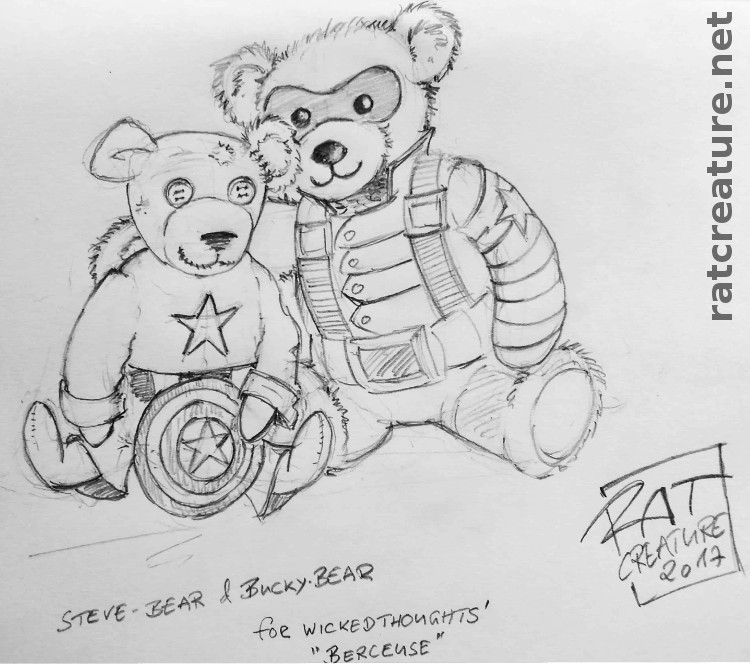 Notes:
Please do not distribute my art without my permission, i.e. do not upload my art to other sites, services, archives, or wikis. That includes uploading the images themselves to your own Tumblr, even with credit.
Series this work belongs to:
Actions
procnesflight, silenceinmolasses, Ruquas, tolarian, amakachao, Chilling_in_my_nest, amusedkoala, arachnophobic, shinra_lackey, caravanofdreams4death, sapphyshipseverything, Iohime, hamburr_fangirl, Ka0ruHitachiin, Jma1414, wintershields, 1919, MERains, iron_kissed, WienerSoldier, Doctor_Sigma, LOLaooo, TheBuckySoldier, thedarkunicorn, clairell, A_Diamond, cloudyfoots, AliceThroughTheKillingGlass, ZepysGirl, Fisharescary, FaithManages, Neene, Katie_P, StayGold18, Perverted_Virgin, heartsforbuck, snarkyducky, bereftandbreathless, BrattyBarnes, DeviousPaleKitten, wittylittleknitter, Strange_charm, Terrenis, akaugg, Chim, DarkCaustic, Dreamcatchergirl11, Kakaobohne, absolutepie, Kyaraelf, and 7 more users sianimations, slashfictionfan, CapCevans81, CerealPanda, Miesgaga, wickedthoughts and Aylwyyn228 as well as 29 guests left kudos on this work! (collapse)