Actions
Work Header
Rating:

Category:

Fandoms:

Relationships:

Characters:

Additional Tags:

Language:

English

Collections:

Stats:

Published:

2017-10-15

Words:

24

Chapters:

1/1

Comments:

16

Kudos:

47

Bookmarks:

Hits:

1456
a terrifying clamour of trumpets [Podfic]
Summary:
Edward grabs Marcoh's arm and says, "That stone – what can it heal, exactly?"

The old man's eyebrows rise to his forehead, and he looks like he already knows the answer when he goes, "Why do you ask, Edward?"

There's no metallic footsteps so there's no way Al's close enough to hear them. "I'm sick," he admits after another moment of deliberation.
Notes:
I spent a lot of time on this one, and I'm really happy with it! Thanks to my sister for helping me pick the music, Momotastic for the lovely cover she made for me, and of course ShanaStoryteller for the amazing fic.

If you're interested my tumblr is here.
(See the end of the work for other works inspired by this one.)
Work Text: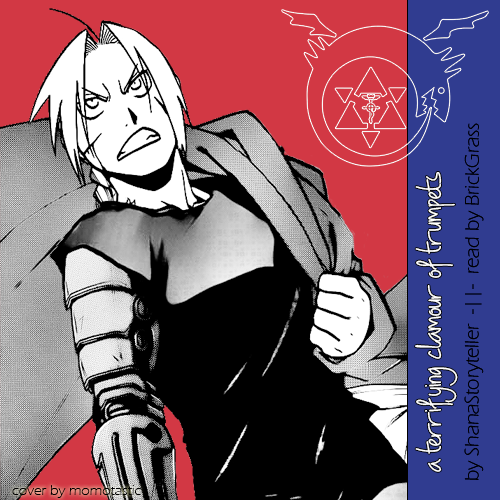 Cover by the amazing momotastic!
Download
Streaming
Song
The song is Love Love Love by Of Monsters And Men.
Works inspired by this one:
Actions
FunLover, Keii, Hardaliegh, Kururu, SpiderSurfer, LizzieLyn, litra, saffronbunbaker, below_my_soul, mangatea, PaigeRhiann, BucketLady, DarkScarletRose, SarkaS, Twilight_Angel, verdantquest, PrincessFish, DarkElectron, MistbornHero, thepatchmatrix, Eithe, Rhea, blaue_Kosmee, KatLady04, the24thkey, Rhavaniel, TanteiKID13, Lilima, TaYuyu, dome_epais, greeniron, knight_tracer, krissy2037, ShanaStoryteller, and Clockwork_Night as well as 12 guests left kudos on this work! (collapse)