Actions
Work Header
Rating:

Category:

Fandom:

Relationship:

Characters:

Additional Tags:

Language:

English

Series:

Part 1 of the Mise en Place series

Next Work →

Stats:

Published:

2013-09-02

Completed:

2014-01-15

Words:

161004

Chapters:

28/28

Comments:

2221

Kudos:

2560

Bookmarks:

Hits:

71596
Mise en Place
Summary:
John Watson had no intentions of taking over the family business, but when he returns from Afghanistan, battered and bruised, and discovers that his sister Harry has run their restaurant into the ground, he doesn't have much choice. There's only one thing that can save the Empire from closing for good – the celebrity star of the BBC series Restaurant Reconstructed, Chef Sherlock Holmes.
Notes:
The One Where Sherlock is Gordon Ramsay. I have no shame. Tons of thanks to kizzia for the Brit-pick, earlgreytea68 for the beta, and lady_of_clunn for the hospitality!pick. Kizz and EGT both bolstered my confidence on this fic when it flagged, and without them, it might still be languishing on my hard-drive. Lady was of immeasurable help getting the food service details in order. In addition, talloakslady was huge help with possible plotlines when I first started thinking of this fic a year ago, and my husband was the one who came up with the original concept for the Empire – he's pretty nerdy and worldly, this sort of menu concept is totally up his alley. Thanks also to just about everyone on my LJ, who watched me make random recipes and commented on my lack of plating skills. You guys rock. Come over some day, I'll bake you brownies.

I started writing this story for Nano 2012. I hit 50K within the month, and took another six months to write the other 100K. Please note that recipes will accompany some chapters, because I am just that insane dedicated. Updates every Wednesday, assuming I don't get evacuated again, which would be quite the trick, since I'm back in the States for a while now.

 

 

Korean translation by millute.

 

Russian translation by Ламантин Джереми.

 
Chinese translation by Smoked_salmon.

 

Podfic by consulting_smartass.
(See the end of the work for other works inspired by this one.)
Notes:
I know, you all saw the update notices and got WAY excited. Please don't be mad! I was away for the weekend and when I came back - look what I found in my inbox! A lovely reader who wishes to remain anonymous made me this fantastic cover for Mise! It's THE OPENING TITLES. With Sherlock's name! And Mike Stamford! AND THE BBC LOGO. I'm totally flailing like a fish over here.

THANK YOU, ANONYMOUS READER!
Chapter Text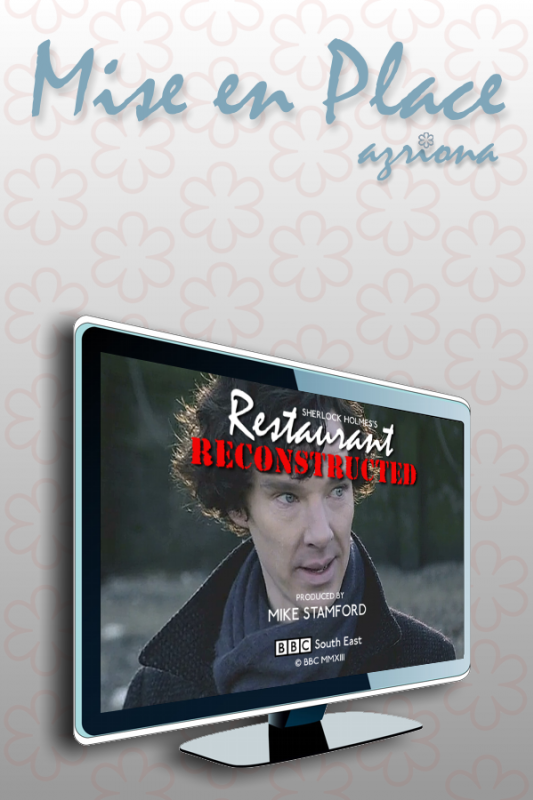 Actions
ShiranaiKoe, JessicaHearts, Badkatpat, Phantom_of_the_Claw, Ashinsa, exoshines, fernitron007, HogwartsHeadGirl, atlantabluesky, queenofdestihell, Dwelt, aslytherinwhoistrying, Shaddess, 13Turnips, in_the_wind, sparrow76, Phil_lesters_ass, mimssio, The_BloodyEagle, Remyle25, Lonan, Pharuhi13, Benjirobotan, chuchuichuyou, carome, Quietlymischievous, someones_child, QueenofHearts7378, ea-stofnar (SinsofYouth), Fandomology1, thing1, NMU, taronfirth, jadztone, Branwen, WishBySpiritAndIfByYes, ArchaicJotun, smirkdoctor, Rhast, Frant1Cat, existentialpun, GawkingFish, shamelessmash, MrsJohn, EsotericGeek, kataang816, Bagheera95, EdwardCullenOwnsMySoul, KawaiiAnimeGirl, RaineFlower, and 1357 more users ironweed, infiniteonions, Flacka94, busy_thinkin_bout_dirk, Tepuzzi, Seramarias, serenity_p, Iamthebookwyrm, hrkmhonor, Sm3llyCheese, clyzzle, Yuu_chi, csi_bakerstreet, soodohnimh, elliebec, crazydoodle, WritingBlock, dubiousWanderer, I_am_JOHNlocked_58, EvilleApplePie, spirits_gal, Cylina Nightshade (Cylina), vanaxao3, sceleris, stellata, jonie90, bcenman, yuki312039, ArtInChaos, B32557, ratherbethedragon, IsaNox, Mirjam, mikabee, Obliviate_Amores, sakuralover_kws, Bschmoop, SherlockLovesJohnPassItOn, PizzaMan, sterekvibes, Chrysanthemum247, mylittleficlet, Gr3y, vpkramer, neverending_moomin, strawberrymilano, MrsLukey69, HusbandEarrings, Evabear2014, pastelmint, iwentontheinternet, OspreyEmblem, Homestuckified, auraknite, coolbeansmcqueen, screenplayed, Wildrose_007, tgt, SherlockandJohnFan, ejdofthewater, pirisilla, mindinthegutter, nemoholmes, counting_angels, LikeICare, InkBlackFingers, inlieuofasmile, haituvainen, franklyridiculousadventures, resurrectedhippo, LordVio, dawnishere, DelightfulSins, Derepi, DodgyRedHead, justdreamingalone, Rain29, DinahLance, biteyourthumbatme, johnwrites, JanineInTheSuffragetteCity, sikecarton, someday_apiary, fudgemonster8, drazo, Driverpicksthemooseic (Ratkinzluver33), Paperwhite_Narcissus, Iriya, Cai, Indil, Anna87244, curtisthecat, EveHeris26, xefielle, Florenz87, addicted2fic, Champinane, JBearn, chiarobscuro, Shamelessobsessed, Sally_not_Donovan, Charace, BirdsTalkCode, Steampunk_Archivist, gwen_stacy, cleflink, La_Isla_Bonita, alwaysanoriginal, All_I_Ask, darkangel86, NeuroticBunny, sweetcat, Charlestonbury, Pointybatch, d_susan_k1, indecisive, imadisaster, nilaglar, Thetearedheavens, PinningSince1887 (TwistOfLily), sielewi, lunarsea, Ioana, GuixonLove, lmirandas, lmirandas, BeachQueen, miridescent, Katwist, StarlightAndFireflies, Mielka, FandumbGirl, andpap15, Merla, Salvie85, DaileyObsessions, Blackbird_y, asopposedtoeverythingelse, sikatrambut88, hetaliafan2295, paradisecity951, twistedsmileM, Donna_Meo, 63rl1A, darandna, idiocypersonified, Athenais, inkdragons, Johnlock_is_canon, sweaterbilbo, edwella123, cjrodriguez, ravensong2, Deaflock, mandysimo13, evemari, persephone_bound, Bomuki, Boheme, thosewhowant, Meredelicious, Classyflygon, versions91, SnipersandCuddles, TearStainedAshes, Foodmoon, naro, Wren_K, Holly_Batali, WhiteNaomi, SexyastheTARDIS, jaid_diah, GallifreyanGirl79, kashiichan, Maharani_Radha, myyaoibetch, Gilsa, heycherie, A1H, Ariel32398, A_Candle_For_Sherlock, Maxy, RebeccaZal, Yourusualme, gmonkey42, Giz2mo, pixelerrante, wholockinwesteros, QueenThayet, Jasitala, Samui_san, soraheartless21, studyingmagicbynight, IMakeMyselfLol, Medea_Talespinner, izumiodd, lloram, Icanwritesee, Johnlock_is_my_otp, dodecahedron, sebastien_lee, EclairDenise, grausherra, ohsuno, mychemicalklaine, Ser_lugonbe, loverofgaydragons, murzik29, CielAce, FoundInTheGrass, Elena_Merle, goldenplum, paopufruit, unreliableKamikaze, Fandom4life, LordELord, googler, Melusine, LedaLaters, Lilywen, Bonnie_Bug, msdisdain, Artemis8147, Karloska, BlueArcana, Sarah_94, thefrailtyofgenius, ariadneowl, feralhamster, PolaroidPrincess, RainbowFire, BadWolfKris, lovelylumie, EmmerBond, Black_Spy, Chickenface, akrons, huldrejenta, Thestias, refuse_to_sink, SuperKuteCat, ReticentObsessive, bellnady, curlymopofhair, roses_bees_deer, 2mich4, Shidoni8, silvereye5, Anarfea, dawnstrider, buying_the_space_farm, birdie7272, greenjello94, SilivrenQ, Usagi3x4, hunterhazard, Jun00IX, anacutelurker, chikku, Cerani, Tabo, Aire, Wordnerd19, Sarah1317, missingpride1913, murmur_against_broken_skin, Pheeby, idjituniverse, phipiohsum475, mithrissa, coventry1895, kree, chortlingdingo, fangirl718, TheHistoryHuff, Carbo_Queen, Rhidee, deadgloves, homosociallyyours, EmmaSimone, DreamingNeon, Iovanne, Spinner12, burgeoninginnocence, Banach_Tarski, doctorwhoper, laconicisms, Bubblegumlocks, too_much_cheese, various_lovers, MasterOfDisaster, Angelfabeth, janaina71, BibliophileLove, Lunatic12, TariusBlack, macklebrave, FacetiousFox, Chanolay, Midlife_Fan, ipacoxt, CorinaCat, readermrd, kitoruen, InsufferableNarcissism, Rodeco, FreudianSlip94, shewillgivewater, CeruleanDarkangelis, CumbersBabe, shazzado, consultingwizard394, byericacameron, Alexielucifero, Darkmoona, Schmiezi, LittleAlma, Yewwily, thewolfatyourdoor, fairiesbyte, RemDawg, Truthless, NutsNibsBeans, AxeMeAboutAxinomancy, dr_trekwood, doersundone, bookaddled, kjswimming, ifreet, philatos, Erindors, FervidAsAFlame, mikiwatches, breadprincess88, gigglesbatch, Justridiculous, Opheliad, Riastarstruck, agathachristie62, Maye_Malfter, ErinNoyes, NateTheTatertot, Johnlockedverymuch, winter_of_discontent3, lifeinwords, kcarlson1152, Jesse_the_K, SarahTheCoat, Machaons_Wahnsinn, WarpCore21, butterkist, runswithscissors, unfictional, kettlepillow, chrismelonibenedictlover, viola69, kasumixkira, Kiraivy2, beejohnlocked, red_as_rue, RustaWilwarin, Ace_of_Hearts, hogwartswitch, lovetotravel, laqlala, Chrissymbod, Azmodel, qup, SwimmingBird, Rhiannon83, Waiting_line, mugglekat, Lunacom, bluishpurple, getoffmysheets, Selori, Jberry, SnakeofMedusa, Empirical_Crescent, Mistaya, silentdreamer126, thatkidwiththelongcoat, archionblu, EstaBien, WaitandWonder, livloveel, coverquirrell, Jlocked, LadyGinger, The_Lady_of_Purpletown, Tenshi_no_mugen, TwasBrillig, AFbrat130, BeakerMeepMeep, serpentess22, Silfel, glenien, Alwaysgio221b, Kitshady, shezzabatch, SincerelyChaos, Nerdy_glasses, Sosickyetsobeautiful, Beloveddorian, Odamaki, Finn, foxtales, Naturally_Wholocked22, jammybuggerlove, barmy_bunk, barmy_bunk, Chelsea_Deanne, NezzaMesser, ivyginny, dandalfthedisco, contest4jen, Bonfoi, Kaeva, Neltil, atleast3shadesofgreen, theseventhmarch, atomicsunshine, bluefray, Yuimo, starwire, Kittylin15, Elentar1, babelout, slashscribe, earthliving, artless_sprawl, wendygreer, Zpiderzi, pocketsoup, the_gramophone, Basingstoke, TheMadKatter13, beezee, ErikThatsEnough, Elleina1907, ihnasarima, Menochange, Amyalices, johnlockjf, ravenscar, Zincpaw, SpaceQueer, mysnowingstars, whysherlockwhy, cleverfox187, FlyingWithTheWind, FrauKeks, ShippersList, cakepopsforeveryone, loverlylaurel, Valerie3, silenceinmolasses, Lemonkiwi, darkwickedwitch, jamielovely, WinterRose16, Just_Write, FriedDeerInTheWoods, allyndra, Tjaren, Oddree13, Lo221B, QueenCupcake, fred_felix, ashal_telsu, every_day_im_shuffling_papers, KoraRubin, Zebrasoma, kypip, AkaiTsume, iwatobi_saale, edy, eternal1winggoddess, TOADSCHOOLED, Walabean, TheDarkestSupernova, hpbrat2, cornbreadstuffing, squidspawn, DawnMasonCullen, alatariel15, stoplightgodess, BanimalQ, Silklightning_Seychelles, sunakoinu, DisturbNotTheHarmony, Triskaideka, 2doctors1tardis, iamsherlockedee, CosenAngel, OneChanceToLive, sassybleu, youraveragejoke, the_zimmerbutt, ItalicizedPeriod, myriadofsins, Dorian_of_Florence, clueing, Asmit, Vivacious, Arwedha, OrnateDragon, Casandra12, Nagem, Patroklos, Ravenwolf36, xa0c, spudqueen, Napli, DaltonG, curlylinguist, 2much2live4, MissDavis, Fictitious, Cheburashka2, Mewillia, UpsettinglyWholockian, MadTheLine, Sweet_Blue_Cucumber, evisionarts, brittymarie68, nothingtosay, atarigurl14, crazycat1895, Stoneegg21, Pamplemousse, queen_of_misadventures, A_Diamond, themayflynans, Tochira, readingdreamingwriting, StitchedOpen, the_fairly_queen, Rowen, DrunkenStrawberries, DrunkenStrawberries, tavella, reddawn56, Spastic_Starfish, tiffy190706, Olivepipit, hoars, Gingerhermit, AllTheThings, miezer, Lebensmude, libco, Jominerva, allfinehere, KingTyrell, devilishdestiny, MustangWomanT, harpling, VaticanxCameos, basillemonade, Tanouska, Pangaea, Perxita, pureimaginatrix, AmeliaPond1997, pearlstar178, doctormchotson, cherielynn503, redheadedleague, DarkLucidity, oncomingtragedy, Kunstliche, Woeshh, eaovento, the_wemster, Valhalla_Loki, eileenprince, Aurora_Kira, considering_lilies, ThatWasntJustMe, Belema11, booknerd91, coeurdescience, Geneva, hrabana, Totheverybestoftimesjw, Halidura, AJ75, flibberdy, itsjustmefourhundredthirtythree, oddiii, AnneRebirth, Tanza, Bellfiore, Crystalized, Shidoya, EvaMarie, bitcheesquared, Ambrose42, AlaRuna, justndy, Kimbus, inadaze22, waydurie, BoekOtaku, jennablack, Poppylove, Skipchat, Shines, TheCruelSister, DSEG, ijjhshjhw (teamjhw), Crochet_Junkie, siennna, Adii1444, Peachy159, Khaireddin, MargeryStarseeker, AuryGR, nadya0110, andysanime, arielmrose, flightofthefanfic (Flightofthefanfic), nightmoth, LapisLazuli, CrystiC, ViciousTrollop, CaptainMercy42, ChuckleVoodoos, Toulouseluce, Twirlilocks, ClarissaMori03, JamiAlexandra7, Ziina, midnighthour00, patternofdefiance, lovely_sage, OrangeBug13, jinglebell, Alive, theshortgirlintheredcoat, Metamorphoses, whitecrow, sweetteeth22, belovedmuerto, I_am_Kara, Hisstah, PandaLouise, DamaDuende, Samilu, raisins4peace, Malicei, CirilEowyn, LurchiWerwolf, tigersilver, Potrix, MJG_x3, LostPlotter, wanderinglimbs, sorrycas, commie, seisi, CupcakesAndTae, Arutha, sea0fseren1ty, I_m_cumberbatched, frenchpeas, Rockygurl106, MGPotter, aqueerius, pukajen, shizekarnstein, vertige, dragip, xirpet, masked-alias (sherlocked_n_loaded), Kaesa, nomedarte, Artemis_Fortune, Arastija, IvorySoul, miikkuli, lightinthewood, Alucard, sandyamp, Duochanfan, solarfox, iamhereforthejohnlock, arcsupport, clower9, MoonlitSunlight, Nayalion, nondeducible, knixb, awkwardoscar, Goda, Sarulez, andreanna, Delicious_Vice, marcella_mcphee, Krykl, Jenevieve, Prince_Moriarty, telltalenight, lil0urry, WishingForABetterYear, TheNavelTreatment, claimthatbooty, wendymarlowe, KRH, CrownBeed, Tinq, shadowed_sunsets, hepburns, Book7BrokeMyBrain, leet19, Atisenia, shy_dragon, Sheeijan, angry, ragingrainbow, danglinghearts, Meriyem, Wheresmycow2, tibean2992, TigersEye1, annascathach, HumsHappily, SHERlocked33, EmiRaye, BesideMoonlight, LariaGwyn, Natka, jessisnotanowl, Addie221B, LitLocked, Devisama, hisNibs, MarinaK, Akumastenshi, Kikachan, Arlenis, fringesci, themuppetyone, spear_kozak, madamevashtranerada, mrsoyramen (alexsiralan), DuchessofYork, alyxpoe, Paigers, Lorelaii, Kjellgren, bywthedragon, Sosaith, koolneko, Lillianrhys, Frodosweetstuff, Fiannly, AliceG, karmic_endeavor, Pyjamapants, ise, maryavatar, athousandstars, wynnesome, white_Sin, xsunnydays, nautilicious, imfuckingwolverine, ofermod, missingPumpkin, Doctahlock, Mistressace, Vivi_Marius, crossroads, Japonicastar, Adena, tazigo, Moonlit_Water, MargaritaD, superblue, Nicnac, Cartilong, ObsidiaTerrorscream, SpiritWorld, vromacher, RainLily13, rooftopscandal, larrysankles, frostian, GentleMoirai, you_are_awesome, Ibexamber, Kian, Callist, chimesofmidnight, sylviarachel, Ticking_Time, atastandstill, galexybabe, amenaneri, Serinah, kuratt, Trista_zevkia, smokiquartz, turifer, turifer, turifer, DeeLeigh, tifounette02, Arel, framboisethe, llaras, astroanna, pennilesspoet, Lazy_Queen, SmallerOnTheOutside, LRJ, wearitcounts (Sher_locked_up), TheBl4ckP0t, Willidan, ArabellaStrange, MoHo14, draconitas, PhoenixFalls, goose_smoothie, Chryse, prettyvk, capt_john_h_watson_md, mustakivi, chayna1, thelionsleepstonight, ForeverRestless, HowHardCanItBe, timeinthetardis, KateMonster, MaiaJ, xx_keks, Cakeismyfavorite, malnpudl, Zentris, Kashmirr, flawedamythyst, pyxiestyx, starsie, rosie_lioness, Ahalya, lutz, TheWordDoc, Caffy, AmaDayDream, virile, JakFrost, Fingertoes1612, doctorwhoatson, PickyPicky, agelessArbitrator, AprilReyn, 4mpersand, YaniCardaria, sillysyra, coyote_laughing, SwissMiss, Aloho79, November Snowflake (novembersnow), StarkMad, norcumi, Old_Grimalkin, saibowtie (camydi), hurry_sundown, rokbezinne, Ejella, Fredericks, JennyPAK, lajeunefemmeaucrayon, definestrange, theoppositeofpeople, Youseichen, consulting_smartass, leavinghope, pironaut, lmmk81914, 7hr3ven, AirmidCelt, panitashi, fictionforlife, prettybirdy979, borealis, Morwen_Eledhwen, Diary_of_Madness, canolacrush, hidingasmyself, aranel_parmadil, adraztea, thigmotaxis, Elhana, MerinaGreen, KendraDuvoa, Lapus_Lazulli, vampishzeus, dansetheblues, anchors, somethingsomethinginmay, Avicia, f_m_r_l, sesquipedal_gil, thetardisisjawnlocked, xgraciela, ascellazetas, girlwhowearsglasses, Morsiuncula, Goldenbuttons, CRamirez, Oceann, dkwilliams, letice3, ltco, Nilenico, carzla, sileya, annie_reckson, Desiderii, redbellcamera, Signourney, saveforsofy (yorkshire_cat), DebaucheryandThings, reishin, iseult1124, DenverChick, PirateMum, Bound_in_reason, TheOtherWillow, tizig, LockLove, bigbang97, illunoria, homebody_20, SpaceTimeConundrum, pokeboru, scullyseviltwin, splitseconddecision, MangosMangos, silvarfic, 221BelieveInSherlock, wendalee, Summer_Story, Leviathan84, eldriwolf, DitzyRitz, corteously, cumbatchgirl, JoannaD, SnayTheEnigma, redvalerian, lamusadelils, Ithindiniel, AceAnon, bc_im_courtney, shaherazade21c, Lotl101, sscherdt, LuckyRedBalloon, wholockian719, AuntBabe, Yuki801, Luthe, paulieanne221b, Stormymouse, Angy, randommegs, PacNWatheart, Varda_Elbereth, HulkeyesBitch, aksommerfield, pythagoreanpineapple, sherlocked_bootoye, apith, willip, pana_po_o, KylaraIngress, Lysakruger, kellywiag, foundlingbird, R_Salie, Alatriel, silver179, VSalkhud, juniperscloak, Angelux, AlastrinaMeadow, DingoesAteMyBaby, Pickleeyes, cosmogyral_mad_woman, Popcornapocalypse, Moon999, Baby_Horntail, ThestralWolfsbane (Sentra04), TheShadierTwin, Threeh, FingletonTwiglet, rinae, Kant, Bullla, StudiousOctopus, foureversherlock, Cardiel, IAmPonyBoy, kilthunter, Amity_who, Knackorcraft, And_Another_Thing, Civility, curiousdreamweaver, MaxManuka, wintersnest, Medvalkyrie, KestrelHill, Diane_C, dijour, likemarilyn, Marzipan, Hollysayshello, pringlesaremydivision, shepherdknightly, Queenoftheuniverse, hyka, Kasia27, Jazz_s_shadow, Cricket, Violaceous, johnlockhell, nosetothewind94, 1butterfly_grl1, AliceHodges, 3littleowls, Foxwall, bittersweet_art, VikTay, Yesilian, chironsgirl, Aillie, Lumihiutale, Heliok, Drunken_Revelry, allonz, 2monkeys, northernMagic, craytown, Divine_shot, Alhendra, Xcothal, revwog1974, daleksanddetectives, mycroftgetoffmysheet, Sir_your_face, LynneEss, Nihui, SerafinaAllende, Alina_kotik, crimsonpenny, Kestre, tickettoride (ticket2ride), consultingfeels, leeniebean, Mac_Jessy, hufflepuffs_are_great_finders, MonaLisa, TheSmellOfSunscreen, Kymethra, Fury161, tokyopt, Maydave, Hutula, taralovescolors, gillywulf, qaftsiel, lifespossible, Adabei, Vilranda, rachellewatsonholmes, TwilightXari, lolllie, onceaneditor, Kalliope1379, error_42, An_Artificial_Aspidistra, Adelaide, and_gather, Imasupermuteant, marenpaisley, paradigmfinch, tapum, naurel, lmcbsj, Mildredandbobbin, Cannibal_Cake, Miss_Communication, FantasyFan, Raxacoriocofallapatorius, Hellokyochan, socalrose, NotASquire, rhyaenv, anny, imogenfere, FollowTheMadness, Vorel_Laraek, NeruDraconis, edmc73, ILB_S, PhenomenalAsterisk, rosyjin, Silver_kii, MeerkatOrHedgehog, starwalk, SpicySweet, Lothlorien, Fussel, sabrala, who_la_hoop, Ladykrose, Dorotheian, ciaccona, SkippingPuddles, lillian13, elephantfootprints, armadillo1976, Frodosynthesis, Drago, merpirate, norabombay, Cattsislocked, Jeanniemckeown, peninsulam, flammeinderdunkelheit, amanysplendoredthing, ladyfate, Tatouine, dirtygirl42, Interrosand, wickedtongue, HybridAyumi, Crimsonsky37, RogueFiccer, Julia_justina, felicia_angel, Vicki_88, PanicMood, Chunsa, howfresh, Elle912, Rook, Baelorfan, charliemarlowe, ellenscult, swtalmnd, Robottko, The_Consulting_Storyteller, shinymathom, StephyD, strawberrysorbet, arielnow, wrytingtyme, Herpaderp, Sphyrna, Syd_of_the_Funny_Hat, abrae, NerdAlert (alltimelisa), LightBlue, Gabi75, whiskygalore, PorcupineGirl, UrbanHymnal, Maratree, BrightandSparkly, General_Button, LizabethSTucker, Princessyente, catinahat, mazzer18, snowred, larl, ShYo9221, Loopy456, azurelunatic, orenjisun, verob2002, Youarethelightoftheworld, alchymyst, JustSemiotics, holyfant, reddecielo, KissMyGlass, trinapants, AriadneVenegas, Birdi, reikoseishin, yaycoffee, joanneamelia, OneDreamADay, SherlocksCat, AStudyInAlgedonics, London_bound, KayQy, a_big_apple, quiet1, neverwhere, fifthnorthumberland, KakarikiKiwi, Sheledriia, EndlesslyObsessed, daemonluna, earlgreywithcream, VeryVeryBlue, Wren Truesong (waywren), nefariosity, Rhyolight, ellie_hell, Succubus, TwistyMitts, RC_McLachlan, La_Fille, OwlinAutumn, internetname, uponwhatgrounds, happywrites, swiftlyfalling, kyuluna, Saint87, xXDNHXx, JunkenMetel, ladytory, ScriptoremVerba, WitchRavenFox, derrida17, Khavi, Bakalu, grey853, al_dena, londonsabre, Winter_of_our_Discontent, Sadbhyl, crumbs02, Siobhandragonsmother, wildwinterwitch, Asyouwish8, isidore13, OssaCordis, Zan, forsciencejohn, Skye_Logan, Talimenios, firewordsparkler, chidraconis, ladymac111, JackJack, CatRenee, Tysolna, wellread, calescently, ellabynight, IceCreamCake, butterflyweb, JayyBee, venvephe, kitmerlot1213, andquitefrankly, LadyRedCrest (your_icequeen), icklebluesteggy, Ravening, AssortedNeedles, Althelas, RedRobotWednesdays, hippiechick, Kiharu_Kitty, Kaz_of_Carinthia, alenea, Paranoid_Android, teokam, QuarterQuell, rte175, PanicDivision, Neverweres, talcat, blissthisway, NoCaseOn, Shezan, logastellus (Cataclyzmic), Dryad, morningstar88, Justr90, hthesecond, airynothing, Kelouisa, Teffty43, Silmanumenel, TSylvestris, PurpleSnowball, OtakuElf, Barlogirl, lobsangludd, Musardine, 1electricpirate, ClonedGenius, majoline, BakerStTardis (Sokashi), In2lalaland, littlebluebox, EchoOfMe, IgnisAlis, ScienceofObsession, akuma_river, apfelmarmelade, nationalcelestial, lbmisscharlie, fiorinda_chancellor, haligh, Hellvelyn, MadeinCydonia, daisybelle, zevbaldwin, stillaseeker, BettySwallocks, megaloo, mostlylol, jenncho, lijahlover, mrv3000, jazzthecat, Delvcaem, thisisme, smithapple, Pat_is_fannish, TheSilentDevil, WriterNonsense, knitsandlaughs, lady_of_clunn, DeprivedofInsanity, Rogue_Panda, JanecShannon, clumsymusican, Constance_Truggle, allthatulovewillbcarriedaway, hushedjournal6, Sabrina_Phynn, sweaters, LadyMerlin, JPerceval, pennswoods, Molespeople, ladyprydian, dee-light (DraloreShimare), oh_thatsclever, awakeningjenny, WriteOut, EntreNous and Kizzia as well as 1153 guests left kudos on this work! (collapse)