Chapter Text
Kyle Rayner, newly-made Captain of Her Majesty's Royal Navy, entered the meeting chamber and closed the door behind him, bowing low to the sole figure in the room. "My Lord Guardian."
Lord Ganthet sat at the head of the long meeting table, framed in a flare of yellow from the single lamp in the room. "Captain Rayner. Thank you for coming."
It was an empty thanks, of course. The Lord Guardians controlled the Navy, and no sailor ignored a direct summons from them, even an odd one like this. Kyle approached the head of the table, and, at Lord Ganthet's nod, took the seat at Lord Ganthet's right hand. "It was my pleasure, my lord."
Lord Ganthet was a small man, with wiry, bird-like features, and skin so pale the blue veins showed through around his hollow eyes. He should have been dwarfed by the enormous mahogany table, the high vaulted ceilings of Oan Hall, but like all the Lord Guadians, he commanded a presence greater than himself.
"Captain Rayner, the Lord Guardians have a special assignment for you," Lord Ganthet said without preamble. "I do not exaggerate when I say that it is a mission which may very well change the fate of the Empire itself." Kyle's surprise must have shown on his face, because Lord Ganthet nodded. "Yes, I know that you are young and as yet mostly untried. It is for this very reason that we have chosen you to carry out this mission, for the stakes are such that other parties would certainly interfere if they knew of our plans. And who would suspect the newest, greenest captain in the Navy of being charged with a task of such importance?"
Kyle nodded in acquiescence, feeling a bit disappointed. He had been deeply gratified at receiving a special assignment so early in his career. It was flattering, not to mention it would hopefully dispel charges of favoritism from the naysayers among the officers. But it appeared that all Kyle had to recommend him was obscurity.
The Lord Guardian took a piece of paper from his pocket. "Several ships were lost in the retrieval of this message, and hundreds of lives," he said. "Our codebreakers have worked on it in secret for months. It is too sensitive to entrust to a standard messenger, or a Hall pigeon. Even I do not know what it says."
He handed it to Kyle, who turned it over in his hands, fingers tracing the stamp of the Lord Guardians in the heavy wax seal. "You will stay in this room until you have memorized it," Lord Ganthet said. "You will then throw it in the fire, and not leave until it is completely burned. And you will not speak the words on the paper again until directed to do so by Captain John Stewart, whose station you will set sail for tomorrow. Have I made myself clear?"
"Perfectly, my lord," Kyle said.
"Excellent." Lord Ganthet rose, and Kyle rose also, bowing again. The Lord Guardian started for the door, then paused.
"We would not have chosen you for this assignment if we did not faith in you, Captain Rayner," he said. He did not smile, but he came as near to it as Kyle had ever seen a Lord Guardian do. "Godspeed, my boy." Nodding his head in a curt gesture of respect, he left the room, closing the door behind him.
Feeling suddenly paranoid, Kyle strode to the door and locked it, leaving the key in to block the keyhole. He checked behind the high-backed chairs and under the table, feeling vaguely silly. Satisfied that no one was observing him, he crossed to the fire, ready to toss the paper in at a moment's notice, and broke the seal.
It was a strange message – two short lines, incomprehensible to Kyle, with no clear military objective. But his was not to reason why, as Tennyson's cavalry had said of the war just past. He read the message through several times, until he was certain he had it memorized; then he threw it into the fire.
* * *
Captain Guy Gardner was waiting for Kyle on the broad entry steps of Oan Hall. "Good God, man, you've been long enough. So what did the old fossils have to talk to you about?"
"Gardner!" Kyle hissed, glancing around. No Lord Guardians were in sight, but several clerks were, and might have overheard. Considering Gardner's disdainful – and frequently, loudly expressed – views on desk work and those who did it, there wasn't one who wouldn't be delighted to report Gardner's words to their superiors. "Do you miss the Lord Guardians when you're not hauled before them once a week? Is that it?"
"No, but you know how they get lonely without me," Gardner said, grinning. "Come on, we're late already."
"Not my fault," Kyle protested as they hurried down the steps, scanning the streets for a cab. "The admiral knows I was being briefed."
As they reached the street, they were suddenly jostled by a man coming down the steps behind him, joining two others on the street who were dressed in their Navy blues. Kyle opened his mouth to apologize, then shut it when he recognized them. Alex Nero was no very great friend of his, nor were his companions, Paul Christian and Martin Van Wyck; he hardly thought their collision had been unintentional.
"My dear Nero!" Christian said with a nasty grin. "Were you meeting with our old shipmate Rayner?"
"Captain Rayner, Christian!" Nero corrected him, with a great show of being scandalized. "Of course not. Our old amigo has more important things to do these days, like private meetings with Lord Guardians. He doesn't have time for us lowly deckhands."
Kyle's jaw tightened. "What did you call me, Nero?"
Nero's eyes went wide with false innocence. "Are we friends no longer, Captain Rayner? Now that you have ascended to your lofty station? I can use your old nickname, if you'd prefer it."
Next to Kyle, Gardner flushed hot. "Go ahead, Nero," he snapped. "Use it. I haven't been in a fight in nearly three hours. My fists are gettin' rusty."
"You don't dare," Van Wyck said quickly. "A captain striking a lieutenant and two midshipmen? The Lord Guardians'll have you up for that!"
"And right now they'll have you three up for insubordination," Kyle retorted, putting a restraining hand on Gardner's arm. "Come on, Gardner, we're late."
"Let me wipe the smirks off their faces, Rayner," Gardner said, still glaring at the other three. "What's another dressing-down by the Lord Guardians to me? You don't even have to help. I can handle these three lubbers myself."
"Like hell!" Van Wyck cried.
Kyle rolled his eyes. "I've no doubt of that, but I can fight my own battles, Gardner. And these three aren't worth either of us getting our hands dirty." He glanced at the street. "Hey, cabbie!"
The cab driver reined in his horse beside them, and Kyle gave Gardner a shove towards the door. Gardner went, but reluctantly. "Take care you don't run into me when Rayner's not around to take it easy on you," he spat as he climbed in. "I'm not nearly so gracious."
"Captain Rayner is lucky indeed to have such a loyal friend protecting him," Nero said with mock concern. "The life of a commanding officer is fraught with danger."
Kyle stopped, one foot inside the cab. "Are you threatening a superior officer, Lieutenant?" he asked.
"I should never be so foolish," Nero said, and gave a mocking bow. Kyle gritted his teeth and stepped all the way into the cab, closing the door behind him. "Adios, Captain!"
"You should have let me thrash them," Gardner said once he'd given the cabbie their destination.
"For what purpose?" Kyle asked. "To get you court martialed, or to fully convince them that I am a coward, unable to fight my own battles?"
"Because it would have been fun," Gardner retorted, leaning back with a wicked grin. "Honestly, Rayner, it's like you don't want me to enjoy myself at all."
Kyle laughed, rolling his eyes. "Stick to fighting the enemies of the crown, Captain. Much safer for us all that way."
As the cab rumbled through the streets, Kyle sank back into his seat and gazed out the window. He appreciated both Gardner's loyal scrappiness, and his joking, which Kyle knew had been intended to lighten his spirits, but despite his peaceable façade, Kyle was seething. Nero, Van Wyck, and Christian had had it in for him since he'd joined the service, and his recent promotion had merely sharpened their hatred of him.
He knew perfectly well what the "old nickname" Nero had been referring to was. No one had called him "Paddy" to his face since his promotion, but he knew Nero and his ilk still referred to him that way behind his back. "El Capitan Paddy," to use the full title he'd heard whispered since.
It was all very well for Gardner to brawl at the slightest provocation. His father and brother were high enough in the government that Gardner would never be court martialed or publicly disgraced, and Gardner himself was such a brilliant captain that he would never be discharged, not least because it was widely known that his crew would mutiny under any other captain. Insubordinate and impetuous as he was, the worst he would ever receive for any infraction was forced time ashore.
But Kyle's position was much more tenuous. He might have the support of Gardner, and Commodore Jordan, and even Admiral Scott, but such support wouldn't do much for a mongrel of no family in the event of a serious infraction. And brawling with inferior officers on the steps of Oan Hall itself would be a very serious infraction.
He hadn't quite managed to shake his moodiness when the cab pulled up in front of Admiral Scott's home. Kyle and Gardner quickly sorted out the fare between them and hurried to the house.
The admiral, his family, and his guest were awaiting them in the parlor. Kyle hastened to apologize for their lateness, which Admiral Scott brushed off.
"Think nothing of it, my boy," he said, waving Kyle and Gardner into chairs. "We're all very familiar with the way our duty to the Lord Guardians often disarranges our schedules, aren't we?"
His son Todd gave a low, sardonic snort at this, which everyone pretended not to notice.
The servants brought in the tea service then, and Jenny, Admiral Scott's daughter, rose. "Shall I pour?" she asked, and her father nodded. Kyle watched, probably less discreetly than he should, as Jenny poured each cup of tea, moving steadily around the circle of their gathering: one lump of sugar for her father, lemon for Commodore Jordan, milk and two sugars for Jenny's aunt and chaperone Mrs. Hunkel, and neither for Todd and Gardner.
She paused when she reached Kyle. "Three sugars and lemon, Captain Rayner?" she asked, smiling pleasantly, one eyebrow elegantly raised.
He lifted both of his at her. "One sugar and milk, Miss Scott. If you please." Which she knew very well, of course.
"Of course," she said, "how silly of me." She prepared and handed him his cup with exquisite propriety, and he took it with equal care. Next to him, Kyle caught a glimpse of Gardner rolling his eyes.
"So what did the Lord Guardians want with you, Kyle?" Commodore Jordan asked as Jenny poured her own tea and resumed her seat.
Kyle made an apologetic face. "Unfortunately, it's classified, Commodore. All I can say is that I leave for Chinese waters tomorrow."
"Tomorrow?" Jenny repeated, dismayed. "So soon? Haven't they enough ships in the war?"
Kyle spread his hands helplessly at her. "I really can't say, Miss Scott. I'm sorry."
"I wouldn't worry too much about him," Jordan assured her. "Kyle is more than capable, and the Chinese…well, let's say it's a rather one-sided skirmish." He looked momentarily uncomfortable, but Gardner broke in before Kyle could press him.
"I'll say!" Gardner said. "I don't know why they even bother putting up a fight. Didn't we trounce them ten years ago? We'll simply trounce them again. What I want to know is why we're wasting manpower coddling the Chinese and the rebels in India, making nice with the French, and leaving our best men on shore – " he indicated himself, and then, after a noticeable pause, Jordan " – when we could be blasting the lot of them and taking care of these damned pirates besides! Begging your pardon, ladies," he said, nodding to Mrs. Hunkel and Jenny, who looked more amused than anything. "Did you hear another three merchant ships were lost on the way from Bombay to Hong Kong?"
"And you think it was pirates?" Admiral Scott asked. "I would think it would be the Chinese, trying to stop the opium importation."
Guy raised an eyebrow. "The Chinese don't have the fastest ship on the water. The Chinese don't fly green sails."
There was a momentarily silence. Then Jordan snorted. "Gardner, surely you're not falling prey to the superstitions of the men? The Green Arrow is a myth."
"A myth? I've got men on my ship – good, reliable men – who have seen the Green Arrow with their own two eyes!" Gardner exclaimed. "And what of the Graxos? No hostile gunships in those waters, no storms reported by anyone else in that vicinity, and still that medicine never reached Dundee. Same with the Hilven and the Bolovax."
"There are flesh and blood pirates on the sea too, Gardner, not merely figments of drunkards' imaginations," Jordan pointed out.
"That may be," Gardner said, "but no sign of the Jolly Roger was seen in those waters, and the Pirate King doesn't want what those ships were carrying anyway. Medicine? Fruit? No, it's Captain Queen, trying to cripple the civilians at our outposts, and if we were men we wouldn't stand for it!"
Jordan half rose. "That will do, Gardner. Don't think I don't know who you are implying is to blame…"
"To the devil with implying, I'm saying it," Gardner said, standing. "You've got the Lord Guardians' ears, Jordan, and you could have half the fleet out after Queen in a week if you weren't too much of a coward to go after him!"
Jordan was on his feet now too. "Call me that again, Gardner, and I'll – "
"Gentlemen!" Admiral Scott thundered. Jordan and Gardner both blanched, then turned to look at him. The admiral did not look pleased. "Tea is hardly the time for such discussions, is it? Especially when there are ladies present."
Jordan bowed graciously to the admiral and to each of the ladies in turn. "You are right. Forgive me, Admiral. Mrs. Hunkel. Miss Scott." Gardner bowed as well, more perfunctorily, anger still clear on his face.
Kyle exchanged glances with Jenny and Todd, who were clearly struggling not to laugh. A gathering without Jordan and Gardner at each other's throats would be like a night without cricketsong; pleasantly quiet, perhaps, but strange and a bit eerie.
"Have you heard the rumor of Prince Edward's engagement? They say it's to be announced as soon as he returns from America," Mrs. Hunkel said, clearly attempting to steer the conversation into safer waters. They talked of gossip and matters of court, the latest concerts and novels, for the rest of the meal – Jordan charming, Gardner sullen and quiet. Polite, pointless conversation was not his forte.
Once the tea service had been cleared away, Admiral Scott drew Jordan and Gardner towards the globe by the window to discuss the current state of affairs with China and with India. Todd slunk away with his father's eye off him, and Kyle, having no interest in listening to another argument, and having more pressing matters on his mind anyway, turned to the ladies.
"It's a lovely afternoon," he said. "May I interest you in a turn around the garden? I'm eager to see what you've done with it, Miss Scott."
"I'd be delighted, Captain Rayner," Jenny said, standing. "Wouldn't you like a walk, Aunt Abigail? It would be wonderfully refreshing."
Mrs. Hunkel glanced at the men on the other side of the room. "Do you know, Jenny, I believe you're right," she said, rising as well.
Kyle followed the ladies to the garden door and offered each of them his arm. They walked once around, slowly.
"It's quite lovely, Miss Scott," Kyle said as they passed by ornate flower arrangements and under vine-covered arches. He meant it. Kyle had studied art in school and would have probably become a painter had his father's wishes – and his own best prospects – not lain with the Navy. The garden, well cared-for but dull and prosaic since the death of the admiral's wife, was thriving now that Jenny had taken it over, and she had brought an eye for color and design as well as a green thumb.
Jenny smiled up at him, and Kyle felt his heartbeat quicken. "Thank you, Captain Rayner. That's very kind."
"Oh dear, it's a bit chilly out here, isn't it?" Mrs. Hunkel said, though the day was warm and the air was still. "I shall just fetch my wrap and rejoin you in a moment, my dears." She let go of Kyle's arm and bustled back into the house.
Jenny grinned and took a closer grip on Kyle's arm. "I suspect she will take her time finding her wrap," she said.
"Have I mentioned before how much I like Mrs. Hunkel?" Kyle asked.
They continued walking. Jenny sighed and rested her head against Kyle's shoulder. "I can't believe you're leaving tomorrow. Can you at least tell me how long you'll be gone?"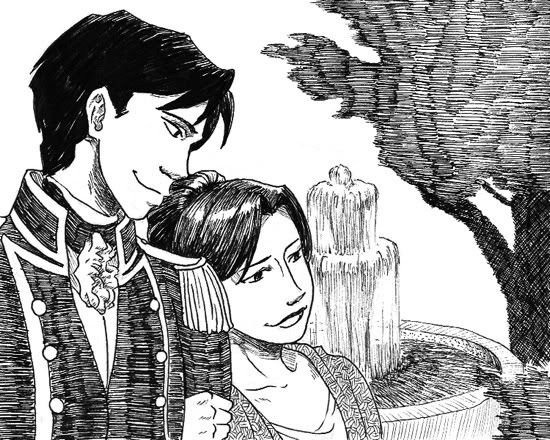 Jenny sighed and rested her head against Kyle's shoulder.
"I don't know," Kyle said. "That's not classified, I genuinely don't know. I don't believe I'm supposed to be seeing any combat, if that's any consolation."
"I know it's not to you, but it is to me," she said. "I wish I could go with you."
"With me? No, you should be with Jordan or Gardner when the Lord Guardians send them against the Chinese," Kyle said. "You'd send them packing quick enough."
Jenny laughed, but Kyle grew serious. He drew Jenny to a bench, where a fountain partially blocked the view of them from the house.
"Jenny," he said, taking both of her hands in his, one finger tracing out the star-shaped birthmark on her palm. "Jenny, when I return, I…I'd like to speak to your father. About you."
Jenny's cheeks turned pink, brightening her green eyes. "You're not going to tell him I'm the one who overturned the Earl of Doncaster's carriage when we were little?" she asked mischievously.
"No," Kyle said, smiling a little, both at the memory and at the fact that she hadn't thrown a flowerpot at his head. It gave him courage.
"Well, then, I suppose you can speak to him about anything you like," she said. Her tone was airy, but the blush hadn't left her cheeks.
Kyle's heart had moved beyond quickening now, and well into racing. "Then I shall," he said, and he reached out, tilted Jenny's chin up, and kissed her.
Jenny, never one to be outdone, kissed him back with cheerful fervor, slipping into the circle of his arms easily. She felt good there, she smelled of flowers in spring, and she was one of Kyle's dearest and oldest friends. And, after all, it was what was expected, and the admiral was certain to give his consent once Kyle had proven himself on his first command.
They would be happy together, Kyle was sure. He was making the right choice.
"Ahem."
Kyle and Jenny sprung apart. Todd was standing beside them, looking both annoyed and amused, which was usual for him.
"Father's looking for you," he said, one eyebrow lifted archly. "Both of you. Aunt Abigail doesn't seem to be doing her job."
Kyle rose, drawing Jenny up with him, her hand in his. "I'm not trying to compromise your sister, Todd. I intend to ask your father – "
Todd cut him off with a wave of his hand. "Spare me, Kyle. I punched you when you kissed her when we were twelve. It would bore me to do it again."
Jenny rolled her eyes, taking Kyle's arm as they walked back towards the house. "It's so good to know that my brother is protecting my honor."
Todd scoffed. "I doubt you need me. I'd bet on you in a fight with our little captain, Jen."
"You'd win that bet," Kyle said with a grin. Jenny nudged him roughly with her elbow, but she was smiling.
The rest of the afternoon passed pleasantly, and soon Kyle was rattling his way home in a cab, in a much better mood that he'd been in during the previous cab ride. After all, what did he care what men like Alexander Nero thought? Captain Gardner had clapped him on the back until his shoulders fairly stung with it, and promised to drink a toast in his honor every night until he returned. Admiral Scott had assured him that he had every faith in the Lord Guardians' choice. Jenny had bidden him farewell with heat in her eyes that warmed him nearly as thoroughly as her kisses had.
And Commodore Jordan, as they stood in the street outside of the admiral's house, had shaken Kyle's hand, man to man. "I'm sure your father would be proud of you," he'd said, "but he couldn't be prouder of you than I am."
Let Nero and his cronies throw their barbs, Kyle thought as the sinking sun tried and failed to set the London fog ablaze. Let the seas throw at him what they would, be it Chinese or pirates or mythical beasts. Captain Rayner was ready for it all.