Chapter Text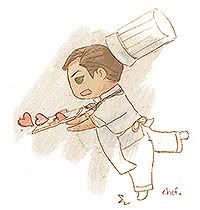 It was about two hours till the end of the day when Arthur's phone beeped.
Okay, I'm switching food network night to Friday.
He frowned and texted Ariadne back.
I thought the whole point of food network night was you staring at Nigella and me staring at cake.
It was. But believe me, you won't regret the change. I'll see you tonight.
*****
Ariadne showed up at exactly 7.15, just like every past food network night, even though it was Friday instead of Tuesday. She handed Arthur a bottle of wine and flopped down on the couch.
He followed her into the tv room.
"So, why the sudden change? Don't tell me Nigella's stopped doing it for you."
"She's in re-runs." Ariadne made grabby-hands at Arthur until he rolled his eyes and poured her a glass of wine. "Which would be fine, but then I ran out of space on my DVR last week and had to actually watch the commercials, and I saw a new show was about to start. I figured I could take a few weeks off from Nigella."
He raised an eyebrow. "This isn't going to be like, Top Chef: Guam, or anything, is it? I think I've had enough of subtle regional variations on that one."
"Just watch."
She picked up his remote and aimed it at the tv. They had to sit through a couple of terrible commercials on mute before the network logo flashed up and Ariadne switched the volume back on.
On screen, there was the usual flashing of fire and saucepans, the flicking of a knife across a chopping board of herbs, and a pair of hands rubbing some kind of marinade into plump chicken breasts. Finally, the camera stilled, and settled on a single word across the screen.
eames. All lower-case.
Arthur turned back to Ariadne, about to challenge her when she lifted up a hand.
"Trust me. If you aren't convinced by the first break, we'll never speak of this again."
He turned back to the tv and nearly choked on his wine.
On-screen, a man about his age was leaning against a countertop in a grey t-shirt and jeans. He had an apron wound around his waist with a dishcloth folded over it. His sleeves were straining at the seams to contain his upper arms, and pretty much every bit of exposed skin seemed to have a flash of ink on it.
He was basically the most gorgeous thing Arthur'd seen in his entire life.
Next to him, Ariadne was grinning widely. "And you haven't even seen him cook yet!"
"Right. I know it might seem kind of funny to start the show off with the end of the meal, but seeing as there are so many people who'll throw on a full roast dinner at the drop of a hat but'll break out in a cold sweat when you ask them what's for afters, it seemed fitting. Desserts are terrifying, and rightly so. Of anything in the kitchen, they're the closest to science, the easiest thing to completely balls up."
His voice was soft and capable and English. He grinned at the audience and clapped his hands together.
"Right. Lets get started."
Over the next hour, Eames made a perfect Victoria sponge, a tiramisu, and a lemon meringue pie. Despite a kitchenaid being clearly visible on the countertop, he never went near it, creaming the butter and sugar and whipping the eggs all by hand. He spoke at length about the need for castor instead of granulated sugar while he was mixing the cake, and probably said something about egg whites while he was whisking, but Arthur was too distracted by the flexing of his biceps as he alternated between whisking with his wrist and his elbow.
Aside from when she was re-filling his glass and he managed to throw her a quick 'thanks', Arthur hadn't looked at Ariadne once during the show.
Finally, Eames placed the three desserts on the counter, and beckoned the camera a little closer.
"Cake and pie are all very well and good, but there's something about all this whipped mascarpone that just does things to me. Now obviously if you're making this for anyone, you're not going to do what I'm about to do – far too unhygienic – but seeing as it's just me and the camera here..."
And then he picked up an entire handful of tiramisu and raised it to his mouth, wrapping his lips around all four of his fingers at once. It took him a moment to lick everything off, and he slowly pulled his fingers out with an audible 'pop'. He grinned at the camera, licking his lips to claim the last couple of stray crumbs.
"See you next week."
It took Arthur a couple of seconds to realise someone had switched the tv off. He turned to Ariadne, a slightly dazed look on his face.
She laughed. "I know, right?"
*****
He tried to stop himself, but the first thing Arthur did once Ariadne left was check all his foodie blogs.
There were fourteen posts about how hot Eames was, three complaining that he spent so long beating eggs that he had to rush slightly through a few steps of other recipes, and two English bloggers with condescending posts along the lines of 'oh, are you just getting series one now? Poor things, he's been on over here for simply ages.'
One of them mentioned that they were in for a treat in the coming weeks, and Arthur had to sit on his hands to stop himself googling the upcoming episodes. Ariadne would never forgive him.
*****
The next Friday, Ariadne showed up with two bottles of wine – "so we can match to whatever he's cooking, obviously" – and a giant chocolate mousse her roommate had made.
"You'll only have frozen yogurt, I know you. And morally, I object to that."
That night, Eames was taking about minimal preparation.
"Not saying these are all one-pan meals, because that's been done by other – better – people, and if you want that, you can get it from them. But these are all things you can cook with people in the kitchen, that you can carry on a conversation during. Not like risotto, basically. Not that risotto isn't one of the most amazing things in the world, and that we won't be doing that later, but for tonight, we're going low-effort, big impact."
Arthur glanced over at his freezer for a second before glaring at Ariadne and opening up the chocolate mousse. He was going to have to work the gym in tomorrow, somehow.
On screen, Eames was laying out the ingredients for several recipes.
"I know this looks a little pricey, alright? But these aren't really everyday things to cook, so it's okay to bump up the price tag a little. Not that you have to keep it for special occasions either. Keep an eye out in your supermarket, stuff goes on deal all the time, especially if it's nearing its sell-by date, but if you're going to cook it that night, that won't be an issue, will it?"
There was a tiny hint of bandage peeking out from under Eames' sleeve, and every couple of minutes, he reached his hand up as if to touch it, but stopped himself before he made contact. Which would be fine, except that with every abortive move, his forearm rubbed over a nipple, and meant that before they'd even hit the first ad break, Eames' nipples were looking like they were about to tear through his shirt.
Arthur took a deep breath, a gulp of wine, and shovelled a giant spoonful of mousse into his mouth.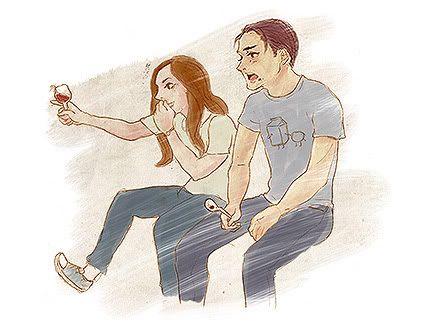 Eames gestured to the gas-powered grill on the counter top.
"Now, I know most people probably don't have one of these, and I'm not going to go all Gordon Ramsey on you over it, but they're kind of amazing. Means you can get that char-grilled effect without having to fire up the barbecue, but the food will taste fine if you just do it on a griddle pan. I mean, it's asparagus, it's probably going to taste great no matter what you do with it."
He carefully laid out all the asparagus and sliced bell peppers next to the grill, waiting for it to heat up, before pulling another chopping board towards him. On it were two plump, perfect duck breasts. He picked on up and started to trim the excess fat off.
"I know this looks like a lot of fat left on, but trust me on this one, you don't want to get rid of too much. You will endlessly regret it. Likewise, duck has to be cooked only till it's pink in the middle. If you're one of those people who likes their meat dry and well-done, just... Well, I suppose I can't stop you eating duck, but you'll be making me very sad."
He carefully laid the two duck breasts down again, absent-mindedly running his hands over the tops of them.
"Beeping amazing, right? I tell you what, if real breasts were anything like this perfect, I might be into them. Except that makes me sound like a cannibal, which probably isn't what I'm going for, so let's forget I said that, right?"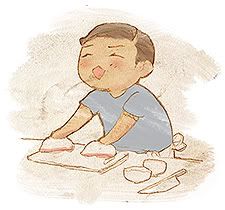 He carefully sliced small cuts into the duck skin and laid them fat-down into the smoking frying pan. His eyes closed for a second just as the sizzle started.
"You want to cook them most of the way through on this side, before turning them at the last minute. Need the fat to get all perfect and crispy. While that's going though..."
He moved the vegetables onto the grill and pulled out some balsamic and almonds, setting them aside to work on some scallops.
"You have to do these in butter, okay? I know some places – like America – it seems like every recipe has either an entire dairy's worth of cream and butter in there, or absolutely not a trace of fat, but there's a middle ground, right? You need to do these in butter, because anything else just won't do at all. And take them off the heat before they're fully done, or by the time you eat them they'll be overcooked?."
The kitchen was obviously hot, and Arthur missed a good half of the scallop recipe watching a sweat drop as it slowly worked it's way down Eames' temple to soak into the neck of his t-shirt. By the time he managed to tune back into what was actually happening, Eames was de-glazing the duck pan with the balsamic, almonds, and some capers, and arranging everything neatly onto a square white plate. The scallops were sitting in a bowl of rustic vegetable broth.
Arthur's brain couldn't quite tell exactly what his mouth was watering over.
"Excuse my hands, but this is just..." Eames picked up a slice of duck, some asparagus, and a slice of pepper, rubbed it into the dressing, and shoved the whole lot in his mouth at once. After he swallowed, he licked down the full length of his palm to capture any stray dressing.
"There's something about eating with your hands, right? See you next time."
*****



so did he say what i thought he said?
posted by foodiegirl


umm... i think he did? if what you think he said was that he's a homo
posted by princess43


dude not cool don't say homo
posted by lady grey


i think it's adorable
posted by foodiegirl


i think it's gross
posted by princess42


i think you're gross
posted by iheartcake


You guys, remember to keep things civil. No personal attacks, on other members or any of the chefs.
posted by Maintainer

*****
Ariadne texted him ten minutes before the show started.
Sooooo sorry, can't make it this week, something's come up. I have a feeling you'll enjoy this one just fine on your own though ;)
What the hell was that supposed to mean?
Arthur sighed heavily and looked through his cupboards. He had the big screen tv, so it was Ariadne's job to bring the wine. Arthur only had half an old bottle of gin in his cupboard, but it would have to do for now. Fucking Ariadne.
When the show started, Arthur had to grab his remote to make sure it was the right channel. Instead of the usual kitchen, Eames was standing in the middle of a warehouse.
"The thing about meat is that you have to remember that something died to feed you. I'm not saying you should become a vegetarian or nothing, but so often nowadays we only eat the expensive parts of the animal. So today, we're going to be looking at all the different things you can do with the rest of the pig."
He picked up a meat cleaver, and Arthur sloshed about three inches of gin into his glass.
"Not just me though. I'm not quite fully qualified for this sort of stuff, so my friend James -" he gestured towards another man, smaller and slighter then himself "- is going to be supervising."
James was wearing a white chef's jacket with what looked like years of blood stains built up on it. Eames was wearing the same grey t-shirt.
"Seems like I've been saying this a lot lately, but obviously I'm only doing this because it's just us and the camera, and blood does stain like beep, and this is my favourite t-shirt, so..."
And then he pulled his t-shirt over his head.
Arthur dropped his glass.
Eames spent the first half-hour slowly dismembering the pig under James' supervision, pointing out all the different and under-used parts. Arthur wasn't paying attention though, because he'd been hard as a rock ever since Eames reached for his hem.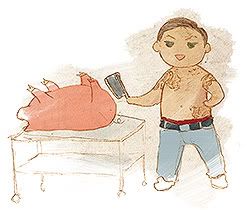 By the time they'd finished butchering and the cameras has switched back to the usual kitchen so Eames can show how to cook some of these unusual cuts, Arthur's pants were around his thighs. They'd obviously shot this part right after the warehouse segment, because Arthur could see the sweat that had collected against Eames' collarbones soaking through his t-shirt, and his eyes fluttered shut without his permission as he wrapped his hand around himself.
On screen, Eames was slowly stirring something in a pot, constantly tasting from his wooden spoon and having to lick the stray drops from his lips. When he finally got the seasoning right, his eyes closed with a look of such perfect satisfaction that Arthur couldn't really help himself, and came all over his hand.
This time, Eames didn't eat with his fingers, instead holding the steaming plate of whatever close to his face as he ate from a fork, talking with his mouth full like the food was so amazing he couldn't even manage to swallow before talking about it. But by then, Arthur's attention span was well and truly shot.
*****
Arthur is not ashamed to admit he downloaded episode three and watched it at least four more times before episode four came out.
*****



Oh Em Gee. Did you see that?
posted by Katelynn


ummm you no hes gay right??
posted by princess43


So? He's still like, massively fit.
posted by iheartcake


but it's not like you have a chance
posted by princess43


Because I had such a massive chance before, you mean?
posted by Katelynn


*****
Ariadne flopped down on the couch beside Arthur.
"You know because this is a British series originally, there's only three more episodes, right?"
"I know."
"So, what are you going to do when it's over?"
"Ari, it's not like I'm obsessed or anything."
"So you wouldn't be interested that he's doing a signing at B&N next weekend, right?"
Arthur gulped. "Maybe."
"Of course, it's a ticketed event, and apparently they were all gone in half-an-hour."
"Oh. Okay. That's fine then. I'm not desperate to see him, or anything."
Ariadne grinned widely and pulled two slightly crumpled tickets out of her pocket.
"That's fine then. I'll just give this spare to my sis-"
He grabbed it out of her hand before she could even finish the sentence.
She raised a laughing eyebrow. "Not obsessed or desperate or anything at all."
"I still have all of Nigella's Feast on my DVR just in case you decide to re-watch it, so you can just shut right up."
Ariadne just laughed again, before filling his glass nearly to the brim and turning the tv on.
The usual countertop was nearly entirely clear, only a few items on a chopping board.
"So I promised you all I'd show you risotto, right? Because it's pretty much the most amazing thing ever, and everyone should know how to make it. It's not hard really, though it kind of looks it. Mainly it's just time consuming, but that's easily dealt with. This is not the kind of thing you cook if you're in a hurry, this is something you cook when you want to enjoy the process as much as the meal."
He clapped his hands together. "First, we make stock. You'll need a saucepan."
He reached up to pull a pan off the hanging rack, his t-shirt riding up to reveal a flash of skin and yet another tattoo.
"So, stock. You can, of course, use bought-in stuff, if you want. But try not to. Stock's another one of those things that sends people into a panic, but it really shouldn't. You can either make it in advance – after you've had a roast, just beep the bones into a pot with some onions and carrots and boil it 'til it falls apart, it freezes fine – or just make it on the spot."
He put the pan on the stove top and pulled the chopping board over.
"This is basic vegetable stock – you can use any kind you want, in theory, though I'd avoid lamb or beef unless the recipe specifically calls for it, and I'd only use chicken if I was sure I wanted that strong a flavour – because I'm making prawn risotto, and you don't want the stock taking over. Just chop your onions, carrots and celery up really small – use a blender or a grater if you're not sure of your knife skills."
He chopped up the vegetables on his board so tiny Arthur was amazed he'd managed it by hand.
"Then just sweat them in olive oil for a couple of minutes, add your water, and set it to simmer. Not quite as good as a long-cooked stock, but it's totally fine for our purposes today. While that's cooking away, you can get everything else ready. First, you open your wine."
And then he twisted a corkscrew into the bottle of wine put the bottle between his thighs and pulled the cork out in one smooth motion. It didn't look like it'd taken any effort at all.
Arthur squirmed lower in his seat, suddenly very aware of how close Ariadne was on the couch.
Eames poured himself a large glass.
"Not of course, that wine is vital – or at least, not a glass of it for yourself, it is vital in the actual risotto – but we'll be here a while, we may as well enjoy ourselves."
He knocked back a large mouthful, wiped his forehead with the back of his hand, and started chopping some onions.
"There is every chance I put too much onions and garlic in my food, if that's actually possible. But they're amazing – and yes, I'm fully aware of how many things I've said are amazing thus far, but they all are – so throw in as many as you want. And if you're cooking for one of those people who doesn't like onions – though those people really don't deserve nice food – please, please don't leave them out. They'll cook for long enough that they won't even notice them, except to notice how fantastic everything tastes. If they ask, I'm giving you permission to lie to them. Unless they're allergic of course, in which case, cook them something else. Risotto needs onions."
He started sweating off the garlic and onions, checked his stock, and then pulled a pile of shrimp closer.
"Prawns. Again, amazing. You can, if you absolutely must, use the pre-cooked kind, in which case you'll add them at the very end of the cooking process. But try and use raw, it'll just be so much better. Now, depending on how big they are, you can cut them up smaller – these guys, I'll probably go with into thirds – to make sure you've got them spread throughout. Pop them in with the onions when they're nearly clear, and then we get to the most important part."
He roughly shoved the chopping board to the side and pulled a bag of rice over.
"Now, I use carnaroli, but you can use arborio just fine, if that's what you have. Just make sure it's risotto rice, none of that long-grain beep, right? That won't do at all. We're making here for about four people, so throw in about this much, and start stirring immediately. You want to get the rice just a little translucent so it cooks properly, but not so far as burn, right? And when that's done, you throw in some wine-" he emptied the remainder of his glass into the saucepan "-and keep beeping stirring, right? You're not allowed stop stirring until we're done. Once the wine's been absorbed, we start with the stock, careful not to get any bits in, and keep stirring, always stirring, over as low a heat as you can get. We don't want the liquid of evaporate, we want it to absorb."
He stared down into the saucepan, and the expression on his face shifted slightly.
"I started cooking when I was young right, with my mum. But we never cooked this, because was way back, you probably couldn't even get carnaroli in England back then. But then when I was a bit older, and I was working the beepest job in the world – seriously, being a kitchen porter's a good way to get started in cooking, but it's beeping rough as all hell – and I had this... this friend, who was half-Italian, and one day, his mom sits me down and tells me-" he switched into a flawless Italian accent "-Eames, this is an intolerable state of affairs. You cannot wish to be a chef and not know how to make risotto-" and back to his own voice "- so she showed me how. And this isn't exactly her recipe – I never wrote it down, and I've probably added stuff and left stuff out over the years – but in spirit, this is still the same risotto she taught me to make, way back when."
He looked back up at the camera, seeming to just realise it was there, and his face switched back to its usual open smile.
"But I digress. Keep an eye on this while you're stirring – always stirring – and you should see it start to dissolve slightly into this wonderful creamy mixture. That's why we're always stirring, otherwise you won't get the texture right."
He spent the rest of the show slowly stirring his risotto to perfection, talking away about different kinds of rice, and starch contents and different side dishes and how exactly you should prepare your bowls, but every time he tasted the food to check how it was coming along, a little of that faraway expression crept back into his expression. When he finally served the food up at the end of the show, spooning mounds of sticky creamy rice into the pre-heated bowls and adding tiny knobs of butter and lashings of grated parmesan cheese, the expression was nearly back in full.
He picked a bowl up and held it right under his chin, stirring it to get all the butter and cheese melted in.
"Now, this is why you should try your best to use raw prawns. The pre-cooked kind will taste fine, but one of my favourite things about prawns is that slight pop when you bite into them, almost like they're a fruit. Wonderful stuff."
He popped a piece of shrimp into his mouth and closed his eyes blissfully.
"Perfect."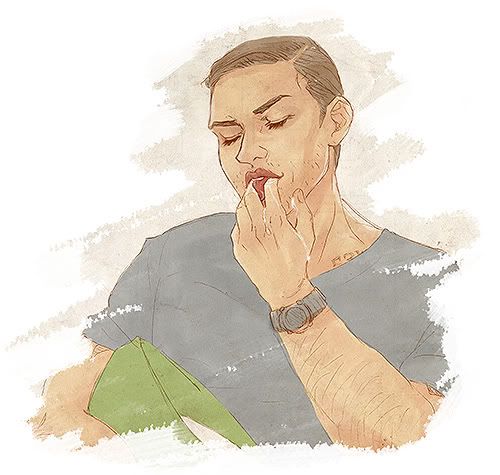 Arthur was still staring at the screen when Ariadne switched the tv off.
"Do you think that's what he looks like when he comes?"
"Ari!"
"Chill. I'm just trying to make sure you max out on all your dirty thoughts before the signing, so you don't just throw up on him in some kind of erotic short-circuit."
"What the hell?"
"Or something else. You might not throw up. Maybe you'll just pass out, or drool everywhere. Whatever it'll be, it'll be embarrassing, so I'm trying to forestall it."
"Look, I know I had my... moments, in college, but that was six years ago, and I like to think I've managed to get a handle on myself since then."
"Of course you have." She got up and stretched. "Keep saying it, maybe it'll come true. I'll see you Wednesday, try to look sexy."
"I hate you."
*****




did you see his face when he started talking about his ex's mom? that was soooooo sad
posted by iheartcake


how do u no it was his ex maybe it was just a friend?
posted by omnomnomie


Dude, did you see his face? And the way he kind of caught himself on the word? OF COURSE it was his ex.
posted by Katelynn


SO WHO ELSE IS GOING TO THE SIGNING AT B&N?
posted by foodiegirl


u got a ticket? i hate you so much
posted by omnomnomie


I'm going!
posted by Katelynn


I hate you both.
posted by iheartcake.




Arthur really needed to stop reading the message boards.