Work Text: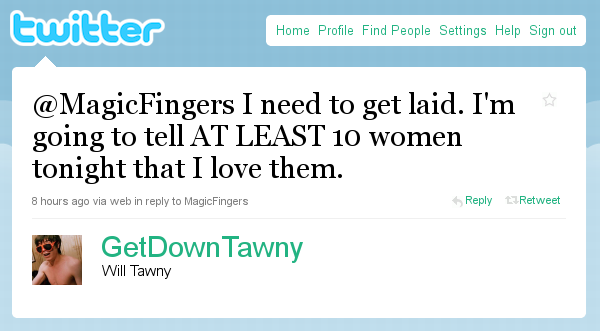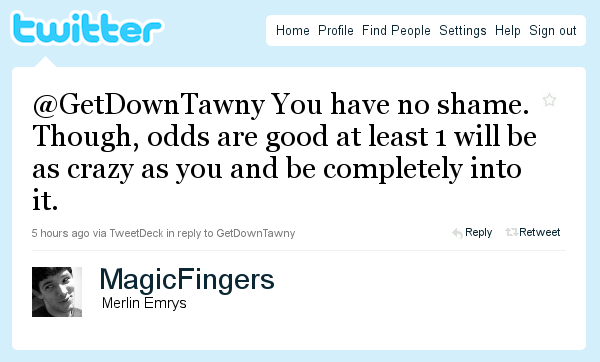 ♦ ♦ ♦ ♦ ♦
Merlin Emrys is not pathetic.
Merlin Emrys is perfectly happy to be a single, gay man.
Merlin Emrys is not going to drown his sorrows in his pint.
Merlin Emrys, Merlin thought, is thinking about himself in third person again. Heaven help him.
Merlin lifted his pint to his mouth and took a long drink, feeling the way the alcohol was sliding down his throat and into his belly to slosh around with the first half of his beer and the Indian food he'd had for dinner. The combination was sure to have some interesting effects on his system the next day, but Merlin was inclined to believe it was worth it.
However, what might not be worth it was that it was a school night. And as much as he had protested to Will and Gwaine, they hadn't heard a word of it. He had listened to, "lalala, we can't hear you!" for forty straight minutes as he'd tried to get out of going. Will had even shouted, "Don't be a fucking pansy!" at the same moment Merlin was opening the door for the delivery man, just for good measure.
Merlin had known the minute he'd got the job at Balor High School that living with Will (and, for the most part, Gwaine) was a seriously bad idea.
Will - who worked at a really great dive bar only a ten-minutes walk from their flat (yet wouldn't let any of them drink there on his nights off even if they could get cheaper drinks because "it's bad enough that I work there practically every night of the goddamn week! I'm not subjecting myself to that place anymore than I have to!") - didn't have to be to work until two in the afternoon at his earliest.
Gwaine, on the other hand, did sometimes have to get up - but hardly ever on a Friday. Merlin cursed the world for allowing Gwaine the opportunity to model a few times a week. It was only for only a couple of hours a day and he still made loads more money than anyone else Merlin knew. Although, if he were honest with himself, he knew it was because Gwaine could smirk the knickers off any woman (and most men), and that was before he took his shirt off. So really, who wouldn't pay money for that?
Merlin, however, was the practical one in their little tight-knit group. He was the one who had actually gone off to university, unlike Will, and finished, unlike Gwaine. The one who had picked up a job coaching the girls football team at Balor before a teaching position had actually become available. He may not be the best footie player in the world (no matter how much he loved the game), but he knew he'd be a shoo-in when he'd heard the chemistry teacher was a couple of years away from retiring.
Sure, Merlin would have loved to have spent the last couple of years hanging out and, for once in his life, not worrying about studying or being somewhere on time to do this or that. But he had worked hard for too many years, and had watched his mother grin at him with pride too many times, even when she was struggling to pay the bills to keep him in uni, to throw that all away.
He worked his fingers to the bone day-in and day-out, so all his hard work wouldn't go to waste, while Will, Gwaine and some of his other uni friends had a good ol' time.
Merlin shook his head and took another long pull from his glass.
When he'd got the job at Balor, he'd been sure he'd have a little more time on his hands to go out and actually have a more active social life. Unfortunately, that was far from the case. If anything, it had got worse.
Instead, he was at uni bright and early every weekday morning, stayed after for footie practice and sometimes stuck around after that to help Freya with whatever in the drama department. Then, of course, there were the additional footie games and practices that had somehow worked themselves into his weekends, even when he was pretty sure those hadn't been in the job description.
What it all came down to was that Merlin had absolutely no social life. And by social life, he meant sex life.
Merlin Emrys will die from lack of sex, Merlin thought. He drained his pint and tried to slam it down on the bar to signal for another one. Unfortunately - or maybe it was quite fortunate since Merlin really didn't want to pay for a glass on top of his "half-price before 10" pints tonight - Gwaine's hand slipped under his glass and stopped it from connecting with the tabletop.
"Cheer up, bud," Gwaine said, sliding into the seat beside him. "You look like someone just shot your dog. This is supposed to be a celebration!"
Merlin watched as Gwaine's hair seemed to float around his head as he turned to look down the bar to get another couple of pints, like he was in some bloody hair care commercial for girls. And not for the first time, Merlin realized that his Best Friend Numero Two (Gwaine's nickname for himself, because he has an intense obsession with the movie Anchorman) had one foot in the door to becoming a Greek God. He was absolutely gorgeous and Merlin found himself, once again, wishing that Gwaine was gay.
Or bisexual even. Definitely.
Merlin scoffed out loud and took a drink of his beer. His eyes moved back to see the long line of Gwaine's neck. It was truly unfortunate that Merlin had absolutely no interest in him what so ever, because his neck alone could produce enough wank material to ensure Merlin's hands would be forever calloused.
Of course, when Gwaine had first transferred to Ealdor in year 10 from somewhere in the mid-West of America (Merlin wasn't exactly great at geography, but he was pretty sure Gwaine had said North Dakota), Merlin had felt an intense pull toward Gwaine. And how could he not? Even at 14, Gwaine had been gorgeous. He'd held onto his crush for Gwaine for two full years before finally coming to terms with Gwaine's sexual orientation...
("He's straight, Merlin," Will had muttered in annoyance. "Very fucking straight."
Merlin had smirked through his sadness. "Pulling more tail than you, I assume."
"Shut the fuck up, Merlin.")
...and his obvious lack of interest in Merlin...
("Friends?" Gwaine had asked, extending his hand and smiling so wide, Merlin thought he might be blinded if he didn't look away.
"Mates," he'd answered, his heart breaking a little bit.).
Now? They had known each other far too long and Merlin had seen Gwaine - too many times, if you asked him - at his worst.
For instance, the time Gwaine went through a ridiculous handlebar mustache phase.
(Who would have thought someone as beautiful as Gwaine could look so much like a cross between a '70s porn star and a really creepy pedophile?)
Or that time he decided the mullet was making a comeback.
(It so wasn't... and for good reason.)
Then there was that time when he stopped bathing because he was certain he could single-handedly fix the UK's worst drought in 50 years.
(Merlin nearly choked on his beer because he could still remember the smell. Was that really only last year?)
Really, it was for the best that Merlin didn't have romantic feelings for Gwaine any longer. It would be bloody awkward to be in love with your very straight Best Friend Numero Two.
Very awkward, indeed.
"Seriously," Gwaine said, his attention back on Merlin once he'd slid their pints into position, "you look like you're about to cry, you girl."
Merlin lifted his glass toward Gwaine and nodded, his mouth still tight and down turned. "Cheers, mate," he said and chugged.
Gwaine slapped a hand on his back (Merlin did not nearly choke on his mouth full of beer as his body lurched forward) and gave him a crooked smile etched in apology, before bringing his own to his lips.
When he'd finished drinking, Gwaine looked at Merlin and smiled, "C'mon, man. This is a party for you, after all."
"I still don't think I quite understand how this is a celebration on my behalf," Merlin said.
Gwaine rolled his eyes, as if Merlin had just said the most ridiculous thing in the entire world. "For being hired at Balor, dude!"
Merlin, despite his poor demeanor, laughed out loud. "Is that the only excuse the two of you could come up with?" Gwaine shrugged and had the decency to look sheepish, if only slightly. "You do realize," Merlin continued, "that I have been a proper employee of Balor for well over three months now, right?"
"Well, you've only been teaching a few weeks and we hadn't celebrated it yet," Gwaine said and tipped his beer toward Merlin. "So, cheers!"
Merlin shook his head and clinked his glass against Gwaine's and took another drink. Merlin wondered how much alcohol it was going to take to get him thoroughly sloshed tonight, and whether he should call it an evening right now. After all, it was a school night and if the multiple tweets Will and Gwaine had been exchanging (and so very kindly mentioning Merlin in as well) were any indication of how bad it was going to get, it might be best to give his excuses and go.
After he finished his beer, of course.
"Gents!" Will shouted as he slapped a hand on Merlin's back. Merlin Emrys needs less enthusiastic drunk friends, Merlin thought, as his body swayed forward. "Are we to the toasting stage yet?"
Merlin rolled his eyes and said, "We are not toasting anything tonight," at the same time Gwaine lifted his glass, a huge smile on his beautiful face and said, "I've been waiting all night for this!"
♦ ♦ ♦ ♦ ♦
And that was how Merlin found himself, a mere thirty minutes later, squashed companionably between Gwaine and Will, his two best friends in all of existence, and far drunker than he'd been in quite some time. There were several lines of upturned shot glasses and empty pints spread out on the bar before them and Merlin didn't think it was necessary to count them.
It was a fucking lot.
And he was a fucking lightweight.
Pathetic.
"Alright, mates," Will's voice broke through Merlin's alcohol-induced haze. "One more and then I'm off to find a fuck buddy for the night."
Merlin scoffed and attempted to not slur his speech when he said, "I'm sssure you'll find sssomeone with that physi-... phyilos-... phiso-... attitude." Merlin Emrys was sssloshed.
"You talking to snakes like ol' Voldie now?" Gwaine asked with a grin, bringing his pint to his lips and taking a long pull.
Merlin, even with his fuzzy brain, was pretty sure that those words had been something exceptionally strange coming from Gwaine's mouth, but a quick glance at Will - and his Incredulous Face of Doom - confirmed it.
"What. The. Fuck?" Will scoffed, before laughing loudly like Will does when he's highly amused (and highly drunk). "Voldie? You a Harry Potter fan now, mate?"
Merlin was too drunk to point out the fact that Will only knows who Voldie is because he, too, has read the Harry Potter series (albeit when he was younger, not that he'd ever admit it out loud, and had even dabbled in some fanfiction because he really loved Draco and Hermione together and "J.K. Rowling is a nutter if she doesn't see their sexual tension, Merlin! NUTTER!" - it was one of those things Merlin was privy to as his best friend), but he made a mental note - yep, that was going to work out just fine - to mock him about it the next day.
While Will laughed, Gwaine's face turned only slightly rosy - enough to make him look bloody irresistible - and adamantly ignored Will. Of course, Will wasn't going to stop anytime soon, so Gwaine did what he did best... he flipped his hair.
Merlin tipped his head and mumbled dreamily, "Ou, pretty."
Will, however, only laughed louder before downing the last of his pint. "I am going to torture you about this for the rest of your life, Ryder," he said and slapped Merlin on the back, effectively breaking his hair-flipping daze - if only for a moment. Gwaine just looked down into his pint and continued to move his head back and forth slightly, his hair swooshing gently across his neck. Merlin found himself staring at it... hard.
Will shook his head. "Enough of this homoerotic hair-flip gayness," he announced with a grin. "Time for some pussy!"
Every other man at the bar with them cheered.
♦ ♦ ♦ ♦ ♦
The problem, Merlin realized, was that he is a sloppy, needy drunk. Sure, the hazy, loose feeling in his head and the heavy, relaxed feeling of his limbs straddled the line of pleasant and enjoyable, but the lack of coherent speaking and the way his mind began to run through "you will be alone forever" scenarios was far from euphoric.
Of course, the next morning, Merlin would remember that those feelings happen every time he had too much to drink. But right now? Well, right now, he couldn't get over how pathetic his life was and how he really needed to find someone to fuck on a regular basis... and soon.
He looked over at Gwaine - faithful and steadfast Gwaine - and smiled crookedly. "Best Friend Numero Two," Merlin managed, "you won't let me be alone for-ev-er, will you?" Merlin liked the emphasis on the word forever. It had absolutely nothing to do with the fact that he had just watched The Sandlot for the millionth time two nights previously. "For-ev-errrr."
Gwaine shook his head and absently gripped Merlin's shoulder. "Naw, man. Never."
Merlin grinned, probably a bit too wide, and looked down at his beer - Hey! When did Merlin Emrys end up with two? - and very nearly pushed it off the back of the bar, before wrapping his hand around it and bringing it to his lips.
Where he quite inelegantly slopped some down his chin and onto his already disheveled shirt. "Merlin Emrys has a hole in his lip," he murmured.
"What was that?" Gwaine asked, his eyes looking far more amused than Merlin suspected they should, considering Gwaine couldn't read his mind. "Who has a hole in his lip?"
Had he actually said that out loud? Bugger. Merlin laughed. "Merlin Emrys."
Gwaine's head tipped back and the loud, raucous laugh made his Adam's apple bob slightly. Merlin did not fantasize about licking it.
When Gwaine finally stopped laughing, he looked back and Merlin and shook his head. "You are hammered," he said good-naturedly. And then his smile slipped slightly. "And please stop looking at me like you'd like to eat me."
Merlin giggled. "I don't want to eat you, Gwaine! I just want to lick you," Merlin attempted another drink of his beer, feeling a bit of it slop down the front of his shirt again. "You are decidedly quite lickable."
And that's when Merlin added "brain to mouth filter failure" to his list of drunk traits: sloppy, needy and epic failure. Excellent.
Fortunately for Merlin, Gwaine was laughing. "Good to know, mate," he said, downing his beer and calling for another, all in one graceful motion. How Gwaine could be still functioning like a normal human being after so much alcohol, Merlin would never know. "It's not the first time you've deemed me lickable. I can just be thankful you didn't come out with fuckable this time." Gwaine grinned at him. "That one might have been over the line."
Merlin smiled and shook his head. "Sorry," he laughed. "I'll try to remember that next time."
Gwaine gripped Merlin's shoulder again and nodded, his face suddenly a little too serious for the situation. "Listen, Merlin," he said and it was the first time Merlin noticed the slur in Gwaine's voice. "I know you're having a rough time of it. You work hard and you're hardly ever home and you're sure you'll never find someone with the crazy, hectic schedule you have."
Merlin knew his eyes were probably as wide and round as saucers, but he was just a little shocked at how well Gwaine had him pegged (not in the good way, unfortunately), even when he hadn't said anything.
"But here's the thing, dude," Gwaine continued. "You will find someone. And you won't be alone forever, alright?"
Merlin knew it was something near a rhetorical question, but nodded his head anyway. It was the shortest little "listen, Emrys, quit being a right tosser (or flaming, no pun intended, asshole in Gwaine-speak) and buck up (cheer up)," speech Merlin had ever heard, but he liked it. Merlin didn't need long, drawn-out, and confusing dialogue to get the point, especially when drunk, and he loved Gwaine that much more for it. Will may have been Merlin's friend since they were in nappies, but Gwaine would always understand him just a little bit better. He didn't know how, but there you have it.
Gwaine nodded, his smile returning. "Good." He took a a quick gulp from his glass again and wiped a drop from his lip bottom lip. "Now let me make a suggestion." Merlin Emrys is all ears. "Make it happen."
Merlin waited while Gwaine took another swig of his drink. He was expecting more, knew Gwaine would have some advice on "making it happen," but he just grinned over at him and gripped his shoulder a bit more. Of course, Gwaine was a man of few words but really? Really? That was all he had?
If it were possible in his drunken state, Merlin would have rolled his eyes. Instead, he shook his head and said, "Worst. Advice. Ever."
♦ ♦ ♦ ♦ ♦
So maybe Gwaine didn't give the worst advice in the world. Of course, it hadn't been all that helpful, but it had made Merlin think. And as difficult as that had proven to be, it had got him looking.
Merlin prided himself on his gaydar; it was impeccable. He liked to boast that in a normal, non-drunk state of being, he could pick out a gay man or woman from fifty feet, in a rainstorm and surrounded by straight people in drag.
Unfortunately, seeing as Merlin was knackered and in the presence of other exceptionally drunken individuals who were throwing their inhibitions to the wind, his gaydar was having a hard time actually picking up on the signs.
Merlin tossed back the rest of his pint (number Fuck Too Many) and then swiveled in his stool to face the rest of the pub. His eyes scanned slowly, not entirely focused on the task at hand (or just focused in general - Merlin Emrys must need glasses that are not referred to as Beer Goggles.), but scanning none the less.
There were men and women gyrating their hips and pressing up against each other in lewd movements, making the air around them heavy with the scent of sweat and sex; Merlin figured it would be best, even if he did want to get laid, to steer clear of them. If he was going to find some sex, it wasn't going to be in the middle of a dance floor.
In a dark corner near the back, there was a table of six playing some sort of drinking game; not one of them looked very sober (Not that Merlin Emrys has room to talk.), but they looked jolly enough. Merlin figured it would be best to stay away from them as well, since it looked like it was a small party and he wasn't much of a crasher.
And there was a group of men congregated by the pool tables. Merlin looked them over and then kept scanning. He didn't even have a reason; he just felt that what he was looking for wasn't there.
And that was when he saw him - all blond hair and muscles and chiseled jawline - sitting with two girls. Merlin was enthralled, his mouth hanging open and his jeans almost instantly too tight. The first three buttons of the man's light blue Oxford shirt were open, exposing a delicious neck and Adam's apple that Merlin was quite sure was even more lickable than Gwaine's, and the sleeves were rolled up to his elbows, exposing muscled forearms. Merlin pulled his eyes away from the darkish dusting of hair on his chest to see that he had a wide smile and crooked teeth just below an angular nose and light eyes. And his hair... Merlin was pretty sure that the fell out of bed after an entire evening of marathon sex look had probably taken Blondie far too long to achieve, but it didn't stop Merlin from admiring its shiny, soft quality.
And just like that, Merlin was halfway to the table before he realized that he hadn't felt like he was being pulled toward him, but that he was actually walking toward his table. Pausing, Merlin took a deep breath. What the bloody fuck is Merlin Emrys doing? Merlin had no idea, but he just felt like it had to happen. Striding more purposefully now - and not at all stumbling in his drunkenness - Merlin walked directly up to the table and...
Holy fuck Blondie was more gorgeous up close. Merlin Emrys is in trouble.
And that was when Merlin's brain to mouth function failure kicked in again and he heard himself speaking.
"Fuck me if I'm wrong, but isn't your name Sssteve?" Merlin drawled, doing his best to stand upright and still look sexy. (Merlin Emrys has smoldering eyes.) He was absolutely certain he was doing a fan-fucking-tastic job of it. Unfortunately, the minute the words rolled off his tongue - smoothly, of course, like buttah - he realized that it might have been a little too forward of a pick-up line. And that was definitely not what he had intended on using when waltzing over (you know, as if he had planned out this entire thing ahead of time).
He barely register the slightly alarmed look on the blonde's face.
Merlin shook his head. "No, no. Wait. What I meant was, hi, I'm Mr. Right," Merlin extended his hand to shake Blondie's, but tripped in the process and had to slam it down on the table to keep himself from falling. Again, smoothly. "Someone said you were looking for me," he finished.
Blondie was... there wasn't even a word powerful enough to explain how fucking perfect he was. Merlin was finding himself staring, even as he was readying his next line. His eyes were impossibly blue and his golden hair seemed to glow about his head like he was wearing a halo. The line of his jaw was hard and smooth and Merlin wanted to reach out and touch it, stroke it... nibble it. Merlin smirked sexily.
He only lifted his brow at Merlin, but he was pretty certain he saw the corner of his beautiful mouth (Merlin Emrys is going to have hours of fantasies about fucking that magnificent mouth.) lift, as well. Blondie flicked his eyes over to his two companions and Merlin followed his gaze. Blondie liked to travel with a sexy entourage, evident by the fact that the women with him were sexy, sophisticated and stunning. He was certain there was not a single straight man in the building that hadn't noticed this and Merlin was secure enough in his homosexuality to notice and admire the aesthetic beauty of these females. The fact that they were sitting across from Blondie, however, was why Merlin was absolutely certain that coming over here was a fantastic idea. Blondie was gay. So gay.
Merlin nodded at the girls. "Ladiesss," he said, increasingly proud of himself for only slurring a little bit. They were both beaming at him. "I need your help."
Merlin watched them glance at each other before the fae-looking one turned her green eyes on him and quipped, "We'll do the best we can."
Merlin Emrys likes her already.
"Do you have a map handy?" Merlin smiled, before he jerked his thumb over in Blondie's direction. "Because I keep getting lost in this guy's eyes." When the girls giggled, Merlin turned to look back at Blondie, who was looking down at the table and shaking his head, but he had a smile on his pink face.
Encouraged, Merlin winked at him. "Did it hurt?" he asked. And even though he knew he was supposed to wait for the question Did what hurt?, Merlin just kept right on. Because he was on a roooooooooll. "When you fell from heaven," he said. "It must have."
He got a genuine smile from Blondie that time and Merlin did an internal fist pump. Merlin Emrys has got this in.the.bag.
Just as Merlin was about to slide himself in beside Blondie, ready to come out with the best line yet (I think you have something in your eye. Oh, no, that's just a sparkle.) followed up with some sexy winking, Gwaine sauntered over.
"There you are, Merlin," he said. "I've been looking all over for you."
Merlin grinned. "Well, you've found me," he said, his eyes bright. "And the future mister." Merlin gestured grandly to the table. "He's gorgeous, right?"
Gwaine grinned and winked at the two ladies sitting with Blondie, before nodding at Merlin. "Yeah, buddy. Gorgeous."
"Right!" Merlin beamed. "If looks could kill, he'd be a weapon of mass destruction!"
Gwaine laughed... hard (Merlin Emrys is not being funny right now.) and threw his arm around Merlin's shoulder, good-naturedly. "I think you're hammered, friend," he said. "Maybe we should get you home, so you can sleep it off."
"I'm not drunk," Merlin drawled at Gwaine's shoulder, because he wasn't sure when it happened, but Gwaine was now taller than Merlin and he couldn't reach his ear. "I'm just intoxicated by him." He made sure to emphasize his point by darting his big eyes over at Blondie and pointing. Then he laughed. Merlin Emrys has the best pick-up lines. Ever.
"Mmhmmm," Gwaine said, amusement evident in his voice, even if Merlin was too drunk to realize it. "Well, good to know. I'm sure this guy is perfectly happy to know that as well, aren't you?"
Merlin watched as Blondie's face contorted into a smirk. "Oh yes," he said. "Very." Merlin's answering smile looked like it could break his face. They were the first words Blondie had said since he had sauntered over to their table and dammit if his knees didn't get weak. Thank God for Gwaine holding him up, lest he become a puddle of goo in the middle of the floor.
"See!" Gwaine grinned and slapped Merlin's shoulder. "Wonderful. Now tell the man and his exceptionally pretty girlfriends goodbye and that you're sorry for interrupting their evening."
Merlin looked aghast. "But I'm not sorry at all!" He heard the two girls giggle and smiled at them. "And I didn't interrupt your evening, did I, ladies?"
The one with the curly hair and angelic smile said, "Absolutely not. Quite the opposite, really."
"Absolutely," the other agreed. "He has made tonight far more entertaining than we ever imagined." Her eyes seemed to flash gold when she turned to Blondie and Merlin got excited when he realized he was going to hear him speak again. "What do you think, Arthur?"
ARTHUR! Merlin nearly fell over again. There were signs and then there were signs. Blondie's name was actually Arthur. And Merlin's name was Merlin! It was like destiny!
Arthur shook his head and chuckled - a deep sound in the back of his throat that made a shiver run up Merlin's spine (not to mention, instantly had his mind racing toward other possibilities of what his throat would be good for) - but refused to look at Merlin when he said, "Best night ever," in a low, amused voice.
Merlin was in such a state of shock, he couldn't even get out another pick up line.
"I hope you know CPR, because you just took my breath away." Okay, maybe not that shocked.
Gwaine snorted loudly. "Oh, Merlin!" Gwaine laughed and his gaze was drawn away from the sight of Arthur's rosy cheeks to look at his Best Friend Numero Two. "You're so lucky Will didn't see this. You'd never live it down." Gwaine shook his head, still laughing. "You are so done now."
Before Merlin knew what was happening or could even respond, Gwaine was tipping his head toward their table and saying, "Sorry about this," and "You all have a great evening," as he backed Merlin away with a firm grip on his shoulder.
"But--" Merlin started and was hushed by Gwaine's whispered, "You'll thank me later." Merlin Emrys isn't so sure about that!
But there was no stopping Gwaine as he pulled (Merlin Emrys will not be manhandled, thankyouverymuch.) him backward and away from his destiny. Merlin's last ditch effort was to throw out another pick up line.
"This is a test of the Emergency Pick Up Line service. Beeeeeeeeeeeeep!" Merlin called as Gwaine continued to pull him away, laughing a little too much. "If you had been any less hot, you would have just heard a bad pick up line."
Merlin couldn't see Arthur through the crowd anymore, but he was pretty sure he felt his grin.
♦ ♦ ♦ ♦ ♦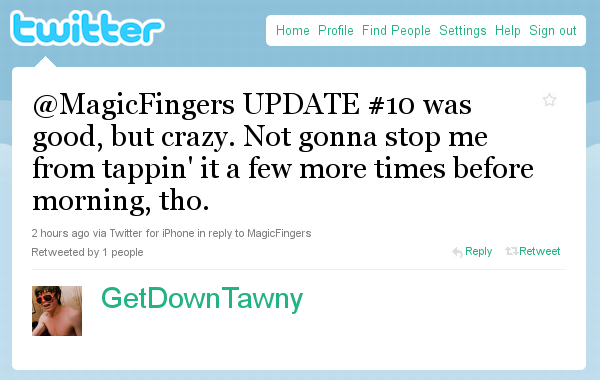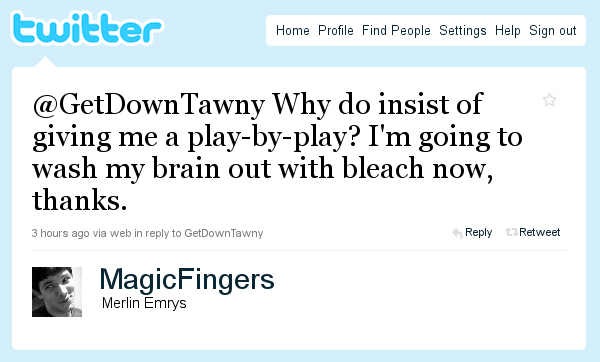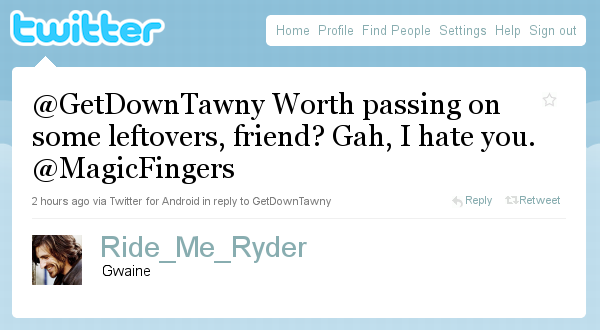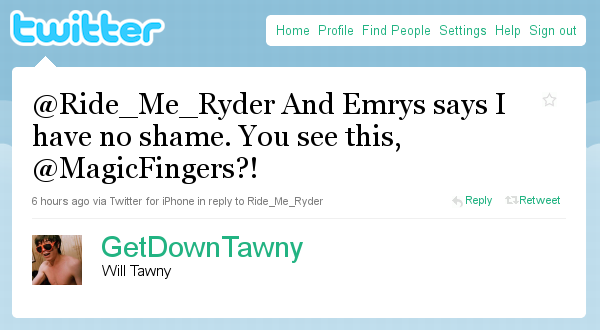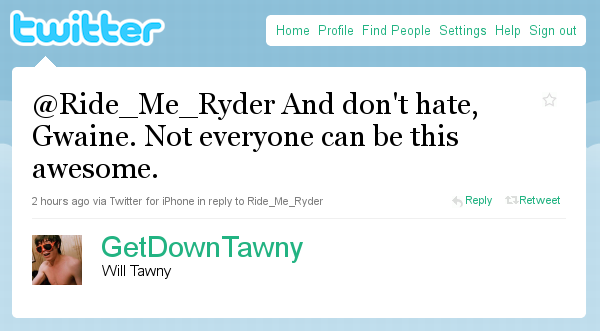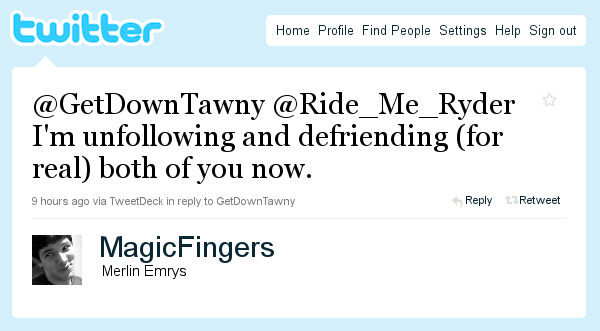 ♦ ♦ ♦ ♦ ♦
Arthur Pendragon pressed the lift button for the 35th floor and waited for the doors to close before using the back of them as a mirror to adjust his navy-striped tie. He was early to work, as usual, and knew he wouldn't encounter anyone on his way upstairs, but that didn't mean he shouldn't look absolutely impeccable.
Once he'd straightened his tie and picked all the imaginary lint from his navy blue suit, he adjusted the brown leather satchel on his shoulder and stared hard and practically unseeing at his reflection in the lift doors. He noted the puffiness under his eyes and made a mental note to not stay late tonight, like he normally would.
Going out the previous night with Gwen and Morgana had been a bit of a bad idea. Normally Leon would have come along, being the more practical of all of them (Arthur was plenty practical, he just didn't get out often enough to find the practicality in going home at a decent time once he was out) and knowing when it was time to call it quits, especially on a weekday night, but his physical therapy appointment had been extra rough that afternoon and Morgana said he needed to stay home and get rest up.
At that point, Arthur should have just said that the girls could go on their own and he was going to call it an early evening, as well - especially since he knew they were going to be working hard all weekend on the move - but, instead, he'd said he didn't want them to go alone and had tagged along anyway.
And when Arthur had stumbled into his partially boxed flat at 4 AM, feeling light-headed with drunkenness and looking worse for wear, he realized that the following day of work was going to be pure torture. He'd sobered quickly at the thought, took a cold shower, drank nearly 2 litres of water, power napped for approximately 45 minutes and then got up to drink a pot of coffee and get ready for work.
If his mind had been plagued almost the entire time by large ears, thin limbs, dark hair and bright blue eyes, Arthur was fully ready to blame it on the large amounts of alcohol he had consumed.
Arthur shook his head. "Not today, Pendragon," he said to himself and tried to block the fresh images from invading his mind again. He hadn't known who the man was that had approached him in the pub, but he had been almost immediately attracted to him, despite Ears' (Arthur had heard his friend call him Merlin, but Arthur - not accepting of all that destiny bullshit Morgana spouts off - refused to recognize him as anything other than Ears) continued use of lame pick-up lines. And that was strange for Arthur in a way he wasn't sure he could or wanted to analyze. It wasn't because Arthur was homophobic or anything like that - after all, it was hard to be homophobic when you were an out and proud bi-sexual man - but because Ears had definitely not been his type.
He had, in fact, been so far from Arthur's type that he wasn't sure how he'd even zeroed in on Ears when they'd first entered the pub. But Arthur had become aware of him right away and had been watching... stealthily, he'd thought, so imagine his surprise when Ears had walked over to him, pick-up line at the ready.
The whole thing had been hilarious and unexpected and kind of cute, really.
Arthur shook his head. No, it had not been cute. It had been utterly pathetic. At least that's what Arthur would normally have thought.
When the lift doors opened, he still felt slightly off-kilter, which was something Arthur Pendragon didn't care to admit ever happened, but he knew that once he got to his desk and started working for the day, instinct would kick in and he'd be back to his business-savvy self. He didn't have time to think about lithe body frames and defined cheekbones. No, sir.
Arthur stepped off the lift and strode purposefully down the hall to the left. He pulled out his keys and opened up the office, disengaging the alarm.
All business, Arthur thought as he went about flipping light switches. And then he was going over his schedule for the day, even before Vivian would have a chance to know it existed.
Arthur shook his head. Vivian English was beautiful and ruthless, but she was far from efficient. He wasn't even sure how that particular combination was possible, but he didn't really have the time to find yet another executive assistant. Thankfully he was quite capable of running his own schedule, even if Vivian thought she was in charge of it. She handled the daily emails and phone calls well, and even set up the following day's schedule enough that Arthur could easily make changes to it (as he often did) so that it actually made sense, but she just wasn't cut out to work for someone. Unfortunately, since her father had died and, unknowingly to her, had left her with more debt than money, she was forced to file for bankruptcy on his many businesses and get a "real" job.
Uther had made the suggestion that Vivian be his assistant. Arthur had complied because it was pointless to argue with Uther.
Inside his private office, Arthur dropped his satchel neatly on the chair just inside his door and walked over to his desk. He hit the button to boot up his computer and then made a cup of coffee with his Kuerig behind his desk. And while both of those things happened, Arthur grabbed a bottle of water from his mini-fridge and set it on his desk.
Not thirty seconds later, Arthur was sitting at his desk in his large, comfortable, leather chair and waiting the final moments for his computer to boot. And it was then that he realized that from the moment he'd walked off the lift until that very second, Arthur had been running on auto-pilot. He tried his hardest not to be bitter about the six years that had brought him to this place in life.
It wasn't that Arthur hated his job, because he didn't. He loved being the public face of the company his father had built from scratch when he was only eighteen. He loved knowing that their company, Camelot Security & Detail, was the largest home security and personal security detailing company in Europe. And Arthur revelled in the fact that, even during the tough economic times, CSD had never needed to consider laying off any of their employees.
But occasionally, when he had enough time to sit and really think about his life and the things he'd given up to live it that way, Arthur felt slighted. And there was no one to blame but himself of course, which made it all the worse.
Arthur sighed, took a large drink of his coffee, followed it with a drink of his water and pressed a few buttons on his keyboard. Moments later he stared at his Facebook News Feed.
Arthur might be a bit of a workaholic who got to work far earlier than everyone else, but it didn't stop him from taking a smidgen of "me" time in the morning to check his favorite social networking site.
With little emotion on his face, Arthur clicked the icon that said he had one notification. It was a wall post from Morgana. Arthur didn't roll his eyes, even though he wanted to, and clicked on the darkened link.
Arthur shook his head and smirked, before typing out his own response.

Arthur minimized the Internet window and pulled open his Outlook. While it loaded his emails from overnight - which there were bound to be at least fifty - his Facebook window flashed at him that he had another notification. Morgana had responded already with the link and Arthur immediately clicked on it.
And gasped in horror.
It was the god-awful ugliest sofa set Arthur had ever seen. The only thing Morgana had apparently heard when Arthur was explaining the kind of couch he wanted for his and Gwen's new flat was that it be big and comfortable. The set looked exceptionally large, plush and comfortable, but it definitely didn't hit the marks on colour.
Arthur stared at the black, pink peonies-covered abomination and shuddered. And that was before he looked at the price.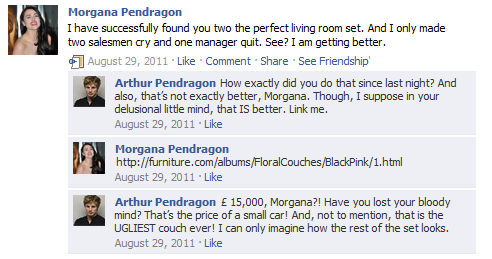 Arthur pounded the "Enter" key so hard, his keyboard jumped. "She's a bloody lunatic!" he shouted into the empty office. Arthur quickly closed down his Internet window - he really didn't want to see Morgana's response right that moment - and maximized his Outlook window again. Fifty-one new emails, none of which were junk mail, stared back at him. Arthur put on his game face and started at the bottom.
♦ ♦ ♦ ♦ ♦
By 11:30 AM, Arthur had drunk three cups of coffee, four bottles of water and one cup of tea, answered all fifty-one emails and the additional fourteen that had come through in the meantime, called the furniture store and purchased a far too expensive living room set to be picked up the following morning, and managed to do three telephone interviews and schedule two television appearances with local media covering the recent botched assassination attempt on one of their biggest clients, Morgause Black.
Arthur didn't even pretend he knew what Morgause did that required her to have such heavy security, nor did he really care so long as she continued to pay for her coverage. Unfortunately, she was becoming exceptionally difficult to keep secure. The most recent attempt on her life, the fourth in the same number of weeks, had got her detail shot. Thankfully, it had hit Percy's Kevlar jacket and only broken a couple of ribs. But, of course, that took Percy, who was one of their top guards at the company, out of the rotation until he'd recovered. And those kinds of issues made it difficult to assign and was strenuous for whoever her detail was at the time. That, in turn, raised Arthur's stress levels and his concern for their employees greatly.
Tapping his finger against the large calendar covering his desk and studying the marks he'd made there to show the number of issues the company had had recently (and frequently) with Morgause, Arthur made a decision he wasn't even aware he was contemplating.
"Viv!" he hollered.
Seconds later, Vivian came bustling around the corner and stood just inside his office door. "Yes?"
There was no denying it; Vivian was gorgeous. She was petite in all the right ways and curvy where she needed to be. Arthur couldn't help but remember the many times he'd laid his hands all over those dips and curves (thankfully years before she had started to work for him because that would have been awkward). Of course, dating Vivian had been a short-lived affair and he knew the minute he'd met her that it wouldn't be anything long-term or spectacular. But he'd decided it was worth it anyway.
Arthur looked over her impeccable white trouser suit and black Oxford shirt, her blond hair pulled off her neck into a tight bun and black-rimmed, square glasses (that he knew she didn't have to wear because she had perfect 20/20 vision, but she wanted to be more like Morgana, for some reason) covering beautiful blue eyes and thought that maybe he'd made a mistake when he'd broken it off with her all those years ago.
Arthur mentally shook his head as the other memories came flooding back.
Like the time she had purposely started a rift between him and her father, when he was still alive, just to see which would win. Arthur had been just young and cocky enough to think that he could win, even though he wasn't really even sure what he had been fighting about. And, of course, it had led to arguments all around, that had also included Uther. And that - well that was just taking it a bit too far, wasn't it?
Or the time she'd confessed her undying love to him. In the middle of the work Christmas party. That she hadn't been invited to. Because they were broken up. Of course, when she threw an epic-sized temper tantrum when he tried to send her on her way, he called her a child. And that, in turn, had caused a massive ruckus that had, once again, involved Uther.
Arthur grimaced internally. No, he had definitely not made a mistake.
"Arthur?" she asked, when he hadn't answered her.
Arthur shook his head. "Call Catrina and have her schedule a time for me to meet with Uther before the day is out."
Viv jotted something down in the small, wire-bound, black book she carried with her everywhere. Arthur tried not to roll his eyes, because it was a fairly simple message that didn't really need documenting, but left her to her ways. Of course, he was assuming she was writing down his instructions, but knowing Viv the way he did, it was probably something for her grocery list or which pair of Prada shoes she wanted to get that weekend.
"She'll want to know what it's regarding," she said, looking up.
Arthur sighed. Yes, she would. "Tell her it's about the Black file." When Vivian's left eyebrow rose dramatically, Arthur added, "Tell her I said that Father will just have to get over it. It's time to talk about it."
Vivian snorted, but jotted more notes in her book. "Anything else?" she asked when she'd finished.
"Yeah," Arthur said, already distracted by the three additional emails that had come through in the time it had taken him to talk to her. "Make me another coffee, get Paul to restock the water in my fridge and, for God's sake, bring me some Nurofen."
♦ ♦ ♦ ♦ ♦
Merlin sat in his exceptionally hard chair at his desk with his head in his hands, massaging his thundering temples, while his class worked in the lab. He knew he should be walking around, monitoring their progress and answering questions and commenting on their good work, but he just didn't have it in him.
And besides, it's not like they were going to blow up the classroom today. The lab was ridiculously easy and only required a few weights, a couple of beakers, measuring tools and some sodium chloride.
Of course, it was far from the experiment he'd originally been planning to do today. They were far past this sort of elementary chemistry, but after barely making it into the building before his students that morning, and not having a single thing set up, Merlin had stuck his hand in a drawer of old handouts, pulled out the first thing that had enough copies to give to all the students today and said that it was "a refresher" assignment. The sad part about it was that Merlin didn't even have it in him to feel bad that they were doing something far below their actual level of knowledge. He didn't have the strength to focus on the lesson plan he'd made for the day, and made an executive decision they'd do it the following week.
Merlin groaned when one of the girls slammed their book shut. Then and there, he decided that he was never, ever, evereverevereverever going to let Will and Gwaine talk him into going out on a school night ever again. It was just not worth it.
Not to mention coming into work hungover was wholly unprofessional. He was counting his lucky stars that Dr. Nimueh, the school's scary headmistress, was at a conference this week. Everyone else in the school seemed to like him - teachers, lunchroom staff, and even the caretakers - but Dr. Nimueh was dead set on hating him. Merlin was about ninety-eight percent sure that if theboard of governors hadn't been the ones to make the final decision to hire him, he'd never have have got the position.
In his defense, though, Dr. Nimueh didn't seem to like anyone. Every smile she gave - which were few and far between - looked calculating and evil, maybe even slightly maniacal, and a lifted eyebrow was enough to make you contemplate the state of your affairs.
Another of Merlin's students slammed her book closed - the universal signal that class was almost over - and he rubbed at his aching eyes. When he opened them, he lifted his head just enough to look at the class through slits and said weakly, "Read chapter six this weekend and ready yourself for the experiment found on page 230. We'll be doing it on Monday morning." The girls shuffled feet and rustled paper as they wrote down the assignment - quietly, bless them - and then the bell toned, releasing the first block of classes. Merlin tried not to cringe at the high-pitched sound, but he feared that he'd done a poor job of it. "Have a good weekend, ladies."
He sat up a little straighter in his chair as the girls chatted their way out of the classroom. Several of them gave Merlin tentative smiles and wished him a happy weekend; Merlin smiled (grimaced) in return and prayed that they only thought he was sick, and not hungover.
At last the final girl had walked out of the room and the door clicked softly shut behind them. The blessed peace and quiet that hung in the room instantly made Merlin feel better. He could still faintly hear students in the hallways, talking and moving on to their next classes, but felt utter relief that his planning hour was early in the day.
He hadn't had a chance to take anything for his pounding headache, as he'd been literally rushing out the door, half-dressed, and Gwaine calling after him from the couch to, "Have a great day, Casanova," so Merlin pulled open his left-hand top drawer and breathed a sigh of relief when he saw the emergency bottle of water and sleeve of Nurofen tablets right on top. He quickly popped two tablets out of the sleeve and downed them with a gulp of lukewarm water and then another.
What he'd give for some coffee at that very moment.
Merlin stared at his desk contemplating whether he could pull off a nap during the next hour without making himself feel worse. He decided quickly that, in fact, no he would not be able to do that and opened the top of his laptop instead. As soon as it was connected to the Internet, he refreshed the already open Facebook page. He knew it wasn't exactly the best idea he'd had in a while but honestly, he just didn't give a damn.
Merlin clicked on on the icon that said he had three notifications; Freya had left a post on his Wall, someone Merlin didn't know had made a comment in his favorite cooking group (not that Merlin did a whole lot of cooking - he left that up to Will, which wasn't exactly a genius idea either - but he liked to think that maybe one day he'd really get into it) and Gwaine had tagged Merlin in multiple photos in the album "Merlin Emrys has a hole in his lip."
If it didn't hurt so bad to do so, Merlin would have rolled his eyes... hard. Instead, he clicked on the album and started scrolling. All of the pictures were from the night before, and for the life of him, Merlin had absolutely no idea when Gwaine had taken any of them. He never once remembered him taking his phone out of his pocket, where it resided almost all of the time.
Merlin kept clicking forward quickly, his appearance becoming more disheveled and inebriated with each picture, until he got to the end, where Merlin was leaned over a rubbish bin outside and seemed to be hurling the contents of his stomach into it.
He absolutely did not remember that happening.
The caption said: "Merlin getting up close and personal with a trash can. Fortunately, it wasn't his most intimate encounter all night."
Merlin wasn't entirely sure what that meant, but chalked it up to Gwaine being... well, Gwaine and clicked back to his news feed. The first item on his list, posted two minutes prior, was from Will to Gwaine. When Merlin read the post, he nearly choked on the sip of water he was taking.

Merlin instantly hit the "Like" button and opened the album once more to see that Gwaine had, in fact, tagged his pictures accordingly. He was only slightly annoyed that he hadn't been given a more exciting name for tagging purposes.
Then again, knowing Gwaine, maybe Merlin was better off.
Merlin looked up when there was a tentative knock on his door and quickly pushed the lid closed on his laptop. He needn't have panicked, however, when Lance DuLac - P.E. teacher, cross country coach, exceptionally nice guy and bloody Adonis - poked his head in and smiled. "Hey," he said softly and walked in before Merlin even had a chance to answer him.
Merlin's return greeting froze on his lips and ended up coming out as a low moan of pleasure when he saw the two, extra tall coffee cups in Lance's hands. Lance laughed, a sound that rumbled low in his throat (and the first time he'd heard it, had Merlin's turning to complete jelly), and said, "I thought you'd need this."
Merlin loved how Lance always knew when he was hungover. And not for the first time, Merlin realized just how lucky he was in the friends department. Of course, it was bloody awful to be surrounded all the time by gorgeous men he couldn't touch, when all he wanted to do was lick them from head to toe, but love was sort of a tramp like that.
"I would have brought them to you sooner, but I had a meeting with my department this morning." He passed one of the cups to Merlin before grabby hands could be made, and at this point, Merlin was really okay with making grabby hands. "Don't worry, though. It's piping hot, the way you like it, and has enough sugar and flavored cream in it to rot your teeth. Enjoy." Merlin took a sip and felt his eyelids close in ecstasy. "How are you feeling?" Lance asked, trying not to sound more than a little amused.
"Icky," Merlin grunted, even as the coffee worked through his body, and watched as Lance's eyebrows quirked. He huffed. "Yes, Lance; don't look at me like that. I'm icky. Icky, icky, icky." He paused, looking thoughtful. "And crabby." Lance's lips twitched. "I know. It's a pitiful combination."
"Yes. Very." Lance grinned at him and took a seat at one of the desks in front of him, taking a sip of his own coffee.
They sat in companionable silence for a while, Lance knowing that Merlin really needed the coffee to work its magic before venturing into other topics. Merlin liked everything about Lance and they had hit it off immediately when they'd met.
Merlin had just started at Balor as one of the teaching assistants in the P.E. department, and had absolutely no idea how to find anything - that included his own office. While quite literally wandering around the school, Lance found him. Merlin was, of course, in the complete opposite end of the school that he needed to be in, and Lance was kind enough to show him the way.
And really, that's all it had taken. They chatted briefly on the way to Merlin's office and then for a few more minutes after Lance had explained to Merlin how to get back out of the school and to the football field. It had been nothing earth-shattering or other-worldly. It had simply been instantaneous friendship.
And what made their friendship even easier was that even though Lance was practically God's gift to drooling women - a fact even Gwaine, self-proclaimed (and rightly so) Sexiest Man Alive, agreed to - and even when he had told Lance that he was gay, Merlin hadn't ever developed a crush on him. Sure, Merlin had no qualms against thinking about Lance naked and sweaty and the things he'd be more than willing to do with him if given the opportunity (and Lance just upped and decided that the straight and narrow was far too boring a life to live), Merlin just didn't feel that way about him. It was actually refreshing, for once.
And that was exactly how their friendship was. Easy. Simple. No drama.
Merlin smiled at Lance. "Thank you, mate. You have no idea how badly I needed this."
"I had an inkling," Lance grinned and took another sip of his coffee. "Of course," he mused, "I should probably mention that I did see the pictures Gwaine posted this morning."
Merlin groaned. "Oh god."
"They were very enlightening."
"I hate you."
Lance laughed. "No you don't."
Merlin shook his head. "I really don't even know what happened last night. I have an unsettling feeling that I did something really ridiculous. Someone should stop me next time."
"Or not allow you out of the house in the first place?" Lance asked, a smirk on his lips.
"That, too." Merlin shook his head again and took a burning gulp from his coffee. "I vaguely remember using some poorly chosen pick-up lines," Merlin grimaced. "But for the life of me, I can't remember to whom they were directed."
"Black hole?"
"More like a black crater-hole."
"That is not an actual thing, Merlin. And even if it were, I think a regular black hole is far bigger than a crater-hole, don't you?" Merlin narrowed his eyes at him and Lance grinned back. "You really shouldn't drink that much, you know?"
Merlin waved his hand dismissively. "I know," he muttered, then looked thoughtful before his eyes opened wide in shock. "God, Lance, I think I actually hit on a couple of girls!"
Lance forgot all about Merlin's pounding headache when he threw his head back and burst into loud laughter.
♦ ♦ ♦ ♦ ♦
"Arthur," Uther Pendragon said as Arthur made his way into his ridiculously large office on the 48th floor. Before his arse hit the seat of the expensive, high-backed, extremely uncomfortable chair (the way Uther liked it; to keep unwanted "guests" from staying for too long) across from Uther, he asked, "What makes you think we need to re-evaluate our largest account? And I urge you to think before you speak, because I will not tolerate you wasting my time on this."
Arthur resisted the urge to do either of the two things he wanted to (which were 1. turn right back around and walk out of the office or 2. say loudly and sarcastically, "Why, it's nice to see you, too, Father. Wonderful weather we're having, don't you think?") and instead sat fully down in the chair and counted to ten before saying, "She nearly got Percy killed last week."
Uther looked up from his computer and narrowed his eyes, "I don't think I need to stress to you, Arthur, that Percival is far from dead."
Arthur resisted the urge to roll his eyes. "Thanks to his Kevlar, of course. He does, however, have multiple wounds that are keeping him from working."
"We are a security company, Arthur. It comes with the territory. Percival knows that and I thought you did as well." Uther said it as if he was commenting about the easy flow of traffic on a mid-summer Sunday; bored.
Sweat beaded on Arthur's brow. He avoided reaching up to brush at it and instead tried to will it away; it wouldn't do for Uther to see how worked up he got whenever they had to have intense conversations about work (or anything, for that matter). This was not going to go well and Arthur knew it. And if if he could avoid the inevitable just a bit longer, he'd do it.
"Yes, Father, I'm well aware of this fact," Arthur replied, his voice as level and emotionless as he could make it. He had been aiming for Uther's same bored tone, but knew he hadn't hit it quite right. No matter how hard he tried (even when he didn't want to be), he couldn't be like his father. They were just two different people. It was too bad Uther couldn't see that, as well.
"However," Arthur continued, "Percy is her twelfth detail in less than a month. If they're not being shot at or suffering stab wounds to protect her, she's filing complaints with the department about their lack of attentiveness, their overt affections, or her inability to - and I quote - 'function like a normal human being because Owain's stupidity flows by osmosis'."
Uther sighed and looked back over at his computer. "I fail to see your point, Arthur. And I suggest you make it soon."
"My point, Father," Arthur said, straightening his back and sitting toward the front of his seat, "is that if we have to keep reassigning her detail and/or replacing them because of sudden death," Uther scoffed at that, "we're not going to have much of a company left."
Uther only cocked an eyebrow and pounded on a few of the keys on his keyboard. Arthur sat back again in his seat and forced himself not to rub at his pounding temples.
"And furthermore," he added, as a last minute thought. He told himself when he came in that he wouldn't say anything, but now it needed to be done. Uther needed to see. "I've been getting a lot of questions about the type of people CSA is willing to secure. I know you and Morgause have a very hush-hush relationship in regards to her... career, but maybe it's time I knew." Uther looked away from his computer once more and Arthur pressed on, not wanting to be interrupted yet. "I am the public face of the company and it's exceptionally hard to run the public relationships department when I don't even know what kind of relations we have with our own clients." Arthur sat forward in his seat again; a manoeuvre he'd learned from Uther that was used to drill his point home. "I can't even begin to tell you the different rumours I've heard about the type of person Morgause is, or the type of business she runs."
Arthur narrowed his eyes at his father and he moved forward even further in his seat. He looked his father in the eye and said, very carefully, "If I knew, Father, it would be easier for me to either cover the truth or glorify it. When I don't know a thing about it, I sound like I don't know a thing about it and that causes more speculation in the media and confusion with our customers - large and small."
"Arthur," Uther started, but Arthur interrupted him.
"I fully understand that this is your company, Father, but at some you are going to have to trust me with this, don't you think?"
Uther turned full in his seat, annoyance written all over his face, before he steepled his fingers in front of him and glared at Arthur. "This, Arthur, is not about trust or speculation or confusion. In fact, it's not even so important that there should even be talk over the kind of work that Morgause does. I think that she just attracts trouble like a magnet."
Arthur sat back in his seat and crossed his legs and arms. Uther wasn't going to tell him and that was just utterly ridiculous. He could make it sound completely unimportant all he wanted, but Arthur knew better. He was hiding something and he was determined to figure it out.
It upset him more, though, that his father obviously didn't care enough about him or trust him enough to just tell him what was going on. Arthur didn't feel good about that particular idea at all.
"Therefore, you'll drop this whole Morgause issue and get back to your job," Uther finished, and Arthur hadn't heard a single word of his speech; he knew it all by heart anyway. "Good day, Arthur."
And with that, Arthur was dismissed. As he pulled Uther's office door shut behind him, Arthur schooled his face into a bored, straight line, and walked to the lift to go back down to his office.
He wasn't going to let the issue go that easily, though.
♦ ♦ ♦ ♦ ♦
It was nearing 7:30 that evening when Arthur finally closed down his computer and let his head fall into his hands, rubbing at his eyes and feeling bone-deep weariness after an entire day of work. He'd only moved from his desk a couple of times all day, and had even eaten his lunch at his desk when his lunch meeting had called to cancel. His bones were stiff and he was feeling so much older than his thirty years.
When had it come to this? When had his life turned into long days at the office, sitting at his desk for hours on end, and going out with his friends maybe once a month? Was this how it was going to be for the rest of his life?
Arthur pressed the heel of his palms into his eyes until white lights popped behind his lids.
"You look like shit."
Arthur lifted his head to see Morgana standing just inside his door, looking smart and crisp in a black pencil skirt and white oxford combo (that he was sure was Valentino or Versace), dark hair hanging down in loose curls, green eyes covered but far from invisible behind square, dark-rimmed glasses, and black, scary-looking, spiked Manolo heels. She looked like she'd just walked out of a magazine and Arthur kind of wanted to hate her for it. He never had perfected the art of keeping his attire sharp all day long like Morgana had. Damn her.
"Thanks, dear sister," he clipped and got up from his desk. He made to reach for his suit jacket, but decided that a good stretch was a better idea. He really was getting too old for this.
As he stretched out his muscles, like he would getting ready for a footie match with his mates on the weekend (that he didn't really want to think about right now, because it had been far too long since he'd been to one of those), Morgana walked into his office, the usual click-click of her shoes muffled by the lush carpet, and perched on the arm of the couch in the corner.
"You're welcome," she said, smirking. "You've been working extra late the last few weeks."
Arthur nodded and started pulling down his shirt sleeves and doing up the buttons. "It's one of those things that happens when your largest client somehow manages to have multiple assassination attempts against her every other day." Arthur pulled on his jacket and said, as sarcastically as he could, "Inquiring minds want to know."
Morgana was inspecting her perfectly manicure fingernails. "Hmm. So I see." She looked up at Arthur and her face was serious. "I heard about your chat with Uther today."
"You mean to say that you heard I had a chat with him," Arthur responded, forgoing the tightening of his tie. He'd like to say it was because he wanted to pull off the I'm fresh off work from a long hard day, but I still know how to look sexy look, but in reality, he was just too tired to care at the moment. "Because I know that no matter how many conspiracy theories you have against Catrina, she doesn't have Father's office bugged."
Morgana smirked. "Everyone seems to know that but you and Uther, Arthur. You should get with the programme," she said. "And no, that's not what I meant to say. I had a chat with Uther today, as well."
"About?"
Arthur picked up his satchel and made to walk out of the office, hoping that it would motivate his sister to go as well. He needed to leave and he didn't want to talk about Uther anymore. Arthur had spent a full hour after he'd left his father's office scowling at the paper files that he had access to on Morgause Black. However, the only information really in them, outside of her security detail bios and schedules, were her filed complaints and his random notes. An Internet search had only brought up news articles speculating the kind of work that Morgause did - which usually had something to do with firearms dealings, drug smuggling and international terrorism in general - but, as it was all just hearsay and not based on any real facts, Arthur knew he could only take each article with a grain of salt. He had even sat down and called multiple contacts he had in the security business around Europe and a few in America, where he knew Morgause had lived for about ten years, but the most helpful response he received was that they "weren't at liberty to discuss any past or present clients, no matter how crazy they are."
And really, that hadn't helped Arthur at all.
Morgana placed a hand gently on his forearm to stop him. "It's not just you," she said, softly. "I'm concerned about her account, as well." Arthur just stared at her for a moment, waiting for her to continue, but she didn't.
"Why?" Arthur asked. "You don't have to deal with her."
Morgana sighed. "No, but I do have to deal with the backlash in HR. Did you know that three of her last four detail have come to me and asked for extended leaves? Leon had to go to Uther last week for permission to pick up new personal security detail just to help cover her account. We're not equipped for that kind of hiring in this economy, Arthur. And I would say that it's ninety-eight percent related to the Black file."
"And I'd say it's one hundred percent related," Arthur said and sat in the chair by his door, his body attempting to give up on him at any given second. Running a full day, on a Friday of all times, on only an hour of sleep and loads of caffeine was probably not the best idea. Arthur briefly wondered if he'd be better off taking a taxi home and coming back in the morning to get his car. But when he remembered the busy weekend they had ahead of them with the move, he thought better of it. He didn't want his car here all weekend.
"What did he say?" Arthur asked.
Morgana waved her hand dismissively. "Probably the exact same thing he said to me. That it wasn't that big a deal and to leave it alone." Morgana smirked. "Of course, I probably did a fair bit more yelling at him than you did."
Arthur laughed, despite his annoyance with the whole ordeal with Uther. "I'm sure you did. You two always have been at odds with each other. I'm sorry I missed it."
"I'm sure it's entertaining from an outsider's point of view," Morgana said, matter-of-fact. "Who am I kidding? It's entertaining for me, too."
Arthur smiled at his sister. "I'm sure." He got up from the chair and asked, "Dinner?"
Morgana got up as well and walked out of his office with him. "No," she answered, as Arthur shut the lights down and set the alarm, locking the door behind him. "I have to get home. Leon said something about him spending the entire day in the kitchen and that I'm a terrible girlfriend, even if I am hot, because I can't get home at a normal time. Next time, though."
Arthur called for the lift and rolled his eyes. "He's certainly turned into the domestic diva since the accident and surgery kept him home those few months, hasn't he? I should see about having his man-card revoked."
Morgana winked at him as Arthur got on the lift and she kept on to the stairs to go down one floor to her office. Just as the doors were closing, she said, "Don't worry - domesticated of not, he's all man, little brother."
Arthur shook his head when the door closed. "She is a sick woman."
♦ ♦ ♦ ♦ ♦
Merlin walked in his door that night to find Will and Gwaine sitting in front of the television playing the Wii, drinking beer and having one of their famous insult competitions. In the past Merlin had, on multiple occasions, told them to just whip them out right then since it was obvious that was going to be the only thing that would stop them from the constant bickering.
Unfortunately for Merlin (or was that fortunately?), one night when he said that, both Will and Gwaine were spectacularly pissed and did exactly that. Measurements had been made while Merlin had tried his very hardest to not look.
Merlin Emrys had totally looked.
They had been exactly the same size.
Things had never been the same.
"Merlin!" Gwaine called. "Join us! Will needs someone he can actually beat at Smash Brothers!"
Merlin rolled his eyes and walked into the living room, dropped into his favorite chair, kicked off his shoes and threw his bag full of essays that needed correcting onto the floor beside him. "Oh, yes," Will said. "You're so funny, dickhead." Will flashed a quick look over at Merlin. "You look like shit."
"Nice to see you, too," Merlin said and contemplated starting on his correcting right that second. He knew if he put it off too long, he'd end up leaving it until late Sunday night again, and then he'd be exhausted come Monday morning. It was not something he was looking forward to. He just really didn't have it in him right now. He was still feeling like crap since the night before and he had practice with the girls Saturday morning.
No, it would be best if he just took himself right off to bed and slept for a solid 12 hours.
Will paused the game and looked over at Gwaine. Merlin saw the smirk and he didn't like it. He didn't like it one bit. But before he could move, they had both jumped off the couch and were attacking him in his chair, Gwaine on his lap and Will hanging from his neck, each of them punching softly, slapping lightly or tickling mercilessly.
"Oh Merlin!"
"Merlin, you're so cute, Merlin."
"Merlin, don't be so sad!"
"Sad Panda, Merlin? No sad panda!"
"We have missed you so much!"
"Merlin."
"Merlin!"
"MERLIN!"
When they finally got off of him, elbows and palms digging in for leverage (and good measure), Merlin was thoroughly annoyed, but laughing just the same. "I hate you both," he said, chucking each of his shoes at them in turn and missing them each by a mile. "You suck and I'm going to bed."
♦ ♦ ♦ ♦ ♦
Three hours later, however, Merlin hadn't moved from his very comfortable place in his chair, nor was he sleeping. Instead, he had a Wii controller in his hand and was being sufficiently thrashed by both Will and Gwaine in Smash Brothers.
They had got take-away again - pizza this time, which had somehow strewn itself over multiple surfaces in the living room, including the floor (Merlin Emrys is not cleaning that up tomorrow.) - and Gwaine had actually taken a few moments to go out and get more beer.
Of course, he had drank the last one, and house rules stated that last drank is next bought. However, Will and Merlin weren't going to tell Gwaine that they had a couple of beers stashed in the crisper drawer for such times when Gwaine happened to be over and drinking it all. After all, where was the fun in that?
Merlin was feeling loose-limbed and calm, but completely dead tired. He hadn't got nearly enough sleep the night before (Merlin Emrys really isn't going out on a school night again.) and had suffered through the long and exhausting Friday on top of his massive hangover. He had a right to be tired.
Merlin reached for his beer, losing a life in the process. Will shot him a look and rolled his eyes, but Merlin just shrugged and took a swig from the bottle. He definitely shouldn't have been drinking (no one had ever accused Merlin of making good decisions when Will and Gwaine were around), but it was Friday night and Merlin was still in his 20's.
Barely.
Merlin lost his last life (not at all on purpose - Merlin Emrys never loses on purpose.) and dropped his controller down onto the coffee table beside him. As he finished off his beer, he watched Will lose to Gwaine - like always.
"Dude!" Gwaine shouted, jumping up from his seat and throwing his hands in the air. "I am the champion!" Will loudly tried to argue that the only reason he had lost was because he'd been distracted by Merlin's stupid pouting ("HEY!"), but Gwaine just broke out into an even louder, very off-key, exceptionally slow version of Queen's "We Are the Champions."
It wasn't enough to shut Will up - who could get far louder than Merlin cared to deal with when they were sitting so close together - and as the volume level in the living room continued to increase, Merlin decided it was a good time to bow out and head to bed.
Will and Gwaine didn't even notice.
♦ ♦ ♦ ♦ ♦
Arthur's eyes closed.
He would like to say that he wasn't absolutely exhausted due to packing, moving, sorting and (sort of, but not really) unpacking boxes all day. After all, he was a religious gym nut, which he managed to fit into his schedule even though he worked ridiculous hours all the time, and fucking fit - there's really no denying it - so he shouldn't be exhausted at all. A little bit of manual labor did a body good.
However, the truth was that he would have no problem curling himself up onto their new and ridiculously expensive couch that was far too comfy for words - and no, he would not be admitting that to Morgana, especially after the epic fit he threw about how much it cost (even if she did concede that the flower pattern was far from aesthetically pleasing and let him purchase the one in black instead) - and dying.
Of course, Arthur knew he was too young and too gorgeous to die, but he couldn't help thinking that it would be a peaceful and relaxed death, anyway.
Not for the first time that day, he had cursed himself for going out with Morgana and Gwen two nights prior and then working overtime the next night after only an hour of sleep. What in the world had he been thinking? He liked to think that he was pretty much capable of doing anything, but he wasn't Superman. Even if he would look pretty spectacular in blue and red spandex.
"Pendragon!" Arthur's eyes flew open and it took a moment for him to focus on Leon, Morgana's other half and his, loathe to admit it, best mate. "Get your lazy arse up and help me move this ostentatious atrocity inside."
Arthur glared at him. "It's better than the one your girlfriend picked out. And really, those are some pretty big words, you great giant oaf," he said, but got off the couch anyway. "I do so hope that you choke on one some day soon."
Leon grinned his goofy grin. "Well, something else you can blame on Morgana," he said, far too happy for Arthur's liking. "It's that damn Word of the Day desk calendar she got me for Christmas. I'm so enamored by her, I check it constantly and use the words religiously just because I know it'll make her happy," he said, before looking thoughtful. "I do tend to forget she said that my grammar and vocabulary were barely above that of a primate's, so it was imperative that I use it." Leon shook his head. "It's more romantic if I just ignore that part."
Arthur snorted. "Yes, because when I think of Morgana," he said, "I definitely use the adjective romantic." He rolled his eyes and watched Leon's grin get even dopier. "And don't pretend like you're enamored by her. She's an evil harpy and we both know it. Let's call it what it is, shall we? You're enamored by her breasts. They are dangerous, dark weapons, Knight. You need to just let it go."
Leon was pensive for a moment, as if Arthur might have actually unleashed the powers of the universe with that one statement, but finally shook his head again. "No, those are definitely nice," he said, "but I'm about ninety-eight percent sure I'm in love with her because of, well, her."
"Only ninety-eight percent?" Arthur asked. "What about the other two percent?"
Leon grinned. "I save those for her breasts. One percent for each."
"You are a disturbed man, Leon. Disturbed." Arthur shook his head and started walking toward the cab of the truck. "And for that, you get to stand down there on the ground and hold this, as you so elegantly put it, atrocity, while I push it off the truck."
Leon rolled his eyes, but hopped off the bed of the truck anyway. "You're an arse-face, Pendragon," he said, with little heat.
"And you're an enormous, soppy ogre. I'd say that makes us right about even, mate."
"Colourful," Leon laughed and let out an oomph when Arthur pushed the sofa off the end of the truck bed and into his waiting (though obviously unprepared) arms.
Arthur grinned and pushed again. "I have my own desk calendar: Insults of the Day." Leon laughed so hard he nearly dropped the couch.
♦ ♦ ♦ ♦ ♦
Arthur was trying to reacquaint himself with the sofa a few hours later (and quite possibly dying - it was still an option, he was sure), when Gwen collapsed beside him and proceeded to drape herself across his lap. The arm she had cushioned under her head was digging into his groin and it was far too uncomfortable for his liking, but he couldn't be arsed to move himself or her. His arms were protesting their mere existence and his back was likely going to be hunched for the rest of his life, so really. Why cause himself anymore torture? And no, he was not being melodramatic.
"Kill me," she mumbled into his thigh, right above his knee. "Just end it now. Please." Now Gwen? Yeah, she was being melodramatic. "I can't move. My body is on fire and I'm pretty sure I found muscles today that no other person has."
Arthur's only response was a small grunt, his eyes drifting closed once more as Gwen rambled on.
"They will write books about me," she said, the hand not under her head coming up to rest on his other knee. "I will be studied and prodded and tested all because I have these muscles that don't exist in other humans. They'll call me a freak or an alien or something like that and then put me on display. It will be horrible. So, if you ever had the slightest feeling for me, Arthur, you'll just end it all right now."
"I'm pretty sure that won't happen, Gwen," Arthur responded. "Likely because you don't have these strange, alien muscles you claim to have."
Gwen lifted her head a fraction, as if she were going to turn and glare at him in her not-so-scary Gwen Glare, but thought better of it and set her head back down. "They will," she said, adamantly. "And I do. Don't mock me, Arthur Pendragon."
"My apologies." Arthur tried to lift his hand to pat her comfortingly on the back, but it still wasn't cooperating. "You should have just moved into my old flat, Gwen. It would have been a million times easier."
"I do believe you're exaggerating. A million is far too big a number," Gwen said, her voice sounding sleepy. He could sympathize. "And no, moving into your one-bedroom flat would not have been easier."
Arthur attempted a shrug, but it wasn't happening either. It didn't matter; Gwen wouldn't be able to see it anyway. "We would have been cosy."
Gwen just chuckled. "Hmm, keep telling yourself that."
He was finally able to lift his left arm and put it up on her back, rubbing small circles and he heard her hum her appreciation. "I will," he mumbled. "You know, we could have, at the very least, had the new furniture delivered, rather than doing it ourselves." And that shit was heavy, he added in his head, because he'd never admit it aloud.
At that moment, Leon slid down onto the couch to his left and let out a groan of pleasure. He felt Gwen shift her weight slightly, more pressure added to his groin (OW!) before she moved her arm completely away from it (Thank everything that is holy!), as she moved her legs up onto Leon's lap and snuggled down further into Arthur's thigh. "I'm not entirely sure how you let Morgana talk you into that either," he said. "You could have purchased a small car for the price you paid for this stuff. Why not fork out another couple hundred pounds to have it delivered?"
Arthur was just about to reply with a half-arsed snide comment of his own, when Morgana said, "Because Arthur is a stubborn mule, that's why," from somewhere directly behind him.
Arthur really wanted to comment, but considering Morgana was right, he decided it would be best to avoid any petty arguments. Especially since he just didn't have the energy to deal with it.
Morgana flopped down to Arthur's right and slipped her arm through his before setting her head on his shoulder. Arthur could only imagine how cosy they must look, all scrunched together on the new and - still not telling Morgana - amazing couch. Too bad he could will his eyes open to see it.
He felt Morgana sigh against his neck. "He's still a pretty decent brother, though."
Arthur grunted, but felt a muscle in his cheek involuntarily twitch and lift his mouth into a half-smile. "Love you, too, Morgana," he said and linked their fingers together.
They were all exhausted; it was evident in their lacklustre tone of voice, so when the natural quiet came over them, Arthur was certain he would be asleep in a few short minutes.
Of course, that's when Gwen said, in a not-so-convincing tone, "We should start unpacking."
Each of them, Gwen included (like she couldn't believe the words had come from her mouth), groaned, "Tomorrow!" and unconsciously hunkered down further into the couch. Sweet silence enveloped them again almost instantly and Arthur found himself praying to every imaginable Higher Power that there would be no more talking.
He cursed the heavens when Morgana opened her trap. "Let's go out and celebrate your new place instead." And for Morgana, who holds nothing but the utmost respect for partying, to use her signature Tone of Indifference that was saved for everything except partying, Arthur knew she wasn't exactly excited about the idea either. So, when no one responded - negatively or positively, he knew his couch sitting was safe.
However, not allowing himself to get his hopes up, Arthur kept himself awake for a full five minutes after Morgana's lame excuse for motivation. When no one said a word, and he was nearly certain they were all on the fringe of sleep, Arthur decided it was safe to slip into full unconsciousness. His mind drifted and became fuzzy as he focused on the even inhale and exhale of his breath.
Just one. more. minute.
"We should order food," Leon announced, though admittedly in a voice just above a whisper.
If it didn't require so much effort, Arthur would have smacked Leon flush across his scruffy, little face. But, as it stood, he was right. Because in that next moment Arthur's stomach growled. And then, as if in a chain of yawns, Gwen's rumbled and Morgana's quaked. But the icing on the cake was Leon's, which was so intense, it actually shook the couch.
There was nothing left to do, but fall into a fit of overly-exhausted giggles. And those giggles turned into chuckles. And chuckles into full belly laughs that eventually led to wiping tears from their eyes. It had been a long time since Arthur had laughed that hard. He'd missed it, so he laughed harder.
When everyone had finally calmed down and settled back into the couch in a comfy cluster of limbs, Arthur tried to remember the last time any of them had eaten. Other than the occasional protein bar and bottle of water that he had seen each of them eat at some point or another, breakfast had been their last real meal.
Of course, that was a loose interpretation of the coffee, tea and donuts Leon and Morgana had brought with them to Arthur's old flat, along with Gwen and all her worldly possessions, to start the epic day of moving.
Arthur's stomach growled again just thinking about the donuts. "Someone needs to find the take-away menus," he said, truly unable to get up to get them himself. Even if he had feeling in his body, Gwen and Morgana had him pinned.
He felt Gwen's head shake against his thigh. "They're in one of these boxes somewhere," she mumbled, sounding more and more tired as the minutes passed by. "But even if we could find them, which is highly unlikely, they're all for the other side of town. I don't even know why we packed them. We should have just thrown them away." She yawned.
Arthur rubbed lazy circles on her back and nudged Morgana's shoulder with his. "What's to eat around here?"
"Oh, Arthur." Morgana was far too dignified to snort, but he could feel the intensity of her sarcasm through his bones. "I am not a human phone book."
"But you used to live around here!" Arthur exclaimed, with slightly less ardor than usual.
She sighed, barely containing her annoyance. "Yes. Five years ago. Try again."
Gwen yawned again. "I put your laptop in the study," she said sleepily. "We could look something up on there."
Arthur shook his head. "No Internet until Tuesday when they come to install it." And really, even after the intense fit Arthur had thrown and pulled as many strings as he was willing to pull, that was the earliest they could get. The original date, before Arthur had thrown his weight around, had been two weeks out. Who could survive without Internet for two weeks? Not Arthur, that's for sure.
Especially since he had sworn to Gwen that as her flatmate he would stop sleeping on the extremely uncomfortable couch in his office like he did most nights and come home so she wouldn't be alone. And if that was going to be the case, then he'd need Internet to do work remotely.
Besides, he said he'd be home, not that he wouldn't still be working.
"Mobiles?" Leon suggested, breaking into Arthur's reverie.
Morgana lifted her head from Arthur's shoulder and grinned over at him, like he was some bloody knight in shining armor. "You're so smart," she cooed and Leon turned red, like some 15-year-old school girl.
Arthur couldn't even pretend that he wasn't rolling his eyes.
"Mine's dead," Gwen said without even pulling it out of her pocket even though Arthur was hoping she would just so it would stop digging into the side of his other thigh where her bottom had slipped down between his and Leon's thighs. "Sorry," she added with a sigh. She sounded like she was falling asleep.
Leon added, "Mine's in the truck."
Arthur snorted. "Good place for it, mate." Leon only shrugged in response, not even pretending like he was going to go out and get it. Arthur, who was still pinned beneath Gwen and Morgana, wasn't sure he could reach his phone without disturbing both of them, so he looked at Morgana. "What about you?"
"Mine is at home," she stated, her voice haughty and challenging, begging Arthur to prove her wrong. He quirked an eyebrow at her. "Sorry I'm not married to mine like you are, dear brother."
Which was as far from the truth as Arthur imagined anything can be. Morgana was so attached to her Blackberry that when they'd attended a funeral for one of their security guards a couple years ago, it had taken Arthur the entire day to figure out what was different about his sister. Only when she pulled it out of her purse that evening on their way home had he figured out it was that she hadn't had her cell phone all day. Arthur was certain that if he hadn't been so busy moving all day, he might have noticed much sooner that she was, indeed, without it.
His face must have shown his utter disbelieve, because she waved her hand dismissively at him and said, "Leon made me leave it there." Arthur smirked as she continued. "Something about me needing to be able to help, and with work calling every 10 minutes I wouldn't be able to leave it be."
Leon chuckled. "I believe what I said was that you'd be useless because you wouldn't be able to put it down."
"Word of the Day calendar?" Arthur asked, with a grin.
Leon nodded, a glint in his eye. "January 23rd; they start the year off easy." He threw his head back and laughed, loud and hearty, and Leon chuckled a bit harder.
"Hardy har har," Morgana mocked ruefully. "Very funny. Get out your phone, smart arse. Find us something to eat."
Arthur was getting his second wind and was, unfortunately, finding himself hungrier with every minute. So, he shifted as little as he could to not disturb Gwen, who seemed to actually be asleep across his lap, and pulled out his phone - which he had affectionately named Excalibur (just not in present company, as they'd never let him live it down). He grinned and started pressing the screen. "Well, I guess there's an app for that."
♦ ♦ ♦ ♦ ♦
And yes, there was an app for that.
Unfortunately, Morgana - and Gwen, who woke up once she heard the words order food - wanted more than just phone numbers and addresses. Menus had been requested. And Arthur, no matter how hard he worked Excalibur, could not find an app for that. What good was technology if restaurants didn't put their menus online?
That was how he found himself walking over to their neighbors directly to the north - the only other ones that seemed to have lights on at the moment - to inquire about some take-away menus. How he had been the one volunteered for the job, Arthur had no idea. But there you have it.
He jumped over a row of dead pansies (or something; Arthur was the first to admit he wasn't, nor wanted to be, an authority on flowers) rather than walk all the way down their path just to walk back up the neighbors.
What? He was hungry.
Once at front of the door, Arthur, the ever-conscious business man that he was, checked out his attire to make sure he was presentable. Thankfully he was, even if he was slightly rumpled and in desperate need of a shower. However, that couldn't be helped at this point; they still hadn't found the boxes with their toiletries.
Arthur lifted his arm - absolutely not wincing at the pain - and knocked. A moment later, on the other side, Arthur heard a muffled shout. "DOOR!"
And that was when it started. Later, Arthur would find the whole thing ridiculously typical of the men inside, but at that moment, Arthur couldn't fathom the idiocy that was living to the north of he and Gwen.
"You're bloody closer, you arse! You get it!" another voice yelled, actually sounding further away, but still plenty loud for Arthur to hear. He wondered what other activity would be going on next door and whether or not he'd really be able to hear it. Arthur cringed.
"It's not my fucking house, loser!" the first voice shouted back.
"Might as well be! Get the goddamn door, tosser!"
"Fucktard!"
"Man whore!"
The first voice scoffed. "Oh, that's rich, you great, giant slut!"
And the insults continued with not a single one sounding any closer to the door than when Arthur first knocked. After the second voice shouted, "Pillock!" Arthur decided it would be best to just let it be and see if any of the other neighbors happened to be home. Or even better, just hop in the car and find something on his own. After all, he was out and about already; might as well.
Just as he was turning to walk away, the door swung open and Arthur heard an exceptionally loud, "Twat!" shouted by the first voice from somewhere just inside the door.
The thin man who had opened the door had his head turned away from Arthur when he shouted, "Would you idiots shut up? There's someone at the door! Have some fucking manners!" Arthur wanted to laugh, but found himself distracted by the man who was decidedly not Arthur's type, yet somehow attractive (even without seeing his face).
The guy was wearing a pair of white ankle socks without shoes, black mesh shorts that hit just slightly above his knobby knees, and a bright blue t-shirt with "Balor High School Girls Footie" written in red lettering. Arthur couldn't stop himself from following the defined cords of his long neck (and it was a long neck that Arthur didn't imagine licking, at all) up to the back of his dark head, where a pair of unfortunate, if not somewhat familiar, ears stuck out.
Arthur shook his head. What was this day turning into? Figuring the entirety of the last five minutes had been nothing short of ridiculous, Arthur didn't hide his snicker when the shouts inside just continued and the man standing at the door sighed and shook his head. "Sorry about that. I have absolute pillocks for mates," the man said as he turned around and Arthur instantly choked on his laughter.
♦ ♦ ♦ ♦ ♦
Merlin tried not to gasp and let his mouth fall open like some idiot that had never seen an exquisite man before, but
Merlin Emrys is impressed!
"Sorry to intrude," Gorgeous said, as he finished coughing, the lightly tanned skin of his cheeks slightly red and his bright blue eyes looking anywhere but at Merlin. "We - uhhhh - just moved in next door and can't find our take-away menus. I was hoping we could borrow some of yours."
And no matter how hard Merlin tried, he couldn't stop staring at Gorgeous. He knew he needed to answer him, but he just stood there, like a Lame Little Loser and stared. Gorgeous was... well, dammit, he was gorgeous. He looked to be slightly shorter than Merlin, but only by a bit, and muscled all over. Merlin wanted to reach out his hands and run them up and down the muscles twitching below the surface of his skin on his arms. He knew they'd be hard and warm and everything Merlin looked for in a boyfriend, but never seemed to get.
Merlin tore his eyes away from the way Gorgeous' shirt sleeves stretched around his arms, but found them landing on the strong line of his jaw. He traced the curve toward his ear, which was partially covered by his silky, shining blond hair.
Merlin Emrys is not drooling.... except that he is.
Merlin's fingers twitched. He wanted to touch so badly.
He balled up his fingers into a fist and brought his eyes back to the light blue ones Gorgeous was sporting. And that quickly, Merlin felt... something in his gut, screaming recognition at him. Eyes flicking desperately now over Gorgeous' body, Merlin searched for something that would trigger his memory, but nothing. The nagging feeling just continued and seemed to claw at his skin, wanting out and to touch until his heart was content.
Merlin squeezed his fingers tighter until his blunt nails were leaving half-moon indentations in his skin.
Gorgeous coughed and Merlin started. "If you don't have any, that's fine," he said, still hardly able to look at him. And that alone made that feeling of remembrance bouncing around inside Merlin even more pronounced.
"No, we do," he blurted out. "Sorry. It's just--" Merlin paused and cocked his head to the side. "Do I know you?"
Gorgeous coughed again and choked out, "We just moved in." And despite his words, Merlin was certain that they did, in fact, know each other. Especially when he saw the way his cheeks coloured. Gorgeous finally looked at him, square in the eye and Merlin felt something inside him click, like all the planets had aligned and everything was right in the world. "The... the menus?" Gorgeous asked.
"Yeah, let me - uhhh - just hold on for a second, yeah?" Merlin shot his thumb over his shoulder and tried an eye roll, "I'd ask one of them to get it for me, but--"
Gorgeous finally smiled, even if it looked a little strained, and Merlin was pretty sure he had died and gone to Sexy Boy Heaven. "Yeah. No offence or anything," Gorgeous said, "but we're all starving. I doubt they'd appreciate it if I spent the evening on your doorstep."
"You can come in, if you'd like," Merlin said, his heart pounding in his chest, just trying to escape. "It'll only take a second." Merlin watched as Gorgeous rocked on his heels a bit, before leaning forward only slightly, barely noticeable, to look in the front door. Merlin took a step back and attempted a smile, "I promise not to let the idiots bother you."
Gorgeous took half a step toward the door and then another. And just as Merlin was absolutely certain he was going to walk inside to wait (Merlin Emrys needs him to stay forever.), laughter, loud and raucous and coming from his Best Friend Numero Two, broke out behind him. Gorgeous, a look of recognition and utter disbelief etched on his face, stopped his forward motion and Merlin thought he could probably kill Gwaine right now and be totally and completely fine with it.
Merlin turned around and saw Gwaine standing over by the couch, a grin stretched out over his face and his previously exuberant laughter cut down to a choked chuckle. Merlin glared at him. "What's the problem, Ryder?"
But Gwaine completely ignored him and chuckled one more time before addressing Gorgeous. "Moved in next door then, Arthur?"
ARTHUR!
Merlin's stomach dropped and a wave of embarrassment crashed over him as his memories from Thursday night came flooding back in. He slowly looked away from Gwaine's overly enthusiastic expression, swallowing around a hard lump in his throat, and brought his gaze over to Arthur...
...Who was doing a spectacular job of looking calmly flustered, if that was even a thing. But even in his discombobulated state, Merlin still took the time to look over the pink-tinged softness of Arthur's cheeks when he smiled slightly at Gwaine and the curve of his long fingers as they shook slightly.
"It seems I have," Arthur answered, posh and poised, despite his obvious discomfort.
Merlin shook his head before dropping it down into his hands. "Oh my god."
"My god, too!" Gwaine responded cheerily (Merlin Emrys is going to commit murder tonight.) and walked forward with the take-away menus in his hand. Merlin had no idea when he'd acquired them, but that was just one of those things about Gwaine; he was stealthy like a ninja.
Arthur's face reddened even more slightly when he took the menus from Gwaine and asked, "So... you two live here, then?"
"Not me," Gwaine answered quickly, and Merlin was surprisingly okay with that, since he wasn't sure he could formulate a full sentence anyway. Not a coherent one anyway. "Though, I'm here enough you'd think I did. I can't stand Will, to be completely honest. He's Merlin's roommate. Flatmate? Whatever, I'm American, even if I have lived here over fifteen years. I still don't get all your lingo." Merlin stared at Gwaine. When had he become so chatty? "Anyway, that's beside the point. I don't live here because Will and I would kill each other - no matter how many times Merlin says that's not true. Believe me, friend, it's true. But Merlin lives here," Gwaine said, a Cheshire cat grin on his face as he wrapped his arm around Merlin's shoulder and pulled him close into his side, forcing him to face Arthur. "And Will, of course. You won't like him either. No point in trying."
Merlin chanced a look at Arthur, hoping beyond all hope that he wasn't paying any attention to Gwaine's ramblimg, but it seemed that the gods were against him once again. Arthur was staring a hole into Merlin's chest, because it seemed he still couldn't look Merlin in the eye (Merlin Emrys doesn't blame him.), and his mouth hung open slightly. He could only imagine what was going through his mind.
"So, there's your menus, dude," Gwaine continued on as if there wasn't some awkward and strained moment going on between Merlin and Arthur. "Don't worry about bringing them back; these boys have plenty." He watched Gwaine's smile widen and Merlin knew he wasn't going to like what was coming next. "That is, of course, unless you'd like to bring them back as an excuse to come by. I'm sure Merlin wouldn't mind."
Merlin sputter-coughed at the same time Arthur's eyes grew as wide as saucers and he hurriedly said, "Thanks, mate!" before walking off their doorstep.
Merlin Emrys is going to kill him.
♦ ♦ ♦ ♦ ♦
Arthur poked at his sushi with his chop sticks, trying not to pout like a pouty thing. He might have actually enjoyed his dinner if he'd not been so freaked out by the way it looked.
He sighed and speared a piece of cucumber with one stick from the center of a roll and popped it into his mouth. Okay, he lied. He wouldn't have liked it anyway. Cucumber was just not his thing.
Arthur hadn't even been aware of what he was doing when he'd ordered the Caterpillar from the Japanese menu he'd pilfered from his neighbors (Arthur refused to think of them as Merlin, Will and sometimes Gwaine, even though he knew that's who they were, because... well, he didn't have a really good reason at the moment, but damn it, he'd come up with one). All he could really remember was seeing the random "M" written in blue ink beside the dish (and quickly noting that there was a "W" and a "G" written next to other items on the menu, obviously indicating favorites) and had ordered it for himself.
Even when Leon had cocked an eyebrow at him and asked, "Are you sure?" he'd simply nodded his head and walked off, before any additional comments could be made.
If he'd known... Arthur shook his head, grabbed a roll and quickly put it in his mouth to chew as quickly as humanly possible. He wanted to gag, but was far too dignified for that.
Yeah, if Arthur had known - or even taken a moment to read the description of the dish, like normal people - he never would have ordered something that actually looked like a caterpillar and no doubt tasted like one (Arthur was never going to try a caterpillar, but he knew this is how one would taste... knew it) with its eel-covered cucumbers and avocado sauce of DOOM!
Arthur was really trying not to pout, but when Morgana popped a tasty-looking California roll into her mouth and raised her brow at him, he knew he was failing epically. "Why in the world would you order something like that, Arthur?" she asked, easing her chopsticks across the over-sized (like all the rest of their furniture) coffee table and snatching a roll from his container. "The last time I saw you eat a vegetable was when you were eight and Uther wouldn't let you go trick-or-treating unless you ate all the broccoli on your plate."
Arthur narrowed his eyes at his sister and willed himself to keep his chopsticks to himself, even though her California rolls were calling his name. "I like vegetables, Morgana," Arthur replied and pretended not to hear Leon's snort from beside him. "I'm just tired."
Morgana looked far from convinced and just to prove his point, Arthur picked up another green, slimy-looking roll and shoved it into his mouth. He chewed and chewed... and chewed until he thought for certain he was going to hurl, but choked it down. Morgana laughed. Hard. Arthur was not amused.
He poked again at the remaining four rolls on his plate and tried to figure out how he'd actually eaten half of them already. Pulling at the grilled eel with his chop sticks, Arthur tried to avoid looking at Morgana's California rolls, Gwen's Crunchy rolls and even Leon's Hella Hot ones (and really, what kind of restaurant names their sushi rolls Hella Hot?) As his eyes drifted about the coffee table they were all congregated Indian-style around, Arthur saw the stack of menus sitting off to the side.
He picked up another roll and bit into it, rather than eating the whole thing in one go, and tried to distract himself enough from the disgusting taste by flipping through each of the menus. About halfway through, Arthur realized three things:
Every single menu had the letters M, W and G in them next to one item.

And Arthur wasn't sure if that was just a matter of coincidence or if Gwaine had actually planned it that way? He was inclined to believe the latter, considering Gwaine had said there were many more menus in their flat and it just seemed silly that there would be more than one menu from each place with their initials written in it. Gwaine had definitely grabbed them on purpose, Arthur was sure.
Merlin (as he was still assuming that's what the M stood for) had some really strange favourite dishes.

Arthur wasn't sure why, but he had automatically assumed that Merlin was a vegetarian just by looking at him. After all, he was rail thin and looked like a mix between full-on geek and modern day hipster. Weren't all of those types vegetarians?

Instead, Merlin was not at all a vegetarian, but some sort of meat-eating, vegetable-loving, carbs-are-obviously-the-devil sort of guy. Sure, none of his favourites involved red meat (and Arthur vaguely wondered how Merlin would feel about the purple head of his... STOP THAT!), but otherwise he had decent taste.

Except when it came to his obvious lack of sushi taste and the damn Caterpillar roll.
He had already stopped thinking of them as "the neighbors" and now referred to them by their first names. Fan-fucking-tastic.
Arthur ate the other half of the roll that he'd been holding just a few inches from his mouth for the five minutes.
He had recognized Merlin the moment he'd turned around and, just like Thursday night, he'd been caught off guard by how attracted he was to him. Merlin was far from being Arthur's usual type. Arthur's type, when of the male variety, was usually tall and muscled, arrogant and sexy, hard-working and rich. Granted, Arthur never really felt much more than intense sexual attraction to them, but it was enough to sustain a relationship for a few months before moving on.
The females that he dated had, not surprisingly, almost the same attributes as the men, only he liked them short, petite and curvy. Arthur believed it was okay to be shallow in, at the very least, one aspect of your life and for him that was in his choice of partners.
However, Arthur seemed to save all his feelings for his girlfriends. Arthur was absolutely certain that the future Pendragon spouse would, in fact, be a woman, even if he was a very out and open bi-sexual man, so he tried to take better care in choosing his girlfriends.
Sadly, none of them had seemed all that interested in returning his feelings... unless you counted the numerous sexual acts they were willing to do for and to him. Instead, each new girlfriend he acquired seemed more shallow, vapid and self-centred than the previous. And really, Arthur was getting old enough now that he really wanted something more in life.
He was instantly horrified when his perfect little imaginary family in his mind melded his "wife" into a cheery, red-faced picture of Merlin smiling goofily at him.
Arthur, confused and slightly angry with himself by all these emotions and feelings he was having toward a virtual stranger who had hit on him in a pub and just happened to live next door, actually stabbed his chopsticks into the middle of his last roll (when had he eaten the rest of them?) and got up from the table. "I'm tired," he announced to the group, knowing well that it was far too early to go to bed when there were hours left in the day that could be used for unpacking. "I think I'll go to bed."
He didn't wait for a response as he turned on his heel and marched into his room. Only when the door was closed behind him did he remember that he had no idea which box held his sheets.
♦ ♦ ♦ ♦ ♦
The next morning, Merlin's head was feeling even fuzzier than it had the night before when he'd finally fallen into a fitful sleep. It was stupid, to be honest. What did he have to feel fuzzy about? He'd gone off and been stupid while under the influence of alcohol. Big deal, people did that
every
day. It's not like Merlin was the first person in the whole, wide world to make an arse of himself while intoxicated.
And just because that gorgeous, gorgeous man now lived right next door...
Merlin banged his forehead against the front door in annoyance. He wasn't going to think about his sexy new neighbour or the way Merlin'd made a complete and utter fool of himself anymore. Besides, unless someone invented time travel (or The Doctor showed up because Merlin's life was really just part of some elaborate alien scheme to create an army of drunken, pick-up line throwing idiots), Merlin was pretty sure he couldn't go back and change what had already happened. It would just be a lot smarter to move forward and hope that Arthur forgot all about it... eventually, Merlin would as well. Hopefully.
Resolved, Merlin nodded to himself and opened the front door to grab the Sunday morning paper (the only one they subscribed to, because it had the colourful funnies in it - Will really liked the funnies). Unfortunately, the paperboy had, once again, thrown the paper haphazardly toward their door, so that it had landed closer to the fence near the road. It also just happened to land mostly onto Arthur's property. Merlin groaned. The paperboy's aim was getting increasingly worse each day.
Clad in only a white t-shirt and his Batman boxers (yes, the bat-signal was on his arse), Merlin looked left and right before darting out quickly to pick up the paper. He ran across the pavement and into the garden, his bare feet getting wet from the dew on the grass and freezing a bit in the cool October air.
He probably should have just gone in, thrown on some clothes and then ventured out to get the paper. Doing just that would have not only saved his poor, delicate feet from the wet, cold grass, but it would have saved him a whole lot of embarrassment, as well. Of course, that was the beauty of hind sight.
Merlin had just bent over to pick up the paper when he heard a stifled giggle behind him. He stood up quickly, thankfully with the paper in his hand and turned. Standing behind him, looking more gorgeous than he remembered her from the night at the pub, was the curly-haired, dark-skinned beauty that had been with Arthur. She was wearing a bright yellow, fuzzy bathrobe with orange ducks floating along the bottom and a pair of equally yellow and fuzzy duck slippers on her feet. She was holding a steaming mug in her left hand and the paper in her right. She was grinning at him.
"Hey," she said. "Merlin, right?" She stuck the newspaper under her left arm and extended her hand to Merlin. "I'm Gwen." Without saying a word, Merlin shook her hand (she had a nice, firm grip, Merlin noticed) and then promptly closed his mouth before he started drooling. He may have grunted assent in there somewhere, but he wasn't quite sure. "I don't know if you remember me from the other night at the pub."
Merlin blinked and nearly groaned aloud. Why hadn't they all just been sloshed like he had, so memories were fuzzy, at best? It was bad enough he had to come face-to-face with Arthur. Now having to deal with his... friends...
Merlin's eyes darted to the black mug in her hand. It had a giant white letter "A" on the side of it. And just like that, things started to click into place. He felt his eyes widen as he looked back at her. She was still smiling, but her eyebrows were raised in question. "I - uhhh," Merlin stuttered and cleared his throat. "Yes. I remember you. Sorry about that, by the way," he recovered. "I'm not normally that outgoing."
Gwen laughed. "No worries. It was massively entertaining." And just like that, she stopped and her smile slipped. "Oh god," she said in a rush. "I didn't mean it like that. I mean, I don't mean to hurt your feelings or anything. It's just, you know, you were adorably funny. And entertaining. But, you know, not in a bad way or anything. Just funny. And, yeah, entertaining. You gave us a good laugh and... shut up already, Guinevere."
Merlin stared at her red face, wide eyes that didn't quite meet his, and body language that screamed RUN! and felt a smile touch his mouth as laughter bubbled up into his chest. It would be so easy to hate her because it was obvious based on her current appearance and the fact that she was using a mug that was most definitely Arthur's that she and Arthur were an item (at which stage in their relationship, Merlin wasn't sure - nor was he going to ask). But just because Merlin had, once again, fallen (in the loosest form of the word) for a man who was already in a relationship and quite obviously not gay, well he couldn't hate her for something he'd done.
And anyway, she was adorable.
Merlin Emrys' life would be so much easier if he were straight.
"It's really okay," Merlin found himself saying aloud, his voice still scratchy from lack of use, but amused. She really was adorable. "I knew what you meant. I'm sure it was quite a sight."
The colour cleared from her face and she smiled at him brightly again. "I'm glad to officially meet you. Arthur was pretty shocked when he came back over with the menus last night."
Merlin shuffled his feet in the grass, feeling wetness slide between his toes. It was uncomfortable and cold. "That would make two of us."
Gwen giggled again and took a sip from Arthur's mug. "By the way, do you want those back?"
"The menus? Oh no, we have more than is strictly necessary. Besides, this way you won't be without." Merlin knew this was the most mundane conversation in existence, but it seemed like the kind of conversation two old friends would have when put in the same situation (that is, the situation of going out in the early morning sunshine to grab the Sunday newspaper at the same time). And that's how he felt with Gwen... like old friends. Like maybe their souls had spent years and years together. And that just seemed ridiculous when he hadn't even know her five minutes, but there it was.
"Fabulous," Gwen said and shuffled her feet in the wet grass, as well. Merlin saw that her ducky slippers were getting wet. He absently wondered if she minded. "I'll let you get inside," she added and poked at his arm where his gooseflesh had started. "You should put more clothes on when you come outside."
Merlin grinned at her. "I'll remember that next time," he said and started toward his door as she moved toward hers.
After a few steps, Gwen stopped and looked over at him. "We should hang out sometime," she said, her eyes bright. "I have a feeling we'll get on like a house on fire."
"You know where I live," Merlin said, nodding his head in agreement before he'd even given it any thought. That wouldn't eventually lead to awkwardness or anything, Merlin thought sarcastically.
Gwen laughed and walked back toward her door. Merlin didn't move again until it was shut behind her.
Merlin Emrys' life is a complicated mess.
♦ ♦ ♦ ♦ ♦
Arthur looked up from his toast and coffee when Gwen shut the door behind her. His eyes instantly narrowed. "I see you found my favourite mug," he said while crispy and minuscule crumbles of toast flew from his lips. He looked down at the ugly orange and green abomination that Leon had given him one Christmas as a really crappy white elephant gift. Arthur was certain he'd thrown it out more times than he could count, but it always mysteriously made it's way back into his cupboard, so he'd finally let it be.
This morning, however it was the only mug he had been able to find (it helped that it had been on the counter next to the pot - he had an inkling it had been Gwen's doing... or it was a magic fucking mug). He was only using it because coffee was the only thing that could improve Arthur's early-morning disposition. And a coffee-fueled Arthur was a happy Arthur.
Gwen smiled at him and tossed the Sunday paper down in front of him. "I did," she said after taking a nice, deep sip and smacking her lips. Arthur rolled his eyes and unrolled the paper. He'd barely had a chance to read the top headline when Gwen sat down at the cluttered table with him and said, "I met Merlin."
Groaning internally, Arthur didn't look up from the paper, though he wasn't actually reading the words. His thoughts had effectively been diverted to dark hair, bright blue eyes and giant ears. It was bad enough he'd spent the entire night dreaming about Merlin (a man he didn't even know!) but now he had to think about him during his waking hours, too? Great. Just fucking great.
Arthur took another gulp from the ugly coffee cup (pretending that he couldn't see the clashing colours that hurt his delicate eyes this early in the morning) and then scowled at Gwen. "Good for you," he bit out.
Gwen only raised her eyebrow at him, her face incredulous and Arthur instantly felt bad for being so pissy. "Someone woke up on the wrong side of the bed this morning," she noted.
"Sorry," he mumbled and then set the paper down. He wasn't going to be able to focus on it now anyway. He couldn't think of anything but Merlin and his stupid, adorable face. "I didn't sleep well last night." Which wasn't exactly a lie, but it was definitely stretching the truth. He had fallen asleep almost instantly due to sheer exhaustion, but was plagued by the Merlin dreams all night. He had slept fine. His libido, on the other hand...
"New place," Gwen mumbled and took another drink from her mug. "You'll get used to it." She reached over and pulled the paper out from under his hands. Arthur didn't have it in him to protest. It's not like he'd be reading it anytime soon anyway. "Or maybe you could chat with Merlin about it." Gwen smirked when Arthur choked on his coffee. "Maybe he has some pointers for you."
Arthur sputtered a moment, his mouth flapping open and closed like a fish out of water and knowing he looked ridiculous. "What? I... I don't know what you're talking about."
She had to audacity to laugh. One giant, "HA!" Arthur was not amused. "You know exactly what I'm talking about, Arthur." She had her eyes trained on the paper in front of her, pretending to read the headlines (Arthur knew these things), "You forget I used to live with Morgana," she said. "And to think I moved in with you so I didn't have to hear sexy moaning and groaning from the next room anymore."
Arthur glared at her. "I don't know why everyone thinks you're so sweet and innocent, Guinevere Smithson," he remarked, completely ignoring her and pointing his finger in her face, knowing that she hated when people did that. "You are an evil, evil little harpy."
Her eyes rose just above the paper to level him with a look, one eyebrow cocked. They stared at each other for a full minute before he looked back down at his coffee. "You didn't deny it," he mumbled.
Gwen scoffed.
♦ ♦ ♦ ♦ ♦
And that was how it had all started. What
it
was, Merlin hadn't quite decided yet, but there
it
was... staring him in the face. And, if he had to give it a title, well then Merlin figured it was the beginning of friendship.
Because somewhere between opening the door for Arthur that first night, meeting Gwen the next morning (and falling immediately and deeply in love with her - he was sure that's what it was... love... epic, platonic love) and spending almost as much, if not more, time with those two than he spent with his own two best friends, Merlin was finding that they were all becoming friends (except Arthur and Will - Gwaine sure had called that one).
If he weren't so inexplicably horrified by the idea, Merlin might actually find the excitement in it.
He'd even been introduced to Morgana (heaven help him, she was scary in an a strangely alluring way) and Leon, who were pretty excited to make his acquaintance. Merlin wasn't even sure why, but Leon had muttered something about "not being his usual type" and "didn't see that one coming" all while shaking Merlin's hand vigorously and welcoming him into the "group".
Merlin hadn't known there was a group, though he shouldn't have been surprised. Gwen and Arthur were definitely a group kind of couple. And since Morgana was Arthur's brother and Gwen was Morgana's best friend and Leon was Arthur's best friend and Leon was also Morgana's boyfriend (Merlin Emrys is confused.), they were definitely a tight-knit group. Honestly, Merlin didn't expect to just slide into it.
(Un)fortunately that was exactly what had happened. Gwaine, of course, thought it was all sorts of special. He'd been going on and on about "Arthur and Merlin's undeniable love affair" for the last month. Every time he'd come from from spending another Saturday out with Gwen (they really enjoyed going to see a movie, followed up by coffee and scones, and then a walk through the park on the way home), Gwaine would comment on how he'd seen Arthur out in the back garden, pouting.
Merlin had scoffed the first time he'd said that and said, "If that's true, Gwaine, which I'm sure it isn't, then he was only pouting because his girlfriend is out with another man."
Gwaine's response had been a loud, "HA!" followed by several loud and off-key versus of Tonight I Wanna Cry by Keith Urban. Damn Americans.
Will, on the other hand, wasn't exactly happy with Merlin and his new found friendships. And though his reasons were flimsy - for example, "Gwen is ridiculously perky, Merlin. Perky and bouncy and... you can't trust perky, bouncy people." (Merlin had nearly died from laughter) - Merlin knew that Will was really just worried about him getting attached to a straight man (that he admittedly had a mild crush on) and his girlfriend. It had happened to Merlin more times than he ever wanted to admit aloud, and he appreciated Will's concern.
But Merlin just liked both of them way too much. He was spending ridiculous amounts of time with Gwen because she was just marvelous, and by extension, he'd spent quite a few days out with Morgana, as well. And nearly every Sunday Merlin had met Arthur in the front yards getting the paper (amongst other nearly daily meetings before and after work - it was like they had the same schedule or something). Each conversation had become less and less strained, until the last week when Arthur had actually laughed out loud at one of Merlin's lame jokes and thumped him on the back.
And that was how Merlin found himself staring at Arthur's Facebook page, reading and re-reading his info and quote (Things may come to those who wait, but only the things left by those who hustle. -Abraham Lincoln) and contemplating the repercussions of pressing the "Add as Friend" button. To him, it seemed like they were friends, so adding him as a friend on Facebook just seemed like the natural progression of things.
Gwen had added him the day before. Within ten minutes of him accepting her friend request, she'd written on his wall:

After he'd very unsuccessfully tried to get out of this photo shoot she was determined to have, he'd gone and spent the next fifteen minutes scouring her page. The first thing he noticed was that she didn't have a relationship status. It was... strange. Of course, Merlin knew lots of people who didn't have their relationship status updated on Facebook, but he was still shocked to see that Gwen's was just... missing.
After that he looked over the rest of her information, including her quote by Marilyn Monroe: "If you can make a girl laugh, you can make her do anything." He thought it was wildly appropriate. Once he was sure he couldn't avoid it any longer, he went and dug through her photos. Gwen was, surprisingly, not big on uploading photos. The little icon next to the Photos link said she was tagged in 157 pictures, but weren't public. However, he could see her profile pictures and a couple of others of she, Morgana, Leon and Arthur. The group.
Merlin sighed and stared at his cursor hovering over the "Add as Friend" button for another moment. Finally, biting the bullet, he pressed the left button on his mouse and prayed that Arthur would at least consider it.
♦ ♦ ♦ ♦ ♦
Arthur's morning routine was thrown off slightly when he opened his Facebook account and saw that he had a new friend request.
From Merlin.
He stared for a long time at the Confirm button before clicking over to the link to his page instead. Of course, Merlin was one of those guys who had his Facebook page locked up tighter than a drum. Not that Arthur had any room to talk. The only thing a non-friend could see on Arthur's page was his name and profile picture. Merlin's was slightly more lax, considering he could see that he lived in Camelot, grew up in Ealdor and was currently single. He could also see that they had one mutual friend (Gwen, of course).
Scrolling through, Merlin had left some of his interests open, which included The Smiths (Arthur wasn't surprised), football, coaching and a slew of other random things that seemed very... Merlin. Arthur noted that Merlin was tagged in 198 pictures, but could only see his current profile picture from his main page: a simple picture of himself, smiling like a lunatic. Considering who Merlin's friends were, Arthur figured it was best that no one could see the additional pictures of Merlin. I'm sure the school wouldn't be happy to have his students see pictures of Will, Gwaine and Merlin drunk and disorderly.
Arthur closed down his Facebook page and opened his email. He knew that he would probably (eventually?) confirm Merlin as a friend. He was just still feeling really weird about things with him and didn't want to seem too eager. As it was, he had almost added Merlin as a friend the day before when he'd seen that Gwen was now friends with him. He knew then that it was only a matter of time before Merlin and Morgana were friends, and then Merlin would be friends with Leon. Arthur really didn't want to be the last one to add him, making him look like some sort of prat or something.
And that actually made him sound prattish. Arthur shook his head. He actually really liked Merlin. A lot. But it was confusing, because it was so much more than liking him as a friend. And, as he'd explained to himself (and everyone else who seemed to have an opinion on the matter), Merlin was not his type. Not even a little bit. So, of course, he didn't - couldn't - actually like Merlin. It was pretty obvious to Arthur that he was in desperate need of a new girl/boyfriend.
Or a regular sex partner.
Yeah, Arthur would take a regular sex partner. No strings. Just sex. Lots and lots of sex.
Arthur stared at his email inbox, but didn't really see the words. He was daydreaming about all the sex he could be having with his imaginary, emotions-free partner that was going to materialize her/himself any moment. Arthur was ashamed to admit that his trousers were tight just imagining the kind of fun he could have in his office alone. With all the relationships he'd been in and all the sex he'd had since losing his virginity at fifteen, Arthur had never had sex in his office. Even when he was dating someone from the office. Office sex was sounding better every moment.
He sat back in his chair a bit and cautioned a glance at his half-closed door. No one was due into the office for at least another half hour, so... well, Arthur felt it would be safe to... indulge a moment.
His fantasy partner continuously slipped from a long and leggy woman to a tall and muscular man and back, both nameless and faceless and extremely satisfying, as he slouched a bit in his chair and let his legs fall open. The first touch had made a shiver run down his spine. The second stroke, only a little harder, was far less tentative and made his cock jump in excitement. By the time Arthur pressed down a third time, his cock was straining against his zipper and his fantasy partner was carefully pushing it down.
Arthur unbuttoned his trousers and then pushed the zipper down, the tip of his throbbing cock peeking out through the top of his boxers, glistening. He pushed down the waistband of his boxers until they lodged behind his balls and pressured everything upwards, making him hiss out a breath between his teeth.
Fantasy partner wrapped their hand tightly around his cock and started rubbing in earnest almost immediately, and so did Arthur. He kept the same rushed and thorough rhythm until his hips were bucking forward to meet his palm, sweat was beading on his forehead and he was gasping in between thrusts, trying not to be too loud.
Just as Fantasy Partner decided to lean down and swipe his tongue across the head of his cock, Arthur realized that Fantasy Partner had turned into Merlin - thin, long fingers, skinny neck, big blue eyes and ears. The wanton look on his face as his pink tongue peeked out from between his pretty lips and touched the tip to Arthur's head, Arthur came hard. His head tipped back and he nearly cried out Merlin's name loud and clear, but regained enough sense to only allow it to tumble from his lips in a gentle rumble.
Quick and angry, Arthur grabbed a handful of tissue from his desk and cleaned himself up. "Fantastic," Arthur mumbled to himself, tossing the tissues in the bin beside his desk and redoing his trousers hastily. It was bad enough Merlin had featured in nearly all his nighttime dreams for the last month, but apparently he was going to be the face Arthur saw in his daydreams. "Fan-fucking-tastic."
Giving himself a quick look over just in case someone had snuck into the office early, Arthur got up from his desk and walked out toward the loo to clean up a bit. As the fresh, cool air of the outer office hit his olfactory senses, Arthur realized that he needed to clear out the heavy smell of sex (masturbatory sex, Arthur thought, rolling his eyes). He'd need to light that stupid, flowery candle Vivian insisted he keep in his office. She said it brought ambiance. What the fuck did he need ambiance in his office for? (Masturbatory sex, he thought again.)
When he'd cleaned himself up in the loo - which had included straightening his tie, flattening his hair in the back and tucking in his shirt - he walked purposefully back into his office. Once inside, he made sure the door was open wide to let in some fresh air, lit the bloody candle and sat back down at his desk. Minimizing his email, he opened Facebook again and stared at his friends requests. "Merlin Stupid Face Emrys," he said eloquently and shook his head.
He clicked "Confirm Friend".
♦ ♦ ♦ ♦ ♦




♦ ♦ ♦ ♦ ♦
As much time as Merlin had spent with Gwen in the last two and a half months - which was a ridiculous amount that he could only justify because he loved her in a strictly
I think you're amazing, but totally don't want to have sex with you because I'm gay
sort of way - he had never been inside hers and Arthur's flat. She had been inside his and Will's
many
times. Merlin wasn't entirely sure how or why it had happened that way, but he had an inkling that it had something to do with his not wanting to be in
Arthur's
domain with Arthur's
woman
and his
feelings
that he had for Arthur.
They were a lot of feelings.
Stupid feelings.
So the first time Merlin stepped into Arthur and Gwen's flat, he was instantly hyper aware of the fact that he had crossed into enemy territory (Merlin Emrys isn't enemies with anyone really.)
However, he got over the immediate feeling fairly quickly because his next astonished thought was, Holy hell, it's our flat in reverse. As if it wouldn't be anyway. It wasn't like they didn't live in the same row of houses, built by the same contruction firm in the same year, or anything. Merlin Emrys is slow. Merlin's thoughts were all sorts of ridiculous (yes, even the non-first person ones).
His third thought was, "Oh my god, you live in the Land of Giant Sofas."
Gwen looked at him and grinned. "Eeeeeee! I love that," she squealed. "We are totally calling it that from now on. I'll tell Arthur when he gets home."
Merlin was suddenly reminded that he was, in fact, inside Arthur's flat. He fought the urge to run back out screaming, "I swear I'm not trying to stalk you!"
"But it's lovely, isn't it?" Gwen said, interrupting his thoughts, and then tacking on quite quickly and in that rushed voice that she used when she was sure she was being rude, "Not that your furniture isn't lovely, or anything. I mean, you furniture is fabulous. It's old and worn." Merlin looked over and saw her eyes bulge comically. "Not that old and worn aren't good things, of course! Especially when I'm talking about your furniture. Because I do absolutely love your furniture."
Amused, Merlin put up his hand to stop her rambling, a smile on his face. "Yes, I know how you feel about my old, worn furniture," he said, teasing her. When she grinned back, he wrapped an arm around her shoulder. "I'd like to explore your Land of the Giant Sofas now, Lady Guinevere."
Merlin had gone about calling Gwen Lady Guinevere after he teased her about her and Arthur having such famously historical names. She had tried to protest that it was just coincidence and really didn't mean a thing, but Merlin got a kick out of seeing her squirm (even if it hurt his heart a little to think about them actually being destined for each other). She'd eventually quit arguing with him when he'd said he could call her Her Majesty Queen Guinevere. Evidently, Lady was far more appropriate.
Gwen grinned, slipped her arm around Merlin's waist and started walking him toward their living room. They stopped in somewhere near the centre of the room and Merlin could only stare at the massive black and white plaid couch, love seat, chair and ottoman occupying their living room.
"They're brand new for the new flat," she said. "Arthur said, 'New home, new furniture, new beginning,' so this is what we got." Merlin's heart clenched a bit just thinking of the conversations they must have had leading up to purchasing this new place together. Nope, Merlin Emrys is done thinking about that!
Gwen grabbed Merlin's hand and pulled him along. "They are so comfy, that you instantly want to fall asleep in them when you sit down." She cocked her head to the side and grinned. "Kind of like your furniture."
Merlin laughed. "Only in giant size!"
Gwen giggled as she pushed him into the centre of the sofa, before sidling up next to him and setting her head on his shoulder. He was so distracted by the soft, plush couch enveloping him in a hug like a long-lost friend, that he almost forgot all about his promise to himself that he wouldn't be too outwardly affection with Gwen when he was in their flat. Just in case Arthur came home and caught them, thinking that Merlin was only using Gwen to get to him somehow. Merlin had a slightly flawed outlook of this weird relationship, he knew, but it was because he really didn't want to have all these feelings and spent most of his time utterly confused about everything.
Merlin shook his head and tilted his head back against the couch. He was too tired to think about all this right then. It had been a crazy week at school with a few large tests coming up and longer football practices to get ready for a big game that weekend. On top of that, he'd picked up two additional tutees in each chemistry and maths.
He really hadn't been awake enough, nor interested in going out that day, but it was becoming tradition for him to spend Saturdays with Gwen and he didn't want to disappoint her. Her disappointment face was like watching someone bury their puppy. Merlin would not be responsible for that face.
"You're a little bony, Merlin," she said, her voice a little sleepy as she managed to puff up the sleeve of his hoodie to create a cushion. "You should work on that."
Merlin just grunted in assent, pretty sure she hadn't been actually seeking an answer and started to feel himself relax completely for the first time in the last two weeks. Sleep was imminent.
Merlin looked down at the top of Gwen's dark, curly head and tried to remember how the process of speech worked. He wanted to tell her that he should probably just call it a day and head home. He wanted to tell her that he was just ridiculously tired and he wasn't going to be anymore fun for the rest of the day. He wanted to thank her for getting him out of the house earlier, though, and that he really enjoyed all the time they spent together. He wanted to reiterate how much her friendship meant to him.
Unfortunately, the couch was swallowing him up and coaxing his tired body into a nap he wasn't ready to take and, against his will and better judgement, his eyes started to drift shut.
When he unconsciously hummed in happiness a moment later, Gwen responded with a chuckle and a hmmm of her own. And just as he was about to fall asleep, Merlin managed to say, "Remind me, when I wake up, that I need a flag." Gwen's answering hum lifted at the end like a question, so Merlin explained, "I want to stick it in the middle of this mystical Land of Giant Sofas and proclaim it my territory."
Gwen wasn't sleepy enough to stop her from laughing out loud.
♦ ♦ ♦ ♦ ♦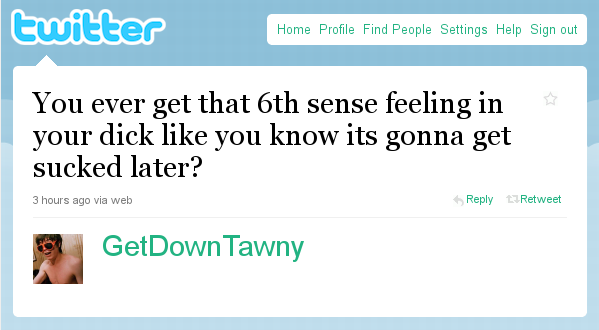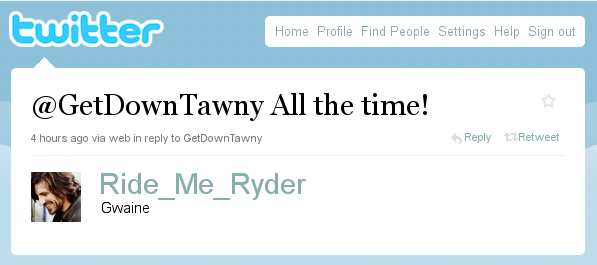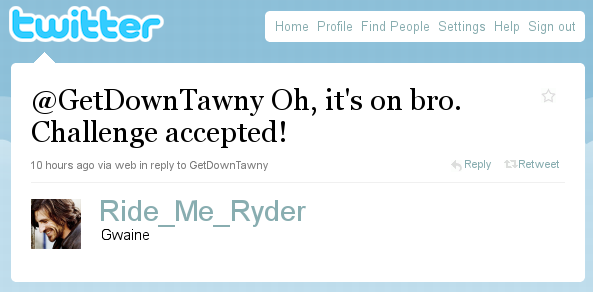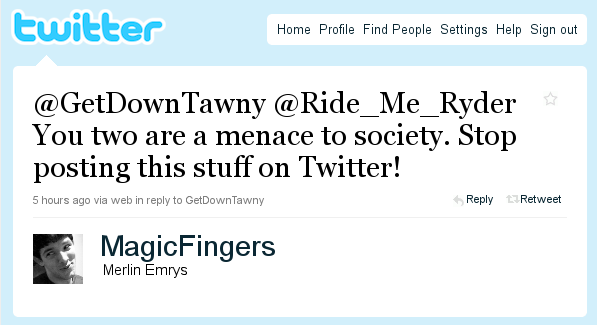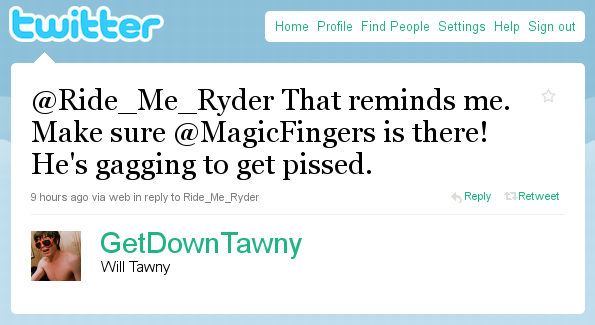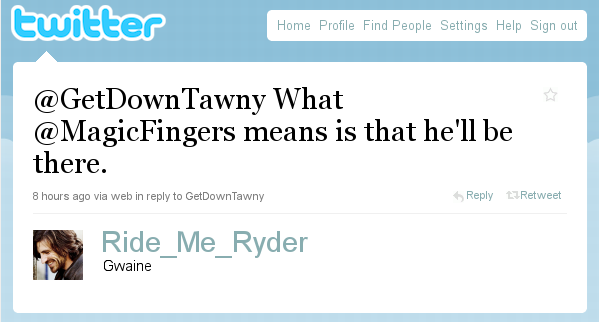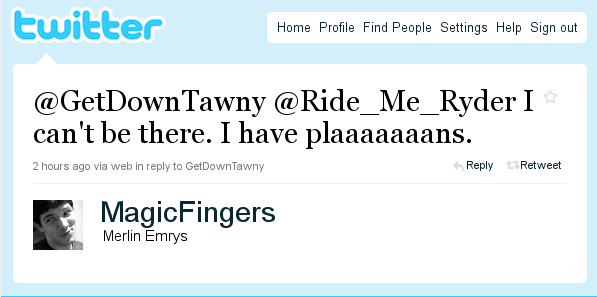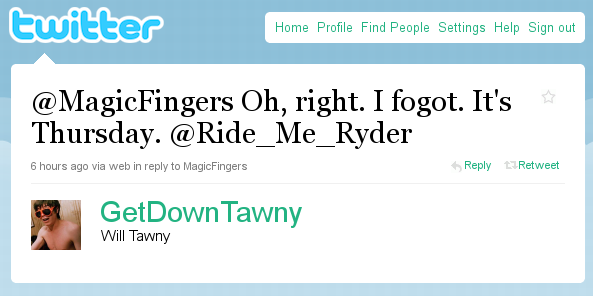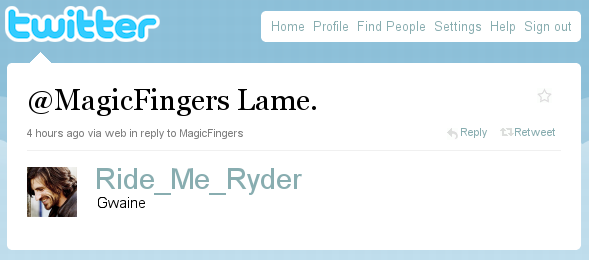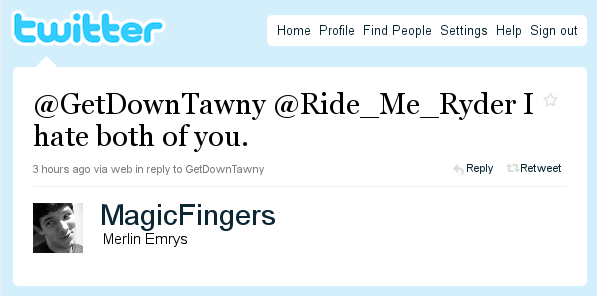 ♦ ♦ ♦ ♦ ♦
Arthur was packing up his desk and shutting down his computer when Morgana strode into his office. At the same time Vivian's voice came over his intercom, clipped and annoyed that Morgana hadn't waited to be announced, "Ms. Pendragon is here to see you."
Rolling his eyes, Arthur pushed down the button to respond, "So I see. Thank you, Viv. You can head home now."
Morgana looked from his hands, which were busy shoving files and loose papers into his satchel, to the giant clock that sat high behind his desk and back again. "Where are you going?" she asked.
"It's Thursday," Arthur responded simply. It had been four months since Gwen and Arthur had moved into their new flat and four months since he'd walked across their yards to borrow menus from Merlin. In those four months, they had gradually (much slower than Merlin and Gwen) become friends who spent actual time together outside of the occasional chat over the Sunday paper in the yard.
It had started when Gwen had asked Merlin over one night when both Will and Gwaine had been out for the evening and Gwen didn't want him to have to eat alone. They were only getting Chinese take-away - nothing fancy - but Gwen had felt bad for him. Arthur figured that maybe Merlin would actually like to have some time away from his crazy, loud, obnoxious friends for a change. But he'd not argued with Gwen and had gone over to Merlin's to ask.
Of course, when Merlin had said he'd love to, Arthur figured it was probably because he couldn't tell Gwen no and disappoint her, not because he actually wanted to spend time with them. It was like looking at someone burying their puppy when Gwen was disappointed. No one wanted to cause that - or see it, for that matter.
And after that first night, which had been a surprisingly good time, Gwen had gotten in the habit of asking Merlin over once a week when she knew he was alone. On the fourth week of this, however, Gwen had been kept at work extra late each night with a special, full-time patient at the therapy clinic (Gwen specialized in children's art therapy). Arthur had hemmed and hawed over whether or not he should ask Merlin over that Thursday evening, when he knew he was alone again.
He was still struggling with his feelings for Merlin and, even though he really liked him as person - as a friend - he didn't know if he could trust himself with Merlin without Gwen there as a buffer. He didn't want to have feelings for Merlin and when those intense moments of denial inevitably hit, Arthur couldn't be held responsible for his response, no matter how over the top (and potentially hurtful) it might be.
Finally he had sucked it and asked him to come over, explaining that Gwen wasn't going to be around, but it was pizza night and he needed to make sure Merlin was there to keep him from eating the whole thing. Arthur tried to forget the way Merlin had chewed on his bottom lip, looking thoughtful with his brow wrinkled and maybe a little skittish, before smiling gently and following him over.
Arthur would like to say that it hadn't been awkward, but it had been. But only for a short time. And by the time Gwen had made it back to the flat, he and Merlin were laughing loudly at Wedding Crashers and sharing a bowl of popcorn.
And after that night, Gwen stopped joining them for dinner, saying that Arthur deserved a night out without her every once in a while ("It's not like we're dating, Arthur. We don't have to spend all our time together.") and made sure she had plans.
Morgana looked back at the clock again, like it would confirm for her that it was, in fact, Thursday and then back to Arthur, who was pulling off his tie and folding it perfectly to place in his satchel. He shrugged into his suit jacket.
"Yes," she said, sounding confused. "I know it's Thursday. That doesn't explain to me why you're leaving the office nearly an hour before you usually do."
Arthur fixed the collar of his shirt and then gave his sister an exasperated look. "I have dinner plans."
And it was like a light bulb went off over Morgana's head. "Dinner plans," she said, smirking. "Dinner plans."
Arthur refrained from rolling his eyes again and grabbed his satchel to put over his shoulder. "Yes," he said, exasperated. "And I need to be going, or I'll be late."
He started toward the door, ready to brush past Morgana and any of the questions she might have that would undoubtedly make him uncomfortable. Instead, Leon popped his head inside and grinned. "Mr. Knight," Vivian's agitated voice came from his intercom. Arthur didn't grace her with a response.
"Did you ask him?" Leon asked Morgana, before coming fully inside the door and wrapping his arm around her shoulders, pulling her into his side. Morgana looked annoyed at the affection, but Arthur knew better. She secretly loved the attention, as long as it came from Leon.
"Ask me what?" Arthur asked, looking back at the clock and seeing that if their conversation took much longer, he was going to be late. He hated being late. Even if it was only to dinner with Merlin.
Morgana answered, "I didn't get a chance. He has plans anyway."
"Plans?" Leon looked at Arthur, confusion on his big, scruffy face and then, "OH!" Leon smirked and Arthur scowled. "Plaaaaaans." Arthur watched Leon nod his head knowingly and wanted to smack him with his satchel.
Instead, he sighed heavily and said, "What were you going to ask me?"
Morgana waved her hand at him flippantly and shrugged. "Nothing." Arthur did roll his eyes that time and Morgana elaborated, "Just wanted to see if you'd like to join us for dinner tonight."
Arthur smiled at his sister, genuinely happy that they'd thought of him for dinner. He'd been working so many hours lately trying to publicly smooth over all the issues they'd been having with Morgause (things were so not getting better on that front), that he hadn't been able to spend a lot of time with them outside of work. Maybe that was why Arthur had been making it a point to have dinner with Merlin each week; he needed some social interaction and normalcy in his life.
"I appreciate the offer," Arthur said and adjusted his satchel. When Morgana rolled his eyes, he grinned even wider. "Really, I do. Why don't we make plans for this weekend?" he asked, moving closer to them. "Get some fresh air at the park, or something, and some dinner."
Leon grinned and slapped his free hand against Arthur's back. "I think that sounds like a great idea, mate!"
"We should invite those neighbours of yours, as well," Morgana added, all exasperated fondness for her brother gone, only to be replaced by her all-knowing smirk.
Arthur shook his. "I'll ask tonight."
♦ ♦ ♦ ♦ ♦
Merlin had never been a fan of the man capri look and had never seen anyone, outside of Zac Efron (
Merlin Emrys will never admit to watching High School Musical. One, two or three. Thankyouverymuch.
), who could pull them off. That was, of course, until he'd met Arthur.
Merlin had been slightly shocked when he'd wandered over to Arthur's that evening, knocked on the door, and Arthur had answered in something other than his work clothes. Of course, Merlin had seen Arthur in more casual attire before - he favored jeans, polo shirts and trainers, Merlin had noted - but that was mostly on the weekends. On the nights Merlin showed up for dinner (or when Merlin insisted Arthur just come over to his house because it was only fair), Arthur usually wore his work clothes - shirt untucked, slightly unbuttoned, sleeves rolled and tie missing.
He would never admit it aloud, but Merlin was highly attracted to that look.
However, this new one was definitely a contender.
Arthur busied himself in the kitchen gathering up silverware, napkins and plates, while Merlin sat at the counter watching. He had quickly found out that Arthur absolutely refused to eat out of take away boxes, even when sat in front of the television during meals. When Merlin had asked why, Arthur had rolled his eyes and haughtily replied, "Because, Merlin. Eating from boxes is the most uncivilized form of food consumption. Ever.". Merlin nearly snorted aloud again at the memory, but refrained - only just - and allowed himself to examine Arthur's very delectable backside.
Merlin decided that Arthur looked good in his blue-khaki man capris, dark gray v-neck t-shirt and navy Sperry thongs. It was a more relaxed look than he was used to seeing him in and it suited him. Add in the fact that his hair was tousled like he'd run his hands through it a million times during the day and he looked downright shaggable. Not that he didn't alwayslook shaggable, of course, Merlin thought. It just wasn't fair for anyone to be as gorgeous as Arthur.
And why did Merlin have to have this impossible crush on Arthur anyway? It was one thing that he'd have a crush on a straight man (because that had happened more often than not), but why did he have to be practically in love with Gwen's boyfriend? And why did he, all of a sudden, spend more time with Gwen's boyfriend than Gwen did? It had been the other way around not a couple of weeks ago. He still spent time with Gwen, of course - ridiculous amounts of time that included their traditional Saturday together - but lately Merlin had been spending large chunks of time with Arthur, sans Gwen.
But even then, the time they did spend together with Gwen wasn't even remotely awkward. Gwen and Arthur had the most ridiculous relationship Merlin had ever seen. They were touchy-feely, but never anything more than Gwen was with Merlin. He would even say that Gwen was more touchy-feely with Merlin than she was with her own boyfriend. On top of that, they never kissed in front of him; they just seemed to lack any knowledge of PDA.
OR! What if they only refrained from kissing in front of him because they both knew he had a gigantic crush on Arthur and they didn't want him to feel weird? Merlin felt ill at the mere thought and had to consciously keep himself in his seat, rather than follow instinct and run back home, never to be seen by his evil neighbours ever again.
Merlin Emrys is overly dramatic.
What it all came down to was that the whole thing was just so bloody confusing. Sure, Merlin would say that he and Arthur were friends. And he agreed with Gwen that Arthur didn't need to spend every waking hour with her (even if his opinion was biased in his own favour). It seemed Arthur was happy to have some "guy" time anyway.
Just... well, sometimes it made Merlin wonder. Arthur and Gwen both spent more time with Merlin than they spent with each other. What in the world did that mean?
And that, right there, was a really bad idea. Wondering. Thinking. All of it led to hoping and that was just not something Merlin needed to put on his own shoulders right now.
Or ever, if he could help it.
Breaking from his reverie, Merlin watched Arthur reach up into the cupboard to pull down a couple of glasses ("We don't drink beer out of the bottle at meal times, Merlin.") and noted the way his t-shirt pulled tight across his strong back, muscles rippling. It took a lot of effort to keep the moan from escaping his lips. A small breath may have escaped, but he was sure it was quiet.
Arthur decided then was a good time to look over his shoulder and smirk.
"You're ridiculously quiet tonight, Merlin," Arthur said, setting the two glasses down beside their plates. "I figured you'd be prattling on and on as usual about your girls and their awesomeness, or all those things related to Chemistry that I only pretend to care about and understand." Merlin rolled his eyes. "It is Thursday, after all."
"You're a right prat, you know that?" Merlin asked, not at all upset by Arthur's jab. He never seemed to actually get mad at Arthur. Merlin was starting to wonder if he even knew how. "Complete tosser."
Arthur laughed while the door bell rang, walking off to answer it. "That's better," he called.
♦ ♦ ♦ ♦ ♦
Merlin looked like a geek, as usual. But damn him if he didn't look like a cute geek.
Arthur had never met another man who could pull off men's skinny jeans like Merlin could. As Merlin was sitting cross-legged on the couch, his skinny jeans were sitting impossibly low on his thin hips, never held up by a belt and always looked close to falling off, bare feet and a ridiculous black t-shirt, ragged and frayed at the ends, with the words Stolen From Mr. G's Furniture in faded red lettering, he looked like some kid who had just finished his A-levels, not a uni graduate and fully-fledged teacher.
Well, with the exception of his five o'clock shadow that, for some reason, made Arthur's belly turn to gelatin. Stupid Merlin and his stupid stubble, anyway. Arthur poked angrily at his dinner and pretended he wasn't pouting.
"I don't know what's wrong with you, but I'm pretty sure your dinner didn't do it," Merlin commented, pointing at Arthur with his chopsticks before grabbing a piece of spicy chicken and popping it into his mouth. "Besides, it's already dead," he added around a mouthful of food. "Poking it isn't going to do much."
Damn, he'd been caught. Fuck. "Sorry," Arthur replied, not exactly sure if he was apologizing to Merlin over his attitude or the moo shu pork he was trying to destroy.
Merlin shrugged at him and smiled at him, making Arthur's stomach flip-flop a little bit. "You should be apologizing to your dinner. I'm sure it's very sad."
Arthur tried not to grin back at Merlin, but even his lame attempts at comedy seemed to be golden. The truth was, Arthur wasn't mad or annoyed with Merlin at all. It wasn't like it was Merlin's fault Arthur was confused about all his feelings.
He hadn't been able to get Morgana's smirk and Leon's grin out of his head since he'd left the office. His whole ride home had been tense and uncomfortable. All because he, apparently, had a crush on his ridiculous neighbour and his ears. And everyone seemed to bloody know about it, even when Arthur wasn't entirely sure he was okay with it! It was turning into the giant pink elephant in the room that, evidently, was only peculiar to Arthur. And he didn't understand it. Didn't know if he wanted to understand it.
And his stupid thoughts were confusing him again.
Arthur picked up a piece of pork and popped it into his mouth, chewing completely before saying, "That's a ridiculous shirt."
Arthur actually happened to like Merlin's shirt for once, but really needed something to say. Something to take his mind of all his confusing thoughts and feelings.
Merlin looked down and frowned. "This shirt is awesome," he said, pointing with his chop sticks. Merlin liked to do that. Chopsticks, forks, pizza - all of it was acceptable pointing material as far as Merlin was concerned. "I've had it for probably ten years!"
Arthur rolled his eyes. "It looks like it, too."
Merlin smirked. "You're just jealous."
"Stolen from Mr. G's Furniture, Merlin?" Arthur snorted. "Really?" Merlin looked up at him and grinned and Arthur did his best to not smile back. "That's about the lamest t-shirt I've ever seen you wear... and you wear some lame shirts."
"I know I've said this before," Merlin said, "tonight I think I've said it twice already, but you are such a prat." He smiled cheekily and then grabbed a crab rangoon from the box.
Arthur swallowed hard around a lump in his throat as he watched Merlin's mouth wrap around a corner of the rangoon. Damn Merlin for being so adorable, even when he was eating (damn Merlin for everything that he was!) "Where did you get it?" Arthur asked to hopefully take away from the fact that he was staring openly, and inwardly berated himself when his voice broke.
Merlin gave an exasperated sigh and rolled his eyes, but Arthur saw the twinkle in them. "I'd thought that was obvious," he replied, swallowing the food in his mouth and gesturing down to the front of his shirt. Arthur just lifted a brow, anticipation at Merlin's answer - knowing it was going to be a good one. "Stolen," Merlin smirked, "from Mr. G's Furniture."
Arthur nearly dropped his dinner on the floor when his head tipped back and he laughed.
♦ ♦ ♦ ♦ ♦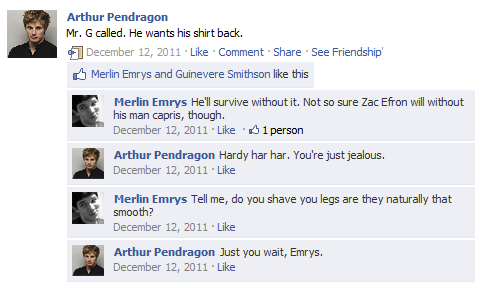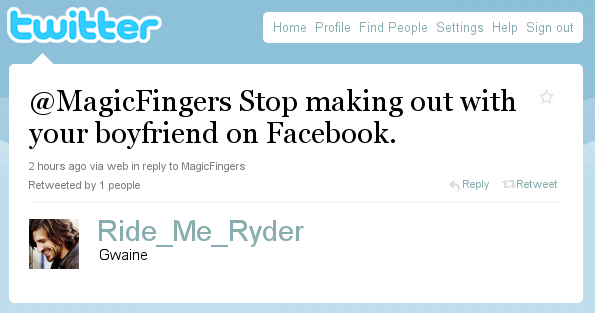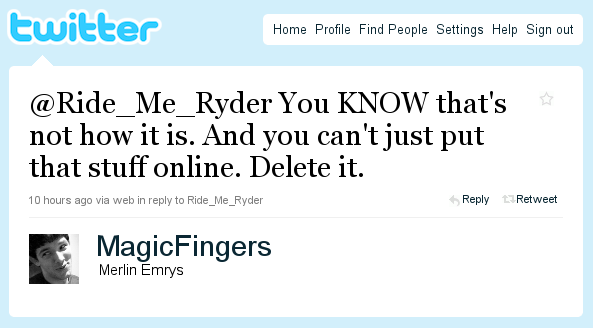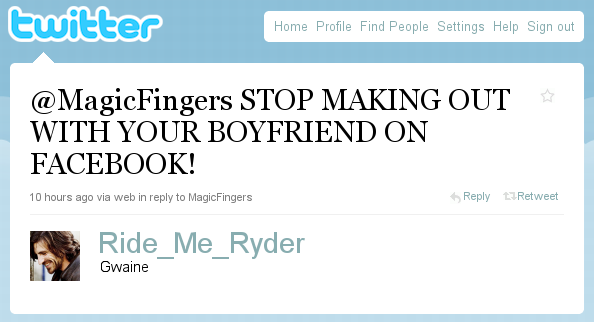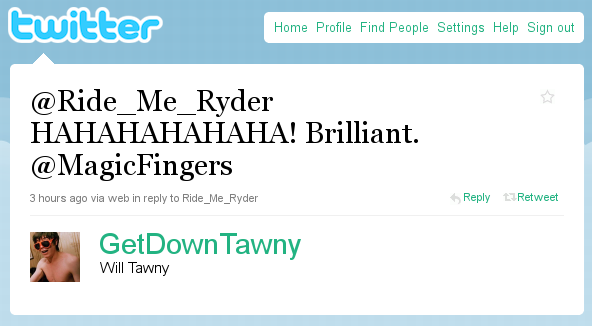 ♦ ♦ ♦ ♦ ♦
Merlin pulled open the door and there was a harried-looking Gwen standing on the other side, clad in her running shorts and skin-tight pink running top. Her hair was disheveled and face flushed like she'd been out for a run, but her eyes were narrowed in anger.
Merlin Emrys should not have answered the door.
"Hey," he said, his eyebrows lifting slightly. "I thought I was supposed to be at your place tonight?" Merlin consulted his watch. "And not for another two hours."
In the last couple of months, his and Gwen's Saturday days had turned into Saturday nights. And now included Arthur, Morgana, Leon and on the nights it was at Merlin's house, Will and Gwaine. Since it was the middle of February, spending time walking about the city and lazing in the park had become less fun and less warm. Now they all got together on Saturday night and ordered take-away and watched movies. Merlin was shocked to see how well everyone got along, but was grateful for it. He had spent so many years really being only friends with Will and Gwaine, that he hadn't realized how nice it could be to have so many close friends.
He really liked it.
Gwen rolled her eyes and walked past him into the house. "Do you have any chocolate?"
"Chocolate?" Merlin asked as he pushed the door closed, before muttering under his breath, "Hello to you, too."
He could hear Gwen in the kitchen opening and closing drawers and cupboards. "Yes. Chocolate. I need it. Lots of it," she answered. When Merlin walked into the kitchen and leaned against the doorway, she groaned and rolled her eyes at him. "Don't just stand there, Merlin. Find me some chocolate!"
Merlin shook his head and walked the rest of the way into the kitchen. He grabbed a spoon from the drawer across from the refrigerator and handed it to Gwen, then quietly turned and opened the freezer. Inside was a pint of chocolate ice cream; he pulled it out and handed it to her. "Why so needy, Lady Guinevere?" he asked, once she had the lid pried off and the first spoonful in her mouth.
He was not expecting the answering shout of annoyance, coupled by her hands flying into the air, nearly throwing the ice cream and spoon in her frustration, before stalking back out of the kitchen and into the living room.
If Merlin hadn't been so weirded out by the whole thing, he would have laughed his head off. Instead, he folded his arms across his chest and followed her. She was sitting on the couch, her legs crossed under her, and was stabbing viciously with her spoon at the frozen dessert in her lap. Merlin, not wanting to get too close to the action lest she decide stabbing him would be a more appropriate action, perched on the arm of the love seat opposite her and tried a joke, "I think you're supposed to scoop it up and then put it in your mouth. Not try to kill it."
The heated eyes he got in response were far from his desired goal.
They sat in silence for a few moments, Gwen continuing to stab at the ice cream and Merlin pulling at the loose strings on the frayed edges of his hoodie, before Gwen groaned again and threw the ice cream and spoon onto the coffee table in defeat.
"I hate him," she said, folding her arms defensively across her chest. "I hate him like... uhm... something seriously hated." Gwen paused, looking humorously thoughtful, before, "Like Brussels sprouts. Or waking up five minutes before your alarm. Or... or... or bumbags!" she finished.
And despite the glare he knew he'd get, Merlin burst out into raucous giggles.
"It's not funny, Merlin!" Gwen tried, but her twitching lips belied her outburst. "I seriously hate him."
Merlin choked back a chuckle, but felt it slip between his lips. "Oh c'mon Gwen. You compared him to bumbags!"
And then Gwen threw her head back and laughed along with him, because really? Who likens anyone to a bumbag? And in the middle of a time of real critical need?
Only Gwen, that's who.
When they'd finally settled down, Merlin wiping at his eyes and Gwen grabbing up the spoon and melting ice cream from the coffee table, Merlin walked over and sat down on the couch beside her. Gwen dug out a large spoonful for herself, plunked it in her mouth and then handed Merlin the spoon. He didn't even think twice about using the same spoon as her before dunking it into the pint and taking out his own generous spoonful.
When he'd swallowed his mouthful, he wrapped an arm around Gwen's shoulder and pulled her into his side. "So," he said with a small smile, "what happened?"
Gwen stopped, the spoon halfway back out of her mouth, and she sighed, defeated. "I feel stupid," she muttered and stabbed the spoon back into the ice cream before moving to put it on the coffee table again. She curled her feet back under her and leaned into Merlin's side, her hand across his belly.
"You're not stupid," he said, running his fingers through the riot of loose curls that had escaped her ponytail. "Obviously he is. What happened?"
Gwen sighed and buried her face into his chest. "I think he's seeing someone."
And Merlin, no matter what he felt for Arthur and no matter how upset he was about the fact that his destiny (Merlin Emrys needs to stop using that word.) was dating this gorgeous woman who just happened to be his new best friend, saw red.
"He's what?" Merlin growled and moved Gwen enough to look into her eyes. She was crying now, silent tears slipping down her cheeks making jagged lines like rivers down her dark skin, and Merlin's heart broke for her. "I'm going to kill him," he said, his mind a fuzzy haze of anger, and started to get up.
But Gwen grabbed him and pulled him back down. "Calm down, big fella," she tried to chuckle, but stopped when she saw his murderous expression. "Seriously," she sobered, "I'll survive. Let's not go all medieval and kill him with the powers of your mind, alright?"
Merlin just stared at her. How could she be so calm about this? If Arthur was seeing someone else behind her back, then she should want to kill him as well! "How are you being so blase about this, Gwen? Infidelity is... is... it's bad, Gwen," he stumbled. "Bad like something bad."
Gwen was snickering behind her hand, but no matter that Merlin wasn't elegant about his delivery, he knew what he was saying. And she was far too calm. Why was she so calm? And then realization dawned in her eyes and her mouth formed a funny, little "o" and Merlin knew they were finally on the same page. But now... well, now he felt like he was the one missing something.
"Oh, Merlin," she said, shaking her head sadly. "Do you seriously think I'm talking about Arthur?"
Merlin blinked slowly, all the fight left from him, leaving him drained. "Of course," he said, eyes wide. "Who else would you be talking about?"
And this time, when Gwen burst into laughter, Merlin didn't follow along. He continued to stare at her as tears of mirth fell down her cheeks, instead of hurt, and Merlin was feeling more and more frustrated by the second. What the hell did Merlin Emrys miss?
When Gwen finally stopped laughing, wiping the tears from her eyes, she looked at Merlin and grinned. "Merlin, you are ridiculous," she said and chuckled again. "Arthur is like my brother. We are so not dating."
And just like that, Merlin felt the wind punched from his stomach by her words. Arthur was not dating Gwen. Gwen was not dating Arthur. Gwen and Arthur were not dating.
It didn't matter what spin Merlin put on the words, the conclusion was always the same: he had been wrong. Wrongwrongwrongwrongwrong.
"What in the world," Gwen started, interrupting his epiphany, "made you think that Arthur and I are dating?"
Merlin just stared at her, his mouth hanging open in shock, before he pulled himself together and said loudly, but with little heat, "You bloody live together!"
"Oh, Merlin," she said again and shook her head, like he was some petulant child who just didn't understand the house rules. "Arthur and I have known each other since we were children. We've never dated, nor will we ever. He's like a brother to me, and that's why he offered to let me live with him when Leon moved in with Morgana and I decided to move out. Because that's what brothers do."
Merlin was dumbstruck.
"And besides," she said, the smirk on her face classic to a Pendragon, and Merlin wondered how he'd never seen the family resemblance before. "Even though he has yet to admit it aloud, Arthur is pretty much in love with you."
Merlin Emrys is going to faint.
"I'm sorry," Merlin said and shook his head slightly, as if jarring something loose in his brain, "what did you say?"
Gwen giggled. "You have the worst gaydar. Ever."
"I'll have you know, Guinevere Smithson, that I have excellent gaydar, thankyouverymuch."
"Of course," Gwen said, chuckling. "And that's why you seem absolutely shocked that Arthur is interested in you."
"That's because I know for a fact that you're pulling my chain," Merlin said, determined that this was all some funny joke. It was bad enough that he was just now figuring out that Gwen and Arthur weren't even dating. It wasn't in his DNA to be so lucky to find out that Arthur was actually in love with him, too. It would throw off the entire balance of the universe and Merlin could just not be responsible for that, as well! "It's all well and funny, Gwen," he said, trying to mask his concern for all of mankind. "But seriously."
"Seriously, what?" Gwen asked, pulling away from him and looking up into his eyes. She always had a way of searching his face, like she knew all the secrets and emotions he kept hidden there, and pointing them out to him when he wasn't even sure of them himself. She was doing that now and it was utterly unnerving.
"When have you ever seen Arthur and I be anything but buddy-buddy together?" she asked and then plowed ahead. "Never, that's when. I'm more affectionate with you than I am with Arthur."
Merlin felt discombobulated.
"And, Merlin," Gwen said, her voice gentling. "I know you've been in love with Arthur for months now; probably even since that first night you hit on him in the pub."
Merlin's face flamed and he looked away from her. He didn't want to be reminded of that night he'd made an arse of himself. It's when all of this nonsense had started. And even though it had brought him to Gwen, he still couldn't look past the fact that he'd been an idiot.
Gwen grabbed his chin and shifted his face to look at her again. "No, look at me," she said, softly. "And now I know why you've never made a move." She smiled her beautiful, warm smile at him. "Because you thought he and I were dating." She shook her head. "I wish I had realized it sooner, Merlin. I would have told you to go for it a long time ago. The only reason I refrained was because I thought you were uncomfortable with it. Now I know."
Merlin just stared at her. Was this really happening? Was it really, seriously true that Arthur was into him? As much as he was into Arthur?
It seemed improbable, until Merlin started remembering the little things, the small signs of affection:
The weekly meals together that had really never been about he and Arthur, but had suddenly become that.
Arthur's concern over all things that pertained to Merlin's love life.
The way he would guide Merlin by placing a hand across his lower back. And rubbing. Gently, almost imperceptibly.
"Oh my god," Merlin said, his jaw dropping straight down.
Gwen chuckled, her eyes twinkling. "Oh Merlin, you are adorably clueless."
Merlin's mind was reeling and his gut was clenched in an unfamiliar and painful way. What was going on here? When had his gaydar fallen so far off track that he couldn't even pick up the fact that Arthur and Gwen weren't dating? That Arthur wasn't even one hundred percent straight? Where had his 'sixth sense' run off to?
"You realize you're catching flies?" Gwen mused.
Merlin closed his mouth, but sank back further into the couch. Gwen snuggled into his side again and rested her head on his shoulder. "How did I miss this?" Merlin asked, his voice barely above a whisper.
Gwen sighed and turned her head to kiss his cheek, before resting on his shoulder again. She was warm against his side and images of her and Arthur sitting the same way just a few days ago ran through his head. "Sometimes, Merlin, you just have to ask."
They sat in silence for a moment, before Merlin shook his head slightly and then started laughing. Not some kind of quiet chuckle, but a deep belly laugh, shaking his whole body and making Gwen slide off his shoulder. He laughed and laughed, bent over at the waist, head in his hands, and shook with laughter. Tears were rolling down his eyes, and even as he heard Gwen's confused half-giggles beside him, he couldn't stop.
Merlin laughed until his sides ached and he couldn't see... and then he laughed some more. He continued on for a full five minutes. And when he just couldn't laugh any longer, and he was wheezing out the last of his chuckles, his body still vibrating gently, Merlin looked over at Gwen, who looked more concerned than anything, and with a flash in his eyes said, "I'm going to kill him."
♦♦♦♦♦
"What's the matter with you today,
Mer
lin?"
Merlin quit biting his lip just long enough to look over at Arthur (Merlin Emrys can look cool, even when he's losing it.), who had unceremoniously plopped himself on the couch beside him ten minutes ago and hadn't stopped talking since. He couldn't recall a damn thing Arthur had said, but he was sure none of it had been even remotely important.
At least not as important as the near-constant freak out session Merlin Emrys is having, Merlin thought.
Arthur quirked an eyebrow at him, when he didn't respond. "You're acting weirder than normal."
"I'm fine," Merlin clipped and then looked back at the television, even though he had absolutely no idea what he was watching. What the fuck is wrong with Merlin Emrys?
Ever since he talked with Gwen, and Merlin had found out that Arthur was not only bi-sexual in a big way, but pretty much in love with him, Merlin didn't know how to act in front of him anymore. He was like Alicia Silverstone in Clueless when she figures out she's in love with her ex-stepbrother.
Except way less creepy. Because Merlin didn't care if Josh wasn't actually related to Cher by blood or even marriage anymore, it was just fucking creepy. Who dates their fucking brother?! Ew!
Classic Merlin Emrys tangent. Merlin cringed.
He could feel Arthur's eyes on him and continued to use his Laser Death Vision to stare holes in the television screen. What he really wanted to do was ask Arthur to just go away, so he could think in peace. But it was Arthur's flat, after all.
"You are so not fine," Arthur drawled and tried to pass him a bag of crisps. "Eat something salty. I know how much you love salt. Always makes you happy."
Arthur shook the bag at him temptingly and Merlin knew if he turned to look at him, he'd have his eyebrow raised with a smirk on his stupid face. Merlin did not want to see that beautiful, smirking face. So, he just pushed his shoulder into the bag slightly, indicating that he didn't want them. "I'm fine, really."
"Lies, Merlin," Arthur said and took a crisp out of the bag. Merlin could see with his peripheral vision that he was studying it like it was the most fascinating thing science had ever invented. "Lies and deceit," he finished and tossed the crisp at Merlin's head.
Merlin, unable to help himself at that point, turned to half-heartedly glare at Arthur. Of course Arthur would have to be smiling like a damn lunatic, his eyes bright as the sun and his dumb face chiseled like a bloody sculpture. It was so unfair that Arthur was as beautiful as he was, because Merlin was sadly unable to resist him.
Merlin shook his head and grinned, despite himself. "Dinner will be here shortly. We're having pizza."
Arthur only smiled wider and passed Merlin the bag of crisps again. Merlin took them and popped a few in his mouth. Merlin decided then and there that there was no point in worrying about what to do with Arthur, because he was pretty sure that it would all end up the way it was supposed to.
Merlin would never stop sending wishes to the stars, though, that things would end in his favour.
♦♦♦♦♦
"Here's the thing," Merlin said, tucking his legs up under him and putting the plate on his lap, a fond expression on his face. "I'm pretty much in love with pizza."
Arthur snorted. "How can you be in love with pizza, Merlin? It's not a living, breathing thing."
Merlin's eyes fluttered closed as he took a large bite, the cheese stretching away from his mouth in a thin rope and red sauce smeared across his upper lip. Arthur tried to swallow around the lump that had suddenly formed in his throat. "Oh," Merlin cooed, his mouth full. "It's possible."
Damn Merlin for teasing him so much. It was bad enough that Arthur was trying to fight this weird attraction that he had to him, but now it was like he was flaunting it in his face. If Arthur weren't such a nice guy - and craved Merlin's undivided attention every possible moment he could, the little voice he had been desperately trying to avoid screamed in his head - he'd kick Merlin out on his arse and tell him not to come around anymore. For heaven's sake, he had even been at their house when Arthur got home from work that evening.
Granted, Gwen had let him in, but it was totally beside the point, because it wasn't like Gwen was still there now. It was like Merlin lived with them, or something. Arthur couldn't figure out why someone hadn't yet mentioned knocking down the wall between their flats to connect them. That was about how much time they all spent back and forth. It almost seemed more practical than wearing down a pathway between their front doors (since not a single one of them used the pavement - it was far too out of the way.)
Arthur watched as Merlin licked his lips, his pink tongue darting out to lap up the cheese hanging from his chin and sauce covering his mouth, and he ached somewhere deep in his belly. And Arthur didn't like it. Not one little bit.
"You are a train wreck, Merlin," Arthur said, his voice only breaking slightly. He needed to get over this crush. And quickly.
The pouty face that Merlin made, however, was not going to make it easy on him.
♦ ♦ ♦ ♦ ♦
A week later, Will and Merlin were sitting in the living room playing video games, when Will dropped the controller onto the coffee table and declared, "You two sort of make me sick."
They had been chatting about nothing in particular when Merlin had mentioned that Arthu would be there soon. Apparently that's all was needed to get Will going.
"What you need to do is work on getting the pair of you drunk and just... let out some frustration. You know what I mean?" Will's eyebrows waggled and he made a lewd gesture with his hands that Merlin could only assume was Will's poorly-concocted signal of gay coupling.
Merlin rolled his eyes. "Yes, that's exactly what I think I should do, William. I should most definitely get Arthur drunk and take advantage," Merlin dramatically mimicked Will's earlier hand motions, "of him. I'm sure things will end up peachy if I do that."
Will pointed at Merlin. "It's not molestation if both parties are totally begging for it. Which you two obviously are."
What was the world coming to? Will, of all people, could tell that Arthur was interested? Will, the most ignorant and unobservant S.O.B. Merlin knew? Merlin Emrys is in a time warp.
"Look," Will said as he leaned back against the couch and folded his arms across his chest, "all I'm saying is that you should give it a go. You're not going to know until you try, and all that."
Merlin shook his head. "I think you forget, I do know what will happen." He let his eyes drift down to his ratted sneakers and refused to look at Will when he heard him sigh, deep and heavy. Merlin already knew - all that progress he'd made toward rebuilding his self-esteem and confidence was seemingly gone in the blink of an eye when he was finally allowing himself to even consider another boyfriend. It almost didn't seem worth it.
"You forget," Will said, his hand gripping Merlin's shoulder, "that I know you're not that same scared kid that you were five years ago, Merlin."
Merlin looked up and saw that same Will that had hugged Merlin until he couldn't breathe when his parents had been killed; the one that had been hurt and confused, but still cared about how Merlin was taking it. Will, despite his rough exterior and his biting wit, was actually a big ol' softie underneath it all and Merlin hoped that one day he'd show that side to someone other than him.
"You can't live your life in fear of getting hurt again, mate," Will said, his eyes taking on a glassy, far-away look. Merlin wondered if maybe he was talking to both of them, rather than just him. "Because you're going to miss out on your life."
Merlin felt tears prick at his eyes and when he went to say I know, the words cut off in his throat. He just nodded his head instead. They sat in silence for a long time after that, Merlin wiping at the tears streaming down his cheeks and Will staring at the paused game on their television.
Finally, after what seemed like forever, Will shifted and Merlin started. The moment was somewhat broken, but Will made sure to add, "And just so you know; I might not like him, but I don't think he's a bad guy either."
Merlin looked over at Will - his eyes burned and felt puffy - and smiled. "Yeah," Merlin croaked and nodded his head. "I think you might be right."
Will snorted. "Of course I am," he said, matter-of-factly, but still grinned over at his best friend. "Don't you forget it."
"You wouldn't let me even if I tried," Merlin grinned, his heart feeling stronger than it had in years. He hadn't expected his chat with Will to go quite the way it had, but he should have known, no matter what, that it was going to be spectacular. And it had been. Will wasn't his best friend for nothing, after all.
Will nodded as there was a knock at the door. He stood up and said, "Fair point. Glad to see you're catching on after all these years." Merlin laughed as Will walked over to the door and opened it up. Merlin could see Arthur's blond hair, gorgeous face and muscled physique standing on the other side. His stomach instantly tightened and a lump formed in his throat. Will's words came back to him and he knew he was right. He had to try.
Merlin was about to get up to stop yet another half-arsed argument between the two of them when he heard Will say, "No, I'm headed out. It's just the two of you tonight."
"Ah, alright," Arthur responded and Will moved aside to allow him inside. Merlin wasn't sure what was going on and the fact that the words, prat, arse or tosser had yet to be used, gave him the indication that something weird was definitely going on.
"Look," Will stopped Arthur as he set a hand on his chest. Merlin could almost see the wheels turning in Will's head and he was scared to know what would come out of his mouth. Will made quick eye contact with him, winking and smirking, before bringing his face closer to Arthur's.
Merlin never did hear what he whispered.
♦ ♦ ♦ ♦ ♦
Arthur brought his eyebrows together in confusion when Will stopped him. Their whole interaction had already been fairly abnormal, considering they couldn't be in the same room together for more than a few seconds without one of them getting in a quick jab (that would, inevitably, start up an entire Jab Fest) and Arthur was feeling a little off kilter because of it.
"Look," Will whispered, stepping close. Arthur figured it was to make himself sound more menacing - Will was like that. "Don't do anything stupid, you hear me?" Will said, his eyes locked with Arthur's. "If you hurt him, I'll kill you. No questions asked."
Arthur's brow knitted together further as he stared back at Will. "I don't exactly know what you're talking about, but... yeah. Okay, mate." He rolled his eyes and tried to walk past him all the way and into their flat. He was starving and really didn't have the energy to deal with Will and his weirdness. At least not before there was some Thai food in his stomach.
Will backed up and started out the door, a smirk on his face. "Just remember what I said," he replied and then walked out, pulling the door closed behind him. Arthur, still a little shocked, just stared at the door.
What the bloody hell was that? Arthur shook his head and turned away to walk into the flat. His eyes immediately fell on Merlin's, who was sitting on the couch, looking over his shoulder at him, with a strange expression on his face - something akin to confusion and terror. But the thing that really stopped Arthur in his tracks was the blue of Merlin's eyes. And his pink, plump bottom lip.
They stared at each other for a moment and Arthur had to shift his weight from foot to foot to keep them from collapsing on him with the sheer weight of his feelings.
Sweet mother of all that's holy, he was turning into a bloody girl.
Arthur cleared his throat and threw a thumb over his shoulder at the door Will had previously walked out. "What's with him tonight?" he asked as nonchalantly as he could, proud that his voice only cracked a little bit.
Whatever trance Arthur had felt himself in, Merlin must have been in one as well, because his words seemed to jar him back into reality. With a shake of his head, Merlin smiled wide and chuckled when he said, "You mean apart from his normal idiocy?"
Arthur threw his head back and laughed (maybe a little too raucously for the occasion, but who was keeping track?) He walked the rest of the way into the flat and plopped down beside Merlin on the couch, grabbing the Wii controller from the coffee table on his way past. He unpaused the game and quickly started playing Will's abandoned Mario Kart game.
He knew he should think long and hard on what Will had said to him and what it might mean, but Arthur truly didn't think he had the mental capacity to actually figure it all out. Everything had been so confusing since he'd met Merlin he sometimes wished it had never happened, so he could go back to the way his life had been before: easy, simple... feeling-free.
And yet, at the same time, Arthur couldn't imagine going back to the humdrum existence he once lived before he'd met Merlin. Didn't want to, for that matter. No, Merlin might make things exceptionally dramatic, but it was a much more exciting way of life. He'd dare say that Merlin was his best friend. And that was... well, that was saying something, wasn't it?
Arthur shook his head when his kart crashed. He was obviously a little too focused on all things Merlin right now, if he was failing to actually win the one Wii game he was master of. Once it was reset, he shot a quick glance over at Merlin, who was surprisingly quiet as he watched the screen. "Please tell me," Arthur said, his hands mimicking the movements on the screen, "that you already ordered the food."
Before Merlin could respond, however, there was a knock at the front door. Arthur cheered as his kart made it over the finish line and said, "Merlin, you're a genius."
♦ ♦ ♦ ♦ ♦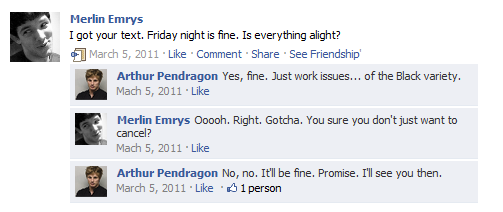 ♦ ♦ ♦ ♦ ♦
Merlin knew that Arthur had had a rough week at work with another assassination attempt against Morgause Black. Merlin, of course, didn't know all the details surrounding the event, but he knew that every time something happened with Morgause, Arthur was stressed to the max. And because of the stress and extra hours, Arthur had postponed their weekly Thursday night dinner to Friday night.
When Merlin arrived at the house, he had expected to see a fairly jumpy, but relieved that the week was over, Arthur. What he got instead was an Arthur who was still completely engrossed in work that he'd forgotten about their dinner plans. His eyes had widened and an apology was on his lips before Merlin had even registered that he'd forgotten. When Merlin had tried to explain that it was quite alright that Arthur'd forgotten and they could reschedule for the following week when he wasn't so busy, Arthur had grabbed him by the arm and pulled him inside.
That was one way of shutting Merlin up.
Arthur hadn't ordered dinner yet, so Merlin called while Arthur sat back down at the kitchen table (a place they almost never sat to have meals) and worked more. He apologized over and over, but kept right on working. Finally, to pass the time waiting for their Mexican delivery, Merlin had started talking. He knew Arthur wasn't listening to him entirely, but he hadn't asked him to shut up yet either. So he just kept right on.
He wasn't sure how the conversation had moved to relationships (specifically Merlin's knack as a child for finding the one person on the playground that didn't like him and becoming adorably obsessed with them), but Merlin figured Arthur wasn't paying attention anyway, so it was a safe subject. Evidently, he was wrong.
"When you were a child, didn't your mother ever tell you that when a boy is mean to you and pulls your pigtails, it's because he likes you?"
Merlin's lips pulled down into a pout. "Yes, well, maybe."
Arthur smirked before looking back down at his paperwork that was becoming increasingly scattered across the kitchen table. Merlin watched Arthur for a second and worried at his bottom lip. He had more to say, but was contemplating whether it was really a good idea to add it. Most interactions that Merlin and Arthur had were of the light-hearted nature. He wasn't even sure if they had ever had an intensely personal conversation that wasn't littered with snarky comebacks and witty banter. And Merlin knew if he delved into the subject at hand in the manner in which his heart was pulling him, he would knowingly be bringing about a conversation he was hoping he'd never have to have with the man he was practically in love with.
Or maybe after he'd got him drunk enough to sleep with him first. Then he'd have at least convinced him that, no matter how dorky and ridiculous Merlin was, the the mind-numbing pleasure of having Merlin between Arthur's legs far outweighed Merlin's heavy conversation choices.
But as Arthur slipped his pen sideways into his mouth, clenched between brilliantly crooked teeth, and his eyes roamed over the financials spread out in front of him, Merlin knew that he had to tell him. Because it mattered. Because he wanted Arthur to know the real him after all these months. He wanted to make sure that their relationship, even if that meant only as friends, was real.
Merlin took a steadying breath and said, "Besides, even when I was little, no one wanted to be my boyfriend - or girlfriend, for that matter. They were just actually 'pulling my pigtails', as you so sensitively put it, and being mean to me because they genuinely didn't like me."
Arthur looked up, incredulity plain on his face. "Really?"
Merlin nodded. "I was such a dork when I was little. Still am, as you've noticed," he said with a slight and crooked smile. "I didn't even have my first real boyfriend until I was fifteen." Arthur's mouth opened marginally and Merlin wondered how many people he had slept with by the time he turned fifteen. Quickly, he pushed that thought out of his mind and added, "It was mostly a secret and we were basically friends with a title, I suppose. He never did hold my hand or kiss me good-bye before class... or kiss me at all."
Arthur looked like he was about to interrupt, but now that Merlin was spilling his guts, he was just going to keep at it until he had everything out in the open. "Long story short, it was three months, two dates, and done. He cheated on me with some girl named Amanda - because he was apparently just confused and not actually gay - and then proceeded to be a complete arse about everything for the next two years. It was devastating then, but when I look back now, it was just stupid, childish BS. I got over it fairly quickly."
"Wow," Arthur said.
Merlin nodded again, feeling his face flushing in embarrassment, but continued. "My next boyfriend wasn't until I was twenty-two. On our first date, he was a perfect gentleman and even kissed me good-night. Two nights later I lost my virginity to him. And three months later, I told him I loved him and he broke up with me. Apparently he'd had plans to do it for a week, but was sweet enough to wait until Valentine's Day to do it." Merlin sighed. "Two days after that I found out he'd been cheating on me."
Merlin watched Arthur's face harden and wondered if maybe he was going a little too far with the details of his life. Unfortunately, he couldn't stop now. He was on a roll and he wanted, no, needed Arthur to know these things. He needed him to know who Merlin was, the good and the bad.
"That's really not a good track record," Arthur finally said through clenched teeth.
"It gets better," Merlin answered, tearing his eyes away from the disappointed look on Arthur's face and focusing on the wood grain of the kitchen table. "In the five years since then, I've had only two other relationships. The longest was three years and he cheated on me a dozen times, if not more. He was also emotionally abusive. I had no self-esteem left, so I just let it keep happening. Will and Gwaine were always trying to get me to leave him and I just wouldn't. Some irrational part of me felt like I deserved it, or something." Merlin shrugged. "It was, without a doubt, the hardest thing I've ever had to go through."
"Merlin, that's just--"
"Stupid?" Merlin interrupted. "Yeah, it was really stupid, but it happened." Merlin felt something pull in his chest when he realized that Arthur was actually judging him. Though, he should have expected that reaction, Merlin had hoped that they really were good enough friends that Arthur would see how much he'd changed. How much he'd grown.
Merlin should have stopped then. Should have just left Arthur to decide on his own if he still wanted to be friends with someone who made such horrible decisions in their love life. But now he just needed it all out there. If Arthur really didn't want anything to do with him after this, then at least he'd have his answer.
"Finally, I met a guy at the restaurant. He was charming, sweet and exceptionally sexy," Merlin thought he'd try for a wink, but his heart wasn't in it. "And he had been military for a while, so I just figured he would have to be better than what I'd been dating." Merlin scratched his fingernail against a dried waterspot on the table. "Most importantly he made me feel like I was someone, that what I wanted was just as important as what everyone else wanted. So," Merlin sighed, "I worked up the nerve to break it off with The Three Year Nightmare."
"Well, that's a plus," Arthur said. Merlin looked up and saw that Arthur was staring back down at his paperwork, but didn't look like he was actually focused on it. Merlin knew he was making Arthur uncomfortable, knew he needed to stop, knew he was making things far worse than they needed to be.
But he kept going. "It was," he answered. "Unfortunately, after a couple of weeks, the new guy just randomly quit the restaurant and pretty much ignored me and my phone calls for two straight weeks. I found out later that he was the only man to not cheat on me."
Arthur attempted a smile at him, but it came off as more of a grimace. "Small favours?"
Merlin shook his head and sighed again. "It would have been if I hadn't found out that he was married and I was the one he was cheating on his wife with."
Arthur cringed. "Please tell me you've had at least one good relationship, Merlin."
Merlin shrugged. "There was. Just the one," he said and tried not to think too hard about how in love he'd been with Gilli and how he'd screwed the whole thing up over a small fib (that had grown into a giant lie). "Unfortunately, amongst other issues like me sabotaging the entire relationship, he lived almost 500 miles away and it was too difficult to spend time together."
"You have really bad luck, don't you?"
"With relationships, yeah," Merlin answered and rubbed his hands over his face, letting out a sigh. "Probably why it's been so long since I've really had a boyfriend; I don't want to get hurt again." Merlin thought for a second and then added, "Or that was my excuse at the beginning anyway."
Arthur cocked his head to the side, looking confused. "What's your excuse now?"
Merlin thought for another minute, until he was certain about his answer. While he was silent, he could tell that Arthur was staring at him intently, and Merlin was regretting even starting the conversation in the first place. "I still think it's partially because I don't want to get hurt," Merlin answered, unable to look Arthur in the eye, so he focused somewhere between his chest and the table. "But I also think I'm so set in my ways now, that I just don't make the effort." Merlin paused and then added, "Dating is hard and dramatic. And my life is stressful enough as it is. It's just easier this way, I guess."
"That's just lazy, Merlin."
He looked up to see Arthur smiling at him. Merlin tried a smile back. "Yeah. Maybe."
They stared at each other a bit too long after that, and Merlin felt the intense urge to blurt out how much he loved Arthur. He wanted to tell him that if he were willing to give a shot, Merlin would be more than happy to open up a niche in his already stressful life to slot Arthur into it. He wanted to tell him that he'd been head over heels for him since the first night he'd laid eyes on him and he wanted to show him just how much he wanted him. It would probably end badly, but Merlin wanted to try. He just wanted to know.
But then Arthur was looking uncomfortable and he cleared his throat, looking back down at the paperwork scattered across the table. The moment was broken and Merlin was glad for it. He didn't care what Gwen had said about Arthur being in love with him. Arthur hadn't made a move and they had known each other for months. Gwen was mistaken.
"I wonder where dinner is," Arthur said, his pen tapping against the table in a broken rhythm.
Merlin shrugged. "It's taking an abnormally long time. I'll call them."
♦ ♦ ♦ ♦ ♦
Arthur's stomach had churned while listening to Merlin's relationship story earlier in the evening. He had wanted to tell him to stop so many times. He hadn't wanted to hear how Merlin had been slighted and hurt so much that it was obvious it had had a lasting effect on him. But since it was the first time Merlin had really opened up to him, he craved to know more. Even if it was a heart wrenching tale. He had gotten a a rare glimpse of the Merlin Gwaine and Will knew and loved. So, he hadn't stopped him.
And it had been hard to listen to. Arthur, more than once, had wanted to get up from the table, grab him by the shoulders and shake him. He had wanted to growl at him that he deserved so much better than those jerks that had hurt him. Arthur had wanted to show him that he could be that better he was looking for.
But those thoughts had been enough to stop him. In the months that he had known Merlin, the only time he had ever hit on Arthur was the first night they'd met and Merlin had been pissed. There had been moments when Arthur thought that maybe Merlin was flirting with him, but it had been there and gone so quickly, he figured he'd only imagined it. Obviously Merlin wasn't interested in him. Well, as more than a friend that is.
And he didn't know why it mattered anyway. Arthur just souldn't be interested in him. Maybe at the beginning, he should have attempted a relationship with him. It could have gone one of two ways: great or catastrophic. In the first instance, Arthur would have had a great boyfriend and regular sex. In the second, he'd probably have had to move. Not so great, but one of the pitfalls of dating your neighbour.
But Arthur hadn't tried to date Merlin. Instead, he had spent countless hours trying to convince himself that he wasn't really attracted to Merlin, that he wasn't his type and that Arthur was only infatuated with him because he was so desperate for a partner.
Now, he couldn't be with Merlin even if he wanted to. Because Merlin was practically his best friend, next to Gwen. And Arthur wasn't willing to lose that. Ever.
He snuck a look over at Merlin, who had his head leaned back against the sofa, barely awake, and the corner of his mouth went up.
Arthur had had a stressful week and had felt terribly guilty having to cancel their regular Thursday night dinner and then forgetting that he'd rescheduled it for Friday. He'd felt guilty that he'd spent most of their evening working on paperwork and getting his notes ready for the special broadcasts he'd have to be apart of on Sunday morning. But Merlin, the forever optimist, had taken it all in stride. He had sat across from Arthur and just talked. He had only felt like he had to listen to half of what Merlin was saying and it was like Merlin knew that Arthur just needed the noise. The company.
Arthur hadn't planned on him going into great detail about his past love life. He hadn't planned on being sucked into it and feeling so emotionally attached. Then again, Merlin was his friend and he should feel angry about the way he'd been treated in his relationships. When Arthur looked at it that way, it all made a lot more sense.
He and Merlin were friends. Anything else would be awkward and confusing and Arthur just didn't have the time in his stressful, busy schedule to deal with awkward and confusing.
With that decision finalized in his head, Arthur reached out a finger and poked at Merlin's shoulder. When Merlin grunted a response, he rolled his eyes. "Wake up, mate."
Merlin's eyes had drifted shut in the time it took Arthur to work through his feelings and though Arthur knew he was still awake, Merlin kept his eyes closed. "Nrgh."
"Seriously," Arthur said, poking him again, a little harder. "You think this sofa is comfortable now. Just wait until you have to sleep on it for more than a quick nap." Merlin's bottom lip poked out into a pout and Arthur tipped his head back and laughed. "Get out of here, you nut. Go sleep in your bed, in your own flat. Go, go, go."
Merlin pried his eyes open. "Alright, alright," he said, trying to pout around his grin. It wasn't working very well. "I'm going. Pushy."
"Well, it is my flat," Arthur said as they both got up from the sofa quite slowly.
"That's a mirror image of mine," Merlin responded.
"Only decorated better."
"Shut it."
They were both grinning ear to ear when they got to the front door. Arthur stood behind Merlin as he slipped his trainers back on his feet and opened the door. He was on his way out and Arthur was about to tell him good night, when Merlin stopped and turned around, standing on the doorstep. "Listen," he said and looked up from his trainers slowly. "I'm sorry about being so... share-y tonight."
"That's not a word," Arthur said, trying to keep things light. It was really too late in the evening to be having more serious conversations.
Merlin smirked, but it was only half-hearted. "You know what I mean," he answered. "It was a little out of normal range of conversation and... I just didn't want you to think--" Merlin stopped and chewed on his bottom lip for a minute.
When he didn't look like he was going to say anything else, Arthur snuck out his hand and punched him lightly in the shoulder. "It's no big thing, mate. Don't worry about it."
Merlin looked at the place Arthur had just punched and then back to his face. It was a weird expression and Arthur was pretty sure the gesture wasn't what Merlin had expected. But since Arthur had never really been all that in touch with his emotions, this was the best he was going to get.
"Yeah," Merlin said, shuffling his feet. "Just... thanks for listening."
Arthur nodded. "Anytime."
And then he did something he hadn't done with anyone (outside Gwen and Morgana) in a really long time. He pulled Merlin into him and hugged him. He hadn't even know he was going to do it until he was already reaching toward him, but now that he had his arms around Merlin's skinny frame, he knew that it was something Merlin had needed. Maybe it was something they both needed. Arthur couldn't be sure.
Merlin, stiff backed at first, finally relaxed and wrapped his arms around Arthur. It seemed awkward at first and then nice. But it quickly turned awkward again when the hug held on a bit too long. Slowly, he started to pull away, but Merlin kept one hand on his waist, the other up over around his shoulder. Merlin stared into Arthur's eyes, intensity there that he had never seen before, making him uncomfortable. Arthur wanted to turn and retreat into the house.
But just as he was tying to pull away, about to laugh off the moment, Merlin lunged forward and pressed his mouth against Arthur's. Merlin's lips were dry and chapped, but warm and his eyes were clenched shut. Arthur stared at them, looked at his long lashes, lashes that should have been on a girl, and let Merlin kiss him.
A part of Arthur wanted to kiss him back. The other part of him, the part that had adamantly decided that they were going to be friends forever and nothing but, was resisting. Arthur didn't want to hurt Merlin. And if they started something and it got awkward, Merlin would inevitably get hurt. Arthur couldn't be the one to do that.
And selfishly, Arthur didn't want to ruin their friendship. He needed to have Merlin in his life now. He was going to be a permanent fixture whether Merlin wanted to be or not. Having a relationship with him would only jeopardize that. Arthur wasn't willing to risk it.
After a moment, Merlin realized that Arthur was not responding and he pulled back quickly. His long fingers went to cover his lips, his eyes wide in shock, and Arthur was instantly aware of how cold his own lips now felt.
"I'm--" Merlin shook his head. "I'm so sorry."
And before Arthur could laugh it off, Merlin turned on his heel and ran across their gardens to his front door and disappeared inside. Arthur watched him go, but didn't call him back. He stood there staring for a full five minutes before he started to shiver. Looking down at his bare feet, Arthur stepped back inside and pushed the door closed.
♦ ♦ ♦ ♦ ♦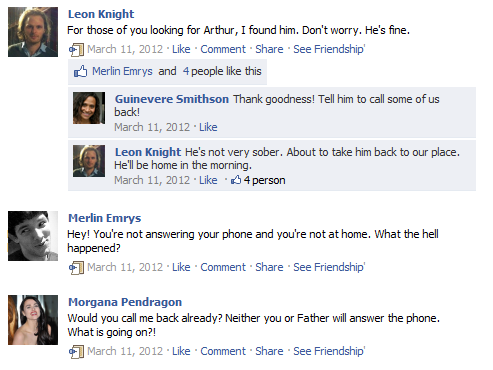 ♦ ♦ ♦ ♦ ♦
"I can't believe that you wouldn't tell me about
this
!" Arthur shouted, after he had barged past Katrina and into Uther's office completely unannounced. "
This
of all things, you don't tell me! How the in bloody hell am I supposed to
fix
this, Father?!"
Uther was sat behind his desk, staring at an empty spot on the far wall across from him. Arthur didn't like the disconnected, far away look in his eyes, but it would have to wait.
"I was blindsided in an interview this weekend all because you couldn't tell me the truth about Morgause. And after repeated attempts! Now, not only do I look like a complete fool, this company is going to suffer." Arthur sat down in the uncomfortable chair across from his father. "I don't know if what that reporter said was true or not, but it looks awfully bad when I can't do anything more than stutter through an, I'm not at liberty to discuss that at this time. So, you need to tell me everything and now," Arthur finished. He opened the top of his netbook, a document already open to start taking notes. "Go."
Uther shook his head. "I don't really know where to start, son," he said, his voice low and soft, defeated. Arthur had never seen his father like this. Uther had always been, no matter what the situation, as stoic and hard as a stone statue. But now he just looked like a broken man, something Arthur never thought he'd ever see, nor did he think he ever wanted to see again.
But at that moment, time was of the essence right now and Athur, the face of the company, needed to be able to go to the public and fix everything before it got out of hand. He could deal with his father's angst and obvious guilt at another time. Right now, as Uther had always taught him: Business. Always business.
So, Arthur steeled his features and said crisply, "From the beginning. I need to know everything."
"I've known Morgause a very long time," Uther said after a moment, still staring at the opposite wall. "And I--" Uther stopped, his head shaking back and forth, like he was trying to dislodge and purge the memories, "I never imagined she would do this."
Arthur resisted the urge to put down his netbook and comfort his father, because there just wasn't the time - not to mention, Uther would have an epic fit if that happened - but he did say, a bit more softly, "The beginning, Father."
Uther finally looked away from the wall and sighed. He straightened in his chair and cleared his throat and then looked at Arthur. He could tell that his father was trying to be as professional as possible, but the telltale glint in his eye - the one that people feared - was absent.
"As you know, when I first started in this business I was on personal protection detail working for European Security." Arthur nodded his head, knowing the entire story about Uther's rise through the ranks at E.S., the shoulder injury he'd obtained that removed him from active field duty, and the eventual start up of the empire that was now Camelot Security and Detail.
"My shoulder injury, the reason I was taken off active field duty and decided to start up CSD, occurred one night while I was on duty. Not in a car accident like I'd previously told you."
"You said it was a car accident," Arthur said, confused.
"I lied."
"I'm sorry," Arthur said, his mouth barely opening, making him push the words out through gritted teeth. Arthur was angry. What else had his father lied to him about over the years? "You were injured while on duty? Why was I never told this version of the story?"
"It was just easier to keep on telling you the lie," Uther said wearily. "It wasn't that I wanted to keep it from you. Only a select few people know exactly what happened that night and we've kept it well-hidden on purpose."
Arthur, a muscle jumping in his jaw, tried hard to relax so he wouldn't scream profanities at his father and storm out. "Explain. Now." If he was a little more harsh than may have seemed necessary, he figured he was allowed it, under the circumstances.
"We were trying to keep Madelyn safe."
"Who is Madelyn?"
Uther looked at his son, the hurt that had evidently been buried deep inside him pouring out through his eyes. "Madelyn is Morgause's real name. Madelyn Morgause Vintry."
Arthur stopped again, his mouth hanging open slightly. "Vintry? As in Michael Vintry? The French dignitary who was assassinated in his home?"
"One and the same," Uther mumbled, his fingers folding together on top of the desk. Uther sighed and then continued. "Madelyn was Michael's daughter, and I was their evening detail."
"The Vintrys were killed in their home in the evening," Arthur said, still shocked and confused by everything his father had so far told him. "By your admission, you should be dead, as well."
"Should, yes."
"Father," Arthur started, shaking his head while the anger built up deep in his belly. "None of this makes sense and you're being needlessly cryptic. I need to know what happened, so just tell me already."
Uther's eyebrows came together for a moment, furious. But then they relaxed again and nodded his head. "Yes, of course, you're right."
Arthur's fingers poised on his keyboard and he willed the adrenaline and anger to stop coursing through his body long enough so he could hear the story and take the necessary notes. "Good," he said, making his voice as cold as he possibly could. There was no more room for family issues here. Business, Arthur chanted in his head. All business. "Begin."
"I was, in fact, the Vintrys night guard and was supposed to be on duty the night of the fire," Uther began, "But Michael and Deena asked me to take Madelyn out for a movie that night, so they could have some time alone. Few knew, but Michael and Deena were on the verge of divorce and they wanted to get some things out in the open that evening with their therapist.
"Because I was Madelyn's favorite guard, she was excited about the movie and spending time with me. She used to call me her cuddle bear." Uther stopped and the corner of his mouth turned up in an attempt at a smile.
And just like that, it was gone. "I wasn't supposed to leave the Vintry's alone, no matter the circumstances, because there had been such a plethora of attempts on his lives over the years, that constant details was required. But, because I liked the Vintrys and Madelyn, I did as they asked. While we were out, Colin Marcus Forks blew up the house, with Michael, Deena and their therapist, Dr. Arlene Curtis, inside."
Uther stopped and took a deep breath. Arthur didn't push him to continue, even though he wanted to. Instead, he sat quietly and waited while his father collected himself and his thoughts. It was plain to see that even for someone as rich, powerful and stoic as Uther, this was a difficult subject to talk about. The only other time Arthur had seen his father like this was when he talked about his wife and Arthur's mother, Igraine.
"My supervisor decided with the owner of E.S. that it would be best for Forks to think that Madelyn had been killed in the fire, as well, since we weren't sure if Forks would want to go after her too.
"It took some finagling and work with the police, but we managed to keep the doctor's name out of the papers and said there were three dead bodies found, badly burned, in the Vintrys' home. We changed Madelyn's last name to Black and started calling her by her middle name, Morgause, and she lived with friends of the family for a few months while Forks was tracked.
"I would visit her all the time," Uther said, looking back at his son. "It was before your mother and it was before you and it made me realize what I wanted in my life." Uther stared hard at Arthur, and Arthur stared right back. Moments ticked by and Arthur focused on the dark flecks in his father's eyes and the way the blood rushed in his eardrums. He'd never imagined something like this happening to anyone, let alone his own father. It gave Arthur a new perspective on his father; something he never expected to have. It finally made him human.
Uther broke eye contact first and looked at the wall behind Arthur's head again. Arthur, not sure he could look away, blindly found the keys on his keyboard and waited.
"When Forks was caught, Madelyn was given the option to join her aunt and uncle in New York, or stay with the family friends and resume her life. But she was traumatized, and didn't want to stay here and face the sympathetic looks. So, Madelyn Vintry stayed dead and Morgause Black left.
"I didn't see her again until she came to me five years ago, requesting personal protection. I didn't realize she needed it for anything. I didn't know who or what she had become over the years, but I was so overjoyed to see her again - and looking so much happier than the day she left - that I told her I'd give her whatever she needed."
Arthur didn't remember the day they'd picked up Morgause as a client, but he did remember the first guard who was shot protecting her. It had happened only three days into her new detail. Three days. It should have been a sign.
"So how did the reporter find out that you had this dark secret? How did they know that Morgause was somehow connected to it when you say no one knows that Morgause and Madelyn are the same peson?" Arthur narrowed his eyes at his father. "None of that makes sense."
Uther looked at his son and Arthur knew he wasn't going to like the next part of the story. Not that he'd enjoyed the what he'd learned so far. "Madelyn," he started, but shook his head. "No, Madelyn truly is dead. Morgause came to me yesterday at the same time you were set to appear on the show. She said that she wanted to see my face when I realized my destruction was imminent."
Arthur's eyebrow rose slowly. "I'm sorry, that just sounds ridiculous."
"I think she's mentally disturbed, Arthur," Uther responded, maybe a bit too harshly. "I think she's spent her whole life blaming me for not being there to save her parents that all she can focus on is destroying me."
"It seems a bit... elaborate."
"She always had a flair for the dramatic."
Arthur huffed and closed the top of his netbook. He was barely taking notes anyway. If he ever forgot this day, he'd be surprised (and happy). "Finish, Father."
Uther looked at his son and sighed one final time. "Every detail that had been attacked was on purpose. Morgause had hired men to come after them, but making it look like it was an attempt on her life. She kept putting detail out commission and then this."
"This being?"
"She took her story to the media. She knew you would be the face of the explanations and the reassurance and wouldn't know a thing about what had really happened. And it worked. As you say, you looked like a fool and it brought speculation about me so that now we have to respond.
"Elaborate, yes," Uther said. "But effective."
♦ ♦ ♦ ♦ ♦
Arthur paced though his office, anger coursing through his veins. Anger and humiliation. He shouldn't have had to
convince
his father to call the police about Morgause. She had purposefully tried to have people hurt or possibly killed all for her own personal vendetta.
Uther hadn't wanted to do it. He'd said she had suffered enough. Arthur wasn't of that same mind. Innocent people had been hurt. And she was the reason.
Reluctantly, he had finally given in, but Arthur had had enough.
Now what? Did he leave the company? How could he ever trust his father again?
The answer was that it was going to take a really long time, and Uther knew that. Arthur growled and threw himself down behind his desk.
He started typing out a press release, but couldn't focus. There had just been too much bad happen this week and he was done with the emotions of it all. He'd spent all day Saturday angsting over the kiss with Merlin and the fact that they were apparently not speaking to each other now. Arthur couldn't help but think that he should have called after him. But it was done now and Merlin, who wasn't answering any of his texts or phone calls, was going to avoid him. Arthur supposed he didn't blame him. After all, he hadn't responded to the kiss and he hadn't called after him. Merlin was likely humiliated and Arthur had done that. He had done the one thing he hadn't wanted to do and that was hurt Merlin.
Arthur pounded his fingers against the keyboard and wrote whatever words came to him. None of them made any sense.
He had to give Merlin a chance to cool off. He knew that, but he hated it. He regretted his reaction the minute it happened, but this was where he was now.
But, as if all that hadn't been enough, now he had to deal with the issue of Morgause and his father. The pounding got louder. He was angry. No, he was furious. And he couldn't think about any more of this right now.
Getting up from his desk, Arthur grabbed his suit jacket and threw it over his arm. He walked out of the office, his face set in an angry line. When Vivian tried to stop him to ask where he was going, he kept right on walking and said, "Out. I'll be back later."
Maybe.
♦ ♦ ♦ ♦ ♦


♦ ♦ ♦ ♦ ♦
Merlin pulled open the door and saw Gwen standing alone on the other side. She beamed at him and wrapped her arms firmly around his neck. "HAPPY BIRTHDAY!" she said and kissed Merlin's cheek. "I'm so glad all these people made it!"
Merlin grinned back at her and then grabbed her hand to pull her inside the house. He fought the urge to look back out over his shoulder as he pushed the door shut to see if Arthur just happened to be following. He knew he wasn't.
He didn't know why he had even gotten himself excited over the party when he knew the one person he wanted to be there wasn't going to be. It had been a full two weeks since Merlin had kissed Arthur. And despite Arthur's texts and phone calls the day after, Merlin hadn't seen or heard from Arthur since that night. He knew he was busy, though, dealing with the Morgause news and the issues with his father (Gwen had kept him well-informed), but Merlin missed him. Even if he didn't want to.
Merlin missed spending time with him, just being ridiculous. They had a good friendship and Merlin felt stupid that he had been the one that had cocked it all up. He wanted to apologize to Arthur, but at the same time, he knew it didn't matter. If Arthur really hadn't wanted to see him, he'd have come find Merlin.
Gwen had told him that Arthur wasn't doing well, but he was working though everything. Merlin wanted to be the one to joke around with him or make him feel better.
But there was no point in dwelling. It was done.
"I'm glad you came," Merlin said, aiming for upbeat and happy, even if he didn't exactly feel that way and tried to push away all the bad thoughts and feelings that were threatening to overtake him.
Gwen grinned even wider. "You knew I'd come, Merlin," she laughed. "I only helped you set up for this thing, since your two flatmates are absolutely worthless." She put her hand up when Merlin tried to correct her about the number of flatmates he actually had. "And yes, I know that Gwaine doesn't actually live here, but that's a debate for another time, don't you think?"
Merlin laughed and hugged Gwen again. No matter how much he missed Arthur, Gwen was like a ray of sunlight in a dark alley; she could always make him feel better. "Let's get you a drink," he said when he pulled back from her. Gwen nodded her head enthusiastically and they started walking towards the makeshift bar set up on the kitchen island.
As she was mixing together some vodka and Sprite, Merlin looked at her and grinned slyly. She took a long pull from her glass and then cocked an eyebrow at him. "What?"
"I have someone to introduce you to!" Merlin said, unable to hold back any longer. He'd been waiting to introduce Gwen to Lance for the last few months, knowing full well that they would be absolutely perfect together (and probably downright disgustingly adorable, too). But Gwen had that silly crush on the guy she ran with at the park and, even though she was sure he was already seeing someone (yes, the one she was talking about when they'd been interrupted by Gwen's announcement that she and Arthur weren't dating), she hadn't given up hope just yet.
Merlin was really hoping that meeting Lance at the party, and hopefully spending some time with him, would change her mind.
Gwen cringed. "Oh no you don't," she said. "I told you, I already have an unrequited crush. I don't want to have some awkward meeting with some guy who isn't as great as everything thinks he is." Gwen stopped, her eyes comically wide, and looked over at Merlin. "Not that you have bad taste or anything," she stammered. "I'm sure you have great taste. It was just a general idea that no matter how awesome a guy seems to be, he's probably not. I mean, you're a great guy, but you're gay, of course. And, yes."
Merlin laughed and linked their hands together. "Yes, Guinevere, I think I get what you're saying. Now calm down before you hurt yourself."
Gwen scowled at him, but laughed a second later, all the weird awkwardness that she sometimes stumbled out with completely disappearing. "Sorry," she said sheepishly.
"Come along, then," Merlin said, hoping that she'd not fight him anymore, and started pulling her in the direction of the living room, where he knew he'd seen Lance talking to Will and Freya only moments before Gwen arrived. "You'll like him."
Gwen, however, stopped abruptly and planted her feet, not allowing Merlin to pull her along anymore. "Merlin," she pouted. "I don't want to."
Merlin couldn't help it, but he grinned. She was just too adorable sometimes. "It's okay, Gwen. You'll like this guy. He's bloody amazing, he is. Smart, sweet, funny, sensitive... you name it and he's it, Gwen."
"Sexy?" Gwen asked, looking a tad more interested than before.
Merlin Emrys is going to win!
"Extremely sexy," Merlin said. "You won't be able to keep your hands off him."
Gwen sighed, looking resigned, but hopeful. "Fine," she said, finally giving in after worrying at her bottom lip for a minute. "But if I don't like him, and he turns into some crazed stalker, you're dealing with it."
Merlin snickered, and linked their arms together. "Deal," he said and started walking them toward the living room again. "But I promise, Lance is not a stalker."
Gwen stopped again, her eyes slightly glazed over and staring off across the room. Merlin followed her gaze and grinned wider. "Did you say Lance?" she asked, prying her eyes off of Lance's backside.
"I did," Merlin said, nodding enthusiastically. Lance was exactly where he'd been earlier, talking to Will and Gwaine (who had stubbornly refused to remove his toga, insisting that he was now part of the new-age Animal House and had, up until ten minutes ago, been shouting, "Toga! Toga! Toga!" at the top of his lungs while carrying around an ancient-looking beer bong). "He's just over there," he said, pointing.
Gwen's eyes were crinkled in the corners and her eyes were nearly gone as she grinned like a lunatic. Merlin wanted to take a picture to show her later, as a reminder to never make that crazy face again. Merlin Emrys doesn't mean that. Guinevere Smithson is adorbs.
"Did I miss something?" Merlin asked, his gaze flicking between Gwen and Lance and then quirking his head to the side. "Do you know him?"
Gwen nodded, but didn't answer as she looked back over at Lance, a dreamy expression on her face. And just like that, Merlin understood. "Oh my god! That guy you told me about is Lance? The jogger at the park?"
Gwen laughed, looked back at Merlin (only barely, like it was painful to look away from her destiny across the room), rolled her eyes and then looked back over at Lance. "I can't believe that Lance is this guy you've been mentioning for over a month."
"I can't believe you've been spending time with him almost every day for over a month!" Merlin said. "We need to improve our communication skills, Guinevere. Start using names or something."
"Agreed," Gwen giggled. "We are ridiculous."
"We really are," Merlin laughed. "Alright, so this should be exceptionally easy then! I don't even have to work hard at this tonight. It's lovely. Go on over there and talk to him then!" Merlin shoved at Gwen's shoulders a bit, pushing her in Lance's direction.
"Wait!" Gwen said and turned back around, her eyes wide. "He's not seeing some short, cute, brunette then?"
Merlin looked confused for a moment, but then it was like a light bulb went off over his head. "Noooooo," he said, laughing a bit. Just then Freya walked over to Will and smiled at him. "Definitely not."
It was Gwen's turn to look confused. "Well, who was she then?"
"Freya," Merlin answered simply, pointing at them over Gwen's shoulder to where Will had slipped his arm around Freya's shoulder and pulled her tight into his side (smoothly, of course, not at all in a possessive manner.)
Gwen shook her head, a tiny, nervous smile on her face. "Communication," she said, pointing her finger back and forth between the two of them. "We need some."
Merlin chuckled and then started pushing Gwen in Lance's direction again. "Yes, communication. We'll work on it. Tomorrow. Now gooooo."
"I'm pretty sure he doesn't like me," Gwen said, stopping again. Short of body slamming her in the right direction, Merlin couldn't budge her. So, he sighed and dropped his arms to his side again.
Merlin Emrys will win.
"From what I've heard," Merlin said, "he does like you. Now, buck up, lady! For fuck's sake, I have provided the atmosphere and the alcohol. Now you need to work your magic. I'll even reserve Will's bedroom for you."
Gwen looked appalled and Merlin wasn't sure if it was because he had just suggested she have sex with Lance (and soon) or that they were free to do the nasty in Will's room, of all places.
"You are disgusting, Merlin Emrys," she grimaced. "I would never even think about having...S-E-X with anyone in Will's Den of Debauchery." Merlin wanted to smoosh Gwen's face between his hands and coo at her adorableness when she first looked around to see if anyone was listening before she spelled the word sex in a whisper.
"Maybe not, but you would have SEX with him." Merlin laughed when Gwen's eyes widened and face flushed when he yelled sex. She was too cute for words.
Gwen gasped, "Merlin! Stop! That is exceptionally inappropriate and entirely untrue."
"It is so true and you know it." Gwen blushed as Merlin added, "And besides, you only think it's inappropriate when it's you we're talking about. The minute it's someone else - like Morgana and Leon - you're all for discussing things in elaborate detail."
Gwen blushed further, turning a delightful shade of maroon, but she couldn't hide her smile. "Well, I did live with Morgana for quite some time. I became - errrr - privy to their - uhhhh..." Gwen faltered for a word, her hand flapping about in the air when Merlin graciously added,
"Mating rituals?"
Gwen threw her head back and laughed.
♦ ♦ ♦ ♦ ♦
"I'm headed home for the night."
Arthur lifted his eyes from his computer and saw Viv standing in his office doorway. Even though it was well past closing time and they had been busy all day, she still looked as fresh as she had when she'd walked in that morning. A small part of Arthur envied her - he was absolutely certain his hair was sticking on end from the frustrated pulling and his clothes even felt rumpled - but it was only a small part. Arthur loved his life. Sure, there were parts of it that he just wanted to do away with in the quickest way possible. But, for the most part, he was happy.
And alone.
A little voice in Arthur's head sighed. He needed to get home, yet he wasn't going to. Not yet anyway. He didn't want to see the party festivities going on next door. He wasn't... ready yet.
"Do you need anything else?" Vivian asked.
Arthur stared at her for a brief moment and contemplated what kind of conversation would turn about if he said, Yes. Fix my love life. But asking one of his exes - especially one of the slightly off-kilter ones - was a pretty bad idea.
He shook his head, "No. Thank you, Viv." Vivian nodded and turned around to walk out, but Arthur stopped her. "You done really well the last couple weeks," he said, his voice soft. "I don't tell you that often enough."
Vivian was taken aback, but smiled gently. "Thank you, Arthur."
He nodded back at her, slightly uncomfortable because praise wasn't exactly one of those things that he handed out easily. Sometimes it was hard to give something when you never received it yourself. "Only a couple more days of this and things should settle down again," he added.
Vivian smiled one more time and then, with a quick tip of her head, turned back around and left.
Arthur stared after her, his mind moving a thousand miles per minute. He needed to work longer; even though he'd been at work since before six that morning, he had a lot to still get done. He had three phone, two radio and four television interviews set for the next day to continue rectifying all the damage caused by Morgause's incident. It had been going on like that for two weeks and Athur was sick to death of seeing himself on television, on the internet and hearing his voice over the radio. For once, he was praying that something else, something big and destructive, maybe - would happen, so the company would no longer be the centre of attention.
But Arthur, now that his concentration had been broken, wasn't thinking about the hellish next day he had in front of him. Instead, his mind was consumed by dark hair, bright eyes, long limbs and ridiculous ears.
Running a defeated hand through his hair, Arthur turned to his computer again and minimized all this work. With a few more frustrated punches at the keyboard, he was on the Internet and looking at his Facebook page. He was expecting there to be updates and possibly a few pictures of the epic party going on at Merlin and Will's flat tonight, but Arthur's eyes widened when he saw that his Newsfeed seemed to be overtaken by Merlin.
Merlin.
Not the party. Though, there were some pictures and posts about other things happening at the party, but everything was mostly focused on Merlin. Merlin, who was uncomfortable having his picture taken on a good day, was in almost every picture and his name was linked in almost every post.
Arthur, his hand shaking after seeing a particularly good picture of Merlin and Gwen laughing together - her head thrown back to expose her long neck and his body hunched forward in his typical Merlin giggle that was far from manly - read quickly through the posts and scanned the pictures.
Even if he hadn't known it already, he knew now that he was missing the party of the century. And even though it was far from being Merlin's specialty, he seemed to have pulled it off. Arthur was sorry he hadn't been there to help plan.
He missed Merlin. It had been two weeks since the kiss and the blow-up with Morgause, and it wasn't until that very moment that Arthur realized exactly how much he missed him.
And he needed to be there because it was Merlin's birthday.
Arthur jumped up from his seat without closing any of the windows on his computer or turning it off, grabbed his suit jacket from the back of his chair and fled his office. He only paused for a moment to set the alarm and the pulled the locked door closed behind him. When he stood at the lift, waiting for its ascent to him, he tapped his foot impatiently and checked his watched every two seconds. Not thirty seconds had passed and he'd made his decision. He bolted to the left and ran toward the stairs. He could run the thirty-five flights faster.
As the stairwell door slammed behind him, the elevator doors opened and Merlin bustled out.
♦ ♦ ♦ ♦ ♦
Merlin leaned against the back wall of the lift and sighed.
He had finally convinced Gwen to go up to Lance after another five minutes of prodding (Gwen was adorable, but far too insecure - Merlin hoped Lance would help her with that) and they had nothing but heart eyes for each other, like he had assumed would be the case. At that point, Merlin had been surrounded his friends, all coupled up, and Merlin had felt faint, like someone had grabbed him tightly around the chest and squeezed, causing bright, white lights to pop in his vision and cut his breathing down to short gasps. The feeling had been so intense that Merlin had fallen down into a chair, dropped his head between his knees and struggled to breathe.
No one had noticed him sitting there having a meltdown and he'd never felt so alone when surrounded by so many people. And it was then that he realized he and Arthur needed to talk things out. He needed to either fix everything, or he needed to have some closure. And either way, it was happening tonight.
That was when Merlin had gotten up from his chair quickly, ran outside and hurried across their gardens to Arthur's front door. He'd stood there, the night warm and dry for the first time in over a week, and waited for Arthur to come to the door. But even as he stood there, hope filling his chest and leaking down into his belly, he knew Arthur wasn't there. There were no lights on and even if Arthur had been home and in bed, he would have been to the door by now.
No, Arthur hadn't been there and Merlin had instantly felt the need to hyperventilate. Instead, plucking as much courage as he could, Merlin ran back to his own flat, screaming GWAINE! the minute the door closed behind him.
A few people had turned to look at him, worried looks on their face at his harried expression, but he ignored them and fought his way through the crowds of people when he saw Gwaine over by the kitchen door, lips attached to Elena's.
It had been difficult to shake Gwaine away from Elena long enough to procure his car keys, but it had been done. And without having to answer any weird questions about where he was going, because Gwaine was an awesome friend and just wanted to make out with his new girlfriend. Keys in hand, Merlin had navigated his way back out of the house, ignoring as many people as humanely possible without being rude (like he really wanted to be) and manoeuvred Gwaine's car out of the driveway.
His hands had shook as he'd pressed the button to the lift up to Arthur's office and he'd had to lean over, breathing deeply between his knees again as he waited for the lift to make it up the thirty-five flights, agonizingly slowly.
It had been utterly heartbreaking when he'd stepped off the lift, turned left and saw the office door closed and all the lights off inside. Arthur hadn't been there and the realization had been like a punch to the gut. He'd stared at the door for a full two minutes, before turning back and calling for the lift again.
And now here he was, travelling back down those thirty-five flights in the slow lift and contemplating what all this meant. And really, it only meant one thing.
Merlin Emrys needs to move on.
Tears pricked his eyes. For once his third-person thoughts were dead-on. There was a reason, Merlin thought, that he hadn't been able to find Arthur: it just wasn't supposed to happen. And Merlin... well, he was just going to have to move on. Merlin, in the past, had been a bit of a masochist and he swore he'd never be that person again.
They hadn't spoken in two weeks. Merlin had kissed Arthur and he hadn't kissed him back. Things were done.
The lift dinged as it came to reception and Merlin pushed away from the back wall. He caught a glimpse of his dejected reflection in the mirrored doors and quickly looked away while they opened. And that was why, when he walked off the lift, he was barrelled into by a very handsome, blond man.
"Arthur!" Merlin shrieked - not at all like a little girl - when Arthur's arms wrapped around Merlin's waist instinctively to stop them from falling to the hard, granite floor.
Arthur's eyes widened and then a smile broke out on his stupidly handsome face. Merlin was trying to squirm out of his tight grasp (because really? Did he have to suffer anymore?) but Arthur held him tighter and continued to beam at him. "Merlin!" he exclaimed, a laugh in his voice, and then he was kissing him, sloppy and excited.
Merlin should have pushed him away, but this is what he'd been hoping for, wasn't it?
Arthur ran a hand slowly up his back until his warm fingertips rested against the nape of Merlin's neck. He pressed gently against the skin and it was like a shot of liquid heat generated there and traveled through his body to pool in his groin. His reaction to Arthur's touch was instantaneous and felt so right. He couldn't stop the it when his hips thrust forward.
"Merlin," Arthur purred, moving his mouth to align with Merlin's ear. "God, Merlin. I've missed you."
Merlin's stomach twisted and there was a roaring in his ears. "You're a bloody prat," he shuttered out when Arthur's tongue swept down the side of his neck and attached to his collar bone. "Bigger than Will, even," he said and sucked in a breath when Arthur grazed his teeth against his skin, lighting it on fire. "Bigger than anyone I know."
Arthur chuckled against the side of his neck. "Have you been spying on me in the shower, Merlin?" he asked and thrust his hips forward. "I'm glad to know you think so highly of my size." Merlin's mouth made a perfect "o" when he felt the hard bulge in Arthur's suit trousers press tightly against the similar one in his jeans.
"I wasn't talking about that," Merlin muttered, his voice barely over a whisper, when Arthur's face - eyes blown, cheeks flushed, hair mussed - appeared before him.
His face was determined. "Shut up, Merlin," he said and crashed their lips together.
♦ ♦ ♦ ♦ ♦
Arthur leaned against the boot of Gwaine's car and reached out to put his fingers through the beltloops of Merlin's jeans. He pulled him forward into the space between his legs and Merlin was instantly hit with a wave of adoration, followed by complete embarrassment, because he
refused
to be the girl in this relationship.
He tried to pull back a bit, but Arthur was grinning at him and his stomach flip-flopped in an all-too-familiar way. Merlin Emrys can give in this one time.
When he was settled the way Arthur wanted him between his legs, Merlin ran his fingers gently through Arthur's blond locks, trying to restore order to the mess he'd made to it only a few minutes before. His face flushed at the memory of the way Arthur had pulled him into the lift, gone up a few flights and pushed the emergency stop. The mirrors in the lift had made things extremely interesting and Merlin was going to suggest they have them installed in both of their rooms. Soon.
"I missed you, too," Merlin said, breaking the comfortable silence they had been sitting in - aside from Arthur's moans of approval.
Arthur's eyes opened and Merlin could see the exhaustion there. It had been a rough couple of weeks for him, Merlin knew, and he was sorry he hadn't been there to help him through it in some way. It made him sad to think of the time they lost, even if it was only a couple of weeks. In the grand scheme of things, that wasn't long at all, so Merlin tried not to ache at the loss.
"I'm sorry I didn't call after you," Arthur said, his tone hushed.
Merlin's face fell, remembering the embarrassment and hurt he'd felt after Arthur had rejected him. If Arthur had called after him, he would have come rushing back, even if it was to find out that Arthur wasn't actually interested. At least then there would have been closure and maybe they could have moved on with their friendship. Strained at first, of course, but then it would have eventually worked out. They would have forgotten about the kiss and things would have been fine.
Merlin might have moved on sooner or later and Arthur would have found someone perfect for him. They would have stood up at each other's weddings.
But that wasn't what Merlin had wanted at all. He didn't know it at the time, but this - right here - was exactly what he wanted.
"I'm sorry I jumped you like that," Merlin smiled.
Arthur smirked. "No you're not."
"No, I'm not," Merlin laughed.
"You are not funny, Merlin Emrys."
"Merlin Emrys is all sorts of funny," he said, before leaning in to kiss him. Arthur was shaking his head the whole time, laughter bubbling underneath the surface.
When they pulled apart, foreheads touching and breath shuttered, Arthur smiled. "I love you, Merlin."
Merlin wanted to cling to Arthur like a second skin, his stomach twisting and turning in excitement. "I love you, too," he said and attacked his mouth once more.