Work Text: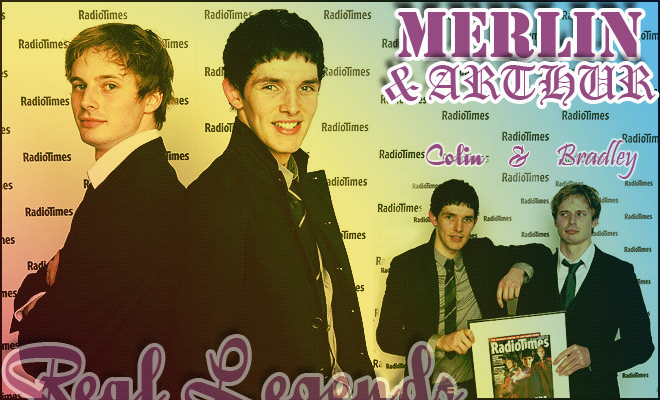 Truly, Madly, Stupidly
In the winter, after the holidays, Bradley and Colin were sent to America for a round of promos and interviews. They were set to leave on the first day of February, and they'd been scheduled for a dizzying list of appearances, Q&A sessions, and autograph signings. The time span was approximately two weeks, and would have them back home with several days to rest, before filming began for the third series.
Bradley met Colin at Heathrow. It was the first time they'd seen one another since the end of filming, and while Bradley had finally given in and shaved (after his mother had told him that she didn't want people at the Christmas party thinking her actor son was homeless, and giving him her terrifying mother eye), Colin was his usual brand of scruffy.
He looked pink and exuberant, loaded down with his bag and laptop case, as well as an armload of snacks that he must've purchased at the tea-cart two gates down. Bradley cleared his jacket and pile of magazines off the chair next to his own.
Colin finished fumbling his belongings onto another empty chair, executing a very near miss with his paper cup of tea, and Bradley completely spoiled the cool look he'd been cultivating throughout an hour of staring vacantly at the same page of a two month old issue of OK! Magazine by standing to engulf Colin in a hug.
"'Lo Bradley," Colin said warmly, when they'd both stepped back. "How were the holidays?"
Bradley shrugged. "Ate a lot and also slept. Conversed with many aged ladies at my mother's annual Christmas party. They always say things about my face."
"Yes well," Colin said, and ducked his chin toward his chest. "It is rather a strange face."
He avoided Bradley's outraged arm flail easily.
On the plane, Bradley uprooted an unreasonably disgruntled balding man reading one of the Twilight books (on second thought, the disgruntled thing did make some sense) so he could sit next to Colin.
"Must protect you from your rabid fans," he said matter-of-factly, when Colin quirked an eyebrow at him.
"Bradley," Colin replied in a very serious voice. "It's alright if you can't stand to be parted from me."
He raised his novel between them like a shield before Bradley could come up with an appropriate response.
They were shit seats, really. The BBC had a habit of paying for things in such a way that made you wonder how much extra trouble they could have possibly thought was worthwhile in order to fractionally cut costs. They were in economy class, deep in the belly of the plane, and it was a Monday. The flight had left at one in the afternoon, which would have been alright if they hadn't both had to get up at ungodly hours to get to London. There was also the incredibly disconcerting experience of moving backward in time, as the clocks in New York would be five hours earlier than the time at home. There were no blankets or pillows left, the advert packet displayed glossy images of turkey sandwiches but you had to pay over seven quid to eat them, and there was only one pair of earphones between the two of them.
For some reason, they both wanted to watch the terrible comedy the airline was screening, so after an indeterminate period of bickering about whose seat the earphones had been closer to, Colin sighed and said, "Let's just share, yeah? We do it all the time on set."
"Alright Colin," Bradley sniped, as he slid closer to pass him one of the earbuds. "What a brilliant idea, Colin."
Of course, Colin fell asleep not thirty minutes into the movie, and Bradley had to tilt his neck at an ungodly angle to avoid ripping the earbuds out of either of their ears. It required him to look more at Colin than at the tiny, distant screen, which was surprisingly alright.
Colin was curled into his usual hoodie, his sock-clad feet tucked up behind his thighs, and his arms crossed over his chest. He looked quite well, Bradley thought again, his face rounded out by the dark stubble that somehow grew in so evenly for him, and his hair tousled and a bit too long.
Bradley was sometimes shocked at how someone could be so completely different from him, all fine, lean muscle and long, tapered fingers, where Bradley was solid and basically grown into his body and had ears that weren't placed at a 90 degree angle from his head. Still, there was something about this strange person, whose paperback was still laid open over his hip to hold his page. It was a little painful to try to think about what it was that made him want to keep looking down at Colin's eyelashes.
Halfway through the flight, Bradley quietly purchased two outrageously expensive Good Eatz Quik Packs from a surly flight attendant, and waited a little longer to wake Colin, whose hair was all matted up on one side from the armrest.
As it happened, Colin was equally endearing when he'd spilt cracker crumbs all down his front.
New York was snowy, crisp and bright. There was something about the snow that countered the usual gray that Bradley had thought to expect of the city, and left everything lovely, glistening with golden lights leftover from the holidays. It all looked fuzzy, slipping swiftly by through the window of the cab that Bradley and Colin took to their hotel, quiet and jetlagged.
The sidewalk was slick with ice where they stepped out of the cab, and Bradley's arm was extended for just a second, when Colin looked likely to slip. He didn't.
They checked into their nondescript hotel rooms, and Bradley took a quick shower to wash off the fatigue. After, he changed into a clean shirt and met a still rumpled Colin in the lobby. They asked the concierge for directions to the bookstore where they'd be signing autographs, and decided to walk the few blocks instead of calling a cab. It was raining lightly now, and the sky was already beginning to darken in the winter dusk.
They stopped for coffee, sipping at it from under their pulled up hoods. The rain was surprisingly pleasant, light and unexpectedly warm, and it made Colin's hair fuzz up and go glossy with mist. The walk was quiet, though Colin occasionally pointed to something or made little jokes.
"Will you get us there in one piece?" he asked, when it seemed they should by now have seen the bookstore.
Bradley watched him bite at the lip of his paper cup, distracted. At Colin's querying gaze, he stuttered out, "Of course we'll get there in one piece, Colin.
Colin smiled. "Alright, maybe I trust you," he said mysteriously, and then they turned a corner and the bookstore was there after all.
Inside, they shook the rain off and were ushered behind a table to smile becomingly at a load of amateur photographers. The turnout was surprisingly good, good enough that Bradley rather wished he'd done some research about exactly what access Americans had to the show. After a moment of consideration about what less savory ways people might have acquired the show, and a bad memory of trying to download internet porn, he decided he was better off not knowing, and stuck to smiling blindingly and shaking all the hands that were thrust at him.
Colin was incredible in these circumstances. Though he was often painfully earnest in interviews, and laughed too much in an attempt to cover his nervousness, in these interactions he was a stunning combination of charm and genuine interest. He shone, speaking intimately to each of the people who stepped up in line, connecting with them in just a few sentences or less. Bradley watched his dimple as Colin smiled more and more widely, until he was able to pull himself away and concentrate on signing his name with a larger, more impressive flourish.
At one point, near the end of the evening, a smartly dressed young woman leaned over the table toward Colin, her dark hair falling like a curtain over her face and hiding her from Bradley's view. She whispered something that Bradley couldn't quite make out, but that left Colin blushing and giving a stammering laugh. "Perhaps Merlin a little," he said, "But Arthur's far too great a prat to ever notice." The girl grinned widely, gave them both a thumbs up, and left with a freshly signed bit of paper.
"What was that all about?" Bradley asked out of the corner of his mouth, while posing with a child and a brandished plastic sword.
"Nothing," Colin said, but his cheeks had gone very pink again.
Later Colin brought it up again. "That girl was pretty, yeah?"
"I suppose," Bradley said. He turned his face up to the still falling rain.
The rest of their stay passed in a blur. Although Colin seemed to be oblivious, Bradley was keenly aware that he was acting out a role in these public appearances, just as he was when he was being filmed. Every word felt momentously dangerous, as it all had to be utterly casual, yet give away neither too much nor too little. Every time he glanced over at how Colin's green shirt made his skin glow under the fluorescent lights, he had to remind himself that cameras were capturing ever moment of it. Colin seemed oblivious to this, too, and to the fascination that Bradley had acquired for the way Colin's knuckles connected to the fine, lightly flexing bones of his hands.
They rode the subway repeatedly during their trip, and loved it even though it's wasn't really all that different from the tube. Late at night, after talk show appearances, they sat in a diner near their hotel and shared slices of crumbly blackberry pie, trading off bites between sips of strong, dark coffee. Katie called them several times to let them know how jealous she and Angel were, and to generally mock Bradley's wardrobe choices, hairstyle, and motivation for finally shaving (not that she minded, she amended quickly).
It was nerve-wrackingly busy, and yet these moments, when Colin got overly excited about some strange alternative band song and passed over one of his earbuds so Bradley could hear it too, when he knocked on Bradley's hotel room door and leaned in to ask if he could borrow a t-shirt, or to see if Bradley wanted to explore, these moments made him feel a strange combination of peace and nervous restlessness. Their last night was Valentine's day, and they were scheduled to appear at a party. Colin showed up at his door in trousers and Bradley's t-shirt half untucked and asked for assistance with his tie, and they both suited up.
The event was a sort of large-scale dinner party. Though it was a bit awkward being out with Colin on Valentine's Day, it appeared to be the sort of entertainment business event where lots of people in attendance were just business partners or co-workers. They both drank only water, as if by some unspoken accord. Bradley was already off-balance, sitting so near Colin in the crowded restaurant, watching the dimple in his cheek as he laughed. Alcohol would only make him do something stupid, he was certain, though at the moment he still wasn't exactly sure what it was that was making him so uncomfortable.
They snuck out early, when the dancing started. "You didn't want to ask anyone to dance?" Bradley asked as he loosened his tie. It was raining again, and the damp made his throat tight.
"Only person I knew there was you," Colin said softly, and when Bradley glanced over, his eyes were trained firmly on the water-dappled pavement.
Bradley didn't have anything to say to that, as was increasingly the case with Colin, so he didn't say anything at all, even when they parted ways for their respective hotel rooms. Colin didn't look back.
Afterward, in his own room, Bradley considered the situation as he hung up his jacket and shucked his trousers. Alright, so maybe everyone always thought he was as emotionally dull-witted as was Arthur, but he really wasn't. If anyone was, it was Colin, because Bradley was rapidly coming to terms with managing to have fallen in love with his co-worker while they were alone together in a foreign country, and Colin was even straighter than Bradley was (or had thought he was until fairly recently, when he'd spent over an hour considering the various merits of licking Colin's neck), and oblivious to it all, too.
He stepped into the shower, wincing at the initial shock, then running anxious fingers through his hair. It wouldn't do to stay like this. He felt like he was sixteen again, in love with someone unattainable and being even more of an arse than usual to try and win the attentions of a person who really didn't care. If there was one thing Bradley James would never be, though, it was a coward. Perhaps the best way to deal with this would be to march right over to Colin's room, talk this out with him, and assure him that a silly little crush didn't mean they couldn't work together like professionals, and that it didn't mean he would ever jump him in an elevator, prop room, or deserted part of a castle. Although oh, that did sound rather nice.
Yes, he thought, this is exactly what I need to get over this. Bradley turned off the shower, ran a towel over himself and briefly over his hair, then tugged on boxers and a t-shirt and padded down the hall to Colin's door.
Outside, he listened at the door for some indication that Colin was awake. There was a low rumbling that he at first took for the television, but almost immediately after, realized was Colin's voice. Telephone, must be, he thought. Though he really didn't want to listen in, he somehow couldn't stop himself. By leaning up against the door he was able to just make out what Colin was saying.
"-Yes of course there's someone, but someone who doesn't feel the same way," he heard Colin say, "No, no chance." There was a silence; presumably the person on the other line was speaking. Then, "No, that's not what I want. You're right, of course. I need a girlfriend, or something. No, I'm not. Jesus. I wouldn't do that to anyone, it'd be cruel. Unless you'd like to. It'd be lovely and innocent and all that."
Bradley slunk back to his room, and spent the rest of the night staring at the ceiling. Colin was interested in someone. It was amazing how he'd only been aware of his own feelings for Colin for about ten minutes, and yet the thought was still so painful.
The plane ride back was torture. Colin was in the middle seat, with a very handsy older man to his right who kept trying to lean on Colin as he pretended to doze. As a result, Colin spent most of the trip half in Bradley's lap, curled away from the octopus-like appendages of his neighbor. He fell asleep again, and this time he was so close that Bradley could feel the tips of his hair brushing his shoulder. I think I'm rather mad about you, he thought, and imagined himself saying it aloud. He settled for covering Colin with the one, handkerchief sized blanket that economy class had so thoughtfully provided.
Back at home, they had about two weeks to themselves before filming began. Bradley spent most of it lying disconsolately upon his bed or scrolling through the cell phone pictures he'd taken of Colin throughout the trip. Finally, after he'd been steadily more and more morose for over a week, his mother marched into his room, hands placed firmly on her hips, and said, "Bradley James, you will tell me who you've become besotted with, right now."
So he did. "It's Colin," he said, "Colin Morgan. Merlin."
"Oh darling," his mother replied. "I'll make you toast and tea, but then you've got to go buy some new clothes and get your hair trimmed. You're going to need to get those scuffs taken off your shoes if you intend to win that one."
"Mum," he said plaintively, "What if he's straight? He's never given any indication that he likes me at all."
"Nonsense," she replied briskly. "I've seen the photos of you two. He's all soppy over you, it's quite clear. Now come downstairs and eat something, but first have a bath."
On the first day back, Julian had them shooting yet another scene in which Arthur would be inexplicably shirtless. Colin was supposed to help Bradley out of his shirt while they discussed the latest CGI monster, then tuck him into bed and wander off to some solo scenes about looking for a spell with which to fight the creature. The trouble was, every time Colin got close enough to chastely grasp onto the hem of his shirt, Bradley flubbed his lines and felt himself going all red and sweaty, and then Colin would become equally flustered.
"Closer," Julian intoned from the side of the set. "Come on, he's your manservant, he does this every night. This isn't the time to start being bashful, James."
Colin nodded grimly at Bradley and stepped a bit closer, then pressed his hands under Bradley's shirt and clasped onto the hem once more. It would have been fine if Colin's perfect, delicate knuckles hadn't dragged ever so slightly over Bradley's stomach, but they did, and Bradley yelped and leaped away, and they had to start the take all over. After an hour of this and various other Colin related acting disasters, Julian sent them off in disgust, telling them to work out whatever had their feathers ruffled and to be back in thirty minutes. Bradley slunk away to the canteen, where he found Angel sipping a cup of tea. "You look awful," Angel said calmly, when he threw himself into the seat beside hers.
He aimed for a cool nonchalance. "Filming's not going well, already. Colin and I've been having an awful time of it. Did you see he's shaved? He's all shiny and smooth-looking."
Angel's eyes narrowed consideringly. "So that's what this is about, then."
Bradley tried hard to look innocent. "Whatever do you mean, Angel?"
"Oh lord," Angel huffed impatiently. "I'm talking about your obvious and very apparent love for Colin, and that you've finally become so incredibly unsubtle, probably because you've finally realized it, that other people are starting to notice, too. Shall I continue?"
"No," he said hastily. "Also shut up." He dropped his voice. "How did you know?"
"I've known for ages because I'm not blind," Angel said quietly, "but also Colin called me from New York to tell me you were driving him mad. "
Bradley felt as though his stomach had dropped out. "Mad?"
"Bradley," Angel said in her most teeth-grittingly patient voice. "Although you should really be talking to him about this, I'm going to help you because you're so incredibly thick. You went to a Valentine's day dinner with him, got all dressed up for each other, and had a very romantic walk home together, in which he tried to get you to say something and you refused, and then you would not snog him, even though I'm certain he looked quite snoggable."
Bradley felt himself going red but most certainly did not care. "He—he wanted me to?"
"Colin's last two boyfriends were obviously slightly inferior clones of you," Angel said smugly. "I think it's safe to say that he likes your sort of bloke."
"Boyfriends?"
"Go to him," Angel said calmly, "And let me finish my tea in peace, will you?"
He found Colin leaning against a prop wall, watching Richard and Tony shoot a scene. Colin was turned slightly away from him, still dressed as Merlin in that blue shirt that made him look so pale and luminous. His arms were crossed loosely over his chest, and his fingers were tapping restlessly against his forearm. Bradley hesitated for a moment, transfixed by the motion, before shaking himself out of it and walking over to join Colin. "I need to talk to you," he said, and Colin jumped about a foot in the air.
"Oh," Bradley said, lowering his voice at Julian's pointed glare. "Sorry, didn't mean to scare you."
"No," Colin whispered back, and he was blushing. "It's just, I was thinking about you, and then you were really there, and for a second I thought I was imagining you."
Bradley stopped for one glorious moment, to consider what Colin might have been daydreaming about involving himself that would have him so on edge, then curled his fingers around Colin's bicep and said firmly, "Let's go."
Behind them, Tony and Richard were wrapping up their take.
"Yeah," Colin said, and he was standing close and warm beside Bradley. "Where?"
"Colin? Bradley?" Julian called. "Your turn again. Come on, no dawdling."
This time, the scene was an entirely different sort of agony. He likes me, Bradley thought, and really, how could he not have seen it before. Colin's touches lingered just a bit too long to be merely friendly, and his eyes followed Bradley's progress across the set, even when he was supposed to be focusing on something else. His cheeks were even a bit pink, still. This time, they got through the shirt removal without incident, although Bradley had to stifle a shudder as Colin's graceful hands went still over his ribcage for a moment. At their angle, slightly away from the camera, it probably wouldn't be too noticeable, and Bradley couldn't bring himself to care any more than that.
After the scene was shot, Bradley dragged Colin into a dark prop room and pulled him much too close for propriety. "Colin, do you like me?" He asked, and curled his hands into the front of Colin's shirt.
"What?" Colin spluttered halfheartedly, and made a token attempt at freeing himself.
"Oh god," Bradley said. "I'm such an arse. What I mean is that I'm totally mad about you. I'm at a total loss because of you. I just thought you'd be horrified to know."
"Oh," Colin said, Oh,and he relaxed against Bradley. "Why don't you just kiss me already? I've been wanting you to for ages."
"Well," Bradley said, and finally his ability to make effective retorts had returned. "I suppose I'll just have to kiss you for ages, to make up for it."
And so he did.