Chapter Text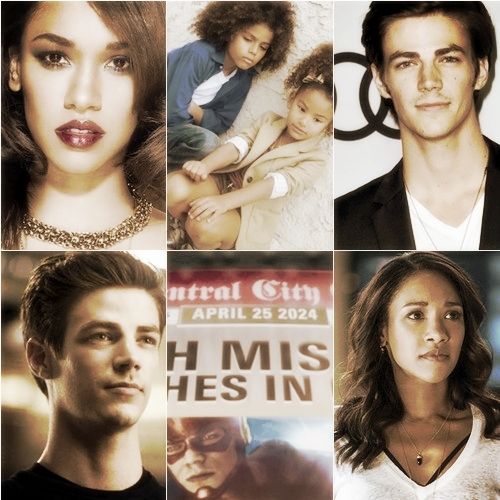 Westallen Week – Day #6 Prompt: Time (ex. past, future, time travel, etc.)
~o~o~
Chapter 1: Sweet Destiny
STAR Labs, a few months after the kiss:
Caitlin, Cisco, and Dr. Wells were watching Barry on the treadmill push himself beyond anything they had ever seen before.
"This is scary," Caitlin commented. "Just how fast is he going anyway?"
"He's past Mach 1 now, close to 800 miles per hour," Cisco replied. He glanced at Caitlin.
"Dr. Wells, maybe he should slow down," Caitlin suggested urgently.
"He's okay, just let him do this," Dr. Wells said, seemingly unconcerned. In fact, he thought that it wouldn't be long now.
Suddenly, Barry disappeared right in the front of their eyes.
Caitlin screamed, Cisco checked his readings, and Dr. Wells felt the urge to stand up and cheer, but he refrained.
"Where did he go!?" Caitlin asked terrified for him.
"I have no idea," Dr. Wells replied and inwardly smiled.
~o~o~
Ten years into the future:
Seconds later, Barry woke up, but Caitlin and Cisco weren't there. He touched his forehead. He had a headache. He slowly stood up, but no one was there. "Where is everyone?"
He left the speed room and walked out into the main Lab. "Caitlin, Cisco, Dr. Wells?!" He felt like screaming. Is this a dream? He wondered.
He turned at the sound of footsteps. It was Dr. Wells and he wasn't in a wheelchair. "What in the world is going on? You're walking? It's a miracle."
Dr. Wells glanced down at himself. "Barry, I didn't know you were here." He then realized that something was terribly wrong. He came closer. "Humor me, Barry, what day is it?"
"What; ummm, it's May 12, 2015," he replied, confused and very concerned.
"Come with me Barry," Dr. Wells said but just as they turned the corner, Iris walked in.
"Iris?" Barry asked, confused. "What are you doing here?"
She frowned. "You didn't answer your phone and I needed to see you. It's about the kids."
Dr. Wells inwardly groaned and Barry almost fell over. Dr. Wells held him up.
"What kids?" Barry blurted out. Then he thought the worst. "Did you marry Eddie and have babies with him?"
"What the hell is going on here?" Iris was utterly confused. "They're your kids Barry." Iris glared at Dr. Wells. She crossed her arms. "You sir, have a lot of explaining to do." It wasn't the first time Barry had traveled to the future, but this time must be his first.
"Let's go in here," Dr. Wells instructed. Iris followed him. Barry was rooted to the spot unsure what to do or even to trust them. It was Iris, but she looked different; older maybe? And Dr. Wells had miraculously regained the use of his legs. He was so confused. He touched his forehead then he fainted.
Iris ran to him, leaned down and touched his forehead. "He's burning up!" She exclaimed, so worried about him.
Dr. Wells also touched his forehead. "Help me move him." They managed to carry him inside the med lab and placed him on the examination table.
Barry's eyes fluttered open and Iris, or someone who looked like her, was hovering over him. She took his hand. "Iris, is that you?" He asked hoping it was true.
"Of course it's me, silly. Just relax and we'll figure this out."  She glanced at Dr. Wells and he was gathering his equipment. "You have to tell him the truth." He had no choice; Barry needed to know what happened to him.
"The truth, what truth?" Barry asked.
Dr. Wells sighed. "You're in the future, Barry. It's May, but the year is 2025," he explained.
Shocked and confused. "Did you say 2025?"
Iris squeezed his hand. "Yes honey, it's 2025."
Barry was surprised by the endearment; he loved it. He relaxed a bit and let the feeling wash over him. If what they were saying was true, it meant that they were still together, they were married and that they had kids.
Dr. Wells touched his forehead again. "His fever is reducing. He'll be okay."
Iris was so relieved. She touched his forehead, but it was different from Dr. Wells. He closed his eyes enjoying the feeling of her hand on his forehead.
Iris smiled and smoothed his hair. "Feeling better?"
He opened his eyes. "Yes, much better," he replied. It was the same smile he remembered.
Suddenly, Dr. Wells got a beep. It was Barry. "Excuse me," he said and hurriedly left the Lab.
"Barry, where are you?" He asked.
"I'm about a mile from the Lab. Is everything alright?" Future-Barry replied.
"No, you should go home. Iris left a message for you. Go on now," he replied hoping he would listen to him.
"Alright, I'm headed home now," Future-Barry answered, but he was confused.
Back inside the Lab, Iris was talking to Barry, telling him about the kids. If things progressed like before, he wouldn't remember any of it. She showed him photos of his children.
Barry's eyes watered. "They're beautiful. But did you say Dawn and Don? That's odd. Was that your idea or mine?"
"It was your idea and I went along with it. Our lives are so unpredictable and a bit odd, so I went along with it. I thought it was sweet and unique. They are so like you, Bear."
"Oh, you still call me Bear?" He wanted to burst into tears and he did. Iris handed him a tissue.
Dr. Wells came back inside. "It's time to go back, Barry."
He didn't want to leave Iris, but he knew she was waiting for him in the past. "Alright," he replied and sat up. She helped him down from the table. Her arm was around his shoulder supporting him and holding him up.
Barry was so grateful that he instinctively pulled her into a hug. "I love you, Iris."
"Oh, Bear, I love you too, always." She pulled away and touched his cheeks with both hands. "Remember that."
"I won't forget; I promise." He smiled at her, and the feelings were there. He leaned down and Iris couldn't resist him. She leaned up on her tiptoes and they kissed. It was sweet but very nice. "I'll see you soon."
Iris was going to cry. "Go on now." She gave him a bit of a shove.
"Alright, it's time to go," Dr. Wells said and escorted him back to the speed lab. Iris stood on the outside and watched as her love run faster and faster. Then he was gone in a flash.
~o~o~
Back to the present:
Iris was there waiting for Barry to come back. Dr. Wells had called her. He remembered what happened in the future and so he called Iris. Apparently, Iris knows the truth about Barry and, because this was his first time in the future, she should be there.
Moments later, Barry appeared before them. He collapsed and fell down. Iris rushed inside and helped him up.
Barry was confused at first then he stared at his love's lovely face. "Iris?"
"It's me," she replied.
"It is you!" He pulled her close and kissed her like there was no tomorrow.
"Ok, we should go," Cisco muttered and turned off the speed lab.
"He's home now," Caitlin said.
Dr. Wells frowned for a bit then he followed them.
Barry was the first to pull back. "What happened?"
"You disappeared and no one knew where you were. I was so worried." Her hands couldn't be still. She touched his cheeks, his hair, shoulders, and arms. He was home. Her eyes watered. "Are you Ok? Do you remember anything? Dr. Wells said," she couldn't finish.
"I remember," he replied and then he kissed her again. She kissed him back over and over.
TBC!
 ~o~o~
Song Inspiration: Vision of Love, Mariah Carey.
A/N: Aww, my babies. *sniffles* I hope you enjoyed it. I had to write this. My head canon would not go away. Thanks for reading! Reviews/kudos is love! An update is coming so stay tuned! :D