Chapter Text
Karkat would always remember exactly four things about the night that Sollux Captor left.
The first thing he would remember was the pitiful look on his face.
He'd just returned to the U of C campus' lowblood dwellings, back from a long evening of banging his head against a library table, and honestly hadn't expected to see his blockmate at all. Sollux's schedule had gotten more and more erratic as the last few weeks had ticked on, and by Karkat's count he was missing far more than an acceptable amount of classes. Not to mention not doing his homework, sleeping, or even bothering to stop and say hi, thank you very fucking much.
It was starting to piss him off, with an intensity that he didn't quite understand at the time. Asking the asshole's moirail had proved completely worthless too. While slightly easier to talk to, Aradia seemed to have no useful insight into the situation at all, and what she did say was vague to the point of uselessness. Like there was something she couldn't tell him.
Sollux sure as hell had better not have been avoiding him because of the things that had been happening between them lately. If he was, Karkat was going to break that scrawny yellowblood right over his leg.
It was in that state of fruitless irritation that he threw open the door of their shared respiteblock, hoping above all else that he would simply be able to flop onto his resting slab and not move for the next few hours. What he did instead was freeze in the doorway out of utter confusion, eyes wide and settled on just one thing: Sollux Captor, packing his bags in a tear-stained panic.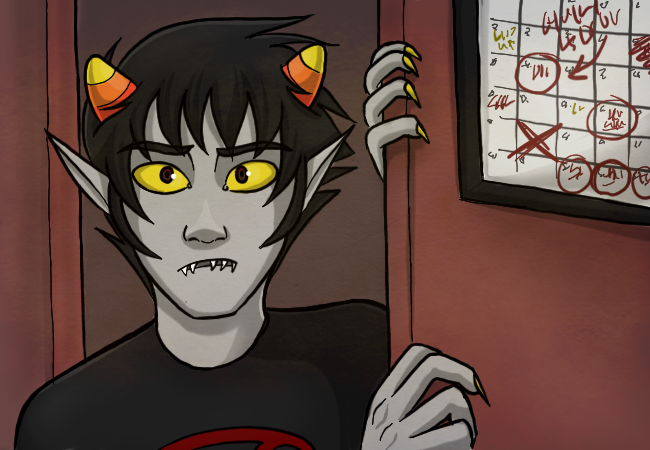 He'd clearly been crying, though the tears seemed to have become hot with anger as Sollux worked himself into a frenzy, out of patience for little things like his clothes not fitting in his bag, or the zipper giving him trouble. He was hurling the whole thing to the floor with an impotent cry of frustration as Karkat entered. He looked up, just too late to hide it.
The anger melted away for a fragile few moments as their eyes met, Sollux's expression becoming lost and hopeless, his hands shaking at his sides. Karkat stared back, an aching pain building in his chest, like whatever suffering Sollux was currently experiencing was powerful enough to be contagious. Karkat opened his mouth to speak.
"What the hell are you doing?" he asked, with more anger than he really should have. But he didn't understand, and he didn't know what else to say.
That was the hammer that broke the moment, and Sollux's expression instantly hardened, turning back to his packing.
"I'm leaving," he said.
The second thing Karkat would remember were the traces of blood on his hands.
They were almost imperceptible smears of red left on his grey skin, thicker and darker just beneath his claws. Like he'd washed but hadn't been able to get clean enough. Karkat's eyes widened, his brow furrowing in confusion. There were explanations for this behaviour, but he didn't like any of them.
"The fuck does that mean?" he spat, charging forward, the volume of his voice rising. Sollux tried to ignore him, tried to blindly continue packing like his friend wasn't even there, but Karkat wasn't willing to accept that. "The bulge-splitting shit is even going on, Captor?"
He made the mistake of trying to grab Sollux's wrist to examine the stains. The yellowblood swung a backhand at him that could have easily left a bruise if Karkat was any less quick.
He stumbled back and just barely out of the way. Sollux whirled around to face him, his fury ebbing away as he was consumed by a flash of shame.
"I'm dropping out," Sollux said, trying to be calm for a moment and failing. "I'm going somewhere else. I can't deal with this anymore."
Karkat let out a low growl, a left over, instinctive surge of aggression from the attack playing into his already existing frustration. Sollux reacted, scowling and folding back his ears defensively.
"That's bullshit," Karkat snapped, stepping forward again. Sollux was one of the most effortlessly capable people he knew. He was one of the best technical minds the college had ever seen. He'd passed most of his classes with ease in all the years preceding this one. The ones that hadn't been easy, he'd been able to learn. But now he was throwing his chances of making something of himself away - and for what? "You seriously think can just storm off now?" After everything they'd done? "After all the goddamn work you put into this?"
"I don't care about that anymore," Sollux said, grabbing the bag off the floor and throwing it onto his slab. He paused in his step. He hesitated, softening. "...Just...trust me, okay. Things have changed. I have shit I need to do elsewhere, and it's taking priority."
Karkat threw up his hands, disbelieving.
"What is even going on with you lately? Why won't you just fucking tell me?"
"It's none of your business," Sollux replied, hardening again. He was crossing the room, trying to get further away from him. Fuck that shit.
"Fuck you, 'it isn't my business'!" Karkat shouted back, stomping right after him. "There's fucking blood on your hands!"
The third thing he would remember was his anger.
With those words, something in Sollux seemed to snap entirely. He whirled around on Karkat, hurling the object he'd been trying to pack at him. Karkat didn't even know what it was - he just heard it whiz past his ear and make a heavy impact against the wall behind him. Karkat snarled back, getting his hackles up and trying to match that display of aggression. But in the end, it wasn't nearly enough.
"Leave me alone!" Sollux roared, and for a moment Karkat could have sworn his eyes - his mismatched and mutant iris'd eyes - glowed. Sollux pushed forward, the poison in his glare all it took to steal Karkat's ground. "I'm fucking leaving, and that's it! You can yell at me all you want, because I don't care, and I don't give single half-moist shit about what you think, you useless, loudmouthed runt!"
A shocked silence followed, its edges uncomfortably sharp as they stood there. Karkat felt frozen - his blood pusher hammering at his chest, just hands shaking at his sides. He took a staggering step back, an almost involuntary motion, like it was the only thing he could do to get things moving again.
He sputtered out the only thing that would come to mind.
"Fuck you!"
But his real fight was gone. He couldn't compete with whatever was going on in Sollux's head, and he didn't really want to.
And Sollux didn't look that happy to have won.
The fury faded, and for a moment it looked like he was even going to apologize, or at least like he really wanted to. But in the end, he didn't. He just shrugged his backpack over his shoulders with a hiss, took his other bags in his hands, and moved towards the door.
Karkat stared at him, speechless, letting him pass. It couldn't seriously be happening like this. He couldn't be leaving just like that.
It wasn't until he was already in the doorway that Sollux hesitated. He turned back, only slightly, and spoke.
"You can have my computer if you want." It was spoken dully, is if it'd been something he'd intended to say but would have never wanted it to be in this context. Then he looked away again, something harsh returning to his tone. "And whatever happens...stay the fuck away from Vriska Serket."
And then Sollux was gone. Karkat didn't follow him. Maybe he should have. He didn't know. It's something he would wonder about for many perigee to follow.
Instead he slowly sank onto his resting slab, burying his face miserably in his hands.
The fourth thing he would always remember was how he was sure it was somehow his fault.