Chapter Text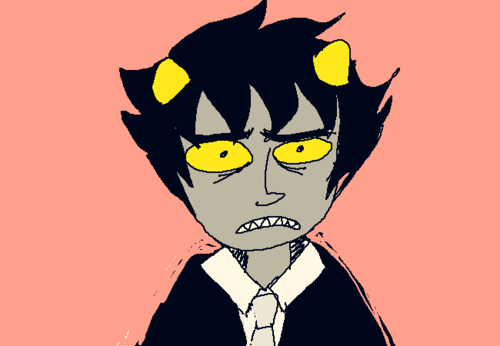 Your name is KARKAT VANTAS and your LIFE IS OVER. AGAIN.

Senior prom. Many a romcom has assured you that this is the highpoint of your natural life, and that after this your happiness will hit the road, Jack. Youth, innocence and joy will be tossed down the gaper. You will be left to moulder at the top shelf of life's pantry, sort of like an abandoned taco kit.
It was also the last shot you ever have of winning the affections of the LOVE OF YOUR LIFE: the ANGEL OF YOUR MORNING, the SYRUP TO YOUR PANCAKES, your SIN, your SOUL, your PALHONCHO, your AMIGOLORD.
Your DRUM MAJOR.
---
You have basically been in love with John Egbert since junior high and are continually stymied by his UTTER STUPIDITY and BULLSHIT "HETEROSEXUALITY." You care about him so much that the sensation is akin to a severe intestinal infection. He is the most beautiful and irritating carbon-based lifeform to inhabit any universe. John is your best friend and chronic prom date and you make one hell of a team, despite both odds and logic. Nobody fucks with you two.
At this moment you should be paldancing with him like he wanted. Are you?
No. No, you goddamn tool, because you're FOREVVER ALONE.
--SHOW PROM LOG--
kar this is it
WHAT.
wwere completely wwashed up
this is the last prom wwe are evver goin to partake in and wwe couldnt get our act together evven after all a these years
all endin up on the couch again wwith a tiny bottle a gatorade and a wwhole can a strawwberry quik cause wwe cant evven find the icecream through our miserable glubbin tears
all eatin it dry wwith a spoon
FIRSTLY: DO NOT LUMP ME IN WITH THE SPECTACULAR BUTTFLIP YOU HAVE MADE OF YOUR PERSONAL LIFE. SECONDLY: SHUT UP.
You hate it when Eridan is remotely right about anything.
---
Eridan is kind of your bro, when all is said and done. He is also supremely whiny but he's been there for you through thick, thin and Terezi, so he might be a NEEDY FISHY HIPSTER COLOR GUARD DICK but he's YOUR NEEDY FISHY HIPSTER COLOR GUARD DICK. You two are sharing the bitter, Faygo-tasting swill they call loneliness, but it's better than chugging alone.
--SHOW PROM LOG--
kar do you remember the middle school promise you made
THE SCLERA-PEELING EYESORES PASSING FOR SENIOR PROM DECORATION HAVE REMOVED ALL HORSESHIT FROM MY IMMEDIATE MEMORY. SO YOU PROBABLY, UH, CAN'T HOLD ME TO ANYTHING, CONSIDERING THA
kar you said if wwe both ended up ten swweeps and didnt net anyone and john didnt notice you wwere alivve on account a him bein a bassinine nooksuck like you said wwe should take the plunge and just get

together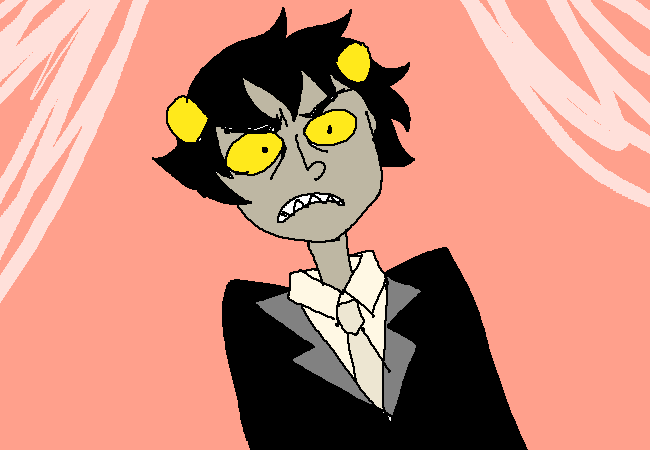 The situation is swiftly going critical.

==> KARKAT: SURVEY SHITHOLE.

---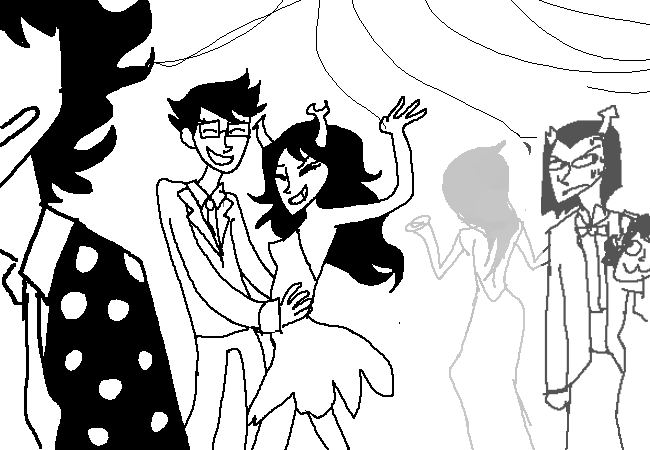 There he is, mashing his body up against the unscrupulous A-cup villainy of Vriska Serket's. They dance like two weasels massaging their hips together. Also, the weasels are drunk.
This would be more unbearable if she wasn't his moirail, but she still feeds off his attention like an emotional Rainbow Drinker (no offense to other moirails you know). It is a situation completely different and not at all comparable to how you like to hang out with John.
Seriously, that's practically an act of charity. It is you flinging yourself on a blathering Egbert grenade, saving civilians from having to listen to the latest deep-text interpretation of Moonstruck. Fucking heroism itself!
I mean, you like Moonstruck way more than Vriska does.
YOU'RE NOT JEALOUS
==> CONTINUE SURVEYANCE
---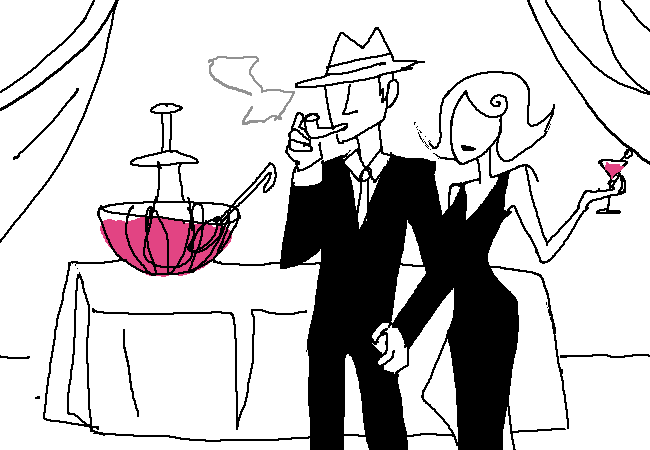 Over at the refreshments table the AHS Prom Committee has provided an exquisite libation of pink shit.
The watchful vanguards of the dancefloor have set up in front. This consists of MS. LALONDE, a woman as curvaceous and cunning as she is DRUNK. She is arm in arm with MR. EGBERT, known to you colloquially as JOHN'S DAD.
An hour ago John demanded his Dad take prom polaroids of you both that were more "bromantic!" and "palssionate!". He then re-tied your tie thirteen times. Mr. Egbert proceeded to present a cake bearing the legend:
CONGRATULATIONS ON THE LAST DANCE WITH YOUR CLOSE PLATONIC FRIEND
You can't believe he fit all that on. The man is a true icing gymnast.
==> CONTINUE PERUSING PROM PURGATORY
---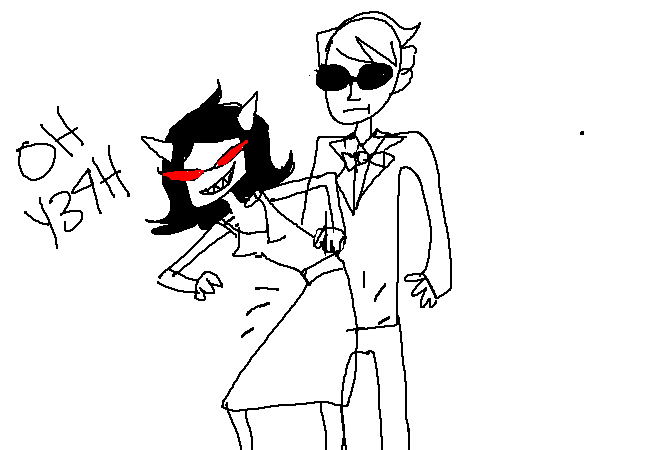 Speaking of purgatory: there she is, the middle school love of your life. All five foot two inches of her grinding her glacier sharp hips into every guy and girl on the dance floor like she's trying to saw them off at the midpoint. Her tongue lolls out from between her serrated teeth. Ominously.
Suddenly she's looking (smelling!) right at you!
==> KARKAT: FUCKING ABSCOND
---
You cannot abscond because Eridan is holding your wrist so sweetly and so gently.
--SHOW PROM LOG--
H4H4H4, LOOK1NG "COOL" K4RK4T.
GO AWAY.
YOU SHOULD COM3 D4NC3 W1TH M3!
FUCK NO. I DON'T THINK I'VE GROWN SKIN BACK ON MY STOMACH FROM THE LAST TIME YOU GOT YOUR CLAWS INTO ME AT ONE OF THESE ASININE EVENTS.
BESIDES, WHAT ABOUT STRIDER?
Strider is leaning against the far wall, near the punch and trail mix. He looks devastatingly cool. It makes you sick.
D4V3 4ND 1 H4V3 4N "OP3N PROM R3L4T1ONSH1P" H3H3H3.
ill dance wwith you rez
UH 4CTU4LLY ON S3COND THOUGHT 1 H4V3 4 F3W "TH1NGS" TO T4K3 C4R3 OF.
H3H3H3H3.
UGH. YOU ARE CACKLING EVEN MORE THAN USUAL. WHAT ARE YOU UP TO?
OH, "NOTH1NG".
Her grin suggests that it is most certainly not "nothing". The fact that she makes air quotes around the word doesn't help.
UH HUH.
4NYW4YS, WH3NS K4N4Y4 G3TT1NG H3R3?
==>KARKAT: DIVINE THE LOCATION OF YOUR MOIRAIL
---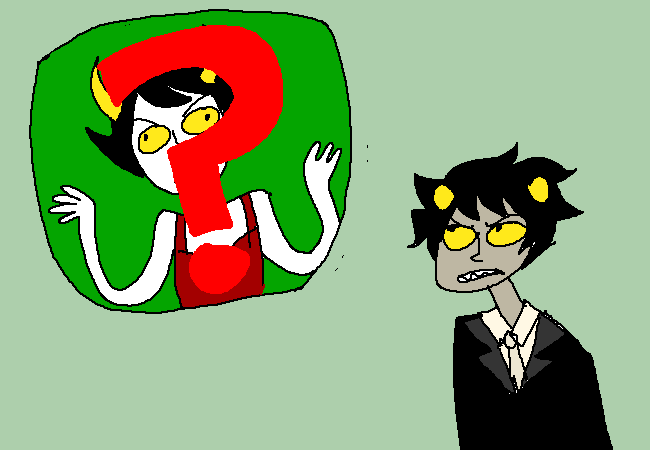 You do not fucking know the location of your moirail! Where is she in your hour of need!?!?!?
WHO KNOWS? I ESTIMATE SHE'LL ARRIVE WHEN SHE HAS FINISHED STRIP-MINING LALONDE'S ADENOIDS. AT SOME POINT SHE WILL DIMLY REMEMBER THE BOY CALLED 'KARKAT', A POOR SOUL SUFFERING IN THE ABSENCE OF HER PALEST OF MINISTRATIONS.
AT THAT POINT I IMAGINE SHE WILL SHRUG NONCHALANTLY AND CONTINUE EXPLORING THE MYSTERIES OF THE FEMALE HUMAN BODY WITHOUT PAUSE OR HEED FOR MY VERY REAL SUFFERING!
. . . SO TH4TS 4 NO?
==>KARKAT: STARE FLATLY.
---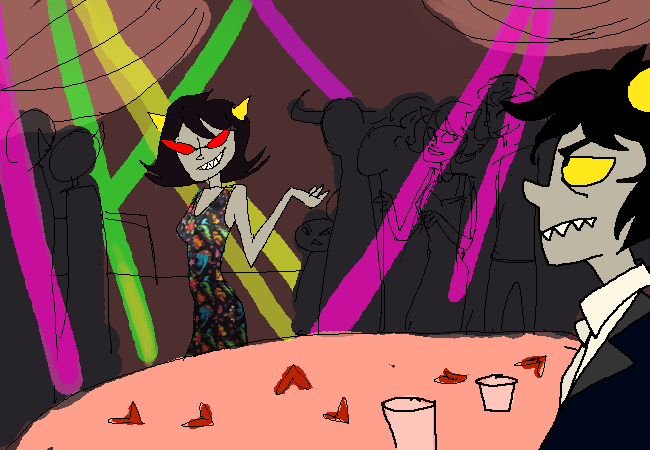 Terezi shrugs and bids you farewell kind of flippantly, grinding her way across the dancefloor towards her insufferable prick of a boyfriend.
That conversation was completely pointless! And Eridan...
...is still holding your wrist. His gaze is turning wistful. You might even caution to call it... HOPEFUL.
Egbert and Vriska are now mulching their bodies together in a grotesque homage to Dirty Dancing, though apparently John's lost the argument and is having to be Jennifer Grey. As for you, asshole? You've crashed on Eridan Commitment Mountain, and night is falling fast.
His grip is damp and really disconcerting. You gotta get out of here.
==> BUT HOW?
---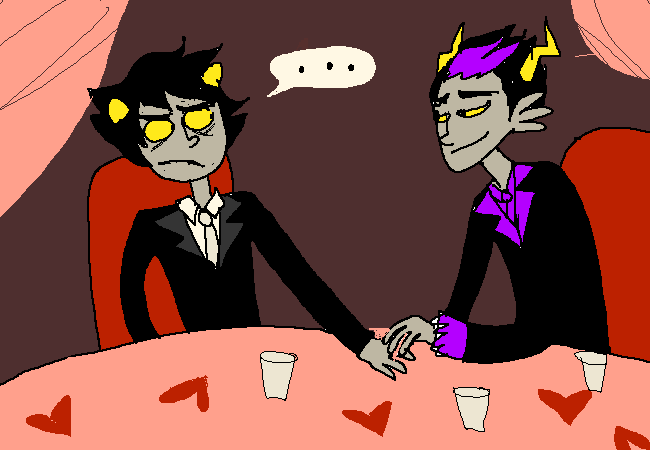 >Contemplate an act of desperation so deep and unfathomable as to be unspeakable in order to draw Egbert's attention.
Dance with Eridan.
Why not?
Actually, that's an easy question to answer. Ampora is like an Ingenious Cylindrical Device Which Locks The Fingers Of The Stupid Or Gullible Inside It, a classic interrogation tool of the League of Legislacerators that for SOME STRANGE REASON human children are given as playthings. The point is, once you go down that road you might not get back out.
On the other hand...
==>FONDLY RECALL A SCENE FROM ONE OF YOUR FAVOURITE MOVIES
---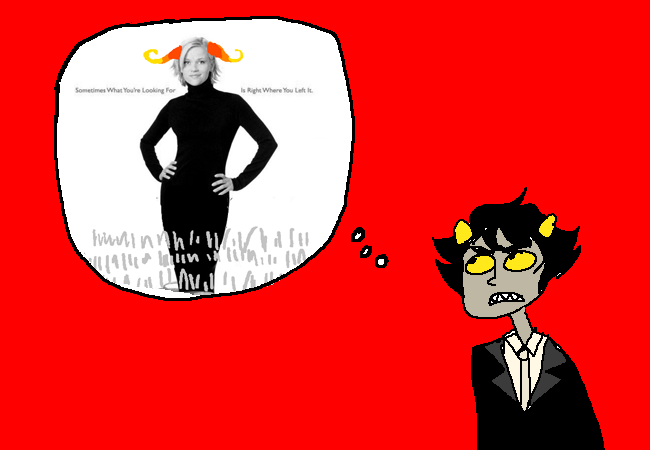 You fondly recall a scene from the classic troll romantic comedy, A Green Blooded Troll Develops Flushed Feelings For The Neutral Party In His Auspistice And Is Forced To Go Through Several Rigorous and Roundabout Tasks That Serve Little Logical Purpose Except To Contritely Move The Plot Forwards By Means of Pithy Sight Gags In Order To Win The Affections Of His Future Matesprit. These Sight Gags Include Four Fatal Defenestrations, Two Misdirected Assassinations, Five Humorous Decapitations and One Simulated Sex Act With a Hoofbeast. In The End The Green Blood And His Former Auspistice Are Able To Consummate Their Newly Blossomed Red Romance When The Third Member Of The Ashen Triangle Is Eliminated In a Bombing Raid on An Alien Planet.
In this movie there was a scene where the protagonist performed a traditional Alternian Death Dance with his Commanding Officer in order to make his Auspistice jealous.
And it totally worked.
Many people have lied to you in your life, but never the romcoms. This has to work.
==>DANCE...... WITH............ ERIDAN......
---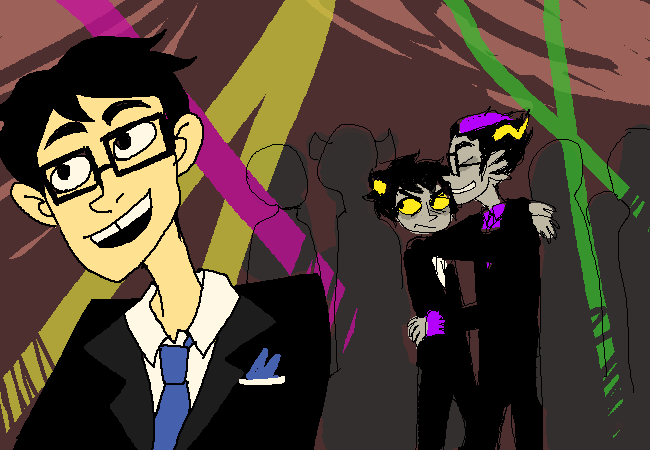 This is a thing that is happening.
--SHOW PROM LOG--
oh my cod kar are you searious
NOW. BEFORE I COME TO MY SENSES.
You dance with Eridan "for real". You even deign to allow him a soggy waist-grab. You drape your arms over his shoulders limply, so as not to encourage contamination.
But your eyes are on Egbert the whole time.
---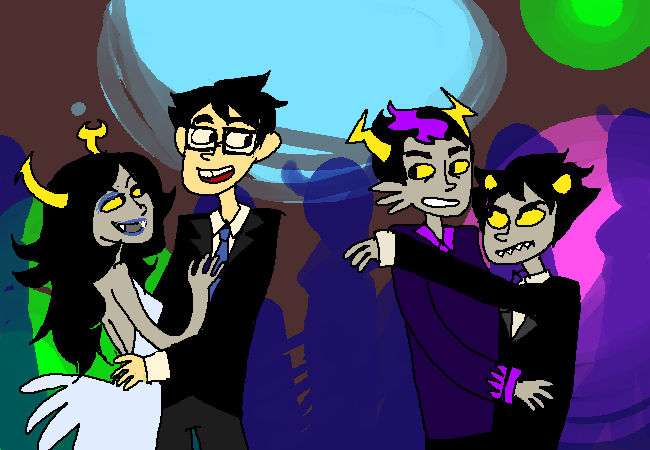 Does he notice? Does he hell.
He and Serket are too busy making the floor their own personal playground for assholes. John is way too into dancing. Once he starts, you can be assured his limbs will be flailing out of time to each other right up until the last note of "Toxic."
He is like this with you, too. It makes you swoon nauseous get a migraine in your inflating cardiac sac sick.
But wait, what light through yonder buckteeth breaks?
--SHOW PROM LOG--
hey, karkat! hi, eridan! you guys rocking out?
Hi, assholes!!!!!!!!
hi john hi vvris dont mind us
wwe are simply dancin in a wway some wwould say is quietly passionate
haha, i can see. karkat, are you trying to make me "frienvious"?
DON'T SAY YOUR SINGLE BRAIN CELL IS ALREADY YEARNING TO CLASP ME IN YOUR ARMS TO SPANDAU BALLET.
all of my single brain cells yearn for that, karkat. all of them. they yearn so hard i think my pitabread gland just squirted out yearning.
PITUITARY. THIS IS WHY WE ARE FAILING BIOLOGY LIKE THE MISERABLE FUCKS WE ARE.
i meant my pitabread gland.
What John means to say is until such a time as stupid moron music comes on for jerks, "Ms. New 8ooty" is OUR jam.
no prob i can wwonder at howw perfectly right kar feels in my embrace til then
dude, keep him warm for me.
vriska and i have to bust a groove!
Of course, the Committee has sourced the same tone-deaf shitbag DJ they pay in Fro-Yo coupons every year. There is every probability he will play "Spice Up Your World" for three hours straight.
kar you knoww through some complicated legal loopholes wwe are like 3/4ths matesprits ovver here
I CANNOT BELIEVE YOU ARE TRYING THAT FUCKING LINE ON ME. AGAIN.
seadwweller culture
==> HE HAS TRIED THIS LINE ON EVERYONE, INCLUDING OTHER SEA DWELLERS.
---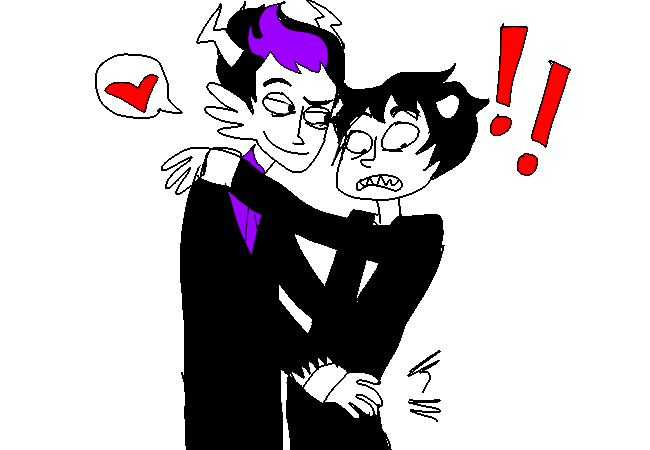 This cannot stand. You have to dump Eridan and change the music before his hands invade further south of your hips.
But he's got a taste of blood now. He's not going to detach until you pawn him off on a better target. Someone who can give you a few minutes of leeway. Hey, maybe even someone who will fall thoroughly in love with the guy and alleviate your guilt take him off your hands.
Or hate. Or myopic lust. You really don't care at the m
shit his hands are travelling
==>KARKAT: FIND SOMEONE BEAUTIFUL FOR ERIDAN TO DANCE WITH.
---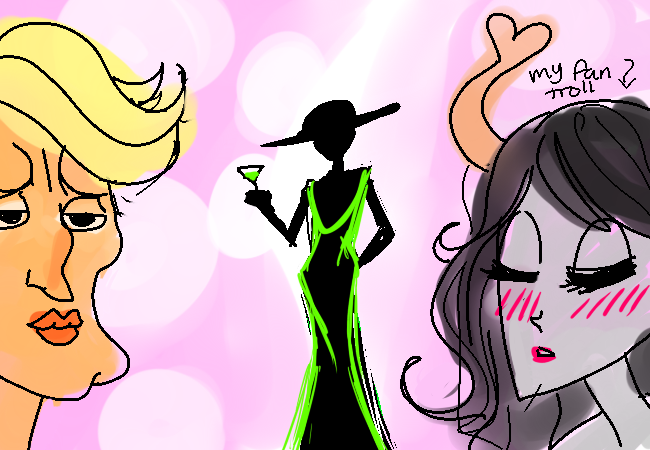 Your best chance is to find someone attractive enough by the guy's standards (breathing), but who might not run away when presented with a faceful of Eridan Ampora (like anyone who knows him).
The room is filled with beautiful people. There are so many to choose from. Just check out Captain Buttchin and the Duchess Saucereyes over there. But who is this mysterious stunner with the glass of glowstick fluid?
You pick her straightaway. Escaping in that evening gown would be a bitch, for one.
--SHOW PROM LOG--
ERIDAN, DO YOU SEE THAT "FINE EXAMPLE" OF A WOMAN?
yeah kar but thats
NO. DON'T SAY A WORD. I THINK YOU SHOULD GO TALK TO HER.
kar are you out a your coddamn MIND wwhat the
I HAVE ALL OF YOUR BEST INTERESTS AT MY INNARDS.
wwait thats
Too late. You push Eridan at the MYSTERIOUS SWANKY WOMAN, and then you make your ESCAPE. You sly devil. Thinkpan like a heavy-duty nuclear furnace, that's you. Wit of three foxbeasts taped together. Body of a brick.
---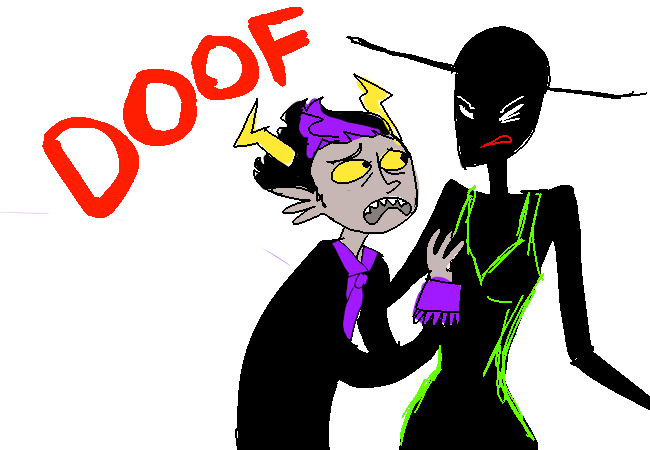 You realise your mistake too late.
Which is weird, considering that Eridan removed his glasses to pucker his features into grotesque seductiface and you've got perfect vision. You could put this down to either your IMMENSE STRESS or your COMPLETE STUPIDITY.
You have thrown your sad seadweller bro right into the arms of the witchqueen of Felt High, the mistress of their marching band, and Mr. Noir's hate-date. The woman who once melted a whole brass section into slag with a twitch of her eye, then sashayed off with her hips moving inside her dress like two cats fighting to death.
Those were Mr. Noir's words, incidentally. He added more, but that stuff was unrepeatable.
==>YOU PROVE YOURSELF A COWARD WHO WOULD DESERT A DYING MAN.
---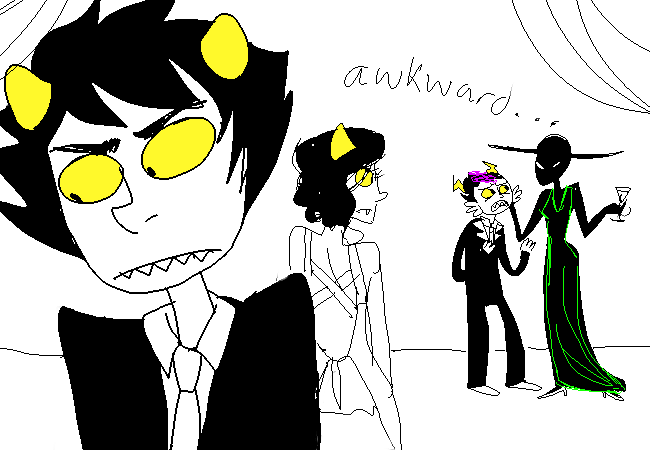 Look, who can blame you? You are a man with a mission and Eridan is a man with wandering hands who maybe needs to learn some sort of cautionary tale you'll figure out the moral to later. Right now you're working on your own happy ending and that sure as hell is not happening if this DJ keeps playing the entire soundtrack to Dirty Dancing all night. You need a REPLACEMENT DJ and there is only one man who can help you.
==>BEGRUDGINGLY ENLIST THE HELP OF DAVE MOTHERFUCKING STRIDER
---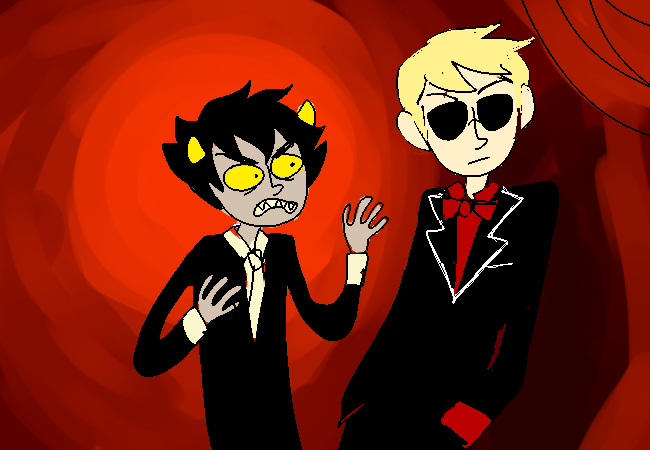 Dave Motherfucking Strider is currently leaning against the wall with his hands in his pockets, the traditional mating pose of coolkids. It's also the traditional everything pose for coolkids because coolkids are infuriating shit-stains who can't just admit that they dance like limbless tree-howlers drunk on soured hoofbeast milk.
Nevertheless, this asshole is your only hope. You have to get him behind those turntables if it's the last thing you do! Unfortunately, right now he appears to be distracted.
--SHOW PROM LOG--
STRIDER, GET OFF YOUR LAZY, PALE HUMAN ASS AND KICK THIS LOSER OFF THE STAGE.
ONLY YOU ARE A BAD ENOUGH DUDE TO SAVE PROM. OR HOWEVER THAT GOES.
nope
WHAT DO YOU MEAN NOPE? DON'T YOU DELIGHT IN THIS SORT OF SHIT?
DO YOU NOT RELISH ANY CHANCE IN WHICH YOU ARE OFFERED THE CHANCE TO "SHOW UP" SOME "FOOL" WITH YOUR "SLICK MOVES" AND "ILL BEATS" THAT ARE GUARANTEED TO "INCAPACITATE" THEM, LEAVING THEM EMPTY AND HOLLOW TWITCHING IN A PUDDLE OF THEIR OWN "SHAME"?
yeah but
BUT WHAT?
look vantas gonna be honest but i got a great view here
==>FOLLOW STRIDER'S LINE OF SIGHT
---
Strider is..... staring at Terezi's ass as she leans over the punch.
dude im not moving from this spot
look at all that junk in her trunk
STRIDER, THERE IS NOTHING THERE.
Why are you discussing Terezi's ass? GET BACK TO BUSINESS.
You cease seriously unbecoming asstalk and return to business. Once upon a time, you were going to marry that ass. You would have loved and cherished that ass as the only ass in your life.
==>HAVE A FLASHBACK TO THAT ONE TIME IN MIDDLE SCHOOL THAT YOUR LIFE WAS OVER
---
TEREZI, I AM GOING TO LOVE AND CHERISH EVERY PART OF YOU, EVEN THE PARTS THAT ARE NOT STRICTLY THERE, FOR THE REST OF MY NATURAL LIFE.
H4H4 OK4Y
And then she broke it off and broke your heart. She tried to touch your hands for stupid reasons. She told you it on the phone because I guess she wasn't man enough to tell it to you in your face.
==>BACK TO THE FUTURE, IDIOT
---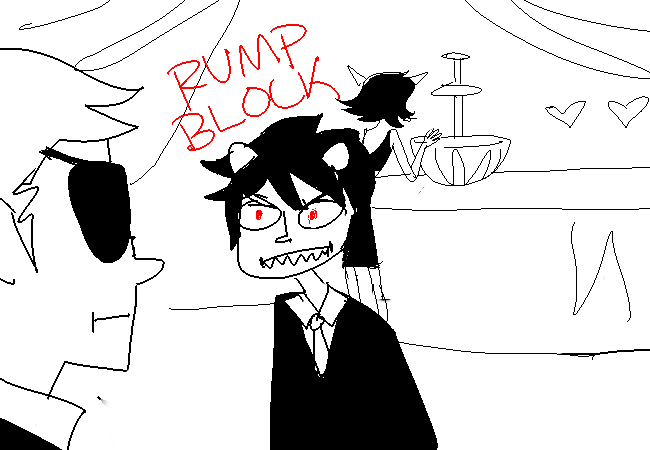 LOOK, STRIDER, YOU HAVE ALL THE TIME IN THE WORLD TO LOVINGLY CARESS THE FORTY-FIVE DEGREE ANGLES OF TEREZI'S PRETEND ASS WITH YOUR EYES. RIGHT NOW WE HAVE TO FOCUS UNLESS YOU WANT TO GREASE YOUR AURAL CANALS WITH "SHE'S LIKE THE WIND" ALL FUCKING NIGHT.
sure but whats in it for me
===>KARKAT: OFFER DAVE A BJ
---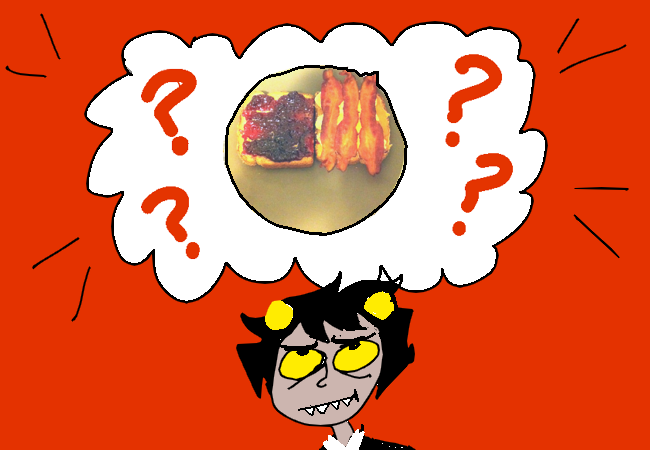 Ridiculous. You do not have a bacon & jelly sandwich on you, nor the fixings to make one. Plus, you are pretty sure that humans find bacon & jelly sandwiches "gross." If it wasn't for that you would offer Dave a BJ, and when he accepted that BJ, you would give him a BJ.
But it's never to be. Humans are bullshit philistines.
What now?
==>OFFER TO SHARE EX-SOUL MATE'S MOST INTIMATE (MIDDLE SCHOOL) SECRETS
---
Of course! What better way to win an enemy's favour than through blackmail of a mutual acquaintance, especially one that your enemy has concupiscent yearnings for! The acquisition of blackmail is one of the greatest romantic gestures in all of troll culture. If you share some of Terezi's darkest secrets with this douche-nozzle, he will no doubt find himself so gripped in throes of gratitude that he will do anything you ask of him.
Except perhaps give you a BJ.
Man, you could really go for a bacon and jelly sandwich right about now.
HEY STRIDER. LISTEN UP. MAKE SURE YOUR ORATORY CANALS ARE CLEARED AND YOUR THINK PAN IS READY, I AM ABOUT TO LAY DOWN SOME INTENSE, HIGH GRADE GOSSIP. I AM GOING TO BRING IT. I WILL SET IT ON THE TABLE FIRMLY AND YOU WILL BE FORCED TO OPEN THE PACKAGE AND FACE THE BLINDING TRUTH ABOUT THAT ASS YOU ARE NO LONGER STARING LUSTFULLY AT.
what the fuck are you talking about
I JUST THOUGHT YOU WOULD LIKE TO KNOW.
know what
I THOUGHT YOU WOULD LIKE TO KNOW SOME DISTURBING FACTS ABOUT OUR MUTUAL "FRIEND", ONE TEREZI PYROPE. THE DEEPEST AND MOST SHUDDERING SECRETS OF HER YOUTH.
Does Strider look intrigued?
wait youre gonna like tell me shit about tz she hasnt told me
like you got some real nasty toejam month old encrusted shit under my soccer cleats dirt on the girl and you get what
I GET YOU AGREEING TO HELP ME THE FUCK OUT AND END THIS PURGATORY OF NOTHING BUT HUMAN PATRICK SWAYZE REFERENCES.
He definitely looks intrigued.
yeah okay vantas
what you got
WHAT I "GOT" STRIDER IS SO GOOD YOU BETTER TAKE THOSE ACCURSED BUT SO DELICATELY AND MUSICALLY INCLINED HANDS OUT OF YOUR POCKETS AND BRACE YOURSELF AGAINST SOMETHING SOLID BECAUSE THIS ONE IS GOING TO KNOCK YOU OFF YOUR FEET AND MAKE YOU RECONSIDER YOUR LIFE AND YOUR CHOICES.
sure
IN MIDDLE SCHOOL.
obviously
IN MIDDLE SCHOOL TEREZI HAD A CRUSH ON...
you
i know
i was pretty horrified
NO SHUT UP. IT WAS JUDGE JUDY OKAY.
AND NOT EVEN THE REGULAR TROLL JUDGE JUDY. THE TERRIBLE, HUMAN ONE.
okay
WHAT? OKAY? JUST OKAY?
WHERE IS YOUR DISGUST, YOUR DELIGHT, YOUR RELISH AT THIS EMBARRASSING SECRET FINALLY UNEARTHED?
dude i hate to inform you but terezi is still sweet on the scarlet haired temptress j boss
has pictures of her fuckin glued to the ceiling
every time i see that rictus grin my dick takes the emergency exit up into the meadowed haven of my urogenital folds all hey testicles how you been
long time no see wanna go for a drink
thanks karkat
thank you for reminding me why i am still a virgin
What a twist! Your brilliant plan has only made things worse!
==>KARKAT: DRAW SHITTY CARTOON ON NAPKIN.
---
All other approaches have failed. It looks like you'll have to stoop to your last resort.
You will have to communicate with Strider in his own language.
You grab a napkin from a nearby table and draw him some fucking instructions, since he obviously needs them.
==>PRESENT THIS GLORIOUS MASTERPIECE TO DAVE MOTHERFUCKING STRIDER AND AWAIT HIS REVERENT WEEPING
---
oh my god
YES, STRIDER. THIS IS A MESSAGE FROM GOD. AN INSTRUCTION MANUAL FOR THE INTELLECTUALLY CHALLENGED. A TWO STEP PLAN TO NOT FAILING SPECTACULARLY AT EVERYTHING YOU HAVE EVER ATTEMPTED TO ACCOMPLISH.
karkat this
am i supposed to be gently caressing the turntables exposed breasts there
am i teasing forth the sweet milky nectar of unmannerly rhymes
WHAT? NO!
FUCK YOU!
THOSE ARE RECORDS YOU MORON.
john looks like a block of gouda
NO, HE LOOKS LIKE A DISASTROUSLY HANDSOME MORON ABOUT TO BE RAVISHED BY HIS ONE TRUE LOVE.
what
UH, I MEAN.
YEAH HE KIND OF LOOKS LIKE A BLOCK OF GOUDA.
okay vantas you got me ill do it
for some reason the whole process seems a lot clearer to me now
---
Success! You reap the rewards of your hard work and watch as Dave initiates a STRIFE with the hapless and unsuspecting DJ. The poor guy doesn't stand a chance.
WHAT NOW?
==>KARKAT: REVIEW INVENTORY
---
You fondly regard your vast collection of USELESS BULLSHIT.
CANDY CORN: your prized confection. You keep it in your pocket where it can be marinaded deliciously in lint. Your moirail is crazy for this stuff.
THE KEY: ...to your heart.
Actually, you have not the slightest lumpsquiddling idea what this is the key to. You are really carrying around a whole heap of unpleasant debris.
CORSAGE: Generally a gentleman receives a boutonnière, but John showed up with a smile like two slabs of ricotta and a wink that could burn down the whole city. And you ended up wearing his corsage.
This happens every year. He phones you up beforehand to ask what colors you're wearing. You only have one fucking suit, John.
WEIRD DOOHICKEY THINGAMAJIG: What is this? What does it do, and where did it come from? What is its composition? It looks like a witch intestine.
PROM FAVOR: The AHS Committee prides itself on its sumptuous prom favors. But it shouldn't, because this is a dollar store taffeta bag with three animal crackers inside. The high-pitched bridal squeal Egbert emitted at his cannot be replicated.
What conspiracy lies within the AHS Prom Committee? Why are they attempting to seduce the love of your life? Who is John Galt?
TUNE SPECIBUS: Sousaphonekind. A hero's instrument. Eighty pounds of thunder and lightning on your shoulders.
Well, you are carrying around more shit than a septic tank. But you slip on the CORSAGE. Lookin' smooth!
It has little rosebuds on it.
==>KARKAT: PROCEED TO SPITEFULLY DANCE WITH EVERYONE BUT JOHN.
==>FIND JADE HARLEY; AS SHE IS PRETTY COOL (EVEN THOUGH YOU'D NEVER ADMIT IT IN 1000 YEARS) AND CAN PROBABLY OFFER UP SOME ADVICE IN YOUR QUEST TO JOHN'S HEART.
---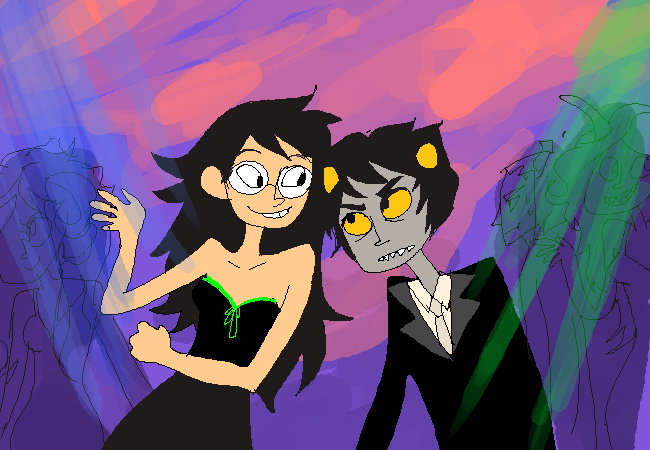 HARLEY I REQUIRE ASSISTANCE.
omg karkat you are sooooo cute in a tux!
A-AM I REALLY? UH -
You are flustered for a moment, but soon regain your manful composure.
OF COURSE I AM.
of course you are! you are like a little prince!
R-REALLY?
lol, no. i have no idea what a troll prince looks like!!
and you don't really look like a human prince either, but i still think you look........
She pauses dramatically, framing her face with her hands in a manner way too reminiscent of her twin brother -
..... really cool!!!!!!
OKAY, HARLEY I NEED YOU TO SHUT YOUR WORD HOLE FOR A MINUTE HERE AND TAKE THIS SERIOUSLY. I HAVE A REAL, GENUINE PROBLEM HERE AND IT INVOLVES -
oh, is it about john again. ugh.
- YOUR BROTHER IN A VERY INTGODDAMNIT HARLEY.
karkat i have some advice for you!!!!!!!
THAT WOULD BE A NICE CHANGE OF PACE. SPIT IT OUT!
kiss
him
right
on
the
mouth!!!!!!!!!!!
NO WAY. THAT'S WHAT YOU ALWAYS SAY. REMEMBER WHAT HAPPENED LAST TIME?
==>FLASHBACK TO THE LAST TIME YOU KISSED JOHN RIGHT ON THE MOUTH
---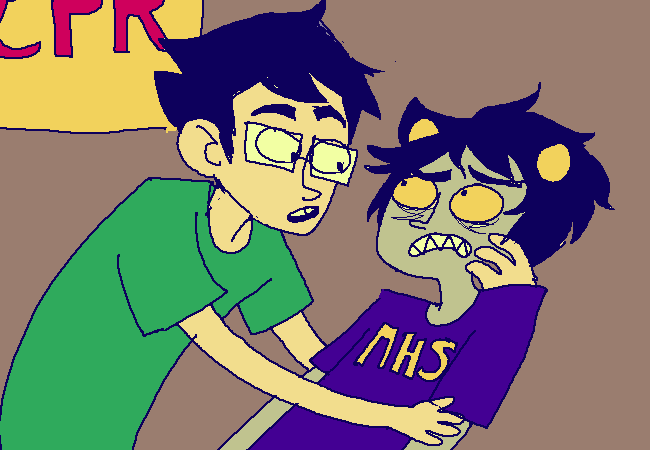 okay karkat, you go be the mysterious swimmer who i hauled out the ocean and i will be the lifeguard who resuscitates you with his mouth.
WHY ARE YOU MAKING A BACKSTORY FOR THIS?
and afterwards you're all "holy shit, i might have died!" and i'm like "ha ha, sir, it's nothing, just my duty as a lifeguard" and you're like "this is serendipity just like in one of my godawful romcoms and we should be bros forever, can i buy you curly fries."
JOHN, WHAT ARE YOU DOING. JOHN, WE ARE MEANT TO BE PRACTICING ON THAT PLASTIC DOLL CORPSE.
if i'm meant to put my hands on the breastbone between your nipples, what do i do if you don't have nipples?
YOU DON'T ATTEMPT TO GIVE ME CPR, OBVIOUSLY! EGBERT, YOU QUIT THIS HORSESHIT THIS INSTAMMPH MMPH MMPH
Nobody seemed to notice and/or care that John had hauled you down to practice rescue breathing and chest compressions. In fact, you recall people stepping over you. Salt was massaged liberally into the wound after by John proclaiming you tasted like "breakfast burrito!" and giving you a long, earnest explanation of how if you ever needed cardiopulmonary resuscitation, he now knew how to give it to you, and that knowing was half the battle.
He called it "cardibro resuscitation" afterwards. Egbert also claimed it stood for "conventional pal relationship."
==>SURELY THAT WAS THE FIRST INCURSION INTO KISS TERRITORY
---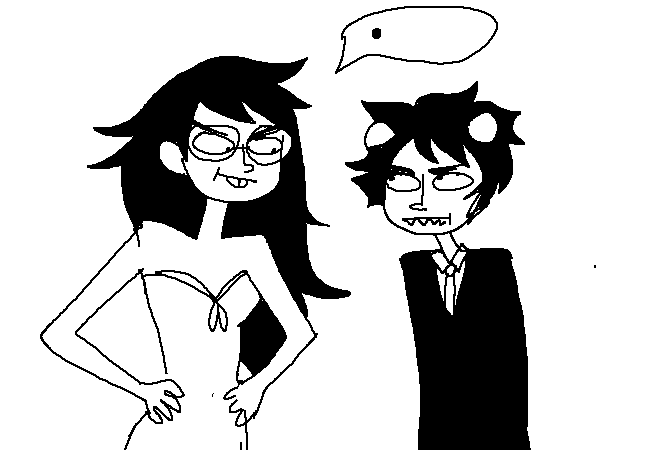 that wasn't a kiss, that was cpr you fuckass.
NO HARLEY. THE OTHER LAST TIME!
==>FLASHBACK TO THE OTHER LAST TIME YOU KISSED JOHN RIGHT ON THE MOUTH
---
the magic of theater is in how you become a totally different person on stage, karkat. a person who could smooch another guy right on the mouth and not even care!
JOHN, THERE IS NOT THE SLIGHTEST INSTANCE OF KISSING IN "DEATH OF A SALESMAN."
i am adlibbing!
YOU'RE PART OF LIGHTING CREW.
intersectionality!
SO AM I.
it's symbolic!
OF WHAMMPH MMPH MMPH
You then had a debate about how different brands of chapstick tasted, agreed Blistex was the best, realised you were both faint from hunger and consumed three boxes of orange Tic-Tacs united as one.
Like men.
==>THE FIRST VISIT TO KISS COUNTY?
---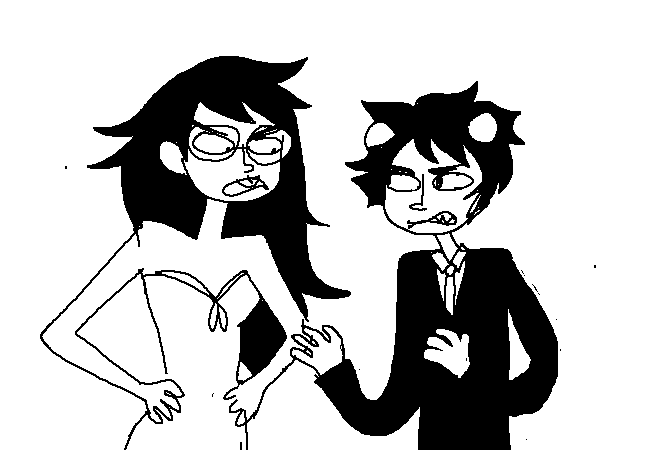 uhhh, karkat!! a fake kiss does not even count!
AUGH. NO, I MEANT THE OTHER OTHER LAST TIME!
==>FLASHBACK TO THE OTHER OTHER LAST TIME YOU KISSED JOHN RIGHT ON THE MOUTH
---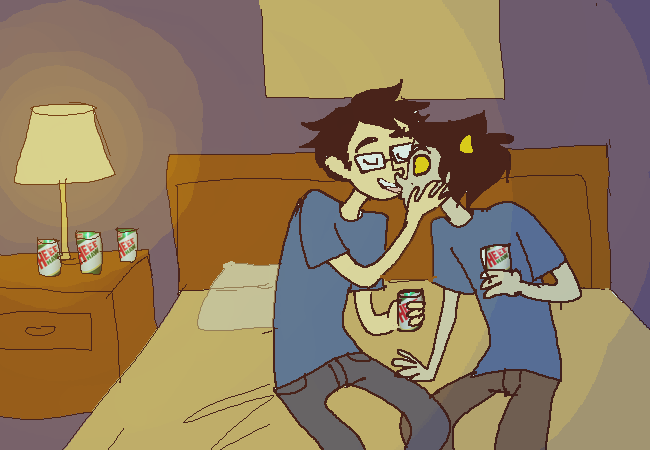 Okay, the other other last time you kissed John right on the mouth was the Disney trip.
This after shenanigans involving Eridan, sixteen arguments, Vriska and Dave swordfighting on the diving board of the hotel pool, one unpleasant instance of puke, Mr. Noir explaining how he would plead not guilty at his inevitable murder trial and the innumerable times you lost Gamzee. It should have come to nobody's surprise you and John ended up alone, frazzled, and drinking vodka mixed with Heee Haw.
It turns out Heee Haw and vodka makes John a maudlin psychodrunk.
you have to promise we're going to be friends forever. like, forever forever, not just until we graduate forever. do you ever feel like when you think of forever, you get super horrified, karkat?
MAYBE. SOMETIMES.
geez, it's just that whenever i think about forever not having us being us in it i'm like, that's the saddest thing, that's the saddest song played on the shittiest guitar. i'm like, nope. i know that i've got issues, but you're pretty messed up, too. either way i've found out i'm nothing without you.
JOHN, THOSE ARE THE "MY LIFE WOULD SUCK WITHOUT U" LYRICS. YOU'RE ALSO RAMBLING WORSE THAN KANAYA AFTER YOU GIVE HER A BENADRYL AND SIT HER IN FRONT OF PROJECT RUNWAY RERUNS.
BUT I GUESS THE WAY I FEEL ABOUT YOU... I CAN'T ATTRIBUTE ANY LONGER TO THE EFFECTS OF LONG-TERM FOOD POISONING.
friends forever, okay!
YEAH.
FRIENDS FOREVER. "PALS." BANDCONSORTS, TUNECOLLEAGUES, "MARCHMATES", WHATEVER RIDICULOUS SHIT YOU WANT TO COME UP WITH. THAT'S US. THE UNIVERSE CAN RING OUT WITH THE WRETCHED, INSUFFLATING ANTHEM KNOWN AS JOHN EGBERT AND KARKAT VANTAS.
karkat what if we're not good at kissing when we get girlfriends?
WAIT, WHAT
we should practice so that when we get girlfriends, we will be total casanovas, hehe.
EXCUSE YOU, ASSHOLE, I ALREADY HAD A GIRLFRIEND AND I WAS AN AUDACIOUS TROLL CASANOVA WITH HER. BUT MY POINT IS THAT THIS WHIPLASH YOU'RE GIVING ME MIGHT BE TERMINAL --
are you irresistible? maybe if you drank heee haw with me, it would help, and if i could taste the preservatives in your mouth it would help. maybe if we drank heee haw wearing just t-shirts. if we smelled of heee haw, it would help. it would increase our casanova esteem. if you poured heee haw onto your body and were like, "drink this!". if you had heee haw dripping off your little button nose i could teach you. because then i'd have a purpose. to clean you off and that, that'd prove that i'm worth something. i'd lick you clean so that you can be this good when you kiss someone else!
JOHN, IF YOU KEEP TALKING I WILL FIGHT YOMPGHG MFFHG PFFGF.
Team Egbert-Vantas proceeded to have the world's most or least magnificent kiss, as the jury was out and too sickened to come back. For you it was 15% confusion, 20% stress, 40% love and 25% Heee Haw.
Neither of you spoke about it the next morning. The whole band had hangovers, and you were too ashamed of the fact that the closest you ever came to kissing Terezi was when she tried to convince you to let her yank out one of your baby fangs. She claimed she would pay you "DOLL4RS."
==>AND IF THAT EMOTIONAL PLAGUE OUTBREAK DIDN'T COUNT, NOTHING DAMN WELL DOES.
---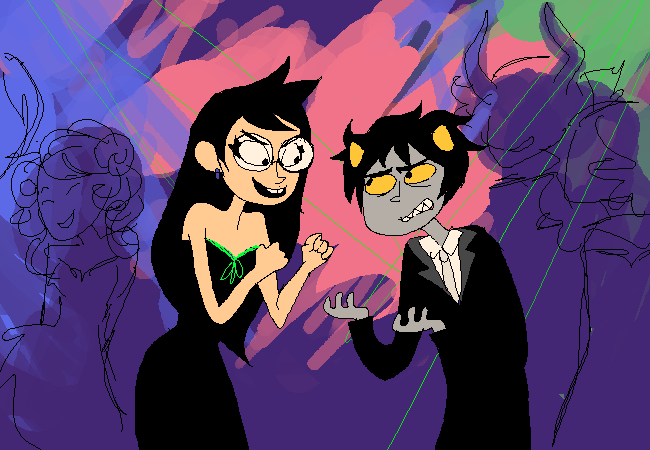 THAT WAS SUCH A FUCKING DISASTER.
no way! that actually went really well. it was super cute...
NO. IT WAS A DISASTER. HE WAS A DISASTER. I WAS A DISASTER. TOGETHER WE COMBINED OUR POWERS INTO A SINGLE SYMPHONY OF FAILURE, A WAILING CRESCENDO OF INCOMPETENCE. EIGHT LIMBS AND TWO WHOLE MOUTHS OF NOTHING BUT WET, STICKY SHAME.
ew, karkat, ewwwww.
YEAH OKAY. HUGE HELP AS USUAL. THANKS.
you asked for my professional opinion and my professional opinion is that you should stop being suck a spineless ninny fuckass and put your lips on his!!
go on, karkat. he's taking a break from dancing and everything! i'll be right here as back up!!
---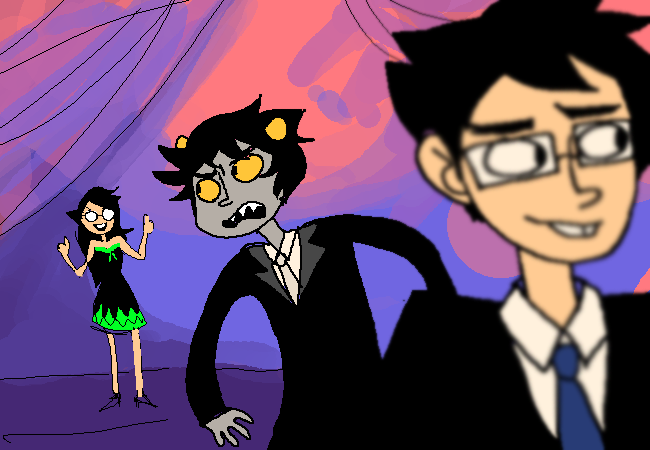 Jade shoves you out on to the dance floor and gives you a DOUBLE THUMBS UP! Oh man, oh God.
==>KISS JOHN EGBERT RIGHT ON THE MOUTH
---
You.....
~ IMPRUDENT JOHN KISSING AT 43% ~
You can't. But now you are standing awkwardly in the middle of the dance floor looking like a fool, staring at the ceiling and wishing you were somewhere else instead.
==>KARKAT: ABSCOND! ABSCOND! SEEK WORDS OF CYNICAL AND INDIFFERENT ENCOURAGEMENT AND/OR SLANDER FROM BAND DIRECTOR THROUGH MOBILE TEXTING DEVICE.
---
Okay, first things first: when you find yourself in times of trouble, Mr. Noir is not your immediate go-to guru. When it comes to choosing your own personal Jesus, your confidante, your secret-keeper, that guy is not even second on the list.
THE LIST.
1. Kanaya
2. Jade
3. Mr. Noir
...
56. Eridan
Still, this is probably a good time to shout in the dazzling rave sequin of your moirail's ear. She can stop sarcastically reaching second base in the depths of the women's bathroom with Lalonde and start holding your hand before you eat all the grub puffs.
Wait. Where the miserable shit is your CELLPHONE?
==>INSTEAD, MAKE A BEE-LINE FOR THE SNACKS TABLE AND EAT ALL THE HORS D'OEUVRES. SLUG SOME SPIKED PUNCH TO BOOST THE KISS-O-METER.
---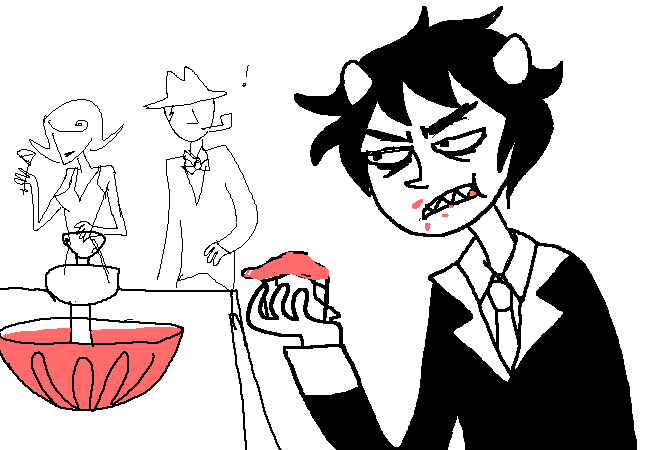 You are a gutless fucking ninny! You abscond.
John's Dad gives you a LOOK OF PARENTAL SYMPATHY as you hammer cupcakes into your maw, but this harms your aerating blood sac more than heals it. The other snacks are dry and gritty, like the grain silo of your soul. You should wash this down with alcohol and wait to become a teen statistic.
Only you can't. There is nothing adulterated to drink. The vanguard of Mrs. Lalonde and Mr. Egbert have kept any and all moonshine shenanigans away from the table. You don't have the requisite SLIPPERINESS stat to spike it yourself. That ladle will leave you stone cold sober.
And nauseous. That punch is filled with Squirt. Only Harry Potter likes that hog shit.
It would most likely send your Kiss-O-Meter plummeting back into a suspended state of Tavros-esque readiness.
==>SPEAKING OF TAVROS, HOW IS THAT NINNY FARING AT THIS GODFORSAKEN SHIT FEST?
---
As of this moment, Tavros Nitram is getting down with his imaginary best friend. By the looks of things, they will be heading towards imaginary first base by the end of the prom.
You know Tavros lives in misery: triangle beatboxing, unyielding Vriska persecution, horrible rap, Fiduspawn swapmeets and being concussed with Gamzee's trombone, but you are certain that he has a better quality of life than you. Look at him! Such imagination. Tonight he will definitely be spooning in a Heffalump's soft embrace.
This reminds you that you have to get back to the dance floor. You are going to prove that you cannot be fucked around any more, John Egbert. You will dance with every asshole in the room and laugh and laugh and laugh. Everything will be chucklenuggets and nothing will hurt.
You better check out the asshole catalogue.
==>YOU CHECK OUT THE ASSHOLE CATALOGUE.
---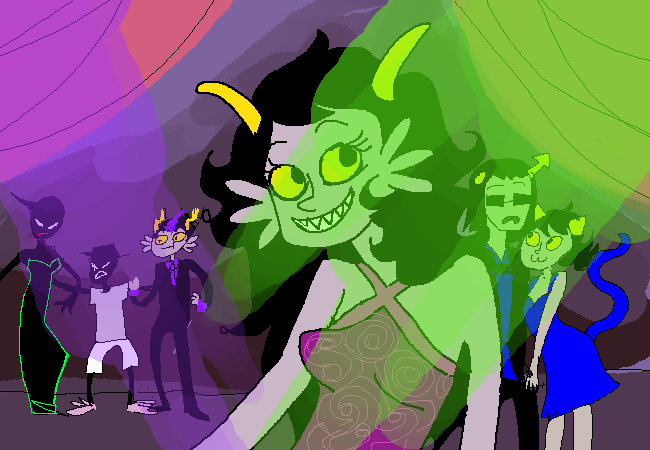 What a magnificent collection of assholes! They are truly horrid.
You are spoiled for choice. You could cut in on TAVROS and his chimerical chum, for instance! Or you could eat another sixteen cupcakes and wait for your arteries to clog.
There's FEFERI PEIXES, radiant as a Necronomicon swagged up with unicorn stickers. She is so pretty. She is so pretty fucking terrifying. Surely you have Color Guard troubles enough without being swaddled in her powersnuggle.
Hooray! There stands EQUIUS ZAHHAK with NEPETA LEIJON. These two count as one unit. One dripping, glitterdusted unit, redolent with sweat and animes. Just in case you wanted to be sandwiched between Nyan Cat and a rust gym. Brushing any part of Nepeta's epidermals will result in you being hauled behind a dumpster and STRONGLY e%horted to make an honest furry of her.
And then he'd tremblingly ask to touch your sousaphone. You would be riding the puke carousel.
Last, but not least (oh definitely not least) there is... what. What the fuck is THAT THING? Holy shit, did your teacher aside from inviting his malignant tumour - complete with teeth if not hair - of a hate date to prom, did he also managed to smuggle in their apparently psychopathic hate-child, born out of hatelock into a world of hate??? Why is it wearing a jester's hat? There is nothing pure or good in this world anymore.
==>GET SWEATY WITH TEAM MEOWRAIL. NEXT TO THEM, YOU MIGHT LOOK GOOD!
---
You have selected Team Meowrail. You are a fool.
D --> This is e%traordinarily inappropriate
:33 « this is the meowst amurrzing prom efur!
MY GOD. I AM STUCK BETWEEN A ROCK AND A CAT PLACE. HELP.
:00 « karkat, did you just... touch my hot butt??
OH, SHIT.
D --> E%cuse us for a moment, Nepeta
D --> This is the last and only straw
:33 « PEW PEW
>:33 « NEPETA WINS
It is as you feared. Equius drags you behind the gymnasium, and after ten minutes of diaphoretic terror the deed is done. You are betrothed to Nepeta Leijon, and by extension, him. They are simply that kind of moirallegiance.
You all get fucking matesprit married that fucking summer and John catches the fucking bouquet with the most bemused fucking expression on his face and Eridan cries the whole time.
:33 « aishiteru karchan my beautiful wedding peach <33
D --> I have always loved you
D --> I will make you an honest troll Karkat
D --> This I promise to you on the day of our precious wedding
:33 « high five!!
D --> Indeed
Your life is Doraemon and protein powder forever.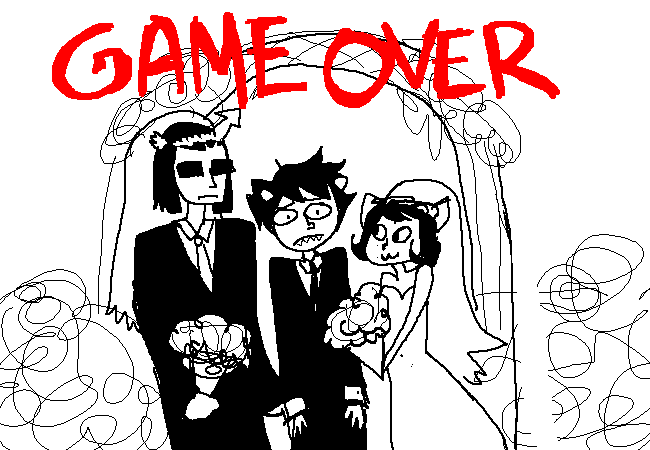 **** YOU HAVE DIED ****
ABORT/RESTART/RETRY?
---
...
...
...
==> RETRY AND APPROACH THE HARLEQUIN HATE SPAWN. MAYBE EGBERT WILL NOTICE YOUR COURAGE IN APPROACHING SAID CALIGNOUS CLOWN BABY AND APPRAISE YOU.
---
You select your pistol, then, you select your chump.
Sure, why not? Picking the imp makes perfect sense. Look at its festive hat and risibly toed booties. You just get on over there and start to dance, knowing that this decision is the best and most logical one you could have made.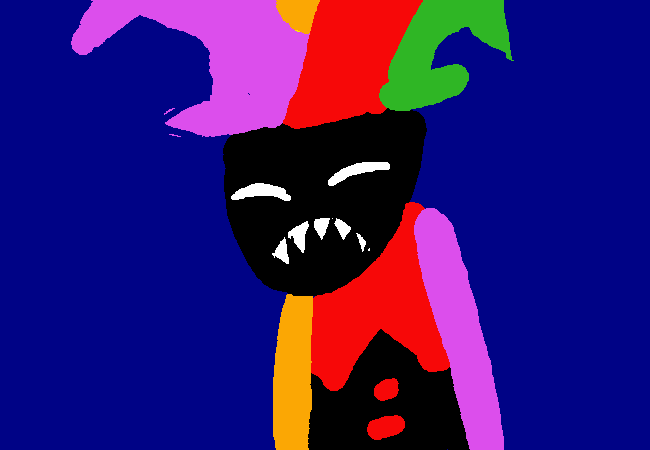 You have done wrong. You have assumed the imp would automatically want to dance with you; it does not. The imp finds you unattractive and your behaviour boorish.
It slinks off, burning with embarrassment and a hot, peculiar shame, but as a stroke of good fortune then totally clicks with Tavros who adopts it under the name Kid Impcarus.
Time and kindness will help Kid Impcarus feel safe again. Sometimes the imp will still imagine the hot coals of your eyes upon it and your shitty attempt at the Mashed Potato, and know that though the nightmare may be over some other terrors are still intact.
You feel horrible. Your Kiss-O-Meter drops to 34%.
==>LET FEFERI GENTLY EMBRACE YOU AND DEVOUR YOUR WOES
---
--SHOW PROM LOG--
S)()()()(, Karcrab! S)()()()()(.
I'M NOT EVEN MAKING ANY NOI --
I can tell w)(en someone is in awful -EMOTIONAL DISTR--ESS! I know w)(at you're eeling, MIST-ER!
HOW IN MISERABLE TROLL HELL COULD YOU KNOW HOW I'M FEELING?
I know you're lonely!
I can tell you're frustrated and sad. You )(ave been trying a reely, reely long time! -Even I can see it. You're always at t)(e end of of your line! Just flapping and wriggling and s)(outing.
I t)(ink you s)(ould concentrate on t)(is opportunaty to dance and )(ave a nice time for once.
It is a rare, strange day when Feferi Peixes is not only talking sense, but talking vaguely cockle-warming sense. Upped cockle temperature occurs. You still burn with humiliation that she can see your heart staked squarely to your sleeve, but the pain is a low-sugar, diet pain.
THIS IS NOT PART OF MY ACCEPTED PROM EXPERIENCE. MY PROM EXPERIENCE, OR 'PROMSPERIENCE', HAS TO INVOLVE THE SECOND-DEGREE BURN OF MY EMOTIONAL STATE CONSTANTLY EXPOSED TO LEMON JUICE AND VRISKA.
It's okay to be sad, you know!
It's okay to be sad and it's even okay to be )(ateful. It's okay to feel lost and un)(appy.
YEAH?
Y----ES! Gat)(er up all t)(ese t)(ings.
T)(---EN GIV---E YOUR BROK---EN SPIRIT TO T)(--E DARKN---ESS
---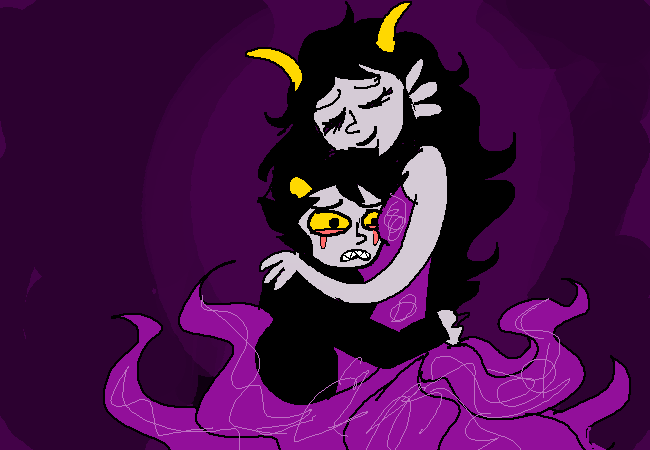 You spend the rest of the song with your tears dripping gently into her décolletage. The tense extremes of horror are lessening, and you feel queerly drawn toward the Color Guard instead of fearing it.
Eridan was wrong. Feferi smells enticingly of waterproof mascara.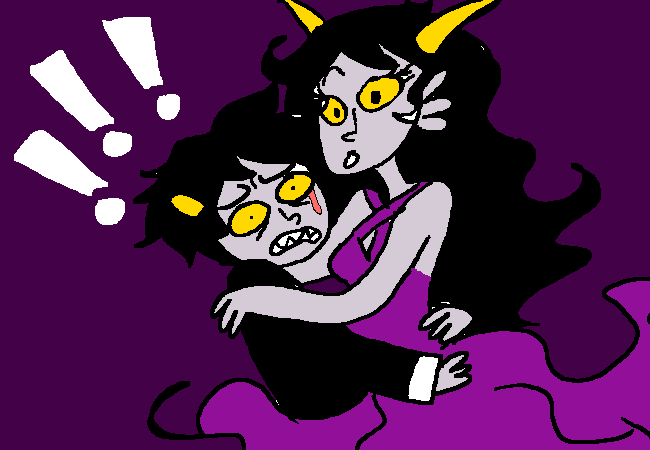 --PROM LOG--
hey, uh. can i cut in?
==>KARKAT: GO DARK.
---
You slip into the fabled slowdance trance of the senior highschoolers, quaking all the while in cupcake-fuelled throes of the refreshment table. You advise John not to be alarmed, as he is bathed in the miasma of corsage-shadow that radiates even now off the shitty decorations. Stupendous and unheard-of splendours await you, and you shall seek them soon.
But John fails not to be alarmed. This is because, as is now painfully obvious to anyone with a brain, you have basically gone completely off the deep end in every way.
You have officially gone promdark.
...
THIS
IS
STUPID
==> KARKAT: (ATTEMPT TO) MAKE CONVERSATION WITH YOUR BEST FRIEND.
---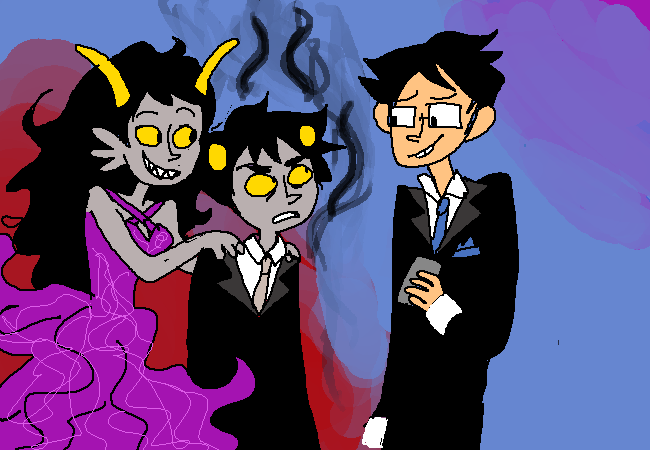 SHRUGGOT.
er, is that a yes?
It's up to Karcrab!
Karcrab and the DARK, MANY-S-ERRAT--ED CLAW OF IN---ESCAPABL-E PROVID---ENC-E
THRETH FIB'TH SVUPET.
hehe. it's just that i have your cellphone, dude! you left it in my coat pocket.
-- OH. OH, SHIT. THANKS, EGBERT.
you have like six squillion kanaya messages. but i didn't read them, scout's honor!
JOHN, AT NO POINT IN YOUR LIFE WERE YOU EVER A GRUB SCOUT.
so can i friendthief this guy, miss peixes?
Go DANC----E, Karkat. 38)
This is it: your destiny. The final countdown. You have the moves, you know the streets. And the games will begin.
...
Who are you kidding? Pose as a one-man failure, because shit just deteriorated.
==> DANCE, ASSHOLE, DANCE.
---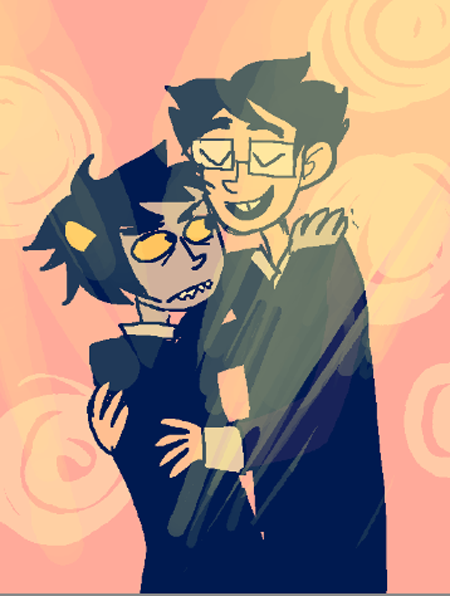 --PROM LOG--
sorry if i "interrupted!"
YOU ARE NOT SORRY IN THE SLIGHTEST. I COULD BE PLEDGING MY GLANDULAR FIDELITY IN THE MOST SOLEMN OF QUADRANT CEREMONIES AND YOU WOULD BUCKTOOTH YOUR WAY IN ALL, "DURRR, KARKAT, CAN I INTERRUPT? OF COURSE I CAN, YOUR PRIORITY IS ME AND MY BRAIN CELL."
wouldn't i be your best man here, dude?
MY WHAT.
your best man. your support! your main ally in, um, this bro coterie? i am just saying that i am going to be at your wedding.
MAYBE AS MY WORST MAN.
haha, that wasn't a bad one.
I KNOW, I AM FUNNY AS FUCK.
just as long as i'm your man somehow!
John winks at you in the rakish way he practiced for two hours in front of the mirror. You know he did, because you were there.
His eyes are the exact colour of Blueberry Roll-Up Snax™. You are so glad you can be mad at him anyway.
YOU ARE MY MAN LIKE A LEPER HAS LEPROSY. IT WASN'T ASKED FOR, IT WAS NOT PLANNED, AND NOW I HAVE TO BASE THE REST OF MY FUCKING LIFE AROUND WHAT PEOPLE ARE GOING TO THINK OF MY AWFUL APPEARANCE AND WAN MOANING. ALL MY PROTESTS ECHO UP INTO SPACE UNHEARD OF BY A GOD WHO LONG SINCE ABANDONED ME FOR THIS TRANSGRESSION.
==>THIS IS A LIE. FOR YOU, THERE WAS NEVER A GOD.
---
Over at the DJ table, Strider gives you the slightest of nods. Then he works his mystery moron magic and the song changes.
John's eyes get big and round and he has the reaction any bulgemunch has to bad music: yanks you into an overclose embrace and wraps your arms around his neck. He looks nigh-on blissed out with stupidity. How was anyone allowed to get so terrifyingly handsome
--PROM LOG--
holy shit. "open arms" is our slowdance jam, karkat.
WE HAVE ABOUT FIVE "SLOWDANCE JAMS", AND ALL OF THEM ARE VILE.
except "open arms."
EXCEPT "OPEN ARMS."
This is a lie. You hate Journey. You hate the way that John in slowdance mode snuggles his cheek next to your temple and holds you in front of everyone and doesn't even care, how both of you by now have worked out the exact shuffle of each other's bodies so if you step on his feet you are doing it on purpose. You hate how he locks his arms low on your waist tighter than an airplane seatbelt. You hate how if you both were any closer right now, you'd be epidermally fused or "Doing It."
You hate how instead of biting off an ear and punching his snout, you kind of deadweight your head on his shoulder and pretend you are having a nap. You are sure this brutal act convinces everyone around that you are not "cuddling". You have never cuddled. You will never cuddle.
You hate how John sings the lyrics as you dance.
--PROM LOG--
so heeeere i aaaam
SHUT UP.
with oooopen aaaarms
SHUT UP.
hoping you'll seeeee
what your looove meeeans to me
SHUT UP.
open aaaarms
IT WILL BE BROKEN ARMS IN LESS THAN A SECOND.
we are the best at prom, dude. possibly ever.
OF COURSE WE FUCKING ARE.
You hopeless asstruck.
==>CONTINUE.
---
Then it happens: like the collapse of a democratic government into conservative hypertyranny or discontinuation of your favourite icecream flavour, inevitability rears its pustulent head.
(They never did make DOUBLE CHERRY CHOCOLATE BIRTHDAY CAKE GRUBCRUNCH again.)
John's hands touch your butt. There is butt touching. His fingers lieth not on the no-troll's-land between hips and gluteus: nay, they settle right the hell atop ass. You make a sound like a lawnmower failing to start, but this does not deter him. John simply places his hands there and carries on.
This is not the first time butt touch has eventuated. You have been butt touched before. You are an old, weary hand -- or butt -- at this. The memory is dim with Heee Haw, but that fateful Disney kiss involved way too much of him awkwardly patting your posterior. You will not even go into last year's prom.
John Egbert has his hands on you. John Egbert is mumbling Journey lyrics into your hairline. John Egbert is probably three seconds off referring to you as his "hummingbird".
--PROM LOG--
JOHN.
wanting you neeeeear
JOHN, STOP LETTING SHIT DRIBBLE FROM YOUR GIBBERHOLE AND. LISTEN. TO. ME.
what's up?
GOODNESS, I DON'T FUCKING KNOW! PERHAPS IT IS YOUR HANDSMILITIA STAMPEDING MY BUTTPRAIRIE???
your pants were wrinkled! i wanted to smooth them out.
You cannot believe the shit you are hearing.
nobody likes wrinkly pants. dad would have gone and thrown those in the dryer with half a cup of water and a bounce sheet. sorry, i didn't mean to make you "furious".

WHAT.

so now i am touching your butt to cover up the fact that you had wrinkly pants. it is the "perfect plan"!
it's okay, karkat. i care about you, right? i promise i'll always touch your butt if i have to, because you're my little hummingbird.
SDFJNKSFBJKSDFLK
uh, my
heterosexual
hummingbird.
hummingbro?
Then he squashes an inept kiss to your forehead.
So gently.
Your heart crunches like a stepped-on Cheeto.
==>KARKAT: LOSE IT.
---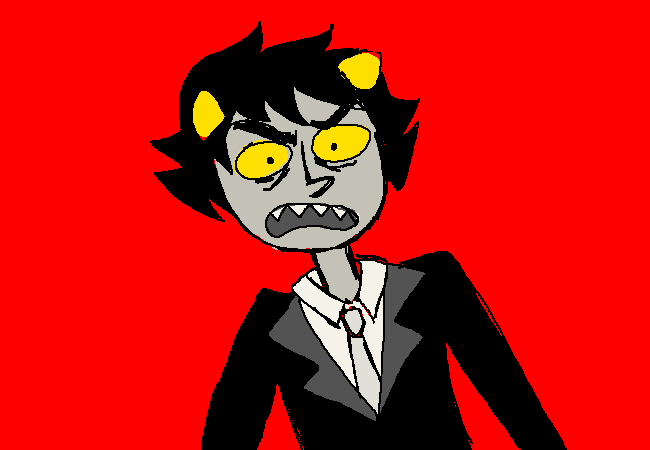 I

AM

THROUGH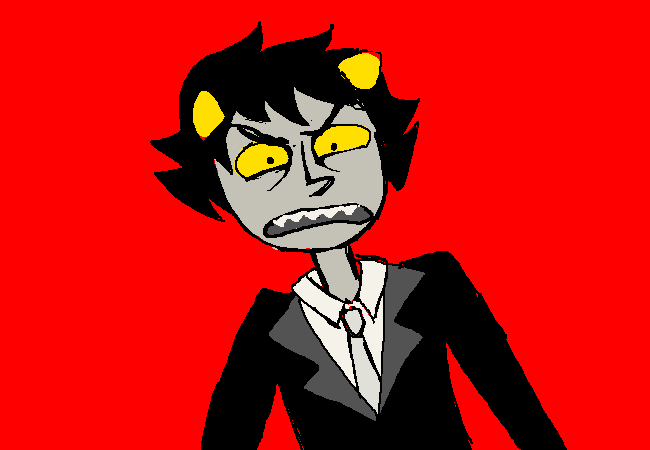 WITH
YOUR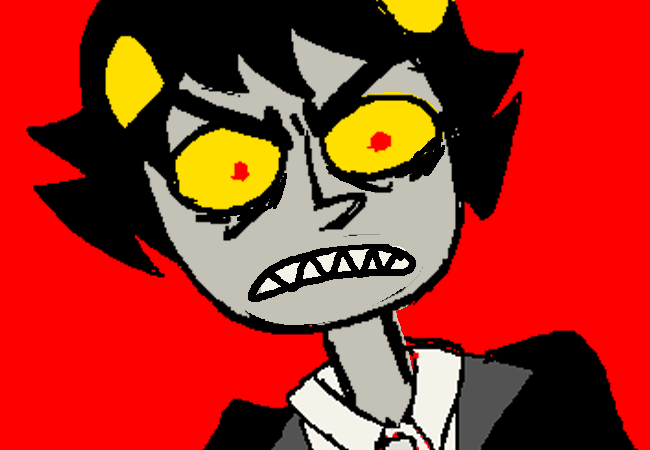 SHIT
==>KARKAT: ABSCOND.
---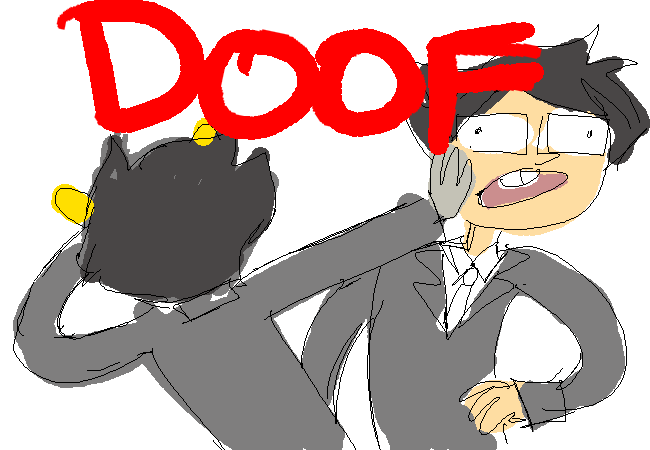 You abscond. Where? You cannot say. How long? For always. You have enough cupcake crumbs in your pockets to keep you alive indefinitely.
Goodbye forever.
==>EXIT KARKAT.
---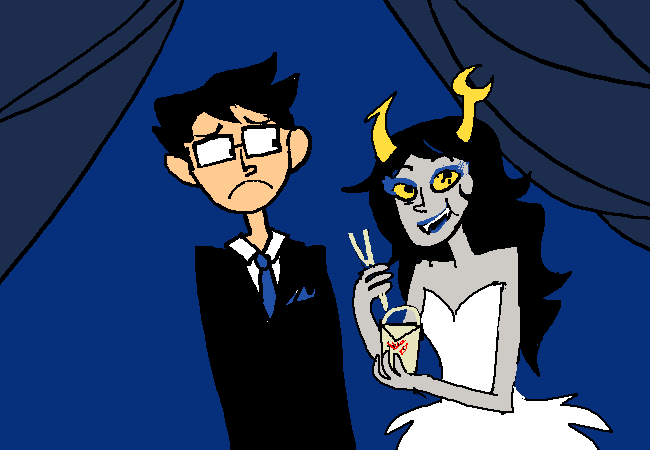 --SHOW PROM LOG--
Lol!!!!!!!!
...
...
...
==>END OF ACT ONE