Chapter Text
Your name is ARADIA MEGIDO and you are super psyched about the EXCAVATION you are about to carry out. You have been horns-deep in every relevant book you can get your prongs on for the last THREE WEEKS (even a couple from the RESTRICTED SECTION), and you are pretty sure you are on the edge of a breakthrough: all that remains is to dig an enormous hole in a place nobody else needed or wanted a hole to be.
Specifically, in the middle of the FORBIDDEN FOREST.
You are well aware that this is against the rules, and if you are caught you will be in detention until your O.W.L.s. You are also aware that going into the Forbidden Forest is roughly the arboreal equivalent of strolling face first into the hot and hungry maw of a Hungarian Horntail, especially for a FIRST-YEAR, which is what you are.
This is, in fact, basically the worst place you could possibly have picked to go dig an enormous hole.
But that's okay. You've brought COMPANY.
> Be the company.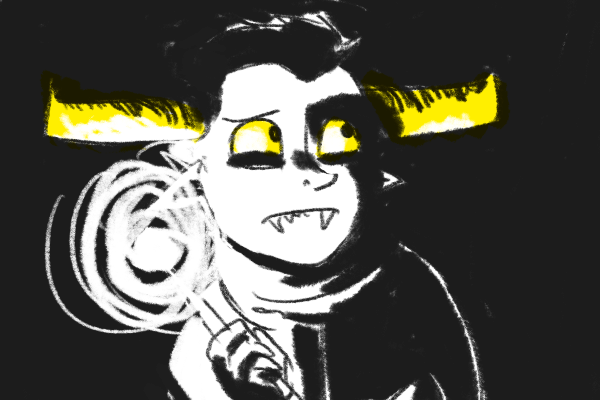 You are TAVROS NITRAM and you are having second thoughts about this. Actually they're closer to fifteenth thoughts – the number has been steadily climbing since you stepped out of the cosy depths of the Hufflepuff common room and embarked on this ILL-ADVISED EXCURSION.
You wouldn't be surprised if one or more of you came out of this with debilitating injuries that impacted your day-to-day life for years to come, and it would be your own stupid dumb fault for hanging out with people from MUGGLE FAMILIES who don't properly comprehend how HORRIBLY DANGEROUS this kind of thing is.
That's what VRISKA would say, anyway – or, at least, you think that might be what she'd say. She might also say that wussing out now when you'd already agreed to come along would make you a LOSER BABY COWARD, and then laugh at you. It's hard to tell, with Vriska.
You kind of think you might be okay with being a loser baby coward, actually, because it is pretty DARK out here and also kind of COLD and SCARY – but Aradia is really nice and you'd feel really bad if something happened to her and her muggle friends because they didn't know a WEREWOLF when they saw one.
Not that it's a FULL MOON or anything, but you can NEVER BE TOO CAREFUL.
Anyway, you guys have a GRYFFINDOR with you. Gryffindors are totally brave. So you'll be okay.
Right?
> Be the Gryffindor.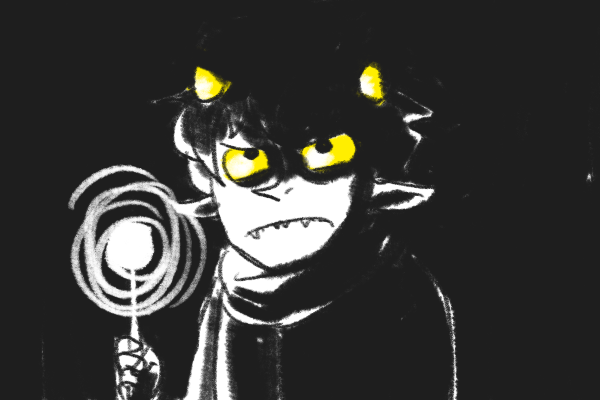 Your name is KARKAT VANTAS and you think this is a terrible idea. You're only even here because your stupid friend asked you to come. Why did you say yes? Oh right, because he's the only asshole in this entire stupid school so far who you know well enough to actually care about, and it would COMPLETELY FUCKING SUCK if your childhood friend went and got himself partially digested by a BROWN-NOSED HOGGLEDYSPLOT or whatever cutesy bullshit name some douchebag in a pointed hat decided was a good idea to give something with glowing red eyes and five sets of pharyngeal jaws that eats children.
Especially just because he has a CRUSH ON A GIRL. What a loser.
Speaking of shit decisions made by wizards, whose stupid idea was it to put a secondary school next to a forest full of HIDEOUS MAGICAL ABOMINATIONS? Everyone in the entire magical community is completely maggotfuck grubloops – you included. You could have just gone to your LOCAL COMPREHENSIVE back in TOWER HAMLETS, where the only threats you would have had to face would have been reasonable ones like drug abuse and thirteen-year-olds with knives, but no, you're sneaking into the forest of death with three incompetent wizards in training like this is some kind of horrifying potentially lethal boarding school adventure for idiots in the 1950s.
Fuck your life.
> Be the loser with a crush on a girl.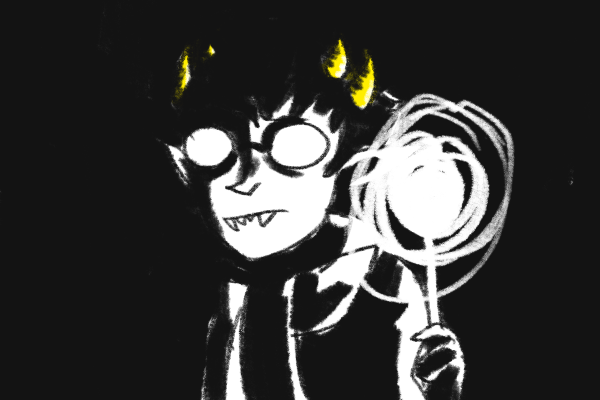 Your name is SOLLUX CAPTOR, and if you could read the manner in which you are being introduced, you would probably object to it, especially since your good buddy Karkat certainly has no room to be calling anybody a LOSER. Besides, you don't have a crush on Aradia, you just REALLY LIKE HER – even if you are thinking of upgrading it to crush status if both of you make it out of here alive. Which you're pretty certain you will. You've always been sensitive about IMMINENT DOOM – much as Aradia says she has always been sensitive about GHOSTS, which is certainly one of the reasons you guys have HIT IT OFF.
Normally you wouldn't get involved with shit like this, but you don't really have anything better to do of an evening, these days. Not that technically speaking that justifies DELINQUENCY, but if people wanted you not to break the rules in OVERT PHYSICAL WAYS then they should have thought of that before they sent you to school in a magical castle where ELECTRONICS DON'T WORK.
Still, even if you're surer than average that none of you are going to die (here) (tonight), the Forbidden Forest is PRETTY DAMN CREEPY. You'd probably feel safer if you had TELEKINESIS or EYE LASERS or something, but you definitely don't have either of those things. You have a 11-inch hawthorn wand with a phoenix feather core, with which you can reliably perform Lumoth and Ecthpelliarmuth and not much else. Thuckth to be you I mean sucks.
At least Aradia knows where she's going. At least, you REALLY HOPE SO.
> Aradia: Consult your map.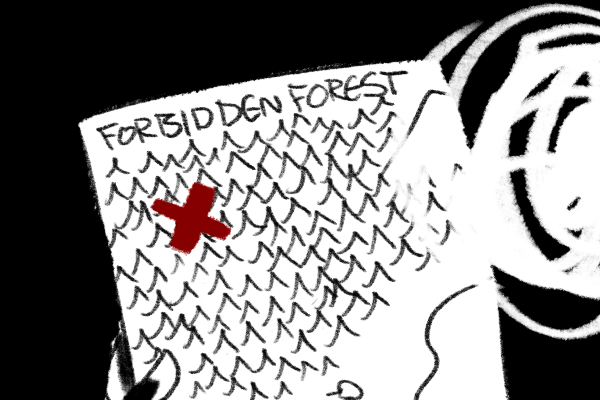 If your research is correct, the ruined foundations of the castle's centuries-abandoned TROLL WING, from the days when TROLLS and HUMANS studied apart from one another, should be located at the BIG RED X. Unfortunately, between the big red X and the edge of the forest, there is basically NOTHING BUT TREES. Trees in the dark. This makes navigation very slightly difficult.
It's a good thing you mastered a COMPASS CHARM so you can oh shit what was that.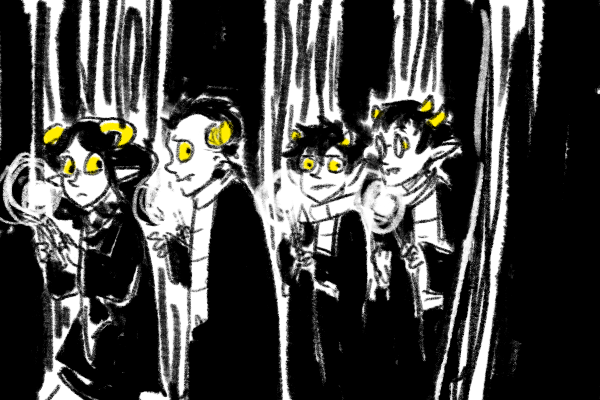 > What WAS that?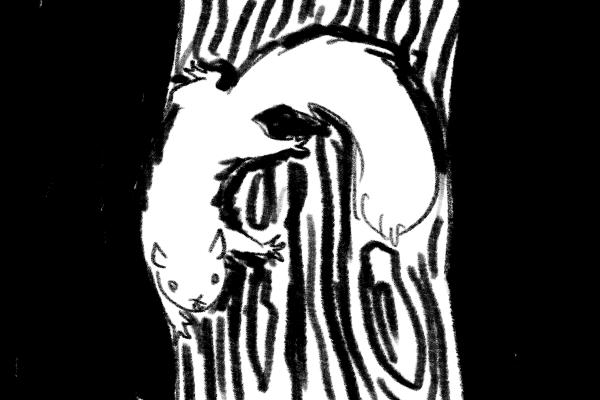 Oh. It's a SQUIRREL.
You are slightly less PARALYSED WITH FEAR than you were five seconds ago.
Then again, perhaps you shouldn't be.
tavr0s
0_0
are there any really danger0us magical creatures that l00k exactly like nutbeasts
nOT, tHAT i KNOW OF, oR HAVE EVER BEEN TOLD ABOUT,
uHH, bUT, i MIGHT BE WRONG,
thii2 ii2 the FORBIIDDEN FORE2T you guy2.
even iif that thiing ii2n't magical iit'2 probably 2tiill eviil.
ii bet iit'2 ju2t waiitiing for the chance to riip niitram'2 bulge off wiith iit2 teeth 2o iit can take iit away to feed to iit2 naked mammaliian off2priing.
dO YOU, uH, THINK THAT'S REALLY A THING, tHAT COULD HAPPEN,
IT'S COMPLETELY POSSIBLE, SO HOW ABOUT WE KEEP FUCKING MOVING INSTEAD OF STANDING STILL AND STARING AT IT FOR HOURS LIKE HUGE BRIGHTLY LIT IDIOT TARGETS FOR WHATEVER HULKING VENOMOUS MONSTROSITIES ARE LURKING AROUND THE NEAREST TREE?
i think thats a g00d idea
were nearly at the ruins anyway
i think
> Aradia: Cast compass charm.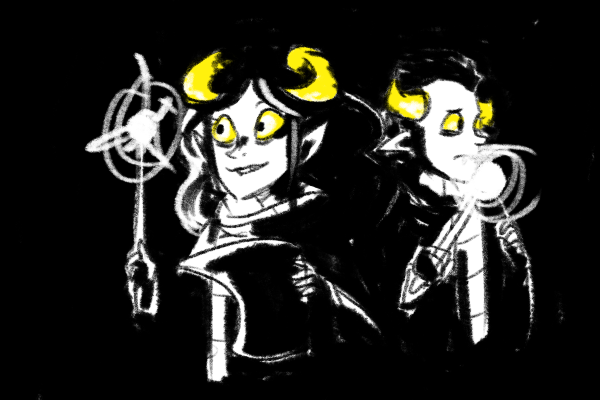 You cast a compass charm, which conveniently works like some kind of ILL-DEFINED MAGICAL GPS. It turns out you were right – you are nearly there. Just a little further ahead ...
this is it!
er.
not to que2tiion your authoriity AA but...
ii don't 2ee any ruiin2.
thii2 kiind of ju2t look2 liike the la2t three cleariing2 we pa22ed through.
yes
thats why we have t0 dig
OH REVOLTING MAMMALIAN MOTHER OF FUCK WHY DID I SIGN UP FOR THIS.
> Defodio.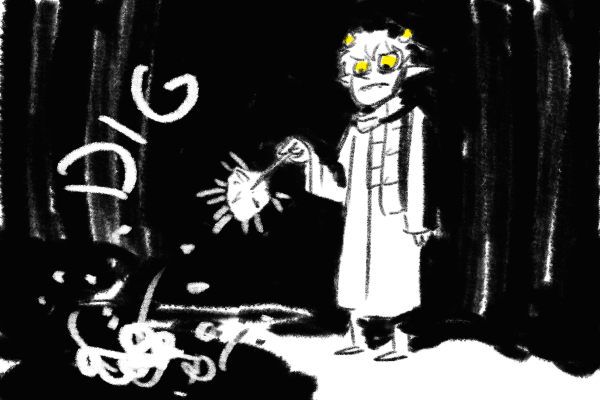 This RIGOROUS MANUAL LABOUR is ARDUOUS AS FUCK.
==>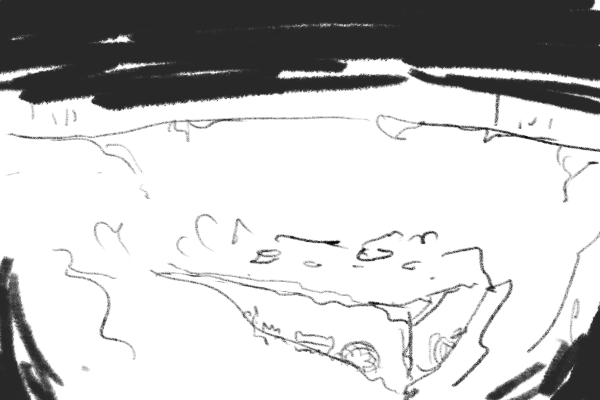 uUHH, aRADIA,
i THINK, i MIGHT HAVE FOUND SOMETHING, tHAT COULD BE, pERHAPS, uSEFUL OR RELEVANT,
> Excavate.
It doesn't take the four of you long to get your excavate on. If you'd been MUGGLE ARCHAEOLOGISTS, you would doubtless have been here for HOURS, if not DAYS, chipping away at things with ASSORTED TINY TROWELS, but liberal use of digging spells has the task accomplished in a matter of minutes. Magic sure is awesome!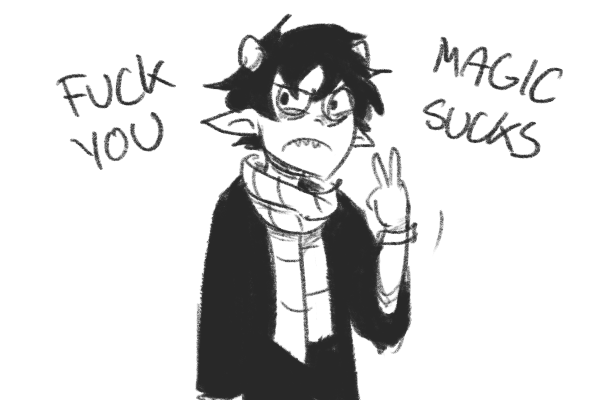 > Aradia: Admire your discovery.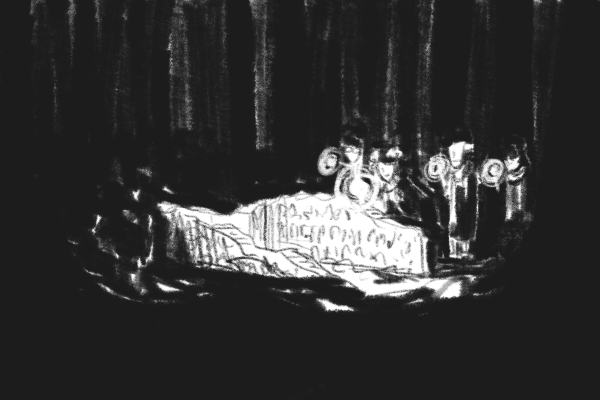 You admire the fuck out of it. This is way more awesome than DIGGING UP OLD LENGTHS OF CLAY PIPE IN YOUR BACK GARDEN WITH A SPOON, which until now has been the scope of your archaeological prowess – not that you are about to admit that to your FRIENDS, who clearly think you are an EXPERT.
You have to admit this is more than you expected to find. You were imagining some worn foundations, perhaps the remains of a basement if you were lucky, but these look like part of the building's actual WALLS. And as if that wasn't enough to get you nerdstoked, they're covered in all these STRANGE SYMBOLS…
> Aradia: Examine the strange symbols.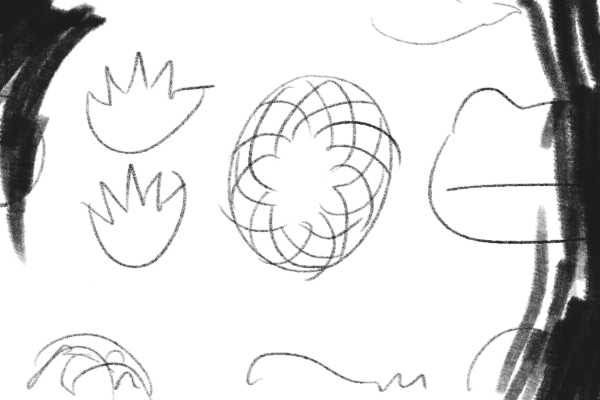 They don't look like anything you've seen before. Perhaps they're some kind of HIEROGLYPHS. You'll have to take a picture or twelve and then see if there's anything in the library that'll help you analyse them, and then come back with a little brush and DUST THINGS.
This is S0 C00L.
> Aradia: Examine the other strange symbols.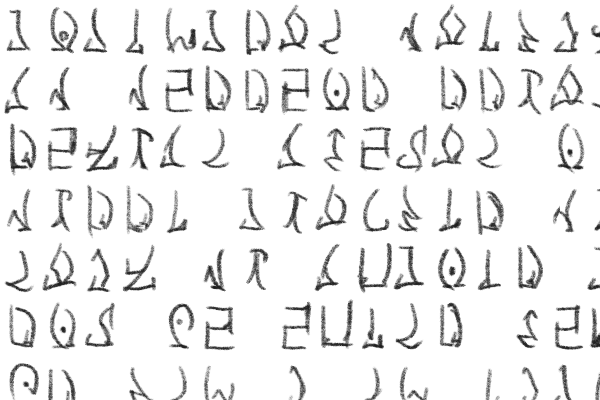 These ones look like RUNES of some sort. They're kind of FAMILIAR – maybe you saw them in one of the books you've been reading??
0_0
God, this is just too much for you.
You get completely carried away and take a RUBBING.
> Karkat: Get bored of this shit.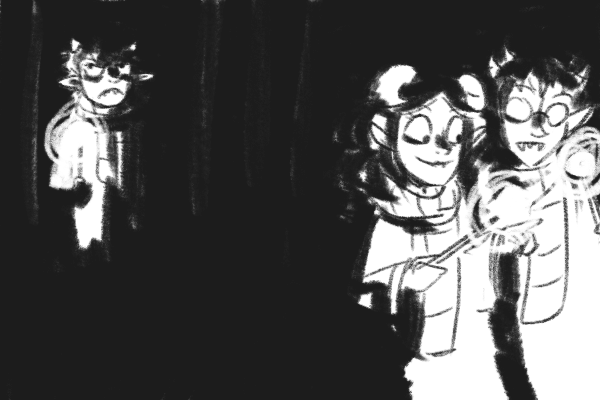 You already did that half an hour ago. Megido's been freaking out about this archaeological fuckery for LIKE A MILLION YEARS, as if a ruin in the forest is any kind of big deal when you're all constantly surrounded by MOVING STAIRCASES and MOVING STATUES and MOVING PHOTOGRAPHS and roughly a million other kinds of things moving which shouldn't move in any rational comfort-fostering universe. You sometimes find it difficult to believe that she's actually from an ordinary muggle PUPAHIVE like you and Sollux.
Sollux, who is gazing on in rapt attention as she spews some excitable Ravenclaw bullshit about translating these crumbly hieroglyphics. Geez, he is so totally PALE for her that it's kind of disgusting. Who does he even think he's kidding?
You should have stayed in Gryffindor Tower to play HORRIBLE DETONATING CARDGAMES with LEIJON. This is fucking ridiculous.
> Karkat: Abscond.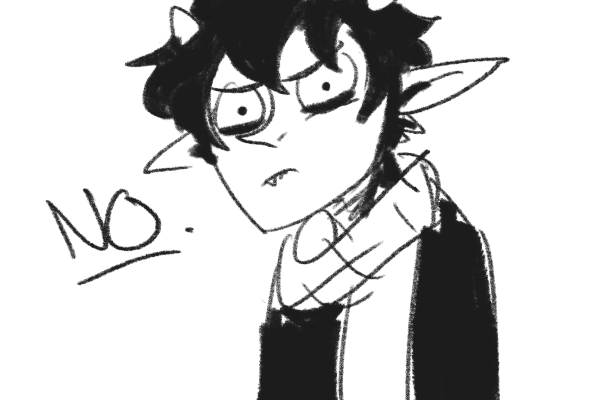 Are you fucking KIDDING? That's an even worse idea than coming out here was in the first place. Do you look like you want to get MAULED? And, perhaps more importantly, do you look like you know how to cast a COMPASS CHARM? (Answer: you DON'T.)
It couldn't hurt to wander the perimeter of the clearing, though, you guess. You know, to make sure no THREE-HEADED TROLLDEVOURING ABOMINATIONS are lurching out of the undergrowth.
> Karkat: Trip.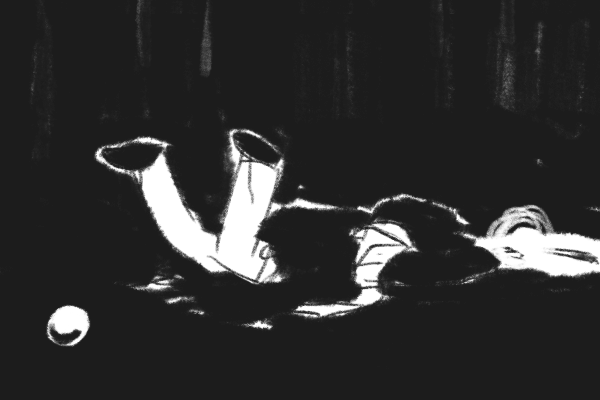 Your foot comes into contact with what you assume must be a ROCK, rather than any kind of object with too much PLOT SIGNIFICANCE to go ignored after being accidentally UNEARTHED, and you plummet gracelessly to the ground like a swan.
A dead swan.
> Be Tavros.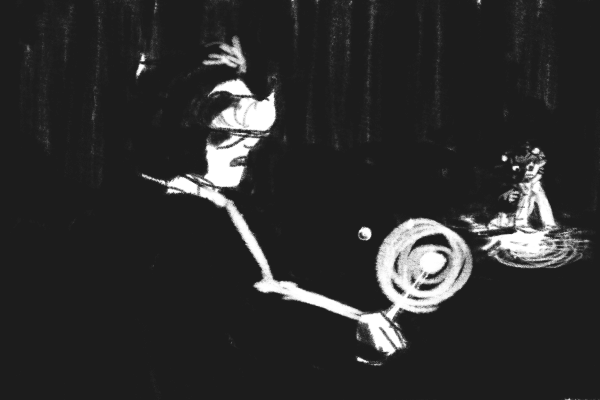 You are now TAVROS NITRAM again and you just watched Karkat fall over like the elegant specimen of trollhood he is. Being the GOOD HUFFLEPUFF that you are, you hurry over to help him up and ask if he's okay.
But wait. What's this?
> Tavros: Pick up the weird ball.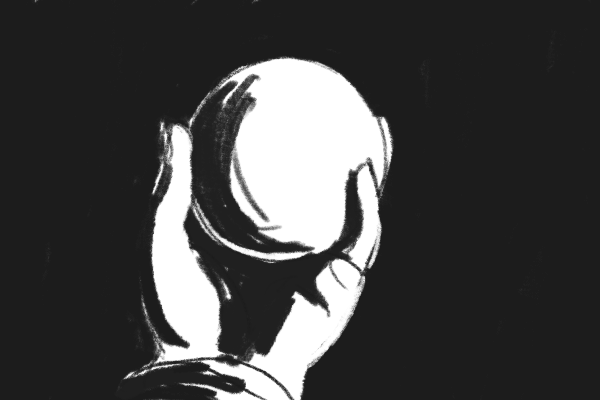 It's completely white and perfectly spherical. If you were familiar with MUGGLE HUMAN SNOOKER, you might think it was a CUE BALL, but you don't, so you are left to assume it's some kind of WEIRD MAGICAL ARTIFACT.
You are, of course, correct in this assumption. What would a muggle sports device be doing out here, anyway?
It feels a little weird when you pick it up, but not in any way you can actually pin down. If you had to describe it you'd probably say it kind of makes your SOUL ITCH. You think that might sound a bit stupid, though, so you're pretty glad no one's asking.
> Tavros: Show the others what you've found.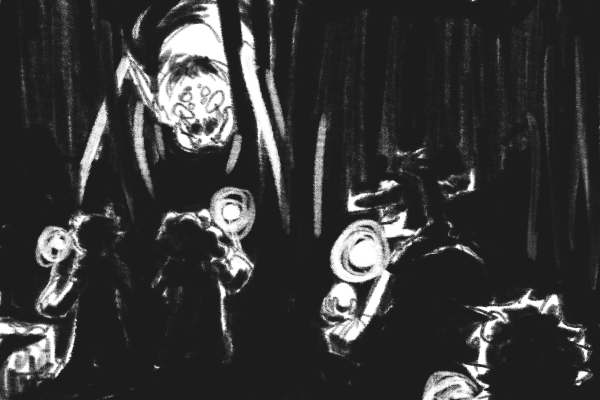 You were going to do that, but everyone is busy screaming.
> Tavros: Scream also.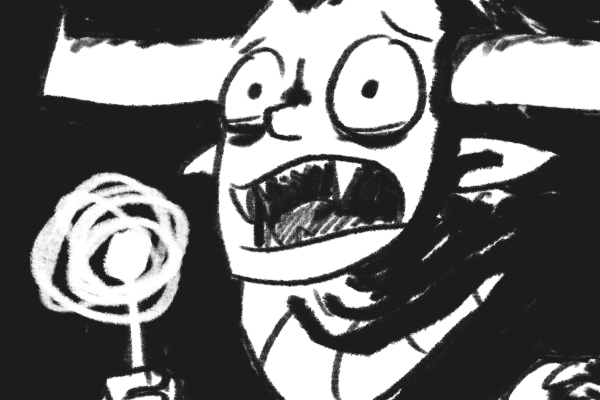 Yeah, that seems like a good idea.
> Everybody: Run.
That seems like a pretty good idea too.
You all flee harder than you've ever fled before (mostly), but your tiny first-year legs are so small, and the ACROMANTULA (for that is what it is) is gaining on you quickly.
The spider is simply too fast.
If only you had some kind of MAGNIFICENT STEED who could outpace the beast whilst carrying you on its STRONG back.
> Mars: Be bright, tonight.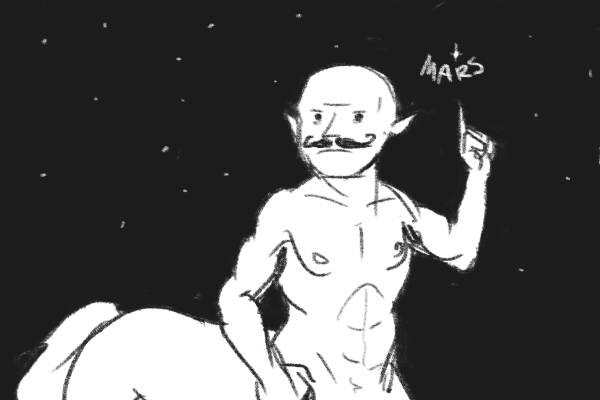 Mars is already bright tonight, doofus!
If you were a classy astrologically educated CENTAUR like this guy then you would know these things.
> Be the centaur. Rescue the troll kids.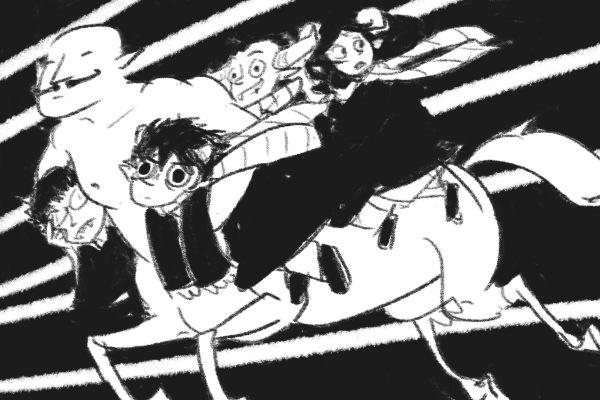 You are now the centaur, and you are rescuing the troll kids.
Your name is AURTHOUR. You are a little bit sick of having to save lost biped children from TERRIBLE DANGER, but whatever, it happens, and you are STRONG enough to carry at least four of them at once and outrun a massive spider at the same time.
Sometimes you wonder, though, what douchebag in a pointed hat decided it was a good idea to put a school full of children next to a forest full of hideous magical abominations. Surely no one with the little ones' safety in mind. Whoever it was, they NEED TO GET THEIR PRIORITIES SORTED.
Honestly, these children could have been killed.
Or worse, EXPELLED.
Ah well, better haul these poor whippersnappers out of the forest so you can fob them off on the CANTANKEROUS GROUNDSKEEPER before they try to make SMALL TALK WITH YOU.
> Be the cantankerous groundskeeper.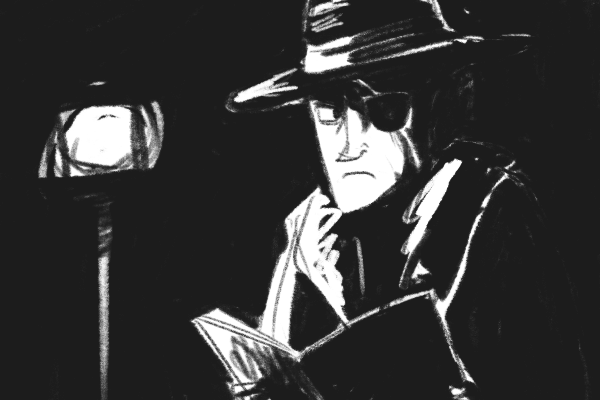 Your name is SPADES SLICK.
You have been the groundskeeper at Hogwarts for several years now, and so far nobody has mistaken you for JACK NOIR, a corrupt Ministry official partially responsible for implicating the last MINISTER OF MAGIC in a TERRIBLE FROG-RELATED SCANDAL that forced her to resign, and also wanted by the law for KNIFING SOME PEOPLE UP.
This is only to be expected, of course, since you look nothing like that guy. I mean, he didn't wear an EYEPATCH, or anything.
Currently you are KEEPING WATCH OUTSIDE YOUR SWEET PAD.
Actually that is a lie, your pad is not sweet at all. It is a ramshackle, tumbledown hut next to a forest full of monsters. As groundskeeper, you have a SPECIAL UNDERSTANDING WITH THE BEASTS OF THE FOREST – which is to say that the beasts of the forest understand that if they LEAVE THE FOREST, you will KNIFE THEM UP – but it is still a rubbish place for a house, and "ramshackle" and "tumbledown" are still just infuriatingly twee ways of saying "shit".
You are lingeringly bitter that, when PROFESSOR SCRATCH took you on as a member of staff in an uncomfortably magnanimous second-chance sort of gesture, you didn't get a CUSHY TEACHING JOB, like SOME PEOPLE YOU COULD NAME. This is mostly because your skillset does not extend far past KNIFING PEOPLE UP, but you like to pretend it is because of BLATANT FAVOURITISM ON THE PART OF THE HEADMASTER.
At least your role as groundskeeper means you don't have to spend too much time interacting with OBNOXIOUS CHILDREN, though. In fact, you've gone all day without so much as clapping eye on a single one of the blighters, which is exactly the way you like things to be.
It is, of course, not how things are going to remain.
> Slick: Have your evening ruined by the sudden arrival of a centaur.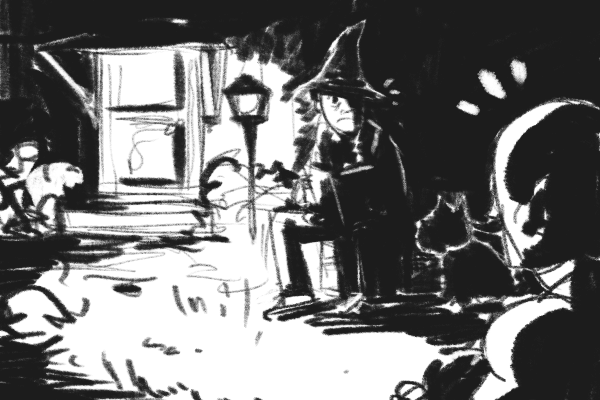 Oh god damnit.
You tell the MOUSTACHIOED MANHORSE that he had better not plan on sticking around much longer if he doesn't want to be SHOWN YOUR STABS.
He tells you he is only here to deposit a couple of ARMFULS OF CHILDREN, who he found being menaced by an ACROMANTULA in the DEPTHS OF THE FOREST.
You remark that if they were stupid enough to go into the forest then they probably DESERVED TO BE EATEN BY SPIDERS, which earns you a selection of tiny horrified trollstares.
> Slick: Fail to be moved by the troll kids' puppy eyes.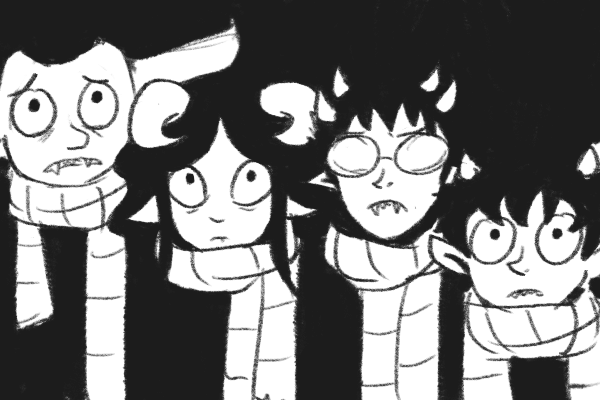 Nope.
Nope.
N – well, you can't really tell, with those glasses. Does he even have pupils? Whatever, that's a nope anyway.
And nope.
Wait.
Aw, shit. It's that one kid.
> Slick: Vaguely regret not leaving that one kid to bleed out in an alley.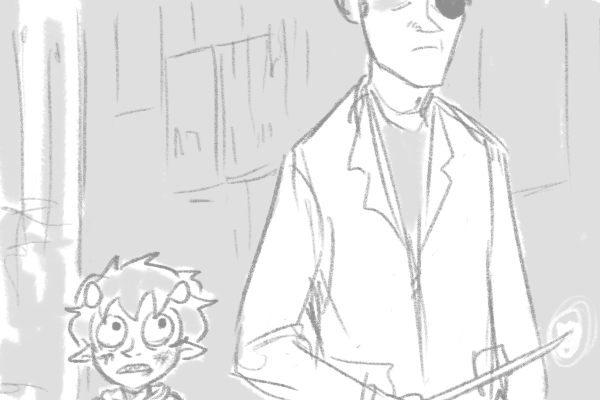 Sometimes, when nobody with a higher PULCHRITUDE STAT is available, your job means you have to round up muggle kids for whom it isn't as straightforward as writing a letter to convince their legal guardians that it would be reasonable to send their eleven-year-olds to a MAGICAL WIZARD SCHOOL IN THE MIDDLE OF NOWHERE. Usually this means TROLL CHILDREN, because most of them are raised in COMMUNAL PUPAHIVES and it can be hard to make everything official without someone having to cast a few MEMORY CHARMS.
It was on one of these excursions that you wound up having to save this stupid kid, Kerchak or Marmite or what the fuck ever, from getting his ass handed to him by a bunch of TROLL THUGS who were giving him crap for having the WRONG COLOUR BLOOD or some STUPID TROLL BULLSHIT LIKE THAT, and now he thinks you're his DAD, or whatever other kind of weird troll relation would imply you GAVE A SHIT ABOUT HIS PROBLEMS.
You tell him to stop goggling like an idiot, which only seems to make him more impressed. Maybe it's the dulcet tones of your GRUFF, NO-NONSENSE EAST END ACCENT. Probably it's just because someone stacked his cocoon the wrong way up.
Oh well, nothing for it but to send AURTHOUR on his merry way and set about herding these stupid children back to the castle. You make sure to be as cantankerous about it as possible, in the hope that this will put the lot of them off trying to engage with you ever again.
Karkat is probably a LOST CAUSE, though.
> Trolls: Return to your dorms like good students.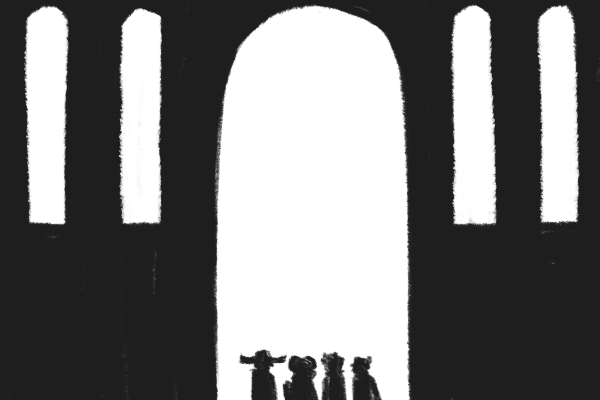 If you were good students you wouldn't have been digging up the Forbidden Forest at midnight. Anyway, all four of you are abuzz with conversation about your exciting adventure, which would have to be cut woefully short if you were to abscond to your respective houses straight away.
WOW, I NEVER WANT THAT TO HAPPEN TO ME AGAIN.
mE, eITHER,
2eriiou2ly that ii2 way clo2er than ii ever wanted any part of my face two be two a centaur'2 reekiing 2weaty armpiit.
i, tHOUGHT THAT PART WAS KIND OF FUN, aCTUALLY, hE WAS REALLY, uH, nICE,
well ii gue22 iit beat2 beiing 2piider food.
YEAH, BY AN EXTREMELY NARROW MARGIN.
im s0 s0rry guys!
if id kn0wn this was g0ing to happen i w0uldnt have asked you to come
but
im still really glad y0u all did
oH, wELL, tHE PART WITH THE SPIDER, wAS REALLY AN EXPERIENCE i THINK i COULD HAVE LIVED WITHOUT, iF, uHH, i HAD BEEN GIVEN A CHOICE ABOUT THAT, bEFOREHAND,
bUT, i LIKED MEETING aURTHOUR, hE WAS REALLY FRIENDLY, aND HELPFUL,
yes
n0t like mr slick
oh my god what a grouchy 2ack of pii22
diid you 2ee hii2 face, he looked liike 2omeone had a2ked hiim two ma2h hii2 own 2hame globe2 iintwo a pa2te and 2pread iit on profe22or 2nowman'2 morniing charred wheat 2liice2.
HEY, SLICK'S NOT THAT BAD.
IT'D CHAFE MY NUB TOO IF I KEPT HAVING TO DEAL WITH TOTAL MORONS WANDERING INTO THE FORBIDDEN FUCKING FOREST IN THE MIDDLE OF THE NIGHT.
IT'S CALLED THE FORBIDDEN FOREST FOR A REASON, BECAUSE IT'S FULL OF HORRIFIC TWENTY-FOOT SPIDER MONSTERS.
ehehe riight ii forgot about your enormou2 boner for the ground2keeper.
FUCK YOU, CAPTOR. THIS WAS A BIG FAT WASTE OF EVERYONE'S TIME ANYWAY AND
n0 it wasnt!
i t00k s0me ph0t0s and i g0t s0me rubbings 0f the inscripti0ns s0 n0w ill be able t0 l00k all 0f it up in the library
we might even have f0und s0mething n0 0ne else knew ab0ut before!
AWESOME.
THAT WAS SARCASM, BY THE WAY. IN CASE YOU COULDN'T TELL, FROM MY TONE OF VOICE.
cram a bulge iin iit vanta2, no one care2.
oH, i FORGOT,,,
huh?
0_0
i, uHH, fOUND THIS, wHEN WE WERE DIGGING,
i WOULD HAVE TOLD YOU BEFORE, bUT, tHAT WAS WHEN THE, uH, sPIDER SHOWED UP, aND MENACED US, aND IT DIDN'T SEEM LIKE, aN OPPORTUNE TIME, tO INFORM YOU,
> Tavros: Produce the peculiar orb.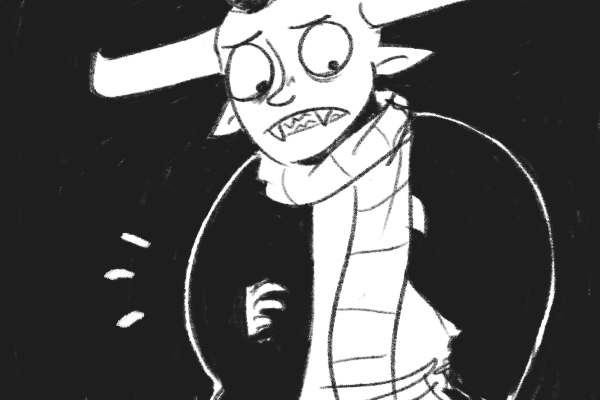 You rummage in the pockets of your robes. Unfortunately, the weird ball you found in the forest is conspicuous only by its absence.
oH,
oH NO,
i THINK, iT MUST HAVE FALLEN OUT, wHEN aURTHOUR WAS RESCUING US,
0h n0
what was it
iT WAS, a WEIRD BALL OR SOMETHING,
iT WAS ALL WHITE, aND, i DON'T KNOW WHAT IT WAS FOR, bUT, uHH,
i THINK IT MIGHT HAVE BEEN IMPORTANT,,,
imp0rtant
what d0 y0u mean
i DON'T KNOW,
iT FELT IMPORTANT,
IT FELT IMPORTANT? SERIOUSLY?
SHIT, WE'D ALL BETTER HEAD RIGHT BACK OUT INTO THE DEATH FOREST TO PICK THE FUCKING THING UP IF NITRAM THINKS IT FELT IMPORTANT –
stop it karkat
it might have been suffused with magical energies 0r s0mething!
0_0
yEAH, pROBABLY SOMETHING, aLONG THOSE LINES,
whatever dude ii bet you've done u2 all a favour.
iit wa2 probably cur2ed or 2omethiing.
either way we cant g0 and l00k for it n0w
well get in even m0re tr0uble if we d0nt get back to our d0rms
eheh yeah e2peciially you KK
you 2hould get back two gryffiindor tower before profe22or renegade hexe2 your a22 for iillegal lurkiing.
> Days in the future, but not many…