Chapter Text
Chapter Eleven
The room Basima led them to had a cot rather than an actual bed, and Winry guessed it saw duty as an emergency doctor's office. The sink in the room, the faint hint of sterilizing cleansers in the air, the folded, white blanket at the end of the bed, they all reminded her of the patient rooms back at Granny's house in Rezembool. Basima bustled across the room, apologizing for its temperature, and fiddled with the steam radiator in the corner. "There," she said, clasping her hands together as the heat sent out scouts against the cool air. "Now, I will get your notepad and measuring tape!"
The woman vanished out the door before Winry could say her thanks, leaving Edward and her to stare at each other. She turned to the cot almost immediately, picking up the blanket and shaking it out. "I should go outside so you can get undressed." The words caught in her throat and she tightened her grip on the blanket.
"Uh." Edward shuffled behind her. "I'll use that to…uh…make a pair of shorts to wear." His voice moved steadily closer to her, making Winry turn. He held out his open hands, though he still gave her some distance between them. Winry took a jerky step forward, putting the blanket in his hands. Hurt and worry made Edward's eyes glitter, and she wondered if he'd figured it out or if Miss Riza had told him. He lowered his head, fingers moving over the cotton fabric. "I," he hesitated, his blond hair shading his eyes so she couldn't see them. "I tried to take care of my automail best I could. They didn't have anything like it, where we were. There was a girl – ah, a young woman. She…had some ideas, I let her do some work."
Despite Edward's insistence on Granny or her doing his maintenance or repairs – Winry had read from the military, when some of Edward's records were released he'd only go to one of them – they'd never put a maker's mark on his automail. If Edward had been in a fix and needed a spot repair, or any additional work done to keep him safe, they hadn't wanted him waiting for a chance to get back to them to do it. "I'm glad." Winry nodded, emphasizing her understanding of Edward's loyalty, that he felt he needed to tell her. She wondered if Edward had accepted anything more than automail maintenance from the woman, if he'd left her behind and wondered how she was doing now.
"She wasn't as good as you."
Winry realized he'd raised his head, meeting her eyes.
"No one…there were people there who were mechanics and engineers, but none of them had your skills. They could maintain my automail but they couldn't fix it if I broke it." Hands shifting over the material, Edward gave her the faintest smile.
"I'll let you get undressed." Winry turned on her heel, leaving the warming room. She closed the door behind her, leaning on the wall. The frantic tension she'd felt at Gracia's home hadn't quite dissipated, but wasn't driving her on now. She'd passed on her warning, but Ed still needed her. He was her customer, and he'd been away before. After Granny and she had installed his automail, it had been four years and change before he'd come back to Rezembool. Only that time, she'd been innocent, naïve. How much of that had changed after he'd left home the third time? Stomach twisting in on itself, Winry tried to push back the memories of the questions the military had asked her about her friends. Of how they'd asked the questions. Shivering, she folded her arms about her body. "I'm not going to get sick." Dealing with customers had been difficult since she'd been tortured beneath the city. Military uniforms made it worse. The President Fuhrer would sometimes come to her rather than making Winry attend her in the Central City H.Q., even so far as traveling to Rush Valley.
From the staircase, she could hear the murmurs of conversations below, could catch the faintest scent from the fireplace. The hallway was warm, heat rose, though Winry still felt a chill. Shivering, she took a step toward the staircase banister, peering over it to the staircase and below. There wasn't anyone to be seen, though the building felt like it buzzed with life. Craning her neck, she caught sight of the mirror with the painted rooster on it, and used the glass to check out the rest of the room. Winry spotted President Fuhrer Armstrong seated in the bar area, at a table away from the cold of the windows. The larger of her two men stood nearby. A brunette sat across from Armstrong, seeming tiny and delicate in comparison. Winry hunched her shoulders, her eyes narrowing. The sight of a woman facing the two soldiers made the voices in her head start questioning her again. She squeezed her eyes shut. This isn't real.
"Winry?"
She whirled, hands rising, feeling someone snatch at her wrists. She didn't scream – they liked it when she screamed – but yanked back hard as she could, feeling the railing at her back. There was a sound, a squeal, a pop, and she twisted as the banister gave.
"No."
Edward jerked her away from the banister, swinging her around into the wall. His hands came together, making a flash of blue light and a chime like a silver bell, and he pressed them to the floor. The light swarmed forward with a scent like ozone, repairing the banister with a crackle and hiss, then retreating. Winry watched from the wall, hands cupped over her mouth, as the light faded.
Edward sighed, his head sagging down, nearly touching the thick runner of carpet. His bare spine curled before he raised up onto his knees. "Sorry." The word came out a bare breath of a sound. "You panicked! I panicked." He ducked his head again, though she could tell he was watching her from behind his bangs. "I didn't want you to get hurt."
"I – I know." Winry swallowed, nodding. "I…I should get started." She hooked her thumb over her shoulder at the room.
Pushing to his feet with a low groan, Edward glanced at the railing, stretching his body so he could peer over the edge. His mouth twitched and he looked over his shoulder. "Oops."
"Oops?" Winry's eyebrows shot up.
Edward gave her a sickly smile and pointed down toward the ground floor. Winry craned her neck, spotting the large woman glaring up at them. She wagged her finger chidingly, then placed the finger against her lips to hush them. Pointing her chin toward the bar, Madam Christmas reminded them they needed to be quiet. With a jerky nod, Edward backed away from the banister, Winry moving away with him. She slipped through the open door to the room, Edward following her.
Pushing the door closed, he let out a gusty sigh. "Don't lean against anything else that might break, okay?" Edward ran his hands through his bangs. He dropped onto the cot, making his folded clothes bounce at the footrail.
Trying not to stare at Edward's chest, Winry stood next to the door. He'd grown since the last time she'd seen him. When they were younger, Granny had said Edward's masculine indicators were late coming in. She thought it might be because of his specialized automail, and the stresses on his body, losing two limbs, then learning how to use automail in such a short amount of time. Edward had once talked about his body providing sustenance for Alphonse's and later, Winry had wondered if that might be what made Edward a late bloomer. Whatever had happened in the other world, Edward had definitely matured.
The knock startled her, making her jump. Edward rose halfway off the cot as the door opened, Basima poking her head through the opening. Smiling her brilliant smile, she pushed the door the rest of the way open. "Your measuring tape, darling, and your notepad and pencil!" She hesitated, looking between them. "Should I stay and help?"
Edward sat back down, his expression shuttered as he raised his eyes to meet Winry's. Though he didn't speak, she knew he'd let her make the decision. There were things she needed to say to him, things she didn't want anyone else to hear, but now might not be the time nor the place. Biting her lower lip, Winry turned to Basima. "Yes, please. I'll need you to take down the numbers while I call out the measurements." She took the measuring tape, facing Edward.
Giving a quick nod, he stretched his arms in front of him, muscles popping. "I don't guess you brought me a sandwich, did you?" he asked Basima, hopeful.
"I could get one for you." Basima nodded. "Do you want that, sir?"
His growling stomach answered her, making Winry burst out with a staccato laugh. Edward grinned, a little sheepish. "And a bathroom before we get started."
"Of course! I can take you to one and get you the other." Basima wagged her fingers at him to lure him back to his feet. As he got up, she gave him a long look that made Edward cross his arms over his chest and flush. "You are a bit underdressed for the Scarlet Cock, despite how people might see us. But the tavern is closed, so I think you will be fine!" She led him out of the room, though Edward paused in the doorway.
"You'll be okay." He wasn't asking her a question.
"Mm!" Winry nodded, giving him a smile.
Edward searched her face, almost as if he was trying to memorize it. "Okay. I'll be back." With a wag of his hand, he left the room, not quite closing the door behind him.
Taking a deep breath, Winry passed her hand over her forehead. She needed a minute to collect herself before she had to face Edward again. "I can do this." Picking up Edward's clothes, she started to move them to the counter and hesitated. Her eyes closed as she raised them to her face, inhaling deeply. Machine oil, sweat, that particular scent that belonged to Ed, it flooded her senses, making her sob.
They're home. They're finally home.
The door opened with a soft creak. "Winry? A-are you okay?" Edward stood in the doorway, horrified, panicked.

Art by Yoporock

Winry dropped his clothes, flinging herself at him, burying her face against his chest. He stood stiff, his hands out to his side, as if he didn't know what to do with them. Sniffling, she wondered if he'd remember she wasn't supposed to cry unless they were happy tears. "Ed."
He settled his hands at her waist, and she could feel them trembling. Edward sighed shakily, leaning his head down until it touched hers. "I missed you," he whispered in her hair. "So much, Winry, I can't…can't tell you." When she raised her head, he chuckled, reaching up with his flesh hand to wipe his thumb over her cheek. "You're such a crybaby." Edward's hands slid around her, pulling her close. "I missed that, too."
With a soft, choked laugh, Winry laid her cheek against his shoulder. Wrapping her arms around him, she squeezed tight, making Edward grunt as she gave him the hug she hadn't been able to earlier. "Welcome home, Ed."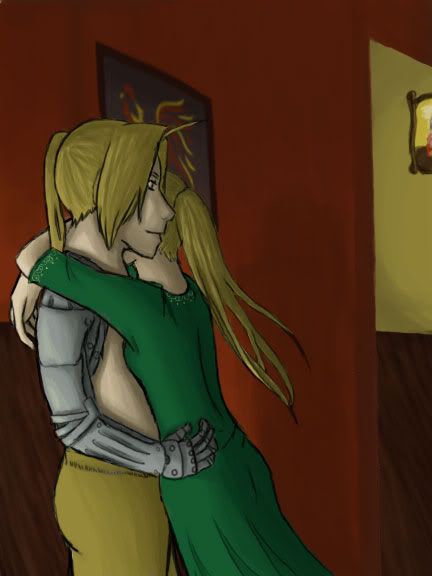 Art by Sweetnessnarose

X X X
Olivia rested her cheek on her knuckles, her elbow on the table. Her mother would have scolded her if she'd seen. Fortunately, the matriarch of the Armstrong family wasn't at the Scarlet Cock. Olivia was sure her mother didn't even know the tavern existed, much less would enter it if she had. Olivia, on the other hand, went looking for ways to meet her people. If they believed in her, they'd follow her to hell and back.
The reporter was just such a person. Olivia studied her, those snapping dark eyes, squinting just a bit as they studied her. "Roberta Fischer. I've read some of your articles."
She smiled, not proud, but in acknowledgement. "Thank you, President Fuhrer."
"You understand at this time, I can neither confirm nor deny some of the questions you undoubtedly want to ask, considering you were led here tonight in search of answers."
"I do, President Fuhrer."
"Then, because you have the dedication to come out into the snow, I will give you an exclusive interview. However, this is with the understanding you will not be able to publish your story until I give you leave. You can say what you want about tonight – that rumors abound about where I was this evening, perhaps planning a something for Memorial Day, hell, you can say that I had an assignation and met him," Olivia smirked, running her eyes over Fischer's trim figure, "or her, here."
Fischer's head came up. "President Fuhrer, I wouldn't dream of writing such a thing. It might look bad on your command." The corners of her mouth tipped up. "But a Memorial celebration, I can write about that."
Olivia entwined her fingers together, steepling her forefingers together and tapping them against her lips. "Excellent, Miss Fischer. This is exactly what I want to hear."
X X X
Edward sat at the top of the stairs, Winry next to him. Her hands were still at last, though she still seemed tense to him. At least she was sitting with him. He stared down the steps, wondering how long they needed to wait up here. Now that he'd eaten something, gotten measurements done and Winry was, well, Winry again, all Edward wanted to do was sleep. He wished he knew what time it was. Glancing sideways at Winry, he could see the tightness around her eyes. She was tired, exhausted, but he recognized the thrum of excitement running through her. Winry had a challenge – creating new automail for him in as short a time as possible. He wondered how many all nighters she'd pull to get it done.
"Excellent. You're still up here."
They turned at the sound of Mustang's voice. He smirked, all but rubbing his hands together. "Miss Rockbell, as you were scheduled to meet with Olivia, I've taken the liberty of covering your tracks. You arrived in Central City, however, a family emergency will be taking you out of town." The gleam in his eyes told Edward Mustang was enjoying himself. "Olivia herself requested a private car for you, with orders you not be disturbed." His smile broadened. He was definitely having a good time. "You're to be accompanied by four soldiers, to make sure Olivia's orders are followed. I've already informed Alphonse and Prince Yao. Riza, of course, will be accompanying you, but, as Olivia has requested I remain behind, I'm sure she has her own plans for me." Mustang's smirk was positively obscene.
"I don't want to know." Edward rolled his eyes.
"Falman will be getting your uniforms, so I need your measurements, Edward." Mustang gave him a once over. "I should make you cut that tail off. Your hair's too long for regulations."
Edward growled. "Did you tell Ling to chop off his hair, too?" At Mustang's nonplussed expression, he shook his head. "My hair's fine the way it is," he said, unable to help grinning at Winry's soft laugh.
Mustang decided to ignore him. "Olivia should be finishing up with the reporter. Once Falman's back with the uniforms, we'll get you to the train station."
"Thank you, sir." Winry spoke up before Edward did, though he heard the tremor in her voice.
Military men raped her. Probably while in uniform. Beside him, he could feel Winry stiffening. Edward shook his head. "No uniforms, bastard. We'll be in civilian clothes, to not attract attention. If anyone gets a good look at Ling, they're going to know something's up, anyway."
Rubbing his brow, Mustang grumbled. "That's why a uniform makes it easier, Edward. People see military blue, they don't see the man wearing it."
"It's okay, Ed. He's right. It'll be easier to hide Ling in a uniform than as a civilian." Winry gave him a brave smile. "I'll know it's you. I'll be all right."
Edward swallowed hard, hating that he couldn't change this to make it right. "Yeah," he grumbled, wondering what his measurements were. He could transmute anything Falman brought back to make it fit if it didn't. When he didn't speak up with the numbers, Winry promptly rattled out the measurements she'd taken down earlier.
Mustang's mouth crimped as he wrote down the numbers. "I'm sorry for this, Miss Rockbell."
"Mr. Mustang," she said firmly, "I'll be fine. My friends are home." Winry glanced at Edward. "I've been waiting for this for too long."
Wishing he didn't feel so awkward, Edward patted her on the top of her head. "Sorry it took us so long to get here," he mumbled, lowering his gaze. His eyes widened when Winry leaned her shoulder into his.
"I'll let you know once Falman has returned." Mustang's eyes softened as he nodded at them. "You might want to try to get some sort of rest. It's going to be a long evening." He edged around them to trot down the stairs.
"It already has been," Edward told Winry over the clatter of Mustang's descent. He sighed, ruffling her hair before getting up. "Come on. You can lie down on the cot and rest." Offering her his hand, he felt a thrill run through him when she took it so he could help her to her feet.
"What about you?" Winry asked. "You've had a harder day than me."
"I can sleep on the train." It wouldn't be the first time, though Edward hadn't needed to do it in a long time. Shrugging, he added, "I should check on Al and Ling, too." He guided Winry to the little room, wrinkling his nose at the antiseptic smell. "You'll be okay here, and someone'll wake you when it's time to go." Wanting to make sure she lay down but not crowd her, Edward stood in the open doorway.
Winry sat on the cot, lacing her hands together. Her neck was bent. "Ed?"
"Huh?" He cocked his head.
"I just wanted to tell you." Winry didn't look up. "Thanks for coming back."
Feeling his cheeks heat up, Edward tapped the door frame. "S-sure, Winry! You, um. Get some rest, okay?" He waved at her, ducking out the door. Smooth, Elric, so smooth. Edward mentally kicked himself as he limped down the stairs.
X X X
Roberta tapped her finger lightly on the notepad in front of her. "You understand, President Fuhrer, this is not very much information I can take home."
The woman sitting across her really was the ice queen Roberta had heard she was. Her expression didn't change, her cheek cupped in one hand, looking steadily at Roberta from eyes pale as a winter sky. "Yes, but you will be getting a better, exclusive story later."
The image wasn't enforced by just her demeanor, but also her companions. The one soldier was overly large, and his implacable expression almost frightening. "How do I know you'll contact me with the information?"
"I give you my word, Miss Fischer, as President Fuhrer of Amestris." The corner of her perfect mouth turned up. "Isn't that enough?"
"I suppose it's going to have to be." Roberta hated backing down like that but there really wasn't anything else she could say. She could print a story that could get the paper blackballed, she could print a story that could get her fired, or she could take the offer the President Fuhrer had made her. There really wasn't much of a choice. Standing up, Roberta offered her hand across the table. "I'll have to trust you'll keep your word, President Fuhrer."
Her hand was cool, and hard, and very strong. "I will, Miss Fischer." She pumped Roberta's hand. "I will."
X X X
Ling could sleep anywhere. Alphonse had realized years ago, even before Gluttony had swallowed them, that the Xingese prince was really part feline. Over time, he'd observed Ling sleeping on a ledge, on a tabletop and even curled up tight into a closet. Now he sprawled on the floor in front of the fireplace, cuddled up with a pillow. He couldn't be bothered with one of the sofas, they weren't close enough to the fire. Alphonse wondered if he dreamed of Xing, returning home after so long.
The curtain slid open, letting Brother in. He hesitated in the doorway, stood there for a few seconds, as if he wasn't sure he should step into the room. Alphonse watched as he lowered his head, a faint smile lighting his face. Sighing, Alphonse closed his eyes, thankful that whatever had happened between Brother and Winry during the measurements, it had been a good meeting.
Brother made his way to the sofa nearest the fire, dropping onto the cushion. His head fell back and he let out a soft, grumbly sigh. Kicking his feet up onto the coffee table in front of him, Brother asked, "Did Falman get your measurements?" He wagged a finger toward Ling.
"Mm." Nodding his answer, Alphonse sat up a little straighter. He tried to keep his voice from sounding too sly. Brother might take his question the wrong way, and he really did want to know how she was doing. "How's Winry?"
Brother inhaled. "Better. I think. Mustang told us his plan on how to get us to Rezembool." He tried to massage away the crease in his forehead. "I wish we didn't have to wear the uniforms, but they're right. It'll be harder to see Ling behind Amestrian blue."
Ling rolled over to face them, tugging his pillow closer so only half of his face could be seen. The fire had flushed his skin. "Second Lieutenant Falman said he will get us hats. We can hide under the bills!"
"And you can tuck your tails up into the cap," Alphonse added. "Or cut your hair, like Brigadier General Mustang said." He grinned at his brother's glare. "I don't understand why you want your hair long, anyway, Brother! It's just a leash someone can grab."
"Pfft." Brother waved him off. "It hasn't happened yet."
"That doesn't mean it won't, Ed," sing-songing his warning, Ling propped himself up on his elbow and grinned across the table at Brother.
He snorted in response. "Haven't seen anyone hauling any stupid princes around by their hair."
Ling sniffed. "No one would dare."
Flinging himself off the couch, Brother pounced on Ling. "Ha!" He grabbed Ling's ponytail, pulling on it. "I dar – aaaah!" he screeched as Ling rolled, kicking Brother in the stomach and flinging him back into the wall with a thump that made the coffee in Alphonse's cup shiver. "You asshole!" Brother howled, hair shocking up, his teeth bared.
Ling's smirk taunted Brother as he rose to his feet, wriggling his shoulders. "A little sparring would relieve the tension, yes?"
"No!" Alphonse snapped. "This isn't your house, we don't have any money, and I'm not repairing anything you two idiots break!"
Brother and Ling paid him no mind, circling each other in the small space in front of the fireplace. The cocky grin meant Brother thought he could take Ling; Ling's mouth tilted up at a smug angle in return. Sighing, Alphonse waited until one of them made a move – Ling, this time – and struck.
"Yeowtch!"
"Alphonse!"
The twin screeches sounded like music as Alphonse hefted them both up on their toes by pulling their pony tails. "Are you going to be good?"
Art by Yoporock
"Ah, I wondered what was going on in here." Mustang's voice floated over his shoulder. Alphonse didn't bother turning, but Brother's face went scarlet.
"Al! Let me down! Don't let the bastard see me this way!"
"Please, Edward, I'd always gathered Alphonse was the more dangerous of the two of you." Mustang waved off Brother's snarls of rage. "And I'm guessing you have to pull them off one another rather often?"
Ling didn't even bother to struggle, shrugging at the question. "Ed thinks himself a worthy opponent." He spoke low, as if telling a secret. "He's predictable."
"I'm what?" Brother screeched.
"Brother! My ear!" Alphonse let go of both of them, making Brother stagger. Ling landed flat footed – more proof he was a feline chimera. Rubbing his ear, Alphonse noted Brother was ignoring him to snap and fuss at Ling. "Is there any word on the uniforms, sir?"
Mustang nodded. "Falman called from the storeroom and should be returning shortly." Raising his voice, he said, "Edward! I must say, seeing you in uniform will be interesting. At least you're an average size now; I doubt Falman would've been able to find anything to fit you the way you were the last time I saw you."
Whirling on the new threat, Brother snarled, "I've grown, you bastard!"
"Yes, and Roy was remarking on it, Edward." Hawkeye broke into the conversation by coming into the room. "It's a good thing to see." Her smile made Brother's mouth drop open and he flushed brightly, glancing sideways and scrubbing fitfully at the back of his neck.
"Ah, the compliment of a beautiful woman." Mustang looped an arm around Hawkeye. "It has powers untold." She let him tug her close enough to place a kiss on her temple. "Still, it's good to know your reactions are still the same, Edward, despite your growth spurt."
Brother's lips twitched but, for once, he remained quiet. Alphonse let out a mental sigh of relief.
Ling, however, couldn't leave well enough alone. "He grew a lot in the other world!" He held out his hand, palm down, around the level of his waist, then raised it up quickly to his shoulder. "Overnight, almost! His clothes no longer fit him!"
"Ling!" Brother roared. "Shut up!" Grabbing hold of Ling's shirtfront, he hauled him close. "Or I'll - "
Whatever threat Brother had been about to make was cut short by the President Fuhrer appearing in the door with Madam Christmas close behind. "Falman's arrived," she announced.
"The next train runs in twenty minutes," Madam Christmas added. "You don't have a lot of time to get changed and to the station. The snow's deep."
"We'll do it, Madam, but thank you," Mustang said, nodding at her as Falman stumbled through the door, a pile of blue in his arms, shoes tied around his neck and hats tucked under his arms. "Ah, your clothing. I hope you three won't indulge in any more horseplay, considering the time constraints."
Brother took a hat and uniform out of Falman's arms. "Thanks, Second Lieutenant." He threw the uniform at Ling. "Get dressed, prince. If Rezembool wool won't chafe your delicate skin." Taking a second pile of clothes, Brother passed them to Alphonse.
"Thanks, Brother." Alphonse started unbuttoning his shirt, glanced at all the women in the room and froze. Ling undressed in front of the fire, completely oblivious, or possibly in hopes someone would notice he was already out of his shirt and working on unbuttoning his trousers.
"I'm not undressing with an audience," Brother said, curling his lip. "I've heard the rumors about you, Mustang."
The President Fuhrer had a particularly icy smirk. "From what I understand, many of them revolved around his relationship with you, Fullmetal."
For a second, Brother froze at the implication, then snarled, "Not a fucking word of truth in them."
"Brother!" Alphonse smacked him with the crown of his hat. "Don't swear like that!"
"Ah ah ah!" Brother protected his skull with his forearm. "Stop beating on your older brother!"
"I believe I asked that there be no roughhousing," Mustang sighed, rubbing his forehead.
Sticking her little fingers in the corner of her mouth, Madam Christmas blew a piercing whistle, the pitch of it nearly sending Alphonse to the floor in a pile of twitching limbs. "I said you only had about twenty minutes. You'd better use them."
Brother twitched, his eyes wide and huge. "Yes, ma'am!"
"The rest of you, get out of the room. Give them some sort of privacy." She herded them out of the room with outstretched arms. "Riza, why don't you get the girl upstairs? I have a coat she can borrow. She looked chilled straight through when she got here this evening." Madam Christmas's voice faded out as she shooed the others out of the room and into the hallway.
Alphonse noticed Ling blinking. "What?"
His attention diverted, he turned to Alphonse. "She reminds me of Fuu's wife." Realizing, he shrugged out of his shirt, dropping and picking up the black cotton undershirt to pull over his head. "It will be good to see them again. Fuu. His wife." Her name was muffled, but Alphonse caught it. "Ran Fan."
"Soon, Ling, it'll be a lot sooner than it has been." Alphonse forced his fingers to hurry. They didn't have much time.
Brother had already half-skinned himself, changing clothes. "Yeah, and they'll welcome you back from the dead."
Alphonse stiffened at those words, glancing between the other two. Ling sighed, dropping his trousers and reaching for the wool uniform. Brother hid behind the black cotton, jerking it down over his torso, not looking at anyone. "It'll be okay, Ling." Alphonse forced himself to sound positive. "We'll make sure it will be."
X X X
Snowflakes drifted lazily around the train station, caught in the illumination of exterior lights. Roy shoved his hands deep into his pockets, watching as the Elrics, the prince and Miss Rockbell collected their tickets. Miss Rockbell seemed pale, and her hand trembled. He hoped it was from the cold rather than her reaction to the trio of young men in military uniform. Riza stood next to him, watching them with the same implacable face she showed to the world when they were not alone. "I want you to be careful," Roy told her.
"I think I should tell you that," Riza said. "You'll be here alone, without me to watch your back."
"Breda and Havoc can keep an eye on me for you." Shifting his weight, Roy tilted his head to speak even more directly to Riza. "You understand this could be very dangerous."
"I'm less worried now that we have a plan." Riza turned slightly toward him. "Winry will make Edward's automail. They will use that time to try to convince her not to go with them to Xing."
Roy couldn't help but smile. "They'll lose that argument."
"Perhaps. Winry's a strong girl." Riza hesitated. "I'm not sure if she's that strong."
Touching her elbow, Roy nodded at the quartet of young people standing near the train car. "I think she could surprise you. Miss Rockbell had to be strong all her life. She may have stumbled, but there are people who'll help her back up." He squeezed Riza's elbow for emphasis. "Her family has returned as if from the dead, Riza. I think it's going to have a very good effect on her." Frowning at the curious glance Riza gave him, Roy asked, "What?"
"You said Edward could be good."
He opened his mouth and closed it again, pursing his lips, annoyed at the grin on Riza's face. "I suppose I did. Though in Miss Rockbell's case, it's probably appropriate. Even if nothing had happened to her while they were gone, she would've still missed the brothers and her life wouldn't have been as complete." Roy closed his eyes briefly, thinking of Maes.
"I know how hard it is." Riza broke into his thoughts before the well that thoughts of his best friend opened up dragged Roy down into it. "I've watched you go through it." Twisting free from his grip on her arm, Riza took his hand, squeezing it tight. "And I'm sure Winry felt the same way."
"She's getting a second chance with them. And I believe she's stubborn enough to go all the way to Xing, so she doesn't lose those boys again." Roy twined his fingers with Riza's, rubbing his thumb over her knuckles. "Her world is a better place with them in it."
The train whistle blew, steam pouring out of the engine as the tenders stoked up the box. The conductor stepped up onto the platform, singing out, "All aboard!"
"It's time." Riza turned to face Roy completely.
Reaching up with his free hand, he stroked some loose strands of her hair away from her face. "Yes." He cupped her cheek, leaning in to kiss her. "I'll miss you."
Riza kissed him back, sucking lightly on his lower lip. "I'll miss you."
She was making it hard to pull away. "Hayate will watch my back."
"And Havoc and Breda."
"And Havoc and Breda." Roy kissed her again, a soft peck, then forced himself to take a step back. Leading Riza over to the others, he studied them. The stances, their dynamics, all told a story. Yao stood a few steps back, in the shadows and, though his head was lowered, Roy doubted he'd miss seeing anything. Alphonse stood closest to Yao, though his attention was on Miss Rockbell, wringing her hands. Edward paced slowly nearby, face set in a scowl. "Well." It was that easy to gather their attention, though Edward's sidelong glance didn't linger in Roy's direction.
"Say your goodbyes so we can get on the train, bastard," Edward showed a few more teeth than might have been in a normal person's mouth.
"You'll miss me, Edward, I know you will." Roy's smile widened when Edward waved him off. Riza's elbow in his ribs sobered him. "I want to wish you well for this venture. You're aware of the danger you're putting yourselves in, but I cannot help but request you be careful."
"Yeah, yeah." Edward folded his arms, rolling his eyes. "Can you get on with the orders?"
"Brother." Alphonse smacked him in the back of the head, making Edward yip and rub his skull. "Be nice. Sir, we'll be careful."
Yao took a step closer. "We have been involved in many dangerous situations! You can see we've made it through them all fine." He scowled. "Even if someone made me eat a boot."
Edward blew out a gust of air. "Tch! You weren't complaining at the boot when you were starving!"
Roy turned his attention to the young woman. "Miss Rockbell, I'm sure Riza will back you up if you need to control these three."
Her hesitant smile made his own warm. "I should be okay, sir, but thank you." Miss Rockbell ducked her head. "I think I remember what keeps them in line."
"Or at least what keeps Ed in line." Yao ducked the punch Edward threw at him. "Winry, help!"
The conductor yelled again, his sonorous voice echoing around the station. Riza squeezed Roy's hand again. "I have to go." She rose up on her toes to give him a kiss that didn't last nearly long enough. "Be good, Roy."
"I doubt Olivia will let me be anything else." He cupped her cheek, leaning his forehead against hers, whispering "I wish you were going to be here for Memorial Day."
"Gracia will need you. Take care of her." Patting his chest, Riza pressed her lips to his cheek and took a step back.
"We'll take care of each other." Roy brushed his thumb over her cheek and let his hand fall away. "Listen up, boys. Pay attention to what Riza tells you. And what Miss Rockbell tells you. And keep your heads low."
"Yes, sir." Alphonse bobbed his head, making the brim of his hat slide forward. He pushed it back absently.
"Yeah, yeah, we'll listen to Captain Hawkeye and Winry." Even though he flapped his hand, Edward didn't sound as annoyed as he could have. Smacking his brother on the arm, he gestured toward the train. "Let's go, before we get left behind." He herded Alphonse and Yao across the platform. "I hope someone has some money. The sergeant will want something to eat. He's like a bottomless stomach." Pausing next to the step, he turned back to Miss Rockbell. "Do you need any help getting on the train, Miss Rockbell?"
She hesitated but took the offered hand. "Thank you, Mr. Vickers." Miss Rockbell let him guide her up onto the train car. Alphonse and Yao followed her aboard. Riza strode across the platform, Roy following her.
Edward stood aside but offered Riza his hand the way he had Winry. She accepted it with a pleased smile. "Thank you, Second Lieutenant Vickers."
"Captain." He let her up into the train and put his foot on the stepstool.
"Vickers." Roy couldn't help himself.
"Yes sir, Brigadier General?" Edward stood on the train step.
Clenching his fist inside his jacket, Roy said, "I feel like I should be going with you."
Edward grinned. "Hey, we made this mess. We'll clean it up." He raised his hand in farewell as the train began to pull away from the station.
Roy saluted as the car passed him, starting its journey to Rezembool. He watched as the caboose left the station. The line man swung the lantern from side to side, the red light moving in an arc to show the last car of the train. The snow and distance eventually blurred it out of sight.
Flakes drifted slowly down out of the lowered sky as Roy walked out of the station. The rock salt laid on the steps and sidewalk had melted part of the snow, though more would need to be sprinkled if it kept coming down. The salt crunched under his shoes as he marched back to his car. Unlocking the door, he climbed behind the steering column and sat in the car.
The weather had been terrible for the past four days, with a mixture of sleet, snow and rain coming down. Roy watched as the snow built up on the windscreen of the car. Before it completely covered the glass, he pressed down the clutch, starting the car. Turning on the windshield wiper, he watched as the snow was whisked away.
It was time to go home, and wait for news from the East. "Good luck," Roy said softly, putting the car into first gear. "Good luck."
X X X